This article may contain
affiliate links
. If you make a purchase through these links, I will earn a commission at no extra cost to you. Thanks!
Have you heard about the Cold Shower Challenge and its purported benefits? Well, I wanted to push myself and purposely cultivate discomfort every single day, so I decided to do 30+ days with cold showers and see what happened.
When I announced the challenged, I encouraged my readers to join in as well—and I know some of you did (which is awesome!).
Well the 30 days Cold Shower Challenge has come and gone… I survived the experiment.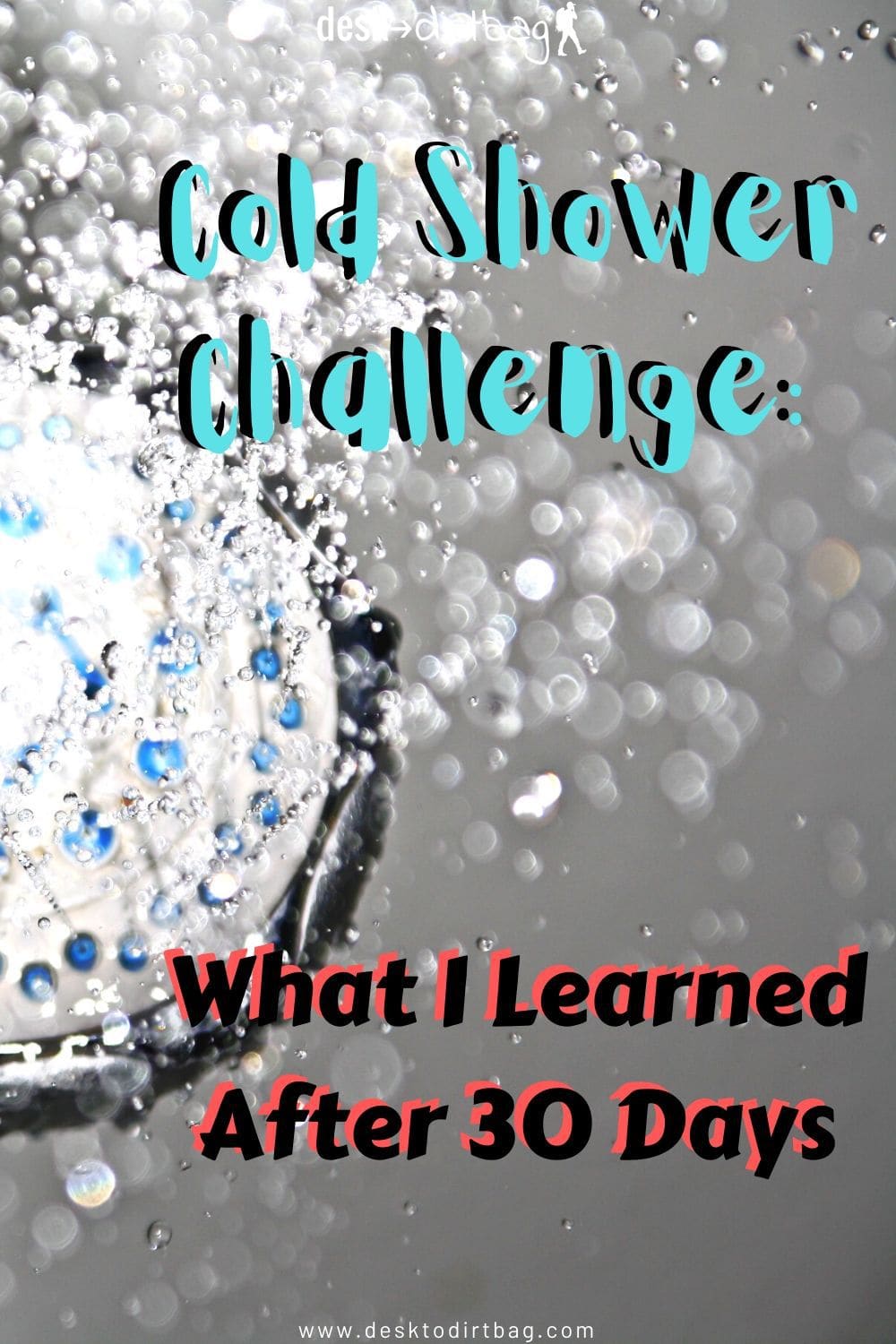 The big question is: Was it worth it?
There are some real physiological benefits of cold showers, as I mentioned previously, but that's not why I chose to do it.
I wanted to do it because it was challenging and tough for me to do. I wanted to use it to help me cultivate better self-discipline.
Here's what I've learned from 30 days of the Cold Shower Challenge:
It's Tough, but Gets Easier
The first few times you take a cold shower, it's really quite difficult to turn off the hot water and go all the way to cold.
Your mind screams "NO!" and argues that it's a pointless activity. It's far better to just be comfortable.
After doing it for a week or two though, I found the mental resistance diminishes. It's still there, of course, but since you've done it before a handful of times, you know you can do it again today.
This really just emphasizes the point that we should undertake difficult things more often because they only get easier with time. Whether that's eating healthy, getting in shape, or whatever.
Do things You Don't Have to Do
My girlfriend Andrea thinks the cold shower idea is particularly stupid. She says if I want to do something uncomfortable then I should go scrub toilets.
That's really missing the point though I think.
Scrubbing toilets might be uncomfortable, but it's also necessary every once in awhile, and it's certainly not something you would do daily. It's also not something that is difficult, it's really just a chore.
Lionel Terray's book on climbing is called Conquistadors of the Useless.
There's not some big noble goal behind mountaineering, running a marathon, or cold showers.
It's all about taking something that seems difficult for you and then proving to yourself you can do it.
Too many of us pass through life ONLY doing things we have to do (which could also be difficult or uncomfortable) like getting up and going to work, paying taxes, hanging out with the in-laws, or whatever.
There is a power in deciding to do something difficult that you don't have to do and then taking it head on.
Like waking up one hour earlier than normal every day to work on your business or exercise or read a life changing book. These are the tough things you have chosen to do because you want to do them, not because you have to do them.
Great for Waking Up
It really does give you an incredible boost of energy as the cold water surges over your body.
Every.
Single.
Day.
Even if the mental resistance diminishes over time, you'll still get the same initial rush as the cold water hits you.
Your heart will pump faster, your breathing will change, and you'll notice a rush of adrenaline.
It wakes me up immediately when I shower in the morning, even better than coffee does. And it jolts me back to life after I come back tired from a run.
I Think It Will Be Worse Than It Is
Taking a cold shower sounds worse than it really is.
You dread the cold water, it hits in a moment of shock, but then your body quickly adjusts. And it's fine.
Kind of like jumping into a cold swimming pool. There's that initial moment of discomfort, but then you can hang out in the pool, no problem. Happy even.
This daily reminder is a great thing, I think.
We think things are going to be worse than they really are ALL THE TIME and in all sorts of different aspects of life.
More than half the battle for people who want to start exercising is just putting on their exercise clothes. They think it's going to be terrible, but once they take the plunge, it goes fine and they get it done.
Same with a cold shower.
I'm More Productive
This could just be a placebo because I think it will make me more energized and productive… But if it is a placebo, who cares if it works?
I've really seen my productivity shoot through the roof this month in terms of content creation.
Some days I don't run in the morning (if it's raining, for example) and wait until the afternoon. Maybe it's the run, or the shower, or both, but I really notice that those days feel "off" to me.
I miss the morning boost.
Cultivates Mental Toughness
Just like how you get stronger by doing push-ups, you can also cultivate mental toughness.
Jia Jiang was afraid of rejection, so he set out to be rejected every single day to get over it.
It's that whole it gets easier with time thing.
So by doing something personally challenging, you prove to yourself it can be done, it isn't as bad as you thought, and this can spill over into other aspects of your life on a daily basis.
You don't want to shirk from challenges, but rise to the occasion.
Consider Other Challenges
Checking off each day as I do the cold shower challenge and watching my streak grow really provides a sense of accomplishment. Even if it is a relatively silly thing like a cold shower.
It makes me start to look at what other habits I could incorporate into my life. After all, if I can get through a daily cold shower challenge, what could I also do? What bad habits could I do without?
I've already started my next 30 day challenge to cultivate discomfort.
I Actually Enjoy It
When I first heard about the cold shower challenge from Joel Runyon a few years back, I too thought it was kind of a stupid idea, to be honest.
But hey, I decided to mix things up a bit. What did I have to lose, really? Showering is something I'm already doing.
The 30 day cold water challenge has come and gone.
Yet I've continued doing the cold showers every day.
I'm continued on for well over forty days and while I don't take cold showers on a daily basis anymore, I do often return to cold showers at some points (especially after going for a morning run) when I want to feel extra invigorated or alert for working. It is a simple and quick boost that anyone can do, anywhere.
Take the Cold Shower Challenge
What do you think? What else can we do to cultivate discomfort and self-discipline on a daily basis? What little habits have you added or considered adding that have a compound effect? Sound off in the comments below.
The following two tabs change content below.