This article may contain
affiliate links
. If you make a purchase through these links, I will earn a commission at no extra cost to you. Thanks!
Planning a trip to Kennedy Space Center can be a bit intimidating. There is a lot to see and do within the Kennedy Space Center Visitor Complex at Cape Canaveral and it can be tough to decide where to go first, the best way to see the top attractions, and even what things you should see and do and what things might be best left for a future visit. This self-guided tour of Kennedy Space Center will help you plan your itinerary and maximize your visit.
The first time I visited Kennedy Space Center, I didn't have a plan… We just wandered around, in and out of the various buildings. That's a perfectly fine way to visit if that's your style, but you will probably miss out on a lot of things, and you won't necessarily hit things in the best possible order.
On subsequent visits, I had a better plan this time around. Not only in terms of what I wanted to see and do (things I missed the first time) but also in what order I wanted to see and do them.
This self-guided tour of Kennedy Space Center will give you a plan of attack and order of operations for your visit that will maximize your time and provide the greatest insight into the U.S. space program and its more than 70 years of history.
In my opinion, it makes the most sense to explore the space program and Kennedy Space Center in a more or less chronological fashion. This means learning about Mercury and Gemini before you learn about the Apollo missions, for example. The Mercury and Gemini programs were the stepping stones that led up to Apollo, after all. The lessons learned in each of those programs culminated in Apollo, and lessons learned there led to the Space Shuttle, and so on.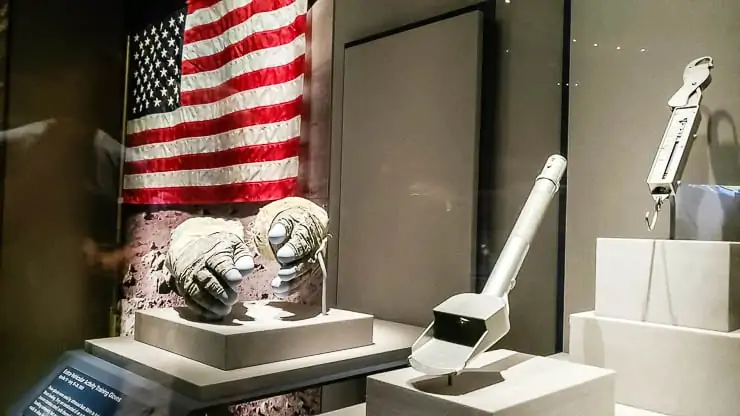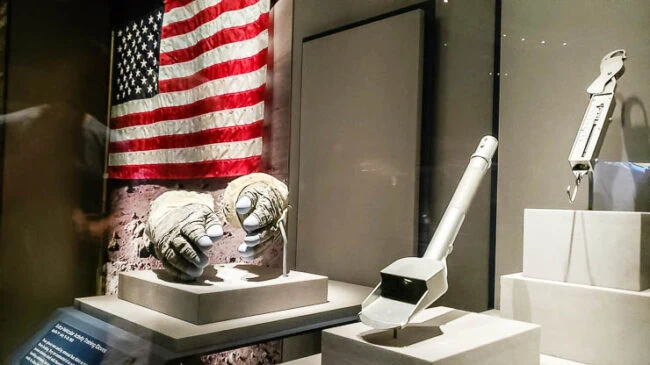 The problem is that those programs are spread out across different buildings and even areas of the Kennedy Space Center Visitor Complex, meaning that you don't necessarily just want to go from one building to the next in order.
Gaining a greater understanding of the history of human space flight is important! We are living in the most exciting time for space exploration since the 1960s and a visit to Kennedy Space Center will help you appreciate all of that even more.
Let's jump into how to plan your visit to Kennedy Space Center with this suggested itinerary.
Planning a Day at Kennedy Space Center
The majority of visitors will be coming from the Orlando area, and Kennedy Space Center is located about a one-hour drive from there. The Visitor Complex opens year-round at 9 am and I suggest planning to arrive at opening time.
You can save time by purchasing your tickets online in advance. Tickets for adults are currently $57 each.
Skip the Line and Buy Your Tickets Now
But you don't need a reservation for the park unless you are planning on doing the add-on enhancements like chatting with an astronaut or the training stages (for an additional fee on top of an entrance ticket).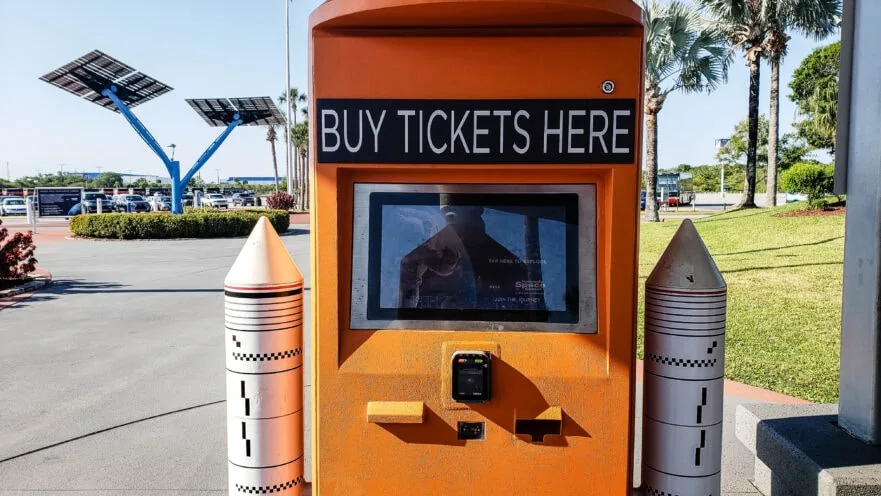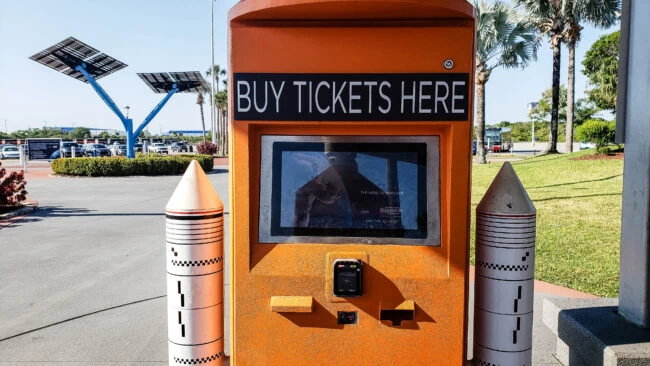 Closing time varies depending on the season, but is either at 5 or 6 pm, meaning you have 8-9 hours at Kennedy Space Center. You can easily fill all that time here. So let's get into our self-guided tour of Kennedy Space Center and your itinerary for the day.
Kennedy Space Center Attractions Map
Be sure to scroll around, zoom in and out, and explore for a better idea of the Kennedy Space Center attractions, including insight into where the launch pads are, the bus route to the Apollo Center, and much more.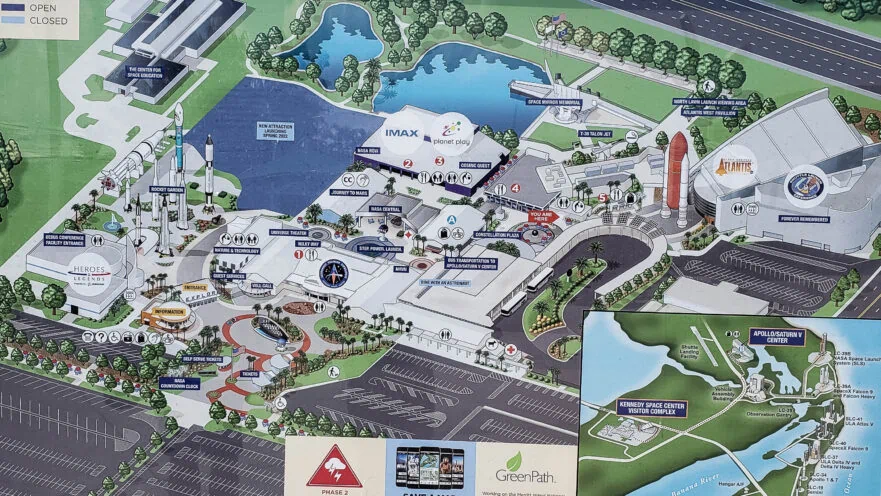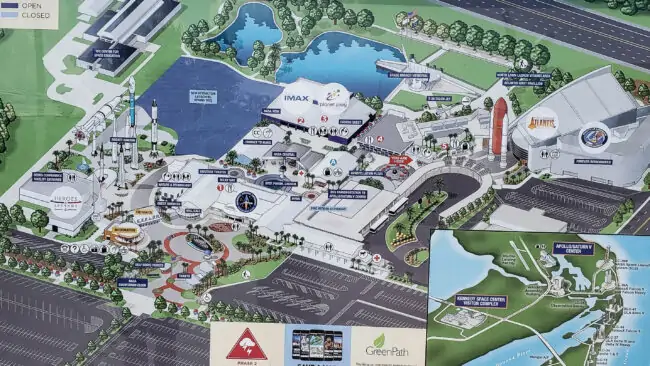 Rocket Garden
Just inside the entrance of the Visitor Complex stands the imposing Rocket Garden where you will find real versions of some of the most famous rockets in space flight.
The rockets are primarily from the early days of the space program but also feature some more modern ones, as well.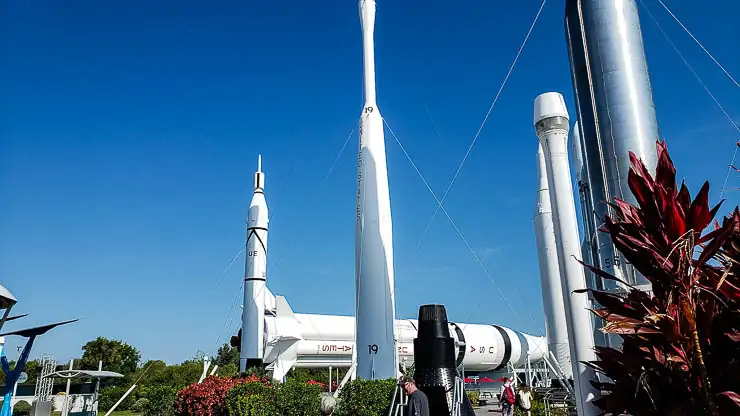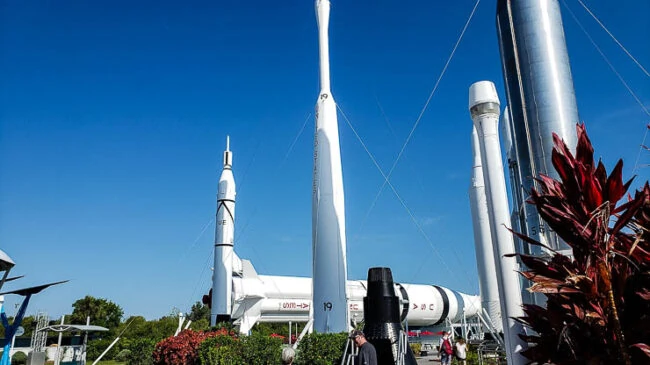 There are guided tours of the Rocket Garden at different times throughout the day, including one just after the park gates open. I would suggest hopping on this one!
The guided tour of the Kennedy Space Center Rocket Garden lasts about 15-minutes and will share with you some of the key developments and progress in manned space flight from the earliest days up through the Saturn IB rocket.
You will also find massive rocket motors and the (tiny) capsules of the various programs which you can crawl inside to experience.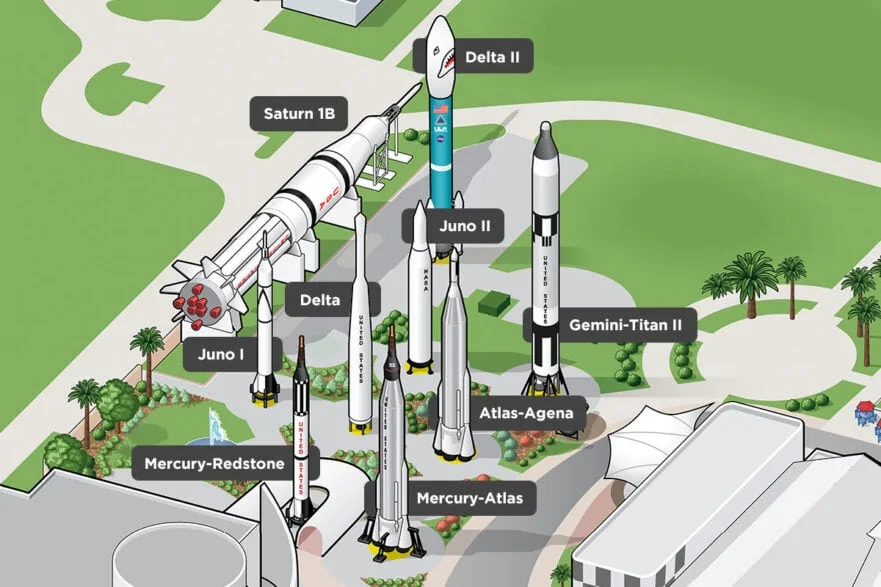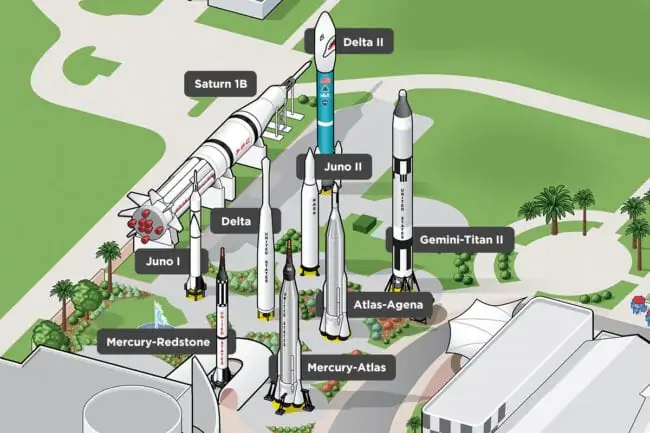 Doing the Rocket Garden first allows you to explore the earliest days of rockets (ballistic missiles) and manned spaceflight, plus it is all outdoors so it is best to do it before the Florida sun starts beating down on you.
Rocket Garden Time: 15-30 minutes
Heroes & Legends
Right beside the Rocket Garden, you should backtrack and head up the ramp to the relatively new Heroes & Legends building. This building explores some of the qualities needed by those early-day astronauts to strap into the top of a retrofitted missile and blast off into space.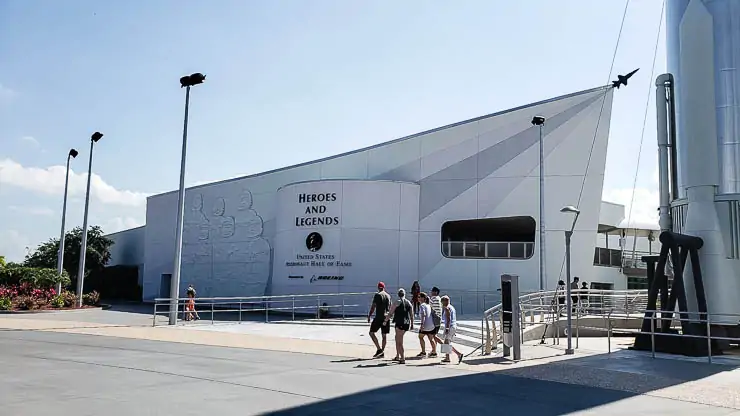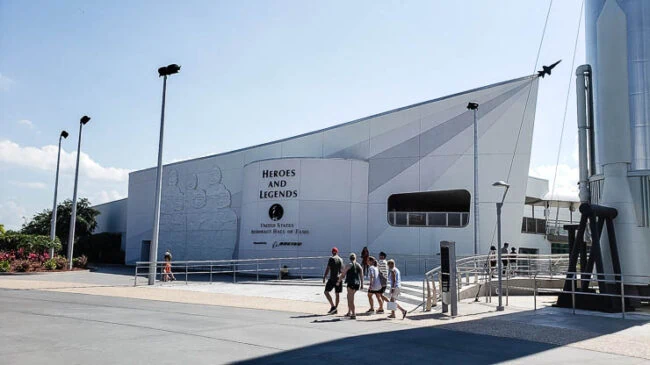 The Heroes & Legends exhibit is among the newest additions to Kennedy Space Center and includes many very well-done exhibits, including interactive displays and attractions. You will learn a lot here about the astronauts involved in Mercury and Gemini, including their personal lives and what lead them to be part of the space program.
Don't miss the Mercury mission control room, the Redstone rocket hung overhead, and Mercury and Gemini capsules on display.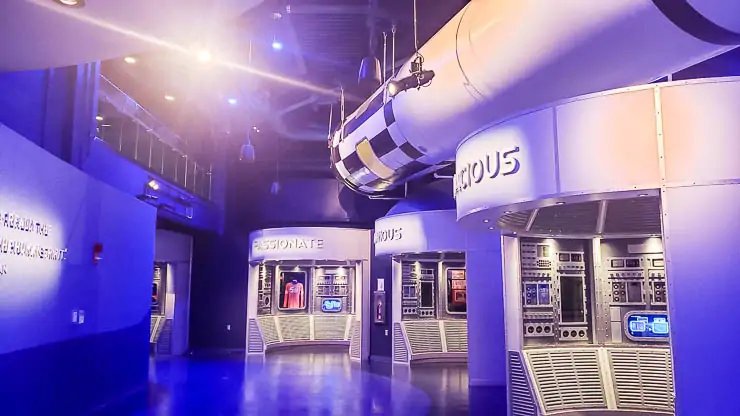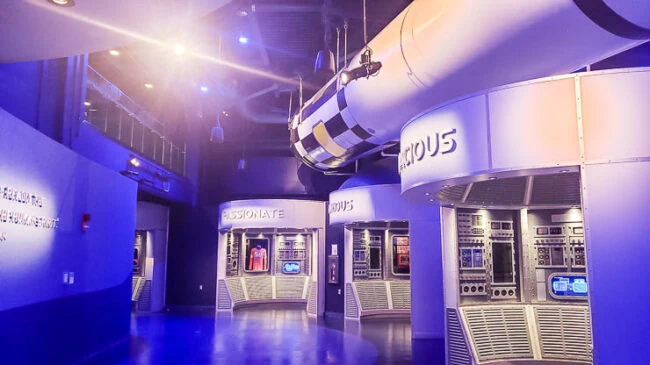 The Heroes & Legends exhibit highlights Mercury and Gemini in greater detail, using some of the rockets you just saw in the Rocket Garden like the Mercury-Redstone, Mercury-Atlas, and Gemini-Titan rockets.
The Mercury 7 program sent six astronauts (flying solo) into space intending to reach orbit. Gemini sent up two astronaut teams with various space travel goals in preparation for Apollo, including spacewalks, docking procedures, and more.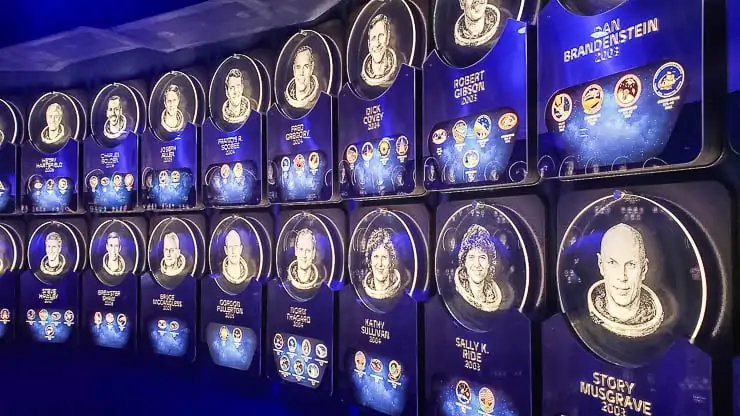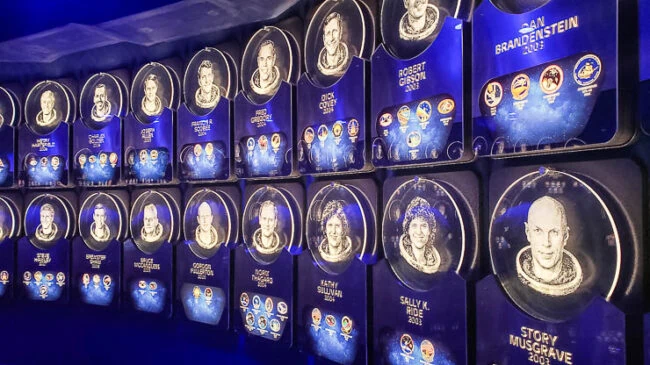 You can make a brief stop at the Astronaut Hall of Fame near the end of the exhibit, or save it for later in the day if time allows.
Heroes & Legends: 1 hour
Apollo / Saturn V Exhibit
After learning all about Mercury and Gemini, let's take the lessons learned and head to the Apollo program! The Apollo / Saturn V building at Kennedy Space Center is located in a separate area, accessible via a short bus ride.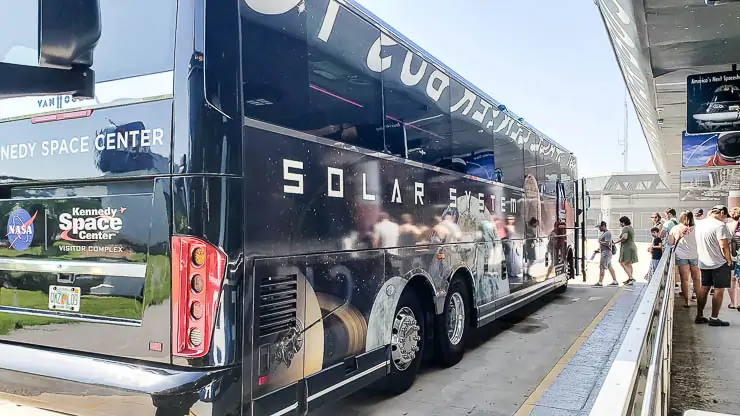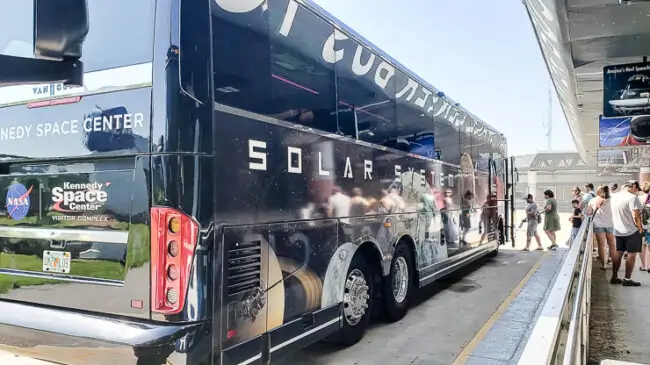 Head straight to the bus area and board for a short guided tour of Kennedy Space Center to otherwise inaccessible areas. On the bus route, keep your eyes open for the Mercury-Redstone rocket soon after leaving, the SpaceX operations area (more on them later), and the VAB (Vehicle Assembly Building) where projects like Artemis (to return to the moon) is being worked on.
You will arrive at the Saturn V exhibit and be guided through a multi-room video introduction that is quite impressive. This tour or entrance will eventually lead you directly under the massive engines of a Saturn V booster hanging the length of the building… A mind-blowing sight to see the size and scale of the rocket that took humans to the moon.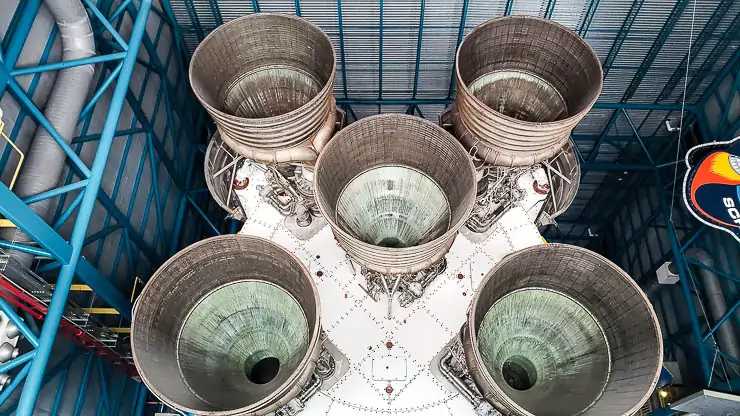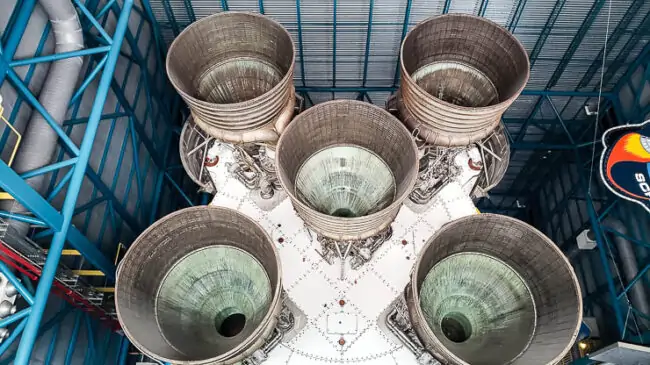 There are numerous exhibits and rooms around the perimeter of the building that explore more of the various Saturn V flights culminating in the landing on the moon with Apollo 11.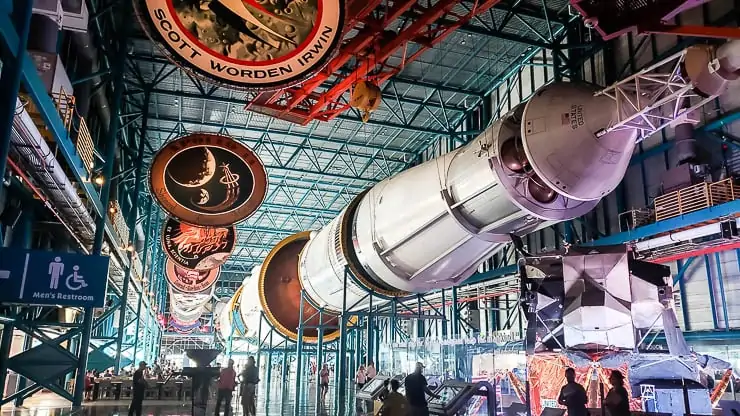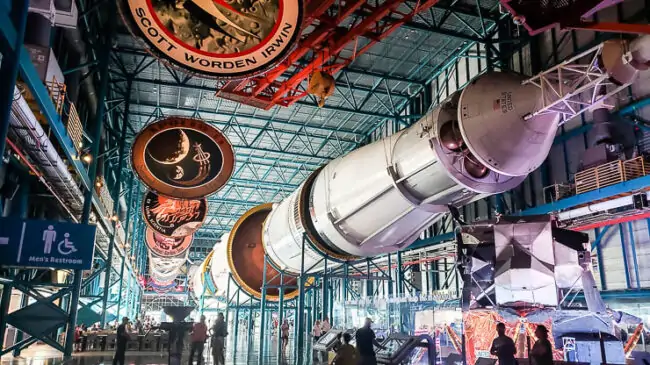 There are somber reminders of the dangers as well, at the exhibit of Ad Astra Per Aspera detailing the tragic deaths of three astronauts: Gus Grissom, Ed White, and Roger Chaffee, in a fire on the launchpad. The first Americans to die for space exploration, and not the last.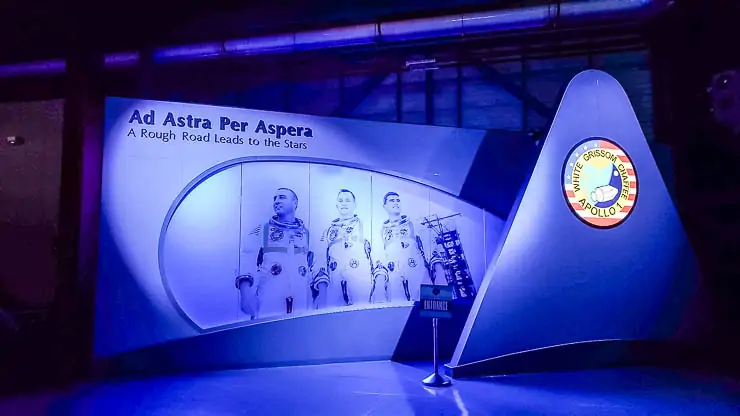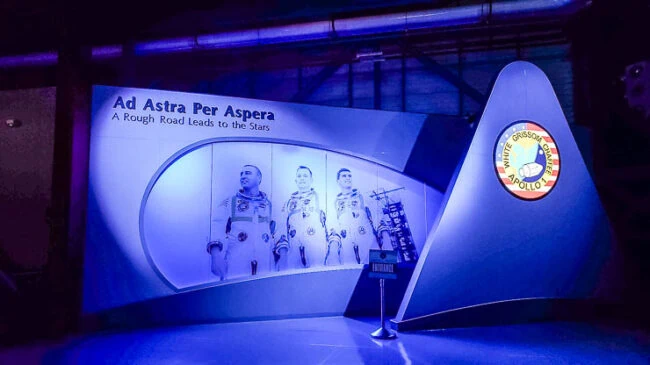 Be sure to step outside the building to see Launch Pad 39A and B, the launch pad of so many major milestones in space flight, with lots more to come in the future!
Adjacent to the building is also the Banana Creek viewing area where you can see rocket launches which are becoming increasingly frequent (about once per week). If you are visiting on a launch day, you might want to save the visit to Apollo / Saturn V to coincide with an hour or two before launch.
Click here to check out the Kennedy Space Center launch schedule.
If you're following the suggested itinerary, you may want to grab lunch here at the Moon Rock Cafe or at the Orbit Cafe back in the main visitor complex area. Either way, you will want to grab the bus back.
Apollo /Saturn V exhibit time: 1-2 hours
Want to Travel More for Less Money?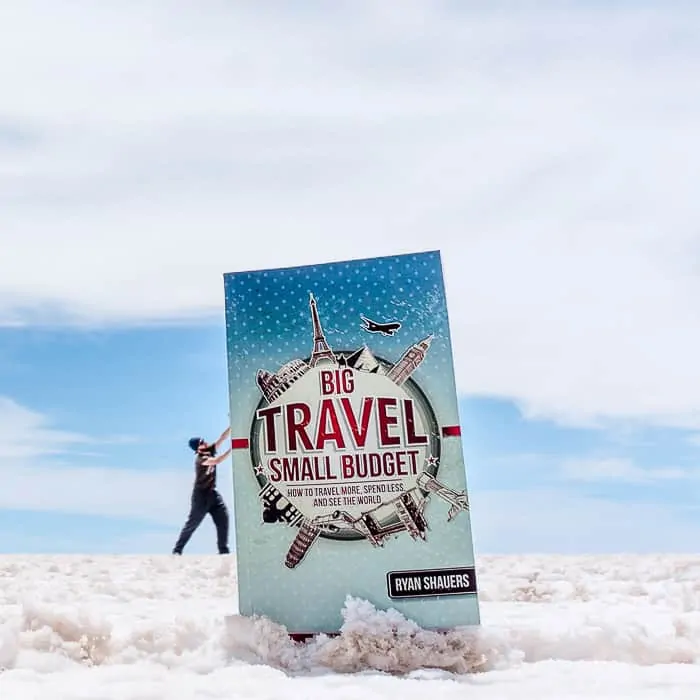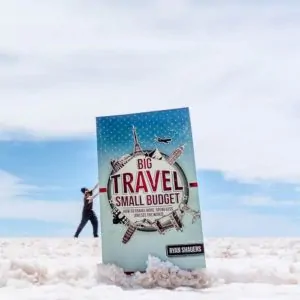 I will teach you the top methods I've used to save big money ??? during more than a decade of continuous travel in my best-selling book Big Travel, Small Budget. See for yourself, the book has nearly 200 unbiased opinions and 4.4 out of 5 stars on Amazon! ⭐⭐⭐⭐⭐
Space Shuttle Atlantis
After taking in the history of Mercury, Gemini, and Apollo, we are ready to embark on a new and exciting chapter of human space flight with the introduction of the Space Shuttle! The Space Shuttle Atlantis exhibit is located adjacent to the drop-off area for the Apollo bus.
The Space Shuttle marks the most lengthy period of space flight, with 30 years of service, over 100 missions, and more than 300 astronauts flown.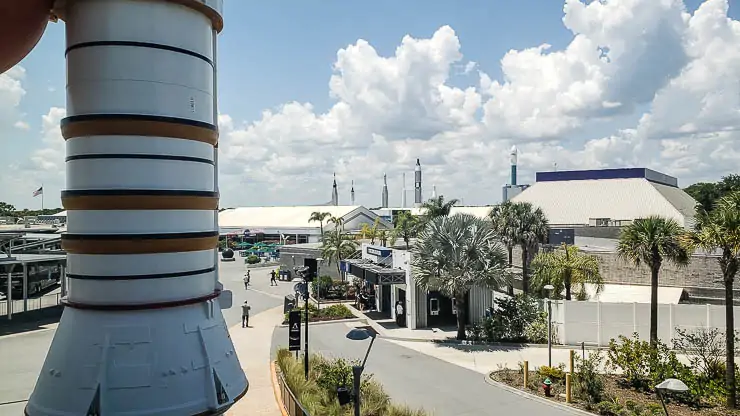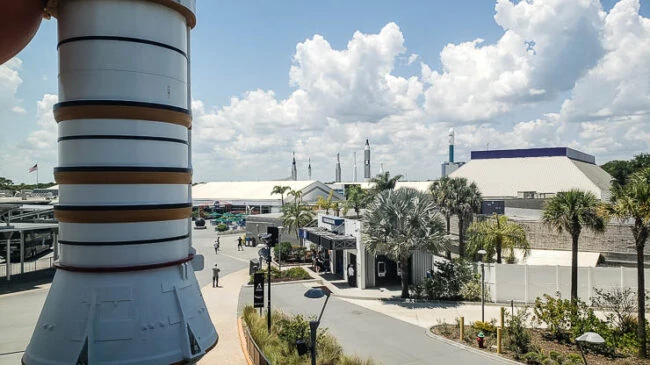 The ability to partially reuse a spacecraft (the shuttle is a glider that is reusable, but the rockets themselves were not) marked a huge turning point in space flight systems and set some of the groundwork for what we have today.
Inside the Space Shuttle Atlantis exhibit, you will find the actual Space Shuttle Atlantis after one of the most impressive reveals you will ever see. Seeing the scale of the Atlantis up close and personal is another mind-blowing experience.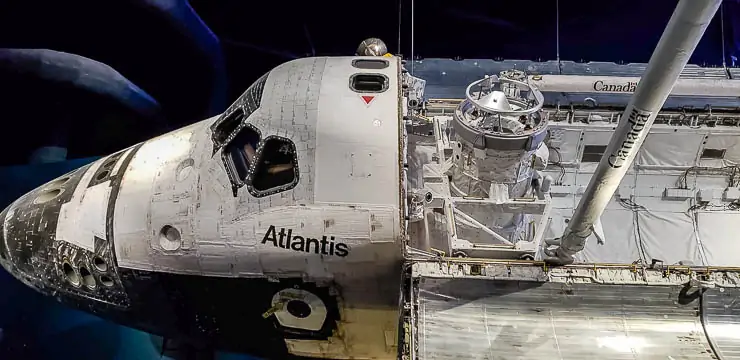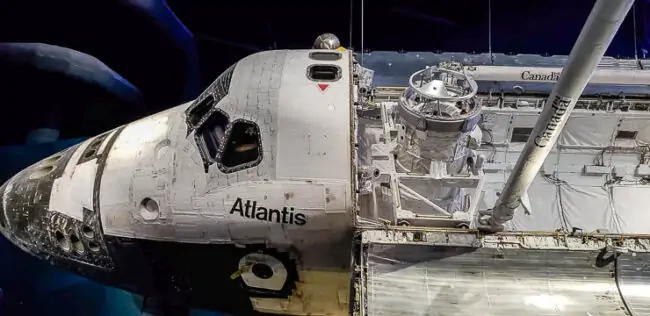 The age of the Space Shuttle is a whole new era that introduced the International Space Station (ISS) still flying overhead and was instrumental in the launch (and repair) of the Hubble Space Telescope which fundamentally changed our conception of the universe.
Don't miss out on the Space Shuttle Launch Experience which gives you a bumpy ride to space and even the illusion of weightlessness upon arrival. There are numerous exhibits about the shuttle and related technologies throughout the building, and also be sure to check out the memorial to the 14 astronauts who died in the Challenger and Columbia accidents, along with some wreckage from both vessels. Another reminder of the dangers.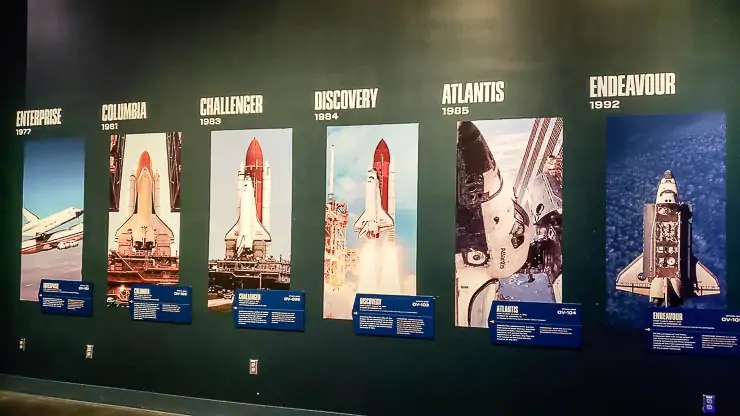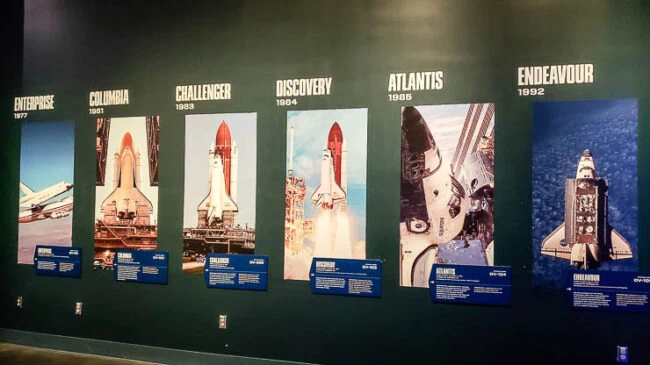 The space shuttle itself was retired in 2011 after 30 years of service, and the United States sat idle for nearly 10 years, unable to launch U.S. astronauts from U.S. soil, instead having to buy seats from the Russians to launch from Kazakhstan just to reach the International Space Station… But that was all about to change.
Space Shuttle Atlantis time: 1-2 hours
Gateway Launch Complex
Finally, back near the Rocket Garden at the entrance to Kennedy Space Center is the newest addition, the Gateway Launch Complex. This exhibit takes us into modern times and even explores some possibilities for the future…
Here you will find some space-flown hardware including a SpaceX Falcon 9 first-stage booster, a SpaceX Dragon Capsule, an Orion Capsule, and some other space hardware like the Boeing Starliner Capsule, Sierra Space Dream Chaser, and concepts for new space station elements.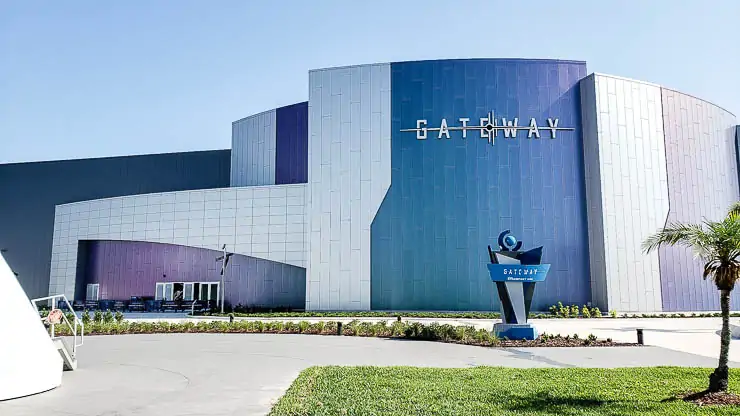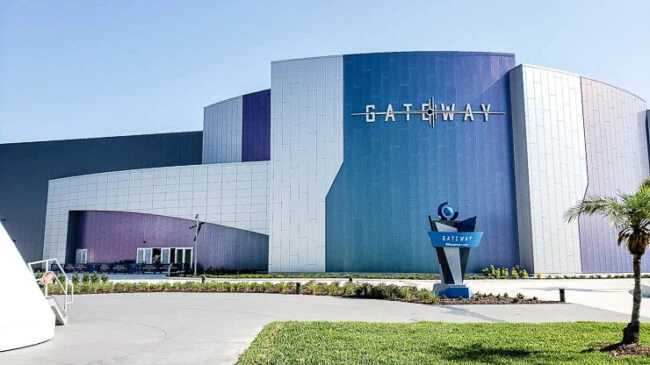 It was, of course, the SpaceX Falcon 9 that brought Americans back to the International Space Station from U.S. soil with their first manned flight in November 2020, more than 9 years after the last Space Shuttle flight, and certainly one of the few bright spots in the dark days of the pandemic.
These are the reusable boosters that return to earth, landing upright with engine ignition. It has happened so many times now (some individual boosters have more than 13 landings) but it still seems like CGI or magic every time, especially when they land out at sea on a giant barge. The Falcon 9 is still only partially reusable, and the next step is fully reusable rockets.
In terms of the future, there are some proposals for space station capsules and flight here, as mentioned, plus four different interactive experiences where you can take off to Mars, Trappist-1, and other destinations.
Who knows what the future holds for space flight? Well, after today, you'll have a pretty good idea of our progress, how we got there, where we are today, and what the future could hold.
Gateway Launch Complex time: 1-2 hours
Tour of Kennedy Space Center Itinerary
Rocket Garden: 15-30 minutes
Heroes & Legends: 1 hour
Apollo / Saturn V: 1-2 hours + 30 minutes for bus shuttle (15 minutes each direction)
Lunch: 1 Hour
Space Shuttle Atlantis: 1-2 hours
Gateway Launch Complex: 1-2 hours
Recommendations to fill any extra time below
These five exhibits on this tour and itinerary of the Kennedy Space Center will fill your entire day but there are still more things to see… These five destinations or exhibits are the most important, not only in terms of the history of space flight but also the most impressive and complete exhibits at Kennedy Space Center.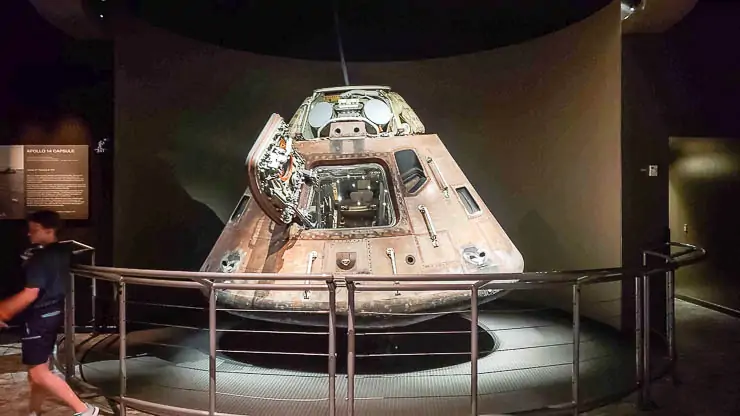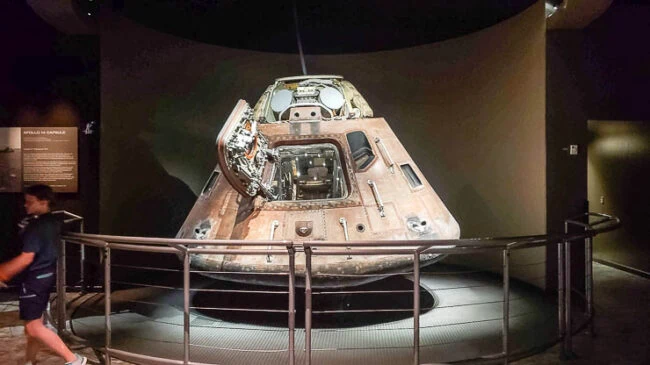 Visiting the exhibits in this order will take you on an in-depth tour of American spaceflight. Here is a recap of the programs along with some notable accomplishments and a timeline.
Mercury Program (1958 – 1963)

Alan Shephard first American in space (1961)
John Glenn first American to orbit the earth (1962)
Gordon Cooper with 22 orbits (1963)

Gemini Program (1964 – 1966)

Ed White with the first American spacewalk (1965)
Neil Armstrong performed the first manned docking in space (1966)

Apollo Program (1968 – 1972)

Neil Armstrong first man on the moon (1969)
Apollo 17 the final voyage to the moon (1972)

Space Shuttle (1981 – 2011)

Bruce McCandless first untethered spacewalk (1984)
Hubble Space Telescope launched into orbit (1990)
Eileen Marie Collins was the first woman to command a Space Shuttle mission (1995)
First crew abroad at the International Space Station (2000)

Commercial Space Era (2012 – present)

SpaceX Dragon capsule docks with ISS, the first private spacecraft (2012)
SpaceX Falcon 9 lands the first stage of an orbital booster for the first time (2015)
U.S. Astronauts travel from U.S. soil again to the ISS on a SpaceX Falcon 9 (2020)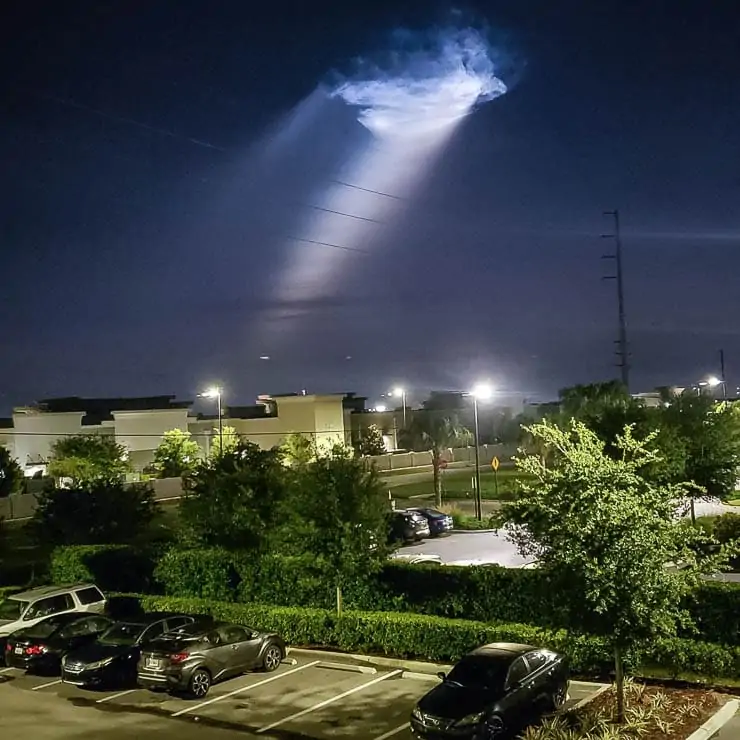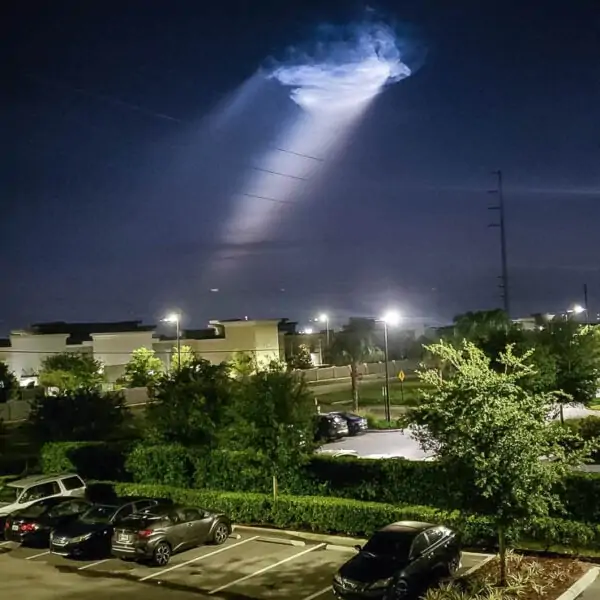 Tip: Read the book Into That Silent Sea & In the Shadow of the Moon before you go to gain better insight into the early days of the space program and a better appreciation for everything you will see here.
If you have more time that you want to utilize, I'd suggest budgeting a little more time on the period of most interest to you, whether that is the Space Shuttle, Apollo, or early Mercury/Gemini programs.
If you want a break, I'd suggest working in an IMAX movie after lunch or in the afternoon — check out the app or pamphlets at the entrance for a schedule. There are also massive gift shops if you want a NASA or SpaceX t-shirt (the best one is at the main plaza).
You can also finish out the day by visiting Journey to Mars, the Space Memorial Mirror, the Nature & Technology exhibit, or the U.S. Astronaut Hall of Fame if you bypassed it earlier while visiting Heroes & Legends. These are all secondary exhibits, in my opinion, and should be left for the end of the day or included in future visits.
Conclusion
I hope that this suggested itinerary and schedule of Kennedy Space Center prepare you for an incredible day at one of my favorite places in Florida. I'm adamant that Kennedy Space Center is not just a stopover to include on an Orlando family vacation, but an incredible destination in its own right.
The experience is even more incredible if you can time it with a scheduled rocket launch from Kennedy Space Center. Unmanned launches are a pretty regular occurrence these days, so your odds are good! But even if you can't make a launch, the visit to Kennedy Space Center is 100% worth it and I try to return periodically to absorb even more details and insights about space exploration and to explore new additions to Kennedy Space Center.
Be sure not to miss my guide on things to do at the Kennedy Space Center with more details about each exhibit and the highlights you can't miss at each spot, plus thoughts on where to stay in Titusville and other necessary trip planning help.
Tips to Book Your Trip Now & Save Money
Book Your Flight
Book a cheap flight with Momondo, they're my favorite search engine. Or better yet, start travel hacking so you can fly for free. Another great search engine is Skyscanner.
Book Your Accommodation
Book cheap accommodation in advance. For hostels I recommend HostelWorld, for hotels I use Booking.com or Hotels.com, and for apartments or longer stays, I use Airbnb. I like to check reviews on TripAdvisor prior to reserving.
Don't Forget Travel Insurance
This is easy to overlook but SO important. It will help protect yourself from illness, injury, and theft while traveling. VERY important. And be sure to read my article about international travel insurance for more details
Looking for the Best Companies to Save Money With?
Check out my budget travel resources page for the best companies to use when traveling. I list all the ones I use and recommend to save money when I'm on the road.
Did you enjoy this self-guided tour of the Kennedy Space Center? Take a second to share it on Twitter, Facebook, or Pinterest. Thanks!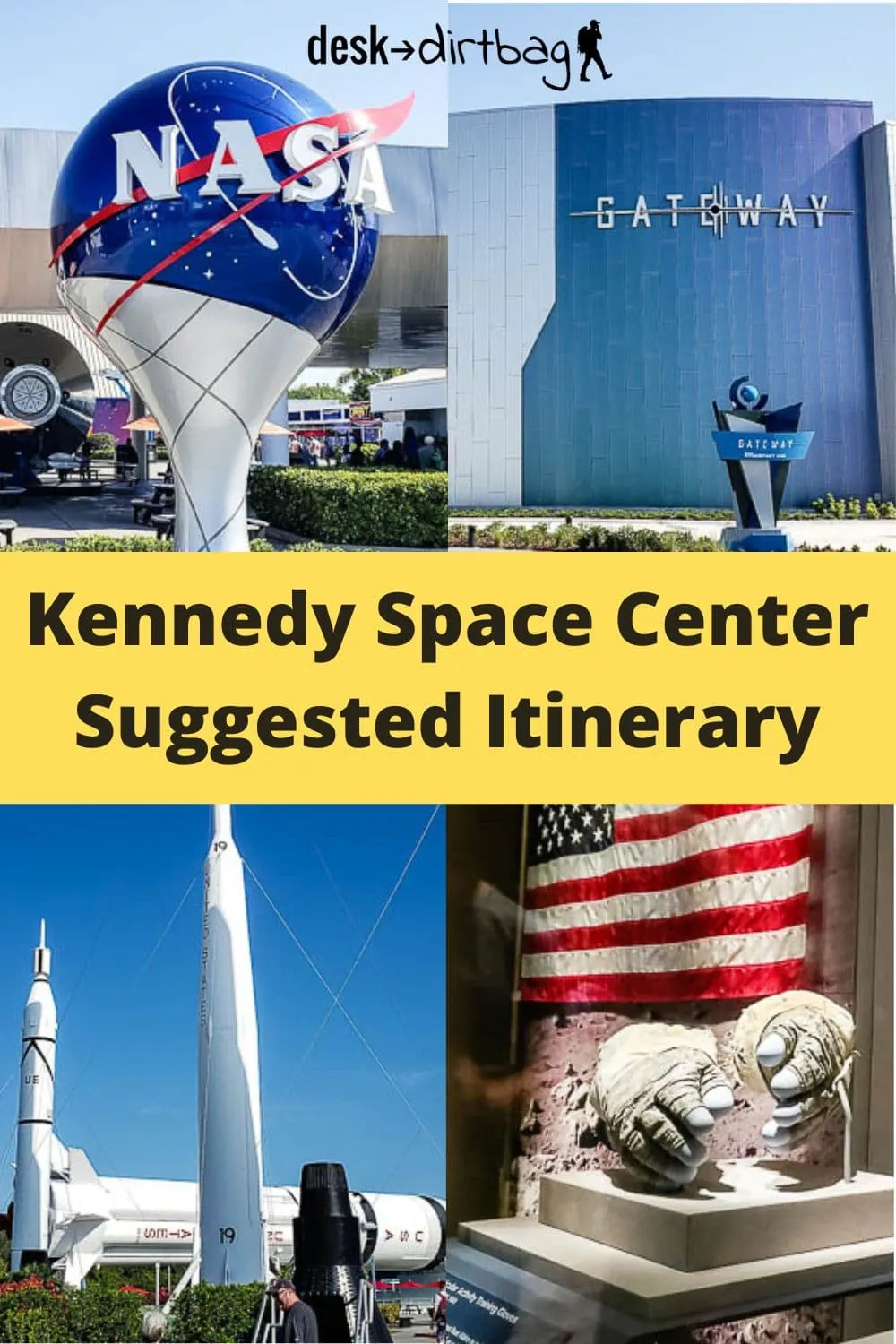 The following two tabs change content below.