This article may contain
affiliate links
. If you make a purchase through these links, I will earn a commission at no extra cost to you. Thanks!
If you are traveling to Florida, I would highly recommend that you visit Kennedy Space Center, it is one of my absolute favorite places in Florida! Here you can get up close and personal with some of the most impressive rockets and space artifacts and gain a greater appreciation for the history of human spaceflight. This is the best place to experience the space program, and possibly even see a launch if you time your visit right!
The Kennedy Space Center is one of ten NASA field centers, but since 1968, the Kennedy Space Center has been the primary launch center for human spaceflight, and is where they launched operations for Apollo, Skylab, and the Space Shuttle programs.
Here you will see active space operations just as it always has been since the 1960s. But beyond that, they have an incredible museum or park for visitors to learn more about the program since the earliest days of space flight to today.
Visit Kennedy Space Center
The Kennedy Space Center is located directly due east of Orlando, located on the Atlantic Coast about halfway between Miami and Jacksonville, near the city of Titusville, Florida and just across the NASA Causeway.
It is only a short one-hour or so drive from Orlando to the Kennedy Space Center and makes a perfect addition if you'll be visiting Orlando for a Florida family vacation. Or it is about a four hour drive from Miami, which makes it too far for a day trip, but is doable if you are staying in the area. On my first visit to Kennedy Space Center, we drove up from Miami in the morning, visited KSC all day, and arrived to Orlando late that night (we stayed for a rocket launch).
You can take the toll road, SR 528, near Orlando International Airport for the fastest route to Kennedy Space Center which is about 45 minutes away compared to over an over if you avoid the toll roads.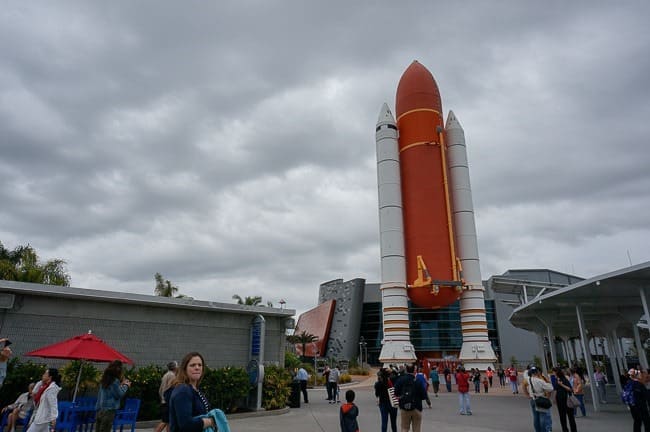 Kennedy Space Center Map
The Kennedy Space Center itself is a very fun and educational visit. Personally, I've always been fascinated by the stars and space. I remember one of my favorite university science classes (and I didn't like science classes) was an amazing astronomy class. I also built and launched model rockets when I was a young teenager. A visit to Kennedy Space Center reignites all those old interests.
If you haven't already purchased your tickets for the Kennedy Space Center Visitor Complex, you can do so right outside the gate at the ticket kiosks. Tickets for adults are currently $57 each.
You can walk among the rocket gardens, learn about the moon landings and the Apollo program, the incredible history of the space shuttle, and learn more about the future of the space program too.
Let's jump into the places to see and things to do when you visit Kennedy Space Center.
Rocket Garden
Upon entering the ticketed area, you are immediately greeted by the imposing rocket garden where some of the most important rockets in human spaceflight are on display. It was mighty impressive to see these big, towering rockets in person.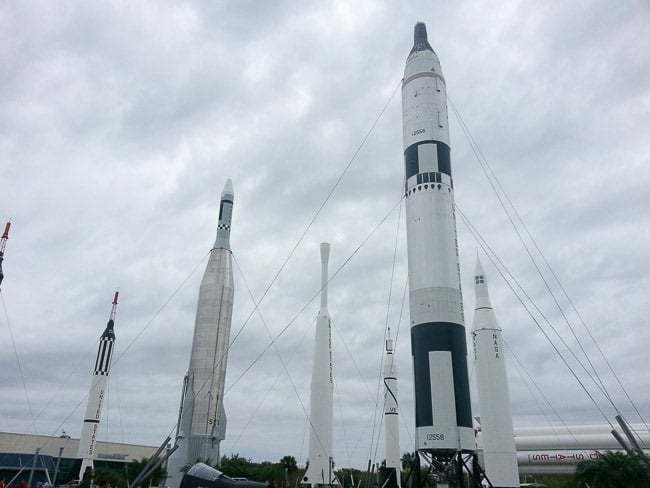 In the rocket garden you will see many important pieces of the earliest days of the space program, especially for the Mercury and Gemini programs. There are free guided tours of the Rocket Garden at various times throughout the day, which is helpful for understanding the context and a few of the stories behind the rockets.
Tip: Read the book Into That Silent Sea before you go better insight into the early days of the space program.
All of the rockets on display here are real with the exception of the Mercury-Atlas rocket which is a replica. Here you will be able to see and walk around rockets such as the Juno I, Mercury-Redstone, Thor, Gemini-Titan II, Saturn IB, and even newer rockets like a Delta II.
You can also crawl inside the Mercury, Gemini, and Apollo capsules to see for yourself what they were like for the astronauts at the time (imagine spending 35 hours in a Mercury capsule or passing almost 14 days inside a Gemini capsule), and you can compare the tiny size of the capsules to the massive rockets that blasted them off into orbit.
Expect to spend 15-30 minutes in the Rocket Garden.
Space Shuttle Atlantis
The Space Shuttle Atlantis exhibit is one of the absolute highlights of a visit to the Kennedy Space Center. For many of us, that was the main form of space travel that NASA was performing while growing up and has been involved in some notable (and tragic) events.
The visit begins with with a great video that briefly explains the history of the shuttle program, and then all of a sudden the movie screen lifts up and you're staring at the real life Space Shuttle Atlantis through a transparent screen.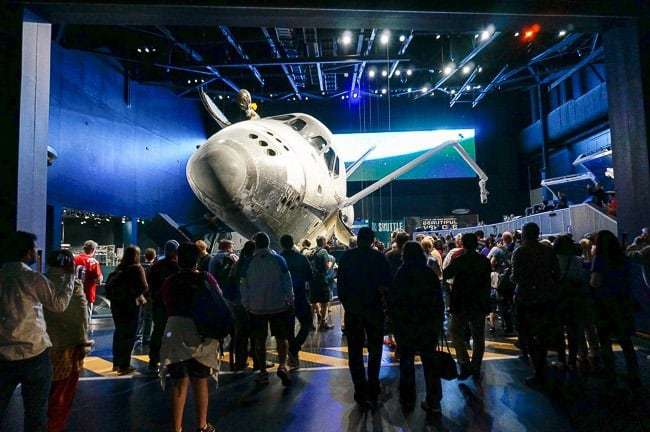 That screen lifts up and then you can walk right up the shuttle and take in the size of it. It is one of the best reveals that I've ever seen. Quite a bit bigger than those little Space Shuttle toys I played with as a kid…
Don't miss the various cockpit control stations, the details about the Hubble Space Telescope (which the Space Shuttle was instrumental in), and much more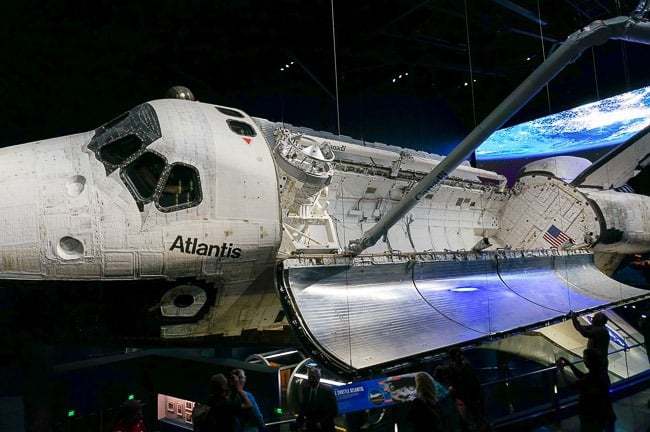 There is also a cool shuttle launch experience ride so you can strap in, tilt up to vertical for launch, and feel the vibrations and force of a launch before arriving to orbit and even a convincing feeling or sensation similar to weightlessness. You will need to store your belongings in a free locker on-site.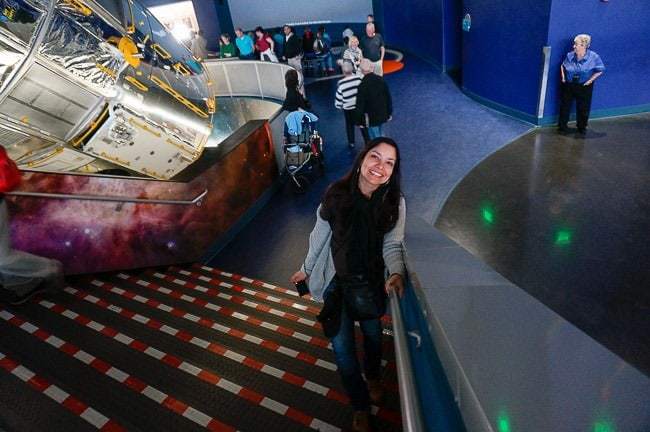 Don't miss out on the memorial section to the Space Shuttle Challenger and Columbia tragedies, sharing the stories of each of the seven astronauts lost on each flight, one which blew up while launching and the other which broke apart while reentering the atmosphere.
Plan to spend at least an hour or two here at the Space Shuttle Atlantis Complex.
Saturn V / Apollo Center
The Saturn V or Apollo Center at Kennedy Space Center is actually located a short bus ride away from the main visitors complex. You will need to take the free shuttle to and from the complex and this is definitely something you should do while visiting Kennedy Space Center.
Along the way to Saturn V complex, you will be given a bit of a tour and see some of the more behind the scenes or restricted areas of Kennedy Space Center.
On the way you'll be able to see a Mercury-Redstone Rocket (the earliest version of manned space flight in the United States) and you won't want to miss the Vehicle Assembly Building (or VAB) where NASA is putting together their newest and biggest rockets like the Space Launch System (SLS), aiming to take humans back to the moon and beyond.
The ride is a short 15 minutes away, but you will disembark and go through a multi room film and historical experience where you will learn about the Apollo missions and see mission control. At the end, you will step out underneath the booster end of the imposing Saturn V rocket, the largest every flown.
Take in the grandeur of this incredible rocket and don't forget to explore some of the exhibits along the back wall that go into more detail about the moon missions, the lunar lander, and plenty of artifacts from the Apollo missions.
Don't miss the memorial to the Apollo 1 crew that were killed on the launch pad when a fire broke out in the capsule during a test run.
Just outside is the Banana Creek launch viewing area, but whether there is a launch or not, step outside and take a look at launch pad 39A and 39B just across Banana Creek.
Expect to spend around two hours here exploring everything it has to offer.
See a Rocket Launch at Kennedy Space Center
If you time your visit well, you can probably see a rocket launch from Kennedy Space Center! Thanks to the frequency of launches by commercial providers like SpaceX (at a cadence of almost once a week now), it is increasingly likely that you may be able to see one. In years past, it was really hit or miss with very infrequent launches.
Being able to attend a night launch during my first visit to Kennedy Space Center, was probably the highlight of that visit. My second time seeing a launch was perhaps even more spectacular, more on that in a minute!
After a good day of exploring, we boarded the buses at the Kennedy Space Center and were driven off to the Apollo / Saturn V Center for the launch viewing. This is the separate area that is also included in your standard KSC tickets and also sits adjacent to the Banana Creek launch viewing area, which is the closest place to see a launch — about 3-4 miles to LC-39A.
There were hours to kill before the launch, but we wandered around the indoor exhibits, and stood beneath the absolutely massive Saturn V rocket — still the world's largest — which stretched the length of the building. It is truly difficult to fathom the size of a Saturn V rocket, even when standing below one!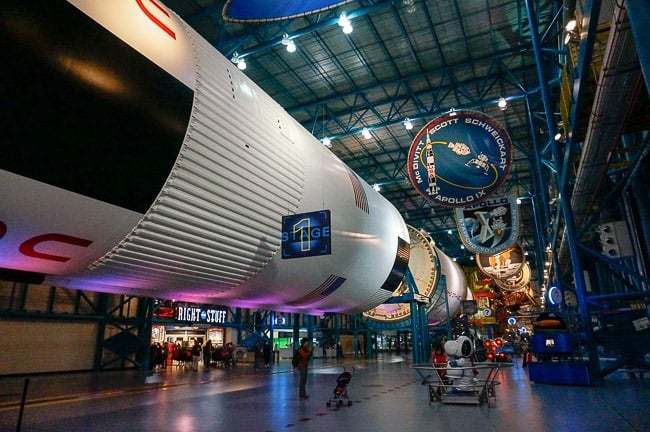 It was already dark and getting late, so we grabbed dinner inside at the food court.
Outside there are a series of bleachers and we managed to find a space for all of us along the bleachers with a view to the launch pad just a few miles across Banana Creek.
When I was younger I frequently shot off model rockets, most of them were little ones that I could launch in the yard or at a school football field with friends, but I also made the trek out to Monroe, Washington or down to Bend, Oregon where we could let the "big ones" fly. Of course, big ones for us meant like the size of a person — not a few hundred feet tall like the one we were about to see…
Or would we?
They pushed back the launch because of weather. To us it appeared to be completely calm and perfect, but even the most minor disturbance can have major consequence when launching a rocket of this size and they have to make sure conditions are perfect.
Meanwhile, we were worried it might get canceled completely.
One hour ticked into two and still nothing… But then the time came, the countdown began and my excitement started to rise, and the bright light from the rocket light up the sky as the rocket slowly lifted off the platform.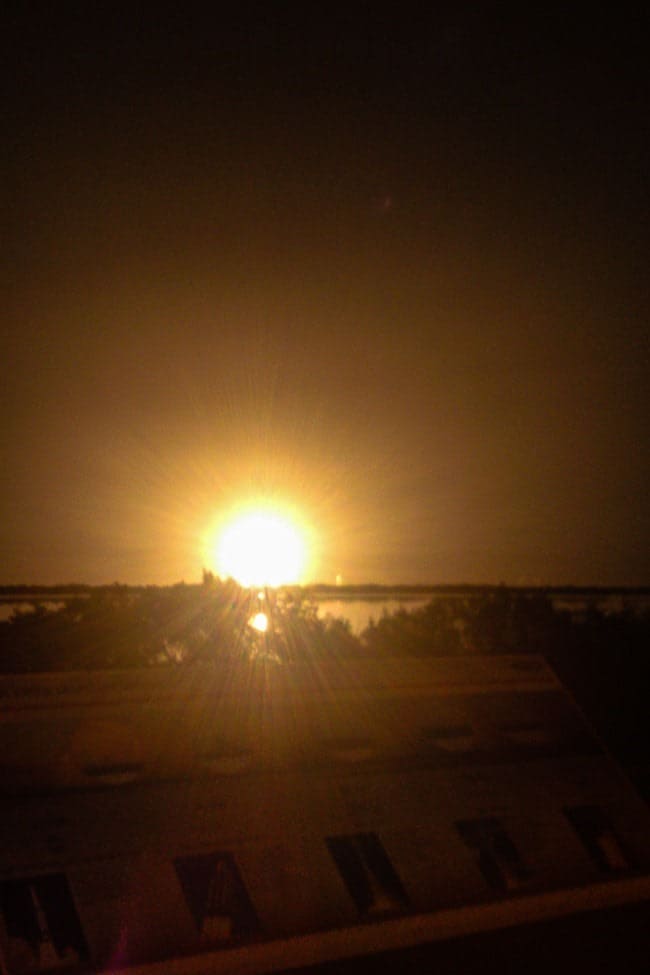 Sadly, I failed to take any decent photos of the launch — they were all overexposed since I hadn't anticipated just how intensely bright it would be. The night sky turned almost like day. Lesson learned.
It began picking up speed slowly and shortly thereafter we could hear the roar of the engine as the sound waves finally reached us, and as it arced up and out across the Atlantic Ocean.
An unforgettable and special experience that just happened to coincide with the dates of our trip. It's a must do if there is a rocket launch during your visit!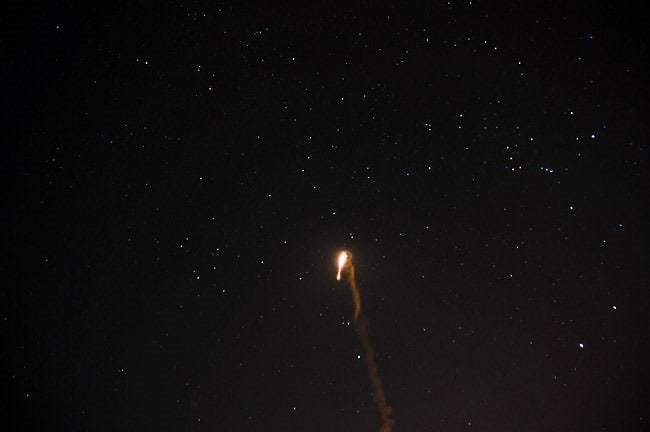 Click here to check out the Kennedy Space Center launch schedule to see if your travel dates coincide with a launch — of if you've got some flexibility, I'd recommend trying to plan a trip that will coincide. It's truly a once-in-a-lifetime experience and something so incredible to see in person.
Viewing a launch from Kennedy Space Center will offer you the best experience, undoubtedly. You are closer to the action, offering you a better view and the sound of a launch. But delays do happen, as I experienced. The launch might get pushed back and you may not be in the area.
I will note that you can see launches from virtually anywhere in Central Florida, so if your travel plans take you to Orlando, for instance, you can still see the launch! During my second visit to the area, I was fortunate enough to catch a SpaceX Falcon 9 launch from Orlando in the early morning hours.
Launches just before sunrise or just after sunset are otherworldly for the so-called Twilight Phenomena where particles from the rocket engine exhaust freeze in the air and catch the first rays of sunlight, illuminating spectacularly in the still dark skies.
Seeing that rocket plume light up and drift across the horizon was unforgettable for me and something that I would almost compare to a manmade Northern Lights. Seeing it should be on everyone's bucket list.
Plan a Trip to the Kennedy Space Center
Kennedy Space Center tickets can be purchased online from their website. If you don't purchase them online, you can also purchase them at the gate from the ticket kiosks. If you don't plan to do the add-on purchase enhancements, you don't usually need to buy tickets in advance, as tickets rarely if ever sell out for general admission. If you want to add-on experiences like dining with an astronaut, then you should certainly purchase that in advance.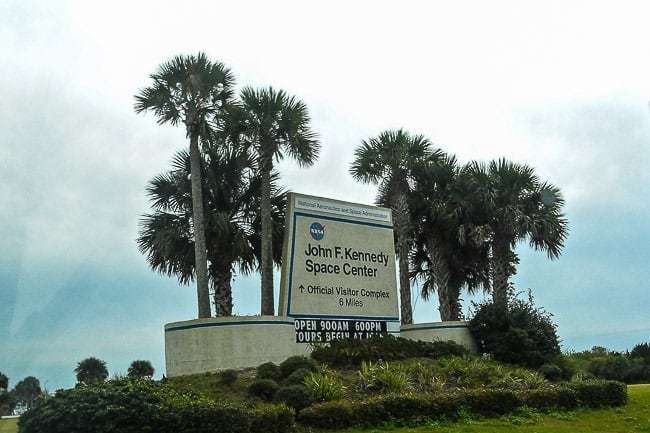 Kennedy Space Center has different closing times depending on the season, but the center opens at 9am every day of the year. If your visit coincides with an evening launch, then you may not want to arrive at opening time, but rather just before mid-day in order to enjoy the visitor complex have enough energy to hang around for the launch. But you could definitely fill your entire day here, there is a lot to see, even on subsequent visits.
Speaking of launches, be sure to check the Kennedy Space Center launch schedule prior to planning a visit. If the launch occurs during regular business hours, then access to the Banana Creek launch viewing area is included with the ticket, but if it happens after hours, you may have to pay a surcharge for launch viewing tickets.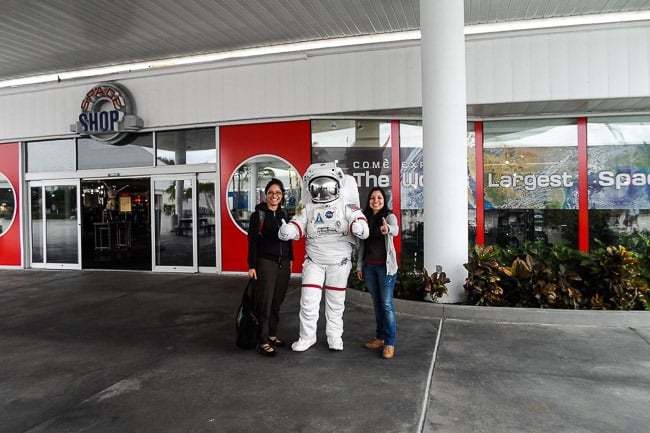 Where to Stay at Kennedy Space Center
As mentioned earlier, on my first visit, we drove up from Miami in the morning, explored Kennedy Space Center, saw the launch, then continued to Orlando in order to maximize our time. On a follow up visit, I was better able to maximize my time by staying in Orlando and driving to and from there for the Kennedy Space Center visit.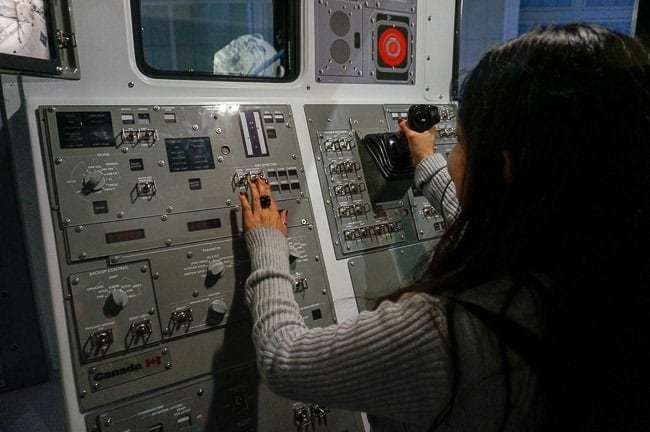 But if that sounds like a hassle, you could stay in nearby Titusville or Cocoa Beach either before or after you visit the Kennedy Space Center.
There are all the standard hotel options to choose from, but if you want to stick with the space theme and visit a very cool new hotel, then you should definitely check out the Courtyard By Marriott Titusville Kennedy Space Center.
It is the closest hotel to Kennedy Space Center and features space décor and themes throughout the hotel and rooms, including some NASA artifacts. Beyond that though, they have the incredible Space Bar which is a rooftop restaurant and bar overlooking the Indian River and providing a greet location to watch launches from the comfort of your hotel!
The hotel rooftop is about 8-9 miles from the Banana Creek viewing area, about 6 miles from the new Gateway Center launch viewing area. Banana Creek is as close as you can get, basically, and it sits about 3-4 miles from LC-39A.
Check out Review on TripAdvisor | Book Now on Booking.com
Important: Sign up for the Marriott Bonvoy loyalty program and be sure to get a Marriott Bonvoy Credit Card to get your first free nights and unlock additional rewards, including welcome gifts, room upgrades, extra points, faster WIFI, and other benefits. Read: How to Stay in Luxury Hotels for Free.
Kennedy Space Center was so much fun and also so very educational. If you love space, history, or just really cool and one-of-a-kind experiences, then you can't go wrong with a trip here. Andrea's 10-year-old nephew got really into it, despite the fact that it's more educational in nature, rather than filled with theme park rides and attractions like over in Orlando.
Traveling to visit the Kennedy Space Center on your next trip? Book the perfect room on Booking.com today!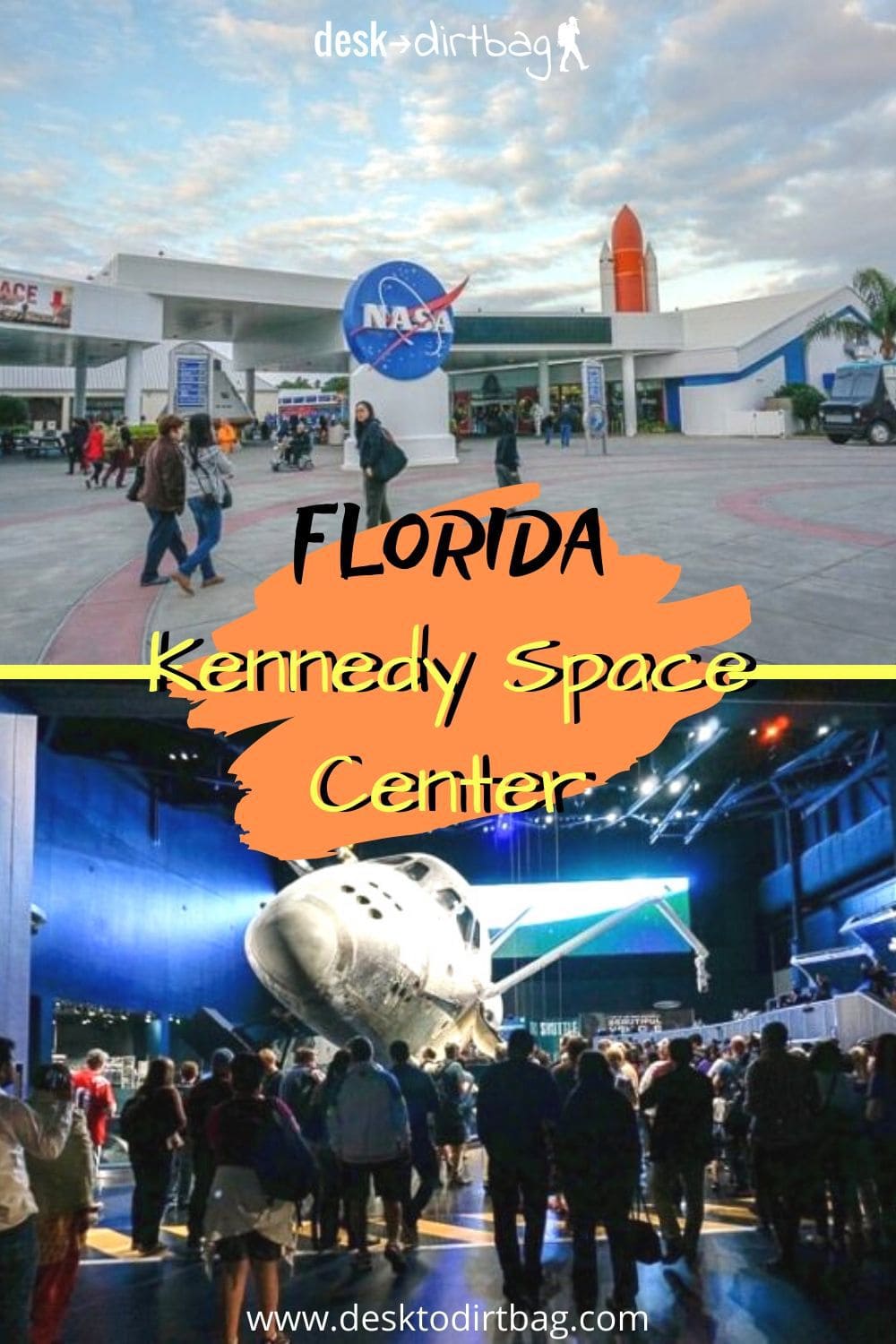 Share This
Did you enjoy this post? Please take a moment to share it on Facebook, Pinterest, or Twitter.
The following two tabs change content below.