This article may contain
affiliate links
. If you make a purchase through these links, I will earn a commission at no extra cost to you. Thanks!
Everyone mistakenly believes that travel is expensive. That just isn't the case… Indeed, there's been times where I've spent less during three months of full-time travel than I spent for ONE month back when I was living in Washington D.C. — and I'm not just talking about accommodation, but food, travel, everything. After the flights, lodging is typically one of the biggest expenses that most travelers have to grapple with, but thankfully there are plenty of ways to find cheap accommodation today and even better still, there are a number of ways to get FREE accommodation.
In this post, we are going to be covering my favorite travel tips for how to find cheap accommodation which will drastically reduce your overall travel budget. These travel tips and ideas will cover more than just finding cheap hotels or conventional advice, and will run the gamut with some unconventional methods thrown in too. All of that is meant to give you some good ideas whether you are a young budget backpacker or an older couple looking to save money during your retirement travels.
Additionally, these methods to find cheap accommodation will apply to both domestic travel in the United States as well as international travel (although some methods work better than others, which we will get into on a case by case basis).
Enough with the introduction, it's time to get into my top travel tips and recommendations for finding cheap accommodation, or better yet, free accommodation! Because who doesn't love free?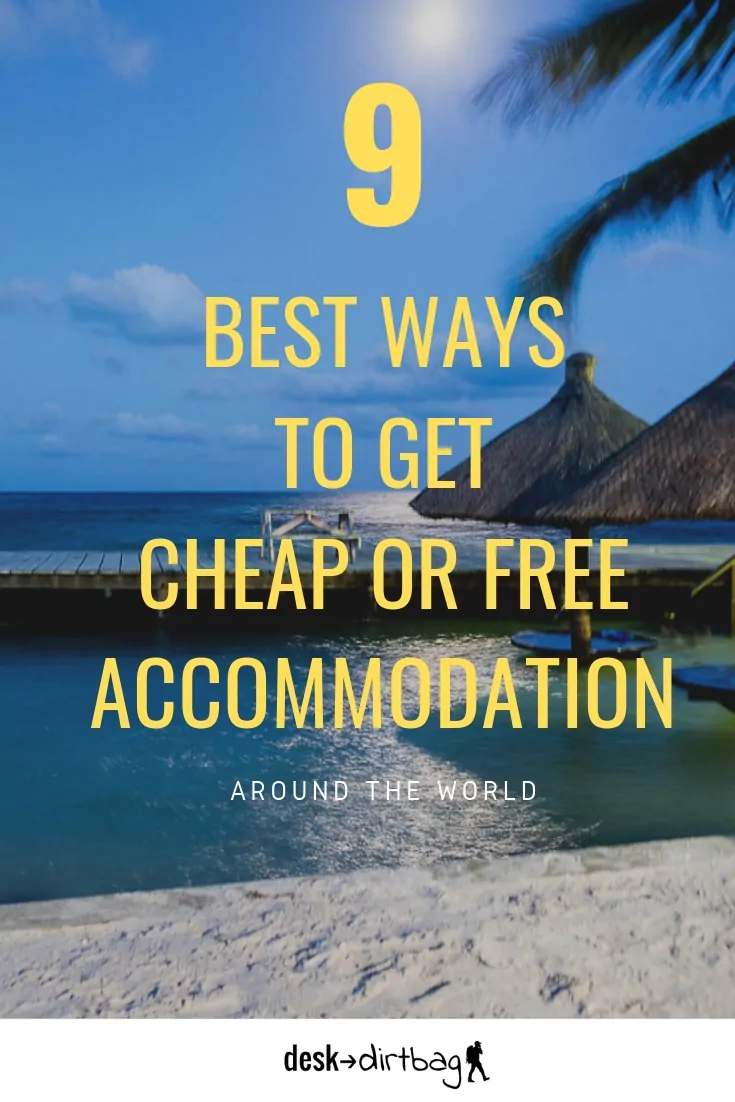 Couchsurfing for Free Accommodation
Couchsurfing, if you aren't familiar is essentially a name given to crashing on someone's couch. While in the old days this meant asking for friends of friends if they knew anyone in the place where you were going, and who might let you crash on their floor/couch/spare bedroom for a few days while you explore a new city…
But in today's 2.0 digital world, that idea has moved online where people can offer up their extra space (often because they are travelers as well) and travelers can seek them out. Both parties create a profile on an online platform allowing travelers to connect with hosts.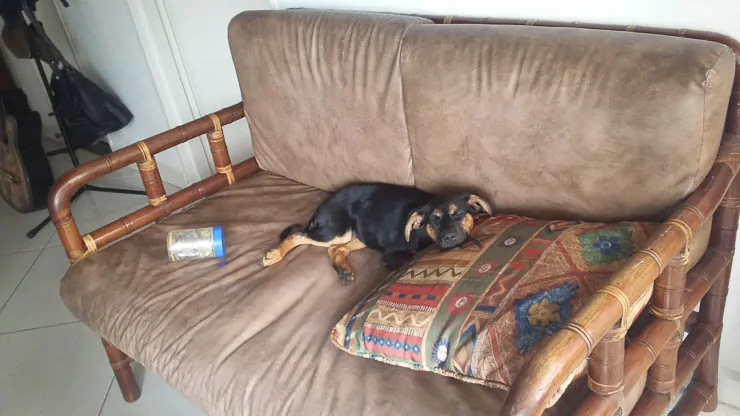 It's a great idea in theory, and I know some people that absolutely love the couch surfing platform and idea, but it probably my least favorite of the methods on this list and so I put it first to get it out of the way. I've given couch surfing a try, and just have never really had much luck with it, to be honest. Which is fine, because it also doesn't totally appeal to me either…
But if want to give couch surf a try, you should be sure to have a very complete profile, ask for references from friends and family, connect your social media profiles, and basically give your host as much information about yourself as you can so that they feel comfortable hosting you.
Likewise, you as a traveler should be sure that the host has all the same, sharing details about themselves, has a complete profile with photos, references, reviews, and more.
If you are the guest in a couch-surfing situation, even though you've got free accommodation, you should still try to pay your host back in some way, whether that means a small gift like wine or chocolates, buy cooking a dinner or two, cleaning up around the house, or so forth.
Pros: Free accommodation, a great way to meet locals or even make friends, can be an awesome insight into the local culture if traveling abroad, access to a full house including a kitchen which is a big money saver too.
Cons: Accommodation can be hit or miss, can be an uncomfortable situation for some travelers, best for short stays so as to not overstay your welcome.
Stars 2/5
⭐⭐
Home Exchanges for Free Accommodation
Home Exchanges are a relatively popular method of travel, particularly among older generations, whereby you exchange houses with another couple (they are often couples) who have a home in an interesting location that you'd like to discover.
Both parties swap homes for a few weeks or a month and get the opportunity to travel quite cheaply… Indeed, if their mortgage is paid off, it is essentially free for them.
Depending on the circumstances, you may also have access to the car of the other homeowner. Like most of the methods we'll discuss for cheap accommodation, there are some great online portals which facilitate these exchanges and which are complete with profiles and reviews about the couple who you will be exchanging homes with, although home exchanges have a built-in incentive to treat the other home as your own because the other couple is in your home as well.
The largest and most popular is the aptly named Home Exchange which offers up tons of properties all over the world.
Home exchanges are something that I would definitely try if I actually had a home to exchange since I'm so nomadic. But until that time, I can just mention it as an option and review it in theory.
For homeowners who plan to travel long-term, your best bet is to probably rent out the property in order to either cover your mortgage or turn into a positive cash-flow which you can use to travel.
Get started with Home Exchange
Pros: Free accommodation (even if you have a mortgage, you still don't have to pay anything extra that you would otherwise be paying), access to a full house with kitchen and other amenities.
Cons: Options are limited, homes may not be in an ideal location for travelers if they are in the suburbs or outside the main area of interest.
Stars 4/5
⭐⭐⭐⭐
Hostels for Cheap Accommodation
Hostels are the classic budget backpacker method of finding cheap accommodation all over the world. They are probably the best and cheapest method of finding reliable and affordable accommodation on a long term trip. There are hostels of all types, ranging from chill and relax to party environments. Some hostels may have pools and be ocean-side, others may be in the heart of the city.
In any case, hostels can typically be defined as having some sort of dormitory living (although many have private rooms as well) and quite often have access to a shared kitchen. There are some places around the world that call themselves hostels but don't have these basic features though, so always read the details.
Dorm accommodation is about as cheap as it gets for budget travel since you are sharing a large room filled with bunk beds and four to twenty of your new best friends.
If you are fresh out of college and traveling solo on your first big trip, then hostels and dorms are without a doubt the way to go. As I've gotten older, I've become less interested in the discomfort and lack of privacy that dorm life entails.
Hostels are still cool, but now if I'm going to stay at a hostel I prefer to snag a private room, especially since I'm now traveling as a couple (although you can usually find better deals at budget hotels or an Airbnb).
If you are traveling with a friend, you will often find that a private room with two beds (or a single double bed for couples) is only slightly more expensive on a per person basis than what the hostels charge for a dorm, so it is definitely a better option if you still want the social benefits without the dorm discomfort.
If you are traveling solo, then you won't find anything cheaper than a bed in a dorm. I've done that too, and my personal preference was always for hostels that aren't so busy, meaning smaller hostels, with fewer people in each dorm and fewer people using the kitchen. I'd always try and go for a smaller 4-6 bed dorm, rather than those big 10-20 person dorms which are just pretty uncomfortable, to be honest.
Just know, the smaller the dorm, the higher the price per night. So if your budget is super low, then you will find bigger savings in those big dormitories. But at times with those smaller, slightly more expensive dorms, I had a four-bed dorm to myself at times!
No matter whether you have a private room, a small dorm, or big dorm, hostels are still the best way to make friends and meet fellow travelers. Everybody is basically in the same situation in terms of being solo, and there are often lots of activities organized by the hostel. Plus, if you're staying in the dorm, you're basically only going to use it for sleeping, thus forcing into the common areas or out exploring.
#1 Tip for Hostel Dorms: Bring an eye mask and earplugs. People love to turn on the lights at odd hours of the night or strike up a conversation (or come back drunk).
Book your hostel on Booking.com
Pros: The cheapest accommodation you will find without being free, the best method when it comes to social opportunities or chances to make friends, access to a kitchen to save more money.
Cons: Large dorms will quickly lose their appeal, some hostels may have questionable cleanliness in the rooms or kitchens.
Stars 3/5
⭐⭐⭐
Work Exchange for Free Accommodation
Work exchanges are probably the second-best option for those traveling long-term on a tight budget and are something that I've used periodically as well. In these types of exchanges, the traveler finds a business that will trade your work for free lodging (and oftentimes free food).
These types of exchanges could be working at the front desk at a city hostel or working out in the country on a farm, and pretty much anything else in between.
WWOOFing (World Wide Opportunities on Organic Farms) is perhaps the largest and most well known. This is a site that specializing in farming opportunities, which means living out in the country and sometimes doing hard manual labor work. The typical arrangement looks like working half time (about 20 hours per week) in exchange for free room and board.
So it still gives you free time (at least half a day and the weekends, typically) to go out and see the sights or get to know the area where you will be.
There is also the site WorkAway which tends to have more opportunities in other fields of work, whether that is childcare, hotel work, or even website/digital work.
Get started with WWOOF or WorkAway
Pros: Free accommodation and free meals, good opportunities to connect with locals (if you are working with locals rather than ex-pats) and time to practice language skills.
Cons: You will be working meaning less free time in general, sometimes the work is physical in nature which can tire you out, locations aren't always ideal from a sightseeing perspective, and accommodation can often be pretty rustic.
Stars 4/5
⭐⭐⭐⭐
Airbnb for Cheap Accommodation
In case you've been living under a rock, Airbnb is where people open up their rooms or entire homes for travelers to rent just like a hotel room. Airbnb is also in various states of legality depending on where you are traveling to, so be sure to research that. Airbnb is a pretty cheap accommodation option, even if it isn't the cheapest out there… But you can find a room in a house shared with the owners for about the price of a budget hotel room (sometimes even cheaper), which will give you access to a full house, kitchen, private space, and usually much better internet.
Airbnb is one of my favorite ways to find cheap and comfortable budget accommodation no matter where I'm traveling. Some places have been amazing with a shared house that felt basically private because the owner was hardly there. But it is also an affordable way to get a private apartment too with prices that can be surprisingly cheap depending on your destination.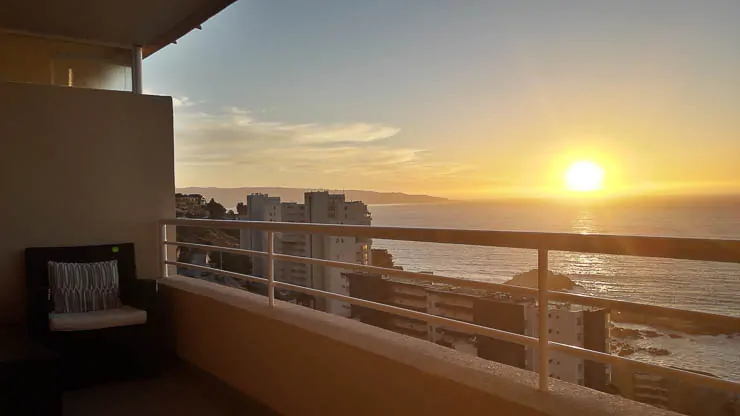 If you want the cheapest, set the filters to look for an individual room in a share house and stay for at least a week (many have set automatic discounts). If you book close at the last minute, many owners will be willing to work with you on a discount and you should NOT be afraid to ask for a discount (it would otherwise probably be vacant and earn them less money).
Something I've also done that I've never seen other travel bloggers talk about is the idea of becoming an Airbnb Landlord, which applies to truly long-term travels who wish to settle down like an expat… While traveling overseas, I rented an apartment with extra rooms and then rented those out on Airbnb in order to cover most, if not all, of my monthly rent — basically allowing me to live rent-free overseas. This is something I talk about at length in my book, Big Travel Small Budget.
But back to the more standard way of using Airbnb, it still remains a preferred way to travel, particularly if you're traveling as a couple or even a family.
Get started with Airbnb (claim a free travel credit too!)
Pros: Usually quite nice places for about the price of a hotel, access to a kitchen, friendly and knowledgeable locals to give you tips or answer questions.
Cons: Quality and/or service can be hit or miss and most do NOT leave 100% honest reviews, just see my own Airbnb horror story for an example.
Stars 4/5
⭐⭐⭐⭐
House Sitting for Free Accommodation
House sitting is one of my favorite ways to find cheap accommodation almost anywhere around the world… House sitting is basically just taking care of someone's home (and most often their animals) in exchange for a free place to stay. In that sense, it is kind of like a work exchange because you are given free accommodation in exchange for your work taking care of their beloved pets and perhaps their property.
We've used house sitting to stay in expensive Seattle, on a remote farm on Mexico's Baja Peninsula, and in the heart of one of Mexico City's best neighborhoods. Our work at these places has ranged from basically just walking and caring for one dog, to the more elaborate farm situation which involved feeding horses, dogs, chickens, mowing the lawn, and regularly watering the plants.
House sitting allows the homeowners to take a vacation without having to pay to board their animals and lets them rest easy (or at least easier) that they've got someone taking care of their pet. For the house sitter, they've got an often great place to stay, some animals to be with (you do love animals, right?) and an excellent home base to explore their surroundings.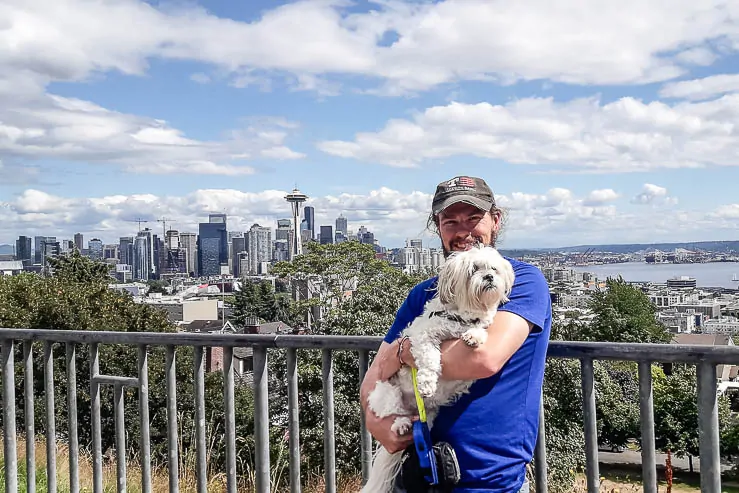 Honestly, this type of free accommodation will probably be difficult for you if you are a young, single guy. It is best suited to couples (many owners prefer couples), and mature people who aren't traveling to party and go wild. Young single females will still likely be able to land house-sitting gigs, though they would still probably be the second choice if a responsible couple has also applied for the gig.
There are many different house sitting platforms online, so check out HouseSitSearch to perform a search for the country or region where you will be traveling to in order to see in general which platform might be best. I've found that Trusted House Sitters to be the best for me in terms of the number of appealing house sits available, but also check out Mind My House or House Carers.
Get started on Trusted House Sitters
Pros: Having a full house to yourself with all the amenities, free accommodation, not a lot of work typically, fun animals to play with and pet.
Cons: While the overall work commitment is light the actual care schedule can interfere with big days out, can be competitive to land really amazing house sits, aren't available absolutely everywhere but mostly where expats have settled.
Stars 5/5
⭐⭐⭐⭐⭐
Overlanding for Free Accommodation
Like the Airbnb Landlord option, this is another one that I've never seen on these articles about free accommodation but is something that I've used extensively. Overlanding is basically just a fancy word for living out of your vehicle… If you're on Instagram, you've surely seen the van life moment, well, I do something like that but with truck camping.
There are plenty of different ways to go about overlanding, but the basic premise to have a wholly self-contained vehicle where you've got transport (obviously), gear/belongings, a way to cook, and a place to sleep. But there are also overlanders who travel by bicycle, motorcycle, or even walking (but that's a different story!).
Now at first, this might not seem like a way you could travel and see the world, but you would be mistaken. When we drove from Seattle all the way across Central America and then on through the length of South America, we frequently used truck camping in order to spend a night for free (or for cheap in a paid campground). This manner of travel drastically reduced our nightly expenses and gave us the freedom to go when and where we wanted.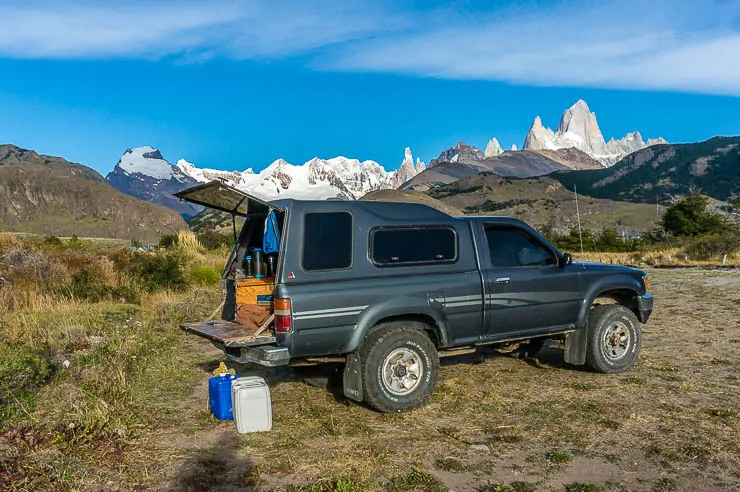 There are plenty of free places to camp all over the United States and all over the world really. This type of travel and free accommodation is perfect for those who love nature, solitude, and peace. We had some truly epic and world-class places to camp on our travels through the Americas that were probably better than anything you would pay for. No joke.
While you might not feel up for driving the Pan American Highway, there are plenty of ways to take advantage of this in the United States too, with ample Federal lands and other opportunities.
Pros: Free accommodation in some of the most beautiful settings, flexibility to go when and where you want.
Cons: Small space, lack of privacy, lack of bathroom and shower.
Stars 4/5
⭐⭐⭐⭐
Hotel Points for Free Accommodation
Travel hacking is pretty much the best way to drastically reduce your travel expenses and is something that I've touted to all who love to travel and will listen. Travel hacking is how I manage to save thousands and get free flights all over the world, and it is also the key to getting free hotel nights and saving thousands more.
Accumulating hotel points through travel hacking is a no-brainer if you have any upcoming travels… And want to save some money! This is the fundamental strategy of getting a totally free vacation, especially coupled with airline miles and travel hacking.
The quickest way to 100% free hotel nights is by applying for the best travel credit cards which offer big sign up bonuses that can be redeemed for hotel nights (see my travel hacking 101 article), and you will then need to use some of these credit card minimum spend tricks in order to qualify for the points.
Then you simply use the points to book your free nights.
Many of these hotel credit cards, such as the Marriott Rewards Credit Card, offer a free night each year which automatically pays for the annual fee. You can usually get a much better value with hotels that would ordinarily cost $200-300 per night, for free! For example, check out my free night at the Medellin Marriott Hotel which included hotel lounge access (with free wine and food), free buffet breakfast, and plenty of other amenities.
One of my best rewards was when we spent five nights in Downtown Manhattan for nothing… Yes, absolutely free in one of the most expensive cities in the world. We were steps from Wall Street, right on a subway line, the room had a decent view of the Woolworth Building, and it even had a kitchen which is almost unheard of in those tiny New York City hotel rooms.
Those five nights at the going right should have cost us $2,500 out of pocket… But they were free! Travel hacking your way to constant free nights on a long term trip isn't likely, but it is certainly appropriate for those who want to take a much more affordable vacation once or twice a year.
Marriott or Hyatt offers up some of the best hotel loyalty points, but don't underestimate more budget-friendly offers like Choice Hotels — we used them frequently during a recent US road trip and earned one free night for every two nights paid!
Read More: How to Stay in Hotels for Free
Pros: Nice hotels that are totally free (sometimes even luxury), the chance to save hundreds if not thousands out of pocket, excellent locations in some of the world's most expensive cities.
Cons: A strategy you must plan out in advance to accumulate points, not something that can be sustained for weeks or months on end.
Stars 5/5
⭐⭐⭐⭐⭐
Online Travel Agency for Cheap Accommodation
Finally, the last method we will discuss is the so-called online travel agencies (OTAs) which are basically those online hotel search engines. These options are perfect if you're simply searching for the cheapest rate in a hotel near you or during your next vacation. It also makes the most sense if you don't want to be loyal to any particular hotel chain or brand and just looking for a cheap hotel night.
One thing that most people don't realize, however, is that these online travel agencies also offer up their own loyalty and rewards programs, meaning you can earn free hotel nights and other perks by booking regularly.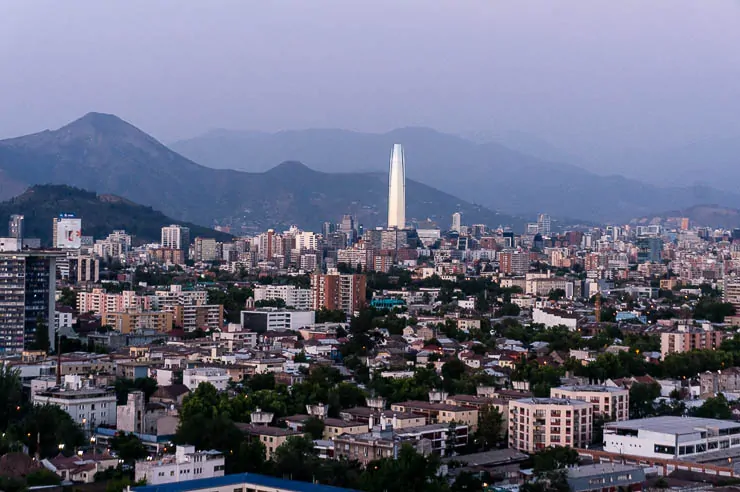 Hotels.com is probably the best one out there as they offer up a deal where you stay 10 nights and you'll get one free. The free night credit works out as basically a running average of the rate you are paying, so if you are staying 10 nights at $50/night hotels, you'll get a free night that counts as $50.
So no, you can't stay ten nights at a Rodeway Inn and then head to JW Marriott downtown. Mathematically, that basically means that you are earning 10% back on each of your hotel stays, which is more generous than ANY other program.
Orbitz is another one that I've used frequently and I'd consider it the second-best OTA rewards program out there… What is unique with Orbitz is that you can book not just hotels but also flights and vacation packages where you earn so-called Orbucks. You will earn 1% of the purchase price of flights or vacation packages, and 5% of hotel stays.
While I always prefer to fly for free, I do sometimes pay outright on flights if I don't have points and/or can find a really good deal… In those cases, I will book through Orbitz so I can earn the Orbucks. Sometimes they have big promotions where you earn an extra percentage, and I've got enough for free hotel nights immediately after booking a flight for two!
Hotels.com doesn't really offer up anything worthwhile for "elite" status, but Orbitz does have some perks like reimbursement for TSA PreCheck, and up to $50 in airline baggage reimbursement fees for Platinum status (after just 12 nights per year).
One important note: You can't "double-dip" hotel points when booking through an online travel agency (meaning you earn both the OTA rewards and the hotel chain rewards discussed above), and the hotel chain rewards are typically more valuable if you are loyal, but you CAN double dip airline miles booked through an OTA, just be sure to include your frequent flier number during the booking or at check-in.
Book now on Hotels.com or Orbitz
Pros: Good for those who aren't loyal to any particular hotel chain, increased flexibility in terms of booking based on the lowest price or cheapest hotel.
Cons: Not as valuable as a hotel chain's reward program.
Stars 4/5
⭐⭐⭐⭐
My Favorite Sites to Book Cheap Hotels
Hotels.com
Orbitz
Booking.com
Expedia
Rakuten – This is a CASHBACK site that should be checked before you make any booking, you can often get some good deals, depending on current promotions.
Try to double or triple dip: Find a cheap rate above, use a cashback site, and use a travel credit card to earn points for future stays.
The Bottom Line on Cheap Accommodation
So there you have it, the ultimate guide to finding cheap accommodation or sometimes even free accommodation. That should give you a great starting point to saving tons of money on your next trip.
As a quick recap:
The best cheap accommodation for young budget travelers: hostels, work exchanges, couch surfing, overlanding.
The best cheap accommodation for older travelers: home exchanges, house sitting, hotel points, Airbnb.
The best cheap accommodation for long-term travelers: house sitting, Airbnb.
The best cheap accommodation for short-term travelers: hotel points, Airbnb, overlanding.
I think the biggest wins that are most easily accessible to almost all would have to be house sitting and hotel points, and that's where I would encourage people to concentrate their time if they are a good fit and that type of travel appeals to them.
What are your favorite ways to find cheap accommodation or free accommodation? Is there anything that I missed? Sound off in the comments below.
Read Next: My Best Budget Travel Tips
Share This
Did you enjoy this guide to finding cheap accommodation or even free accommodation? Take a second to share it on Pinterest, Facebook, or Twitter. Thanks!
The following two tabs change content below.