This article may contain
affiliate links
. If you make a purchase through these links, I will earn a commission at no extra cost to you. Thanks!
Thanks to my Marriott Bonvoy Credit Card (one of my favorite travel credit cards), I get one free award night certificate every year. This year, I found the expiration date fast approaching and with no other hard travel plans coming up, I decided to use my certificate locally here in Medellin as a little anniversary celebration for Andrea and me at the Medellin Marriott Hotel.
Medellin, Colombia is one of the top up-and-coming cities in all of South America, seeing increasing numbers of tourists, digital nomads, and retirees coming from the United States to take advantage of the low cost of living, high quality of life, and the moderate year-round weather.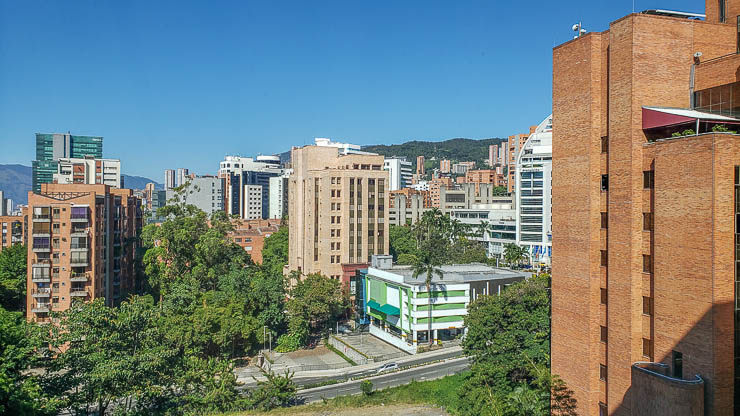 Medellin has been my home away from home for a number of years now, and while I've lived or stayed the night in virtually every main neighborhood in town, I had never stayed in the Milla de Oro (the Golden Mile).
At first, I felt a little sad to be "wasting" my certificate here where we live (down south in Envigado), but in the end, I left super happy with the decision thanks to the incredible service, excellent amenities, and just for the change of pace.
In this article, I am going to be going into a little more depth about our experience in this review of the Medellin Marriott and all it has to offer. Obviously this isn't a place that backpackers and budget travelers would be staying (instead check out my guide to the best hostels in Medellin), but it is ideal for a higher budget traveler or my fellow travel hackers who use points and rewards for free nights (be sure to read more about how to stay in hotels for free).
Reservations & Booking
As mentioned, I am a travel hacker so I like to use my points to stay in upscale properties like the Medellin Marriott for free. I used my annual free night certificate to stay for zero dollars and zero points. The Medellin Marriott is a Category 4 property meaning that one night costs between 20,000 and 30,000 points depending on peak or off-peak travel. In January, the point cost was 20,000 or 25,000 depending on the day of the week.
Note: There aren't a ton of options for points travelers in Medellin, you've got the InterContinental (bad location) and Holiday Inn Express from IHG, the Hampton Inn by Hilton, and the Four Points by Sheraton, the Medellin Marriott, and the new Fairfield in Sabaneta (further south), all part of Marriott Bonvoy.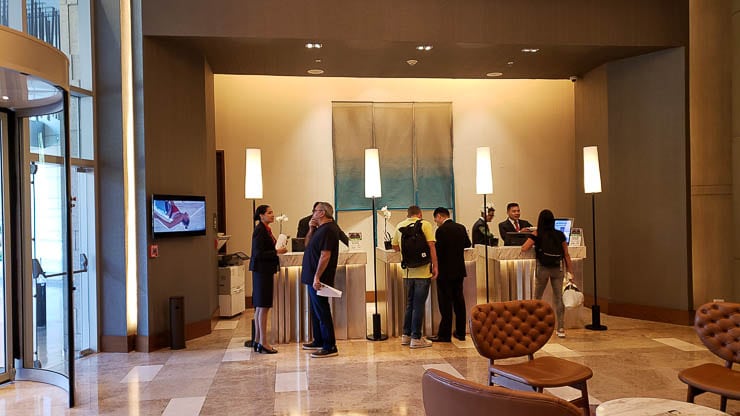 Back to the Medellin Marriott, if you are paying cash, the prices for a room for two here range from about $200 to $250 depending on the day of the week and demand. I've seen prices spike up beyond $300 as well. Generally speaking, you can find the cheapest prices here on the weekend as opposed to weekdays when business travelers jack up the price.
Marriott has a lot of different brands, but the Medellin Marriott is part of the straight Marriott branded hotels that are upscale in nature, although not luxury — "Premium" according to Marriott's own categories. This is a step down from the likes of JW Marriott, and a step up from their "Select" categories like Courtyard, Four Points, etc.
Location of the Medellin Marriott
The Medellin Marriott is located in the heart of the Milla de Oro (the Golden Mile) which is one of Medellin's most desirable stretches of property within the upscale Poblado neighborhood. This neighborhood is practically the only part of town where you will find upscale hotels or more famous international hotel chains. For most visitors, this is the neighborhood where they will want to be.
Read More: About Medellin and Where to Stay
It is located roughly 35 minutes from the Jose Maria Cordova International Airport (MDE) thanks to the new tunnel. This Medellin hotel does not offer an airport shuttle but the staff is happy to arrange a car service that can be added directly to your bill. Normally it costs approximately 80,000 pesos for car service to and from the airport (less than $30).
The hotel is located halfway between Parque Lleras (15 minutes walking) and the Santafe Mall (also 15 minutes walking). Parque Lleras and the surrounding area is kind-of the place to be with tons of restaurants, bars, and nightlife.
The hotel is one block off the Avenida Poblado which is a main thoroughfare for buses that will take you north or south. It is a little far from the nearest metro station, however, at about 25 minutes walk to either the Poblado or Aguacatala stations.
Directly across Avenida Poblado, you'll find the La Strada shopping mall, which is home to a number of restaurants and coffee shops. Along the Milla de Oro, you'll find other properties like Starbucks, Hard Rock Cafe, and much more.
Things to Do Near the Medellin Marriott: Get dinner at Andres Carne de Res, grab a coffee at Tostao (inside La Strada), grab a beer at Bogota Beer Company, or walk up to Provenza for coffee at Desarolladores de Cafe (read more about the best coffee in Medellin). There are plenty of other things, so be sure to check out my guide to the best things to do in Medellin, Colombia, and if it's your first time here, don't miss out on the free Medellin walking tour.
Check-In
The property is located on a relatively quiet side street off the Avenida Poblado, there was security out front with a dog. The whole area is among the safest for Medellin and felt especially so with private security on hand and plenty of staff. As you come through the revolving doors, the reception counter is on the left. We had a short five-minute wait to check-in but we were greeted by another employee who gave us a cold ginger and peach tea (in a shot glass) to refresh us — very nice touch.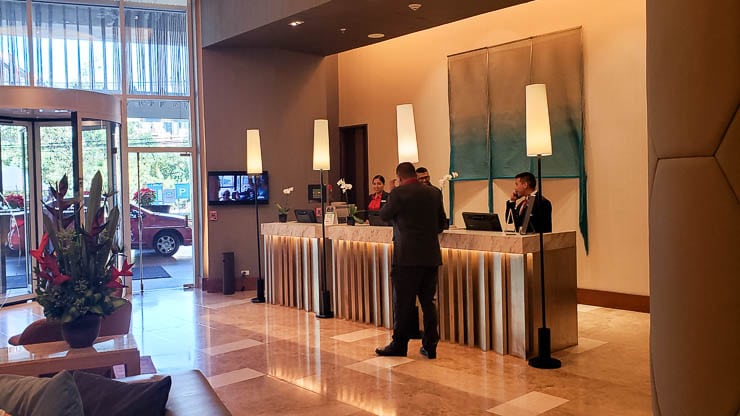 The reception staff was friendly and spoke English even though we conversed in Spanish. Thanks to my Gold Elite Status we were upgraded to one of the "concierge level" guest rooms which also gives access to the Elite Lounge on the 11th floor (more on that later) and a buffet breakfast for two. I wasn't really expecting that since I'd heard Marriott is phasing that out except for Platinum Members, so we were pleasantly surprised.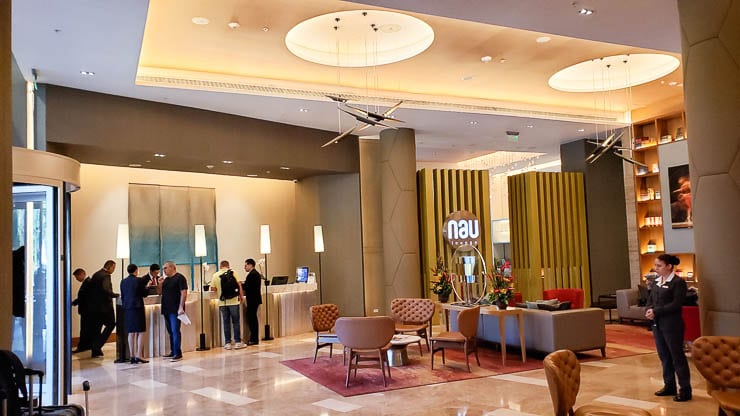 As a Gold Elite member, we were also given a welcome gift from which we could choose between free laundry service, a cheese platter, chocolate-covered strawberries, a fruit basket, or 1,000 Marriott Bonvoy points. We opted for the chocolate covered strawberries…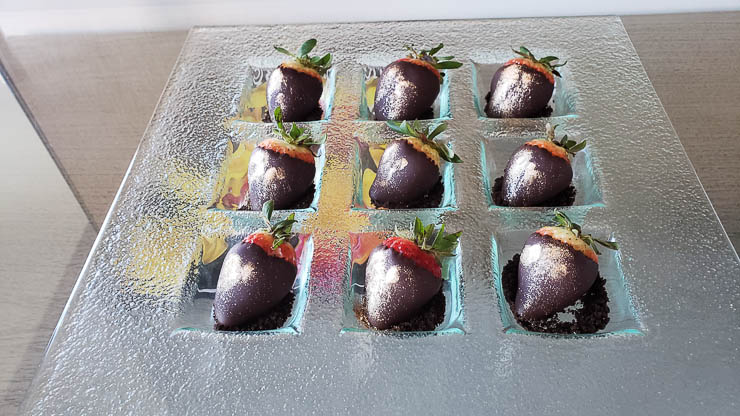 Medellin Marriott Room
We had a king-bed standard room on the 6th floor of this 12-floor property. The room was elegant and simple like you'd expect from Marriott hotels virtually anywhere in the world.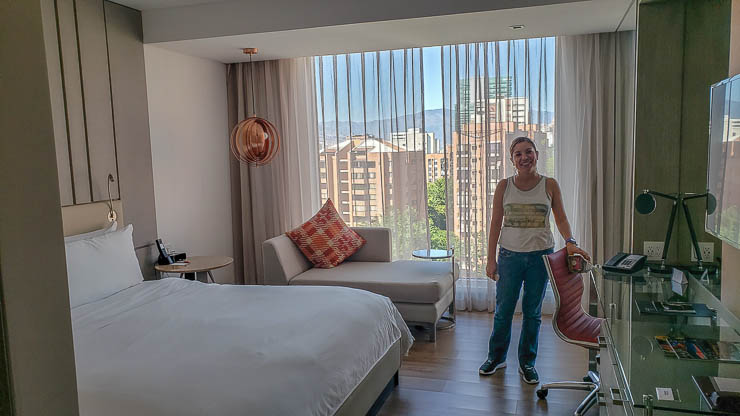 There was a small mini-bar and fridge, a coffee station with local Juan Valdez coffee and a selection of teas, and two bottles of water. Beyond that, they've got a wide selection of items from room service, although we didn't use that.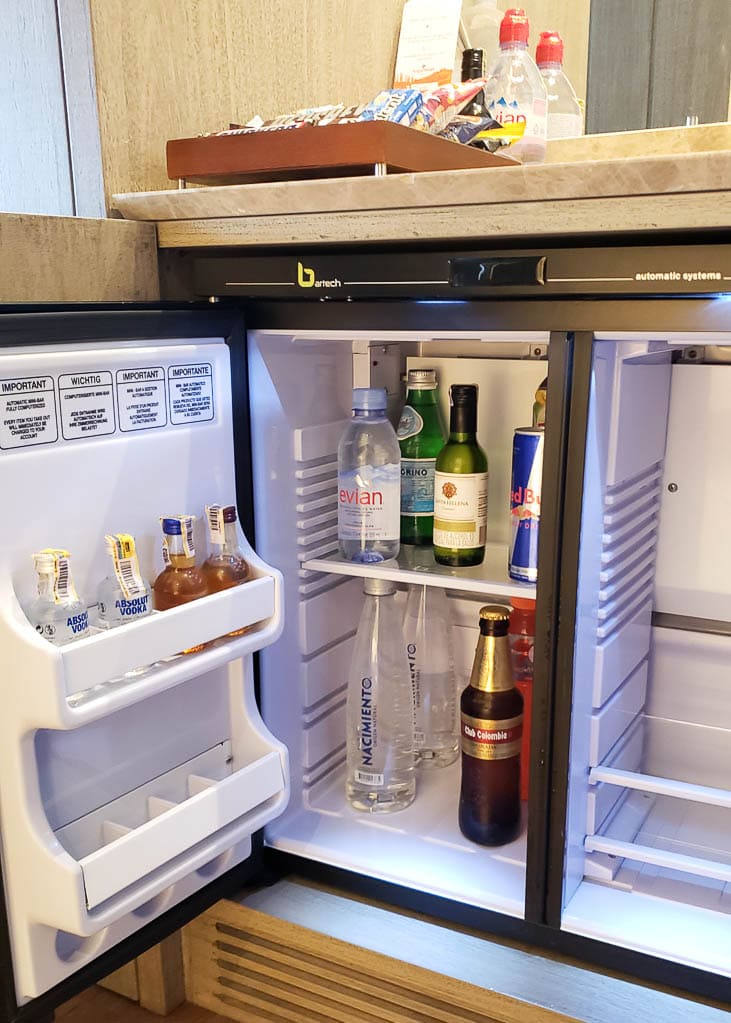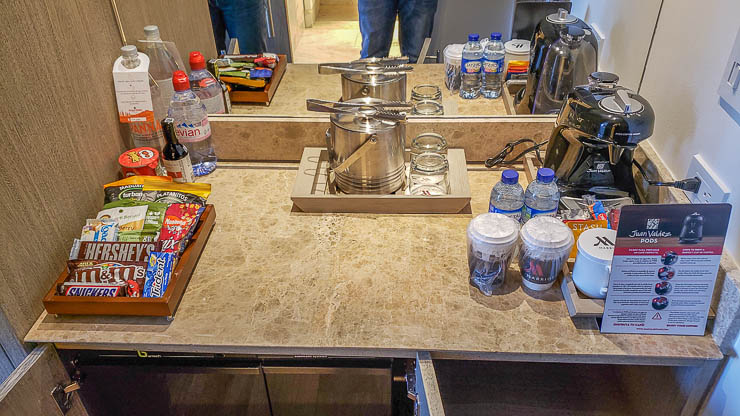 The bed was covered in white linens with reading lights as well as lamps. There were plenty of electrical outlets (with standard connections and USB connections).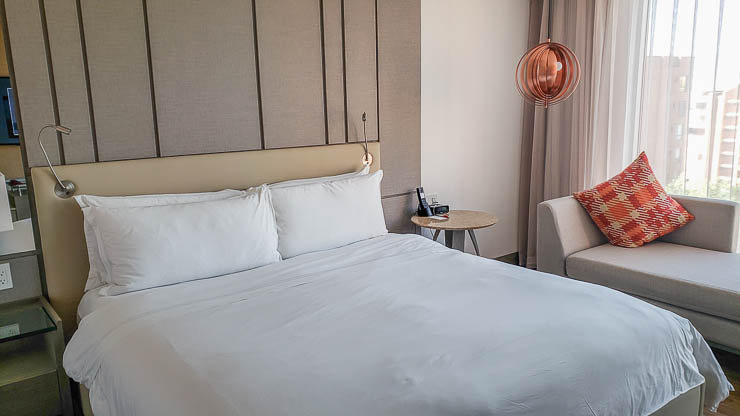 The room featured large floor to ceiling windows with blackout curtains. Our room faced north which offered a nice view of the surrounding towers and didn't receive any direct sun — a plus here in Medellin. The only downside of the view was looking down onto the dirt parking lot across the street (the hotel's free parking, actually), but that wasn't a big deal.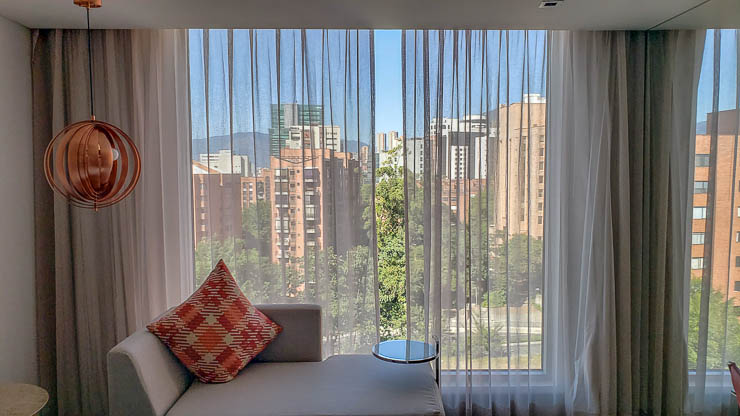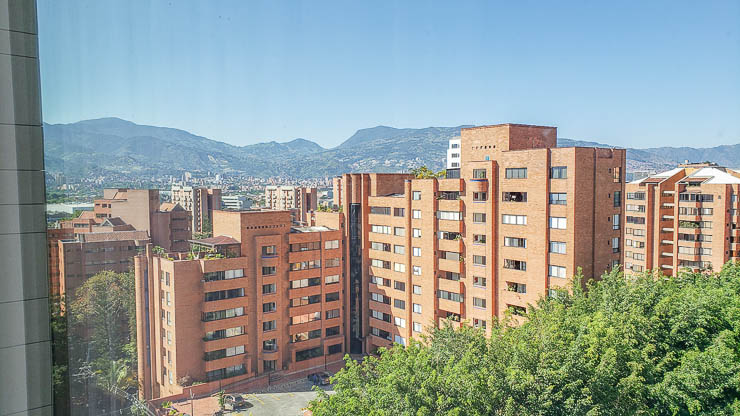 The room had a nice chaise lounge and along the wall had a glass-topped desk for working, a large flatscreen Smart TV (so you can access Netflix), and a place to stash the luggage. There was also a small closest with some disposable slippers.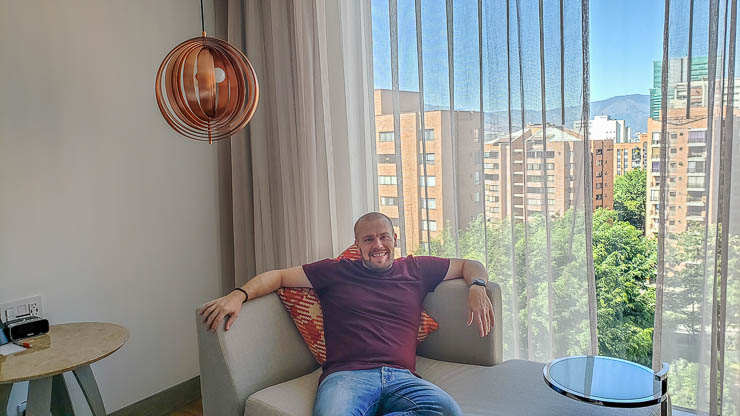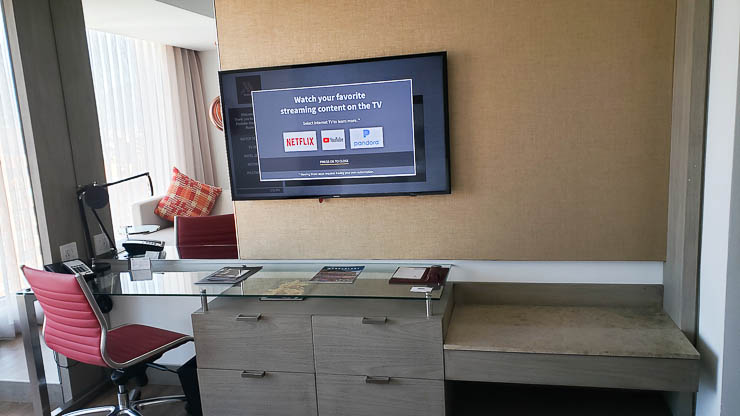 The bathroom was quite nice with white marble, modern finishings, and a tub/shower combo. There were ample toiletries with Thann branding.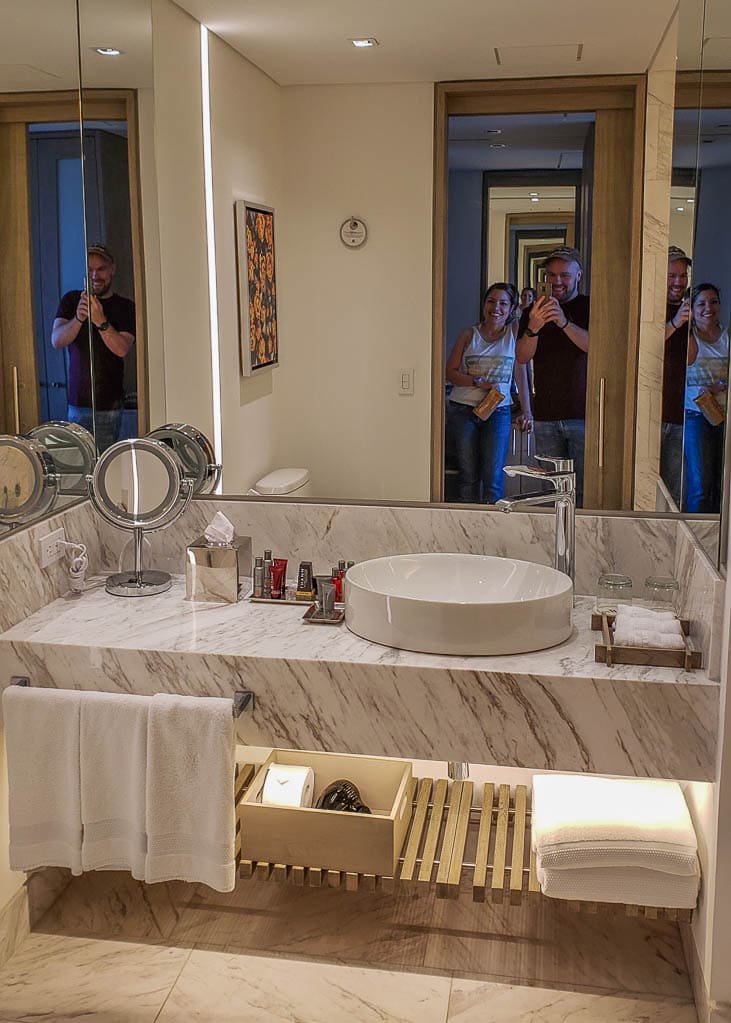 The in-room wifi was fast and we had no problems connecting or staying connected. With enrollment in the Marriott Bonvoy Loyalty program, you get free access to their faster internet rather than the basic.
All-in-all the guest room was quite nicely appointed and very comfortable. It was extremely quiet in an otherwise noisy city.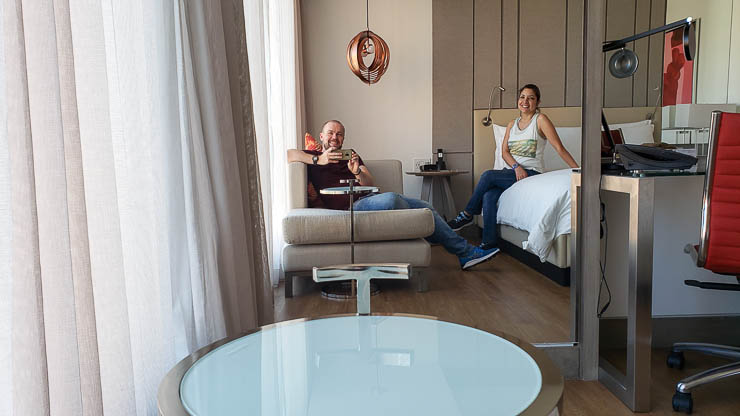 Medellin Marriott Amenities
The Medellin Marriott features a small pool on the fourth floor which features some cabanas and lounge areas, although the space receives pretty much direct sun. It was undergoing maintenance during the first day of our visit so we didn't end up using it.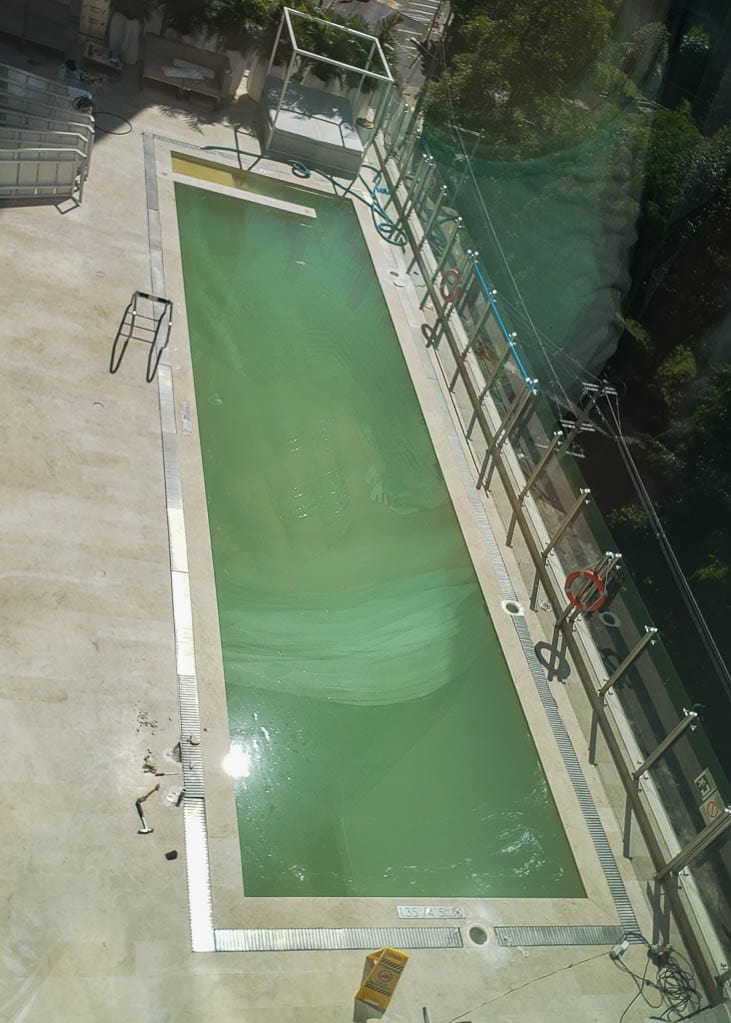 There is a pretty large fitness center on the third floor with elliptical machines, treadmills, and weights, along with towels and fresh fruits. There is also a spa on the same floor as the gym, although there was no one working at the desk when we passed by.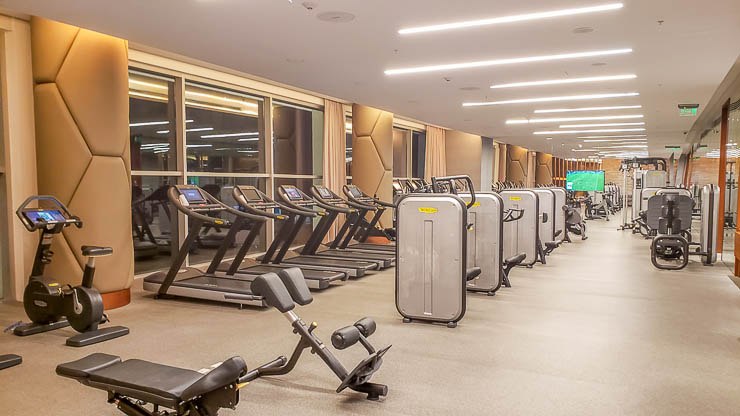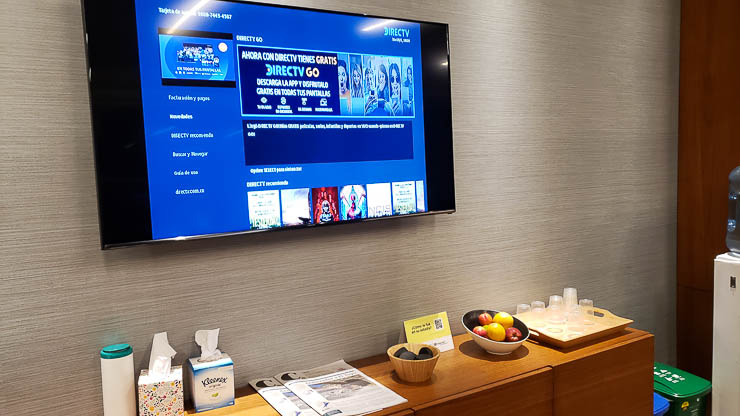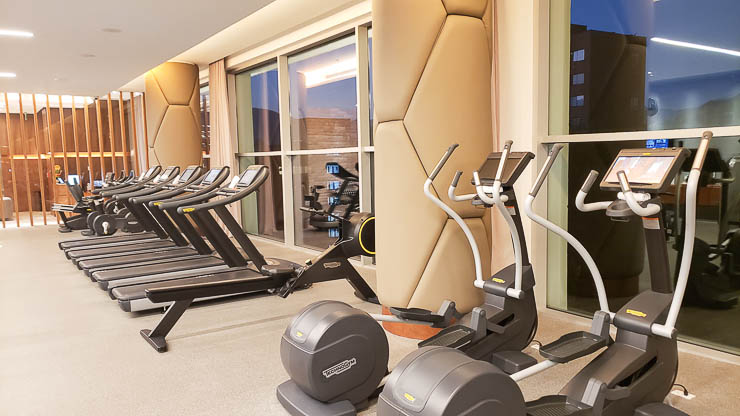 On the 11th floor is the lounge access, which we were given access to thanks to my Gold Elite status (getting the Marriott Bonvoy Credit Card gives you instant Silver Status, so it becomes much easier to achieve gold), where they serve up complimentary drinks and plentiful snack food with a great view toward the north. We were blown away by this, to be honest.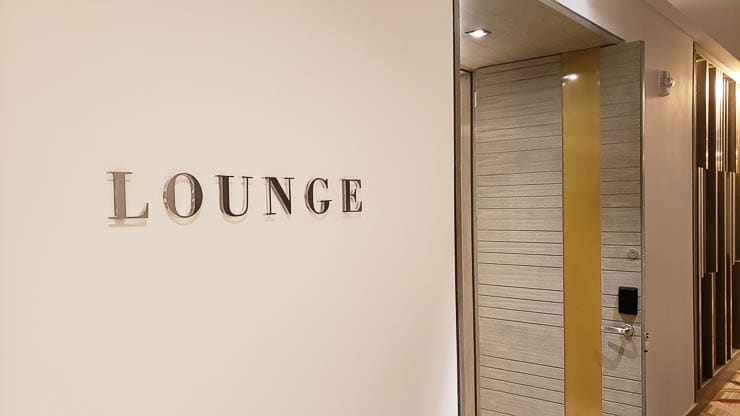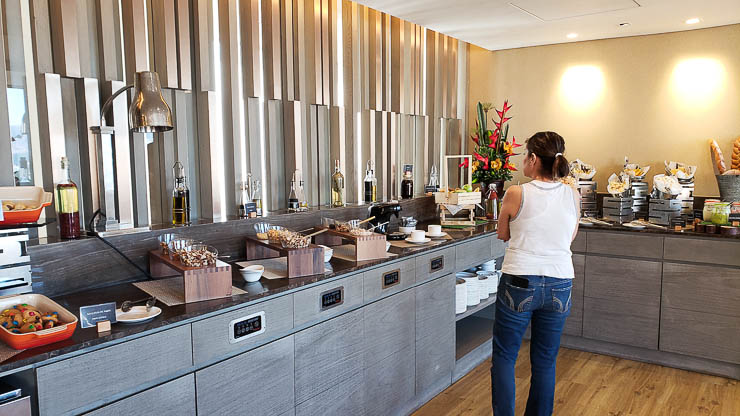 Soon after check-in we headed up and got some coffee and light snacks (chips, cookies, etc) during midday and enjoyed the view.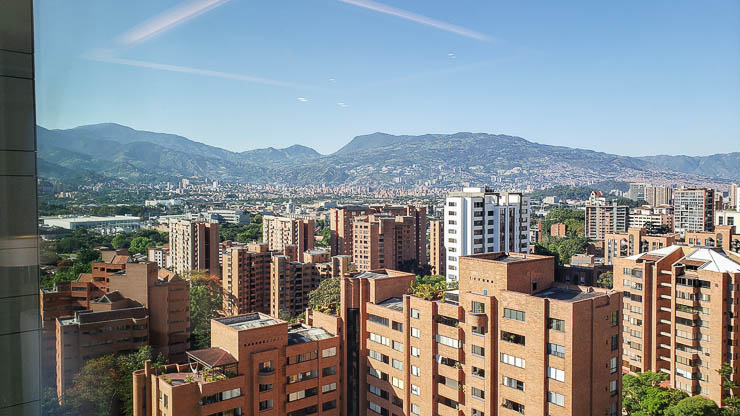 Later that evening we returned for the happy hour session (5:30 to 7:30) where they serve up pretty elaborate snacks including wraps, mini empanadas, sushi, salads, desserts, and more.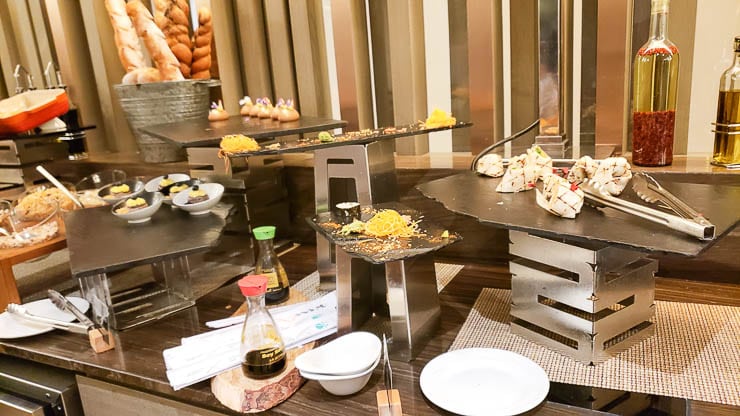 There was a lot of food and this was our dinner, seriously!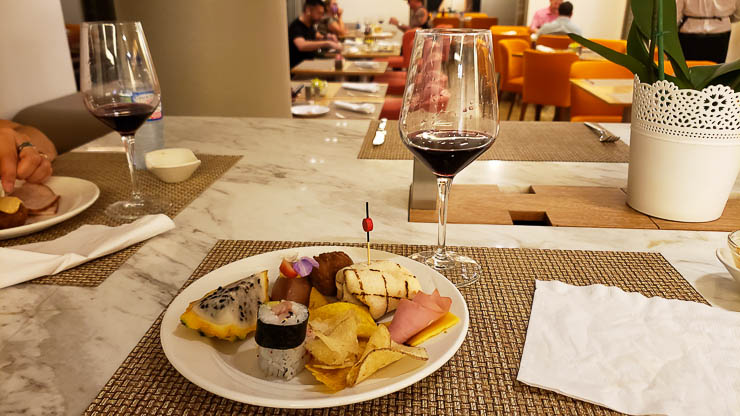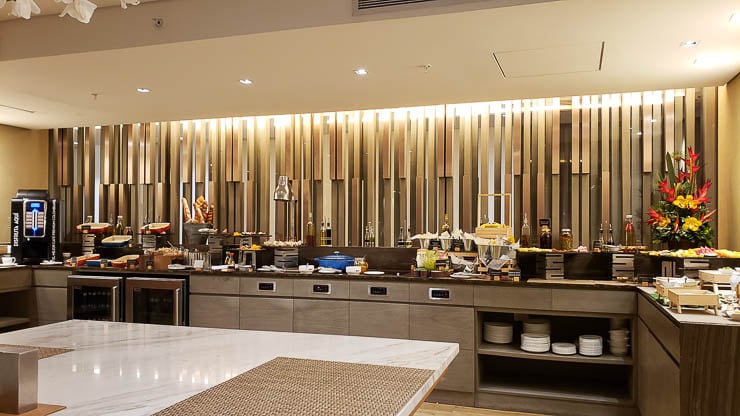 Beyond that, each guest also can get two generous pours of wine or two beers for each day of their stay. We ate dinner, drank wine, had dessert with some coffee, and enjoyed the view. All for free!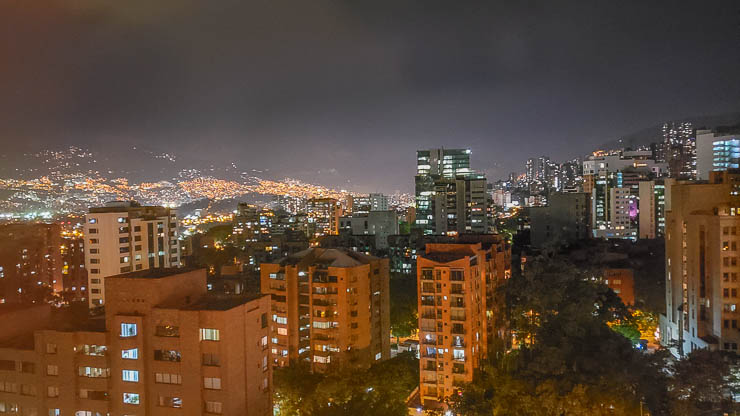 The lounge has a dining area, two small sofas, a TV, and friendly attendants. By evening time the lounge was full of guests and a few children running around as well.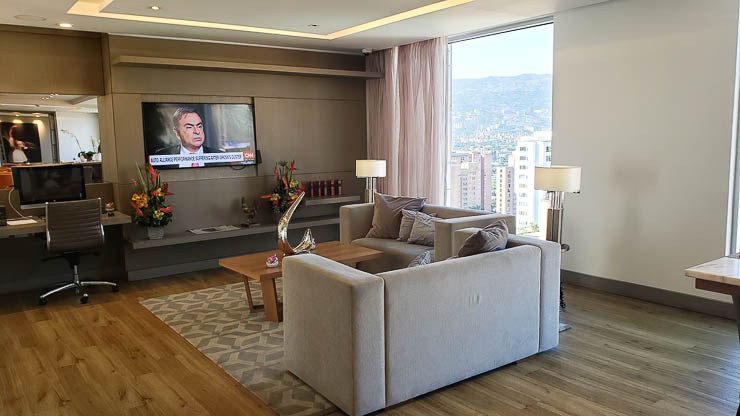 They also serve a small breakfast here, if you like, but staff recommends the Market restaurant downstairs for a much more extensive breakfast buffet (where we went).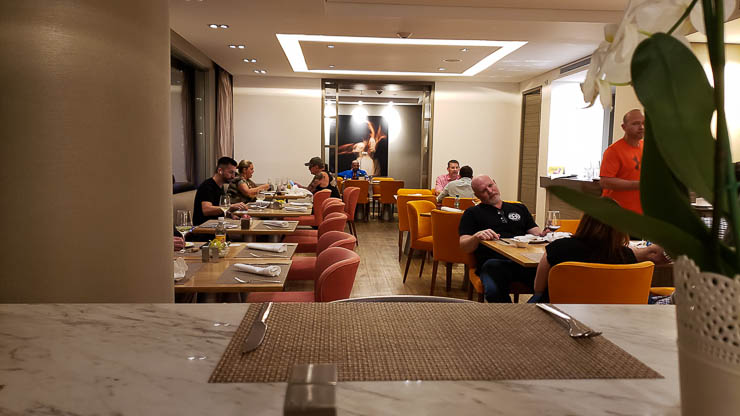 Dining at the Medellin Marriott
Beyond the lounge, there are three dining areas on the first floor: The Market, Nau sushi lounge, and The Corner which is a small coffee shop.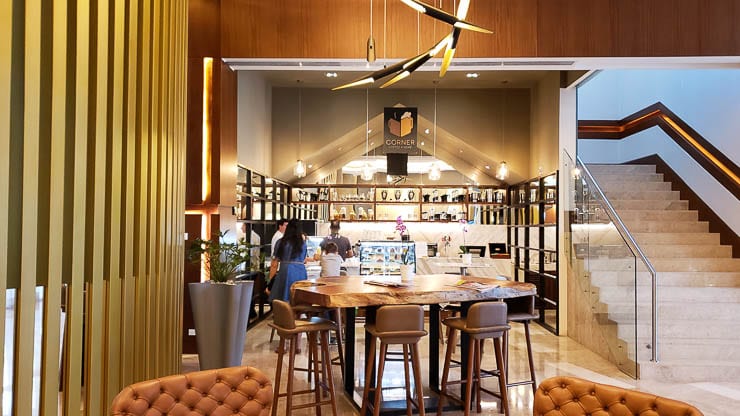 The Market is where we went for the breakfast buffet which was quite extensive, including tons of pastries, local Colombian exotic fruits, some local Colombian foods (like arepas, buñuelos, and more), along with standard international breakfast fare.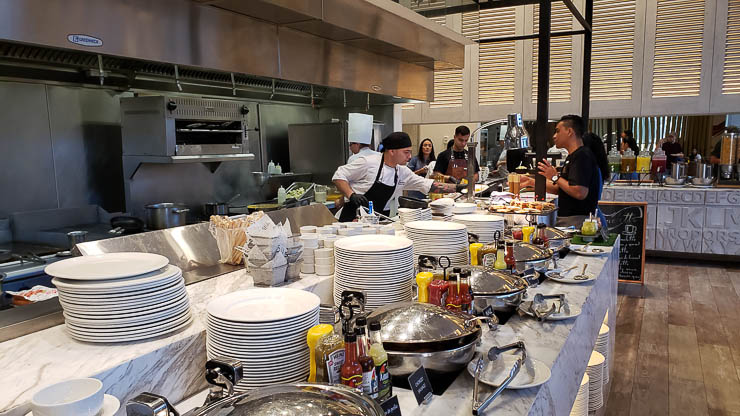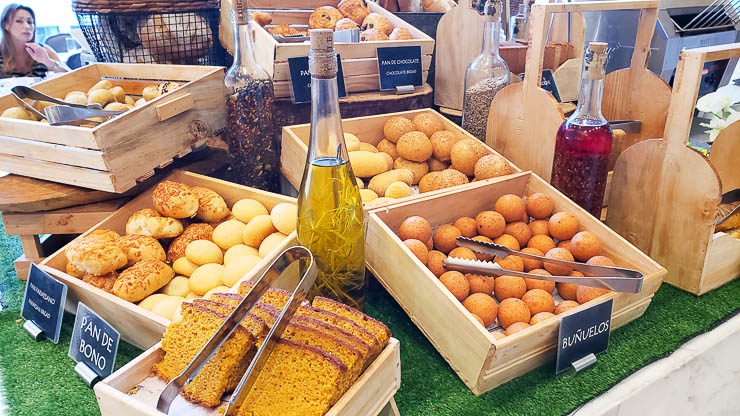 The egg station is great where you can select your ingredients for an omelet or egg scramble. There are tons of pastries, breads, and other odds and ends.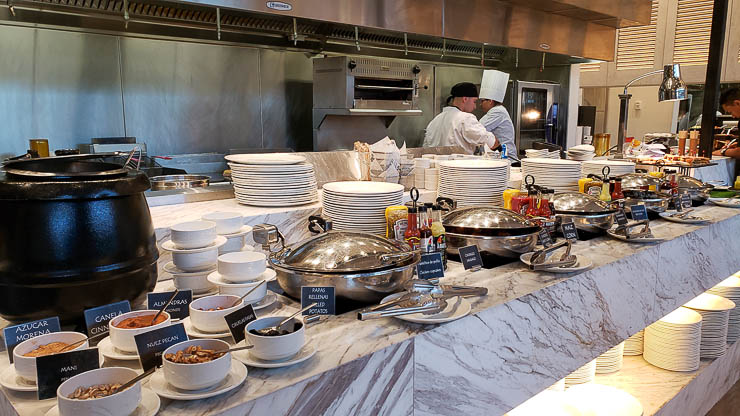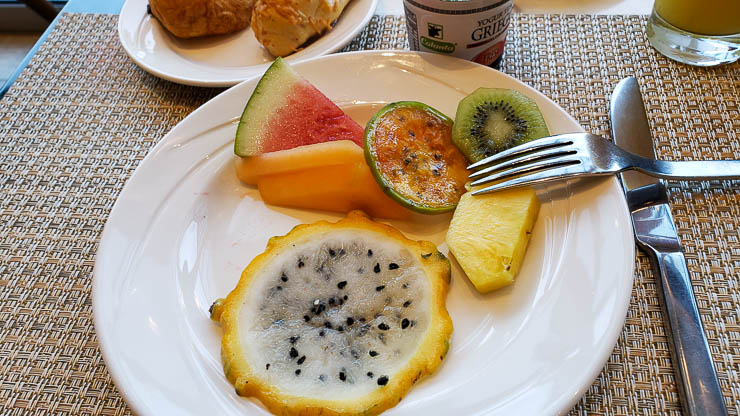 During non-breakfast hours the Market serves up pizzas, burgers, pasta, etc. If you're feeling like more of an Asian floor, then check out Nau. We didn't visit Nau, but it looks nice. They also do some live music here, I heard, typically on Saturday nights.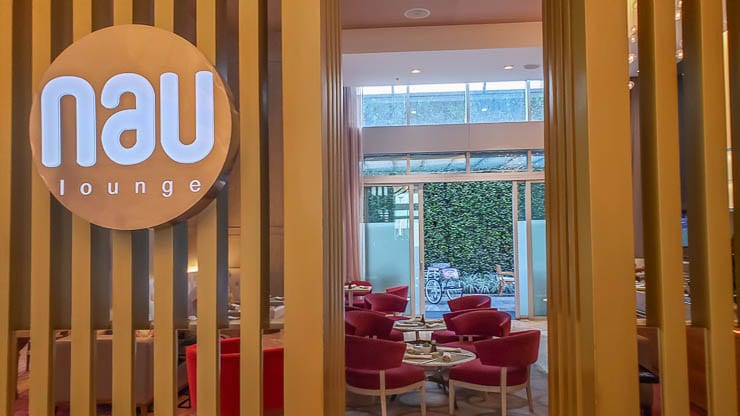 You can, of course, visit these restaurants even if you aren't a guest of the hotel. The Market even participated in the annual Pizza Master competition to determine the city's best pizza.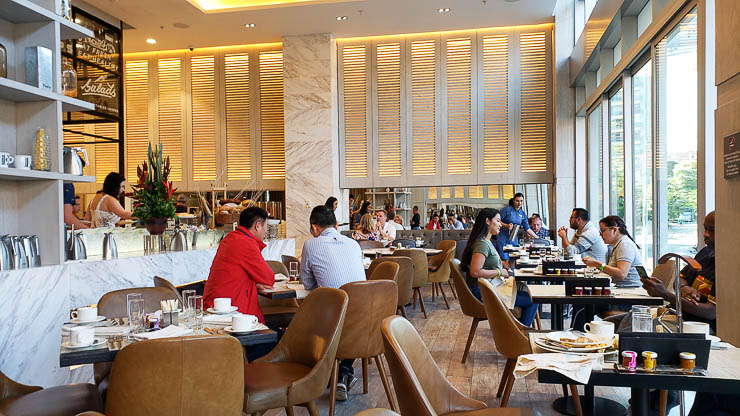 Final Thoughts on the Medellin Marriott Hotel
Overall, the Medellin Marriott is a pretty impressive place that offers a great level of service and amenities for the price (in either points or dollars). I was a bit worried that we were "wasting" our free night certificate but it was an awesome mini-vacation to a part of the city that I normally just visit briefly. The hospitality was top-notch, the hotel was elegantly appointed, and the perks offered (particularly with Gold Elite or beyond) were a very welcome surprise.
If you're traveling to Medellin and looking for a great and upscale place to base yourself, you can't go wrong with the Medellin Marriott, to be honest. Of course, if you're planning to stay here, be sure to maximize your rewards by getting the Marriott Bonvoy Credit Card prior to your stay — it's a must!
As a local now in Medellin for a number of years, be sure not to miss out on my other extensive guides to the city and beyond.
Read Next: 13 Things to Know When Traveling to Medellin, Colombia
Traveling to Medellin, Colombia soon? Book your lodging on Booking.com now to save, or if you plan to stay longer, I highly recommend looking for a place on Airbnb. And don't forget to purchase Colombia travel insurance that will help protect you against illness, injury, and theft. I use and recommend World Nomads for its combination of coverage and affordability.
Share This
Did you enjoy this post about the Medellin Marriott hotel? Take a second to share it on Pinterest, Facebook, or Twitter. Thanks!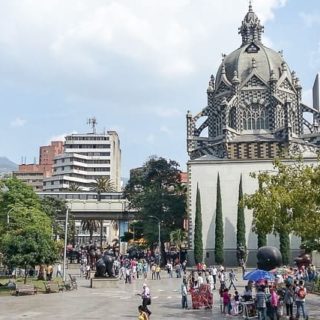 Colombia Travel Tips
Important tips and resources for planning an amazing trip to Colombia, based on my years of traveling and living in Colombia.
Tools
Colombia Trip Planning
Instructions
Book a cheap flight to Colombia with Momondo, or better yet, start travel hacking so you can fly for free. Traveling between major cities is much better by flying, trust me.
Plan a rough itinerary and how long you will spend in each destination. Use an itinerary planning service for custom recommendations and pick up Lonely Planet Colombia.
Work a little every day to teach yourself Spanish, you'll want to know as much as possible before you arrive.
Book cheap accommodation in advance, at least for the first destinations -- For hostels use: Booking, for cheap hotels use: Hotels.com, for apartments use: Airbnb.
Reserve your on the ground tours and activities through Get Your Guide.
Purchase travel insurance for Colombia with World Nomads or SafetyWing to protect yourself from illness, injury, and theft while in Colombia. VERY important. And be sure to read my article: "Is Colombia Safe?" for my honest opinion and safety tips.
Sign up for my free emails about planning a better trip to Colombia, and be sure to check out my comprehensive guide about traveling to Colombia.
Learn more money-saving tricks with my top budget travel tips.
Put together your Colombia packing list.
Enjoy this incredible country!
Notes
I hope this helped you plan your travels in Colombia! I know it can be a struggle to find accurate and on the ground information when traveling to a new place like Colombia, which is why I started writing so extensively about it!
If you have any questions about Colombia, budget travel, or anything else shoot me an email at ryan@desktodirtbag.com.
(I love getting questions! That is how I get ideas for my blog posts and what to write about!)
Recommended Products
As an Amazon Associate and member of other affiliate programs, I earn from qualifying purchases.
The following two tabs change content below.