This article may contain
affiliate links
. If you make a purchase through these links, I will earn a commission at no extra cost to you. Thanks!
Envigado, Colombia is perhaps one of the most appealing and overlooked places to live, stay, and explore in greater Medellin. It used to feel like a world away when I lived up in Laureles, but a while back I moved to Envigado and have been exploring everything that this town has to offer. I'm pleased to report, that there is actually quite a lot of awesome things to do in Envigado, Colombia!
After lots of time exploring, I wanted to put together the most complete and epic guide to Envigado, Colombia that you'll find online. Here we'll be talking about the town of Envigado, getting around, where to stay in Envigado, and some of favorite places, restaurants, etc.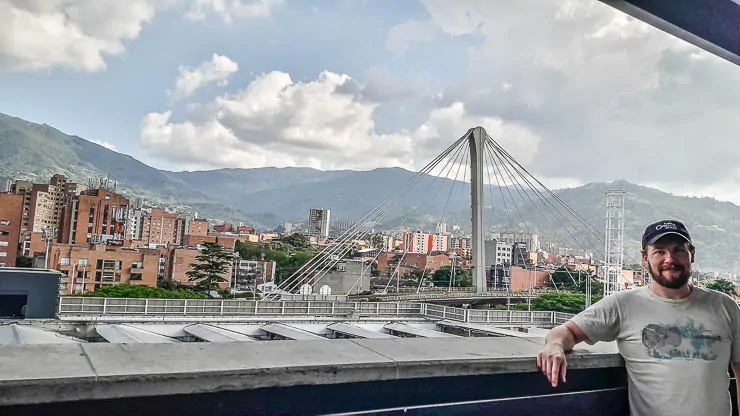 This only includes things I've personally visited (I do mention a few that are on the top of my list to go to, as well), so consider it a living document that it is subject to additions, revisions, and changes over time.
Like my ultimate guide to Laureles, this is a HUGE article that took a lot of time to put together, so please do show a little love by sharing this article on Facebook, Pinterest, or Twitter. Thanks!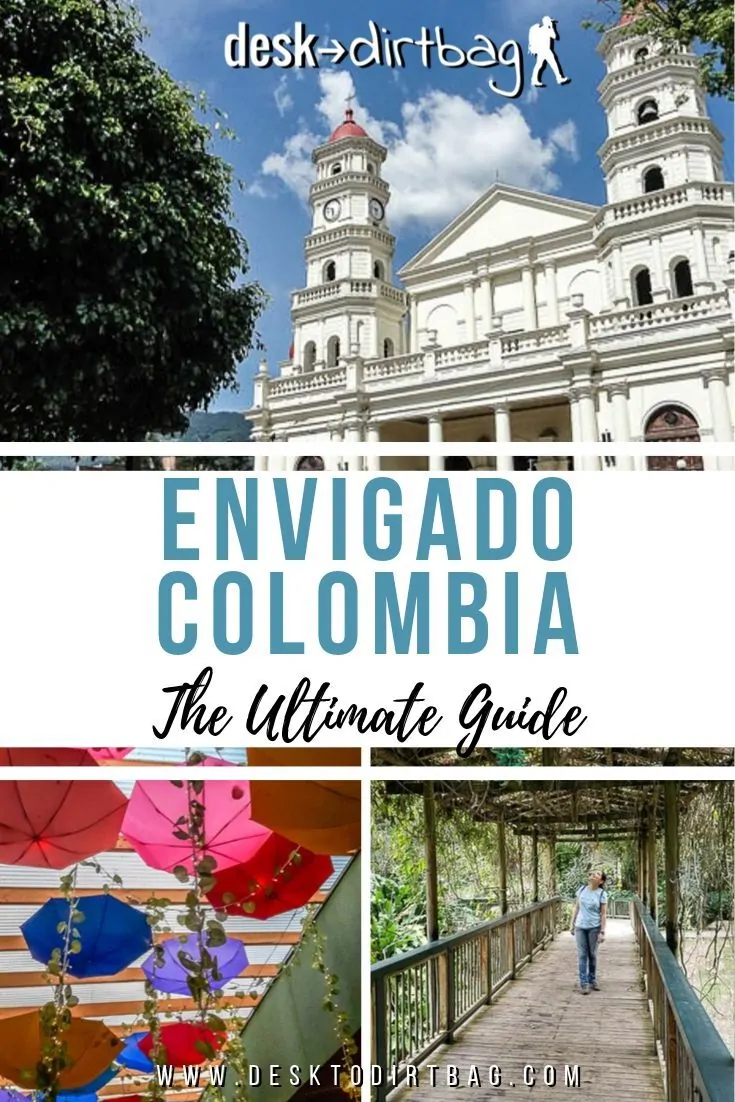 About Envigado
Getting Your Bearings

Getting Around
Metro
Buses
Bike Share

Where to Stay
Exploring Envigado

Restaurants
Gyms and Exercise
Supermarkets and Grocery Stores
Coworking Spaces
Bars and Nightlife
About Envigado
Envigado, Colombia is a pleasant little town that borders the southern edge of Medellin. While many people might think of Envigado as a neighborhood within Medellin, it is actually a separate town, with its own government and mayor.
That being said, due to urban sprawl, the border between Medellin and Envigado is indistinguishable, unless you know the boundaries. Envigado is also part of the larger Area Metropolitana (the last to join, in just 2016) which is an organized government agency coordinating activities across the 10 municipalities in the Valley of Aburra, stretching from Caldas in the south to Barbosa in the north.
Getting Your Bearings in Envigado
Envigado occupies a large piece of the southern portion of the Valle de Aburra, just south of the popular neighborhood of Poblado. It shares borders with Sabaneta, Itagui, and Medellin. It is basically a large triangle-shaped city bordered by the Ayura metro station to the north and Itagui to the south (at the Mayorca Mall), then tapering into the third point in the hills above the city.
The heart of the city is Parque Envigado, located a good distance from the Envigado metro station — approximately 20-25 minutes, slightly uphill. Within the downtown core, streets follow a modern grid pattern and everything centers on the park. As you move away from the downtown area, you'll find streets becoming more meandering or disorganized, particularly toward the south as you approach Sabaneta and to the east as you climb the hills.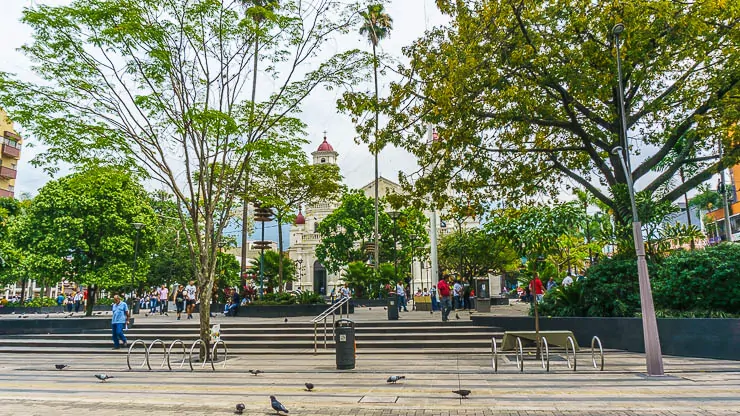 The city of Envigado is bordered to the west by the Regional freeway and stretches up into the hills above the city to the east.
The entire city is bisected by two important major roadways: Ave. Las Vegas and Ave Poblado (43a). The downtown core of Envigado begins just east of Ave. 43a.
It is pretty hard to get lost in Envigado thanks to the topography (you'll be heading uphill as you go east) and the numerous main thoroughfares or landmarks like the park.
Getting Around Envigado
Getting around Envigado is pretty easy, featuring the same transportation and ease of access as Medellin.
Metro: Envigado is served by three metro stations, depending on where you're coming or going from: the aptly named Envigado which sits in the middle and provides easiest access to Parque Envigado (though still a 20-25 minute walk), Ayura in the north (closest to Jardines and Magnolia), and Itagui to the south (closest to Primavera and El Dorado). We'll discuss each of the neighborhoods soon.
Buses: As mentioned, Ave. Las Vegas and Ave. Poblado (43a) are the main thoroughfares that run the length of Envigado. Here you will find a high frequency of buses which can take you to/from Medellin. Two of the most common bus lines are those that say Envigado or Sabaneta. You'll find the Sabaneta buses running on both Ave Poblado and Ave. Las Vegas. Any of these buses heading northbound will take you all the way through Poblado and off to the Medellin Centro. The buses cost 2.200.
Integrados: There are a number of integrados, which integrate the bus route to the metro system, in Envigado. These routes will take you directly to a metro station like Itagui or Envigado. While you can still pay cash to use the integrados, you will not get the reduced rate if want to connect on the metro. To get the reduced rate, you'll need a free tarjeta civica card. You can get yours by bringing your passport to the Itagui metro station.
Bike Share: Bike share stations have been installed throughout the city at a number of different stations. They are quite ubiquitous yet. You'll need a tarjeta civica card and you'll have to enroll it online. Tourists are given seven days of use at a time.
Taxi: You'll find plenty of taxis here throughout Envigado that will take you wherever you need to go. They don't just serve Envigado, but can, of course, take you to destinations in Medellin. I've never had a problem hailing taxis off the street, but some recommend against this practice for safety reasons, especially in the evenings.
Uber: Uber is illegal throughout Colombia, but still quite common. I use Uber and love it. It might have to wait a little longer for a ride, but it is one of my preferred ways to travel. I'm not saying Uber is perfect, but I trust them more than taxi drivers. A best practice is to sit in the front seat with the driver so they don't look like an Uber driver and potentially have problems with the transit police or angry taxi drivers. Popular alternatives here include Cabify and Beat.
Best Things to Do in Envigado, Colombia
Hang Out in the Main Park
Envigado is centered around the main plaza called Parque Envigado (officially Marceliano Vélez Barreneche Main Park) which sits in front of the big white church of Parroquia Santa Gertrudis. This is the place where many of the old-timers congregate to sip tinto, feed the pigeons, and catch up with their other old-timer friends.
Surrounding the park are tons of little bars, cafes, restaurants, and even casinos. It is a lively and fun place that is worth checking out and hanging around for a bit to people watch. You may even be able to strike up some conversations with the locals who are all quite friendly. Riffraff is generally rare here, unlike the Medellin Centro.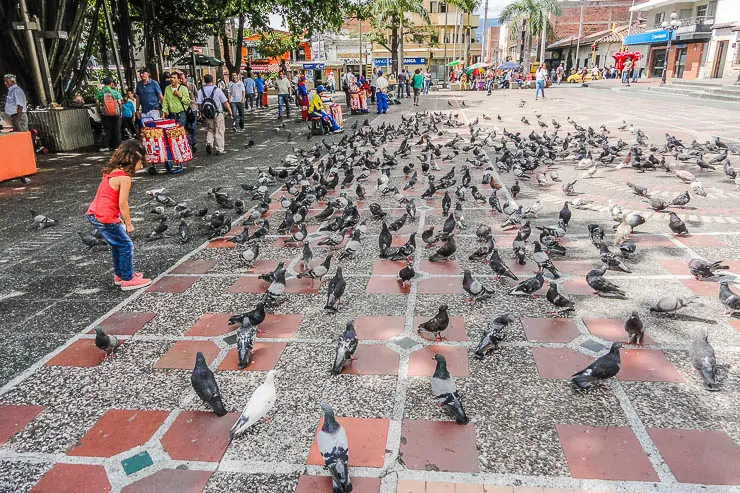 Eat at Calle de la Buena Mesa
The "Street of the Good Table" is located in the Jardines neighborhood, which just so happens to be the center of dining here in Envigado. The area is quite pleasant too, with very little traffic and streetscapes that are just covered in green vegetation — so much so, in fact, that it can be hard to see which restaurants are behind the plants.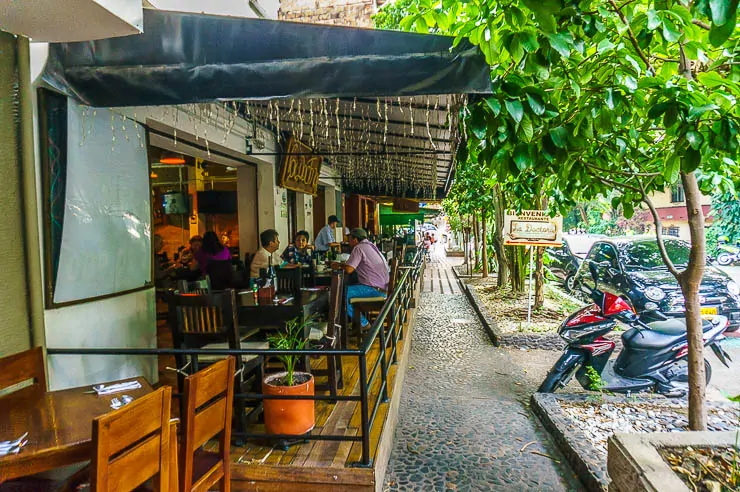 This is the place to go if you want to check out cafes, bars, and restaurants, and is my favorite zone in Envigado. It isn't a huge area but it is one of the nicest.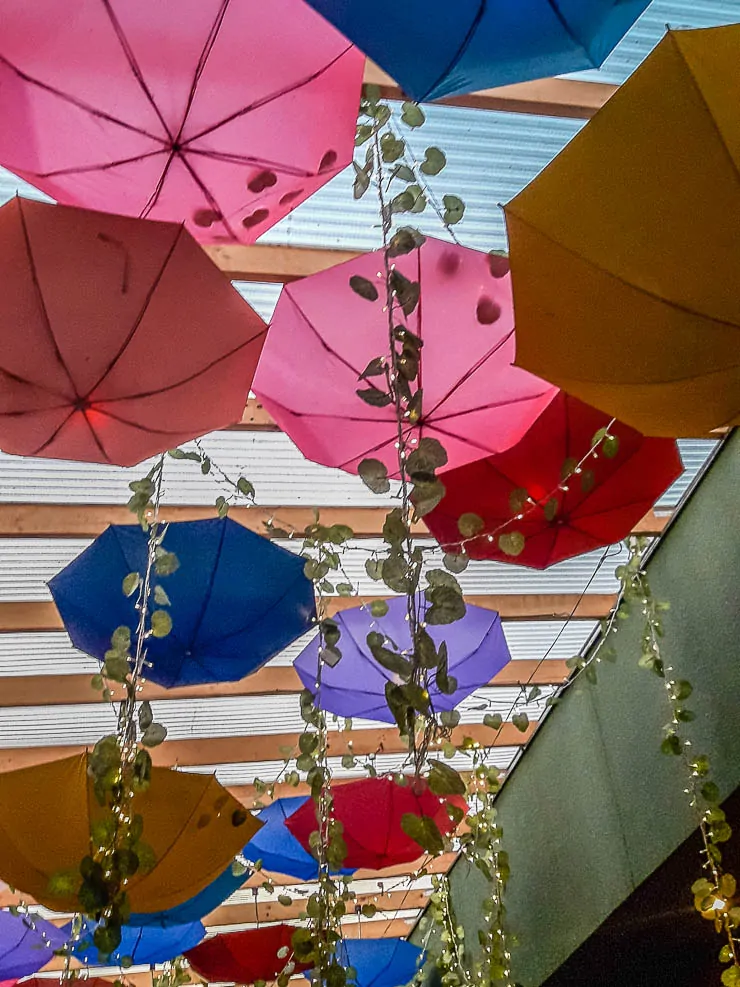 Play Tejo
You'd be forgiven for not having heard of tejo… It is a strange but fun Colombian game. It isn't actually super common in Antioquia, having originated more in the Boyaca region of Colombia, which is why you won't find much tejo being played in Medellin.
But there is a great tejo place right here in Envigado at the Polideportivo Sur in Barrio Primavera. Tejo is a game where you throw what is basically hockey pucks at a big box of clay… Set along the surface of the clay are little packets of gun powder that explode on impact.
This game is (obviously) frequently accompanied by a few beers as well. Yes, beer and explosives! What's not to like? You can find the tejo court by heading to the Polideportivo Sur and asking the doorman. Or just wander back behind the stadium and past the swimming pool.
Explore Nature in Envigado
Envigado has some great nature within easy access in the hills above the eastern slope of the city. The most well-known area is El Salado, a large and easily accessible nature park. You'll need to go by bus or taxi to get there, where you can spend the day hiking among streams, having a picnic, using the climbing wall, or just escaping from the hustle and bustle of the city.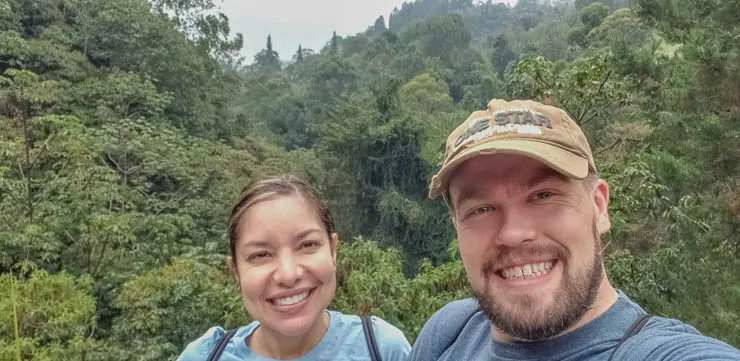 Further up, you'll find Arenales which is replete with numerous waterfalls and is often paired up with a visit to La Catedral, the former prison of Pablo Escobar. There's not really much to see at the prison, so don't have high expectations. But if you want to visit it, it's there — just don't go on one of those Medellin Pablo Escobar tours, please.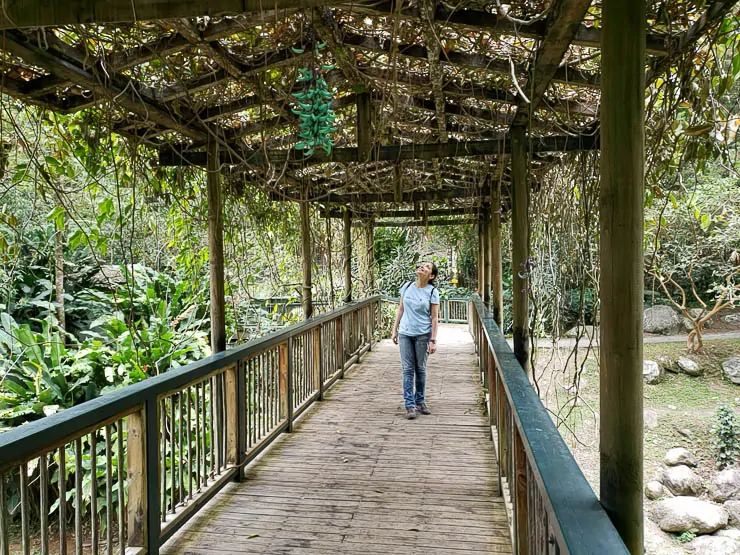 Language Exchange at Colombian Immersion
If you're looking at brushing up on your Spanish while in Colombia, then Colombian Immersion is a great option. While it wouldn't by my top choice for learning Spanish in Medellin, it is a great option to learn Spanish in Envigado.
If you're living down here, you should also try and take advantage of their Friday night language exchanges where locals and foreigners gather to practice their English or Spanish with a little intercambio de idiomas. The school is located in the El Dorado neighborhood, which is up-and-coming.
Go to a Soccer Game
At the Polideportivo Sur is Envigado's stadium where Envigado FC plays. Games here are smaller and usually more laid back since most people are fans of Atletico Nacional or DIM (in Medellin) rather than the small team from Envigado. They also host a number of non-soccer games here like concerts or even a monster truck and motocross type event once.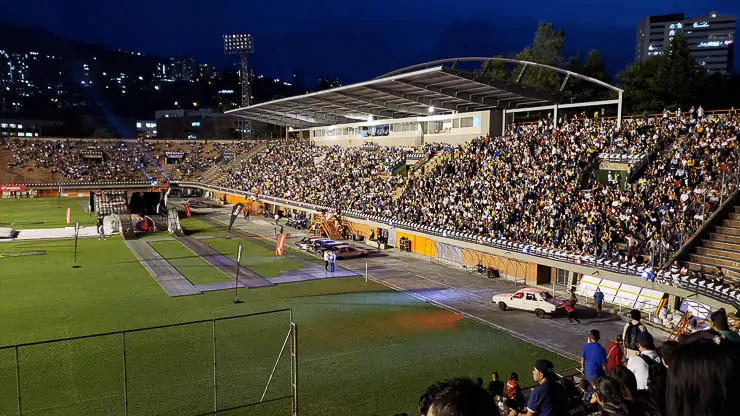 The soccer games are cheap and frequent, and the environment is fun (don't expect huge crowds though). If you want a bit more crazy experience, wait until they have a home game against either Nacional or DIM when larger crowds show up.
Read More: How to Exercise While Traveling
Enjoy Christmas Lights
Every December, the entire Valle de Aburra puts on an amazing spectacle and Envigado is no exception to that rule. Medellin and the surrounding area has some of the most incredible Christmas decorations and light displays that I've seen anywhere in the world.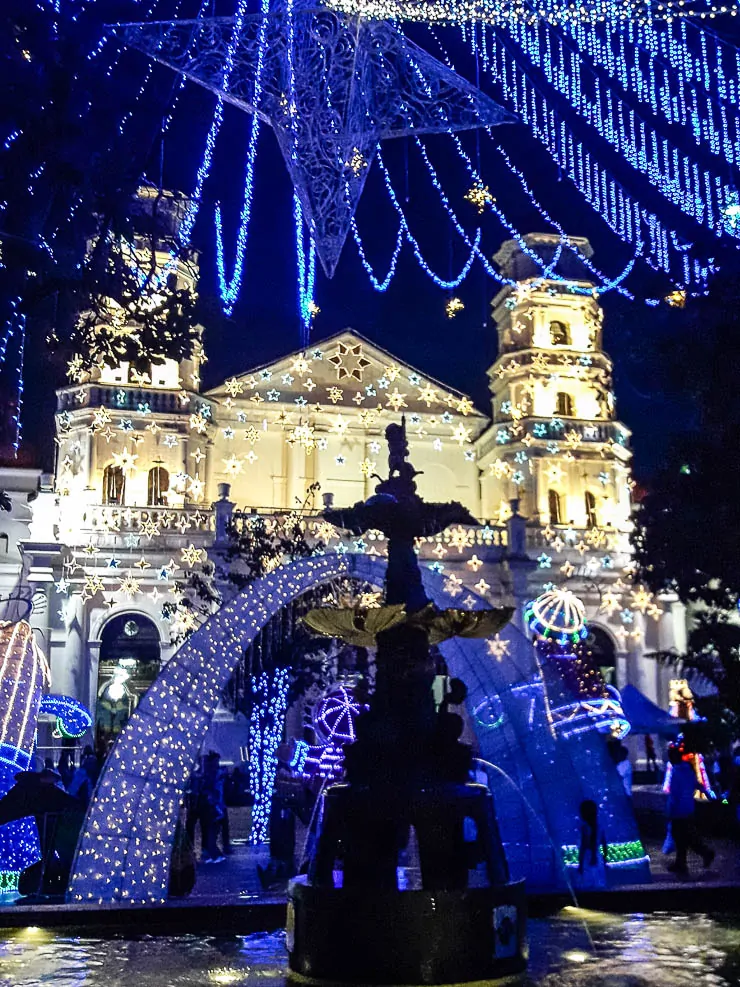 If you happen to be coming to Colombia in December, then you definitely don't want to miss stopping by the Main Park of Envigado to see the incredible display. The park is the main focus, but more lights spread out from there.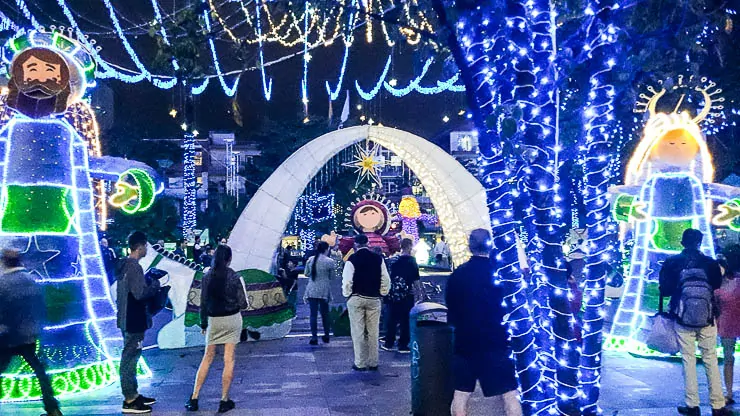 A popular local tradition is to hop on a chiva party bus that makes its way through various parts of the city to take in the lights, meanwhile, you can dance and drink and listen to music.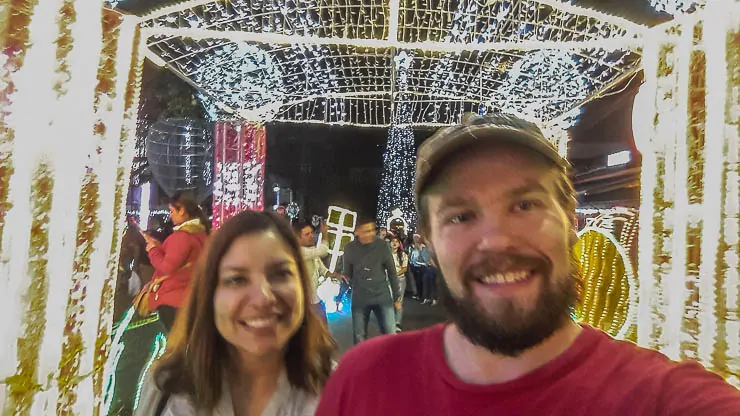 Where to Stay in Envigado
It is kind of surprising given the size and appeal of Envigado that there aren't more lodging opportunities down south… There's actually just one major hotel and no hostels here… The Arame Hotel is your only lodging choice if you want to go that route… It's got a great location and has great reviews, so you should be good.
Therefore, the best method to find a place to stay in Envigado is actually on Airbnb. Here you will find plenty of options ranging from individual rooms to complete apartments, and at rates that are more competitive than Poblado up in the north.
Tip: New Airbnb users can get a credit toward their first stay by signing up with my link!
If you're looking at an Airbnb in Envigado, then you'll undoubtedly confront the question of what area or sector within Envigado you should be looking at… Envigado is fairly big, so it is important to find a neighborhood to stay that is well-located with lots of appealing stuff nearby, access to important amenities like grocery stores, and within close distance to public transport.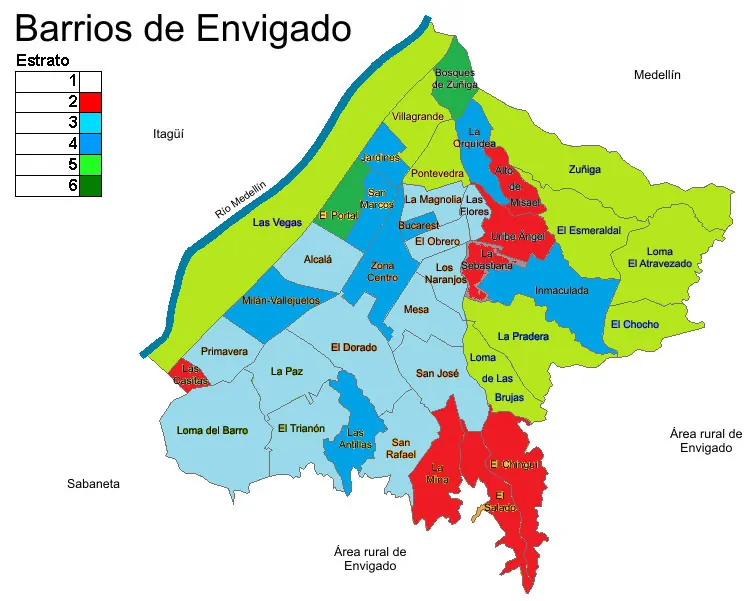 Here is a brief overview of the best parts of Envigado and where I would recommend focusing your search.
Jardines: Jardines is a slightly upscale area north of the Envigado Centro where you will find the best restaurants and coffee shops. This area is also known as Calle de la Buena Mesa for all it has to offer. It is located a short walk from the Ayura metro station, and well located between Avenida Las Vegas and Poblado for buses.
Magnolia: Magnolia sits directly across Avenida Poblado from Jardines, it is a fairly large residential area, but there is a pretty good selection of places to go, albeit not on the scale of Jardines but still within quick walking distance. It is slightly further to the Ayura metro station and most easily served by buses along Avenida Poblado.
Envigado Centro: This is the center, or downtown, of Envigado, in the area immediately surrounding Parque Envigado. Here you will find the largest concentration of activity, hustle, and bustle, but it is on a much scaler compared to Medellin, of course. The Envigado Centro is actually quite pleasant, like a little pueblo. What many don't realize, however, is that it's actually quite a long walk from the Envigado metro station. For this reason, I'd recommend looking in the Alcala neighborhood which positions you nicely between the metro and Centro.
El Dorado: El Dorado sits to the south of downtown and is the most interesting sector on this side of Envigado. Here you'll find a place that is, I think, on the verge of becoming pretty cool with new restaurants opening, quiet streets, cool spaces (like the sports complex), and all within a short walk of downtown Envigado. The downside of El Dorado is that you are quite far from the metro station, so you are best served by buses running along Avenida Poblado or the Integrado.
The Best Place to Stay in Envigado
In my opinion, the best place to search for a place to stay in Envigado would be to focus on the north side of Envigado which is the most interesting, fun, and dynamic part of Envigado. This means looking first at Jardines and secondly at Magnolia (maybe even Obrero, but not as ideal).
The more within the northwest corner of Envigado you can get, the better. The further east you go, the worse, as the city starts to climb up the hills, everything is more residential, and you're just too far away from it all (unless that's what you're looking for).
My third choice would be the Envigado Centro or Alcala which is between the metro station and Centro. Downtown Envigado is fun and lively, at least during the day. You'll find things, for the most part, are still very traditional here, which means lots of little cafes, traditional food, menus of the day, and so forth. I quite enjoy it here.
Finally, I'd consider El Dorado as a good base. It is becoming more interesting all the time, one of those up and coming neighborhoods that I could see really taking off in a few years. It is in a great position relative to the Centro of Envigado, but not quite as ideal of a base from which to go out exploring Medellin. This would be the neighborhood I'd consider buying property in within Envigado.
Unless you really want the suburban or rural feel, avoid going too far to the east half of Envigado. Other parts of Envigado that I didn't mention here, like Primavera or Milan in the south are also fine (that's where I'm living now, actually) but they just lack the appeal of places like Jardines or Magnolia with restaurants, coffee shops, etc, and are verging on almost too laidback, at least for my taste.
Exploring Envigado, Colombia
Restaurants in Envigado
There are tons of traditional menu of the day places all over Envigado where you can eat well for about $3, so I'm not going to speak too much about those types of places, so I really just want to mention more stand out, unique places that I've enjoyed. Consider this a living document that will continue to evolve as I explore more of what Envigado has to offer.
Vizzto
Vizzto offers some great, slightly upscale, menu of the days right on the main park of Envigado. This is my favorite place to go for a menu of the day when in the center of Envigado.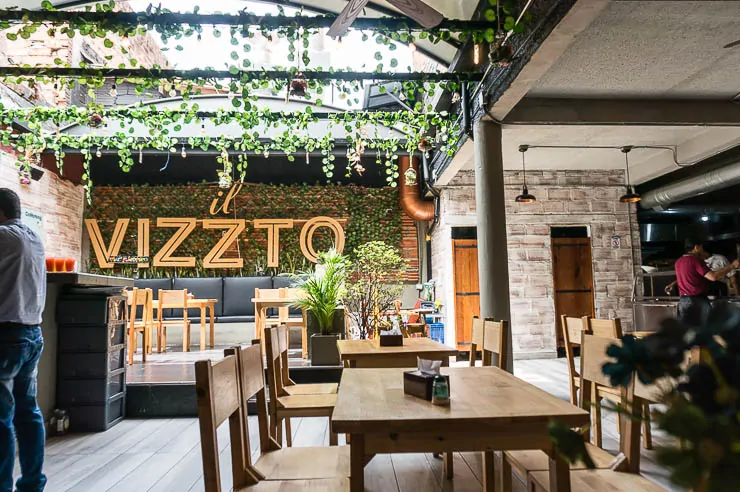 Here you might find something like (delicious) ribs served up with cheesy risotto or so forth. Not your typical menu. They go for about 13.000 pesos for juice, main, soup, and a little tinto afterward.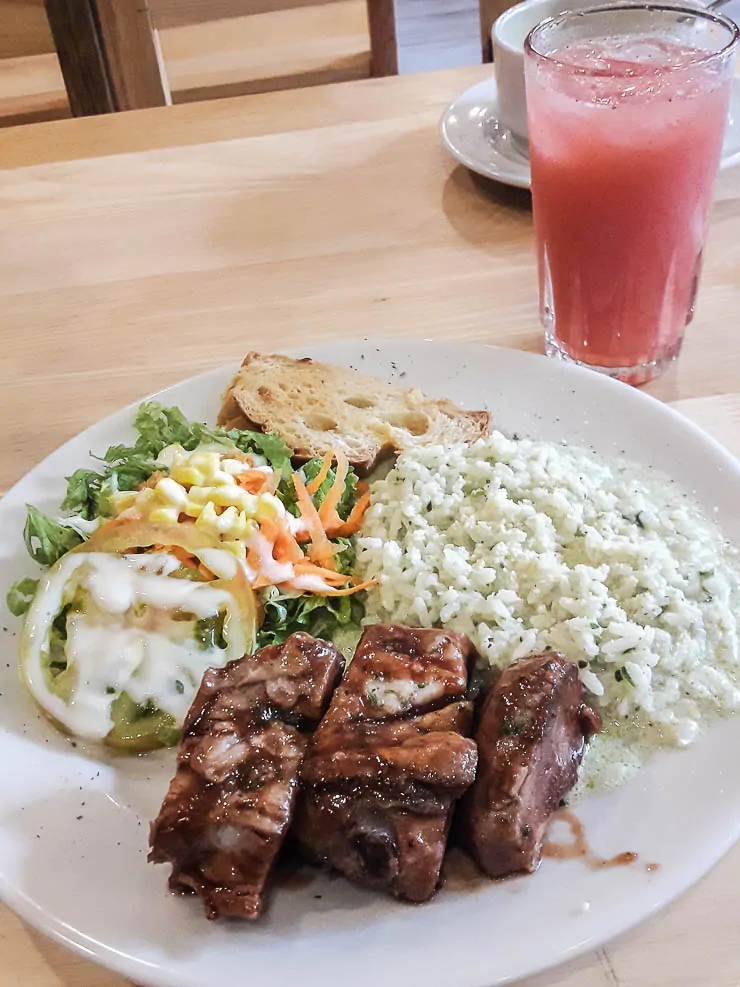 Lemoncillo
This little Vietnamese restaurant in Magnolia is one of Envigado's best-hidden gems, serving up a variety of tasty dishes. I've never been to Vietnam, but have eaten my fair share back home in Seattle, and I quite enjoy the food here.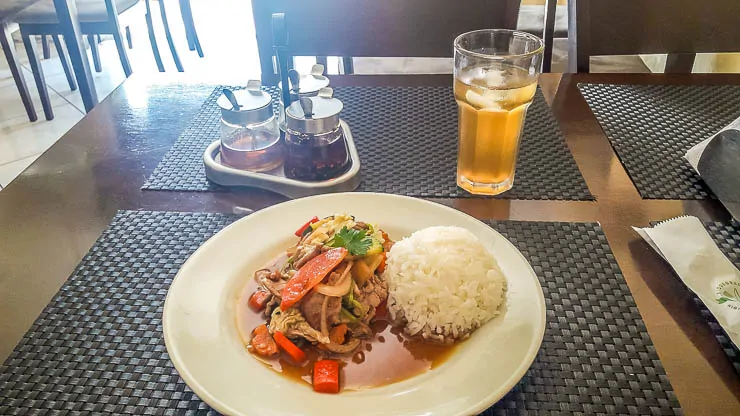 They've got menus of the day that alternate for just 15.000 pesos and then plenty of other choices that you can order off the menu. The place is super small is the only downside, but worth checking out. They've also got authentic Vietnamese ca phe.
Contenedores Food Place
The Containers, as they are known, is kind of the place that kicked off the whole upscale food court type idea here in Medellin. This place is made up of stacks of shipping containers where you will find a handful of great restaurants in a cool setting. I haven't been for a while now, but it's a good place for a date. Expect 25.000 to 30.000 per person for a meal.
Classic Diner
Missing that whole Americana vibe? Classic Diner in Jardines is the place for you… They've got jukeboxes, classic cars, and have pulled off the whole ambiance pretty well.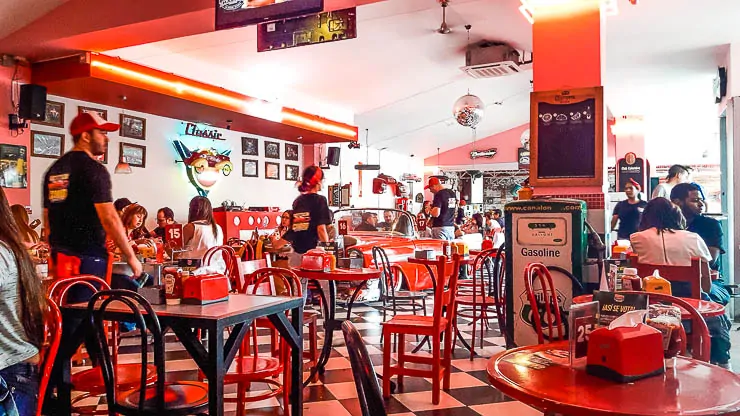 Not only that, but they serve up some truly killer hamburgers here. Burger Master is an annual competition for the best burger in each city, and these guys won back in 2018.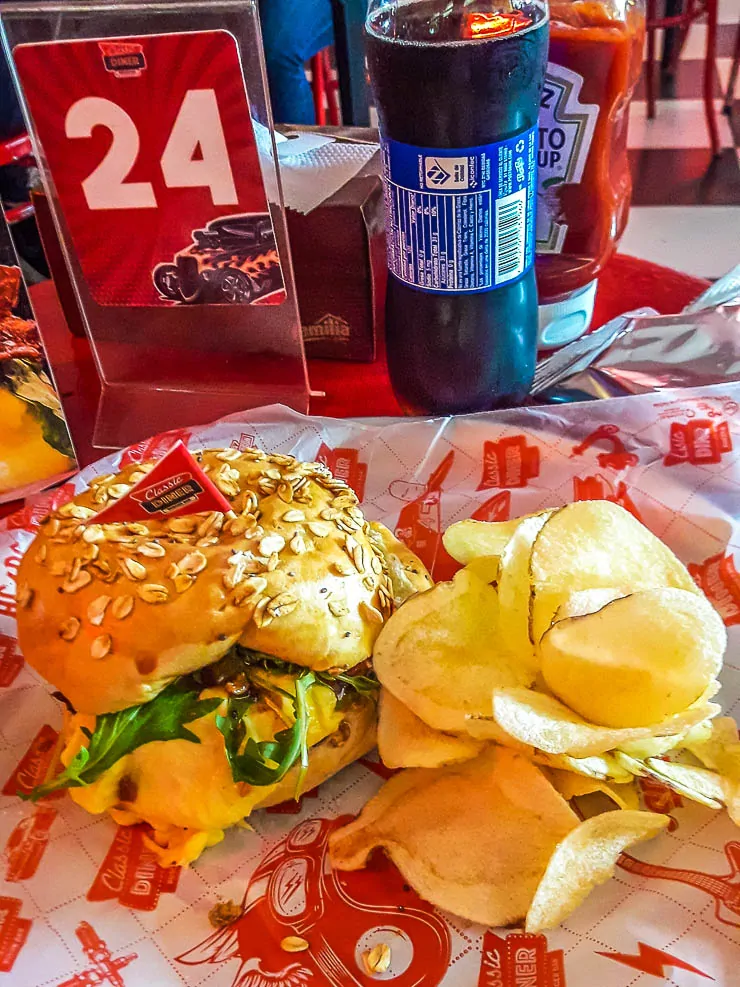 Andres Bakery
This is a great little bakery in Jardines where you can score some pretty tasty treats of the sweet and salty variety. They also serve up a pretty decent expresso here. I like the ambiance, the food, and would recommend checking it out.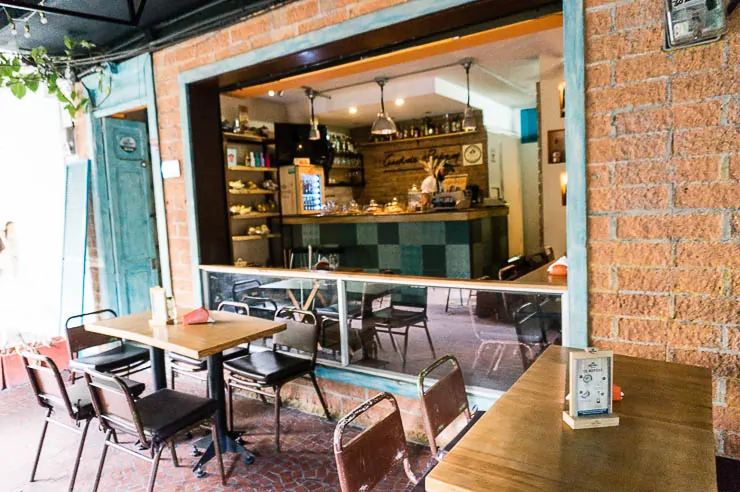 Parva
This relatively new bakery is hidden in a less transited corner of Jardines, but they've got an amazing selection of sweet and savory baked goods within a cozy and cool space. Prices here are still fairly reasonable even with the fancy decor. Great choice though if you want to hang out for a bit. I'm still waiting for La Migueria to open a chain here in Envigado though… Come on!
El Canasto del Balcon
This is the best place to get traditional Colombian food at good prices in Envigado. Located just one block south of the main plaza, you'll find a reasonably priced menu of the day (about 12.500 pesos) and plenty of traditional options off the menu.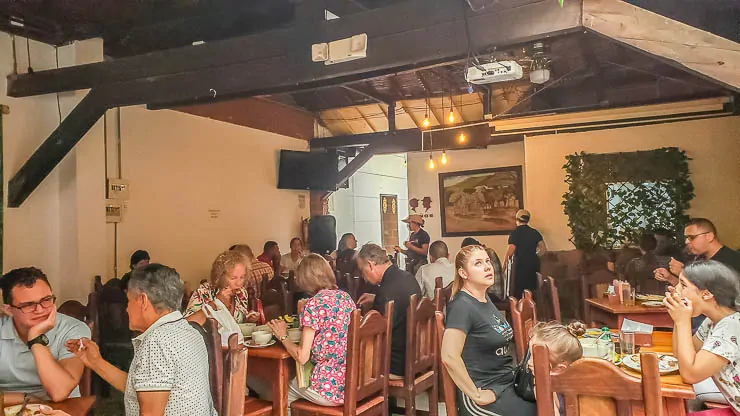 They've got a killer cazuela de frijoles, ajiaco, and bandeja paisa here. It's my #1 recommendation for traditional Colombian food in Envigado. Andrea, a local Paisa, is also in agreement with me.
Hatoviejo
Hatoviejo is an institution here in Medellin with more than 30 years serving up traditional Colombian food of high quality and excellent service. This is a more upscale restaurant, but the quality here is really excellent, portions are huge, and service is pretty exceptional.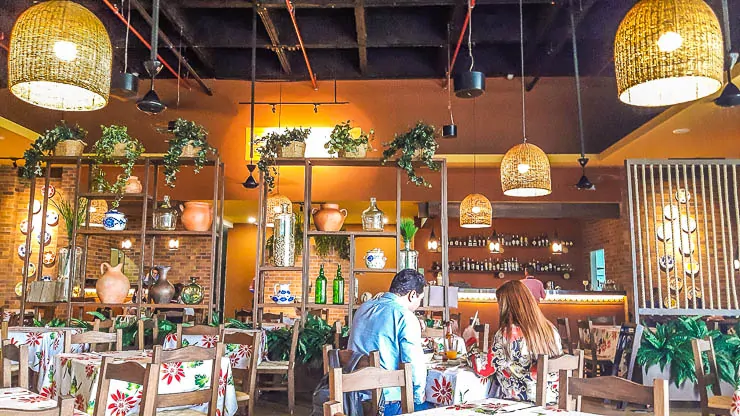 Sure, you can get traditional Colombian food at cheaper prices, but quality can be hit or miss if you don't know where to go — this place is consistent and popular for a reason. Prices for a cazuela or bandeja are about 36.000 pesos, which is fairly reasonable. I, for one, was absolutely stuffed upon finishing one — they could definitely be shared. You'll find Hatoviejo locations across the city, but in Envigado there is one in Viva Envigado mall.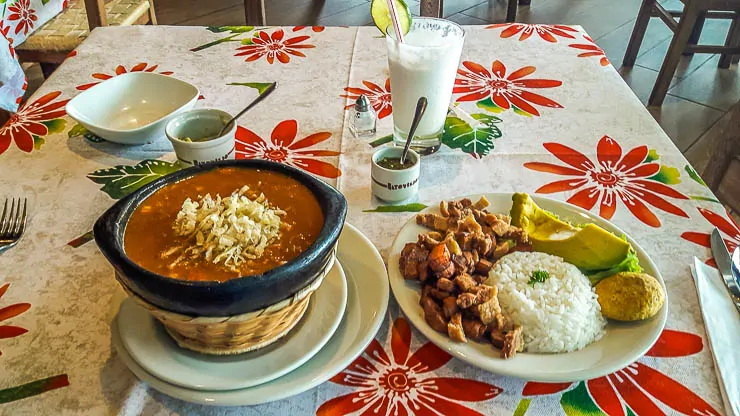 Rancherito
Alternatively, you could go to Rancherito, also in Viva Envigado for a wide selection of traditional meals at a cheaper price. Their cazuela, for example, is just 23.000 pesos, but the quality of the food is much less than that of Hatoviejo. This is not a top pick. You're much better off going to El Canasto del Balcon for cheaper prices and better food.
Gloria de la Gloria
Gloria de la Gloria is a hole-in-the-wall lunch spot where you can score some traditional foods like the Bandeja Paisa. I read some really great recommendations for this place, but honestly, the only thing really special about it is the HUGE portion of chicharron they serve.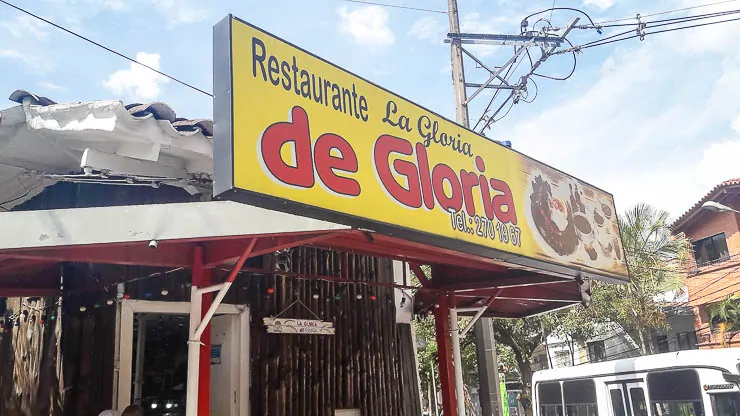 Otherwise, it is just an okay and expensive meal (40.000 pesos for one bandeja which is meant to be shared). Go here if you want the novelty of a massive chicharron, but if you want much better traditional food at a similar price, just go El Canasto del Balcon or to Hatoviejo in Viva Envigado.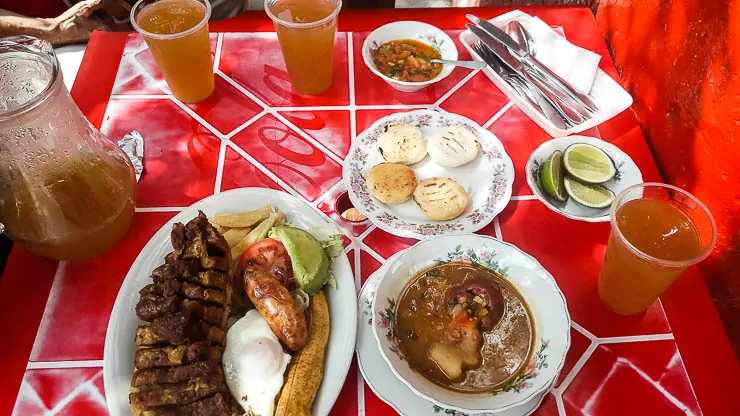 Brasarepa
Anthony Bourdain famously visited this place in the middle of the El Dorado neighborhood. I've visited a few times now, thanks to his visit (yeah, following in his footsteps, hah), but the restaurant seems to have gone down hill a bit lately. If you come here, stick to traditional Colombian food, not their more eclectic international mix.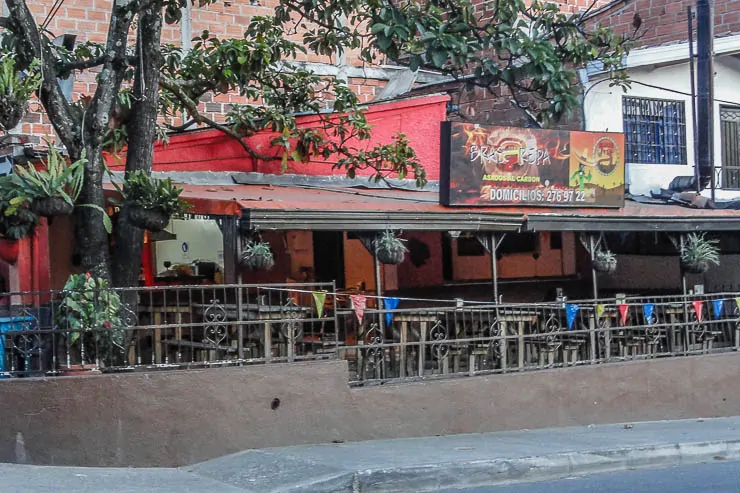 El Trifasico
Since we're on a roll with traditional Colombian food, we ought to include the famous El Trifasico restaurant in Jardines. This restaurant was the first in La Calle de la Buena Mesa, back in 1982. It is a fairly unassuming restaurant, but with a long tradition. The former president of Colombia used to eat here whenever he was in town.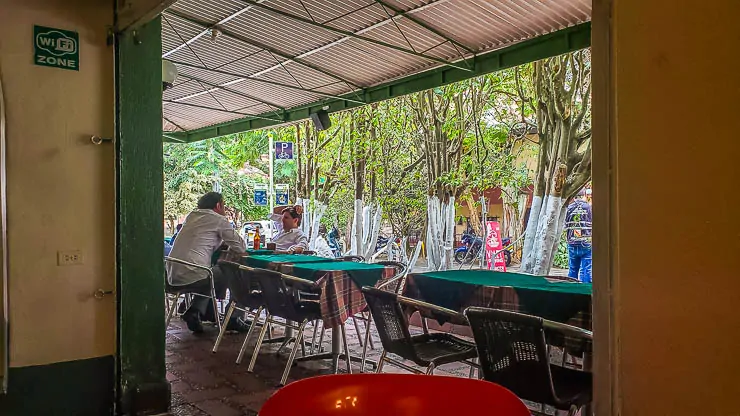 Their most famous dish is the Trifasico which is posta, lengua, and oreja. If your Spanish is good, then you probably realized that that's beef shank, tongue, and ear. Yes, quite an alarming combination. I've never tried tongue or ear, so I ordered a Junior Trifasico here. The posta is quite delicious, the tongue is so-so, and the ear is not so good, in my humble opinion.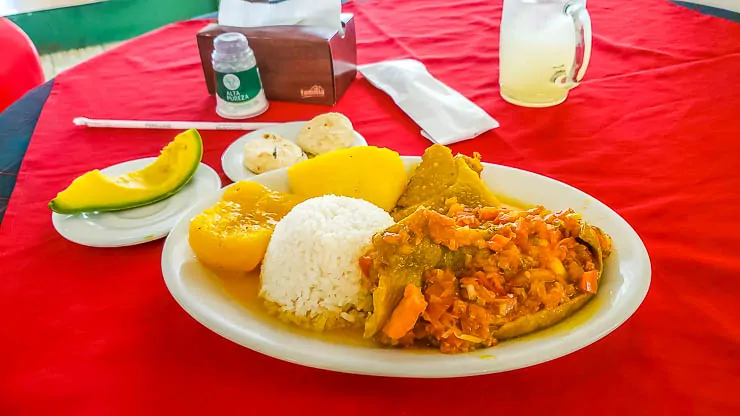 They've got plenty of other traditional Colombian dishes like bandeja Paisa or Cazuela, if you don't feel like tongue and ear. Expect to spend between 30-40,000 per person for food and drink.
La Doctora
There are a few different steakhouses on the Calle de la Buena Mesa, and while I haven't been to all of them, I can definitely recommend La Doctora if you're looking for a good cut of meat. Prices are reasonable here, compared to its more famous neighbor, Lucio's, and the quality is great.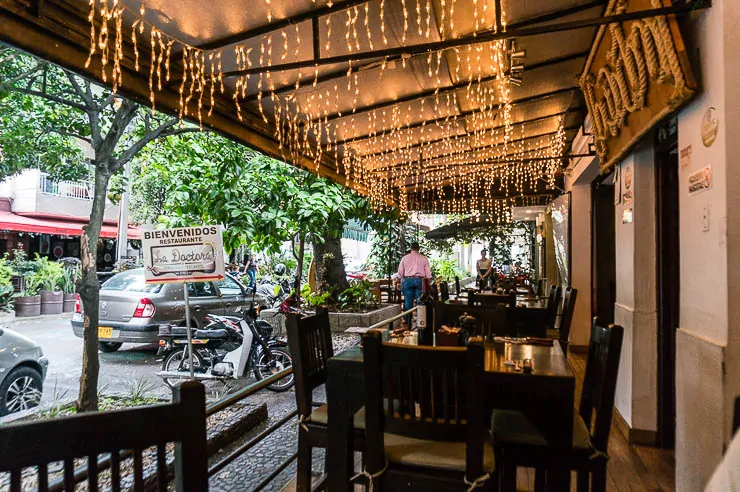 Cuts of meat in Colombia are generally larger but thinner than those I'm accustomed to back home, but they are no less tasty. They don't just serve beef but also have a number of pork and poultry dishes as well (try the canon de cerdo!).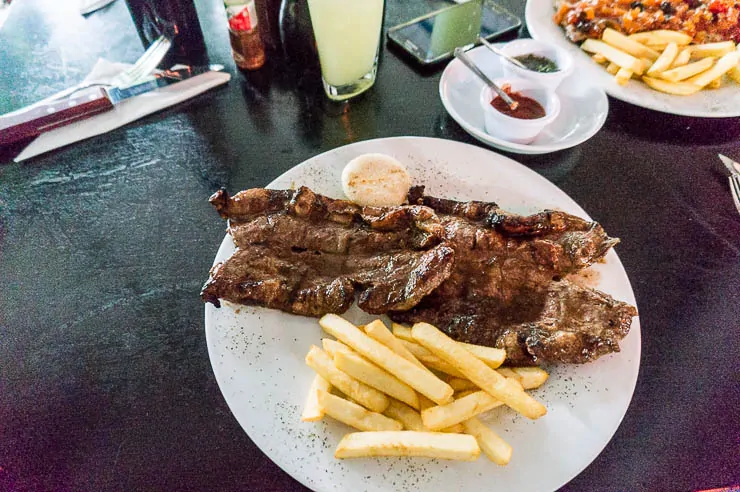 Submarino Express
I don't often eat seafood in Medellin, to be honest, but Submarino Express is an exception. They specialize in pretty unique seafood creations like a shrimp hotdog or crab burger.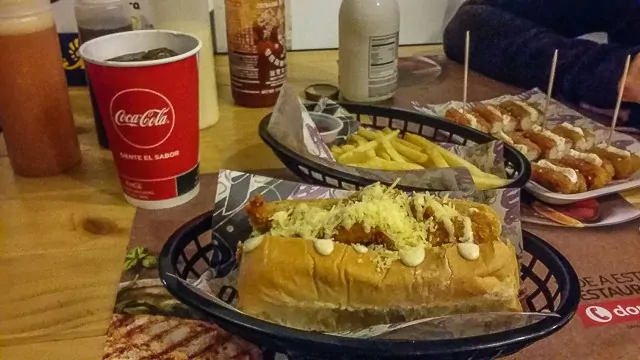 It's like a mix of seafood and fast food, and everything I've tried here is quite tasty at reasonable prices. They've also got delicious salsas to top it off like maracuya mayonnaise and other local twists.
Jack and Roll
The burgers here at Jack and Roll in Jardines are definitely among the best I've tasted in the city. There's a reason they're consistently ranked at the top of the Burger Master list every year, they make some truly incredible burgers of the highest quality.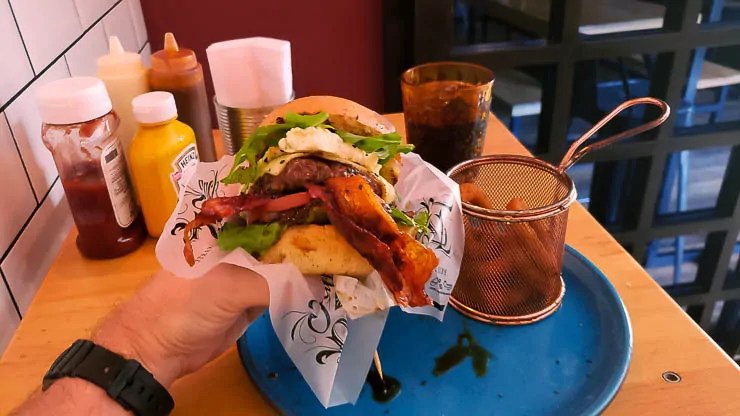 We aren't talking your normal lettuce, tomato, onion type of deal, but burgers with a Jack Daniels salsa, arugula, fancy blue cheese, and plenty of other variations. It's on the more expensive end (expect to spend about 30.000 pesos for a burger and soda), but you can definitely tell the difference.
Prana Cocina Natural
For those looking for a little less meat in their diet, Prana Cocina Natural is a great choice in the Magnolia neighborhood. They've got affordable menu of the day vegetarian options for about 13.000 pesos. They've also got a somewhat limit selection of items that you can order off the menu.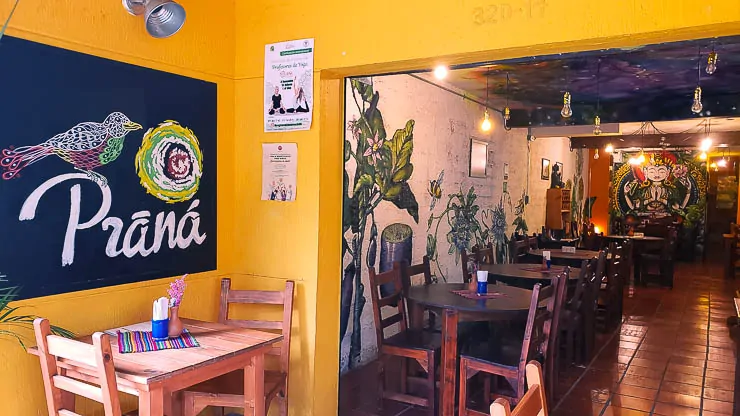 Recently I got the lentil burger and could have almost mistaken it for a real burger. It was quite delicious, and while I'd still prefer a juicy burger from Jack and Roll, this one comes recommended as well.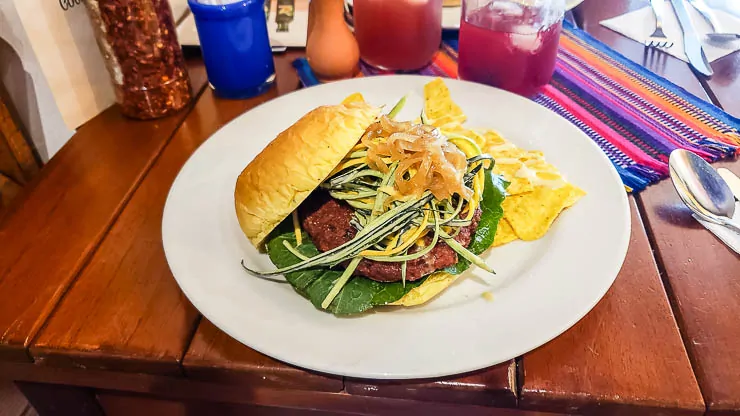 Tulsi Comida Vegetariana
On the vegetarian kick, there is another great pick on the opposite side of town, just on the southern edge of downtown Envigado, called Tulsi Comida Vegetariana.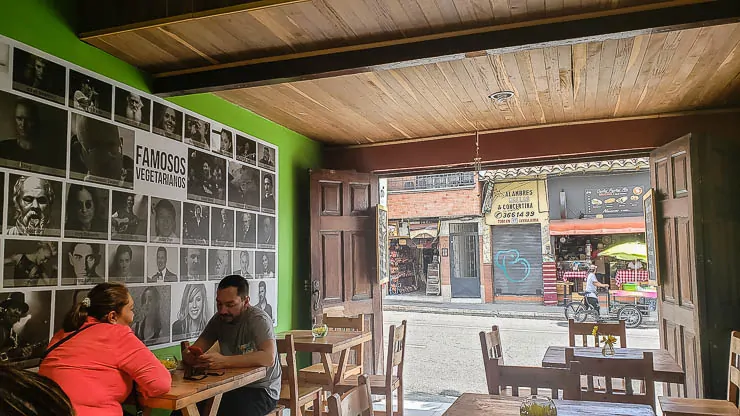 Here is another excellent choice for an affordable, creative, and healthy vegetarian menu of the day, with different offerings on a daily basis. Last time I went, I had a delicious veggie lasagna here (they had vegan options available as well). Definitely worth checking out!
Miraflores
Miraflores is a fairly elegant little Peruvian restaurant tucked into the El Dorado neighborhood. Here you'll find plenty of Peruvian favorites ranging from ceviche, pollo saltado, causa, and plenty more. The food is good here, but I wouldn't really call it authentic Peruvian, more like Peruvian-inspired.
The chef is Colombian but has supposedly studied in Peru. The food is tasty, just don't expect true Peruvian. Costs for a main plate are around 25.000 pesos.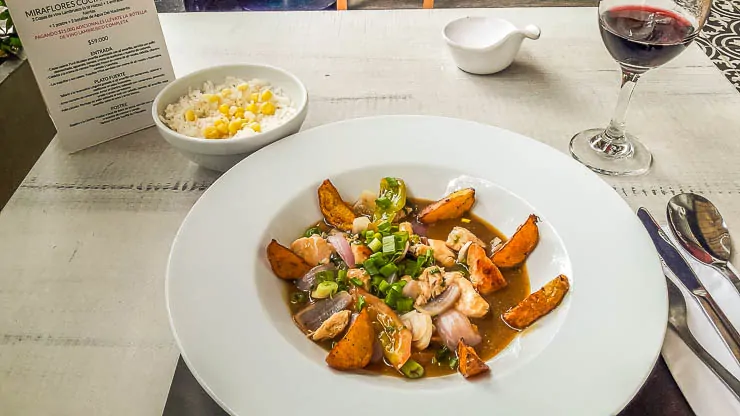 Here are a few restaurants on my list that I still haven't made time to check out:
Chez Alice
Tortería Mexicana La Chilanga
La tres uno
Lucio Carbon y Vino
Na Pizza
Burro Pizzeria
GYRA'Z
Cabal La Pupuseria
Coffee Shops in Envigado
El Cafe de Otraparte
This cafe is housed on the grounds of the Museo de Otraparte, the former home a famous local philosopher and writer. This cafe is my favorite in the area for the outdoor grounds and cool space. They've got a pretty good cup of coffee here too, albeit not the best in Envigado.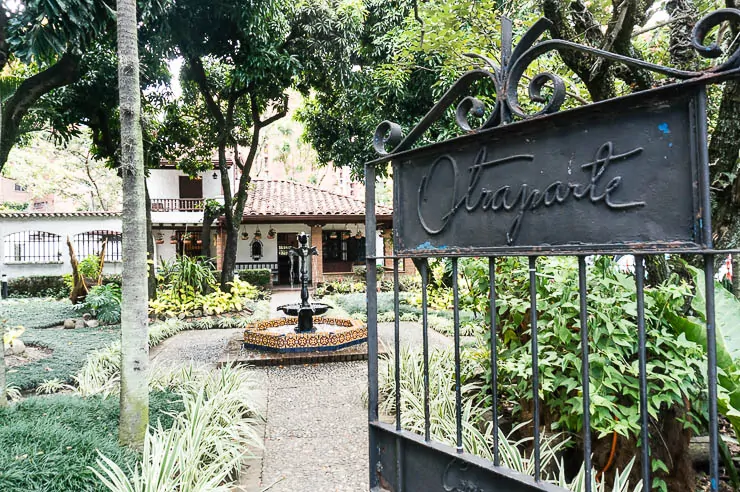 I come here primarily to hang out in the outdoor garden, drink coffee, and relax — it's actually probably the best in the entire city for that, unrivaled even in Medellin. Otraparte is also a top spot for a number of activities, whether that's movie nights, talks about literature and poetry, or just a delicious coffee cupping class.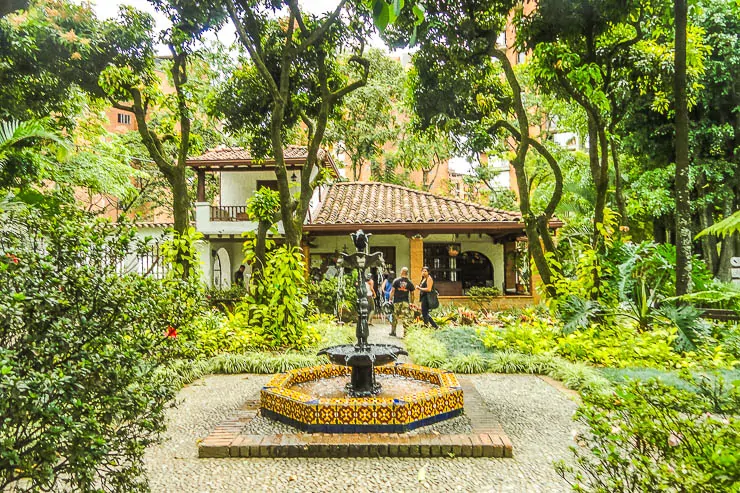 Amati Cafe
Amati Cafe is truly a special place with some high-end coffee and passionate baristas. Here you will find all the varieties of filtered coffee from Chemex, V60, Siphon, and more. On-site, there is also an Argentinean bakery which serves up alfajores and medialunas (I haven't tried them yet, though).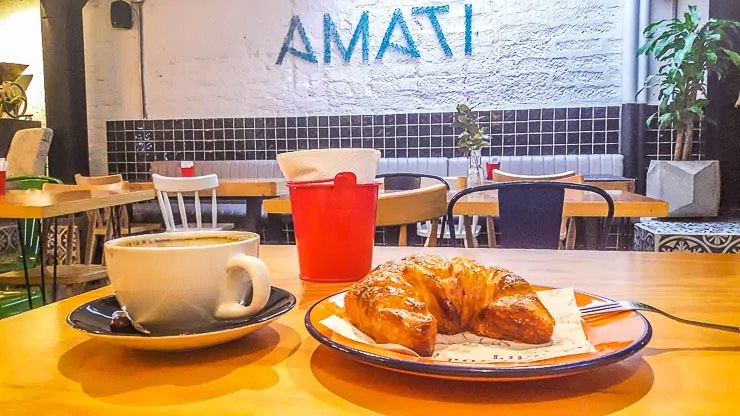 The only downside is this place is very expensive… We're talking 15.000 pesos for a Chemex which normally costs about 10, or I've even paid as little as 5.000 in Laureles. It's more expensive here than Poblado!
Andromeda
Andromeda is a tiny little coffee shop near the center of the old town, and while the coffee isn't amazing here, I will say they are probably the best option close to Parque Envigado. They've also got a variety of pastries an sandwiches and whatnot for sale here too. They've got cold brew, V60, Chemex, and all your standard espresso drinks.
Tostao
Tostao is a chain that you'll find all over the city with pretty great coffee and baked goods at very reasonable prices. They've positioned themselves as the go-to spot for locals thanks to affordable prices unlike Starbucks (which practically charges the same as in the US).
They've got prices much better than virtually any independent coffee shop, and the quality is actually quite good. All the baked goods I've tried here are also excellent. Recommended! You'll find a Tostao in downtown Envigado.
Cafe Galeria Java
This place actually is in Sabaneta, right over the border from Envigado, but I'm going to include them here because they have great coffee and it is the best option for those of who live on the south side of Envigado, away from Otraparte and Amati. Here you'll find Chemex, V60, Siphon, etc, within an eclectic store on the top floor of the Mayorca mall.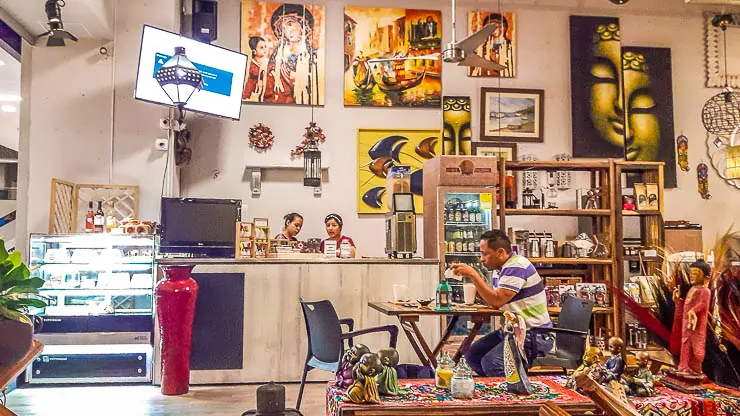 Also, there are a couple of good coffee shops in Viva Envigado, albeit they don't have the same sort of vibe as a small indy coffee shop. But do check out Al Alma, Urbana, and Cafe Kiva Han — all have great cups. Of course, you'll also find Starbucks and Juan Valdez inside, but they don't really qualify for the best coffee.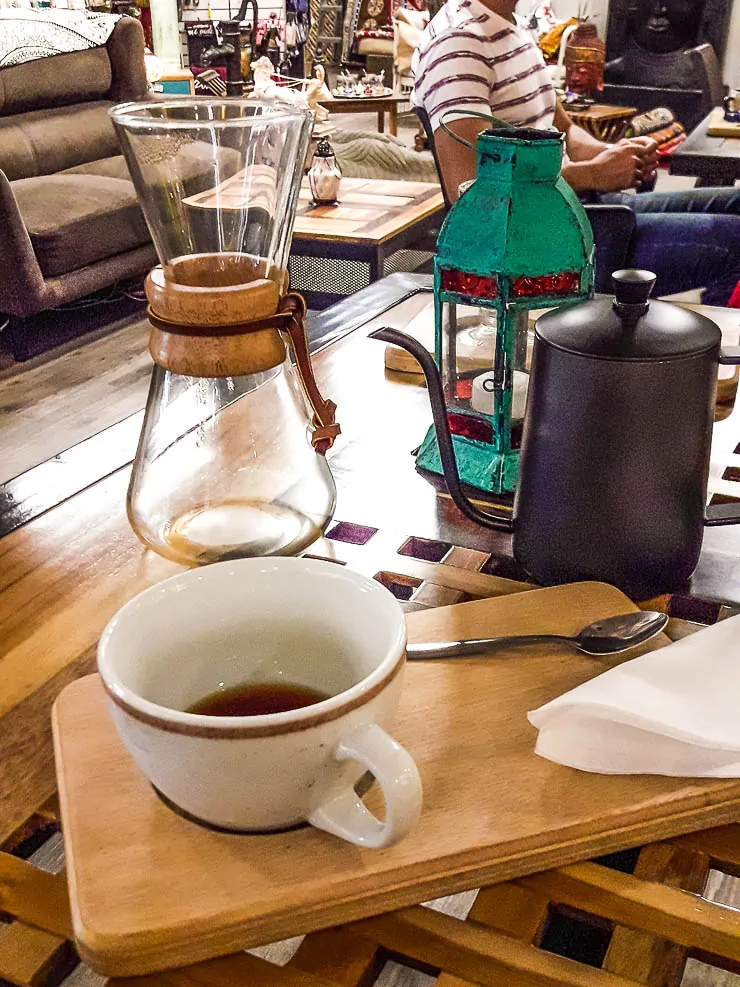 Tres Cuartas Cafe
This is a place I've been meaning to check out in El Dorado, but they seem to have some strange hours and it never seems to be open when I actually feel like going.
Gyms and Exercise
You'll find a handful of gyms throughout Envigado, both of the cheap local type that are kind of hole-in-the-wall, as well as larger and fancier chains like BodyTech or SmartFit.
There are at least two notable places in Envigado worth mentioning if you want to get some exercise though…
Polideportivo Sur
This large complex surrounding Envigado's stadium has a ton of different sports fields and places to exercise, including tennis, softball, swimming, basketball, soccer, etc.
They've got one of those free outdoor gyms (under a large roof) which you can find all over Medellin. But the better option is the paid gym in the basement of the coliseum where you can find weights, cardio machines, and even group exercise classes. It isn't super fancy, but it is super cheap and worth checking out. We're talking less than $1 to use the gym. You have to buy tickets from the Inder office at the stadium.
I took tennis classes here in both private and group classes. I was paying 25.000 for private, one-hour lessons with no ball boy. The one-hour group classes were twice per week for six weeks (12 classes) for 141.000 — amounting to less than 12.000 per class. You can reserve a tennis court for 10.000 pesos for an hour too.
Cancha El Dorado
There aren't really any great places for street running here in Envigado like there are in other parts of Medellin (in Laureles, I'd head up to Estadio and do big loops or run around the UPB campus), but the best option here is Cancha El Dorado where you can find a track around the soccer field.
You may have to dodge a futbol every once in a while, but it beats dodging crazy Colombian drivers on the street. Unfortunately, there is no track in the Polideportivo, but you can make some okay loops through the complex.
Comfama
A few blocks north of Envigado's main park, you'll find the Comfama building which hosts tons of different classes and activities, including things like yoga, exercise classes, hidroaerobics, swimming, and so forth (plus dancing classes, crafts, cooking, and much more).
It's pretty cool, and prices are super reasonable, even if you're just paying "Particular" (aka, you're not affiliated with Comfama). Andrea and I decided to finally take advantage of it and are taking a yoga class and a stretching class here. Both are quite good, so far!
Gyms
Finally, there are gyms like SmartFit, BodyTech, and others scattered throughout Envigado, as well as a few smaller neighborhood gyms which offer the best rates.
Supermarkets and Grocery Stores
You'll find tons of small neighborhood grocery stores where you can pick up all the basics, as well as a number of chains like D1 or Justo y Bueno for budget shopping. Beyond that, you'll also find the big supermarkets like Exito, Carrulla, Consumo, etc, scattered around Envigado.
Generally, we shop for our essentials at D1 and Justo y Bueno, buy our fruit from local vendors or the Plaza de Mercado in Envigado's downtown, and then round out our purchases with things from Exito that are harder to come by.
Mercado de Envigado – this market is located a few blocks east of the main plaza in Envigado, and while it isn't huge, you can find everything you want in terms of fruits, vegetables, meats, and even a number of health food stores. It's a good option, although don't expect it to be as cheap as the massive La Minorista market in Medellin.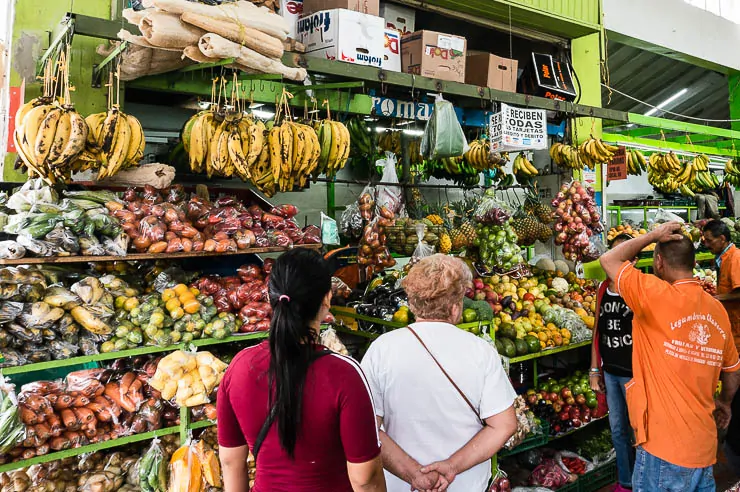 Mercado de Campesinos – Every two weeks they hold the Mercado de Campesinos in the main plaza of Envigado. One side is foods, fruits, and vegetables, and the other is artisan goods like earrings, clothes, that sort of thing. Definitely worth checking out!
Coworking Spaces
Coworking spaces are relatively unheard of here in Envigado and haven't taken off like they have up in Poblado… I mean, we've barely even got hotels or hostels.
There is one here though, called CowFe in Alcala where you can rent a hot desk. I've been, and the place is quite small and used mostly by local Colombians, however, it is a great option if you want to get out of the house and have a place to work. They've got day passes or monthly subscriptions.
Alternatively, there are "co-working" spaces in Viva Envigado, in the bank zone (Zona Financiera) and in the Exito near the food court. They've got wifi and power connections, but the openness of the space doesn't really appeal to me.
Nightlife in Envigado, Colombia
Admittedly, I don't go out a ton, in general, these days (guess I'm getting old!), let alone in Envigado, but there are a few sectors I will mention as well as the few specific places that I like.
Calle 39 Sur
This street just east of Av. Poblado (Carrera 43) has a bunch of tiny little bars with different kinds of music. All are super small, but can be fun in a hang out for a few beers type of night. We've been a handful of times and just walk by until we hear some music we like.
Barnaby Jones
This rock bar sits a few blocks north of Parque Envigado and offers up a pretty good evening, sometimes with live music (occasionally salsa too) and cheap drinks. I've yet to see the place packed, which is unfortunate, but I enjoyed it here.
Windsor Pub
Windsor Pub is the same area as Barnaby Jones, but one street over. This bar is pretty big, an old house with lots of separate rooms that have been turned into cozy spaces with couches and big chairs. They've got lots of different Apostol beers on tap. There's a very small outdoor balcony overlooking the street with like two tables. This is my favorite place in Envigado for a beer.
La Bota del Dia
There's an area along the Avenida Poblado (Cra 43) on the north end of the Envigado Centro where you'll find a big concentration of lively crossover music and reggaeton type bars. Each place has the lights flashing and the music blaring, all trying to compete with another. Here's where you'll find the most lively night out, like a miniature Parque Lleras.
Public House
A little further north of La Bota del Dia, you'll find Public House — I've walked by dozens of times, but I still haven't been here. It looks cool enough though from the outside, a large space with a typical pub atmosphere. Might be worth checking out if you are closer to the Jardines or Magnolia area.
Barrio Sur Cafe Bar
This is an offshoot of Barrio Central up near La 70 and Laureles. It's a pretty cool place that has a ton of events happening on a weekly basis, ranging from digital nomad meetups to live music, to sports and beyond. Certainly worth checking out if you're looking to make more international connections.
Map of Envigado Colombia
Here's an interactive map of basically all the places that I mentioned here in this article. I hope that it helps you to locate what area interests you and the coolest things nearby.
Lots to Explore in Envigado, Colombia
So there you have it! The ultimate guide to Envigado, Colombia… As mentioned above this is a living document that will be added to and revised as time goes on.
There's still a lot to explore and much still missing from this article, I know. But if you have some favorite places, tips, or recommendations, please be sure to sound off in the comments below. If there's anything I should have addressed here, let me know as well!
Traveling to Medellin soon? Be sure to book your room on Booking.com to save money and don't forget to purchase travel insurance for Colombia to protect yourself against injury, theft, and sickness. I recommend World Nomads for its combination of coverage and affordability. And be sure to read my thoughts to the question "Is Colombia Safe?"
Read Next: Best Things to Do in Medellin Colombia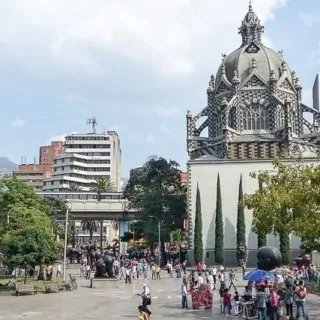 Colombia Travel Tips
Important tips and resources for planning an amazing trip to Colombia, based on my years of traveling and living in Colombia.
Tools
Colombia Trip Planning
Instructions
Book a cheap flight to Colombia with Momondo, or better yet, start travel hacking so you can fly for free. Traveling between major cities is much better by flying, trust me.
Plan a rough itinerary and how long you will spend at each destination. Use an itinerary planning service for custom recommendations and pick up Lonely Planet Colombia.
Work a little every day to teach yourself Spanish, you'll want to know as much as possible before you arrive.
Book cheap accommodation in advance, at least for the first destinations -- For hostels use: Booking, for cheap hotels use: Hotels.com, for apartments use: Airbnb.
Reserve your on the ground tours and activities through Get Your Guide.
Purchase travel insurance for Colombia with SafetyWing to protect yourself from illness, injury, and theft while in Colombia. VERY important. And be sure to read my article: "Is Colombia Safe?" for my honest opinion and safety tips.
Sign up for my free emails about planning a better trip to Colombia, and be sure to check out my comprehensive guide about traveling to Colombia.
Learn more money-saving tricks with my top budget travel tips.
Put together your Colombia packing list.
Enjoy this incredible country!
Notes
I hope this helped you plan your travels in Colombia! I know it can be a struggle to find accurate and on the ground information when traveling to a new place like Colombia, which is why I started writing so extensively about it!
If you have any questions about Colombia, budget travel, or anything else shoot me an email at ryan@desktodirtbag.com.
(I love getting questions! That is how I get ideas for my blog posts and what to write about!)
Recommended Products
As an Amazon Associate and member of other affiliate programs, I earn from qualifying purchases.
Share This
Did you enjoy this post about Envigado, Colombia? Take a second to share it on Pinterest, Facebook, or Twitter. Thanks!
The following two tabs change content below.