This article may contain
affiliate links
. If you make a purchase through these links, I will earn a commission at no extra cost to you. Thanks!
Traveling and staying in shape can often be at odds with one another. You are constantly on the move and often eating out which usually means big portions of not exactly healthy food. It can be a challenge to ensure you don't come back heavier than when you set out, but there are some great ways to exercise while traveling which you can do basically anywhere.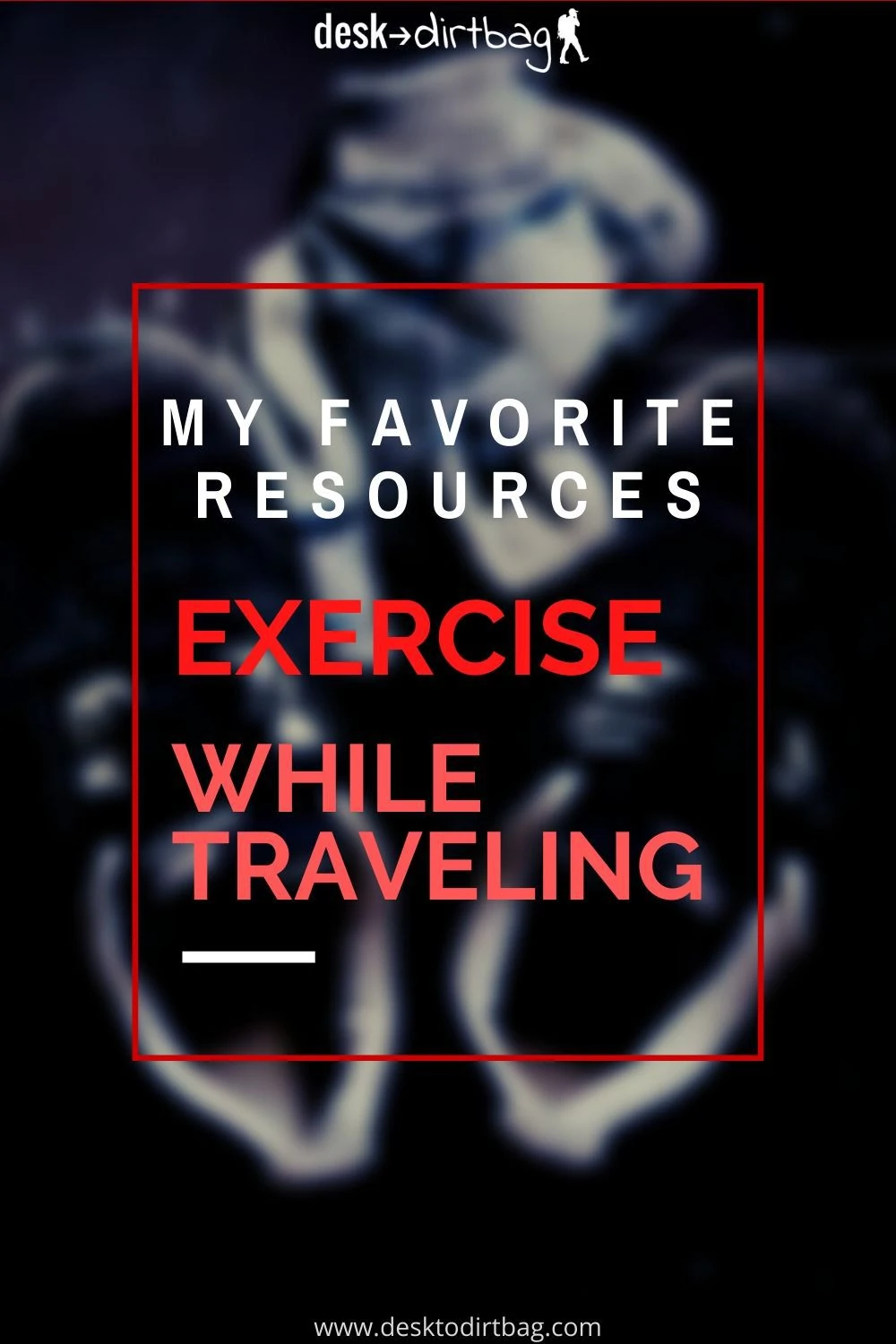 I'll be the first to admit that I'm not in great shape, but I'm doing okay. I used to be in much better shape when I was hiking and climbing every single day, or actually running every day, but road tripping through all of Latin America has meant more days off than on when it comes to exercising while traveling.
But I still want to make sure I can go on a five-day trek or climb a 17,000+ foot mountain at a moments notice without suffering too much.
So that means doing simple exercises, primarily bodyweight exercises, even if it is just for a few minutes every day, that's better than nothing.
That means I focus on workouts while traveling that don't require any special equipment and are well suited as travel workouts. I want to be able to do these things whether I'm in a cheap hotel room, an awesome Airbnb, a luxurious hotel in New York, or truck camped along the side of the road somewhere.
Apps to Exercise While Traveling
Here are a few of the things that I use and rely on to maintain a basic level of fitness while I travel the world, which helps me meet my fitness goals like staying healthy, lose weight (when I eat too much delicious food on the road), without having to worry about having a personal trainer or always trying to be concerned about healthy eating (which is important, but I don't go overboard).
I like apps and technology, so I utilize these to help guide my exercise, record my results, or simply keep me accountable with built-in reminders to do some workouts.
The 7 Minute Workout is a high-intensity interval training (HIIT) program whereby you go through 13 different exercises over the course of 7 minutes with just 10-seconds rest between each.
The exercises range from planks, bodyweight squats, push-ups, sit-ups, jumping jacks, etc. The only thing you need is a chair or a bed (for step-ups and tricep dips). If you have a pad or carpeted surface it's nice for things like push-ups or sit-ups, but it isn't necessary.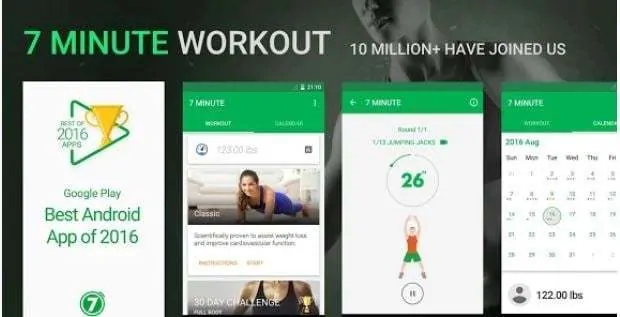 I did these exercises diligently in the weeks leading up to a big climb in the Andes, and I got through it just fine despite the fact that I hadn't climbed a big peak for over a year.
In just seven minutes I'm usually huffing and puffing thanks to the breaks that flash by in a few seconds, but if you're feeling extra energetic, you can do an extra round or two to make it 14 or 21 minutes. That will definitely kick your butt! This is definitely one of the quickest and simplest ways to workout while traveling if you want to maintain a healthy body weight and start sweating.
Perhaps the most effective bodyweight exercise is the simple push up. 100 Push Ups creates a long-term plan for you based on how many push-ups you can currently do, while gradually ramping up as things get easier.
The goal is to be able to do 100 consecutive push-ups — something I'd love to be able to do, one day.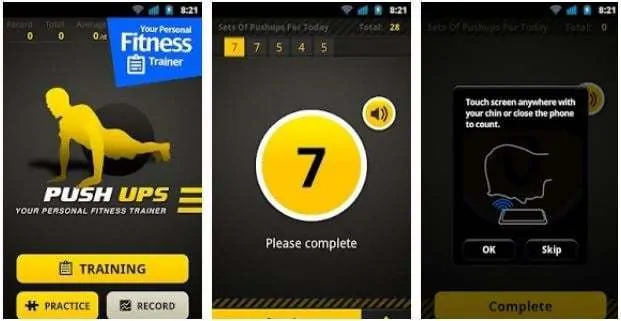 It's usually an on-again, off-again relationship with 100 push ups. Sometimes it feels like I never make any progress and plateau, then I forget about the app for a while.
Either way, doing push-ups until failure is a great way to build and maintain upper body strength while traveling, and they can be done absolutely anywhere and everywhere.
Running
Running and traveling are great companions. You don't need much beyond your running shoes and some athletic wear in order to get out there.
Plus it allows you to see the city or place you are traveling in a whole new way, on foot, often covering new or unexplored ground.
One of those secret tips if you're feeling a bit of jet lag: going on an easy 30 minute run definitely seems to help. It's like it kicks your endorphins up a notch and gives you more energy to get through the day as you adjust your sleep schedule.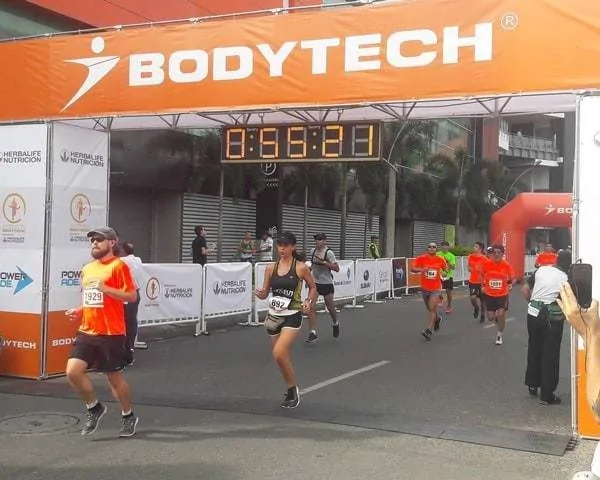 There have been a number of times where I've stumbled across a cool looking restaurant or shop thanks to running through a new neighborhood, then I put it on my mental list to return.
I like to use an app like Couch-to-5k to record my time, distance, pace, etc while running, though there are a million different great apps like Strava and others which you can use.
It can also be fun to participate in an organized race while traveling in a new city — it allows you to meet new people and run through the streets without any traffic!
I wrote another article about how to get started with running, but I'd highly encourage you to do so if you want one of the best workouts while traveling.
How Do You Exercise While Traveling?
So there you have it! A few of my favorite ways to workout when traveling… Of course, part of it should also come down to trying to eat healthy (which can be tricky while traveling), but I've never had to go on a "diet" thanks to these other habits, and I still get to go out and enjoy local food, beers, desserts, and eat out quite regularly without turning into a blimp.
What is your favorite way to stay in shape or exercise while traveling? Sound off in the comments below.
Wish you could travel more? Click me to grab my free resources for affordable, long-term travel.
Read Next: My Top Travel Tips and Resources
Share This
Did you enjoy this post about how to exercise while traveling? Please take a moment to share it on Facebook, Pinterest, or Twitter.
The following two tabs change content below.