This article may contain
affiliate links
. If you make a purchase through these links, I will earn a commission at no extra cost to you. Thanks!
If you're planning a trip to Colombia, then a visit to Medellin should be part of your Colombia itinerary. Medellin is a dynamic and incredible city, full of life, forward-looking, and full of things to do. There are tons of options when you're looking at where to stay during your visit to Medellin, but if you're looking for an affordable and upscale hotel from a well-known international hotel chain, then the Fairfield by Marriott Medellin Sabaneta provides the best bang for your buck.
I had the chance to spend a few nights at this beautiful new hotel and I wanted to share this experience with my readers as they consider where to stay in Medellin, Colombia.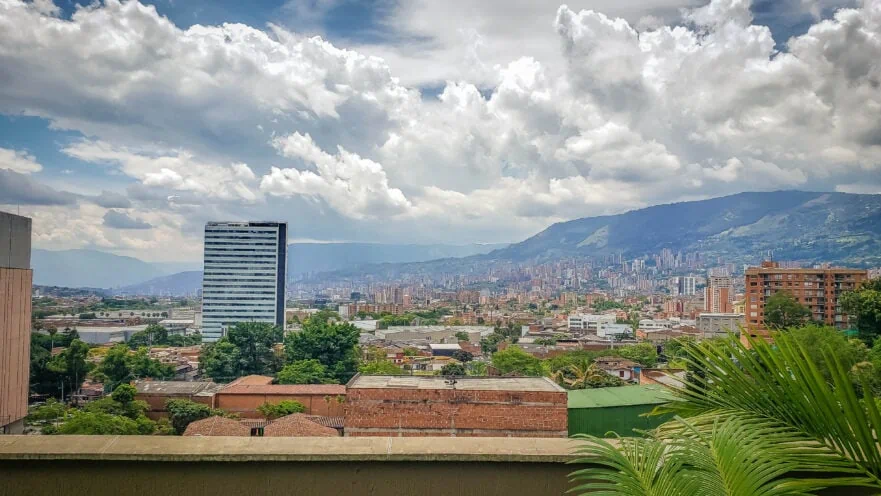 Let's jump into the details of this newly constructed hotel in the southern part of Medellin, away from the typical tourist bubble but still very strategically located.
Reservations and Booking
The Fairfield by Marriott Medellin Sabaneta is the first Fairfield branded hotel by Marriott in Colombia. Fairfield is a well-known economy-to-midscale hotel brand by Marriott across the United States that offers lower prices with fewer hotel amenities. While some of that holds true for the first Fairfield by Marriott in Colombia, it also breaks the mold compared to its US counterparts, offering up a completely different model from the architecture and design to the amenities offered on-site.
What isn't different though is the very accessible and affordable prices offered by the Fairfield by Marriott Medellin Sabaneta. Indeed, the prices here are much cheaper than their US versions, with much more on offer.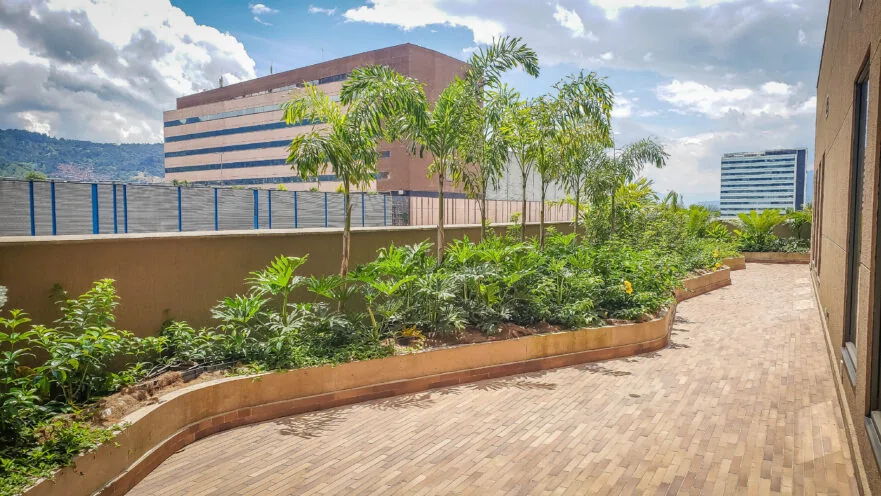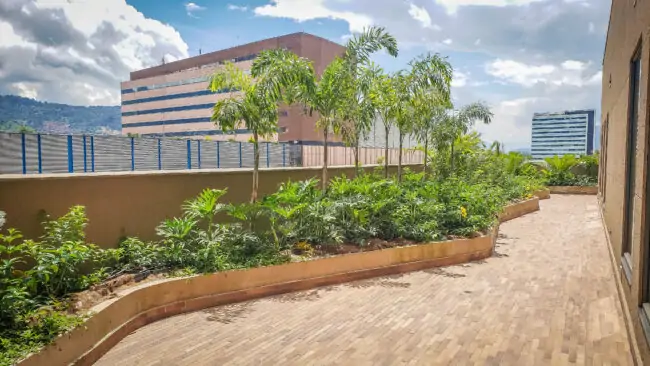 Single king rooms can be had here at the Fairfield by Marriott Medellin Sabaneta for around $50-70 per night depending on the night of the week. Prices tend to be cheaper on weekends versus weekdays since the hotel often attracts business travelers (both national and international). They also offer a slightly larger junior suite for around $80/night and up, which is where we stayed. The junior suite features a larger entry corridor and a separate workstation area with a desk and chair that is away from the bed.
Check Current Prices & Availability
Prices for the Fairfield by Marriott Medellin Sabaneta are certainly among the lowest in the city for a hotel of this quality, caliber, and from a well-known international brand. You'd be hard-pressed to find a better deal at this price point. There are a few other Marriott properties in town, including the Four Points by Sheraton which costs about double the price of the Fairfield, and the Medellin Marriott which costs double the Sheraton (so, at least 4x as much as the Fairfield). Although both hotels offer additional amenities like pools, saunas, and/or jacuzzis.
As always, I strongly recommend joining the Marriott Bonvoy loyalty program for free rewards, the ability to earn free nights, and other awesome benefits. You can maximize your rewards by signing up for a Marriott Bonvoy credit card, which will have you earning free nights right away which is how I was able to spend a week in NYC for free or at this elegant Marriott ocean-front resort on the Colombia coast — 100% free!
Important: Sign up for the Marriott Bonvoy loyalty program and be sure to get a Marriott Bonvoy Credit Card to get your first free nights and unlock additional rewards, including welcome gifts, room upgrades, extra points, faster WIFI, and other benefits. Read: How to Stay in Luxury Hotels for Free.
Location of Fairfield by Marriott Medellin Sabaneta
The Fairfield by Marriott Medellin Sabaneta is located in the southern part of the Aburrá Valley, in what is the city of Sabaneta. So no, the hotel is not located in the city limits of Medellin, but it is in the larger metropolitan area just past the city of Envigado. This location has its pros and cons, and one person's pro could be another person's con, so you should know what you're getting when considering booking this hotel property.
The city of Sabaneta has seen a huge boom in development and construction in recent years, filling with residential towers and commercial properties. While most travelers to Medellin choose to stay in the neighborhoods of Poblado (the #1 choice) or Laureles (#2 overall), the southern end holds its charms too! The cities of Sabaneta and Envigado are very appealing, in my opinion, and a little more laid back compared to those neighborhoods in Medellin, and are not on the typical tourist trail, which is nice. Very few tourists choose to stay in downtown Medellin but just visit for the day.
Read More: Best Neighborhoods in Medellin
The Fairfield by Marriott Medellin Sabaneta is located just a few blocks from the Metro (Itagui Station), so you can very easily explore anything and everything that this city has to offer, making this hotel an excellent place to base yourself during your stay. Between the hotel and the metro station is one of the largest shopping malls in the area, the expansive Mayorca Centro Comercial. This massive mall contains two huge sections connected by dual sky bridges, and the Itagui Metro Station connects directly to the outside of the mall — meaning you can cut through the interior of the mall to get to the metro station within 10 minutes (if you're coming & going during business hours).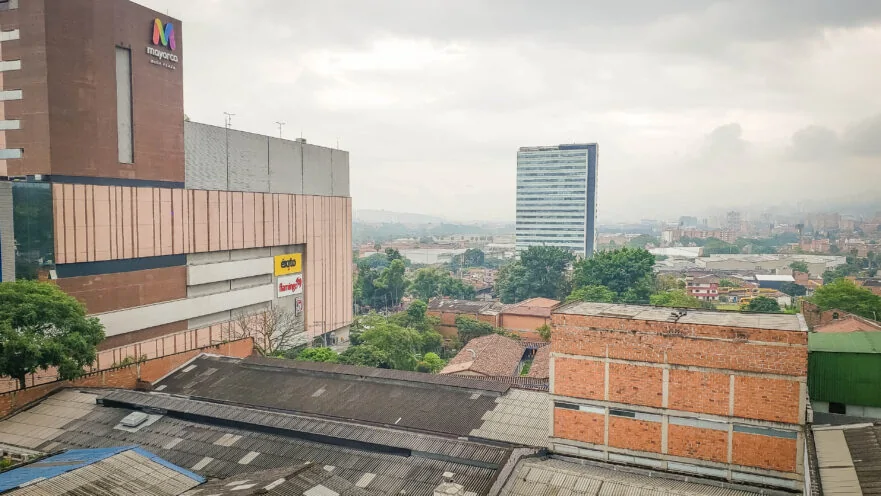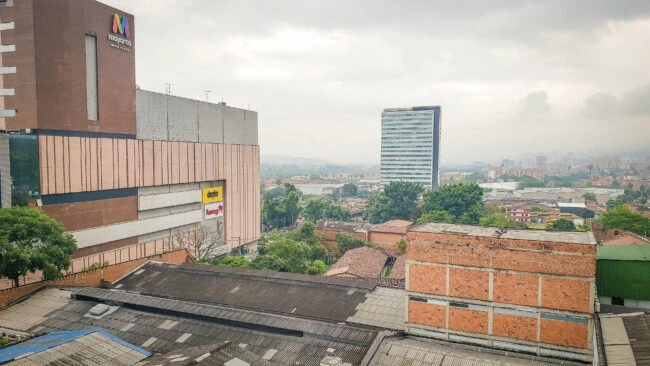 The convenience of being located next to public transport is great, but it's also nice being located adjacent to the shopping center too with tons of restaurants, coffee shops, and even a grocery store. If you aren't too "street smart" or familiar with travel in big Latin American cities, these massive malls are considered some of the safest places to be, which is what makes them so popular among locals too. Here are some things to check out in Mayorca CC:
La Migueria – one of the best bakeries in Medellin
Tostao – two locations offering up very affordable coffee and pastries
Juan Valdez – Colombia's most famous coffee chain, like Starbucks — speaking of which, there is a brand new Starbucks here as well.
Crepes & Waffles – One of Colombia's most cherished restaurants with delicious savory crepes and desserts.
There are tons more options than that, but those are just a few things to consider when you're passing through the mall.
The hotel is located almost equidistant between the main central plazas of both Sabaneta and Envigado, just a short taxi or bus ride from each, or about a 30-minute walk to either Envigado's central plaza or a 20-minute walk to Sabaneta's central plaza. Both are lively centers of activity with plenty to do, while offering an environment more typical of small town pueblos. I've written extensively about Envigado already, but Sabaneta is also quite popular for locals to go party and eat. Check out a lively bar like El Viejo John next to the park, eat giant buñuelos in El Peregrino, or just walk around and people watch.
You are also a short walk from the large Polideportivo Sur sports complex where you can get in some exercise, play Tejo (throwing rocks at little explosives!), or catch a soccer game with the Envigado FC team, all less than a 15-minute walk away.
The hotel is a bit further from Medellin's main airport, the Jose Maria Cordova International Airport, due to its location at the far southern end of the valley, so you can expect it to take 50-60 minutes or more depending on traffic congestion. The hotel can arrange for an airport shuttle, for an additional fee, if you don't have other means of transport. If you happen to be using the smaller Olaya Herrera Airport, then you are a much shorter drive as it is located right in town. But Playa Herrera is used primarily for small regional flights.
Want to Travel More for Less Money?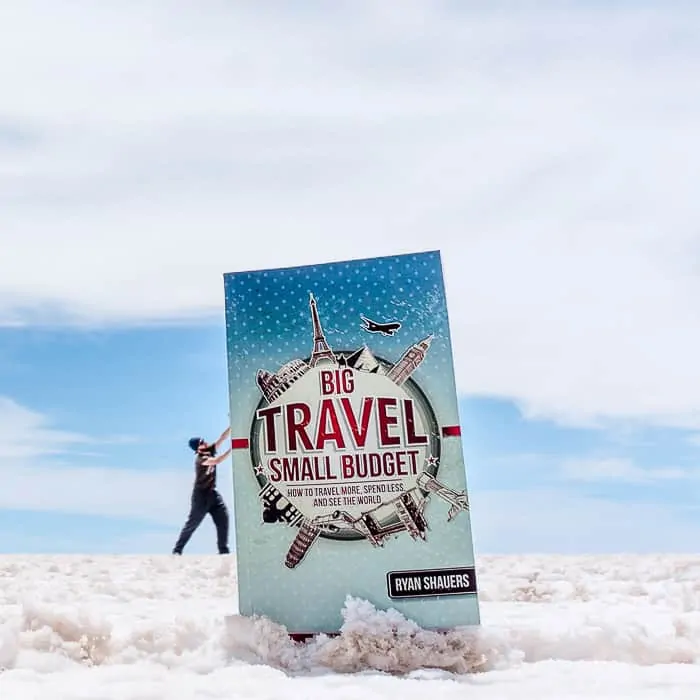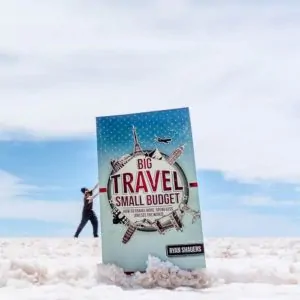 I will teach you the top methods I've used to save big money ??? during more than a decade of continuous travel in my best-selling book Big Travel, Small Budget. See for yourself, the book has nearly 200 unbiased opinions and 4.4 out of 5 stars on Amazon! ⭐⭐⭐⭐⭐
Check-In at the Fairfield by Marriott Medellin Sabaneta
The hotel itself is located right on Carrera 43A which is a principal avenue that eventually becomes Avenida Poblado. As mentioned previously, it is located across the street from Mayorca CC and less than a 10-minute walk from the Itagui Metro Station. The building itself is a mixed-use construction containing small local businesses on the first floor, private apartments (on different floors, and with a separate entrance), and the hotel which occupies floors 6-10.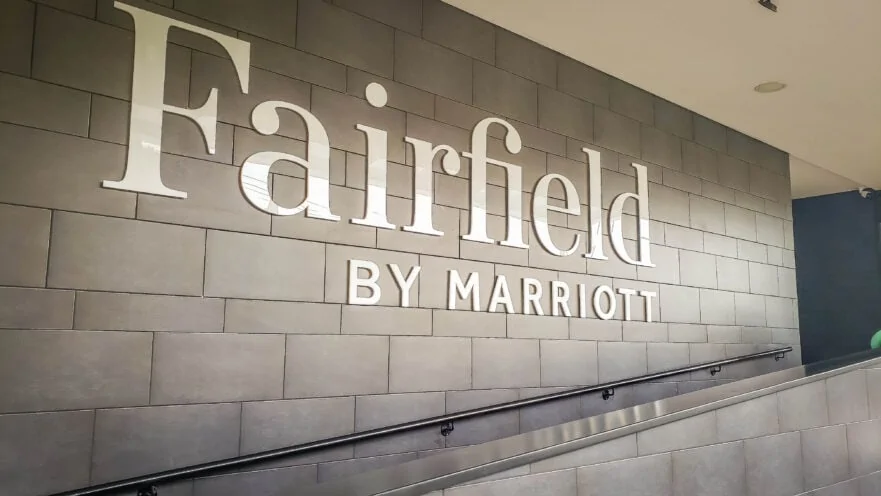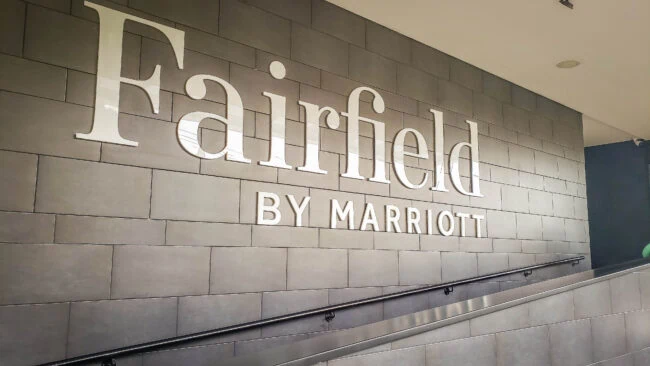 After entering the hotel along Carrera 43A, a doorman greeted us and sent us straight up to the sixth floor where the hotel lobby is located. Immediately outside the elevator bank on the sixth floor is the lobby and check-in where we were attended by the friendly staff. Check-in registration was fairly quick and efficient, although here in Colombia they check and register the IDs of all guests as a matter of security which slows things down a bit.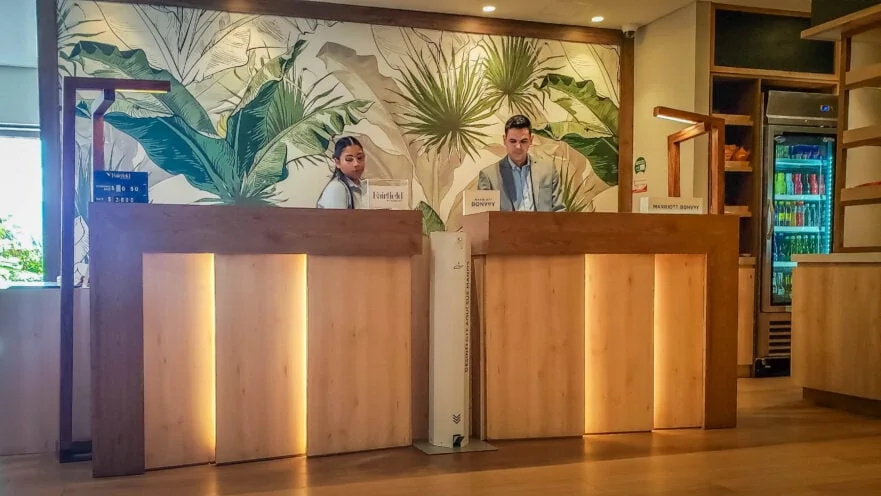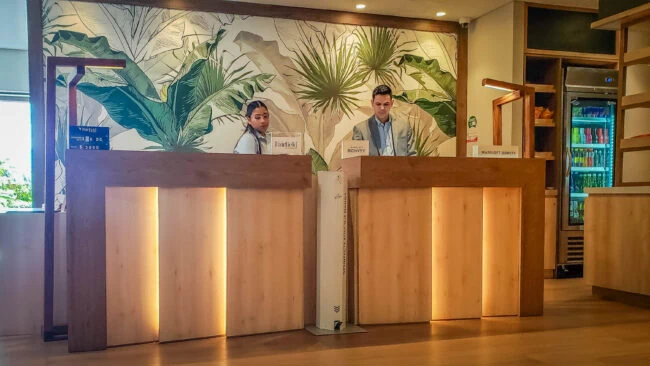 There is one bank of two elevators in the hotel (the same ones leading up directly from the ground floor) which require scanning your room key card to access any floors beyond the ground floor or sixth floor with the lobby and common areas.
Video Tour of the Fairfield by Marriott Medellin Sabaneta
Our Room at the Fairfield by Marriott Medellin Sabaneta
Our Junior Suite on the 10th floor was quite spacious with ample natural lighting thanks to being a corner room with multiple large windows. A long entrance corridor was lined by shelves with local artwork and baskets while the other side offered a large eastern window overlooking the green hills of Sabaneta and the towers of Poblado in the distance.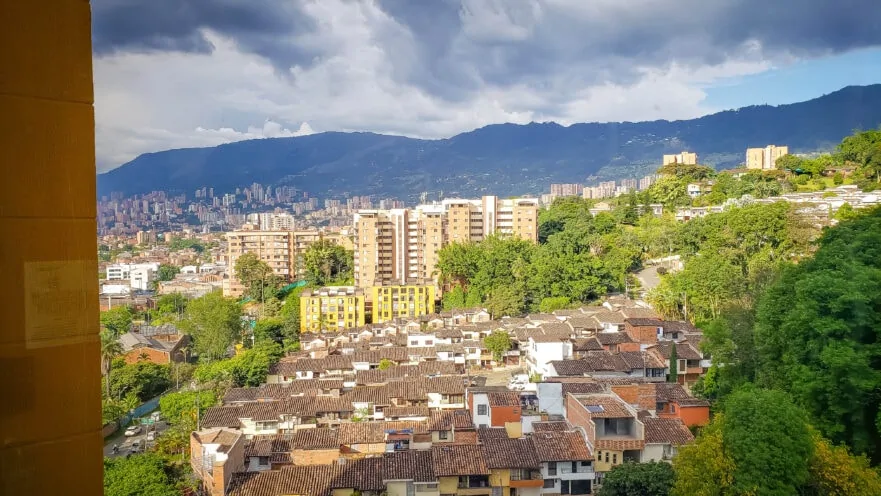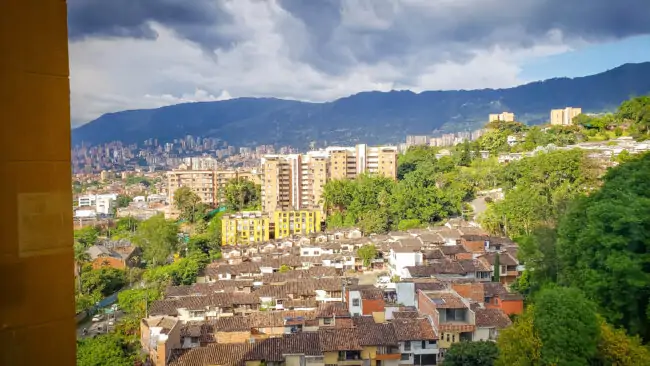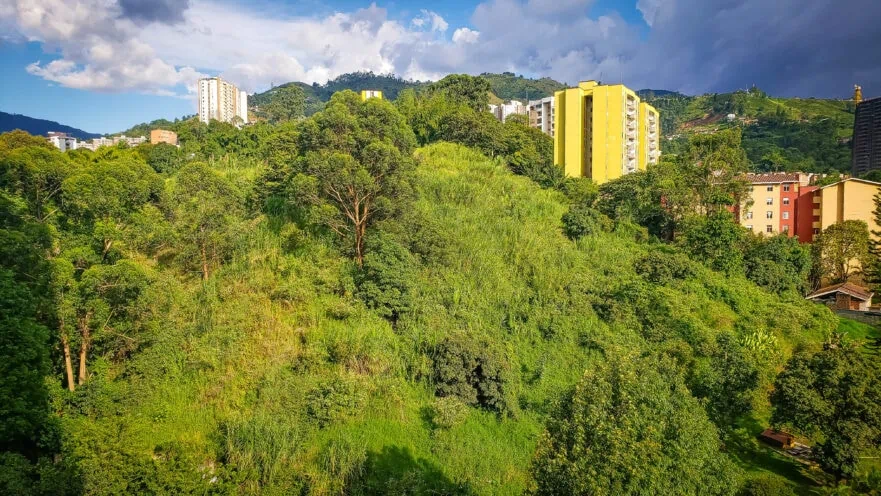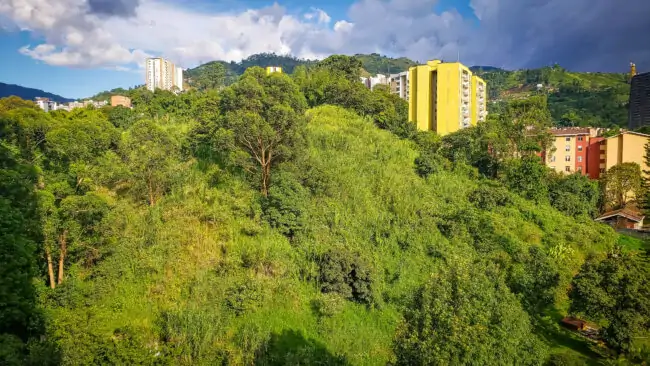 At the end of the entryway was a small desk and work area in front of a southern-facing window overlooking the city of Sabaneta. I was pleasantly surprised to find a fruit and cheese plate along with a mini bottle of wine waiting for me on the desk. An unexpected and awesome surprise, for sure!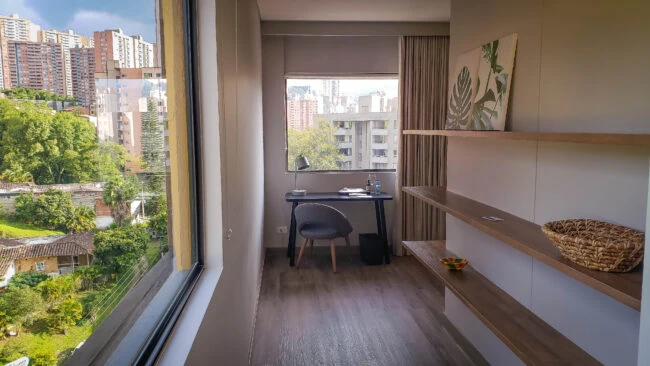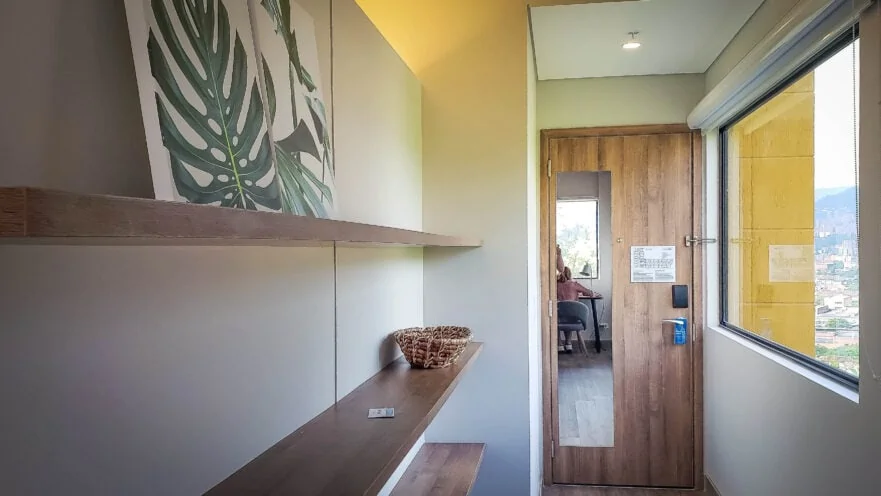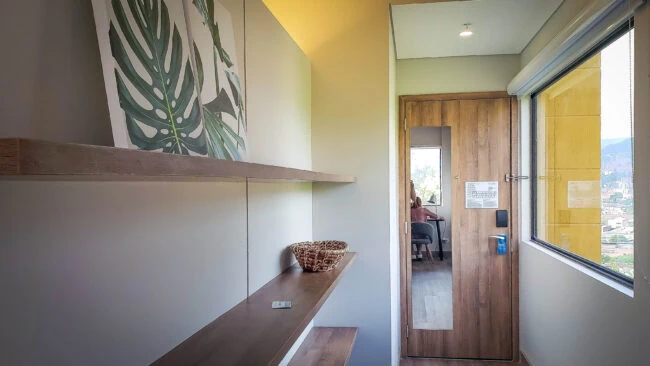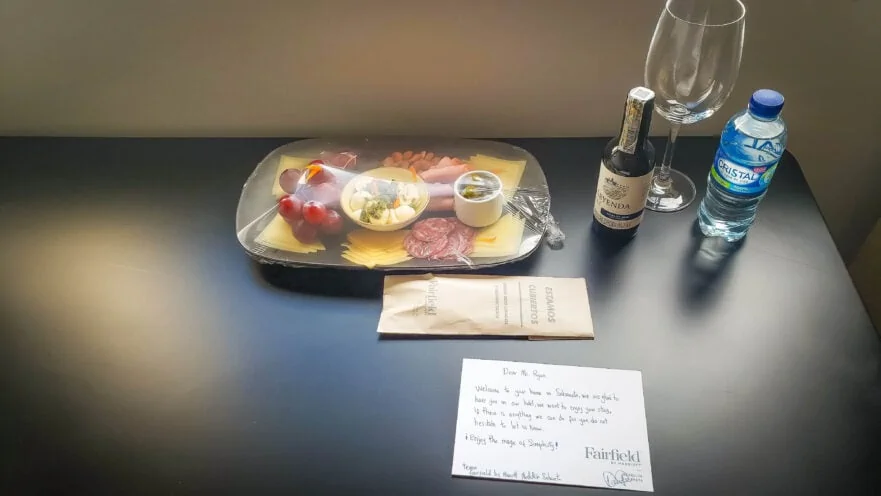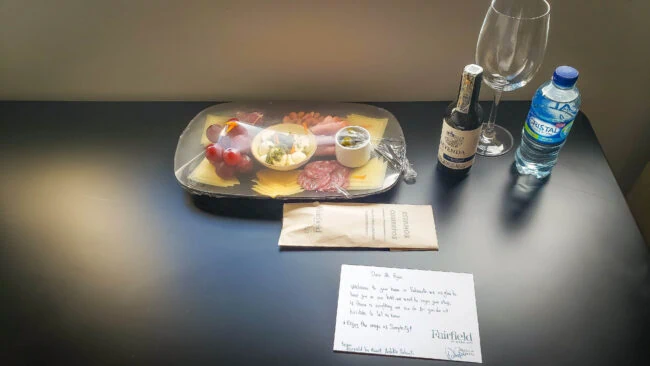 The separate desk area ended up being tremendously convenient since Andrea had a few online Spanish classes to teach (video calls) and I could still be in the main part of the room without being seen on camera. The Wifi was also fast and reliable, of course, and Andrea had no connectivity issues doing her numerous video call classes.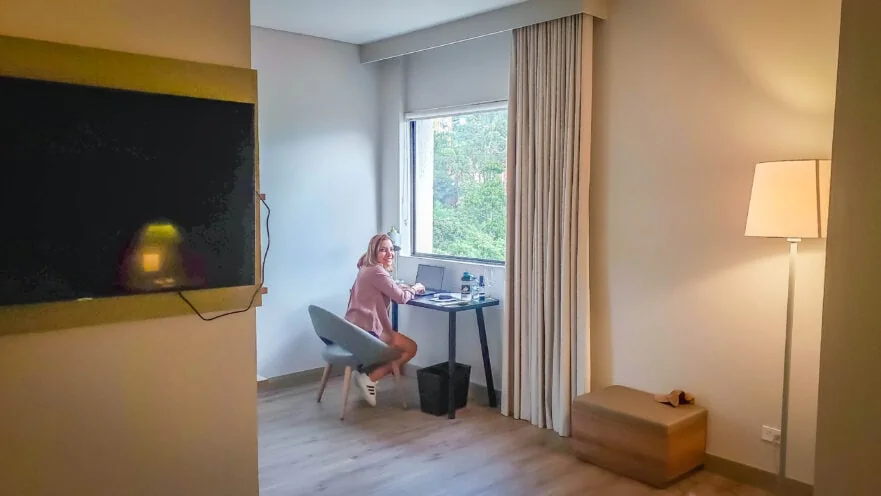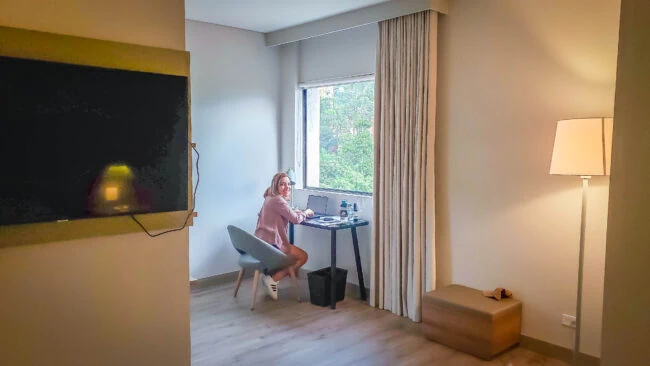 Around the corner from the entryway and desk were the large and cozy king bed, the large screen TV, a small mini fridge, a coffee maker, and the bathroom. Everything was new and elegant with the modern amenities that we all know and love like USB connections for charging, a bathroom mirror with recessed backlighting, a safe deposit box, a large rainfall showerhead, and air conditioning for that Medellin heat & humidity.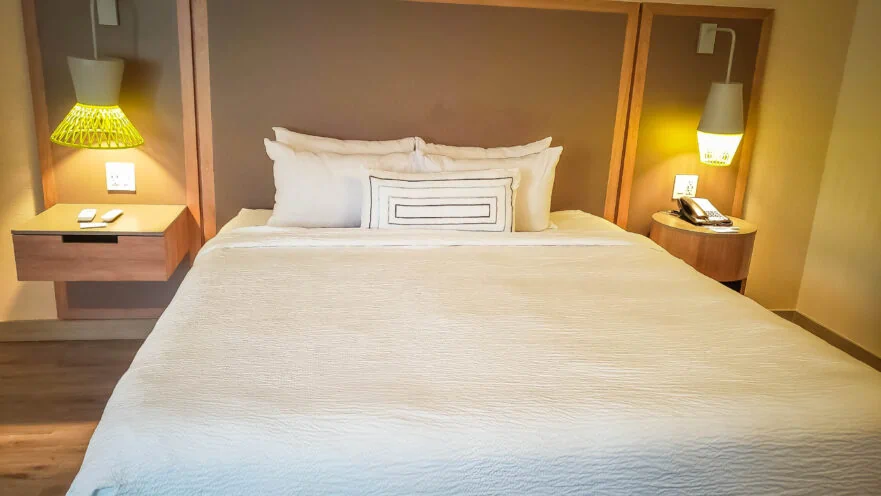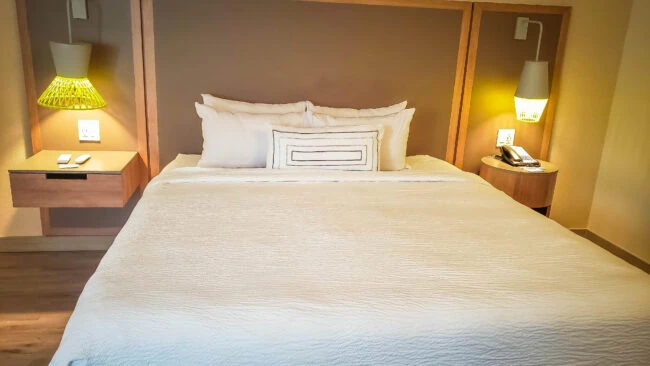 The in-room personal coffee maker is a nice Juan Valdez machine that uses individual coffee pods that are quite delicious. I'm glad to see that Marriott is using local businesses like Juan Valdez throughout their Colombian properties. These coffee pods are like little tea bags, and while still individually packed in plastic bags are still more ecologically friendly than the Keurig coffee pods.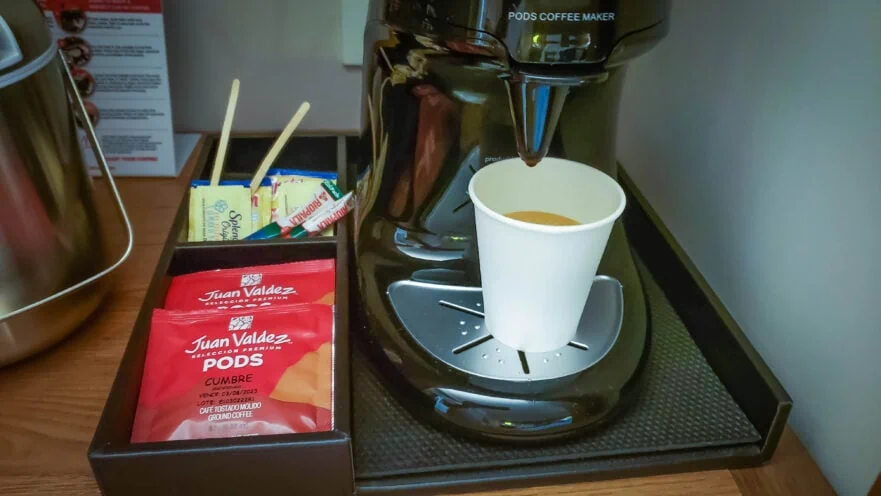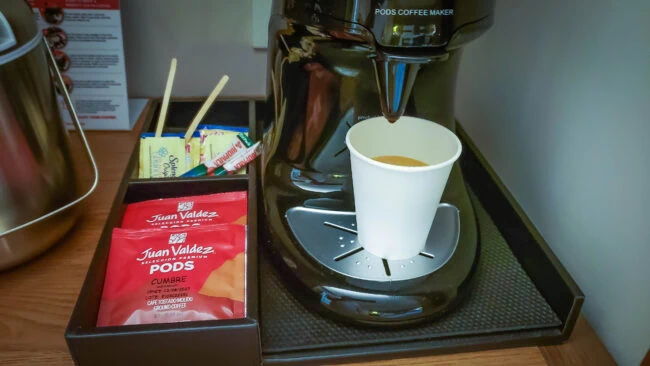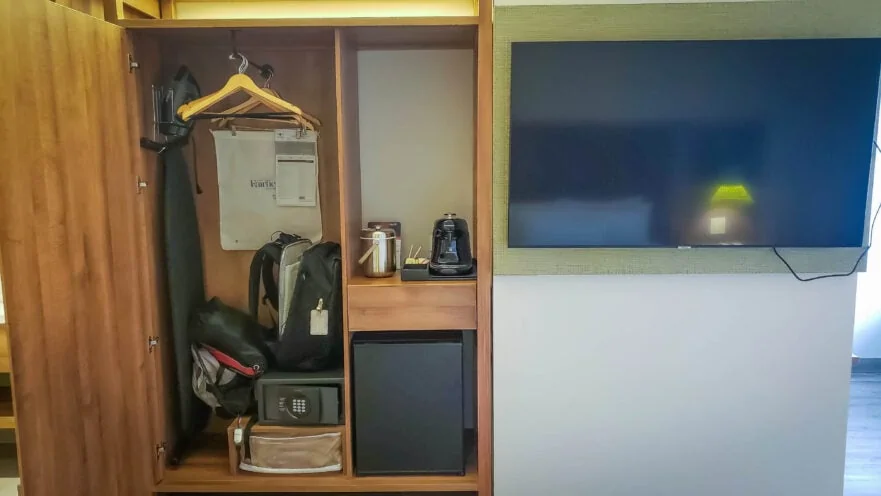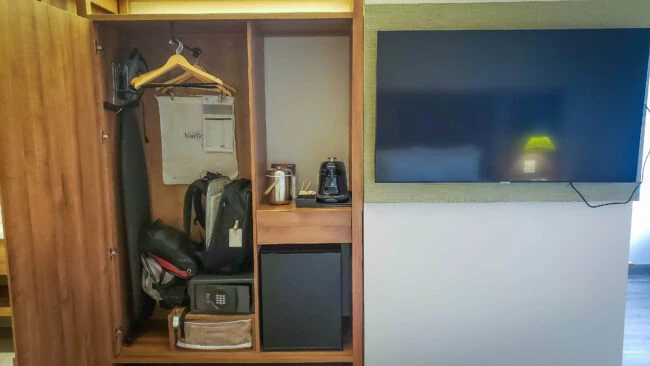 Also, in terms of sustainability issues, the hotel does still use the little individual bottles of shampoo, conditioner, and lotion, which I hope to see phased out completely in favor of the larger refillable bottles that we are seeing in more hotel properties now, including other Marriott properties in Colombia.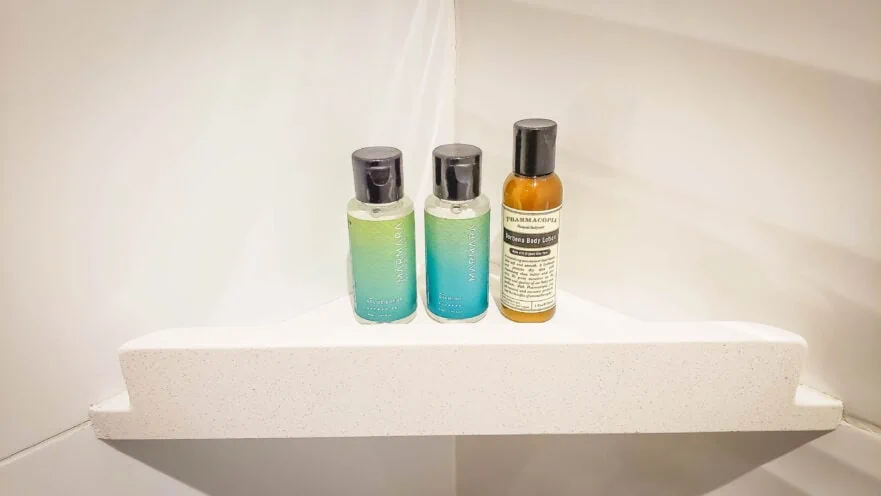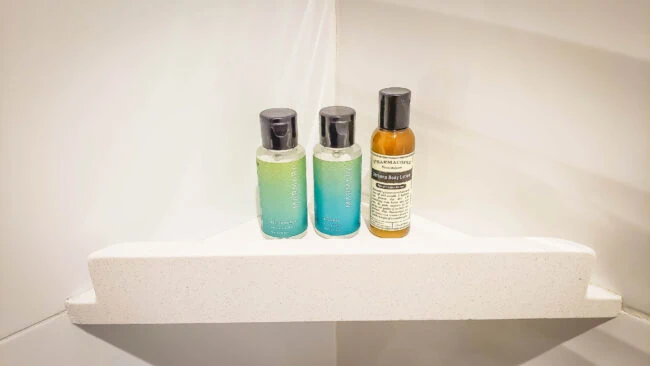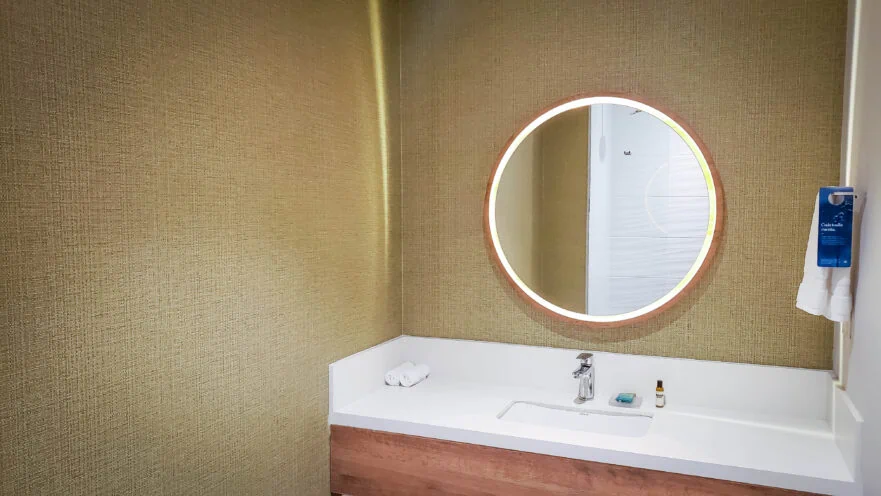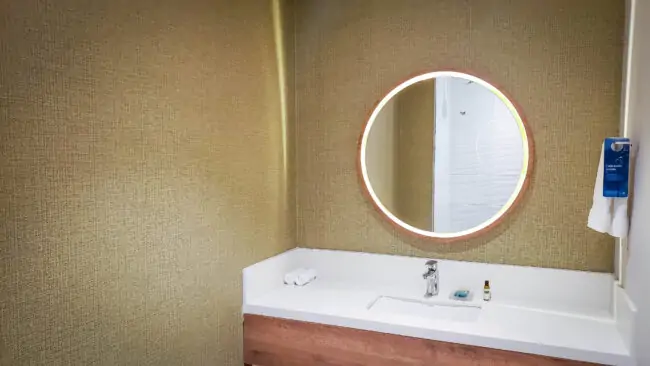 Fairfield by Marriott Medellin Sabaneta Amenities
The Fairfield by Marriott Medellin Sabaneta features your standard amenities for hotels in this category and price range, including a simple business center, access to printers, a small conference room, but also a few surprises too.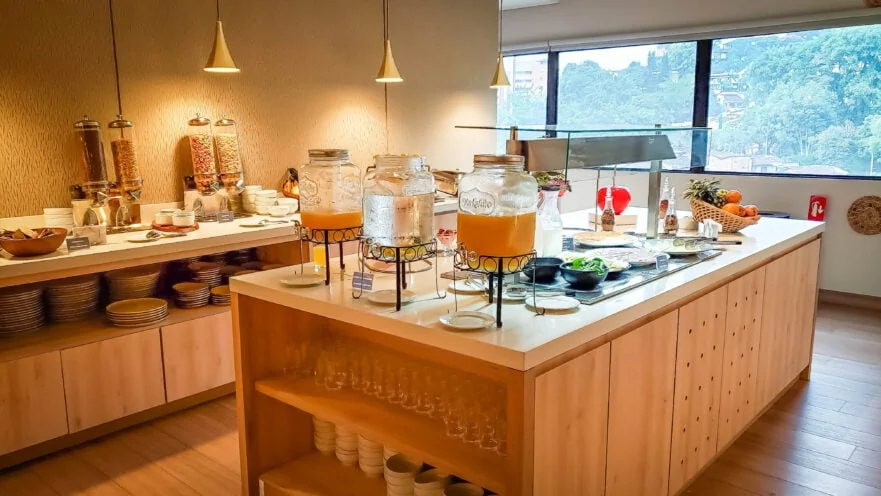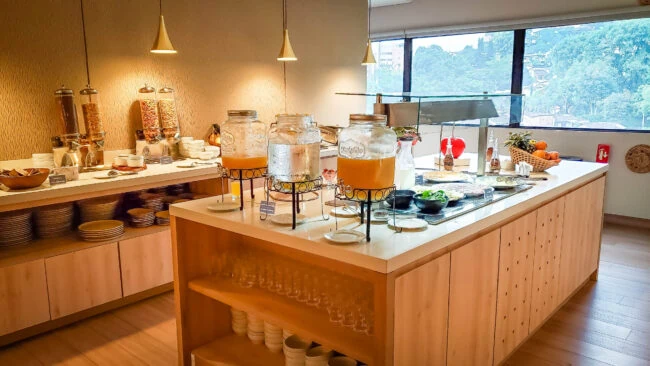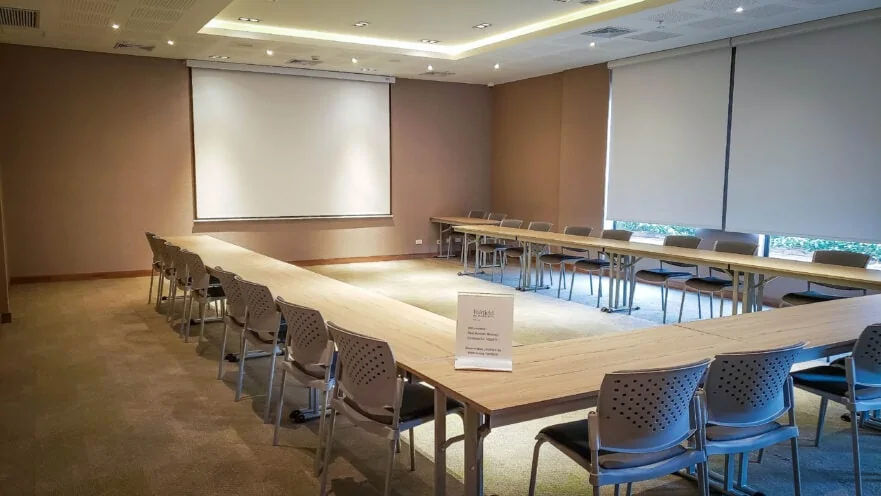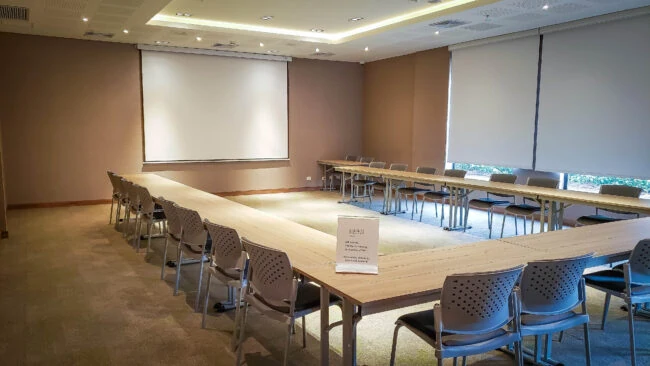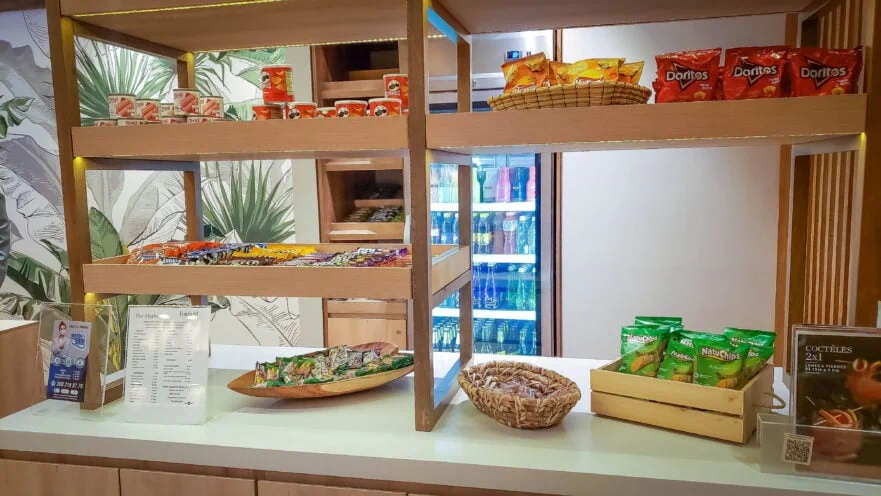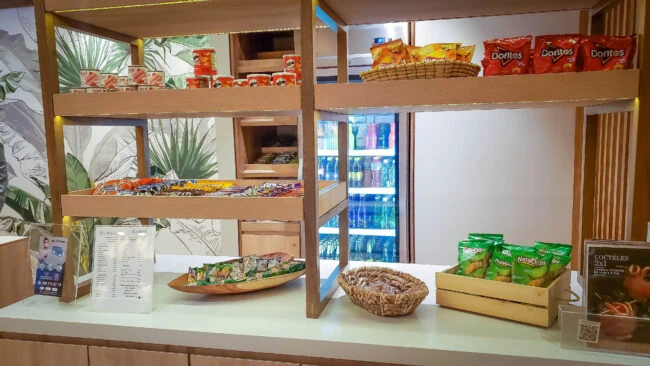 Outdoor Terrace: As mentioned previously, the hotel is located on floors 6-10, with the public areas being located on the sixth floor. Beyond the lobby, there is access to a fairly large outdoor terrace with ample greenery, comfy outdoor seating, and gorgeous views over the top of the Mayorca Mall to the west and looking north to Medellin with the towers of Poblado in the distance and downtown even further beyond.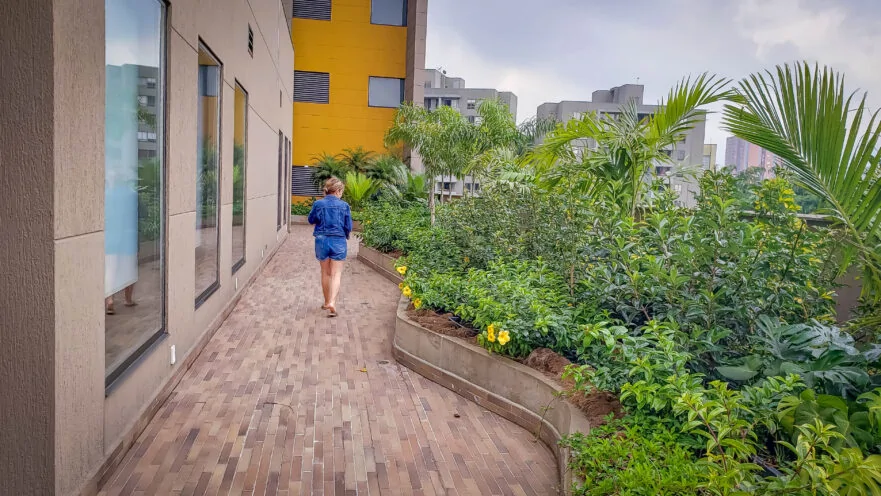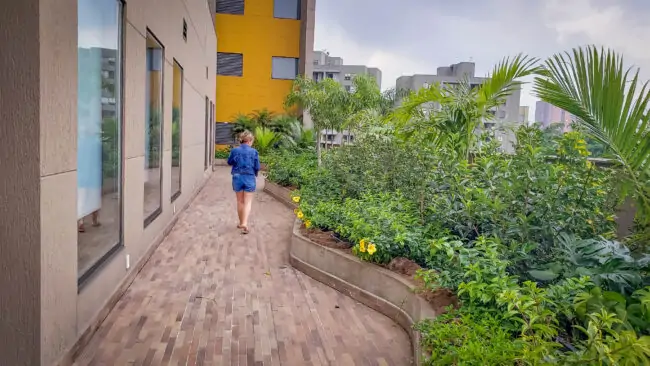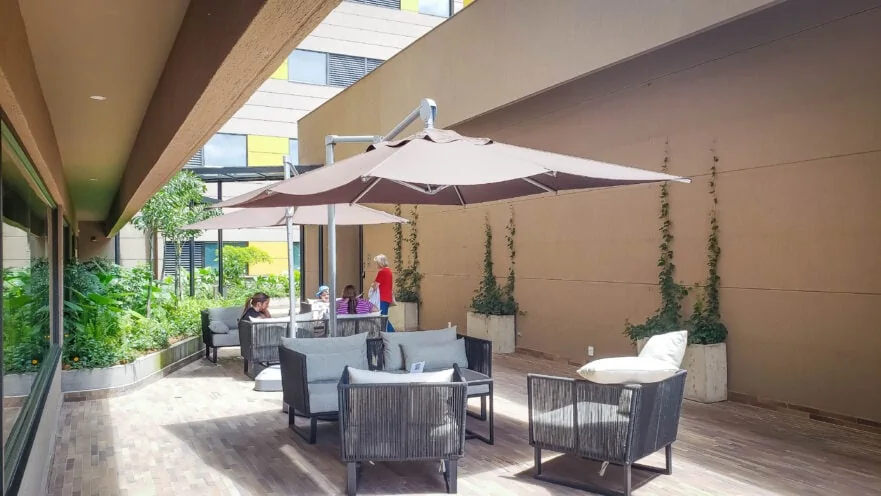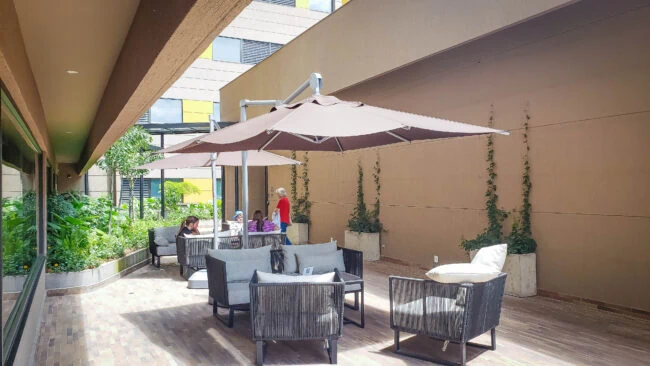 Small Gym: At the center of the outdoor sits another enclosed area where you will find a small conference room and a small gym. The gym is open 24/7 and offers a few elliptical machines, treadmills, and weights. It is very simple but sufficient to get in a little workout whenever you might need it during your stay. You might need it to burn off the calories from our next amenities…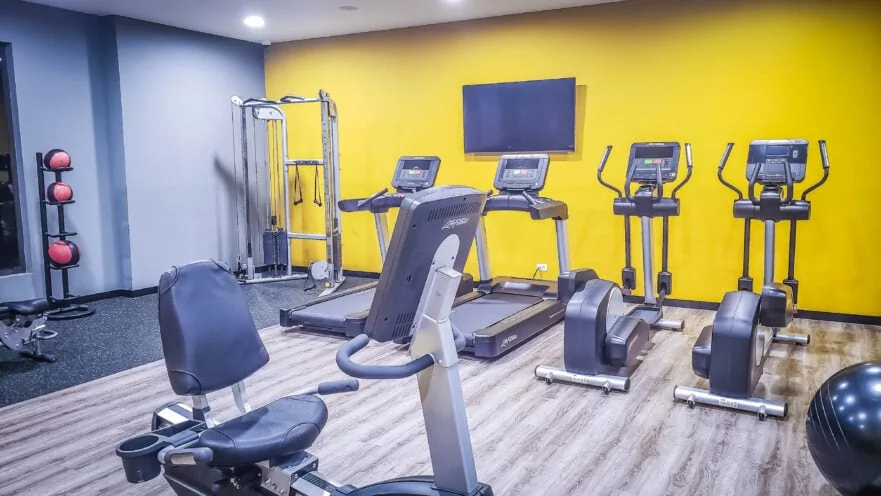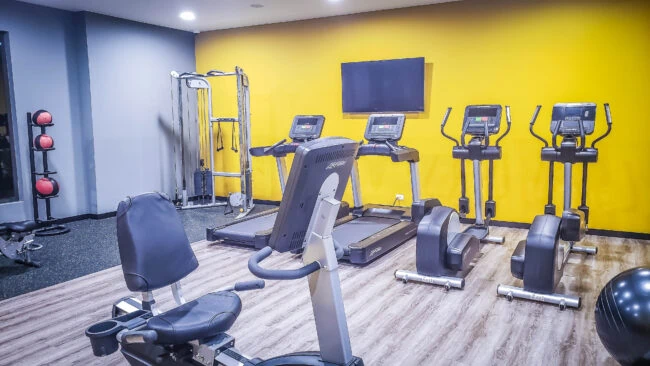 Free Buffet Breakfast: The hotel offers a pretty extensive buffet breakfast each morning offering hot and cold options, including international standards like eggs, toast, yogurt, waffles, cereals, fresh fruit, etc. But they've also included several local options so you can expand your palate, with things like calentao (mixed beans and rice), local tropical fruits, mini empanadas, and more.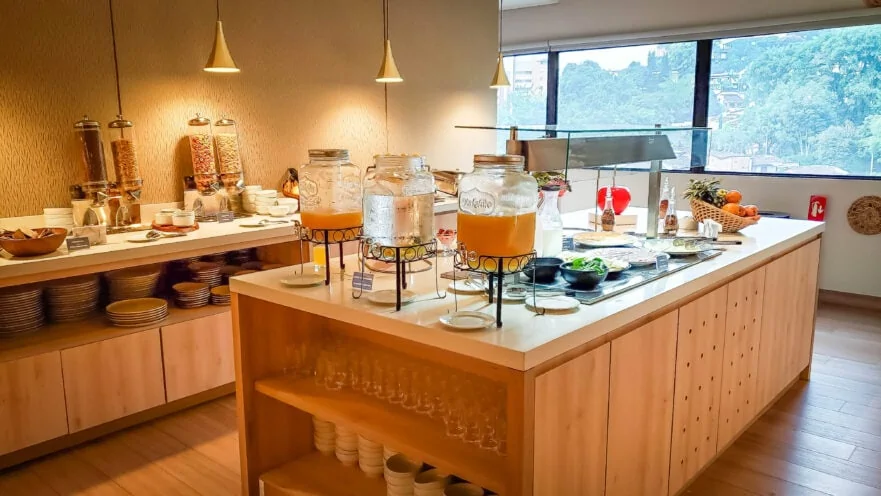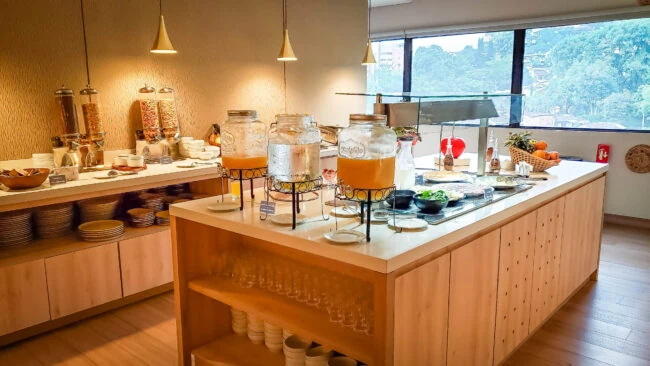 Some items get mixed up on a day-to-day basis while others are standard offers every morning. You will also find coffees, teas, juices, etc, along with several sweet treats. The breakfast was quite complete with ample seating in the common areas including some comfy sofas and padded chairs where you can kick back and relax with your morning coffee or evening cocktail.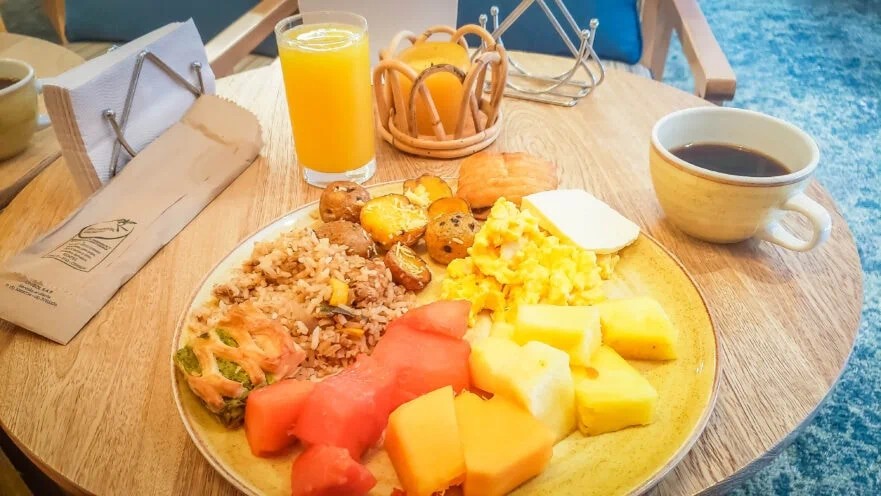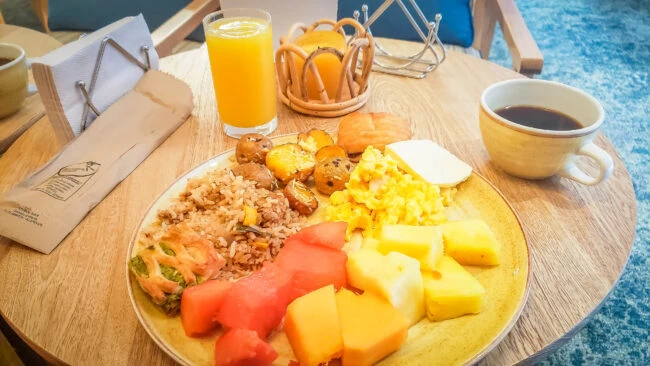 Dining at the Fairfield by Marriott Medellin Sabaneta: Beyond the morning buffet breakfast, the hotel also offers a full-service restaurant and bar for both lunch and dinner, something that is unique compared to what you normally find in a Fairfield by Marriott property.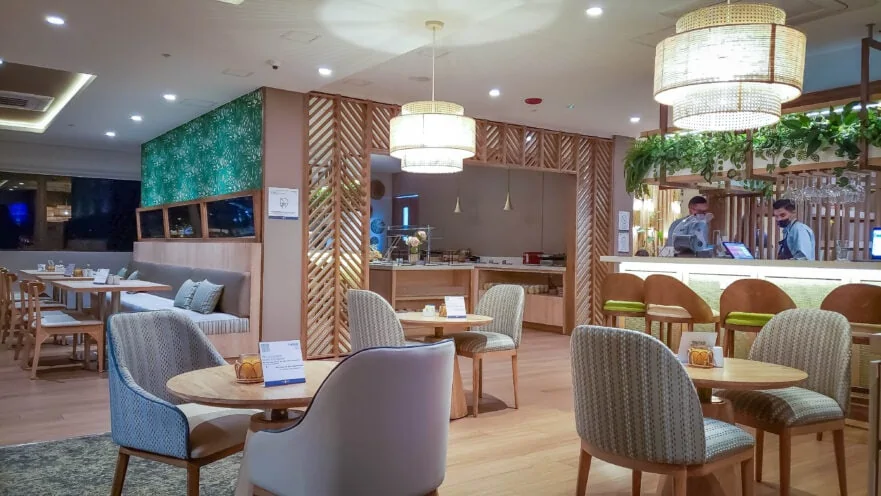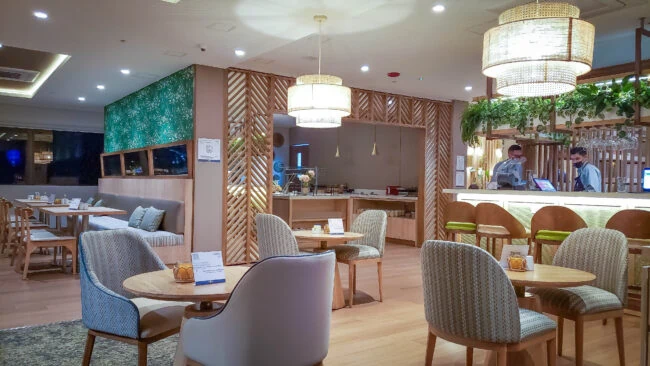 The menu here is a typical sort of modern American cuisine with burgers, steaks, pasta, salads, and so forth. Prices are reasonable and on par with similar sit-down dining restaurants that you will find in Medellin, including in the adjacent mall. During our stay, we had burgers, punta de anca steak, and spaghetti a la bolognese.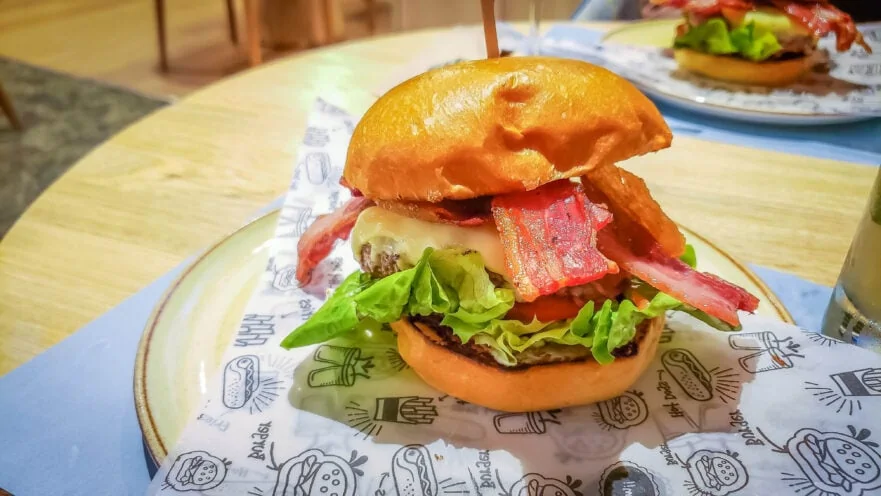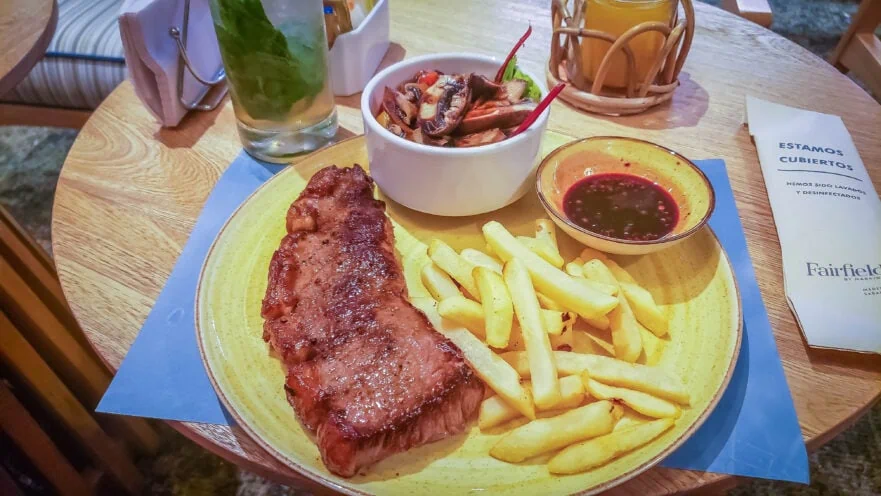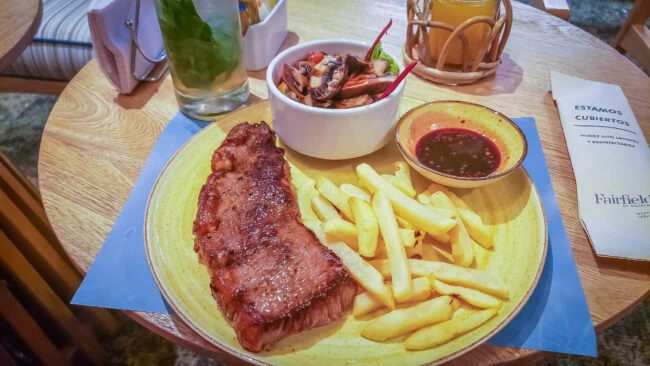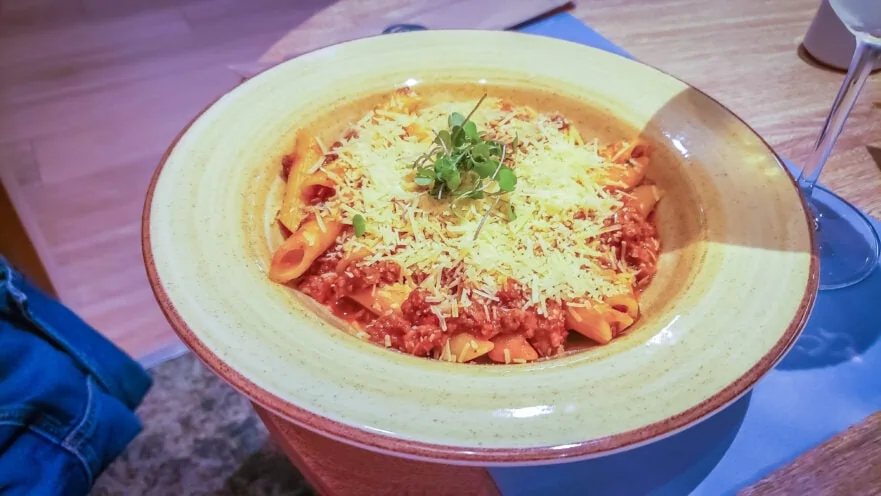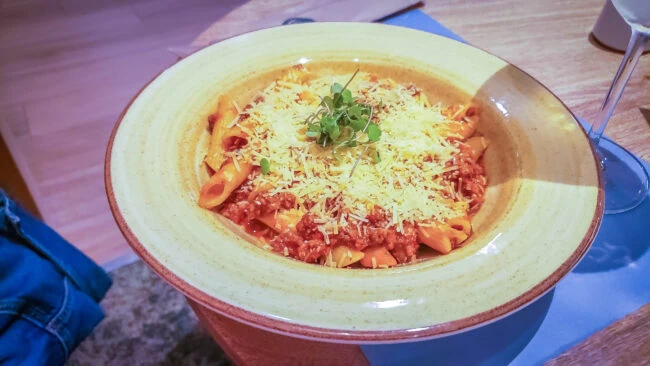 Everything was quite delicious, and I especially liked the burgers we had during their 2×1 happy hour promotion! You can also request room service from the menu.
Read More: What to Eat in Colombia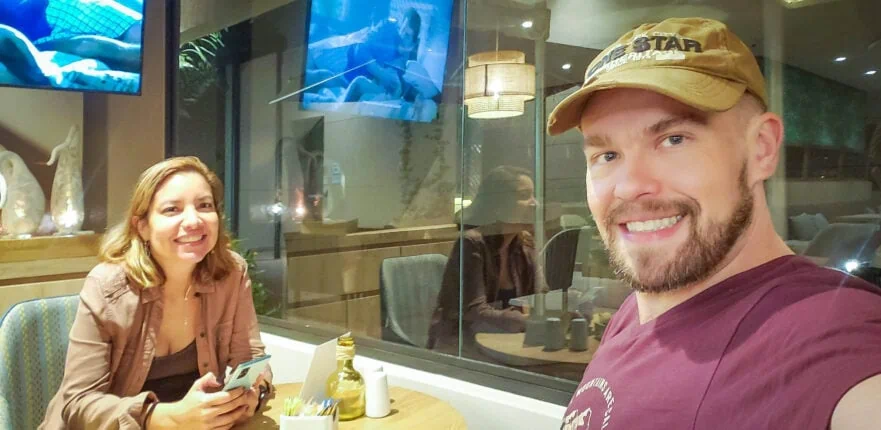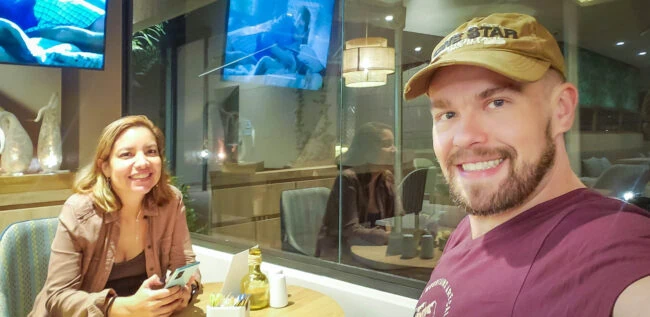 Speaking of happy hour, there is also a full-service bar adjacent to the lounge area where you can get your favorite cocktails or local or international beers. Likewise, the bar frequently offers happy hour promotions where you can margaritas, mojitos, Cuba Libres, and similar drinks at a 2×1 promo! Now we're talking!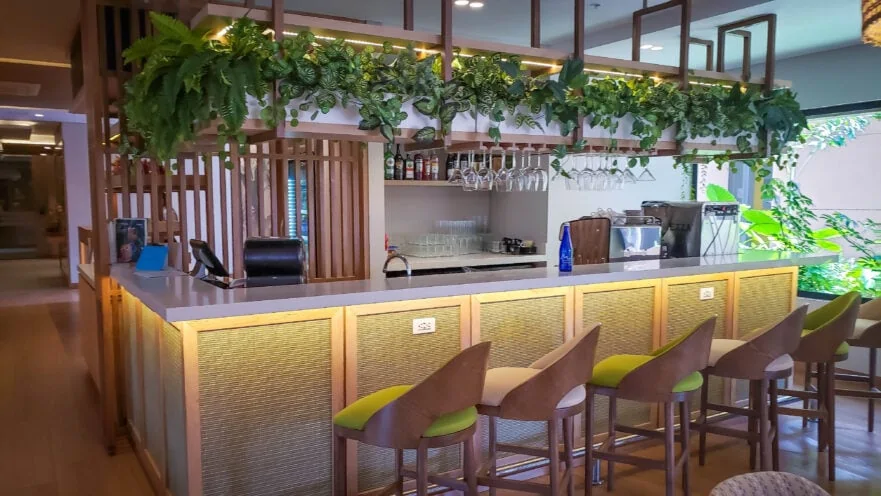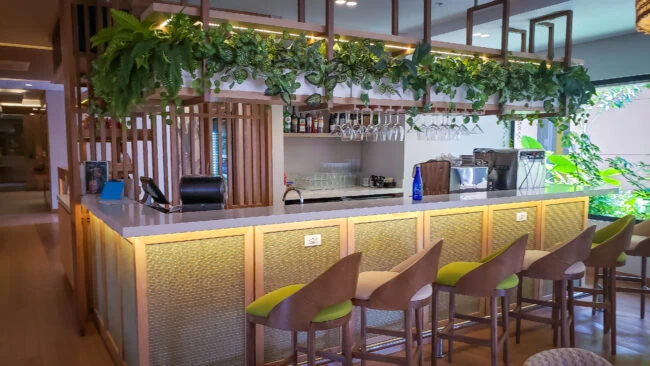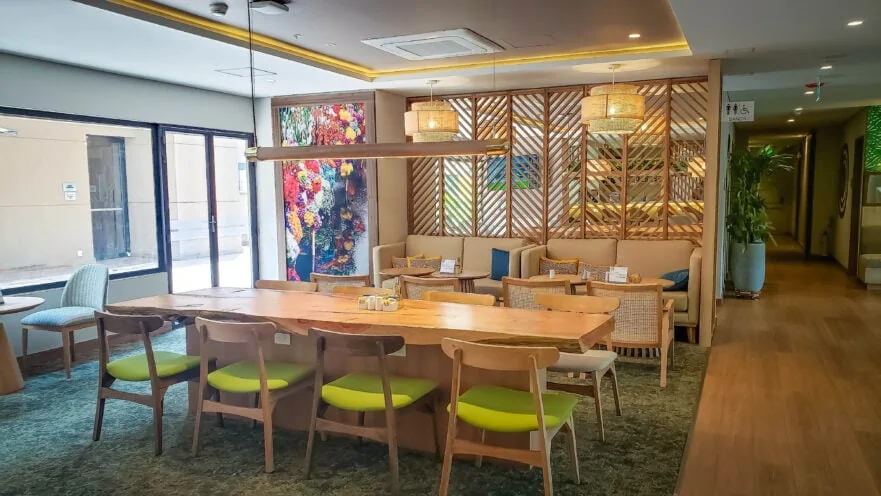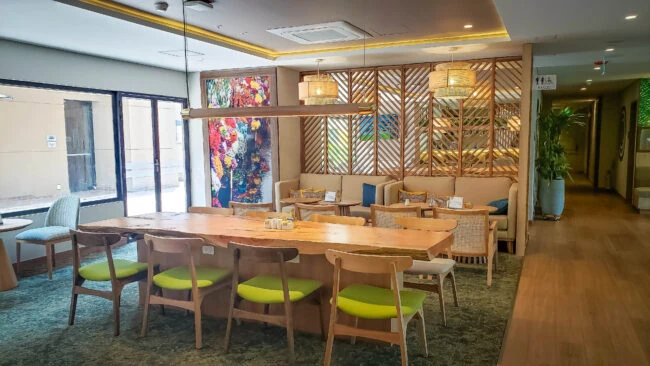 Final Thoughts
Honestly, the Fairfield by Marriott Medellin Sabaneta is an awesome hotel for the budget-conscious traveler who wants a nice and comfortable stay in Medellin away from the typical tourist bubble of Poblado.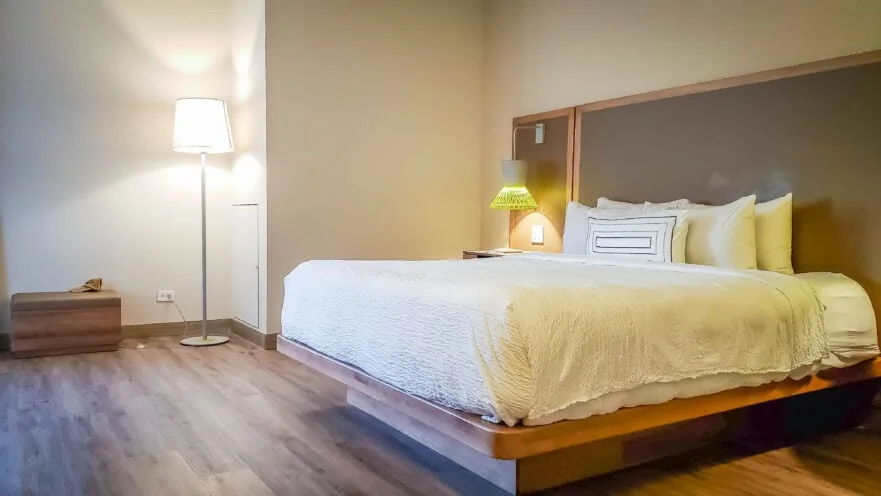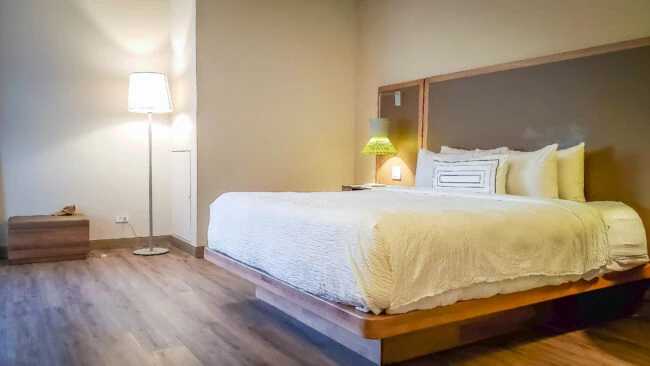 You might think that the hotel is far away from the main hub and action of Medellin, but you're not. The hotel is located adjacent to a metro station that will take you anywhere you might want to go in the city, and you're just a short (and cheap) taxi or Uber ride away, as well. Medellin isn't such a massive city, in reality, and you can get around here quite easily although you might have to fight a lot of traffic at times, which makes the metro a good option. The ride on the metro train is less than 20-minutes to downtown Medellin.
Plus, the southern part of the Aburrá Valley, including Sabaneta and Envigado, holds its charms and appeals and is becoming an increasingly popular choice to live among both ex-pats and locals and the Fairfield by Marriott Medellin Sabaneta is well located on the border of both.
I wouldn't hesitate in recommending this incredible hotel to even the most discerning travelers coming to Medellin, Colombia.
Read Reviews on TripAdvisor | Check Prices and Availability
PRO TIP: Be sure to join Marriott Bonvoy Rewards before traveling to start earning points and receiving valuable loyalty benefits. I would also strongly recommend picking up the Marriott Bonvoy Credit Card which will amplify your benefits in a big way and get you set up for free nights at some of their luxury properties around the world. Understanding the basics of travel hacking and maximizing your points and miles (without overthinking it) can mean saving thousands of dollars on your next trip. I have easily saved well over $1,000 on individual stays, multiple times!
Read Next: Travel Hacking 101
Did you enjoy this review of the Fairfield by Marriott Medellin Sabaneta? Take a second to share it on Facebook, Twitter, or Pinterest!
Thanks to OXOHotel and the Fairfield by Marriott Medellin Sabaneta for hosting me on this, allowing me to bring more in-depth content to those visiting Medellin, Colombia.
The following two tabs change content below.