This article may contain
affiliate links
. If you make a purchase through these links, I will earn a commission at no extra cost to you. Thanks!
Colombia is an incredible country for travelers and certainly one of the most appealing areas of Colombia is the gorgeous Caribbean Coast. While Cartagena usually gets most of the attention for its gorgeous beaches, there is a whole coastline to explore, including Santa Marta. It's been a while since I've been to the coast, so I was really excited to visit one of the best Colombia beach resorts at the Marriott Santa Marta Playa Dormida.
The Santa Marta Marriott Resort Playa Dormida offers a luxurious escape for travelers looking for a bit of beach, sun, and pool time. This Colombia beach resort only opened recently and offers some pretty incredible amenities at totally accessible prices. Read on for more details about our five nights at this incredible beach resort conveniently located near Santa Marta's Simon Bolivar Airport.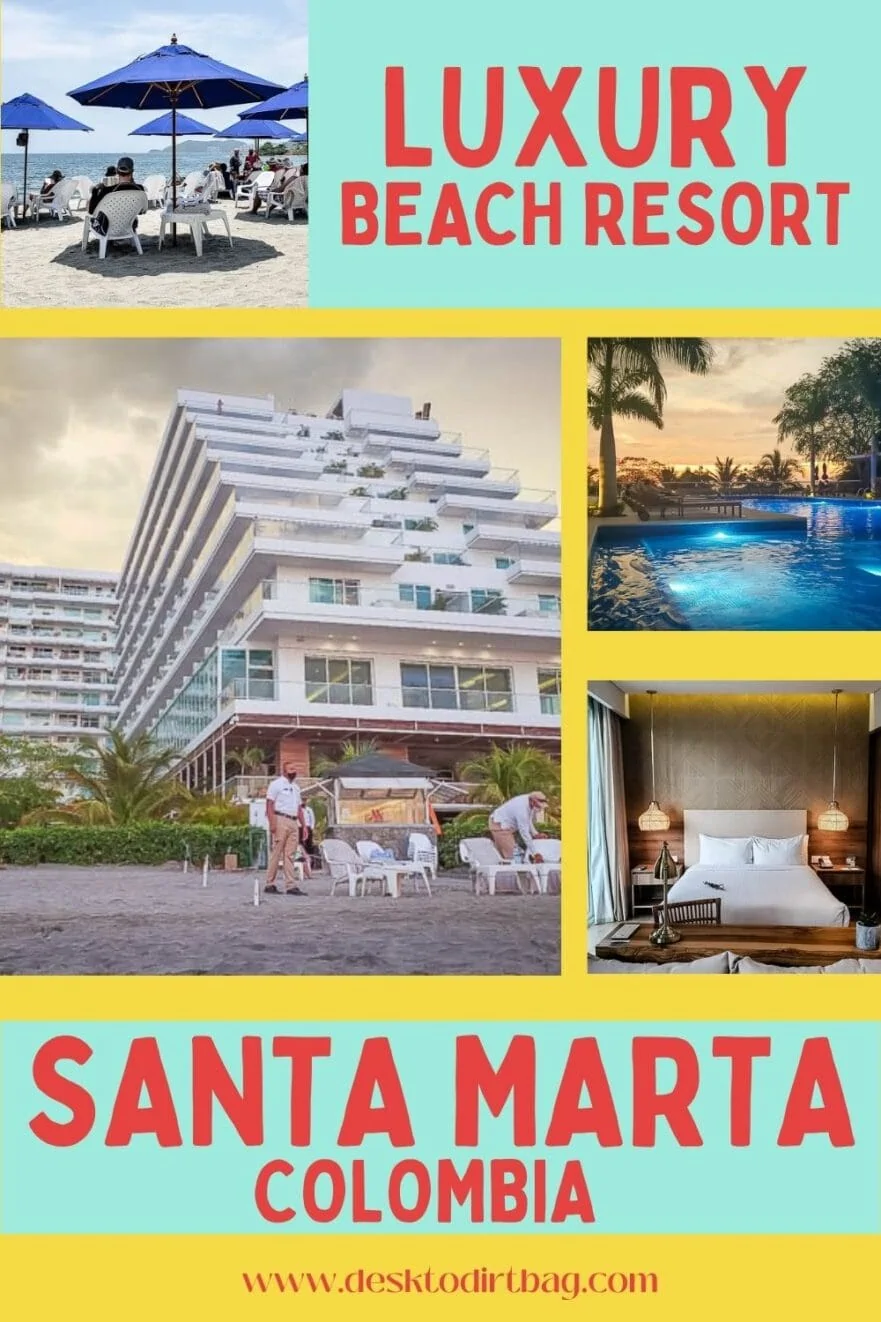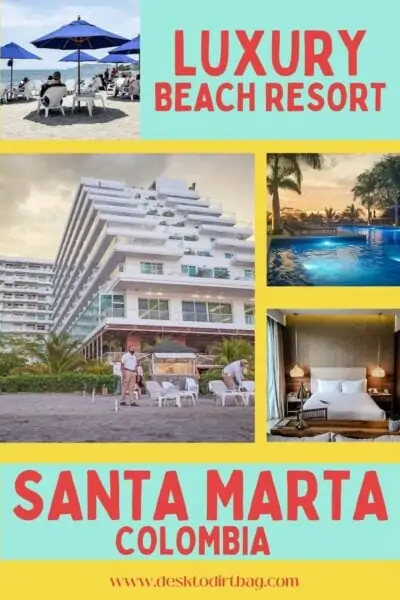 Reservations and Booking
This Santa Marta hotel offers standard rooms from about $175-200 per night, the Junior Suite for around $240 per night, and the oceanfront bedroom suite with a private jacuzzi on the balcony for around $340 per night. These were the lowest regular rate prices I was seeing, although they can go up significantly from there depending on whether you are visiting during high or low season.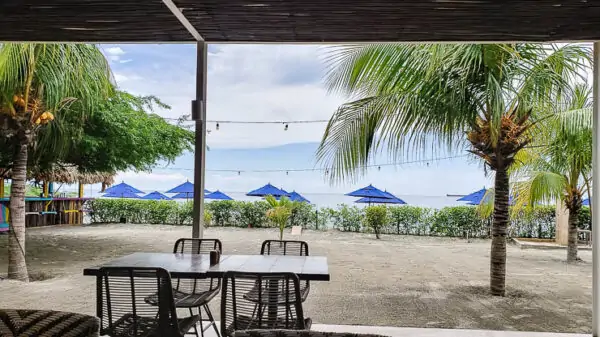 Speaking of the high and low seasons, the busiest months for travel to Santa Marta are definitely December/January and June/July. This is typically when local Colombians have breaks to travel from either school or work and the December/January period also coincides with the best weather window for visiting the coast. This high travel season sees a lot of demand all across the coast as Colombians fly in from the big interior cities like Bogota or Medellin.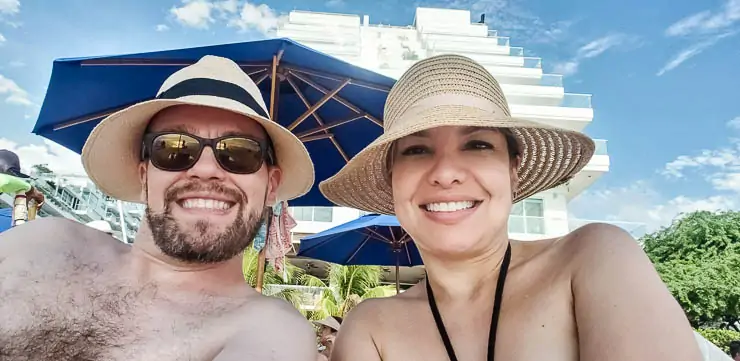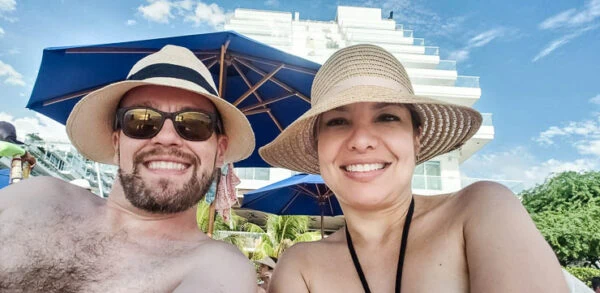 The rainy season in Santa Marta runs from approximately April to October, which seems like a long time, but it is not usually a full bore, non-stop rain. For instance, we visited in May and had a bit of drizzly weather a few days but nothing that impeded us from doing anything. The rain usually just came and went relatively quick.
Read More: The Best Time to Visit Colombia
August to October tend to be the rainiest months in terms of days of rain though, so do keep that in mind. The entirety of the rainy season does mean, however, that you are more likely to encounter cloudy or overcast skies which means that the ocean doesn't look quite as blue and pretty, but on the plus side, you're more likely to get some spectacular sunsets.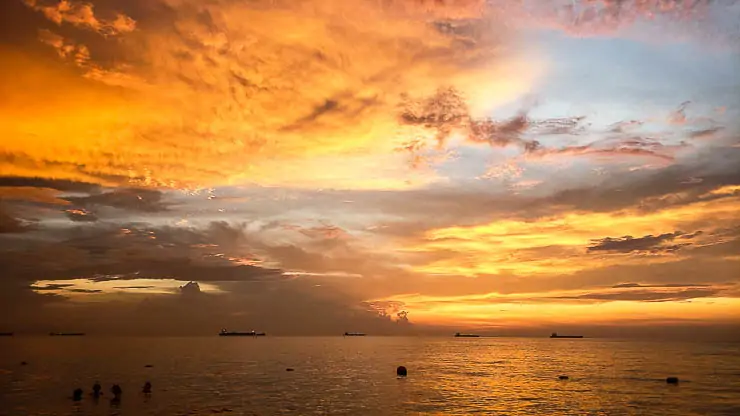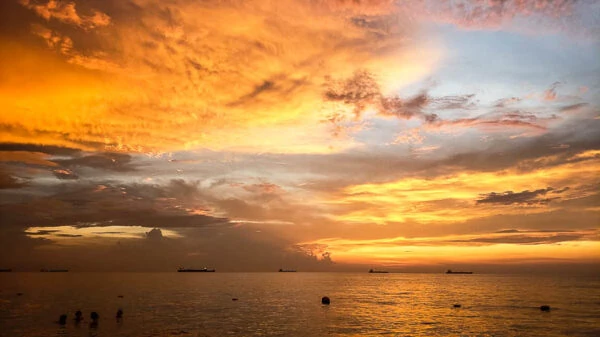 The property is right on the ocean and faces west, so you get direct views of the sunsets from your balcony. A bit of cloud cover isn't always a bag thing though because Santa Marta is HOT with daily temperatures around 90 degrees or 32 degrees Celsius, and if you spend much time on the beach or around the pool, you've got a good chance of getting sunburned like me!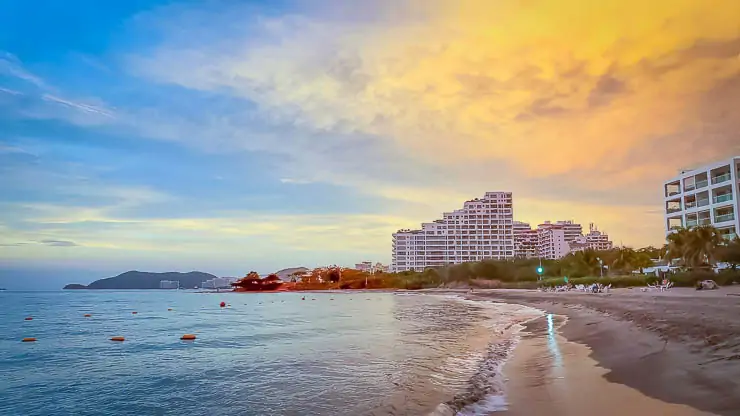 I've been racking up the Marriott Bonvoy points lately so our five-night stay was completely free! In the end, it cost 94,000 Marriott Bonvoy points to redeem at this property for five nights, which is an incredible deal compared to what you'd find for comparably priced properties in the United States or elsewhere… Here, you get an ocean-front resort with unbeatable views, multiple dining options, a spa, beach access, and a big outdoor pool. More on all the amenities later.
Important: Sign up for the Marriott Bonvoy loyalty program and be sure to get a Marriott Bonvoy Credit Card to get your first free nights and unlock additional rewards, including welcome gifts, room upgrades, extra points, faster WIFI, and other benefits. Read: How to Stay in Luxury Hotels for Free.
Location of Playa Dormida Santa Marta
The Santa Marta Marriott Resort Playa Dormida is located a short distance north of the Simon Bolivar International Airport in a newly developed area. This area has its pros and cons, and also one person's pro could be another person's con, so you should know what you're getting when considering booking this resort property.
Located a short distance from the airport:
This makes it ideal for quick weekend getaways where you are located just a 10-15 minutes drive from the airport. Taxis charge around 25,000 pesos between the resort and the airport, which is steep for Colombia, but prices are fixed here and Uber has been blocked from use in the area.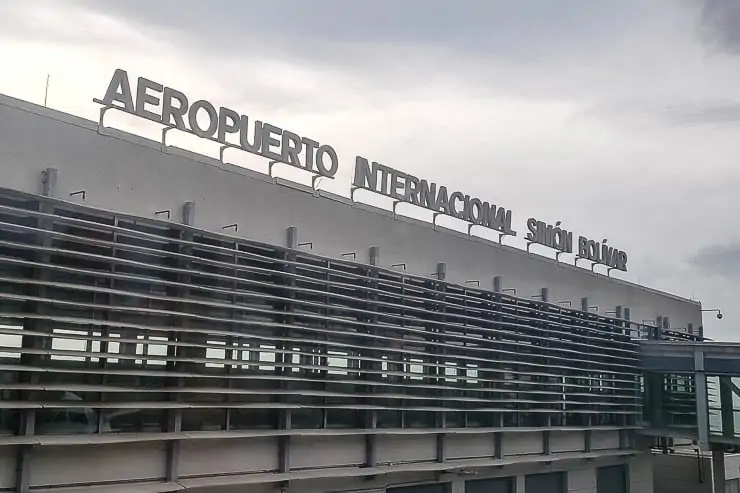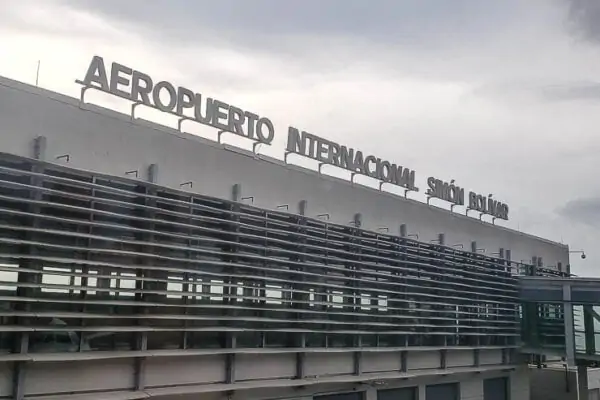 At the same time, you do have planes passing overheard with some frequency at certain times of the day. They aren't too noticeable when you're inside your room and they never woke us up. But when you're outside by the pool or on the beach, they can be pretty loud. They are cool to see taking off and landing though, in my opinion.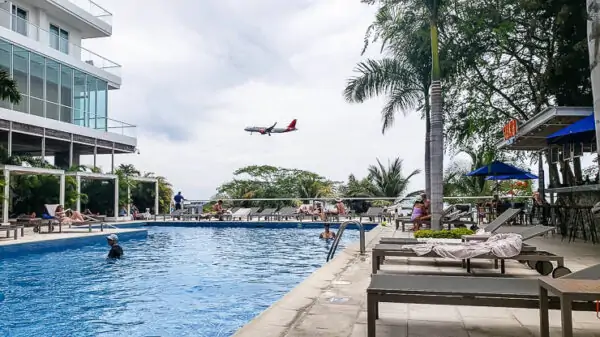 Playa Dormida Location:
The resort is located in an area called Playa Dormida, which is adjacent to the larger area known as Playa Bello Horizonte. Again, this is a newer area of development, south of the more popular beach resort sector known as El Rodadero.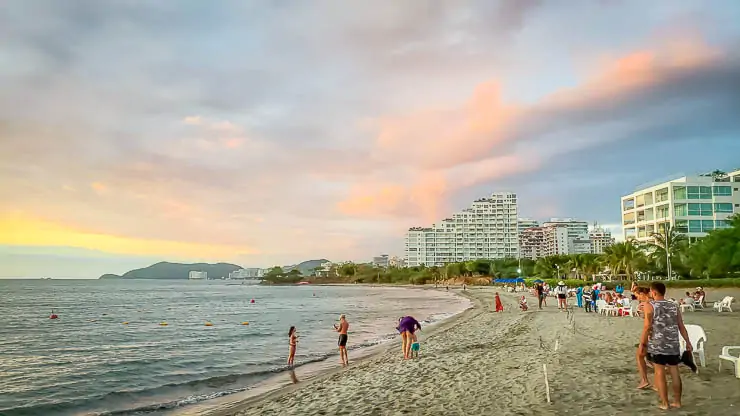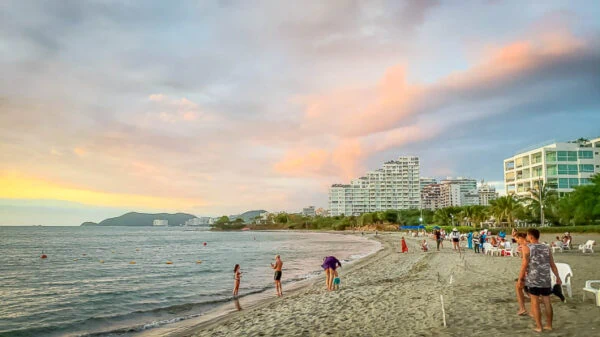 You can easily walk along the beach to the north along Bello Horizonte, although you can't pass a break known as Cabo Tortuga which divides Bello Horizonte from El Rodadero.
The hotel is located about 30 minutes from the city of Santa Marta, so if your main goal is to frequently take advantage of the many things to do in Santa Marta, then this location might not be best for you. A taxi ride into Santa Marta will cost around 30-35,000 pesos (~$10). Or you can organize tour outings directly with the hotel or with a site like Get Your Guide.
It is a short walk to Zazue Plaza which is a small mall where you will find several restaurants like Crepes and Waffles, El Corral, etc, as well as a Carulla grocery store which is a good choice to buy water and snacks if you want to save on resort pricing.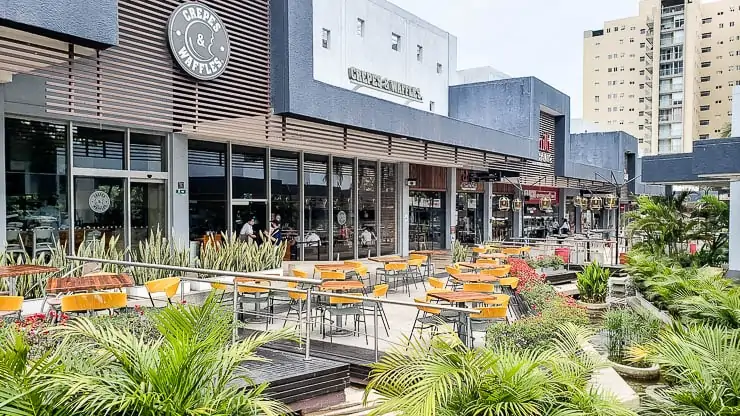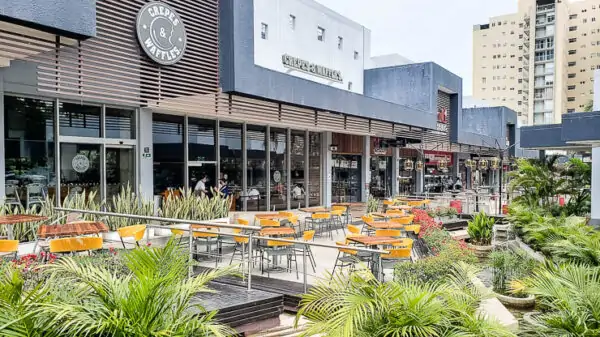 Don't forget that you can also use Rappi, the delivery app, to order dinner, food, or even alcohol if you want to make drinks from your balcony at sunset — you can ask reception to send you up a bucket of ice.
Check-In at the Santa Marta Marriott Resort
The resort itself is located off the main highway between the airport and the city along a bumpy, potholed road that seems a bit strange at first, but then you remember that you're on the Colombian coast and that's just how things are. The driver will take you through a small security checkpoint that controls access to the property itself and leave you at the valet parking in front of the hotel.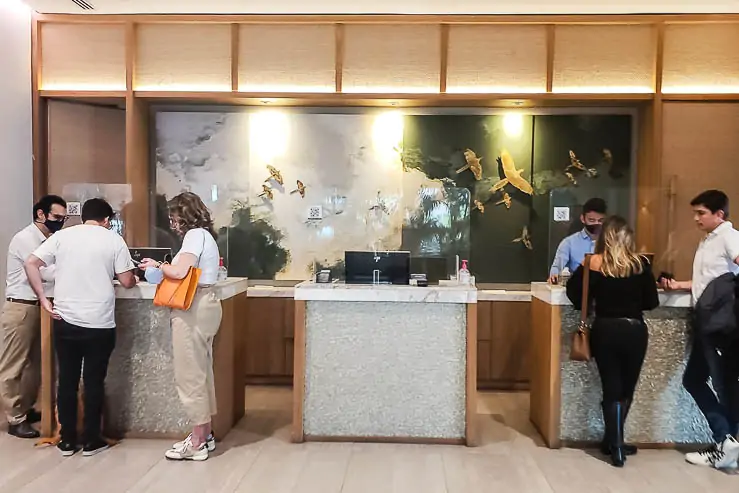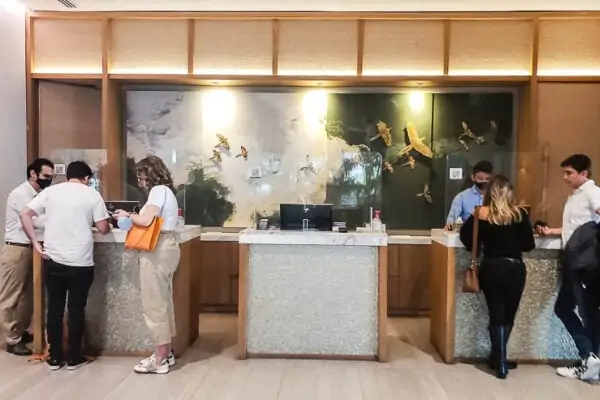 Directly inside the lobby, you'll find check-in where we were greeted promptly. The staff was friendly and polite, and because of my status with Marriott Bonvoy, we actually were upgraded to a Junior Suite at no additional cost, which was a very unexpected and pleasant surprise!
We were given the two-room key cards and a beach/pool towel card which you can exchange for huge towels to use at either the beach or pool. It was explained that you must present those cards again at checkout or face an additional charge for losing the towels/cards.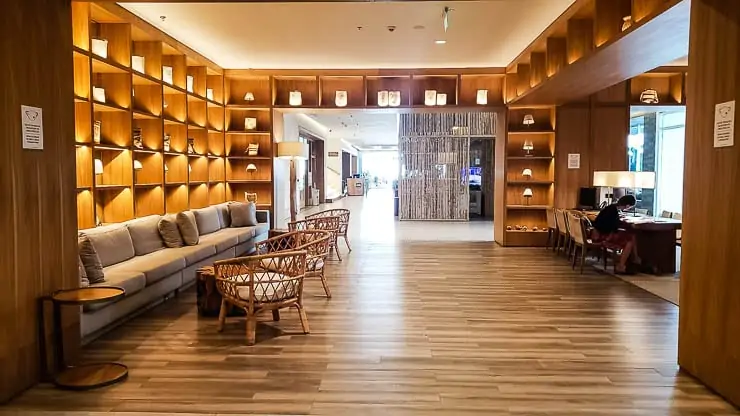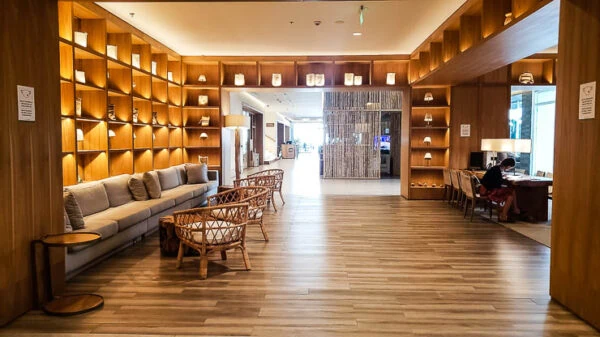 There are two elevator banks to the rooms above, one near the interior restaurant and another right in the lobby. The one in the lobby took us directly to our junior suite on the third floor. The building itself has seven floors of rooms, starting on the third floor.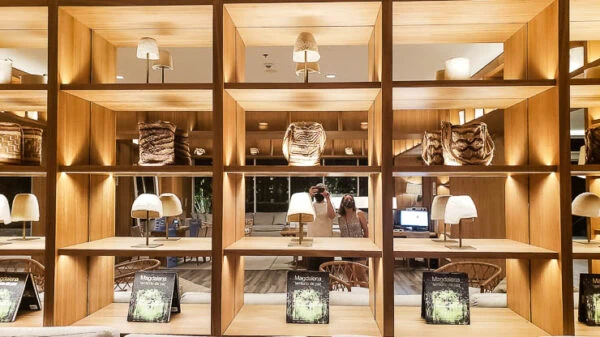 The lobby is also decorated with local touches and materials, including displays of local indigenous woven hats and bags, and elements like bamboo around the walls that divide the various common areas. There is a small computer and business center located adjacent to a tour desk.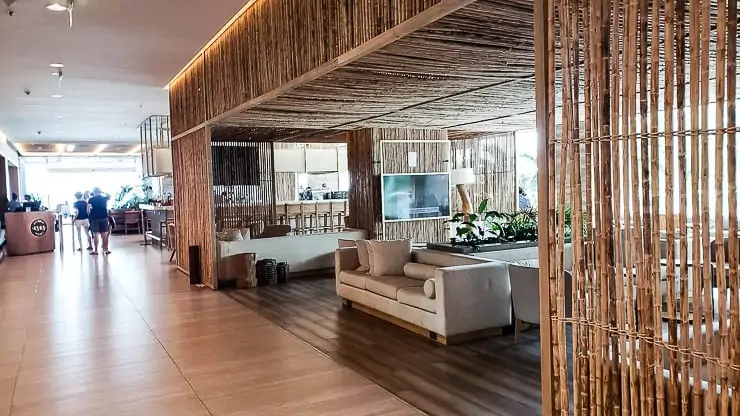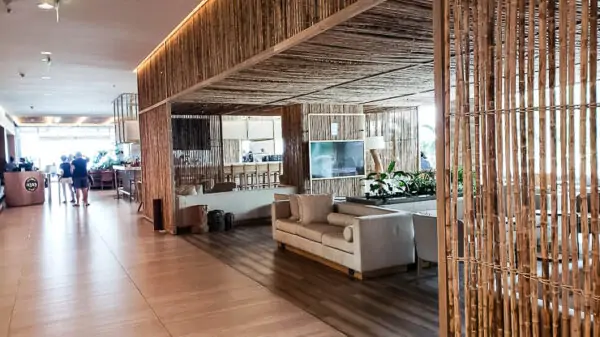 Our Room at the Santa Marta Marriott
Our Junior Suite was very spacious, with 1.5 bathrooms (one near the entrance/TV with a sink and toilet, and a full bath next to the bed), a sitting or TV area with a sofa bed, a large work desk and chair, an amazingly comfortable bed, and a large, double-size balcony looking toward the interior courtyard or pool area with a view of the ocean too, of course.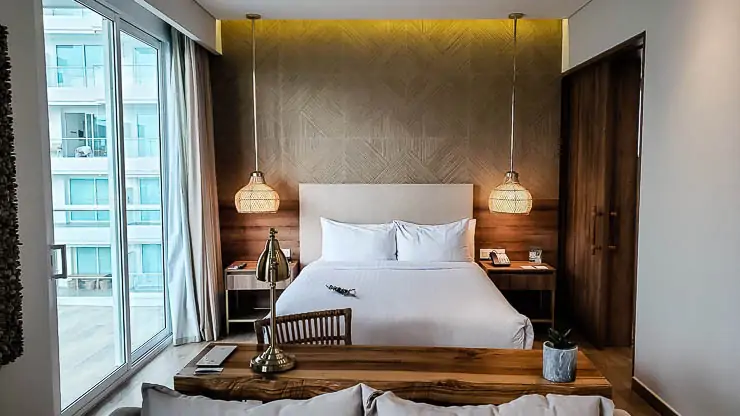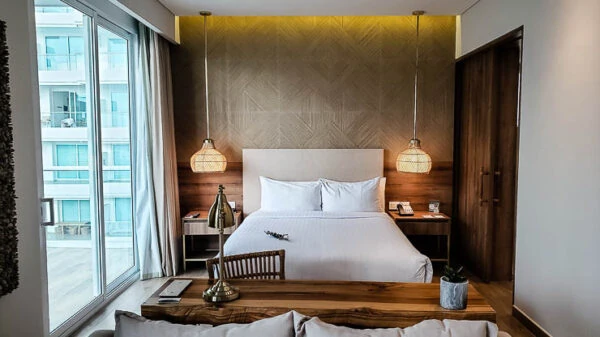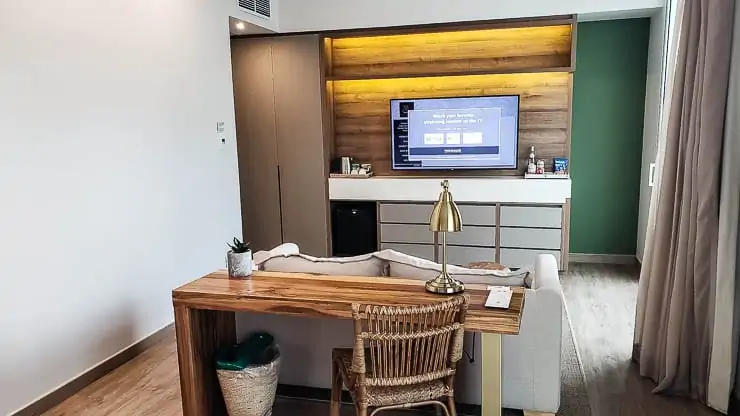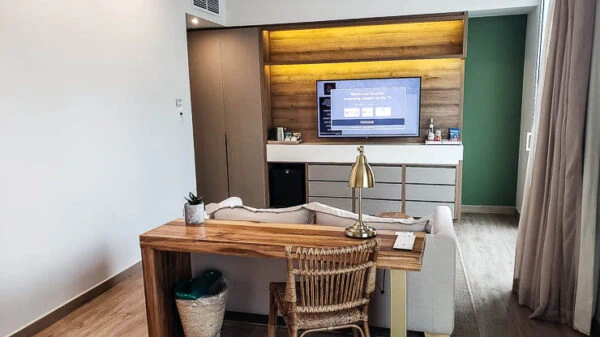 There really isn't a bad guest room here as they all include a partial ocean view, albeit not direct but at an angle.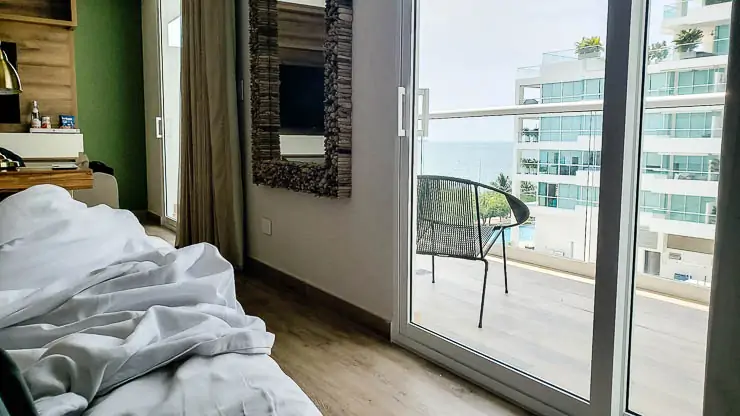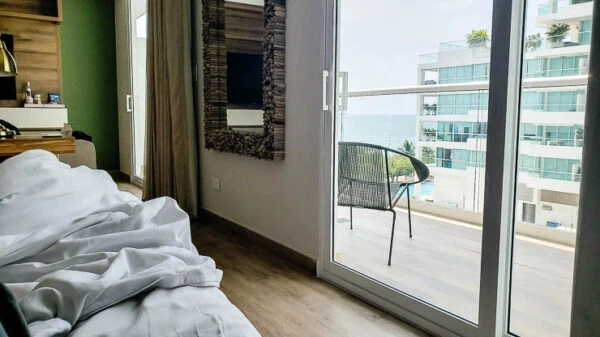 The room included a minibar/fridge stocked with lots of different drinks, beers, and water. There was a selection of snacks on hand too for a moderate mark-up compared to normal.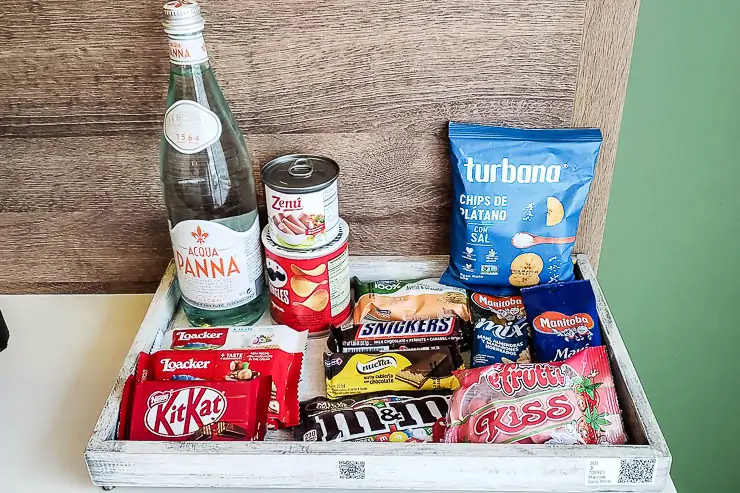 In terms of coffee in the room (always an important subject, for me!), they offer Juan Valdez individual serving pour-over packs. They offered two varieties: one from Huila and the other from the Sierra Nevada (more local to Santa Marta). The coffee from Huila is always really great, in my opinion, and we both really loved that one.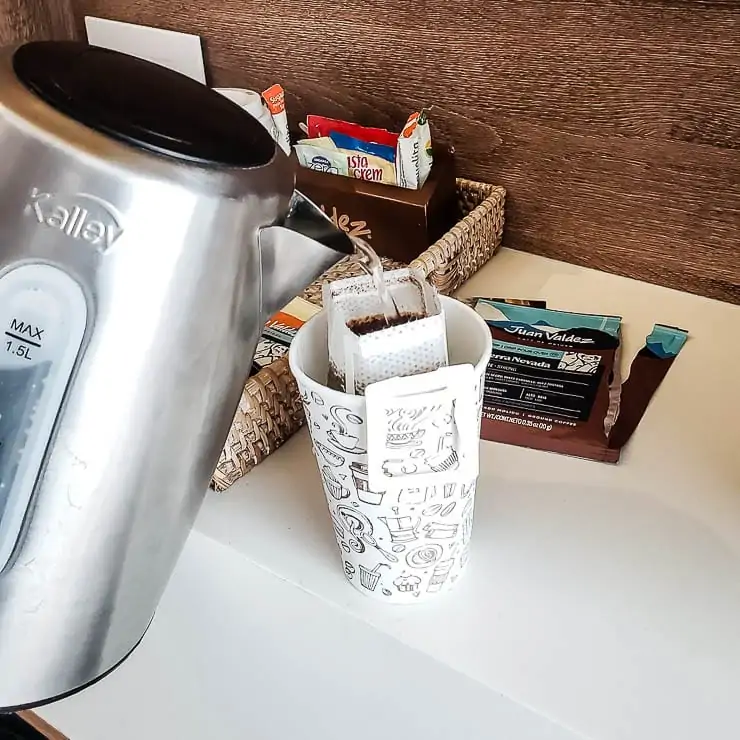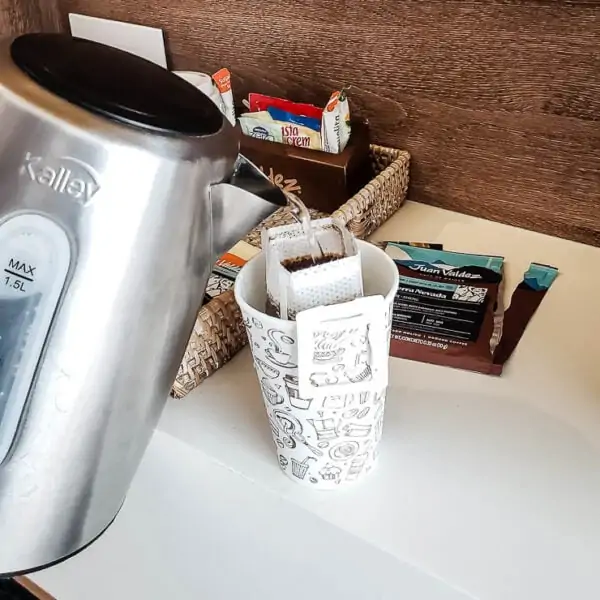 As mentioned the hotel is recently constructed so everything still is very new and nice with plenty of modern amenities like ample power connections, USB ports, etc.
The air conditioner worked great and kept us refreshed, although we would usually turn it off in the mornings and open the two sliding glass doors to the balcony for the fresh morning breeze.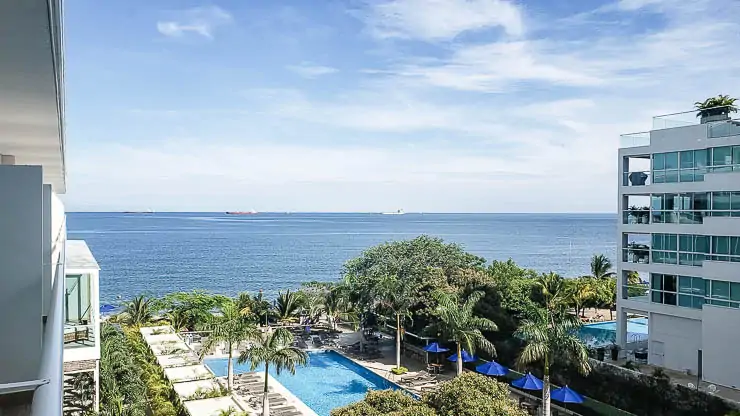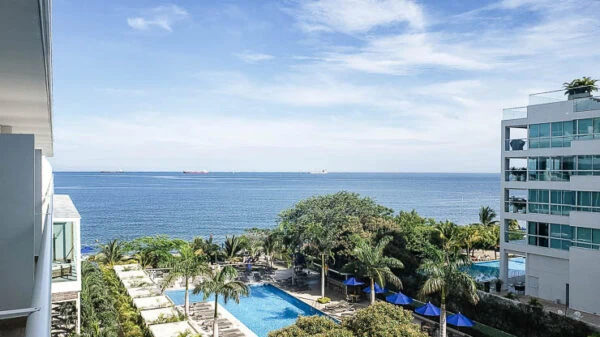 The shower was a nice rain shower head with a handheld shower attachment as well. The toiletries in the room were the larger refillable bottles mounted inside the shower, rather than the old disposable little bottles which is a welcomed change in the industry as it turns toward more sustainable measures.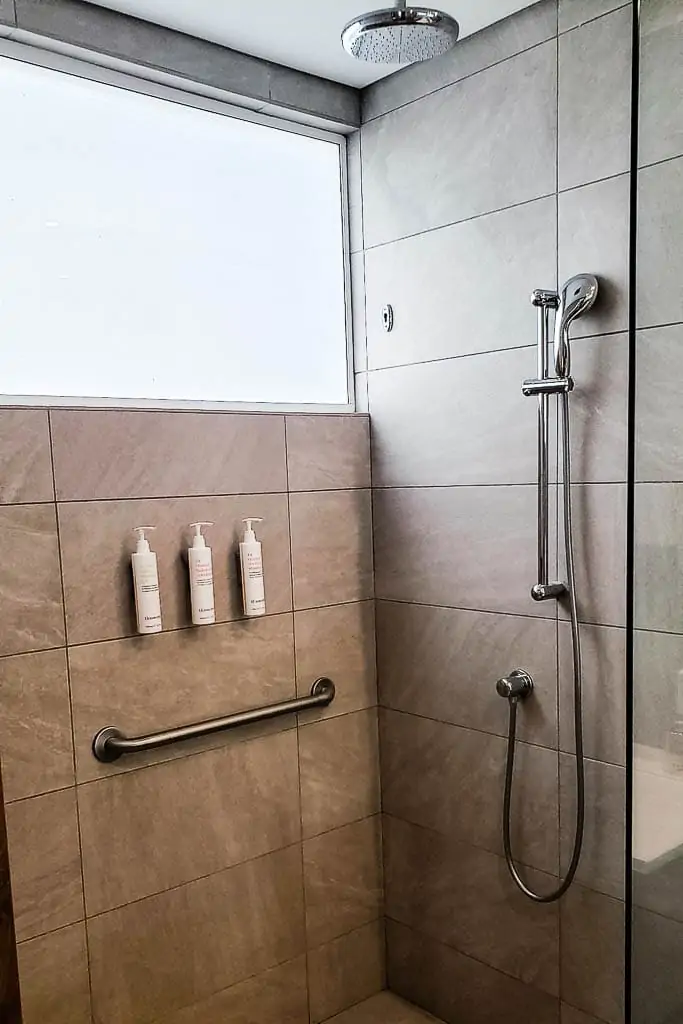 The balcony had two comfy chairs and a small table, which was tiny compared to the massive balcony. We frequently sat out there though, basically every morning and evening. The poolside rooms overlook neighboring condos across the courtyard.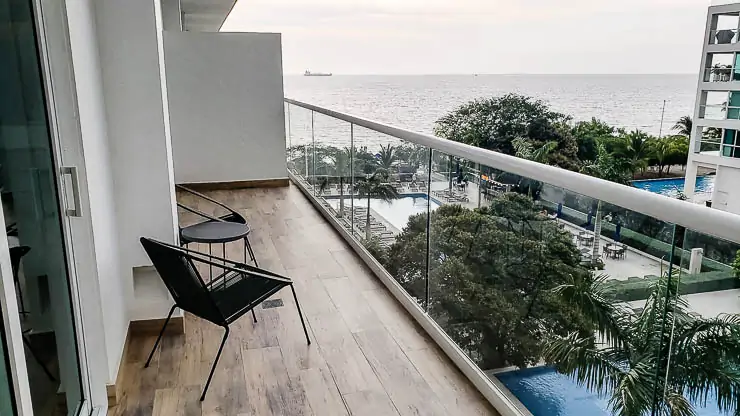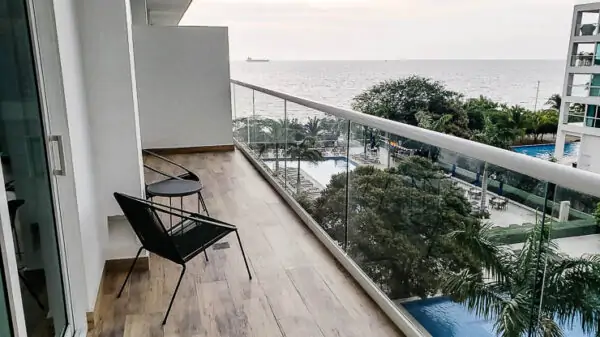 The construction was all basically one complex in the same style but only one of the three buildings is a hotel, the others are condos. The condos and hotel are all separate though, with each having its own pool and beach areas.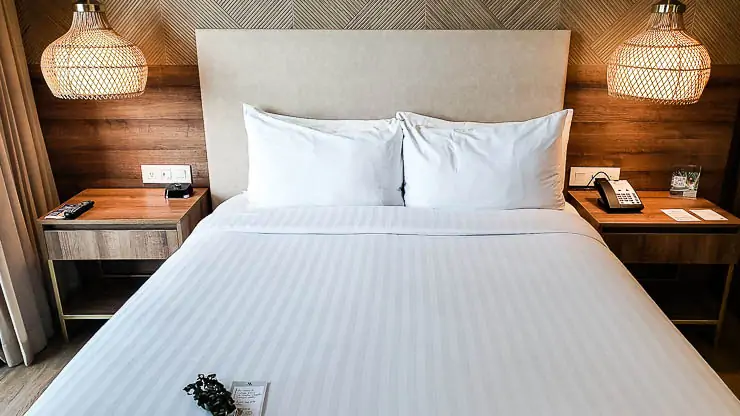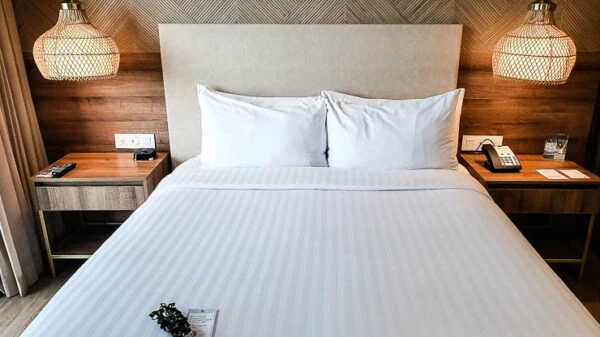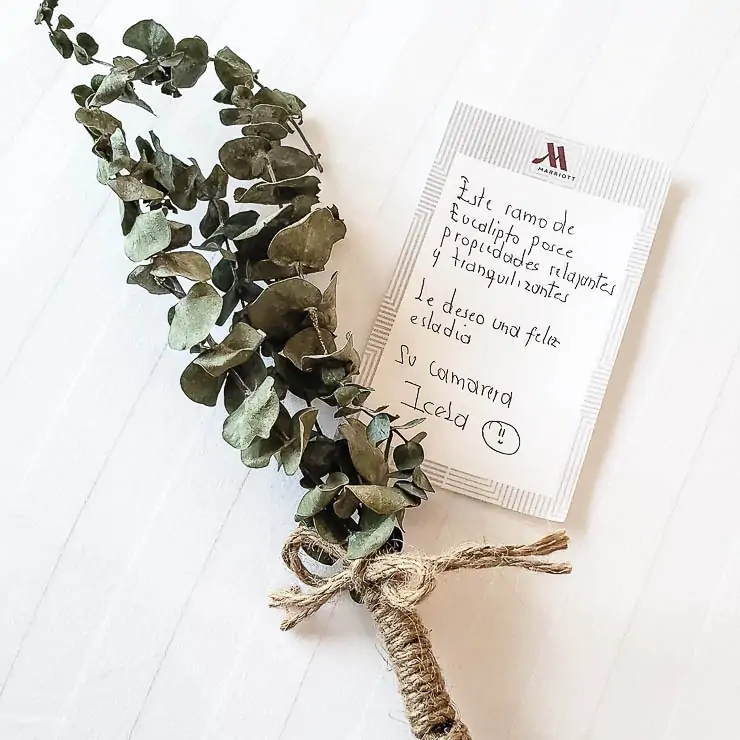 It was nice to just sit out on the balcony with the smell of the sea, a light tropical breeze, and the sound of the birds like grackles and great kiskadees all about.
Santa Marta Marriott Resort Amenities
The Santa Marta Marriott Resort Playa Dormida has enough amenities to keep guests occupied and busy for a few days, for sure, particularly since most that come here are looking for a relaxing beach getaway. The two principal amenities are the pool and beach zones.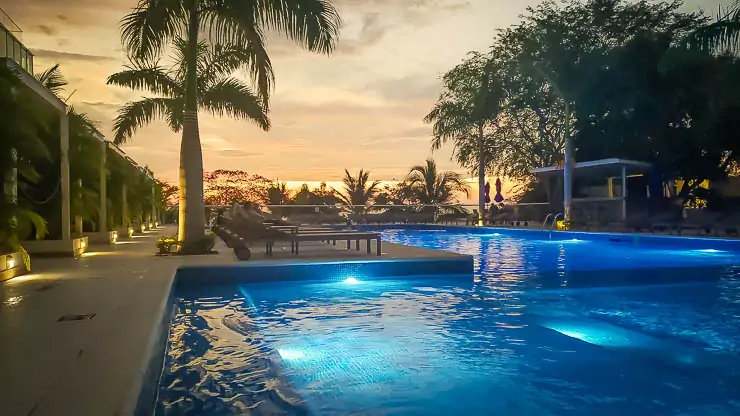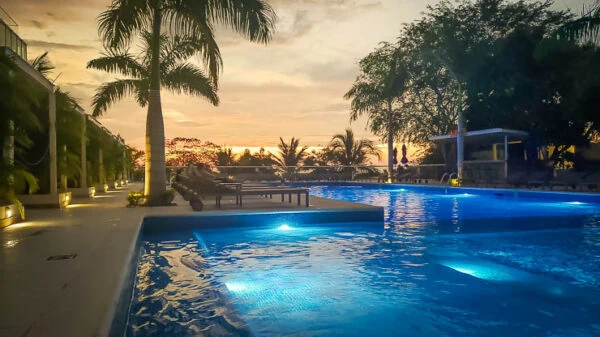 The pool is spacious with the normal deepish end and a shallow kids section. All around the pool you will find a ton of lounge chairs that only ever approached capacity on the weekend, a handful of tables with umbrellas, as well as cabanas that can be rented for the day for 80.000 pesos.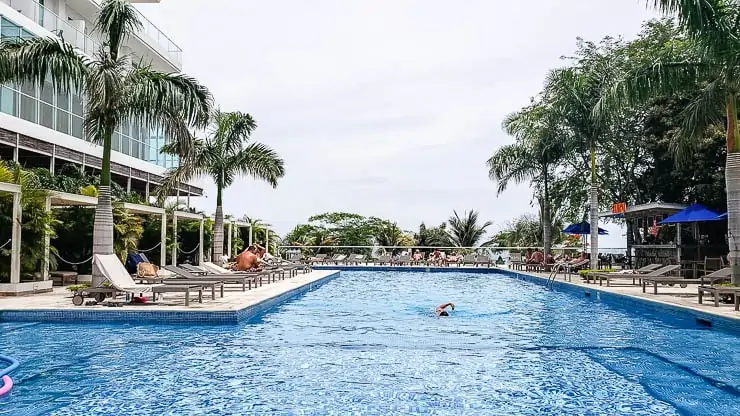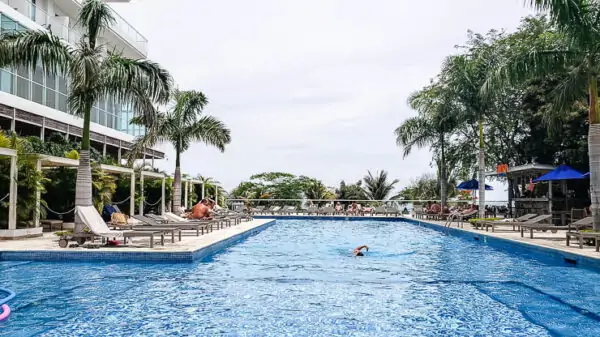 The cabanas will get you a bit of shade and respite from the sun, but you can also wisely select the lounge chairs near the bar where there are palm trees and plants for a bit more shade. I still got sunburned on our pool day though.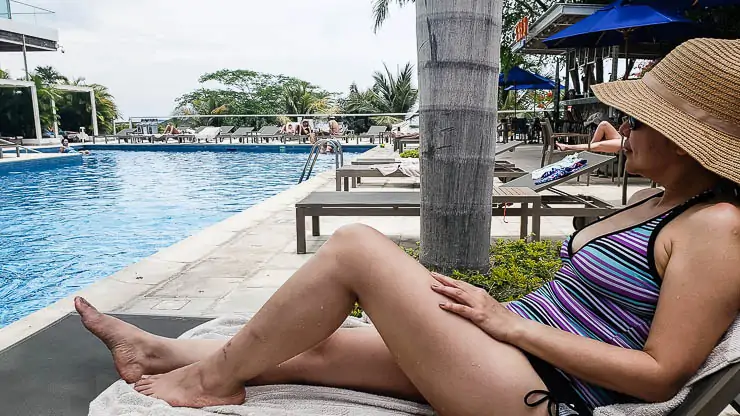 There is a poolside bar with waitstaff wandering around should you need any food or drinks. The menu poolside is basically the same as in the restaurants, they just bring it out to you there. More on dining options in a bit.
The beachside area is located just outside the hotel where you will find plastic chairs and beach umbrellas just steps from the lapping waves. You can get towels from either the pool area or the beach area.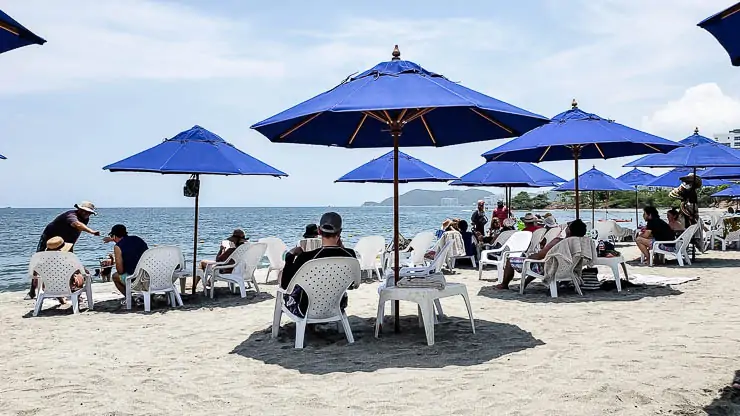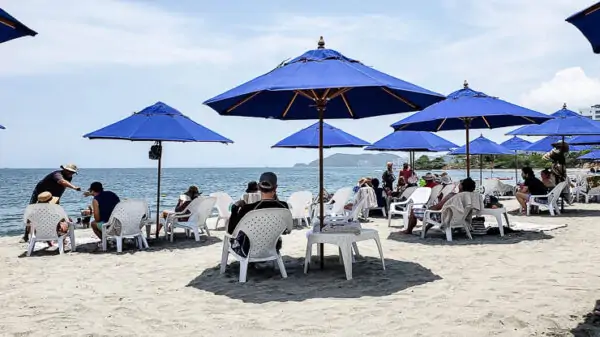 It was SO nice to be at the ocean again and stick my toes in the sand and play in the waves. The beach here starts off shallow but gets deep pretty quick — the swimming area is cordoned off by buoys — but the waves are relatively calm here.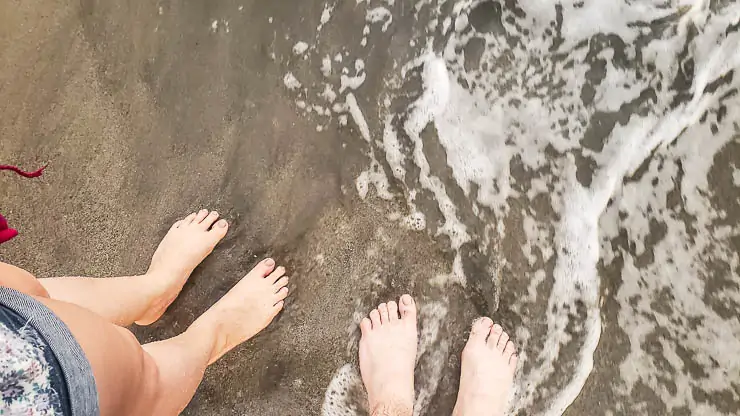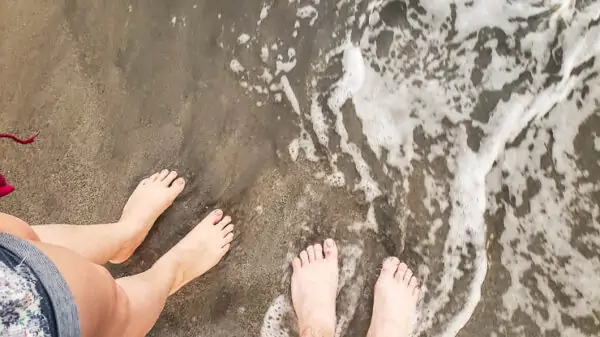 The downside of the beach are the locals selling things or offering services, everything from jewelry to clothes to massages to jet ski rentals. Most aren't too pushy, but some can be, and they can get to be annoying due to the sheer number of them.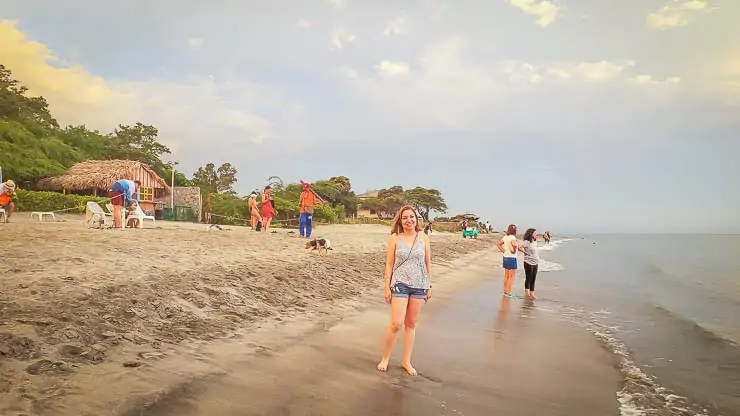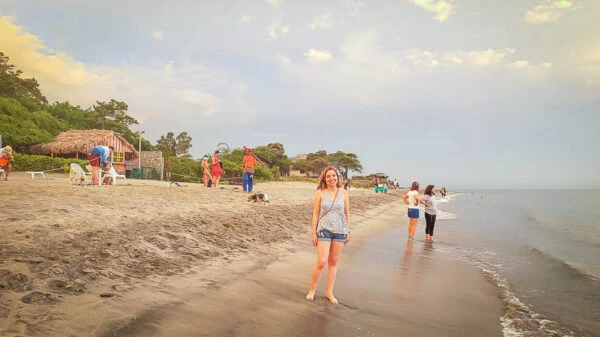 It was a lot more relaxed on weekdays and became a bit crazy on the weekends. That is the only downside, to be honest. I did buy some beers from the guys on the beach with coolers who sell the exact same beers but at half the price compared to the Marriott bar. It's hard to believe they let them steal their business.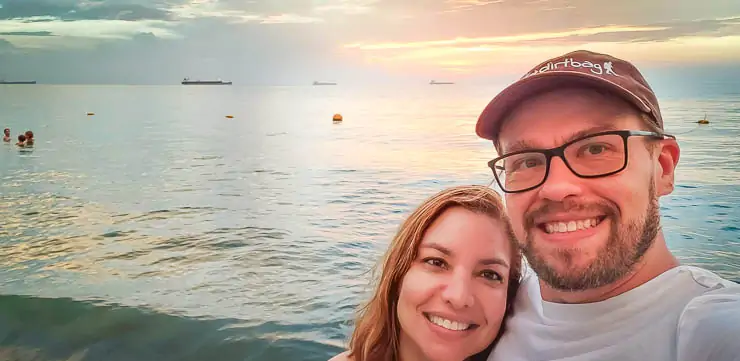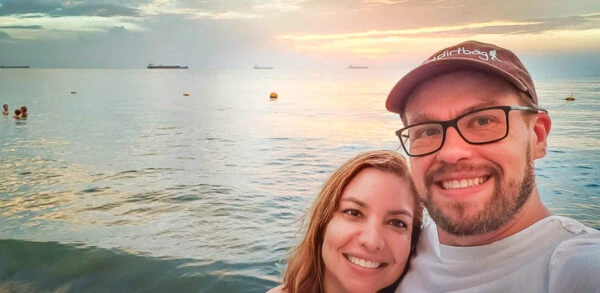 Also, the beach area closes promptly at 6pm with the local tourist police kicking everyone out of the water and beach — a bit strange, for sure, especially since you can't just hang out on the beach chair to watch the sunset go down just after 6pm. Most people relocate over to the big pool which remains open until 9pm.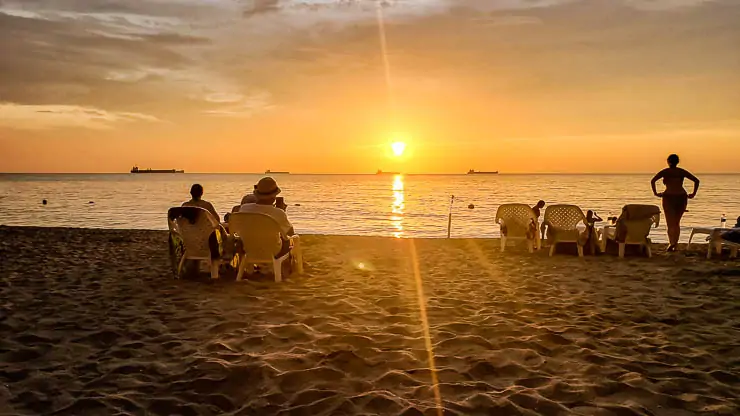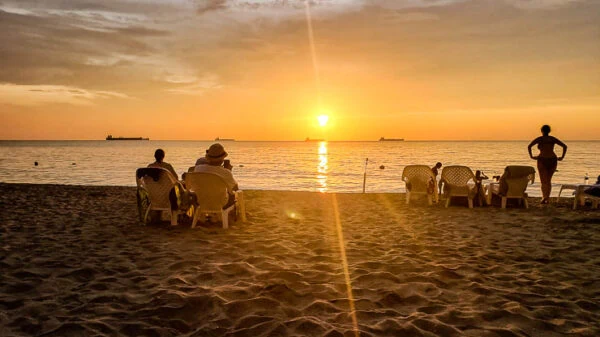 There is also the Seishua Spa where you can get massages or facials or things like that. Prices are reasonable, but certainly much higher than if you went off-site to a local business. But then again, the spa faces the ocean with views through the windows. While we were there, they had a promo for a 50-minute couples massage for around 400.000 pesos (~$100) which you could find for half that price elsewhere in Santa Marta, if you were inclined.
They've also got a small but well-appointed gym or fitness center located next to the Spa on the second floor if you want to get a workout in. We didn't use either during our five-day stay though. They also have things like stand up paddle board rentals in the beach area and free games like foosball or ping pong around the property.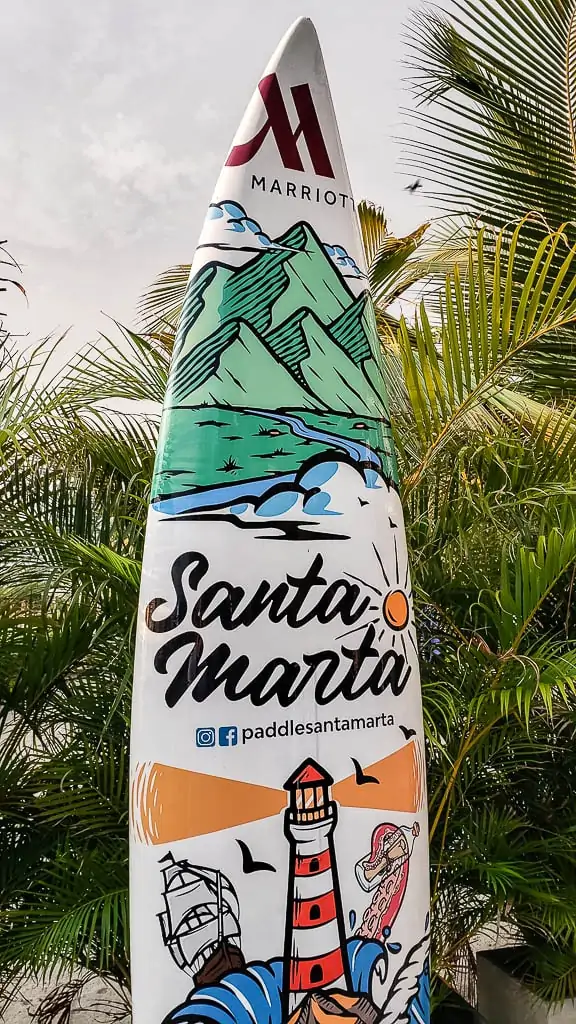 Dining & Nightlife
The resort has two dining options: 1525 which is a more elegant restaurant and Cayeye which has more of a beachside lounge vibe. Of course, they also have room service if that is more your style, from the same restaurants.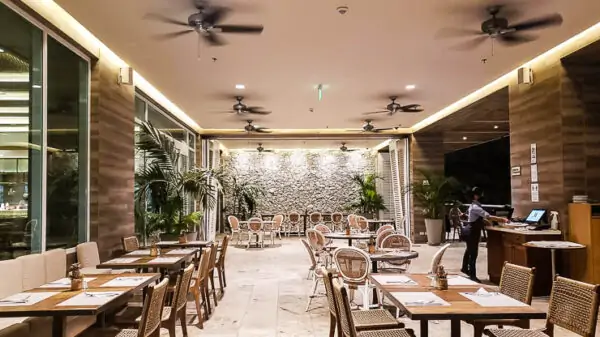 Both offer similar fare, including some local seafood options like shrimp and rice, fried catch of the day, ceviches, etc. They also have a variety of salads, chicken/meat dishes, pizzas, burgers, and sandwiches. Prices are on the high side for Colombia, generally speaking, but nothing too outrageous, and certainly cheap if compared to US prices.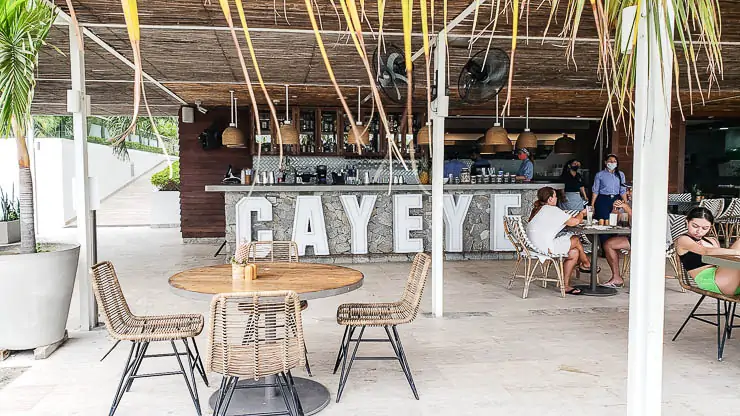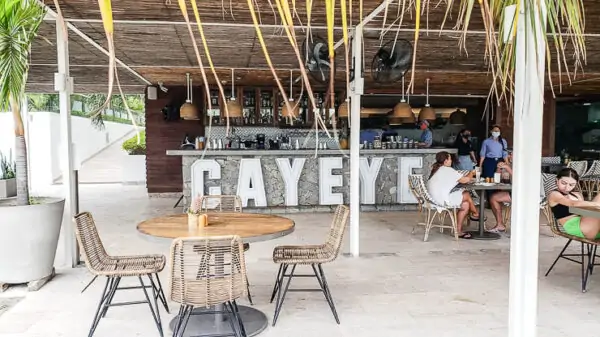 In fact, I found the portions to be very generous for the price for the most part. You will find main dishes ranging from around 30-60.000 pesos. They offer local beers for about 10.000 pesos and cocktails for around 30.000 pesos.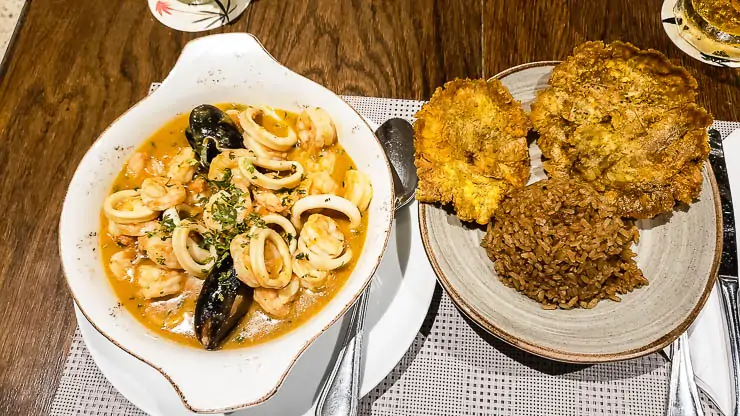 The resort also offers regular events such as brunches and dinners (a so-called night brunch) as well as beach parties on the weekends. I highly recommend them if you're there on a weekend!
On our last night, we went to the Cayeye Night Brunch which included buffet dining and bottomless margaritas or mojitos from 7pm – 10pm. They had live music from a local band playing covers of popular Spanish songs and had a pretty incredible spread of food on hand including sliders, sushi, pizza, local fried treats like Arepa de Huevo, Mexican inspired dishes like cochinita pibil or chips and guacamole, and a whole selection of desserts.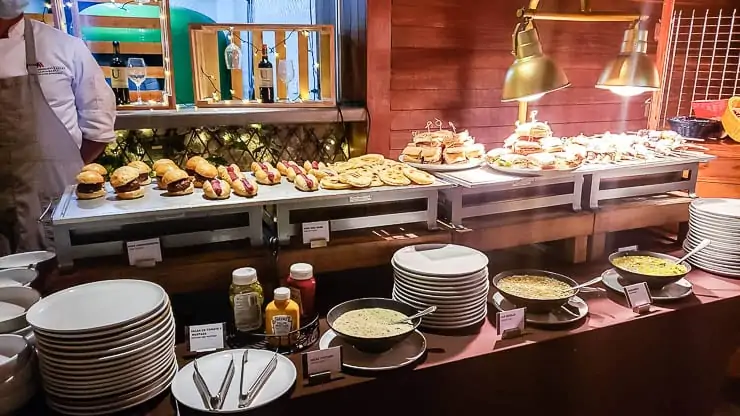 It was WAY MORE than I expected and left us both stuffed… It only cost 115.000 pesos per person (~$30) which was definitely worth it, especially when you consider the number of cocktails you can drink in three hours and how they normally cost about 30.000 each.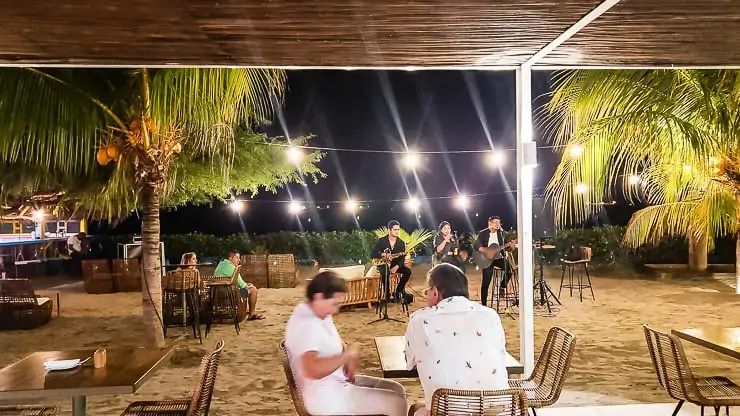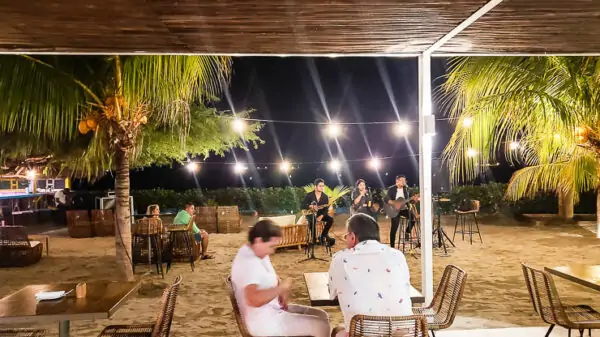 Then since it was a Saturday night, right after that event wrapped up at 10pm, they started their Chiringuito beach party with a DJ and drinks at the little beach bar. It's a cute little spot that sits on the edge of the property between the hotel and the ocean waves, where around 20-30 of us hung out for the better part of the night dancing to merengue or salsa barefoot on the sandy beach dance floor.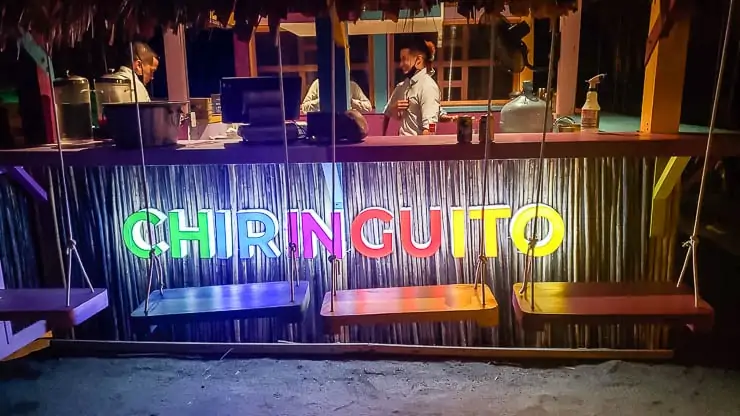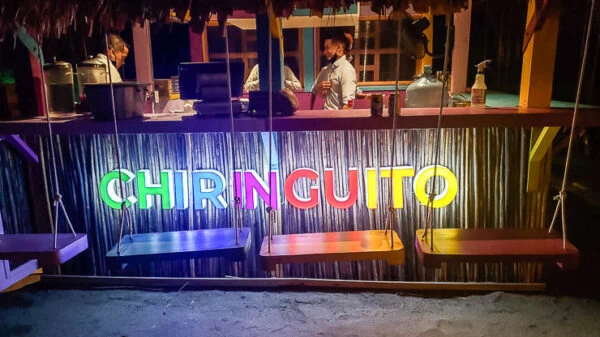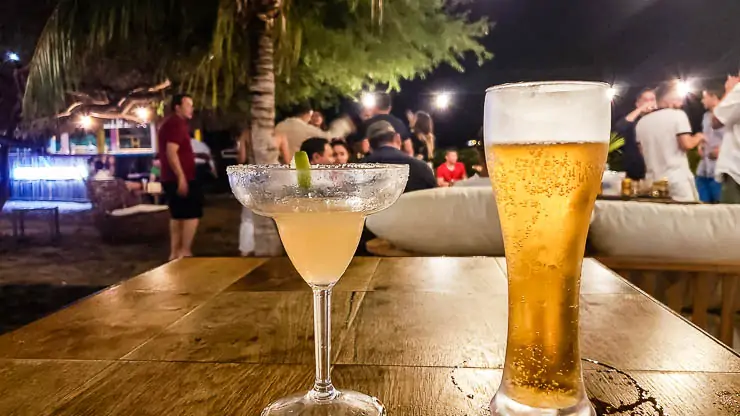 Super cool, super fun, and highly recommended. I love that the resort puts in the effort to put on these amazing events for guests because the hotel is otherwise somewhat isolated from nightlife due to its location.
Final Thoughts
Overall, the Santa Marta Marriott Resort Playa Dormida is among the most memorable and beautiful hotels I've ever stayed at, and certainly the most elegant I've stayed at in Colombia. It is truly an ideal location for those who want to escape from one of the big cities like Medellin or Bogota for a long weekend. It would be a worthwhile destination too if you're coming from out of the country and want to visit a relaxing beach resort on Colombia's Caribbean Coast.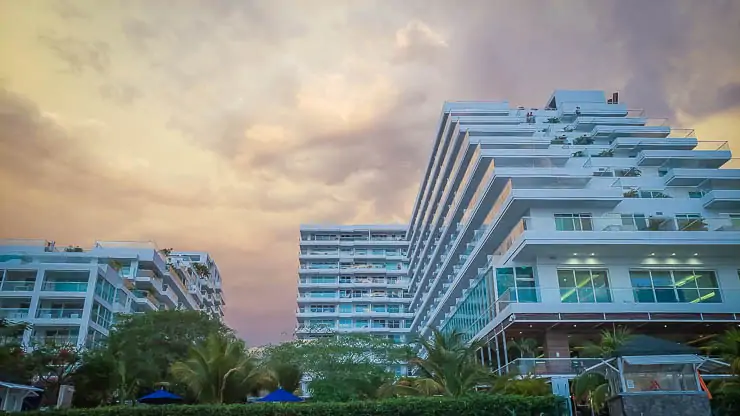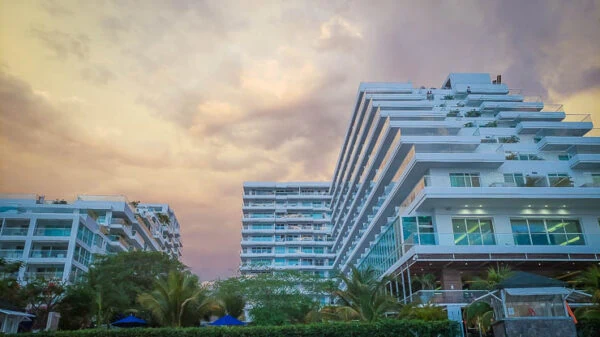 I wouldn't hesitate in recommending this incredible hotel to even the most discerning travelers coming to Colombia.
Read Reviews on TripAdvisor | Check Prices and Availability
PRO TIP: Be sure to join Marriott Bonvoy Rewards before traveling to start earning points and receiving valuable loyalty benefits. I would also strongly recommend picking up the Marriott Bonvoy Credit Card which will amplify your benefits in a big way and guarantee you a few free nights at some of their luxury properties around the world, whether you stay here in Santa Marta or not.
Understanding the basics of travel hacking and maximizing your points and miles (without overthinking it) can mean saving literally thousands of dollars on your next trip. As mentioned, this stay would have cost at least $1,250 out of pocket just for lodging, but it was free for us!
Read Next: Best Things to Do in Santa Marta, Colombia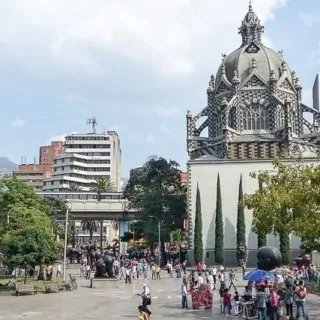 Colombia Travel Tips
Important tips and resources for planning an amazing trip to Colombia, based on my years of traveling and living in Colombia.
Tools
Colombia Trip Planning
Instructions
Book a cheap flight to Colombia with Momondo, or better yet, start travel hacking so you can fly for free. Traveling between major cities is much better by flying, trust me.
Plan a rough itinerary and how long you will spend at each destination. Use an itinerary planning service for custom recommendations and pick up Lonely Planet Colombia.
Work a little every day to teach yourself Spanish, you'll want to know as much as possible before you arrive.
Book cheap accommodation in advance, at least for the first destinations -- For hostels use: Booking, for cheap hotels use: Hotels.com, for apartments use: Airbnb.
Reserve your on the ground tours and activities through Get Your Guide.
Purchase travel insurance for Colombia with SafetyWing to protect yourself from illness, injury, and theft while in Colombia. VERY important. And be sure to read my article: "Is Colombia Safe?" for my honest opinion and safety tips.
Sign up for my free emails about planning a better trip to Colombia, and be sure to check out my comprehensive guide about traveling to Colombia.
Learn more money-saving tricks with my top budget travel tips.
Put together your Colombia packing list.
Enjoy this incredible country!
Notes
I hope this helped you plan your travels in Colombia! I know it can be a struggle to find accurate and on the ground information when traveling to a new place like Colombia, which is why I started writing so extensively about it!
If you have any questions about Colombia, budget travel, or anything else shoot me an email at ryan@desktodirtbag.com.
(I love getting questions! That is how I get ideas for my blog posts and what to write about!)
Recommended Products
As an Amazon Associate and member of other affiliate programs, I earn from qualifying purchases.
The following two tabs change content below.