This article may contain
affiliate links
. If you make a purchase through these links, I will earn a commission at no extra cost to you. Thanks!
In this post, I want to talk a little bit about the best resources to learn Spanish, the sorts of tools that I know, use, and love–those that have truly helped me with my Latin American Spanish language skills both prior to heading to South America and while continuing to learn here.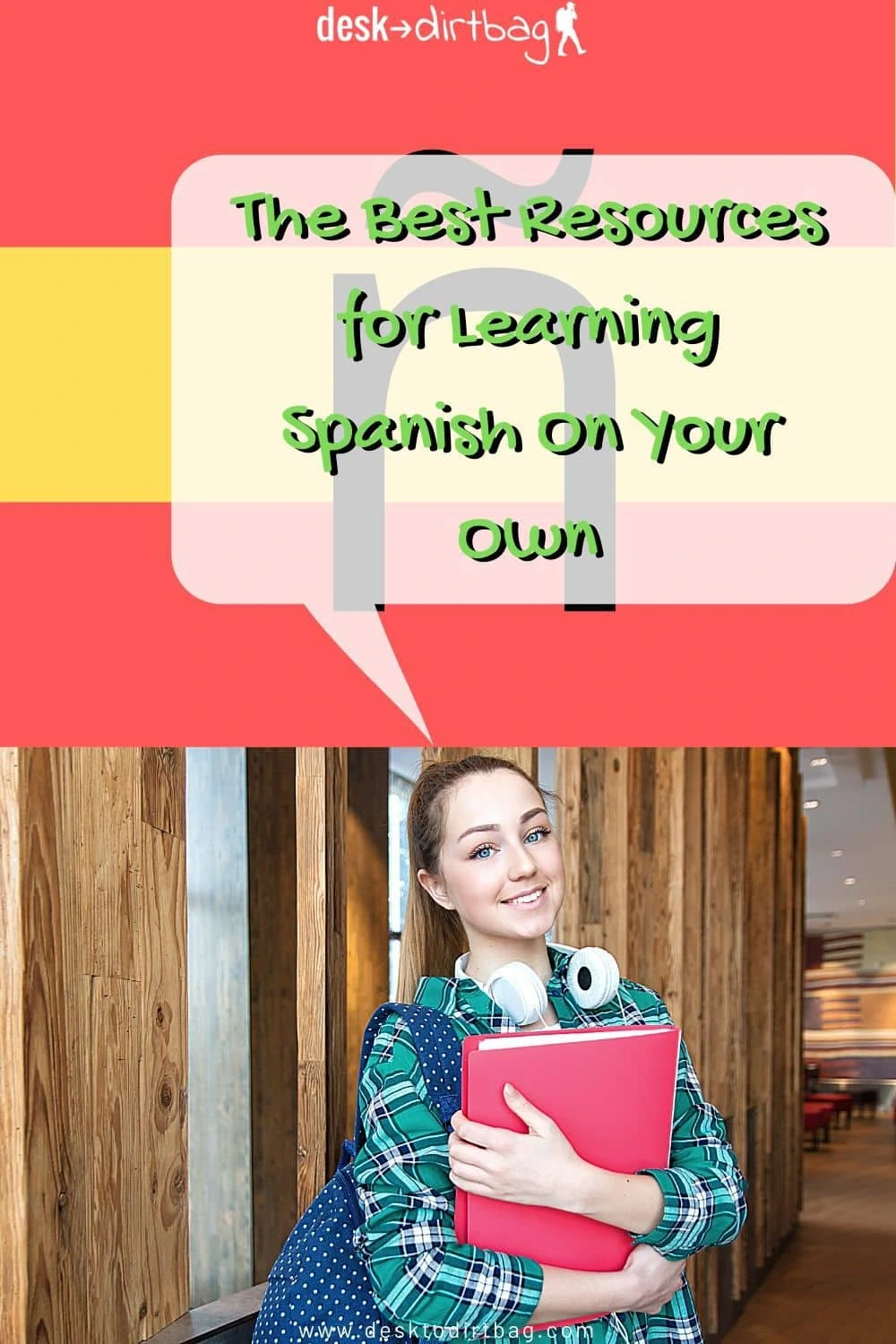 I love foreign languages. I love learning new things and new ways of communication. You can read study after study that touts the benefits of learning a foreign language, no matter your age, from improving your cognitive function to staving off Alzheimer's, and more.
Plus you open up a whole new world of travel, communication, food, culture, movies, media, and music.
Everyone should learn another language, especially those of us from the United States that tend to be so averse to this idea.
I've studied Japanese, Russian, Arabic, Turkish, French, Italian, Portuguese, and Ukrainian at various times and to various levels of proficiency. In college, I actually majored in Arabic and Middle Eastern Studies and lived in Yemen for six months. This is all to say I've spent a lot of time with different languages, different learning resources, and different methods of learning (from classes to self-education to informal tutoring).
For some reason, I never took Spanish while in school, which is the most useful and accessible language to those of us in the United States! I neglected it until I was a working professional in Washington DC and started dreaming about escaping the desk life.
I imagined trips to South America, backpacking, hiking in the Andes, and those sorts of adventures. My interest waxed and waned in Spanish without a definite plan to visit. It wasn't until the end of my first big road trip that I knew I would be heading to South America and needed to start (almost) all over in Spanish.
Fast forward to today, and I can say that I have a pretty strong command of the language. I can talk about virtually anything with native speakers (that are speaking clearly). I'm basically fluent these days after living and traveling so long through Latin America, and I can honestly say that the resources below provided me the foundation to get to this point.
Best Resources to Learn Spanish
First, let me say that there is nothing like having a conversation with a native speaker in order to work on your Spanish and that you should try to start speaking the language from day 1, even in simple terms like talking to yourself, things around the house, etc. But before you can really speak, you'll need to be building up your knowledge and vocabulary with outside sources of learning.
Here's what I recommend to all of you aspiring Spanish learners when you're just getting started.

This is one of the most amazing and, best of all, FREE Spanish resources that you can use as a smartphone app or the website and which will truly help you build your vocabulary. The method of learning is primarily by translating a word or phrase either to or from the target language.
There are tons and tons of lessons grouped by vocabulary themes to work your way through. And there is even an interesting gamified aspect whereby you can link it to your Facebook account and compete against your friends to learn a language. It encourages you to study a little bit every day with nudges and reminders to keep your streak alive.
The one big thing I think Duolingo could improve would be to stop using vocabulary based on themes (ie animals, colors, etc), but to structure the lessons in terms of the actual frequency of usage or for themes that are structured around the most common conversations by travelers.
There are 10s of thousands of words in any language. But studies have shown that a very, very small percentage of those words actually make up the vast majority of our daily use. This is the 80/20 Rule exemplified.
We only need something like 1,000- 2,000 words in a given language to be functionally fluent in 80% of our interactions.
What I especially love about Duolingo is the smartphone app–whenever you have free time (on a bus, waiting for a friend, or whatever) you can quickly do a lesson or refresher. This is huge!
I've used Rosetta Stone for Spanish and another language, I'd say Duolingo is practically as good but for FREE and is an awesome way to learn Spanish online.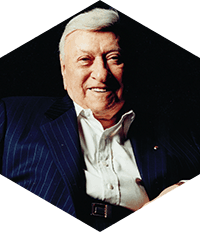 I've used numerous audio learning programs, but I consider the Michel Thomas Spanish course to be among the best resources for learning Spanish. And while there are other audio programs, they pale in comparison, and this is the best overall audio program, which will have you speaking faster than you thought you could.
The program he teaches is absolutely great and is among the best resources to learn Spanish fast. You will be able to make complex sentences surprisingly fast and have a better understanding of grammar and structure fundamentals in a few hours with Michel (honestly). Whereas it will take you weeks (or months) of using Duolingo or Rosetta Stone.
They have recently started branching out beyond the Romance languages with offerings in Hindi, Korean, Arabic, and others, but I wouldn't recommend those. The real strength of his program is in languages relatively close to English and with Michel Thomas himself as the instructor.
The best part of the program, beyond his shortcuts to grammar and structure, are the various "hacks" that he applies to the vocabulary which will instantly give you thousands of words. There are so many words in English that you can simply modify with the Spanish structure to get the correct word. Once you see the patterns it becomes easy to accurately "guess" many different words.
The only real downside of the program is it is presented as a recording of him teaching two other absolute beginners, therefore you have to listen along as they struggle through some things, which can be a little annoying at times.
If your time is limited, I fully believe that Michel Thomas is the quickest and best of the resources for learning Spanish and it will jump-start your language learning.
Pimsleur is another audio learning program kind of like Michel Thomas, but in a more traditional format where you have an audio prompt, a period of time to respond, and then the correct answer, rather than eavesdropping on other students learning.
There are five levels of Spanish, each consisting of 30, thirty-minute lessons. So you've got at least 75 hours of education over the course of nearly half a year. This program will definitely teach you to converse about a wide range of situations from restaurants and shopping to social occasions and even some small business conversation.
These Pimsleur Spanish lessons are also nice in that they are "hands-free" meaning you can quite easily do these as you are driving down the road or cooking in your kitchen or so forth. You don't have to be pausing the audio to allow time to respond. The time pressure adds a positive twist to the learning experience as you try and force your brain to respond to the prompts within the allotted time. It will be challenging at times but in a good way.
Indeed, I think this style of learning more fully mimics the real process of speaking a new language where you have to think about what you want to say (in your native language) and translate it in your head before saying the words out loud. That's how conversations are in the beginning, translating in your mind what you want to say and what the other person just said. It takes a long time to get to a point where you just understand or just speak without having to translate.
In any case, Pimsleur Spanish is a solid resource that will serve you well on your Spanish language journey and I highly recommend it. Even doing just one full level can provide the foundation you need for most basic things.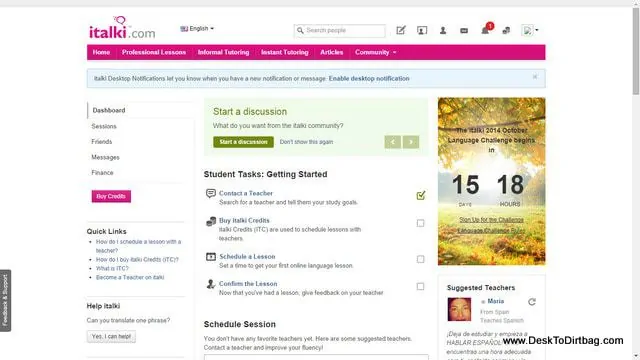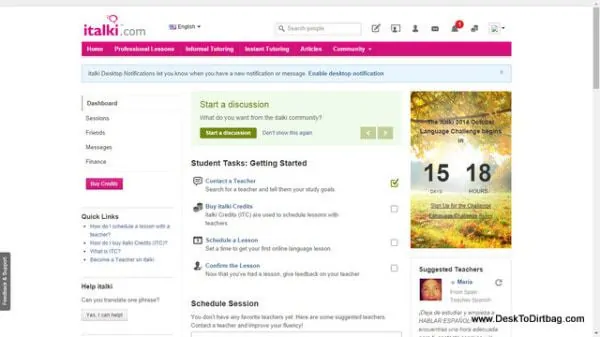 Learning and studying a language is all well and good. But the whole point of language is to communicate. Therefore, from the very first week (or better yet the first day!) you should try and speak the language with someone, even if it is just the basics.
It can be hard to find opportunities to speak a language if they aren't readily available in your normal day-to-day life, so why not turn to online Spanish-speaking opportunities? There are a number of excellent choices to take private video lessons 1-on-1 with a native speaker of Spanish.
iTalki.com is an option for finding free language exchange partners and then chatting over Skype. You can get matched up with a person that is a native speaker of the language you want to learn, and who wants to learn your native language. Then once a week or so you can get together on Skype to chat half the time totally in Spanish and half the time totally in English.
This is a win-win for both parties and is totally free.
Additionally, there are professional Spanish teachers or community tutors on iTalki that you can hire for a modest rate to help you with your language if you don't have the time to go to classes or would just prefer to work from home. Teachers will usually have more Spanish learning materials, but some tutors will also have them as well.
Doing an exchange via iTalki will really put what you learn via Duolingo, Pimsleur, and Michel Thomas to use right away, which is definitely the most important part.
There are other tutoring websites online where you can find a great tutor to help you improve your Spanish, like Preply. My partner, Andrea, is actually a certified Spanish tutor and teaches through the Preply platform. Definitely check out her profile and reserve a class today. She can also chat with you about all our adventures across Latin America if you're planning a future trip.
More Resources to Learn Spanish
The above three would be what I would consider the best resources for learning Spanish and for someone getting started right now, among the countless free and paid resources available today.
Once you progress to higher levels of mastery, you will require other materials to study advanced Spanish… The ones that I later on and which I would recommend as my favorite resources to learn Spanish at a higher level include:
Read and Think Spanish book which is just articles with key vocabulary translated on the side so you spend less time with a dictionary.
Schaum's Spanish Grammar book is about the ever-so-interesting subject of grammar, but at least allows for independent study.
VeinteMundos: excellent articles in Spanish along with accompanying audio files.
Watching familiar and beloved TV shows over again, but with Spanish audio and NO subtitles (try re-watching Breaking Bad on Netflix or some other show that you really like).
Destinos Video Lessons: An old video program designed to teach you Spanish. All 50+ episodes are available for free online.
Extra Spanish: A free TV sitcom series in the style of friends that is designed for Spanish students. It is actually pretty entertaining and well-done. Worth checking out!
Nothing replaces the full immersion experience that you get when you hit the ground in a new country. You will definitely learn much more during that time period.
But if you have plans to visit a foreign country you should be trying to learn as much as possible beforehand so you can hit the ground running instead of wasting your first days and weeks struggling through the fundamentals. This is part of preparing to travel and should be started months beforehand (or longer).
None of the above programs will get you to complete fluency, but I do believe that they will cut your learning curve significantly and put you in a better position to reach fluency, and a combination of these programs is the best way to learn Spanish on your own.
For additional resources on learning a new language and learning a new language fast, you should definitely check out a book called Fluent in 3 Months which deconstructs some essential tactics in your quest to learn a foreign language.
I hope this post has offered up some help as you search for the best resources for learning Spanish. If you have any questions, comments, or other resource recommendations, please sound off in the comments below!
Read Next: South America Travel Guide
Did you enjoy this post about the best resources to learn Spanish? Take a second to share it on Pinterest, Facebook, or Twitter. Thanks!
The following two tabs change content below.