This article may contain
affiliate links
. If you make a purchase through these links, I will earn a commission at no extra cost to you. Thanks!
The idea to learn Brazilian Portuguese hasn't been a long time goal of mine. In fact, it's kind of an idea out of the blue. But, I've always enjoyed learning new languages… Throughout my life, I've studied French, Japanese, Italian, Arabic, and Russian, for various lengths of time and to varying degrees of success.
Most recently I learned Spanish and have managed to reach fluency and have even started doing freelance English-Spanish translation work while we drive across South America, so I thought it would be good to start learning Brazilian Portuguese.
Reasons to Learn Brazilian Portuguese
I like pushing my brain to try and wrap my head around a new language, so recently I've decided to take a crack at Portuguese. I don't have any real reason to do so, as there are no current plans to travel to Brazil (although I'd love to!), other than just the fact that I thought it would be fun and challenging.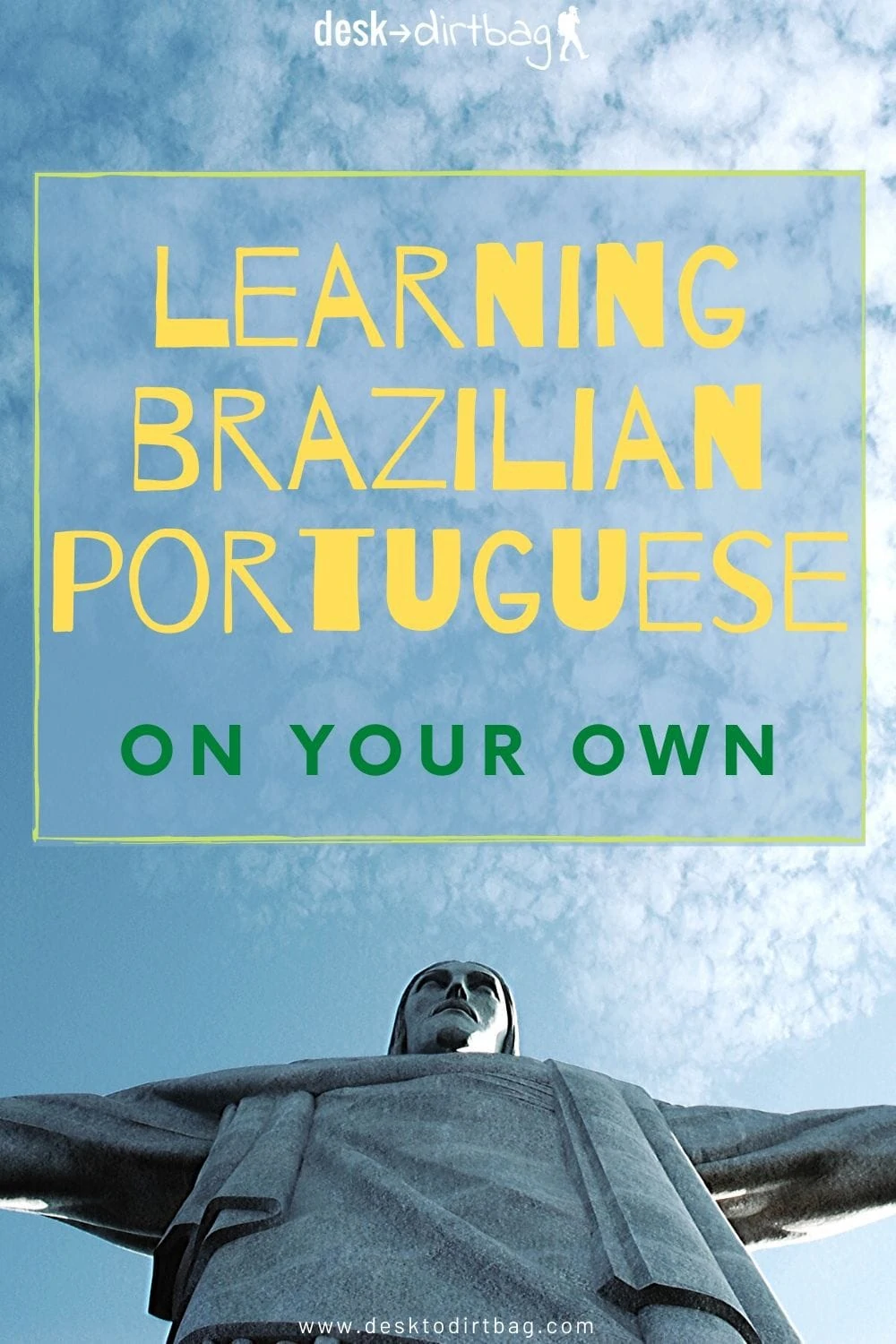 Portuguese should also (theoretically) be easier for me to learn since I can speak Spanish fluently and there are many similarities between the two languages when it comes to grammar and vocabulary (and many differences too, of course).
I'd noticed before that I could partially decipher the meaning of many written phrases in Portuguese, thanks to my Spanish, but it was very difficult to understand spoken Portuguese since the pronunciation is so strange.
Plus Brazil would be a cool country to visit one day, and there are more than 215 million native speakers of Portuguese, so it is a fairly useful language.
This is all a long introduction to say that "Hey, I guess I'm studying Brazilian Portuguese, because, why not?"
I've used a lot of great resources over the years to learn languages, so I've got some favorite things I turn to when I want to learn the basics of a common/popular language.
Here are the tools I am currently using to work through the basics of (Brazilian) Portuguese.
Duolingo for Portuguese
Duolingo is probably the best free resource out there for learning the foundations of a language. It's a simple phone app (or website based) where you can start from scratch in your language learning.
I completed the entire Spanish course in Duolingo a few years ago and found it to be a good resource, among the many resources I used to learn Spanish on my own.
Duolingo is sort of like a quiz format, with multiple-choice, or arrange the words to translate the sentence, but it does also incorporate listening (writing what you hear) and speaking exercises throughout.
I find that Duolingo is great for teaching vocabulary since lessons are mostly organized by themes (colors, foods, animals, etc).
Duolingo is particularly great because of the convenience factor — you've got a powerful language learning tool in your pocket, which you can use at any time of the day. If you've got headphones and five minutes, you can knock out a quick listen or a vocab review. Sometimes an obstacle to other methods can be the time factor, where you have trouble carving out 30 minute or 60-minute sessions.
On the website, Duolingo also has a cool new Stories feature, where you are challenged in reading and listening through a short story in the target language. The feature is currently in beta and not available on the phone app, but it's an excellent resource as well.
Obviously it will take forever to learn a language in five-minute increments, but I find that even if I start with five minutes, I often do more, and cultivating that daily habit is important if you want to learn Brazilian Portuguese or any language.
Pimsleur Brazilian Portuguese
Long before Duolingo, Pimsleur was a favorite language-learning resource, even though it isn't free. Pimsleur courses are basically audio lessons that you can do while driving or just want some hands-free learning.
What I like about them versus other courses is the audio lessons have built-in pauses for you to respond to whatever the prompt is, thus you don't need to press the pause button or anything like that, it's totally hands-free.
The courses focus on speaking from the get-go, with little to no focus on grammar.
For most languages, including Brazilian Portuguese, they have at least three levels, consisting of 30 lessons each.
Every lesson is approximately half an hour-long, so it is perfect for your daily commute, or for listening with headphones while you do chores around the house or something similar where you can't have a book, phone, or other learning tools in your hands.
In total, the Brazilian Portuguese course from Pimsleur consists of 90 lessons, or about 45 hours of teaching time, that provides a great foundation in about three months time (one lesson a day).
I'm working through Portuguese Level I right now, but I've used Pimsleur previously for other languages I've studied, including teaching me the basics of Spanish before I first traveled to Colombia.
Brazilian Portuguese Books
There are many written resources available as well, something I typically turn to once I reach a more intermediate stage in the language learning process, so I can better understand grammar and start reading longer and more complicated sentences and phrases.
So all of the self-study at home in the world isn't going to help you actually speak Portuguese. You can only learn with apps, books, and audio courses for so long! The next step is actually doing that, which you can still do from the comfort of your home thanks to the internet.
Websites like iTalki allow you to connect with native teachers or tutors to practice your language speaking and comprehension abilities. There are tons of different teachers to choose from and at a variety of different price points if you want to learn Brazilian Portuguese. Thankfully, prices per hour or half hour are also relatively cheap for a native Brazilian Portuguese speaker located in Brazil.
I usually go with community tutors because they are more affordable (meaning I can get more hours of practice for the same price) and because my focus is on speaking and listening. My strategy is to review the tutors and their videos, bookmark a few favorites, and then do a short lesson with each to see who I like best for continuing. Tutors with a lot of opinions have more experience and are often better prepared in terms of materials and so forth.
Learning Brazilian Portuguese
So those are my primary resources for teaching myself the basics of Brazilian Portuguese in the coming months. Of course, no single resource will bring me to fluency, but I expect to achieve a basic level of speaking and understanding (as these resources did for me in Spanish).
But anyone looking to achieve fluency will have a long and protracted study ahead of them as they advance beyond either Duolingo or Pimsleur. Such is life! I still learn new things in Spanish, even after years of basically living the language all day, every day.
Are you learning Brazilian Portuguese right now? Or would you like to? Sound off in the comments below about what tools you use and love.
Traveling to Brazil on your next trip? Book the perfect room on Booking.com today!
Share This
Did you enjoy this post about how to learn Brazilian Portuguese? Please take a moment to share it on Facebook, Pinterest, or Twitter. Thanks!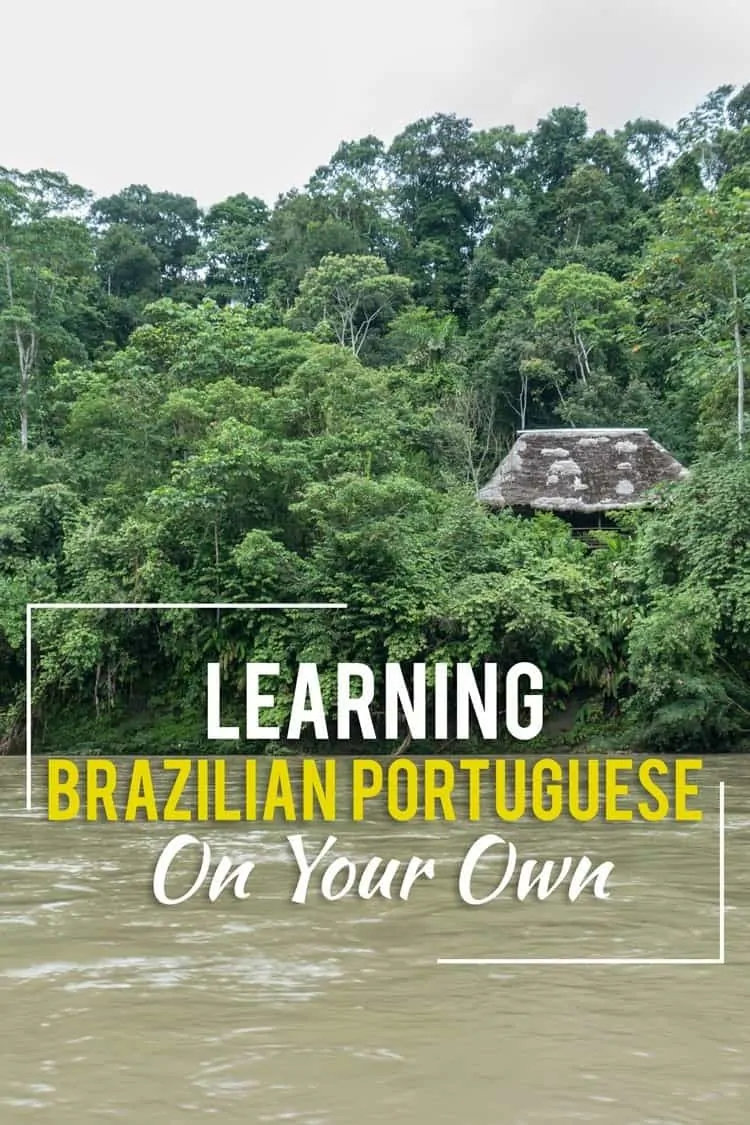 The following two tabs change content below.