This article may contain
affiliate links
. If you make a purchase through these links, I will earn a commission at no extra cost to you. Thanks!
Are you looking to convert your pickup into the ultimate adventure mobile? Truck camping is by far one of the best ways to get out there and travel, whether you will be going on weekend trips or a year-long outing.
Look to further than this resource for all your truck bed camping needs, from choosing a canopy, building out the back, selecting a mattress, and even the gear you need in order to get out there and get going. We'll be going from more beginner concepts to more advanced and detailed information, and then finally, some road trip and travel resources to help you get out there on the road.
Truck camping is one of the most freeing and liberating ways to travel the world, and I'm so glad to have you here on Desk to Dirtbag, the Internet's most detailed resource about truck bed campers.
Don't miss out on joining the amazing Pickup Truck Camping group on Facebook.
Truck Camping 101
Here's where to start if you're new to the world of truck camper setups… We'll be covering the many different truck camper setups, buying a new canopy, getting your sleep system setup, and building out the back.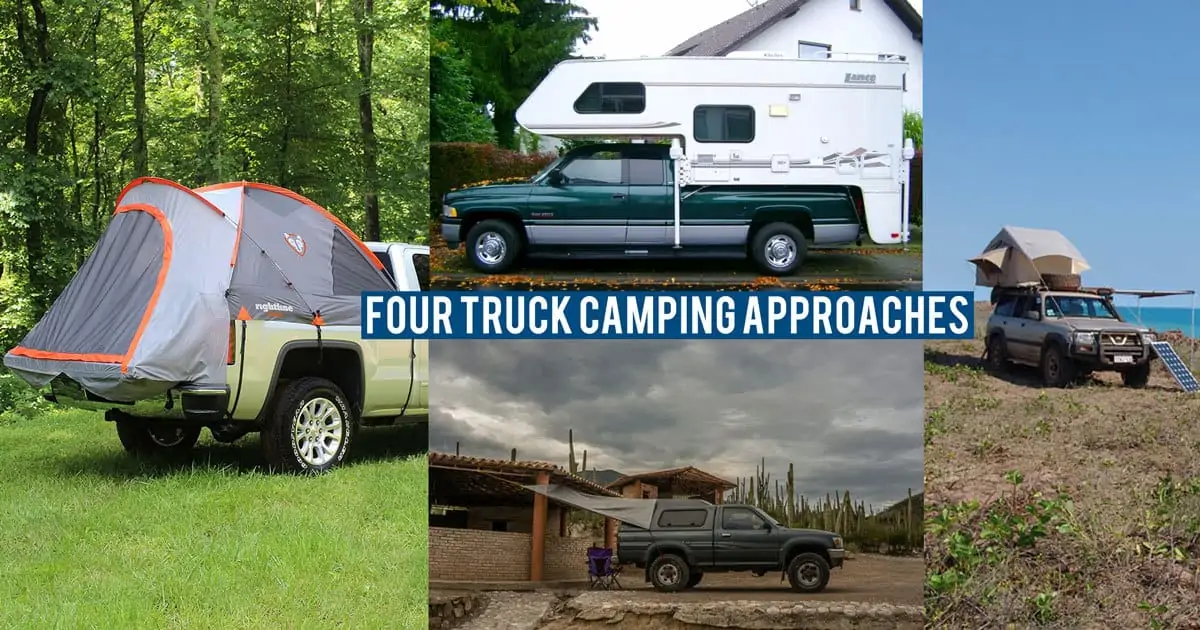 If you are starting with a blank slate, then it is important to consider the pros and cons of the main approaches. How do truck tent campers compare to roof top tents? What about a traditional slide-in camper? Should I just go with a canopy camping setup? Let's go over it all here before you make a decision about one or the other…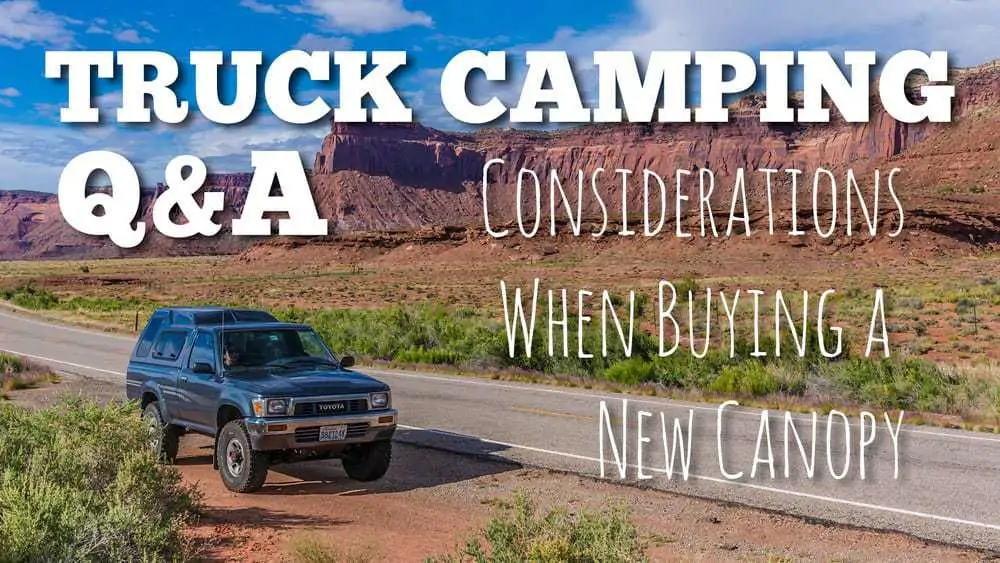 Whether you are buying a used or new canopy with the intention of camping in the back, there are a few important considerations to keep in mind before you buy. These four items are what I'd consider crucial when adding a canopy to your truck. If you've already got a canopy, then you may just want to skip this one.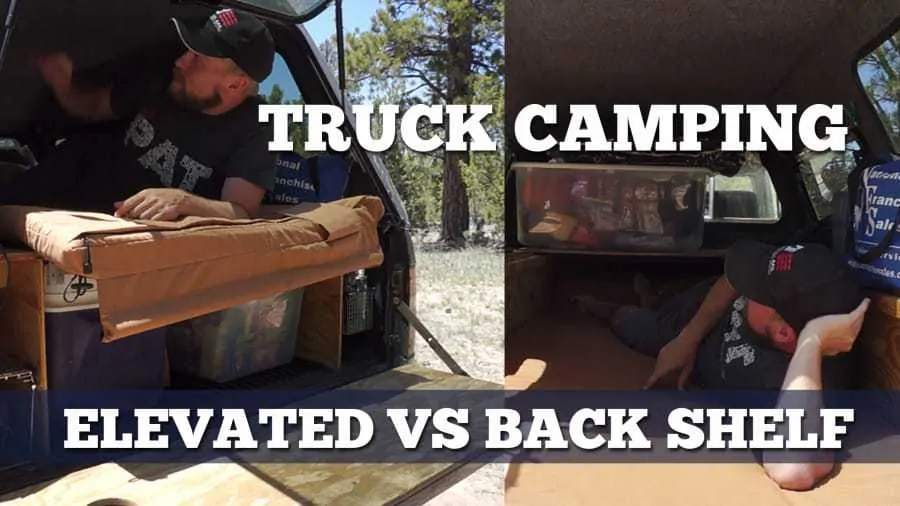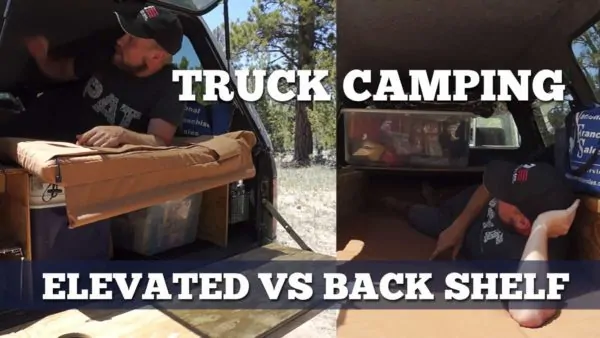 There are two primary approaches to building out a truck canopy camping setup: either the elevated sleeping platform with gear storage below, or the backshelf approach. Like anything there are pros and cons to either approach, but here's what to keep in mind when considering your build options.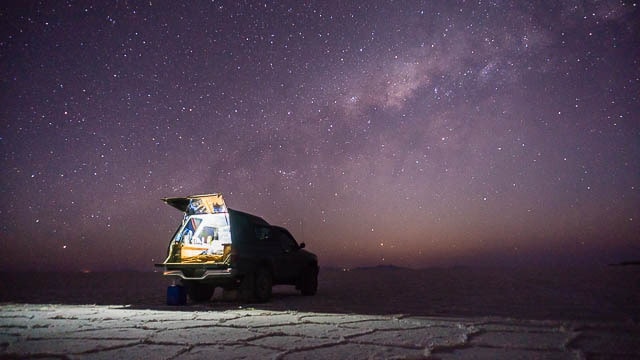 One of the most important aspects of truck bed camping is being comfortable while sleeping. I highly recommend not neglecting this aspect, but to get a quality truck bed mattress or truck bed sleeping pad. I've used a variety of setups over the years, both camping solo and camping as a couple. In this article we'll discuss what has worked out the best and how to ensure you have a good night's sleep.
Not sure where to start or what you need for your truck camper? Thankfully, this is an extremely accessible and affordable way to travel and enjoy the freedom of the road. Here are all the most crucial resources that you need to hit the road ASAP.
Truck Camping 201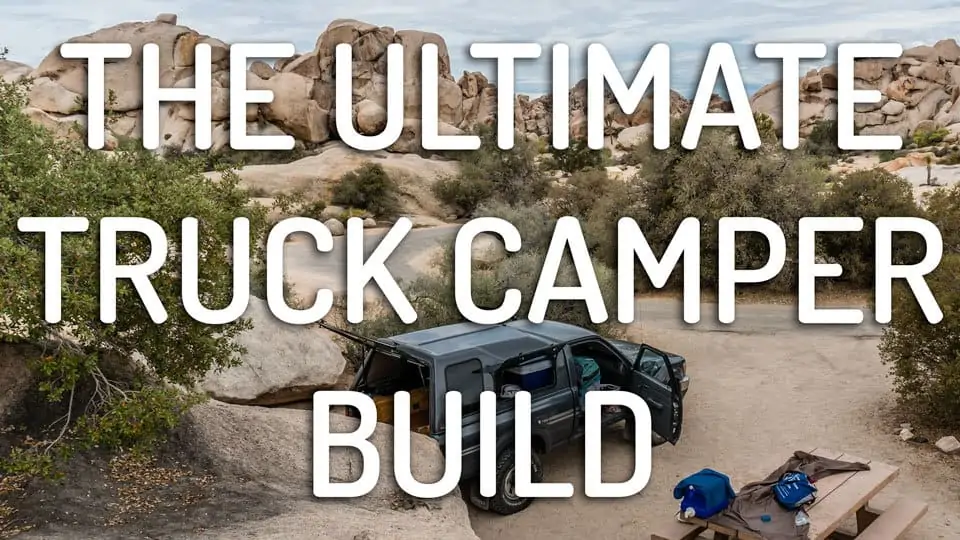 Lots of people have found my truck canopy camping build online and have replicated it themselves. But many have also reached out asking for more detailed plans or designs about how to build my truck bed camper setup, which is something I couldn't really provide… Until now! I took advantage when I had my truck emptied out for cleaning and shot
I've been living in my awesome truck setup for a while now, and I'm definitely starting to get a clearer picture of which items I brought along that I truly like, use frequently, and have really proved their worth over time on the road. Despite my imploring you to Stop Buying Things, and Start Doing Things, I just wanted to
As much as I've written about the subject of truck camping over the years, the written word usually only goes so far to explain my setup, how things work, and the pros and cons. The places where the written word fails to do justice can often best be supplemented by video, which is why I put together this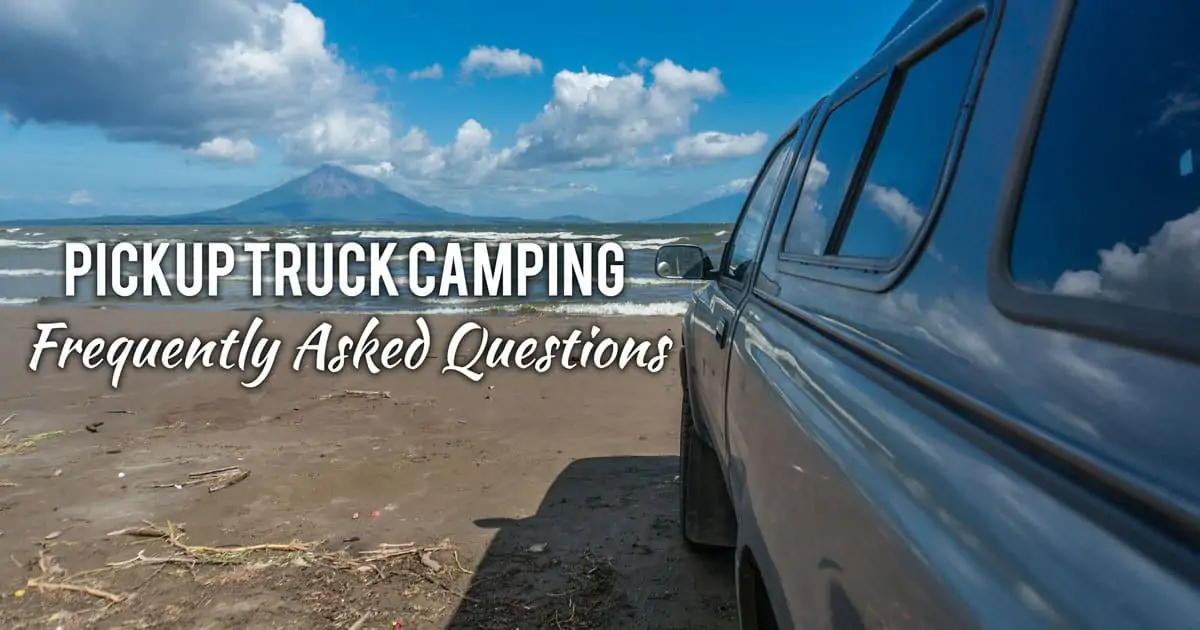 I get a lot of questions about truck canopy camping thanks to this blog, but rather than write individual articles about each person's question, I put it all together in one huge resource that covers all sorts of miscellaneous topics that didn't fit elsewhere. If you've still got questions, there's a good chance that I've covered them here.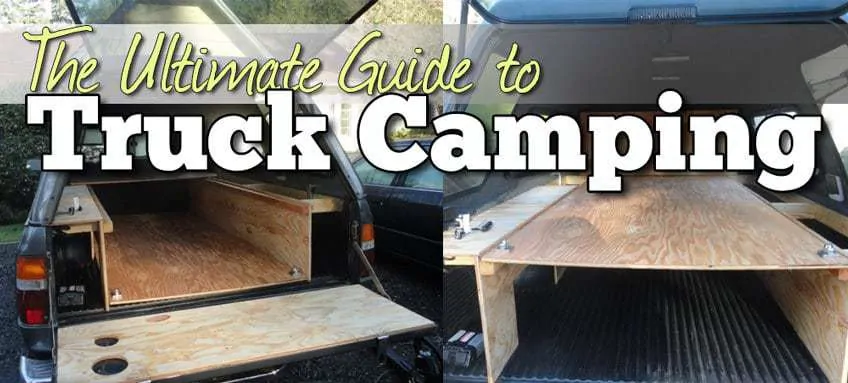 This is a monster post about truck camping, a huge guide to outfitting and living in the back of your pickup truck from the fundamental approaches, inspiration I turned to, and insights about life on the road.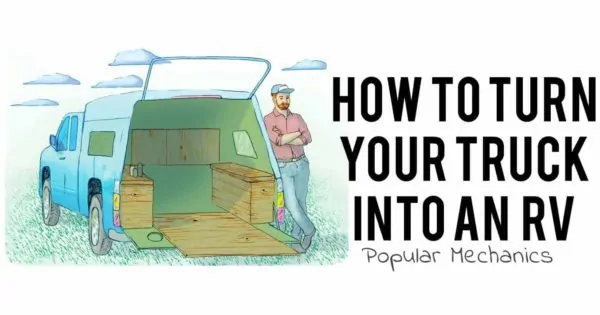 Maybe not everybody wants to live in their truck, but it is a pretty awesome way to travel and live life on the road. Thanks to my truck I've traveled across the American West twice for months on a time and even drove all the way to Patagonia at the tip of South America.
Besides the actual canopy and build-out, a dual battery setup with an isolator is pretty much the best addition you can make to your setup to improve life on the road. It basically allows you to run electronics from the back without having to worry about killing your starter battery. Very important!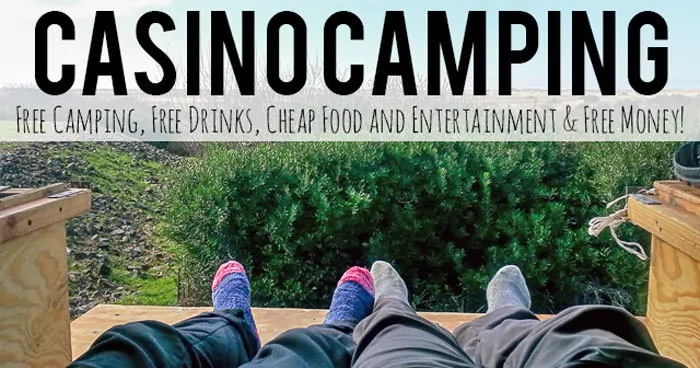 Did you know that many casinos across the US offer free camping, free drinks, cheap food and entertainment, and even offer up free money to play? Pretty awesome, right? Find out more about this underutilized resource for those on the road.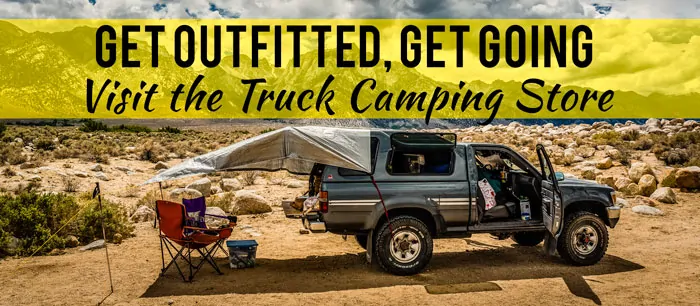 Here's my super comprehensive guide to everything products for getting ready, getting outfitted, and getting on the road for your truck camping adventures. This is an incredibly freeing lifestyle but is important to be both well prepared while avoiding overpacking.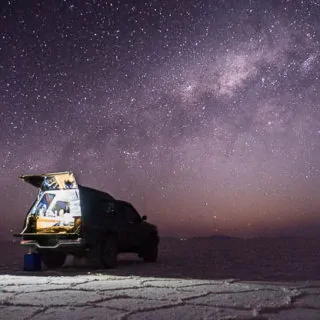 Pickup Truck Camping Guide
Turn your pickup truck into the ultimate adventure mobile. This printable truck camping guide will help you through the process.
Tools
Essential Truck Camping Gear
Road Trip Essentials
Notes
I hope this helped you get started with truck camping! I know it can be confusing when you are just getting started, which is why I started writing so extensively about it.

If you have any questions about truck camping, road trips, budget travel, or anything else shoot me an email at ryan@desktodirtbag.com.

(I love getting questions! That is how I get ideas for my blog posts and what to write about!)
Recommended Products
As an Amazon Associate and member of other affiliate programs, I earn from qualifying purchases.
Read Next: Road Trip Planning Guide
#PTC Swag
[optin-monster-shortcode id="jwgszsgopxtegahaxdcm"]