This article may contain
affiliate links
. If you make a purchase through these links, I will earn a commission at no extra cost to you. Thanks!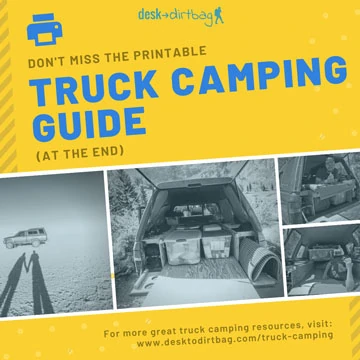 Recently, on the Desk to Dirtbag Facebook page, Anna wrote in about how she is going to make the leap to a nomadic lifestyle and wants to do a simple truck camping setup. She asked what my main recommendations are for those considering purchasing a truck canopy for camping.
I've been wanting to do more videos for YouTube and figured this was a perfect opportunity to answer one of your questions! If you've got a question, shoot me an email!
I've been using my truck canopy for camping for literally hundreds of nights, at least, over the past couple of years. And I love passing on my knowledge and experience to you all.
Truck Canopy for Camping
So, check out the video below, and if you have questions about truck camping, please don't hesitate to sound off in the comments below or email and ryan@desktodirtbag.com and I will try to get back to you–and maybe even use your question as a future video.
If you don't have time for the video, here are my four primary recommendations for those purchasing a truck canopy for camping: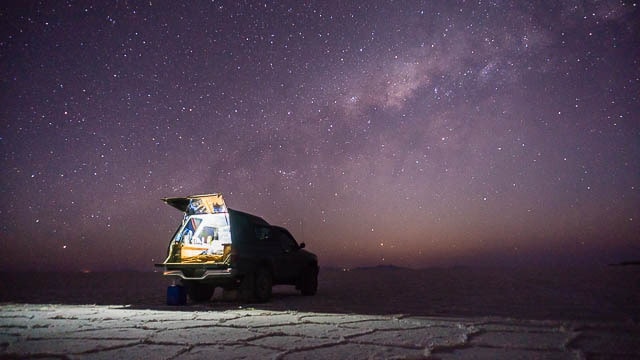 1) Elevated Headroom
Try to find a canopy that offers a few inches extra headroom over the cab of your truck. The extra space when you are sitting in back, changing clothes, moving things around, etc, is absolutely invaluable.
I purchased the Leer 122 model specifically because of the extra headroom.
The extra headroom is even more crucial if you are going to build a traditional style elevated sleeping platform (ie with gear storage underneath).
But I would highly recommend you try the back shelf or transformer style approach that I ended up using.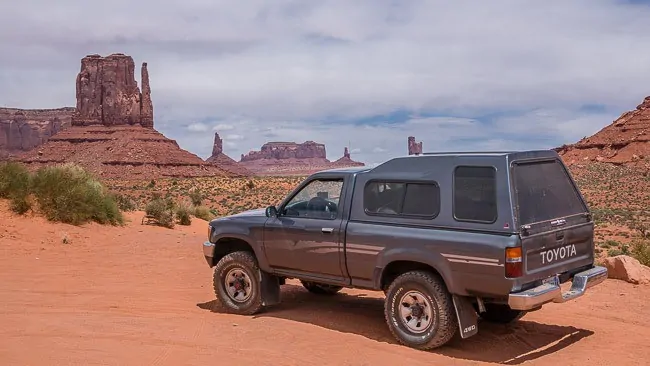 2) Carpeted Headliner
Make sure you get a canopy with the carpeted headliner for two main reasons:
1) the carpeted headliner helps absorb the moisture and condensation that is bound to accumulate throughout the night. You don't want drips falling on your face as you sleep.
2) You can easily velcro things to the headliner to attach lights, clips, etc. You can buy velcro tape from just about anywhere and use one half of it to stick things to your headliner.
Constantly taking off and sticking on velcro things can be hard on your headliner, so I just leave the clips and things in place, knowing that I *can* move them if and when I want to, I do not take them down on a regular basis.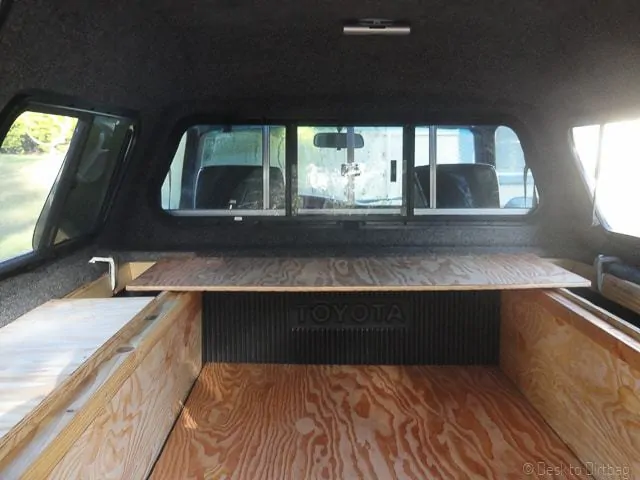 The lights I use in the back, in fact, have two attachment points, a magnetic base plate which I velcroed to the ceiling and the light itself (which attaches via the magnet) which I can easily take and off as I see fit.
3) Side Windows
There is a dilemma here in choosing your side windows, or at least among the options available when I purchased mine.
You can either get the windoors that open outward, which are by far more convenient for gear access and packing your truck. Or you can get a screened window which doesn't open at all but might be your only ventilation point at night if you are in a buggy area.
The best option would be a windoor which also has a small screened section, which I know do exist (I've seen them on some truck canopies–but it wasn't an option when I bought mine).
That being said, I went with one screened window and one windoor. It is a compromise, and sometimes I do wish I had two windoors. I still go back and forth about whether I should have gotten the other one or not.
With my setup, I put the items I rarely need during the daytime or only need at night in that back corner by the screened window (otherwise I have to crawl over gear to get to it). And put items I am more likely to need or want during the day near the windoor.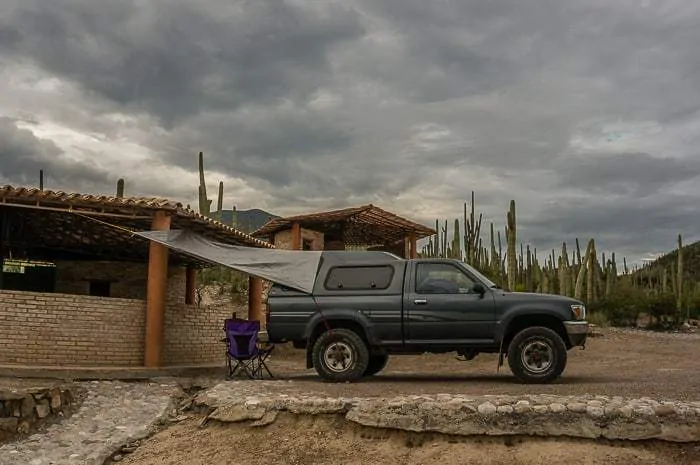 4) Electricity in the Back
Definitely be sure to get the cigarette lighter adapter ports hooked up in the back of the canopy (connected to your battery in the engine) which allows you to charge and run electronics at night from the back while you are sleeping.
You don't want your sole power source to be the cigarette lighter in the cab while you are sleeping in the back with a dying cell phone.
With the cigarette lighter adapter you can purchase a simple 400W power inverter to convert the 12v current into a standard household power source that you can plug in laptops and electronics.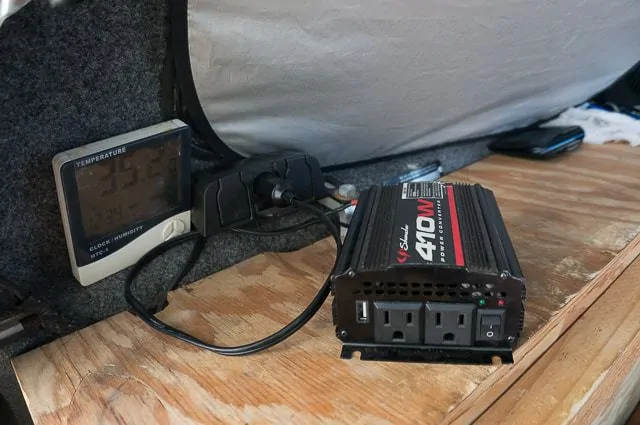 I used this simple setup hooked up to my primary (starter) battery in my truck for the better part of a year on my first road trip. It is doable, just be absolutely sure not to kill your battery overnight and be unable to start your truck in the morning…
It's for that reason that many people install a dual battery setup with an isolator. I FINALLY did this recently and it has made a huge difference and has allowed me to relax about keeping all my gear charged.
Previously I would charge my cameras, phone, laptop, etc during the daytime with my truck off, but would idle my truck ever hour or so to ensure I keep a sufficient charge. I would NEVER charge anything overnight for fear of a dead battery.
Now, with a dual battery and isolator, I can charge whatever I want worry-free overnight and never have to worry about a dead battery.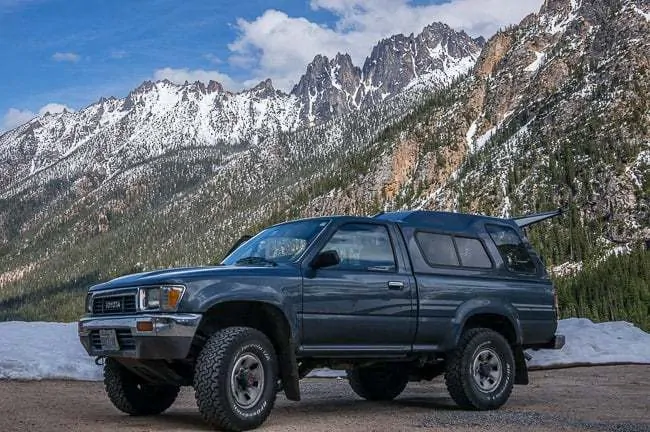 Conclusion
So there you have it!
Four things I would definitely recommend you consider and get when selecting a canopy for truck camping: 1) elevated headroom in your canopy, 2) carpeted headliner for condensation and velcro, 3) screened windoors if possible, 4) power availability in the back.
I hope that helps, and again, if you have any questions about truck camping, let's hear them!
Read Next: Biggest Mistakes When Truck Canopy Camping
Share This
Did you enjoy this post about choosing a canopy for truck camping? Take a second to share it on Facebook, Twitter, or Pinterest. Thanks!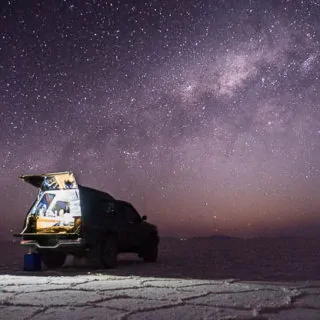 Pickup Truck Camping Guide
Turn your pickup truck into the ultimate adventure mobile. This printable truck camping guide will help you through the process.
Tools
Essential Truck Camping Gear
Road Trip Essentials
Notes
I hope this helped you get started with truck camping! I know it can be confusing when you are just getting started, which is why I started writing so extensively about it.

If you have any questions about truck camping, road trips, budget travel, or anything else shoot me an email at ryan@desktodirtbag.com.

(I love getting questions! That is how I get ideas for my blog posts and what to write about!)
Recommended Products
As an Amazon Associate and member of other affiliate programs, I earn from qualifying purchases.
The following two tabs change content below.