This article may contain
affiliate links
. If you make a purchase through these links, I will earn a commission at no extra cost to you. Thanks!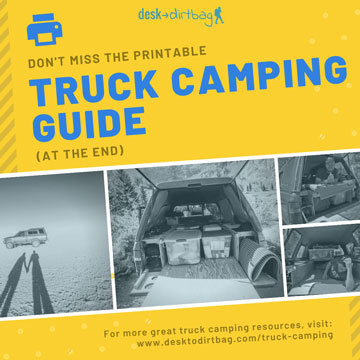 One of my most frequently asked questions about my truck camping setup was always in regards to a dual battery setup and adding an isolator. Up until now, my answer had always been, "I don't know, but that's something I really wanted to do before leaving!"
Before we get into how to install a second battery in your car or truck, maybe we should talk about WHY. A dual battery with an isolator, for those who don't know, is pretty much what it sounds like: connecting two car batteries to your vehicle's alternator while adding in an isolator of some sort to keep the batteries separate (isolated!).
In practice, this system means that while you are driving around all day you are charging both batteries like normal, but when the vehicle is off the batteries are not connected and cannot see one another.
Thus allowing you to connect your accessories and electronics up to this secondary battery to use while camping without ever worrying about killing your main battery and being unable to start your vehicle the following morning.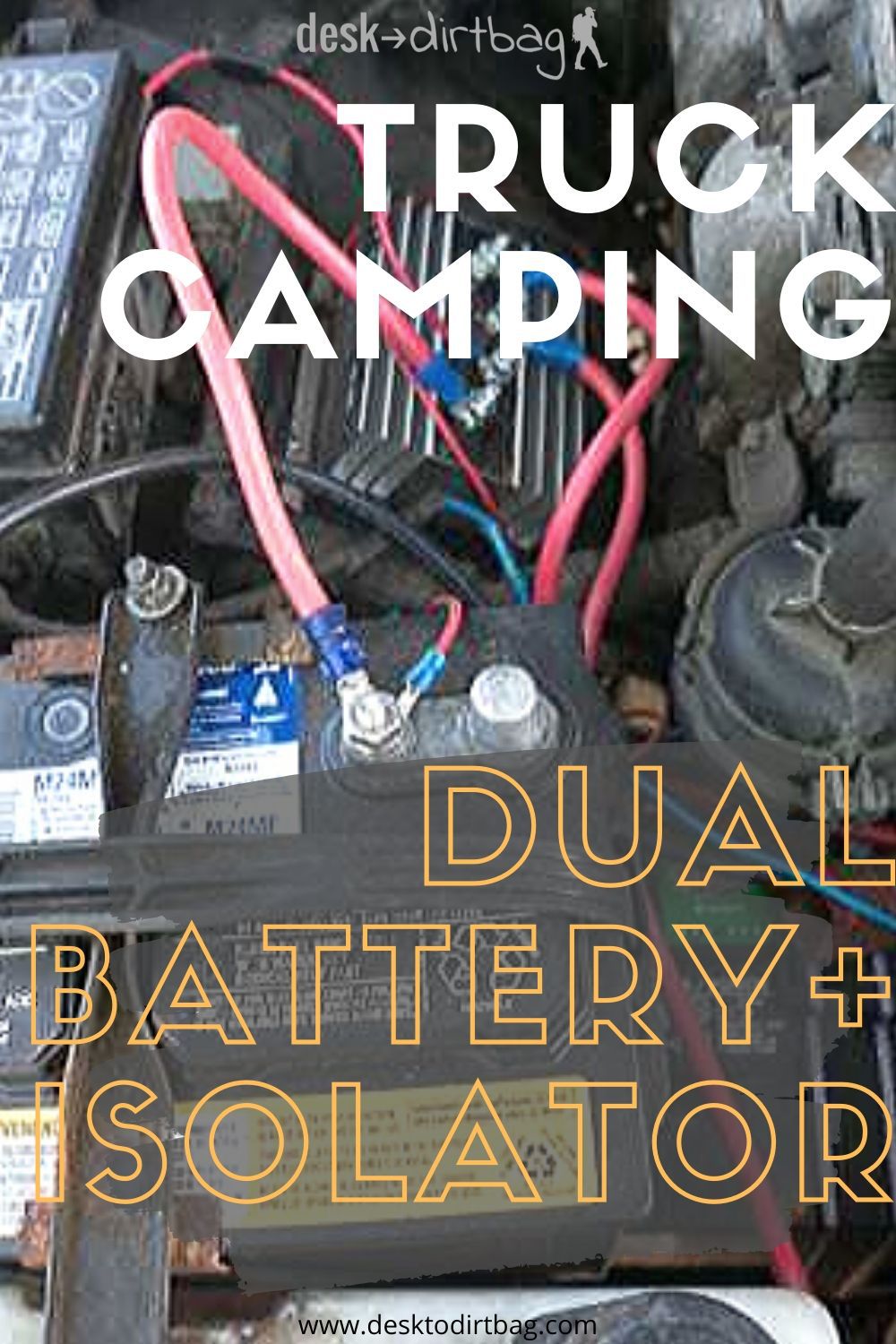 Standard Single Battery Use
Previously when I spent the better part of a year living out of my truck and on a West Coast USA road trip, I was running the normal single battery that every vehicle has.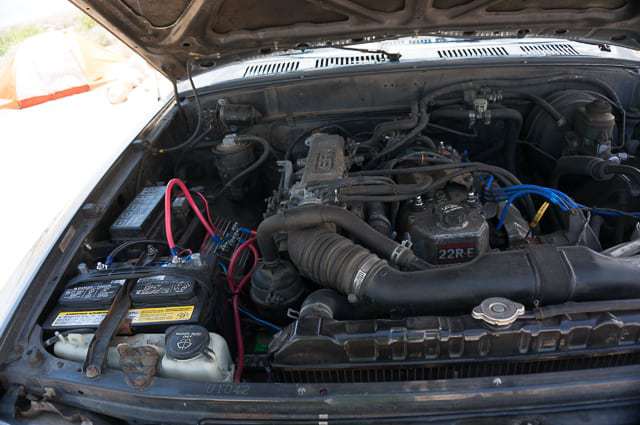 This meant that when I was charging my electronics out of the canopy (I had a pod of three cigarette lighter adapters hooked up to my main battery in the back where I would run my 400w inverter) I would, perhaps over cautiously, idle my truck about every hour in order to ensure that I would not kill my battery.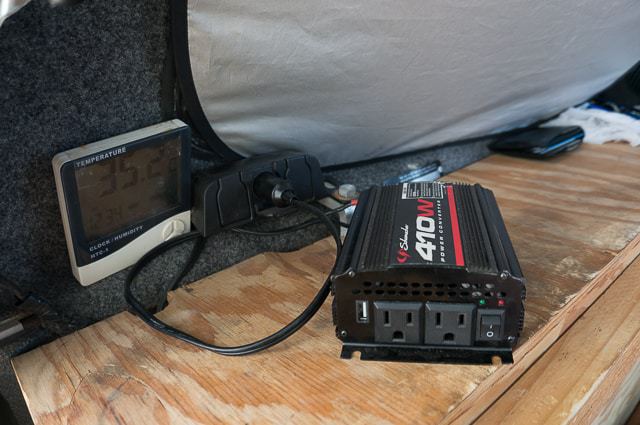 I can think of few things worse than getting stuck out in the middle of Grand-Staircase Escalante's Hole in the Rock road, or some other remote area and being unable to start your vehicle and being stuck without cell service.
I now picture Walter White in Breaking Bad rigging up sponges and various metal components to jumpstart their RV battery… Although I could never do that!
Alternatives to a Dual Battery Setup
Of course, you can buy portable emergency jumper batteries, they also sell batteries with a special jumper built right into it. But you don't ever really want to kill your starter battery–it's not good for them in the long run and they aren't built to be drained down to zero and then charged back up.
I would read and read about the dual batteries and how to do isolator setups on the Internet from various websites and on Expedition Portal. But I just couldn't really get my head around it.
Amps, grounding, various gauge wires, wiring, voltage, solenoids, blah, blah, blah. It's all Greek to me.
Getting a Dual Battery Setup Installed
So I just bit the bullet this year before setting out on the road again and made some calls to area businesses and had them set me all up with a second car battery for accessories.
In all it only cost me about $370 for them to do it, about $120 of which was the cost of labor, the rest was the parts $120 for a deep cycle marine battery (which is what you definitely want as they are designed to be discharged down to zero).
I got an ACDelco M24MF marine battery, $55 for a NOCO 90A Isolator–which you can grab for less than $30 on Amazon, and the rest for miscellaneous parts like electrical wires to hook up the battery, new battery tray, etc.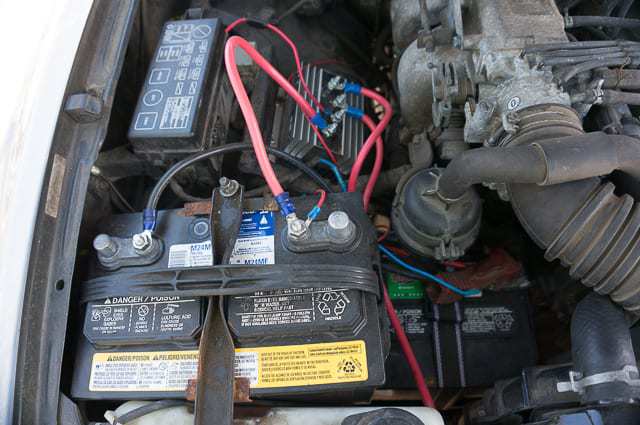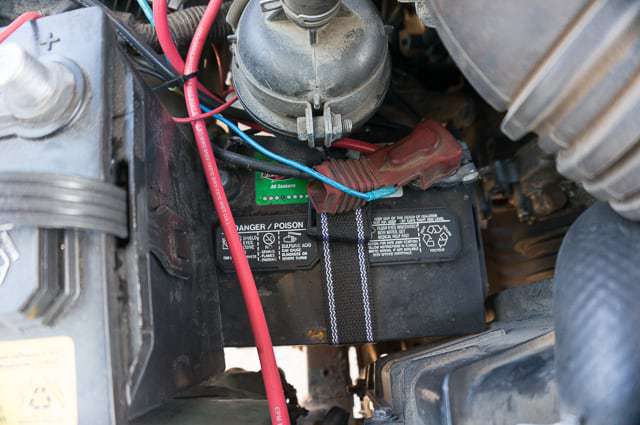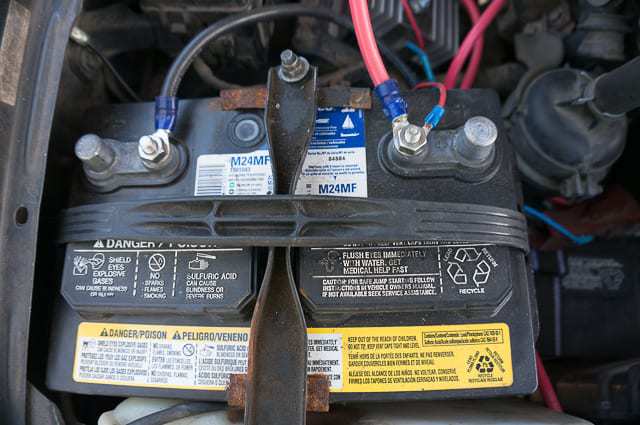 Of course, you can order super duper fancy dual battery isolators with a smart brain and panel readout which shows how much power remains in each battery, how much they're charging, and how much they are being drawn down.
But those kits run upward of hundreds of dollars themselves, and that's without the second battery or any installation.
Or you could go a little simpler and get a switch that you have to physically turn on or off to ensure that you are charging both batteries or isolating them. The risk with those setups, of course, is that you can forget to isolate the batteries at the end of the day and end up, possibly, running both down.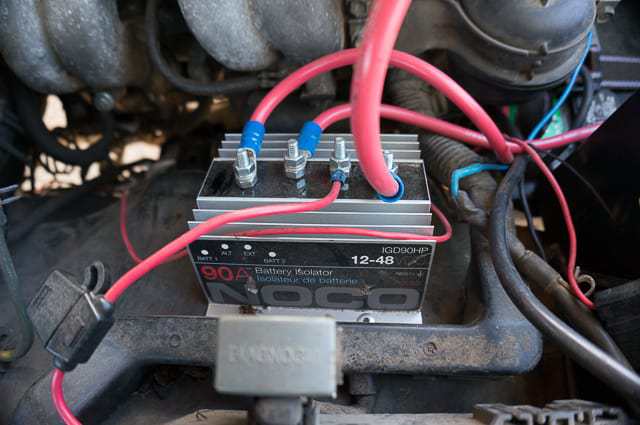 Really you just need a simple battery isolator kit, which also means that less that can go wrong with it on the road as well. Which electronics are absolutely notorious for doing.
Reading online it never sounded too complicated–but with the grounding of the batteries and things of that nature, it was just over my head. So, if you're able, definitely follow this Expedition Portal thread about a $50 isolated dual battery.
Or, if you're like me, and that's still too complex, do it the true dummy's way and have a local handyman install it for you.
Most normal auto repair shops will not want to do a dual battery setup.
So your best bet is to call around to car stereo specialists (they often install a second battery for their clients to run their high-powered stereos) or to call an RV repair place or shop (who are more specialized in the needs and demands of using a second car battery for a home on wheels).
I called both. The audio stereo specialists quoted me a price of upward of $500. And the RV repair folks quoted me about $350.
I ended up going with Affordable RV Repair in Bremerton, WA. They had the best rate and they came recommended by my neighborhood mechanic.
Join the #PTC Community
Be sure to join our private Facebook group with thousands of Truck Camping enthusiasts. Ask questions, get answers, and share photos, along with your own tips and tricks. Request to join and you will be approved soon!
Toyota 4 x 4 Pickup 22RE
The other complication with doing an overland dual battery setup in my truck, a 1991 Toyota Pickup (Hilux) which predates the Tacoma models, is that it features a small engine compartment.
The 22RE models are renowned the world over for their reliability and toughness (the AK-47 of the automobile world–indeed insurgent groups in the harshest of conditions often use the Hilux), it is quite a tight little engine and there isn't a lot of room under the hood.
Another problem is that a deep cycle battery (as mentioned, this is the kind you need for an accessory battery) is slightly larger than your standard car battery so you need a little bit more room for them.
Just when I sort of thought I had a grasp on the logistics of mounting a second battery to a truck, I struggled with the question of where I could actually PUT the second battery in this small space. I'd prefer to put into under the hood of the engine rather than placing a second battery in my truck which can release noxious gases into the sleeping compartment.
All the more reason to take it into the professionals.
Chatting with the pros, we decided that we could move the starter battery down a little bit into the empty space near the radiator (just down and to the looker's right of the original location), and thus mount the larger deep cycle marine battery where the starter battery used to go.
They wired each battery up to the alternator and then mounted the isolator to the frame nearby.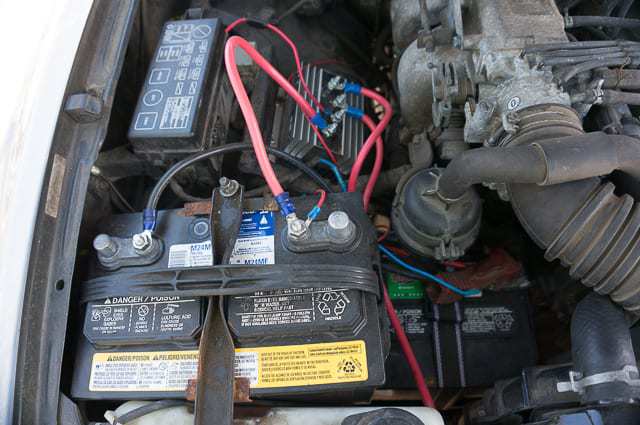 As a side note, this did cause a problem when I shipped my truck back to the United States from South America. The boat journey was more than a month without starting the truck, meaning the battery died. The dock workers in Florida tried to jump-start my truck on the boat (trying to jump the second battery) and obviously failed, so they had to push and tow it off the boat.
When I came to collect my truck in Jacksonville, they told me the truck wouldn't start but I convinced them to try to jump me again, explaining the second battery, and it started right up. If you're ever in a similar situation, definitely put a note in the window — I asked about doing this in Buenos Aires, but they assured me that it wasn't necessary.
Want to Travel More for Less Money?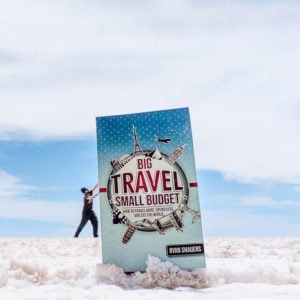 I will teach you the top methods I've used to save big money 💰💰💰 during more than a decade of continuous travel in my best-selling book Big Travel, Small Budget. See for yourself, the book has nearly 200 unbiased opinions and 4.4 out of 5 stars on Amazon! ⭐⭐⭐⭐⭐
You Need a Dual Battery Setup!
Besides adding a truck canopy and outfitting the back for gear storage and sleeping, I think adding the second battery was the best thing I've done to make life on the road more comfortable.
I have yet to kill my second battery and have been able to keep all my electronics charged without fail while camping for up to three nights without ever even starting my truck.
Again, I don't know how much things are drawing down, or how far I could have taken my single starter battery previously, I just know now that both Andrea and I are able to easily keep our two cell phones, two cameras, two laptops, and other miscellaneous electronic devices charged and ready to go.
We've even been running a personal fan off the secondary battery throughout the nights in the heat of the desert or tropical coast while camping, which makes it so much more comfortable to sleep.
If you have lights installed in the back of the canopy and you tend to use them a lot, then be sure to have their wiring switched over to draw power from the accessory battery rather than the standard battery. In either case, I don't really use them that much and don't have any high-end special lights installed in the back, just the standard canopy LED light that came with the canopy.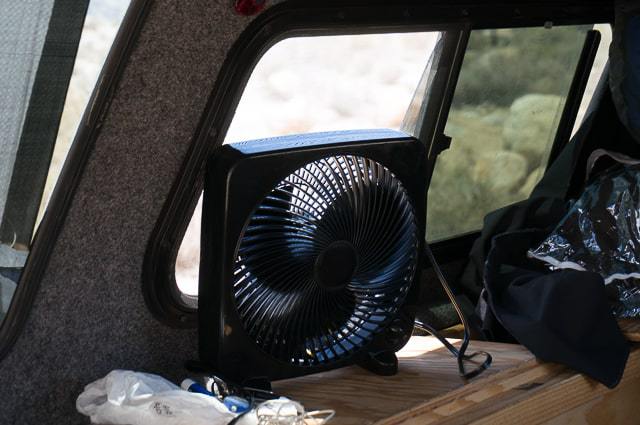 Of course, never forget your ABCs — Always Be Charging — while you are on driving throughout the day, for us that usually means cell phones connected up front, perhaps a camera, and then charging other items in the back of the canopy, most often the laptops.
If you're really wanting to do it right, you should run a thick gauge wire from your secondary battery back to the canopy hook-up, that way you'll get the strongest connection with the power. For instance, I cannot run my laptop connected to the inverter, I can only charge it and then later run it off the laptop battery.
Since I originally posted this, I've run thick, heavy wires from the second battery straight back to my inverter. I can now run pretty much whatever I want back there, including using my laptop while it is connected. It was a great change!
You can get super complex, some campers even run mini-fridges out of the back of their canopies while on the road. It seems cool, but I haven't gotten to that point, nor am I willing to shell out the $600+ for one of those fridges. You might be better off just going for one of those Yeti coolers.
Conclusion
All-in-all, I am SO happy to finally have an isolated dual battery setup, and anyone that is seriously looking at spending a longer stretch of time on the road and truck camping should absolutely have one in their setup.
So even if you're a mechanical and electrically dummy like me, you shouldn't be intimidated, just call around to your neighborhood RV and car audio specialists and explain what you are looking for, a dual battery setup with an isolator in order to charge and run accessories.
It should run you around $400 and is absolutely worth every penny, as far as I am concerned.
Have any questions about getting a dual battery setup? Do you have one of these systems in place already? Sound off in the comments below with your experience and perspective.
Dual Battery Resources
Looking for more truck camping essentials? Read more about what I take along truck camping or browse the site for tons more posts about truck camping, road trips, and travel off the beaten path.
Did you find this post about a dual battery setup helpful? Please take a second to share it on Pinterest, Facebook, or Twitter. Thanks!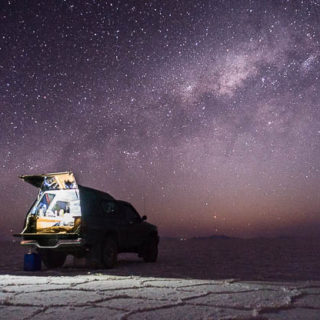 Pickup Truck Camping Guide
Turn your pickup truck into the ultimate adventure mobile. This printable truck camping guide will help you through the process.
Tools
Essential Truck Camping Gear
Road Trip Essentials
Notes
I hope this helped you get started with truck camping! I know it can be confusing when you are just getting started, which is why I started writing so extensively about it.

If you have any questions about truck camping, road trips, budget travel, or anything else shoot me an email at ryan@desktodirtbag.com.

(I love getting questions! That is how I get ideas for my blog posts and what to write about!)
Recommended Products
As an Amazon Associate and member of other affiliate programs, I earn from qualifying purchases.
The following two tabs change content below.