This article may contain
affiliate links
. If you make a purchase through these links, I will earn a commission at no extra cost to you. Thanks!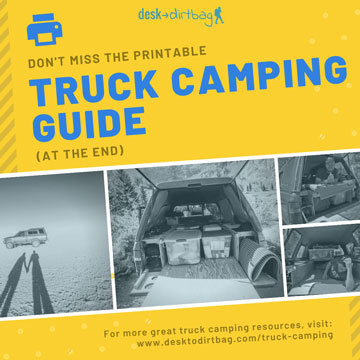 If there is one thing, in particular, my website it is known for, it is for all the time I've spent living in a truck and all of my truck camping related tips, tricks, and builds. But even so, I was surprised to say the least when the folks at Popular Mechanics reached out to me about doing an article about how to live in a truck.
Can You Live in a Truck Camper?
Well, yes, of course, you can if you're willing to do live life a little differently. Truck canopy living is at once both incredibly freeing but also somewhat limiting. The basics of it are not unlike van life but just confined into a smaller space. Many people will purchase a new truck canopy and then make some modest modifications to the internal setup by building shelves, platforms, etc.
I recommend building a transformer style setup and using hard plastic boxes for storage of gear rather than being bulky (and heavy) drawer systems. Either way, with the drawer setup or the transformer setup, you can sleep on top of the platform, but the more comfortable approach for long-term travel is the backshelf approach (thus the appeal of the flexible transformer approach). It is the best of both worlds approach that will better suit most travelers.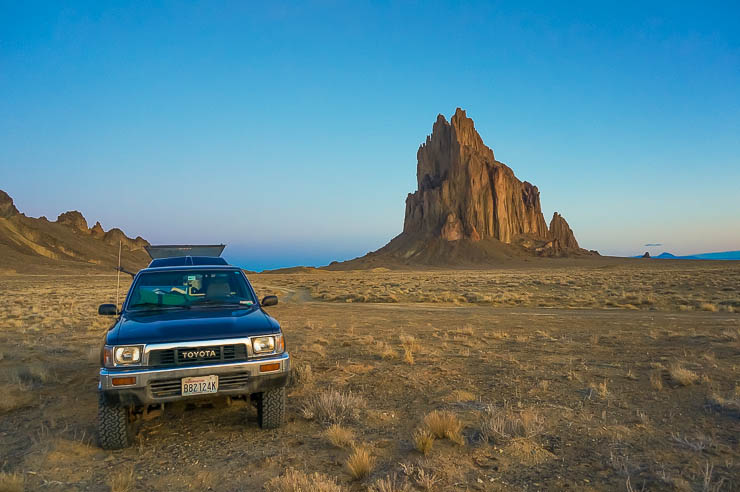 If you're willing to live in a small space with few belongings, going from free campsite to free campsite (with the occasional store parking lot thrown in) then you may be a good candidate for truck canopy living. It makes it easy to spend your days driving from place to place, exploring the world and all it has to offer. Hopefully, you love to drive, at least! 🙂
Living Out of Your Truck
We had just pulled into Ibarra, Ecuador after driving across the border from Colombia with my trusty old truck when I hopped onto a phone call interview with a writer from Popular Mechanics. While I've got a Skype based phone number, I still need a good internet connection, and this hotel wasn't exactly it.
Despite the lousy connection and dropped calls, we were able to work through the informal interview about truck camping, and they turned it into an article for their September 2017 issue, titled "How to Turn Your Truck into an RV".
The article is short and sweet, covering the basics of camping in a vehicle. It was incredible to be featured in this iconic publication which has been around for more than 100 years and has a circulation of more than 1 million subscribers!
I mean, I used to read Popular Mechanics when I was a kid, and here I am suddenly featured in its pages.
This wasn't just an article for their online blog either, but an article featured in print! There was no way I was going to find a print copy in South America, but thankfully I got some mailed back home to check out in person.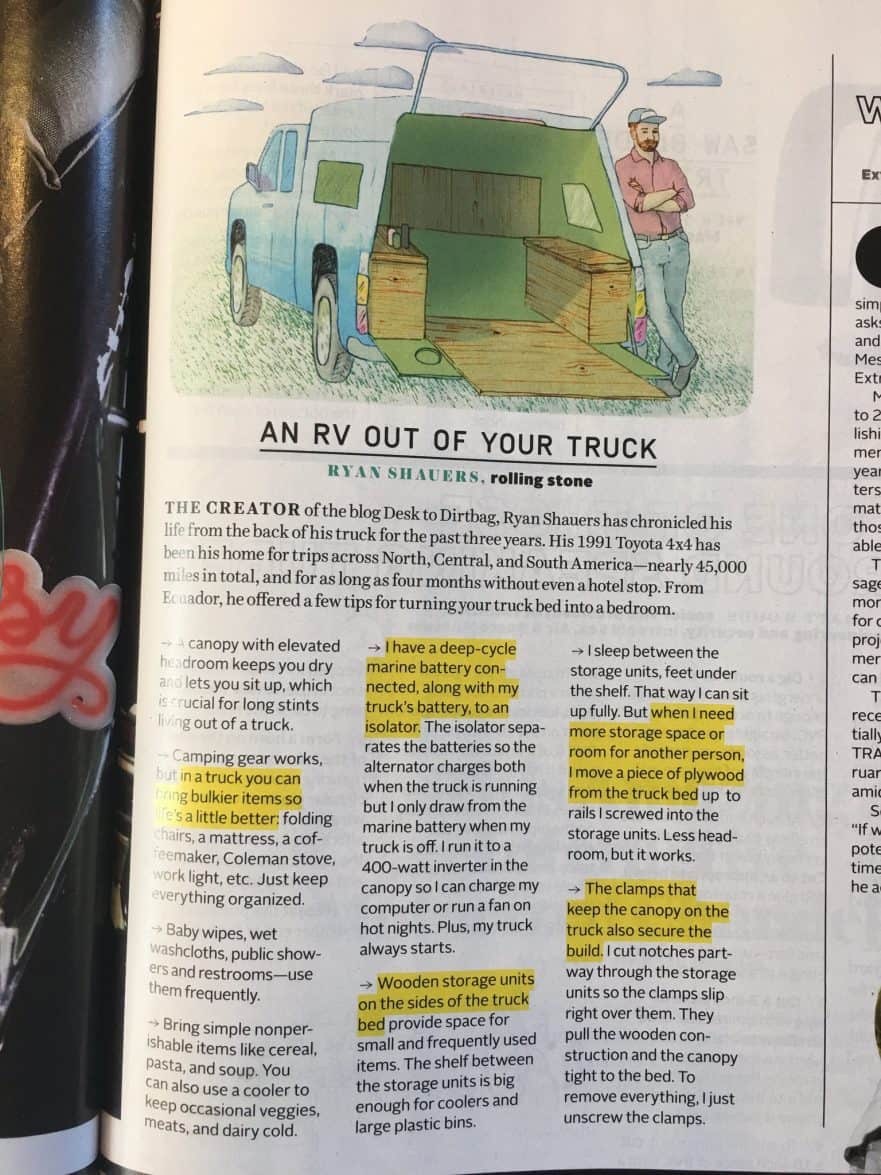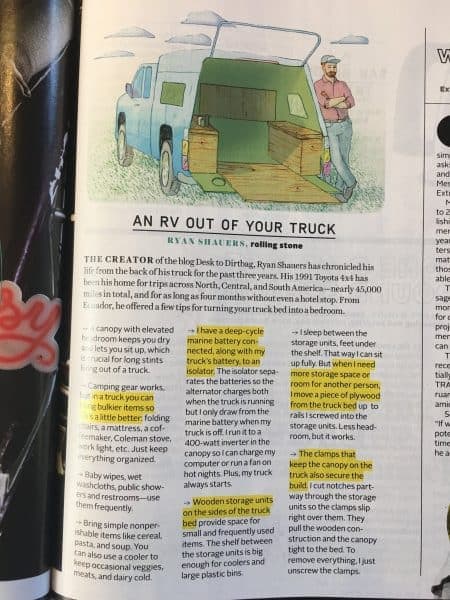 In the article, we talk about setting up the truck bed, including sleep space, hygiene, cooking, dual battery setup, food storage, and building your truck camping setup. Of course, there's a whole world of truck camping gear like choosing a canopy, sleeping bag, water storage, and other ways to make your long term truck camping adventure a little more pleasant if you are living out of your truck.
Check out the short truck camping article in Popular Mechanics
Living in a Pickup
If you are looking for more truck camping tips and tricks, be sure to check out the numerous detailed articles that I've featured on my travel blog over the years about how to live in a truck. I really do love the life of living in a pickup because it means I can travel cheaply while traveling far and wide.
If you liked this article about living in a pickup, then be sure to give the Popular Mechanics article a like, share, tweet, or anything else to help spread the word!
How to Turn Your Truck Into an RV via Popular Mechanics
Read Next: How to Start Truck Camping
Share This
Did you enjoy this post about living in a truck? Please take a moment to share it on Facebook, Pinterest, or Twitter. Thanks!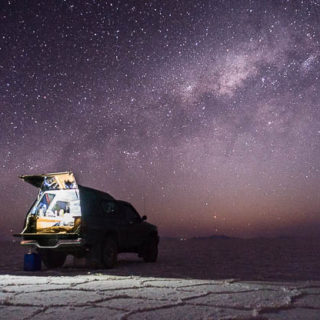 Pickup Truck Camping Guide
Turn your pickup truck into the ultimate adventure mobile. This printable truck camping guide will help you through the process.
Tools
Essential Truck Camping Gear
Road Trip Essentials
Notes
I hope this helped you get started with truck camping! I know it can be confusing when you are just getting started, which is why I started writing so extensively about it.

If you have any questions about truck camping, road trips, budget travel, or anything else shoot me an email at ryan@desktodirtbag.com.

(I love getting questions! That is how I get ideas for my blog posts and what to write about!)
Recommended Products
As an Amazon Associate and member of other affiliate programs, I earn from qualifying purchases.
The following two tabs change content below.