This article may contain
affiliate links
. If you make a purchase through these links, I will earn a commission at no extra cost to you. Thanks!
Wish you could make or receive calls from one phone number, from anywhere in the world, and with the other person being none the wiser? Thanks to Google Voice and Skype you can easily do just that. Here's how to make the cheapest international phone plan for travelers that you can imagine.
With this approach you can:
Make calls from anywhere in the world over your original phone number
Receive calls from anywhere in the world over your original phone number
Make unlimited calls to landlines and cellphones in the USA, Canada, and other countries (from anywhere)
Make unlimited calls to landlines in dozens of other countries around the world.
Technology is pretty crazy, isn't it?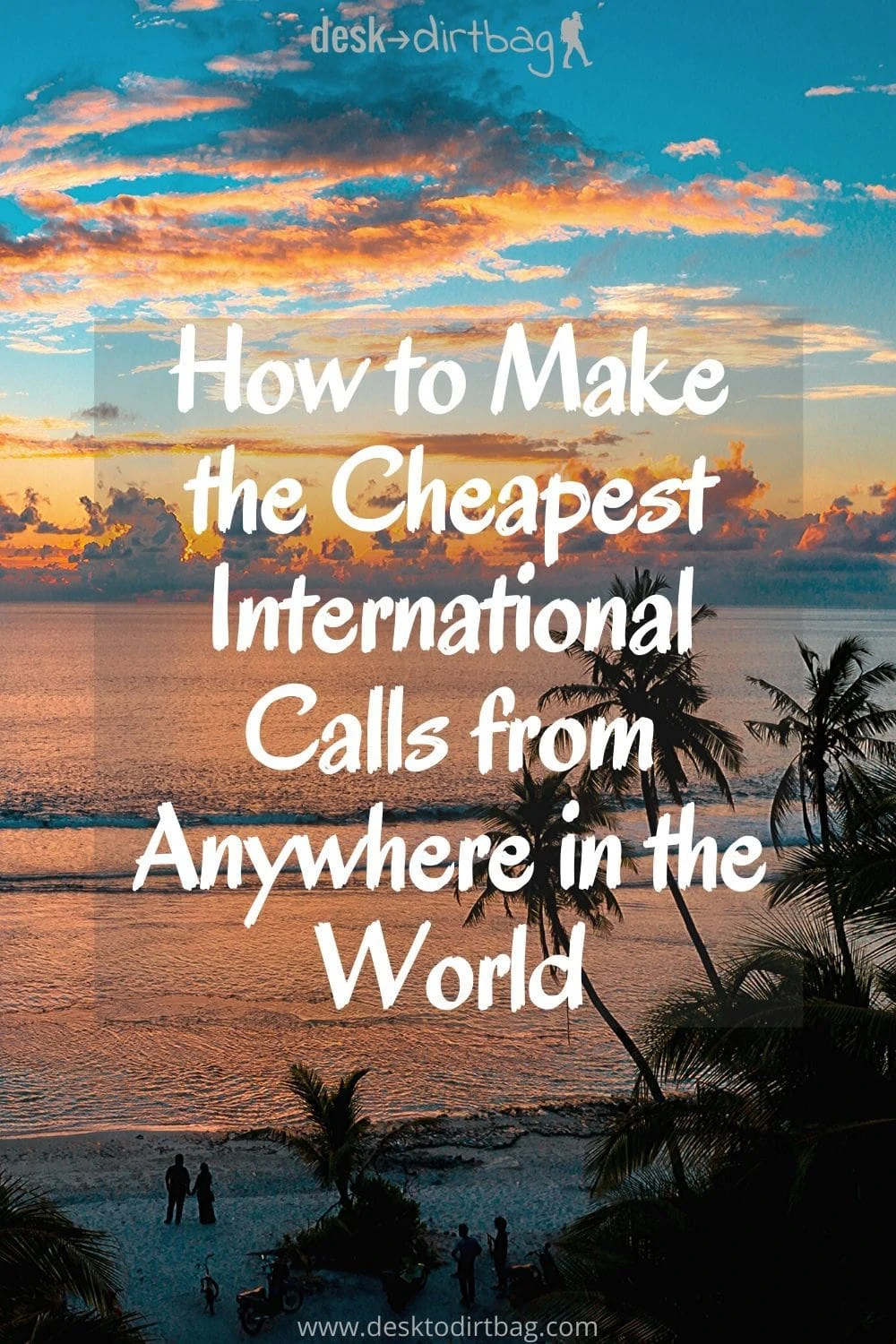 Digital Nomad Tricks for a Cheap International Phone Plan
In Tim Ferriss' iconic book the Four Hour Workweek there is a chapter titled How to Escape the Office.
For those not yet willing or able to leave the security of their jobs, he advocates (when possible) slowly removing yourself from your physical job via remote work. It could be as simple as one-day of remote work or telecommuting which you then parlay into full-time.
After you go full time, your boss may think you are working across town from the comfort of your home, but the truth is you could be anywhere. After a trial period, you could even be anywhere in the world, and he wouldn't know any better…
Unless of course your boss is trying to call you and he can never get through… That's a big red flag.
One story in the book tells of an HP employee who parlayed his remote work assignment into working full-time overseas in China and had his calls forwarded to his girlfriend's cellphone in China (I'm not sure why he wouldn't get a phone).
His boss had no idea he was on the other side of the world!
No details are given in the book about how to actually have your domestic phone calls forwarded to an overseas location…
But I was able to pull off this very Jason Bourne-esque maneuver myself and very cheaply, I might add. Here's exactly how I have created the cheapest international phone plan that works around the world…
Why Make a Digital Nomad Phone?
Being able to receive calls while traveling overseas from a local domestic phone number is important, not just for disappearing from your job as mentioned. But also just for being more easily reachable by friends and family or other important personal calls.
Of course, you can easily grab a new local phone number through Google Voice or another service and receive calls, but far more convenient would be to SWITCH your existing phone number to a digital nomad-style phone…
No need to try and pass along your new phone number to all your contacts, and no interruption in service.
That way your friends, family, or boss can keep calling the same ol' number and you'll be able to answer them whether you are in Ouray, Colorado, or Medellin, Colombia.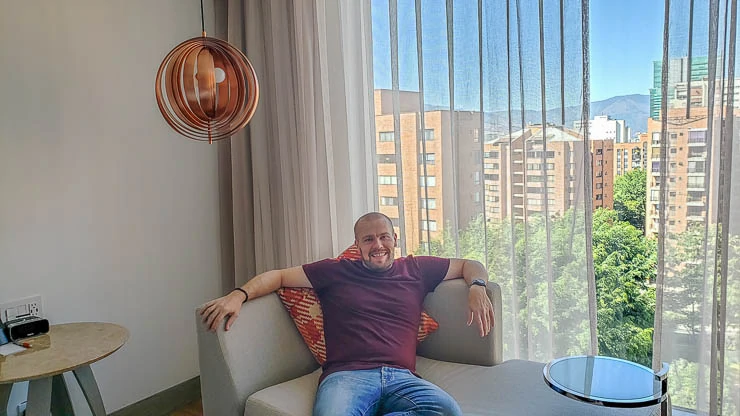 Not only that, but you can also call them on that same phone number (as shown on their caller ID) from anywhere in the world.
You'll also avoid that confusing conversation of why you're calling from a strange new phone number, but in order to call you back, they have to call your Google Voice number… No, just one number for inbound or outbound calls.
Just a smooth transition where no one will be the wiser as to what's really happening behind the scenes. This is also super important for being able to receive those text message security codes from banks or other websites. I can get those from wherever I am! Without that, I would have problems doing banking, business, and financial stuff online. Just be sure to supplement with a travel VPN for protection.
How cool is that?
Take Away: Use the same number you always had to make/receive calls globally.
Just for Digital Nomads?
This approach is obviously ideally suited for digital nomads… More like, why haven't you already done this?
But it's certainly not just for them. You may want to consider doing it even if you have no immediate plans for overseas travel.
Here's why:
Cell phone plans in the United States can be very expensive.
You can save significant amounts of money by making the transition to either a data-only plan, relying solely on WiFi (unless you're traveling, you're probably on fast WiFi for 80-90% of the day), or utilizing the cheapest prepaid, pay-as-you-go plans available.
Since your existing phone number is no longer attached to any particular provider, you are free to move around and take advantage of the best deals as you see fit (there is lots of competition, think: Mint Mobile, Virgin Mobile, AT&T GoPhones, Straight Talk Wireless, Boost Mobile, etc).
Whenever I'm back in the US, I buy a cheap plan with Mint Mobile (mostly for data) but can still, as always, use my same phone number and minutes for making or receiving calls from anywhere. It's only like $15 per month, which is awesome.
Take Away: You can save hundreds of dollars a year by going this route and using a cheap pre-paid service domestically.
How Does This International Phone Plan Work?
So the gist of the process is transferring your existing cell phone number (or even port your home phone number) to Google Voice ($20 one-time fee). Then utilizing a Skype calling plan like their Unlimited World Plan ($14 per month) and picking up a Skype Online Number (normally $60 per year, but 50% off if you have a calling plan).
You then set your Google Voice number to forward to your Skype Online Number which will call you via Skype whenever you are online (on both your laptop and smartphone). Voicemails and text messages will be handled via Google Voice and Google Hangouts, which also includes a decent text transcription of voice messages that arrive via the app or email.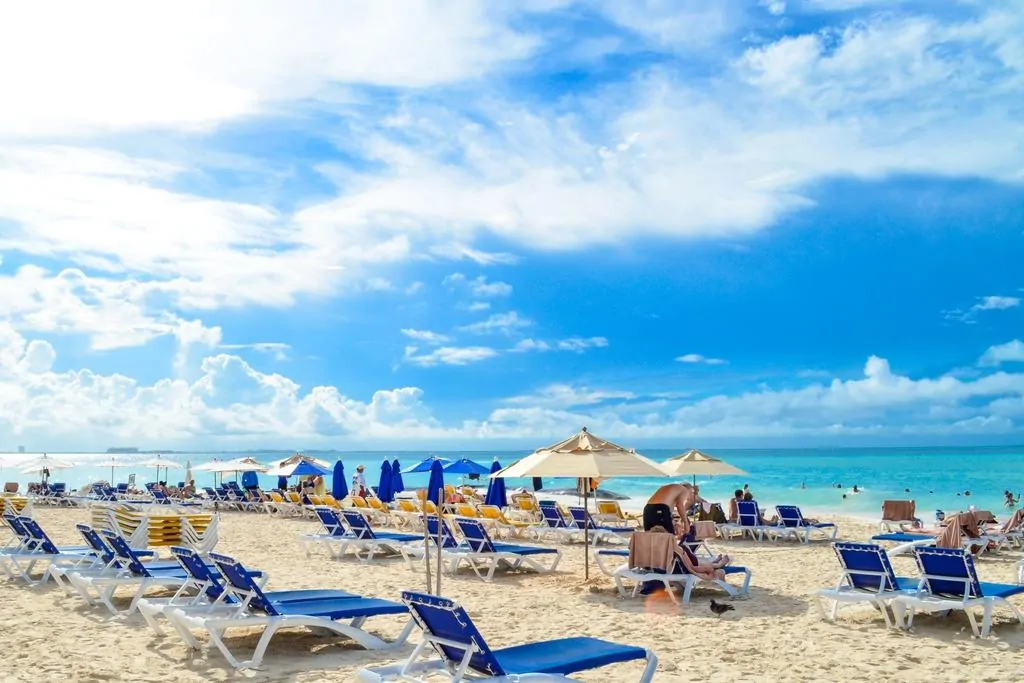 You can also send SMS messages via Google Hangouts.
If/when you return home, you can get a cheap prepaid plan, and you can easily change your Google Voice to forward to your new phone number if you like.
So for a small fee of $16.50 per month (I'm not including the one-time Google Voice fee) you can make and receive unlimited calls via WiFi.
Why Not Use Google Voice Exclusively?
You could use Google Voice and the integrated web app in Gmail to make and receive phone calls… Indeed calls to Canada and the USA are 100% free!
But I prefer using it in combination with Skype for a few reasons:
I've found call quality to be much better over Skype than Google Voice. That may have changed, but all reports seem to indicate that Skype is optimized for calling over the web, while Google Voice is optimized for use over cell phone networks.
Skype's International Unlimited World Plan includes unlimited calls to cellphones and landlines in 8 countries (USA, Canada, China, Guam, Hong Kong, Thailand, Singapore, and Puerto Rico) and unlimited calls to landlines in 60+ countries (check out the full list here).
With Skype's smartphone app and a few settings tweaks, I can always be available for incoming calls on my cell when I'm on Wifi or have a data plan and don't need to have the laptop on.
WiFi is ubiquitous throughout most of the world, and you could pretty easily just rely on making or receiving calls while connected… If you aren't online, calls will go to your voicemail and you can just return them at a more convenient time.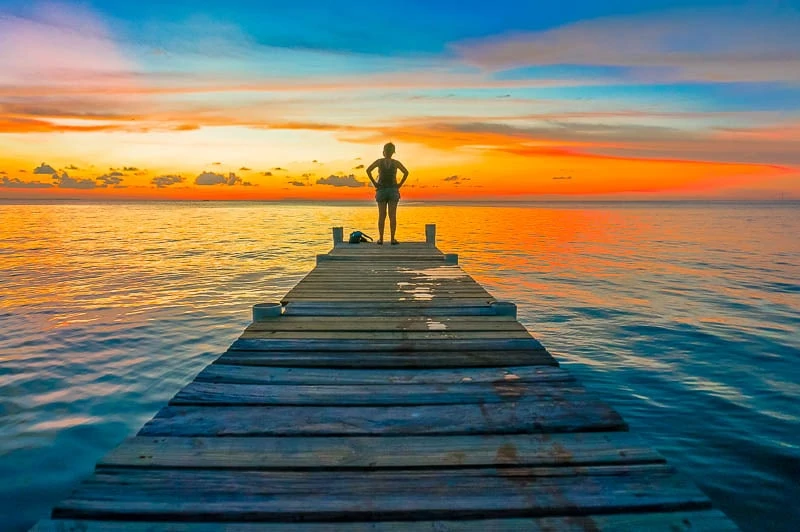 But you could also just grab a cheap prepaid data plan wherever you are traveling for 3G or 4G data and continue to use the Skype app to make and receive calls while you are not on WiFi.
An important feature is that you can call out with Skype and have it display your Google Voice number, that way you maintain the same contact number in the phones of friends and family no matter where you call them from (and they don't get confused when you have a new "throwaway" number).
Skype Unlimited World Plan
I love the fact that you have unlimited calls to landlines in 60+ countries… It isn't quite everywhere, but it's still a huge chunk of the world, and it definitely makes for the best cheap international phone plan out there.
While we drove through Central America, I often used my Unlimited World Plan to call ahead to local hotels or reach out to other businesses as we were traveling through. That meant I didn't even need to buy a SIM card in many countries thanks to my existing Skype plan, I could use wifi.
Quality of International Phone Calls
Voice only calls via Skype are not very data-intensive and since only one of you is connected to the Internet (unlike a Skype-to-Skype call) I find that the speed and quality of the conversations are excellent on most connections.
With a decent wifi connection, the call quality is often so good that you cannot find a noticeable lag in conversation and it doesn't at all seem like you're calling the other side of the world.
Making or receiving calls over a 4G data plan might not be quite as good, but it's totally usable. I've had it break up and feature some lags at times, but again very usable. You can always chalk it up to a bad connection, and not the fact that you're sitting on the beach in Cancun, Mexico.
My Reasons for an International Phone Plan
So I've had my same old Verizon phone number since the beginning, ever since high school! From friends and family to banks and former employers, that's been the number I've always used and where I could always be reached.
Until I started traveling…
I would normally suspend my service for up to six months per year with Verizon. Up until recently, I had never traveled out of the USA for more time than that, so it was always perfect. Just suspend your service, don't pay anything, and then come back and everything is normal.
But then more recently as I began to stay abroad for longer periods of time, I ran into the limit. After reaching the six month maximum for suspension, you can report your phone as lost or stolen to suspend your service (I was told to do this by a Verizon employee), but you must remember to do that every single month or they will bill you.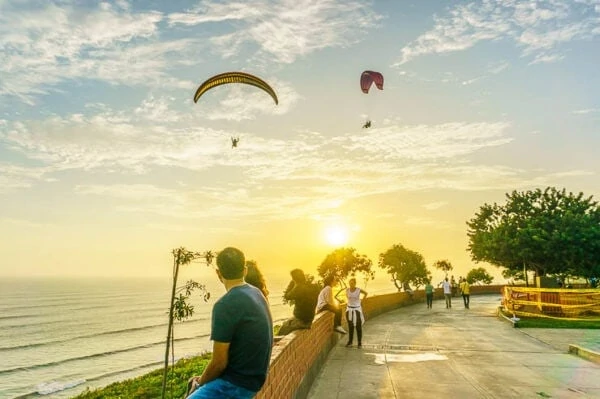 Sometimes I would miss the date and then they would charge me or something would happen and they'd reinstate service. It's a hassle, but I didn't want to pay an arm-and-a-leg for something I was not using whatsoever, but I also didn't want to lose the phone number I'd had for 15+ years.
Then one day after receiving a bill for two months in advance which was more than $150 (again, for something I'm not using at all), I had reached my limit and called Verizon to cancel the service outright.
The guy talked me down by downgrading my plan to a really old pre-smartphone phone that was on my account, which then allowed him to downgrade the plan to one without data and the minimum minutes. It was still $25 per month, but much better to receive a surprise charge at that rate, than for one that's $75 per month.
I had to hold out a few more months until I had a short vacation back to the USA…
Get Setup with Skype
I think Skype is an integral part of this process and is worth the extra expense. But there are plenty of people who rely solely on the Google Voice service for free calls to the USA and Canada.
I recommend getting set up with the Unlimited International Plan for $14 per month or another suitable regional calling plan. To do so, login to your Skype.com account and click on Add Subscription.
Once you've got a plan, you can also purchase a Skype Online Number at a 50% discount ($30 per year instead of $60). The number you choose for a Skype Online Number doesn't really matter since you won't be giving this number out to anyone. To purchase a Skype Online Number, you can do so within your account under Manage Features.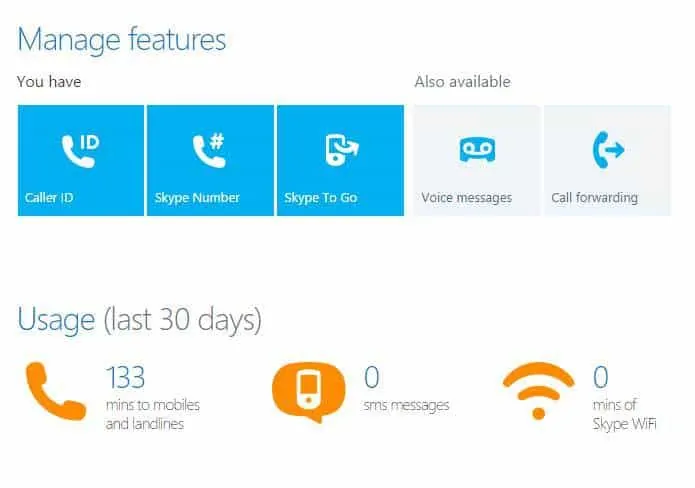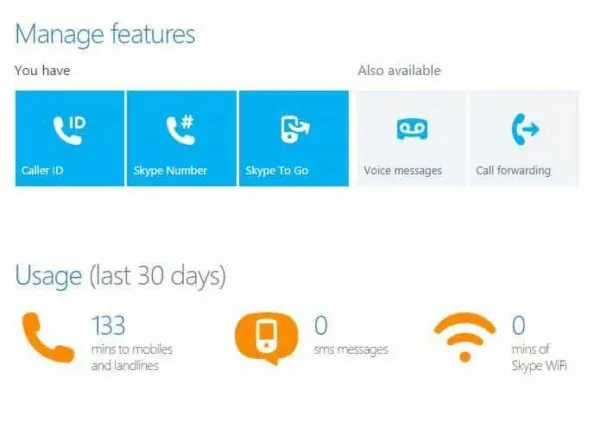 The next important step is to make your existing phone number (the cell phone number we'll be porting to Google Voice) as the phone number that displays when calling from Skype.
That way you will maintain consistency in the saved contacts and caller IDs of everyone you know, and they won't be receiving calls from a strange new number and asking if that's where they should call you or worse, receive calls from you at an UNKNOWN number and not answer because they think it's a telemarketer.
To do so, login to your account on Skype.com and under Manage Features, select Caller ID. You will need to verify that you own the existing phone number with a code that they send via text message.
Warning: I still had my traditional cell phone service when I completed this step, though there are reports of people verifying their Google Voice numbers successfully (since SMS messages arrive by email or hangouts).
Escape from Verizon Land
One of the first things I did upon returning to the US was to try to transfer my Verizon number over to Google Voice.
I say try because you need to have an active phone service to confirm your number with Google and authorize the transfer. The problem was I couldn't get my unlocked smartphone (Samsung Galaxy A3) at the time to play nice with Verizon (CDMA and GSM, I guess?).
I was really frustrated, thinking I'd need to buy a cheap phone just to have active service with Verizon to transfer over my old phone.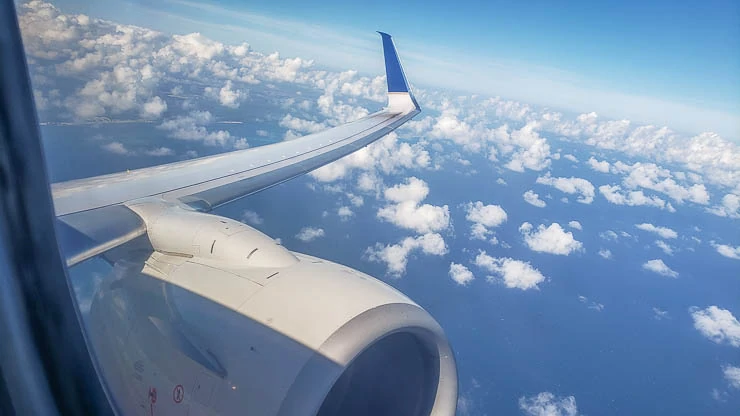 Thankfully it occurred to me that we still had some of those old clam-shell flip phones around just in case. Amazingly, the old LG phone which hasn't been used in YEARS still had a charge! Remember when you only needed to charge your phone like once per week?
I was able to use Verizon's *228 on the phone to activate the line by then putting in my phone number and last four of my Social Security Number.
Boom, I had cell phone service again.
Transfer Your Number to Google Voice
I immediately went to voice.google.com and started to initiate the number port/transfer (located under settings). First, you need to punch in your phone number in order to confirm that it can be transferred over. In order to actually proceed with the port, you will need to have the account number of your existing cell phone provider, your name, address, last four of SSN, etc.
After filling out the short application you will then need to pay a one-time fee to Google via Google Payments.
It states that the porting process can take up to 24 hours to take effect and up to 3 days for SMS.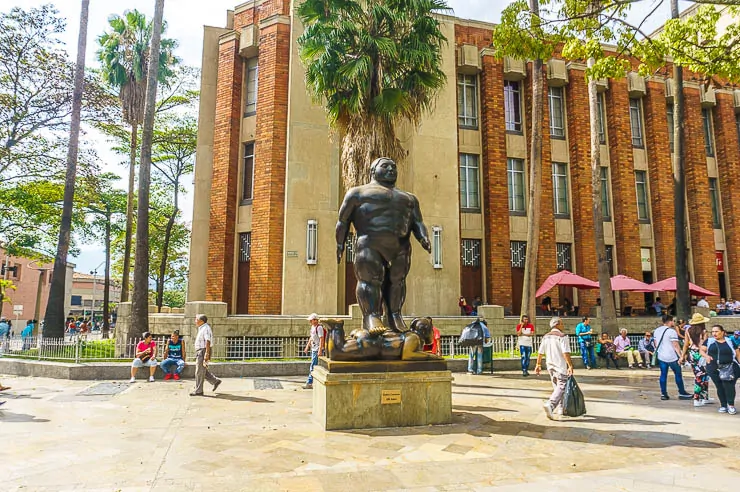 That was it, now just time to wait.
The next day, about 22 hours later, I received confirmation that the porting had been completed successfully.
Since I already had an existing (free) Google Voice number, my newly ported cell phone number would be replacing it. Google would keep the existing number on hand for 90 days and it would then be deleted permanently, or you could pay another $20 fee to keep it forever.
I didn't care about the old Google Voice number so I just deleted it right away.
Once the line is activated just have your new Google Voice number (your old cell phone number) forward to your new Skype Online Number (which displays your Google Voice number as the caller ID).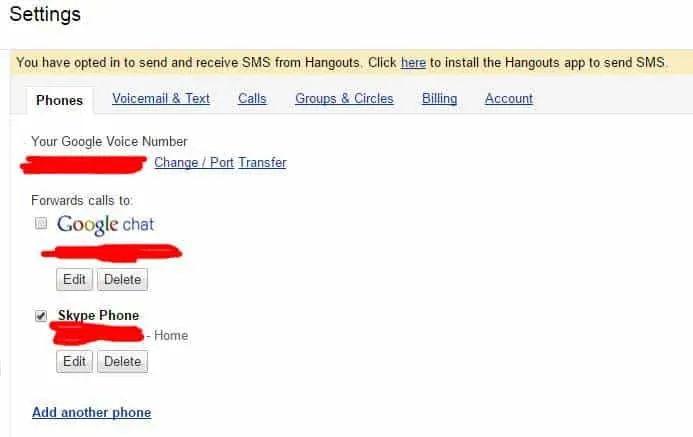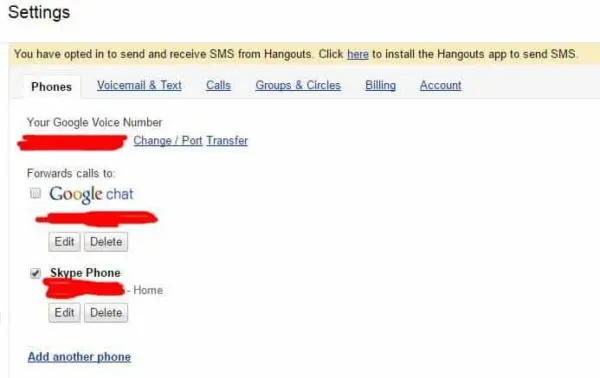 Once the porting is complete, my Verizon service was automatically canceled, which I confirmed by talking to Verizon (I could no longer log in to My Verizon since my login was my old phone number which no longer existed). But of course, they'd be sending me one last bill…
Some people may not want to cancel their cell phone service, but simply get a new phone number with their existing provider for the time being. There are other reports online about successfully doing it, you'll just need to request a new phone number from your cell phone provider before the porting is completed.
Getting Google Voice and Skype to Play Together
There isn't much that you need to do, they'll work great together as is with the exception of perhaps your voicemail. I would simply recommend turning off the voicemail feature for Skype and using Google Voice.
Google Voice allows much more control and flexibility including custom voicemail greetings for different contacts, voicemail transcription which appears in Hangouts or via email, and much more.
Make Skype Always Available
You should make sure the Skype desktop application starts up and logs in whenever you boot your laptop, but more often than not, we are online with our smartphones. If you don't change a few settings, you will not be set up to receive incoming calls at any time… Namely, you need to change two settings in the smartphone app:
1) Ensure that under Privacy, the option to save your password and sign in without re-entering your password is active.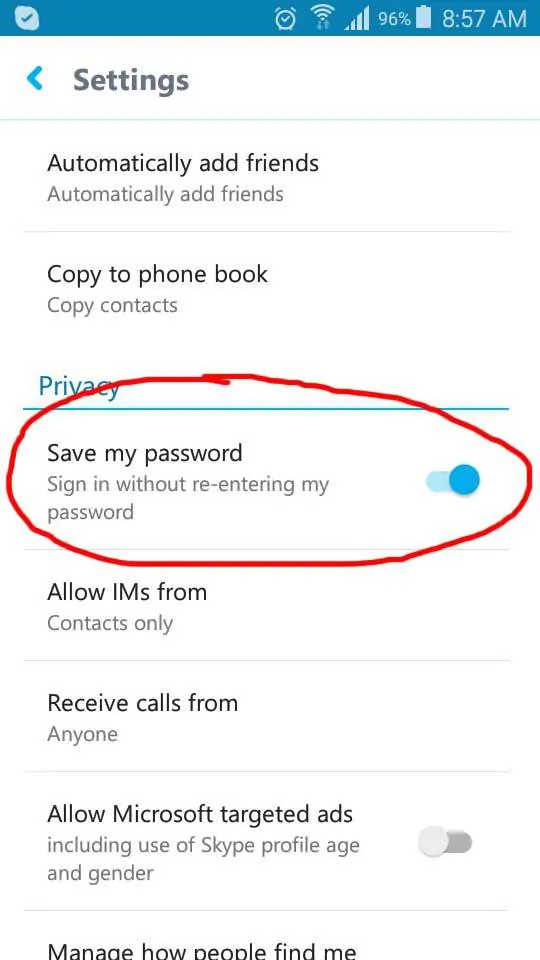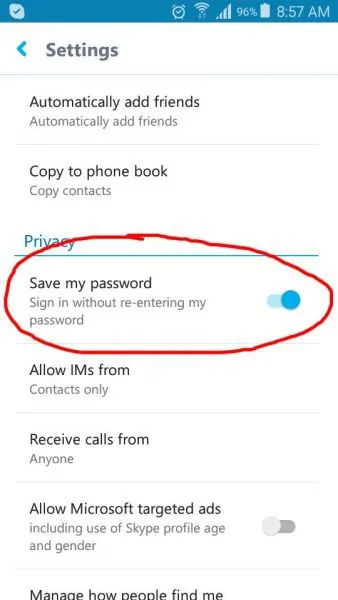 2) Under Notification Settings, ensure that Skype Status is set to show as an ongoing notification.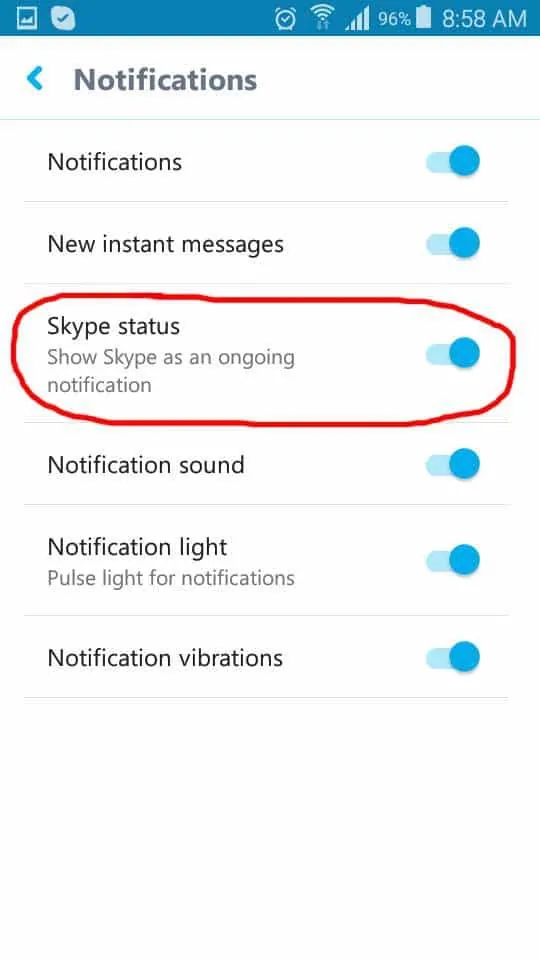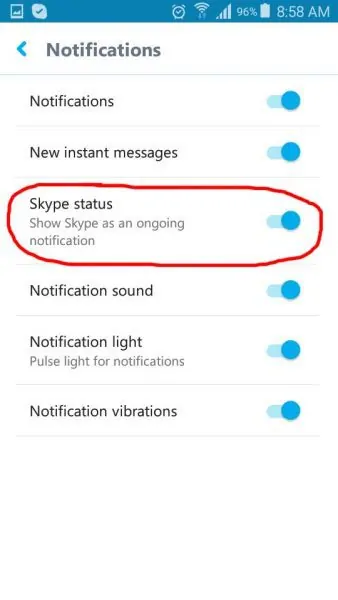 Without ensuring those options are active, you will not be able to receive calls on your cellphone and have the chance to answer them, they will just go to your voicemail unless you have opened the app.
This ensures that even upon rebooting your cellphone that you will remain available for incoming calls.
Making and Placing Phone Calls
So there are two distinct differences in how and when you'll be placing calls, those while traveling abroad and those while at home and using a cell phone plan (perhaps as a throwaway prepaid SIM).
While at Home with Prepaid Cell Plan
So I bought a cheap Mint Mobile phone plan ($15/month) to use while I was at home for a few weeks. That means that I got yet another new phone number. I obviously don't want friends or family to think that it is my new phone number and try to call me back, nor just ignore me because it is an unknown number.
Of course, that could work while I am at home, no problem, but once I left the USA that number would be discarded. Before I started this, I'd have to give my friends a new number every time. A buddy recently showed me his contact for me and had like half a dozen old phone numbers — that is what we want to avoid!
Therefore, it is much better to place outbound calls using my Google Voice number.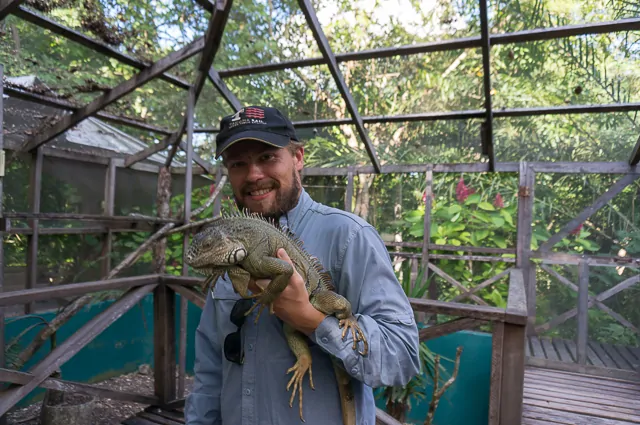 This is slightly more complicated than normal, but you have a few options:
Just use the Skype app as your dialer using either WiFi or a data plan. This uses your data and NOT your cell phone plan minutes, which may be what you prefer.
Dial your own Google Voice number from your disposable SIM phone number, enter your PIN, and hit option 2 to allow you to dial outbound calls with your Google Voice number. This uses your prepaid SIM minutes.
Use Skype-to-Go, an included service with the Unlimited International Plan, to dial a specific phone number which allows you to call out anywhere in the world (within the plan). You can save frequently contacted people with their own local phone number (even if they are international) to be automatically connected. This uses your prepaid SIM minutes.
Admittedly, it's a little more convoluted if you want to use minutes, rather than data, but most of us spend the vast majority of our day connected to WiFi and can easily use the Skype app or use the data plan.
Within the Google Voice app on your phone, you can set the option to make Google Voice (aka Skype or Hangouts) your default for every phone call placed in your native dialer or to ask you each time whether you want to use Google Voice or not.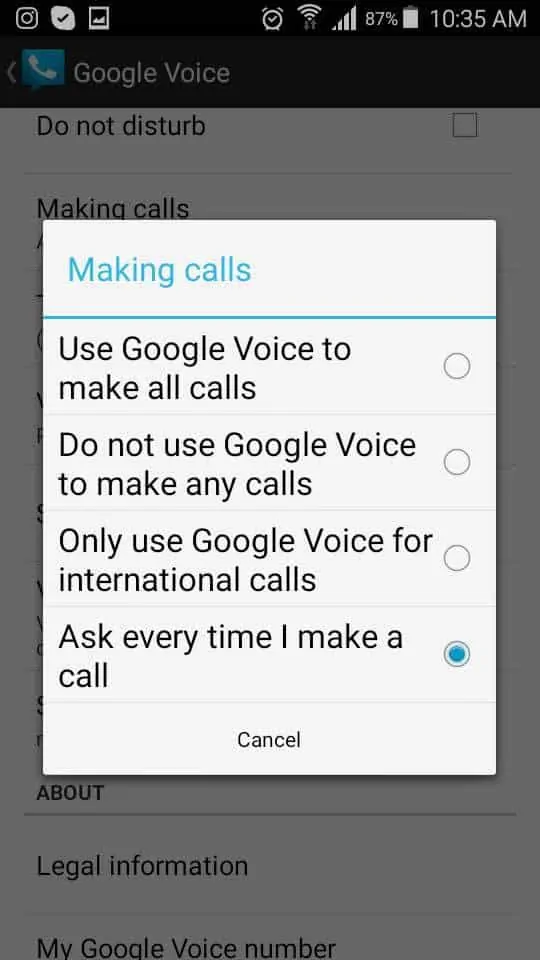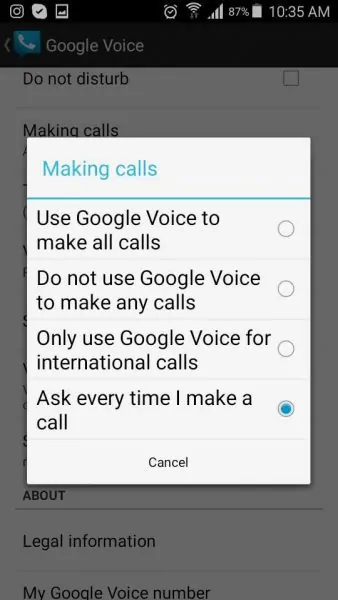 While Traveling Abroad
While you are overseas, you will be making and receiving calls exclusively through the Skype desktop application or the Skype smartphone app. It will ring you wherever you are online and on whatever devices are currently online (it could be both your desktop and smartphone at once).
Follow the instructions above for ensuring you are always online on your phone in order to receive calls. When someone calls, it pops up as a Skype call, just click answer. If you want to call someone I would recommend doing so by opening the Skype app (desktop or cell) and using the contacts or dial pad within the app.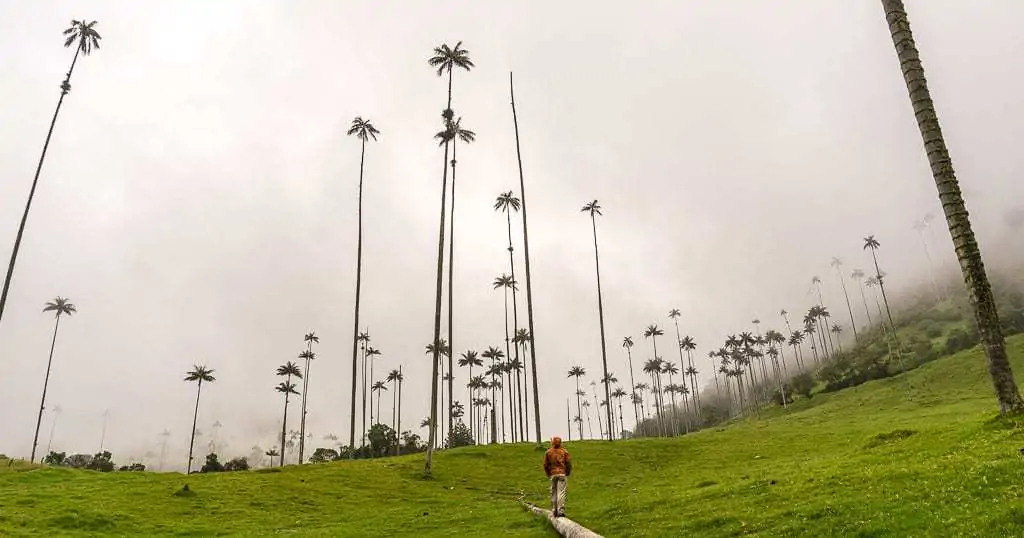 You can then use the native, default phone dialer as a local phone with a local SIM card. As mentioned earlier, within Google Voice you can set the option to ask each time you want to make a call using your built-in contacts though that may not be ideal if you have a local SIM card with local minutes.
Each case and country might be a little different. I use the native phone dialer as my default and just manually open Skype to call contacts overseas. You may prefer to have Skype or Google Voice be your default dialer if you spend more time calling back home.
Always Being in Reach with an International Phone Plan
As mentioned earlier there are various levels of reachability you may want to maintain depending on your circumstances.
Level 0 Reachability: The most basic is to just use Google Voice to make and receive calls back home to the US or Canada. This is basically free but not ideal.
Level 1 Reachability: The next most basic and affordable is using Skype Unlimited World and a Skype Online Number solely through WiFi, which will run you about $16.50 per month.
Level 2 Reachability: The next level would be to get a data plan on a local SIM card in order to make or receive calls through your data plan when you are out and about and not connected to WiFi. Those plans will vary by location, obviously, but here in Colombia, I pay about $20 per month for 1.5 gigs of data (and loads of minutes and messages that I can never use). In the US, I pay $15 per month with Mint Mobile.
I use Level 2 for the most part and think this is the ideal approach, but for those who really need to be reachable, there is another level…
Ultimate Reachability
Level 3 Reachability: The ultimate reachability would be to have your Skype Online Number (aka your Google Voice number) automatically forward to your overseas local phone number when you are not online (or when you have neither WiFi nor a data connection but still get bars for phone calls).
If you are not in one of the 8 countries which include unlimited cell phones in the Unlimited World plan, then you will need to supplement your Skype account with additional credits or a regionally specific plan in order to receive incoming forwarded calls (possibly using local minutes, not data, and using your Skype credits) to your local phone number.
Basically, your friend is calling a local US number (your Google Voice, aka old cell phone number) which then forwards to Skype, if you aren't online whatsoever, it will forward the call to your overseas phone number using YOUR Skype credits.
Plans vary, but 400 minutes per month to landlines AND cell phones in Colombia through Skype would cost $3.99 per month, and unlimited credits for both costs $6.99. You could supplement your Unlimited World Plan with one of these as well.
All of this means that you can receive calls even if you don't have wifi or data (3G or 4G), but still have phone service. You could be out in the countryside, but obviously not totally off the grid camping.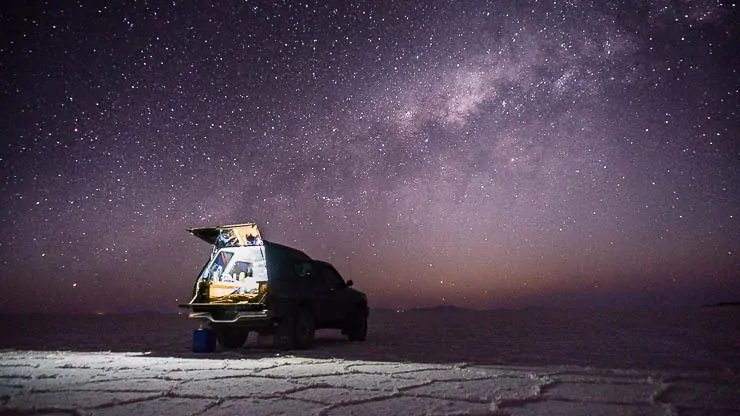 What I Do
Personally, I don't find that Level 3 Reachability is necessary for me, but someone with more pressing work or family situations might appreciate it. I go for Level 2 Reachability here in Colombia when I'm settled down for a little while, and Level 1 Reachability when I am traveling and on the move.
With Level 2, I'm connected to the internet most of the time and can easily make or receive calls 90% of the time, while the other 10% of the time is probably when I'm not likely to answer the phone anyway, like if I'm walking down the street or somewhere I don't feel comfortable answering due to potential robbery.
With Level 1, I connect online once a day or every few days and can easily see all of my missed calls (which also arrive as emails in your inbox) and voice mails, and then return the calls while online either via my laptop or cell with Skype.
Get an Unlocked Phone
I also can't emphasize enough how important it is that you have an unlocked phone. Most carriers in the US have blocked their phones to only work within their network.
Even if they are international capable phones, like my old Verizon Samsung Galaxy S3… It would technically work overseas with a new SIM card, at least for phone calls and SMS messages, but would not allow data.
I knew that it wouldn't, but I still spent a few hours with a technician in a cell phone shop in Mexico who swore he could make it work without rooting my phone.
It kind of sometimes worked, but not really. Verizon does a good job of keeping you chained down.
You can often find someone to root your phone, therefore unlocking it, but you usually must leave your phone behind for a few days or even up to a week. Not ideal.
I ended up buying an unlocked phone in Mexico after my Galaxy S3 finally bit the dust. It cost me around $300 for a Samsung Galaxy A3, a pretty decent phone which has served me in a number of countries throughout Latin America and the US.
While I was back in the US though I picked up a new phone for Andrea, which was considerably cheaper on Amazon.com than local prices in Colombia and appears to be an excellent choice for travelers…
The Samsung Galaxy J7 is a great phone, albeit a bit large, which comes unlocked on Amazon.com and even features a dual SIM card slot (so you don't have to lose your original card while traveling). Best part? It's only $200 online and arrived super fast thanks to Amazon Prime.
I've since upgraded to the Samsung Galaxy S9.
Conclusion on Digital Nomad Phone
Making a cheap international phone plan like this, which allows you to call out and be called on the same number from anywhere in the world, and for just $16.50 per month, is pretty amazing.
Technology is outstanding really and even if you're traveling to get away from it all, it doesn't mean you still can't be in reach, at least sometimes.
I really, really recommend that any traveler consider the Skype and Google Voice combo to maintain contact while on the road. It's affordable and works amazingly well.
Read Next: Budget Travel Tips
Share This
Did you enjoy this post about the best digital nomad phone plan? Take a second to share it on Pinterest, Facebook, or Twitter. Thanks!
The following two tabs change content below.