This article may contain
affiliate links
. If you make a purchase through these links, I will earn a commission at no extra cost to you. Thanks!
When most people think of Mexico, they think of white sand beaches, beautiful blue water, amazing nightlife, and good food. Cancun is all of those things, of course, and is far and away the most popular destination in all of Mexico. In this travel guide, we'll be covering not just the best beaches and nightlife, but also the coolest things to do in Cancun that stretch across a wide range of interests.
When we drove across Mexico from the US border to Belize and beyond, Cancun was like our last little "hurrah" in Mexico since we were in the last stretch of a few incredible months. We weren't really sure what to expect in Cancun, to be honest… I mean, it has a big reputation, but I'm also not particularly fond of places that are just overwhelmingly touristic.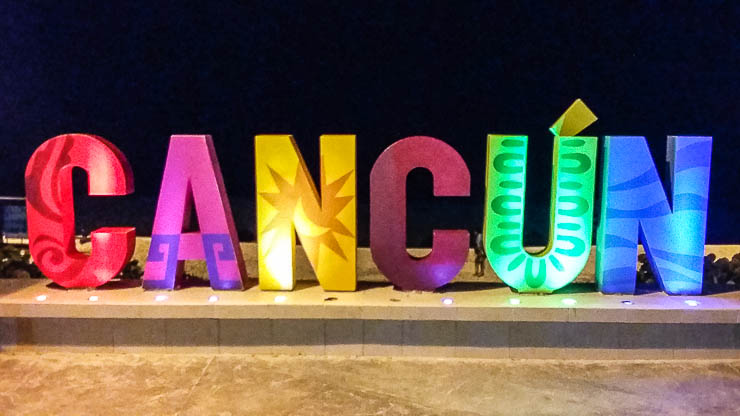 So how did Cancun fair? Well, I can't say that it's my favorite place in Mexico, but I also can't deny how much fun Cancun can be, even if it can be hard to scrape past the heavy tourist trade that blankets almost everything here. But you can definitely get off the tourist trail if you know where to stay in Cancun.
If you aren't looking for a lot of culture and authenticity, and are just looking for a good time (whether that means parties, sun, or even family fun) then you'll probably find it here. I like to think of Cancun as a little bit like Las Vegas meets the tropical sea…
Anyway, let's get on with the best things to do in Cancun for any budget that covers both the touristic and a few off the beaten path things that will show a slightly more authentic vibe.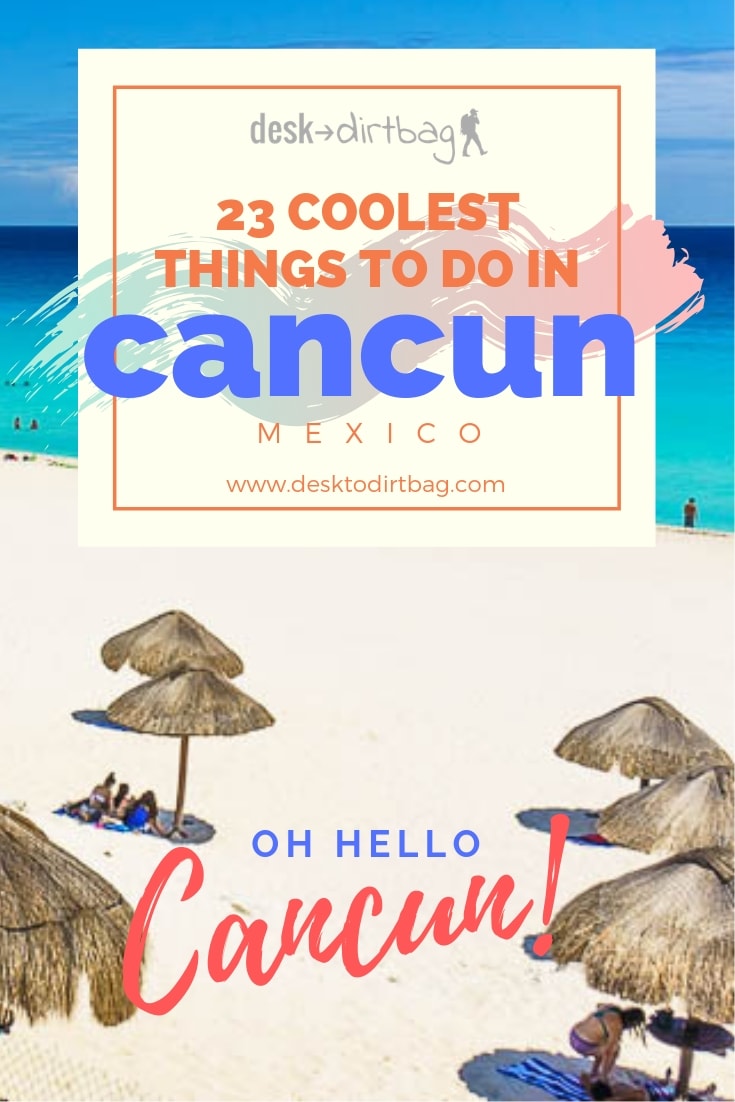 Introduction to Cancun
Cancun is located on the northeastern coast of the Yucatan Peninsula in southern Mexico. It has a tropical climate, and it is famous for its beaches and its nightlife. It has its own international airport, Cancun International Airport, which is one of the busiest airports in Mexico.
First of all, it is important to realize that Cancun is basically two main areas… There is the actual city of Cancun which sits on the mainland north of the airport, and then there is the Hotel Zone (Zona Hotelera) where you will find all the big, beautiful resorts and their beachfront access.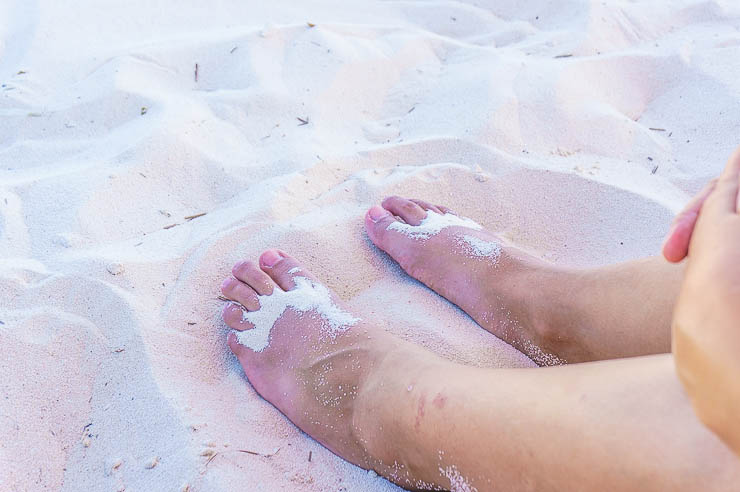 This Hotel Zone sits on a stretch of land that juts out into the Caribbean sea with its white sand beaches and brilliantly blue and breathtaking water, while on the other side (the backside of the Zona Hotelera) sits Laguna Nichupte which is basically a large mangrove area and nature reserve. This part is almost ignored but there are some fun activities to do here (which we'll discuss) as well as some unique flora and fauna in the mangroves.
Is Cancun Safe?
The only news you ever hear about Mexico is bad news. That causes a lot of people to worry about traveling to Mexico or coming to the conclusion that it is a particularly dangerous place for travelers.
Let's clear a few things up:
1) Any danger that exists throughout Mexico largely does not affect tourists. That is very rare. Most of the violence is related to the drug trade and impacts those directly or indirectly involved, even if that just means living on the margins.
2) Most of that danger is in a few isolated regions like the area around the border, or in certain states like Sinaloa, Guerrero, etc. The Yucatan Peninsula is far from the hotbed of violence.
3) Cancun itself has largely been spared from even regional drug trade violence. Most of the drug trade is of the retail variety.
Any dangers in Cancun are mostly related to not overdoing it with the booze, parties, and so forth, although there have been isolated tragedies or bad things that have happened here, just as can happen pretty much anywhere.
Considering the fact that literally millions of tourists arrive in Cancun every single month, there are very, very few incidents of crime against tourists here.
Where to Stay in Cancun
Nine out of 10 tourists are probably going to be staying in the aptly named Hotel Zone… Being right on the beach is obviously the main attraction. Most of these are massive resorts (like Las Vegas) which are often all-inclusive, meaning that you'll even be eating all the time at the hotel, which to me is kind of missing out on part of the fun in travel. But you'll have everything taken care of and won't have much to worry about, for sure.
Just don't be one of those tourists that like never leave their resort, or you're going to miss the most interesting part of traveling in the area. Deal?
If you're traveling on a budget, then visiting Cancun can seem like a very intimidating prospect. But the fact is that Cancun can be done on any budget if you're not set on staying directly on the beach.
We stayed in downtown Cancun at a modest little Airbnb right between Parque de las Palapas and Mercado 28, which was an amazing location. Not only were we surrounded by food, nightlife, small tiendas, and even had access to grocery stores, but we were also just a short walk away from the bus that takes you straight down to the beaches along the Hotel Zone (even though we had a car, it was nicer to just go by bus and not worry about parking).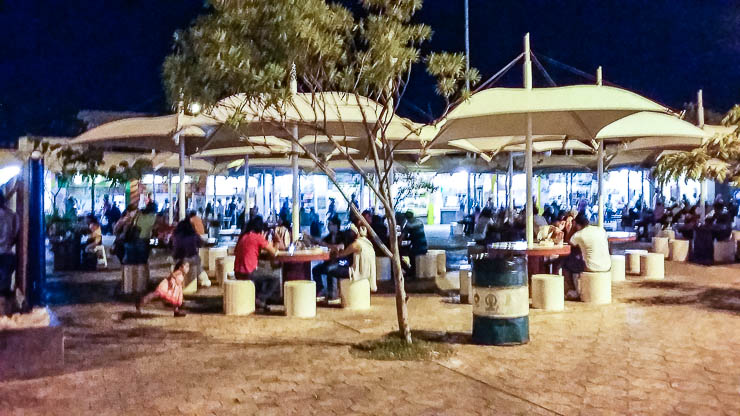 If you want to both save money and also see a more authentic side of Cancun, I'd highly recommend doing what we did, either in one of the many budget hotels or in an Airbnb (new users can get a credit toward their first stay with my coupon).
Read More: Where to Stay in Cancun (Including Best Hotels & Hostels for All Budgets)
Things To Do in Cancun
Alright, now that we've gotten the logistics out of the way, let's move on to some of the fun things to do in Cancun… Let's get the big ones out of the way first!
Explore the Cancun Beaches
One of Cancun's many claims to fame is its white-sanded beaches. In fact, Cancun boasts about 14 miles of beach. And let's face it, the beaches are the reason that everybody comes here, even if there are also some pretty fun or cool things to do in Cancun besides that… But let's get the #1 reason people come out of the way first and talk about some of the best beaches in Cancun!
Playa Delfines (Dolphin Beach), which is located in the Hotel Zone, has the happy advantage of not being covered with hotels, restaurants, or the like. This free public beach does have some infrastructure, including a few palapas for shade, restrooms, and showers, and a playground.
You'll also find there are a number of mobile drink vendors who will offer beers, cocktails, micheladas, and so forth to people hanging out on the beach.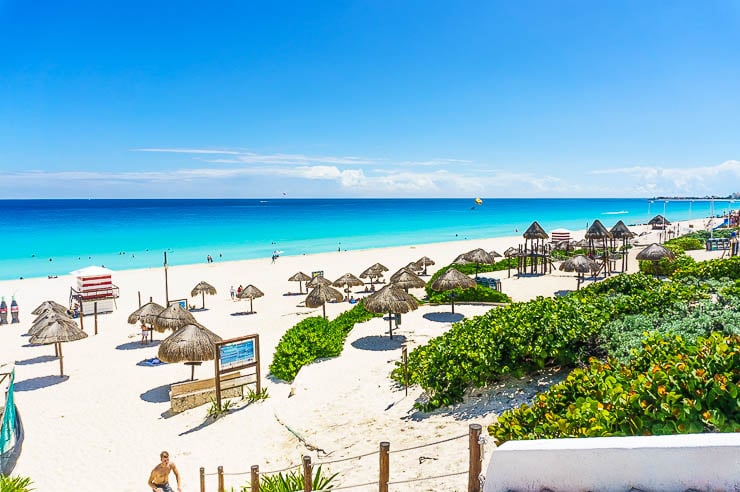 Playa Delfines was my absolute favorite beach in the area and should be at the top of your list. This beach is located on the bottom stretch of the Hotel Zone in the south before the road rounds out and returns to the mainland near the Cancun Airport. When you're at the beach, don't forget to grab a photo with the colorful Cancun sign so you can post it on Facebook and make all your friends jealous, hah.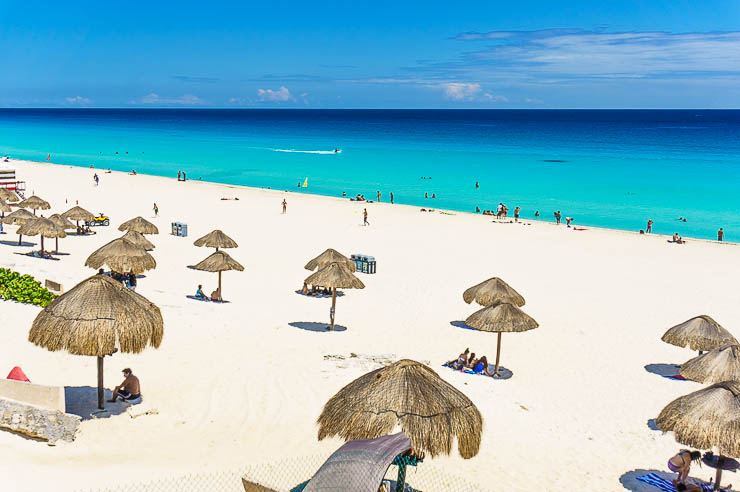 Playa Forum, by contrast, does have a lot of bars and restaurants in the area. In fact, it is known for its lively nightlife. Playa Forum is the beach located adjacent to the Forum by the Sea shopping center along Punta Cancun. This is basically the "heart" of Cancun's Hotel Zone.
Playa Tortuga is a public beach and is thus free. It also has calm waves that make it attractive to families with children. This stretch of beach is located along the stretch that goes between the town of Cancun and the heart of the Hotel Zone, along the northside.
Look for Sea Turtles
The area around Cancun is considered one of the best places for sea turtles. Hawksbill, green, and loggerhead sea turtles are the most commonly seen, with May, June, and July being the peak season. The leatherback turtle, which is the world's largest turtle, also sometimes shows up. Female turtles lay their eggs from May to October, and hatching season runs from July to December.
You shouldn't expect to see much from your beach in the Hotel Zone, so if you want to improve your chances to more of a "sure thing" I'd recommend heading to Akumal where you can almost assuredly swim with the sea turtles, or if you plan to visit the nearby Isla Mujeres, you can make a stop at the sea turtle conservation center where you can see the little guys hatch or be released.
Most Cancun resorts help turtle conservation efforts, and guests may watch or join in.
Visit A Cenote
A cenote is a sinkhole formed by collapsing limestone bedrock, and it is typically a large pool of water. Since the water is rainwater that has filtered through the ground, it is often very clear. Visitors can enjoy scuba diving, snorkeling, or swimming.
These cenotes are an almost otherworldy or mystical place, particularly the impressive underground cenotes where you'll see stalactites, stalagmites, and stunningly clear water.
Visiting a cenote is certainly one of the top things to do when in Cancun, but you'll have to head out a little further on an organized tour or activity. About 30 minutes away, near Puerto Morales, you will find the Ruta de los Cenotes where numerous cenotes can be found alongside the jungle road between Puerto Morelos and Leona Vicario.
You'll find even more impressive cenotes a little further out in either the Riviera Maya further south near Tulum and Playa del Carmen, or in the neighboring state of Yucatan (near Valladolid and the surrounding area).
Visiting at least one cenote is a must-do in Cancun, you can also kill a few birds with one stone, like Chichen Itza and a cenote on an organized tour.
Read More: The Best Cenotes in the Yucatan Peninsula
Go Snorkeling in Cancun
There are lots of great places to snorkel in or near Cancun. Travelers have two options: Book a tour with a company or just go to the nearest beach. Booking a tour is required for day trips like the Puerto Morelos Reef National Park, which boasts the second-largest barrier reef system in the world.
The beaches within the Hotel Zone do have some good snorkeling areas, but what people will see will depend on the water conditions and crowds. The beaches Playa Langosta, Playa Tortugas, and Playa Linda are all easy to reach and have calm and shallow water.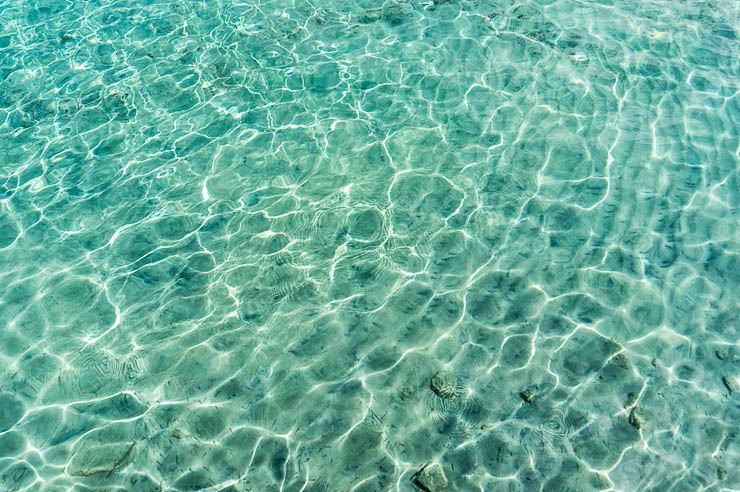 Swim with Whale Sharks
Visiting Cancun gives you one of the best opportunities for the unique and incredible experience of swimming with whale sharks! Don't let the shark name fool you, these massive creatures are harmless — they just eat plankton, not tourists.
You can book a tour to have this unforgettable experience from Cancun or anywhere else in the Riviera Maya. This type of tour isn't cheap, but it is most definitely unforgettable. Besides, it is money better spent than just giving yourself a hangover at one of the clubs in the Hotel Zone.
Go to a Wrestling Match
Mexico is the home of a form of pro wrestling called lucha libre that is known for its acrobatics and aerial maneuvers, while the wrestlers are known for their masks and extravagant personalities.
These entertaining bouts can be one-on-one or pit teams of wrestlers against each other. Lucha libre is popular and inexpensive entertainment, which you can also find right here in Cancun.
Front row seats can cost as little as 250 pesos ($13.00 USD). Lucha Libre TWS Cancun organizes the matches for the region and the actual events take place in downtown Cancun at the arena.
Go on a Jungle Tour
One of the more fun and more adventurous things to do in Cancun might just be the so-called jungle tour where you hop behind the wheel of a small two-person speed boat and follow the guide as you zoom through various parts of Nichupte lagoon.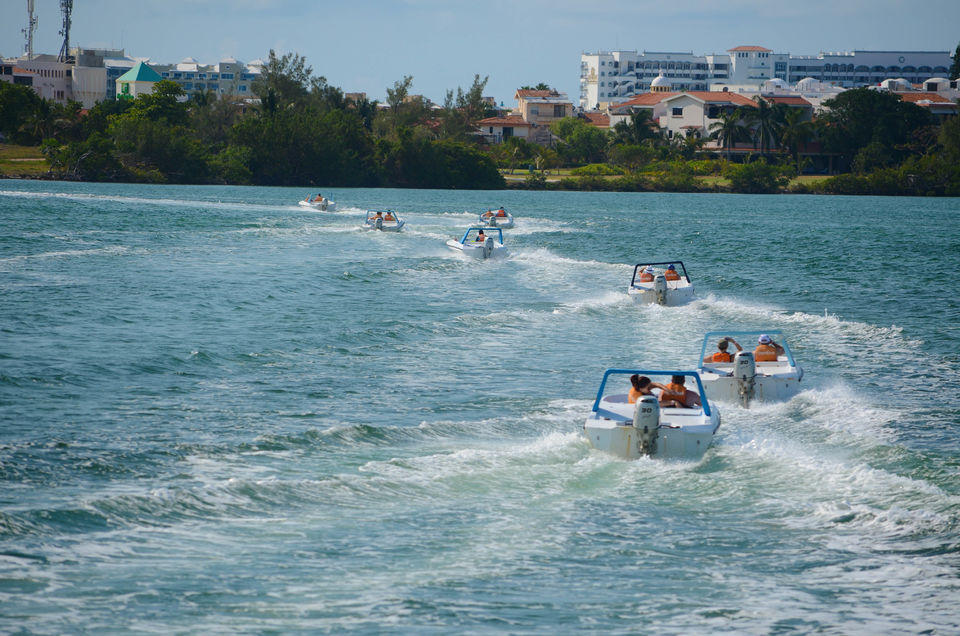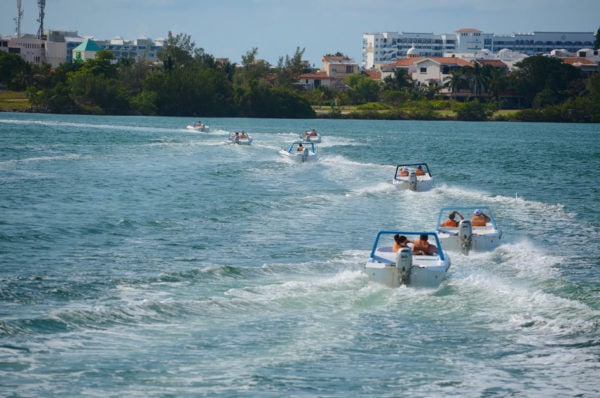 Along the mangrove jungle, you'll be on the lookout for various marine life (also having the opportunity to snorkel) or other wildlife, like iguanas, turtles, etc, and you'll drive through some meandering channels that carve throughout the thick mangrove jungle. The most well-known jungle tour is offered by Aquaworld and they've got bilingual guides to ensure everything goes smoothly.
Head Out to a Theme Park
Alternatively, many choose to visit one of the adventure theme parks located down by Playa del Carmen like Xplor. The Xplor park has an ATV jungle tour, zip-lining, swimming or paddleboarding in cenotes, among other activities.
It is part of the X series of parks like the popular Xcaret or Xel-Ha. Each offers up a different sort of experience depending on what you're looking for…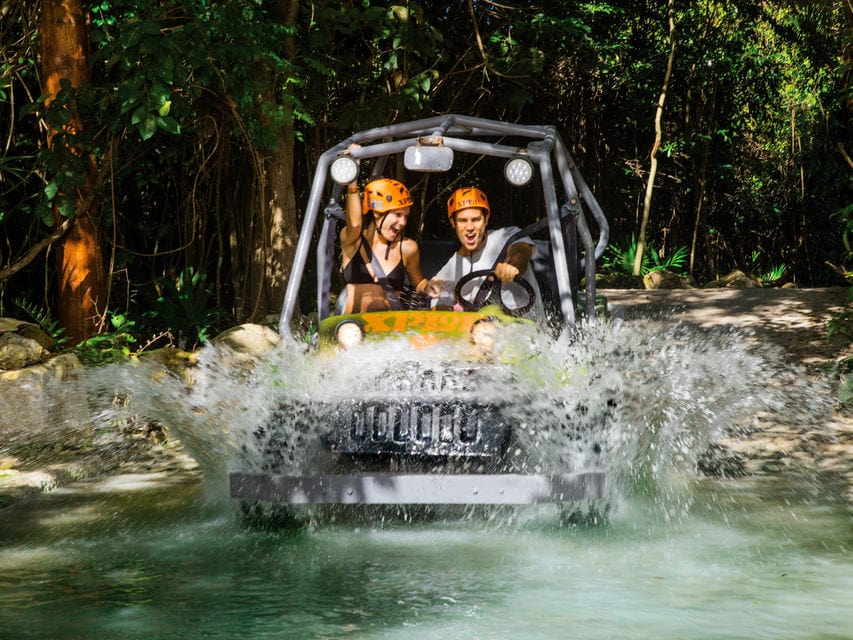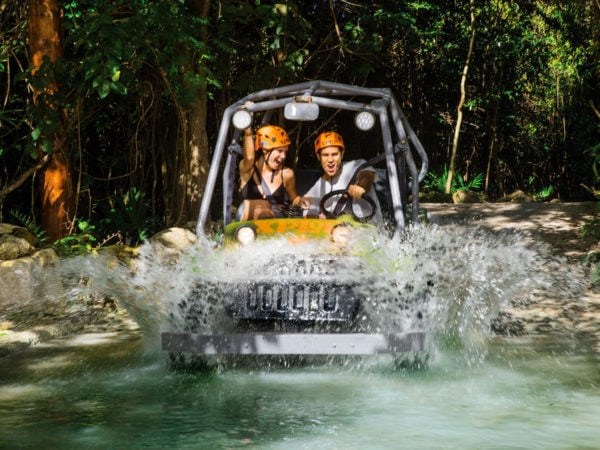 Xplor Park is more for adventure activities as mentioned above.
Xcaret Park is more for cultural activities, shows, animals, etc.
Xel-Ha is more focused on snorkeling and is great for that.
Those are the main ones, but they've got a number of other X parks too — so many that it is almost hard to understand, so just click here to learn more at this link. All of these parks are located closer to Playa del Carmen than Cancun, however.
Places to Visit in Cancun
Ventura Park
Ventura Park is a small water and theme park designed for families. It has six sections: Wet'n Wild Water Park, Fun World, Underworld, Aaah! Ventura, Grand Prix, and Dolphinaris. Fun World contains such classic entertainments as rollercoasters and a carousel, while Aaah! Ventura has zip lines, a bungee swing, and an aerial bridge called the Skywalk.
The Underworld boasts high-tech attractions like laser tag and virtual reality, while the Grand Prix has a go-kart race track. Dolphinaris, which costs extra, lets people swim and interact with dolphins in a pool — but that's kind of a sad thing to see those majestic animals in an aquarium, so I wouldn't recommend patronizing that part of the business… 🙁
Ventura Park is located near the Cancun Airport.
Mercardo 28
Mercardo 28, or Market 28, is a shopping area located in downtown Cancun. It is a bit like a flea market, and many people like to visit it to buy souvenirs or simply look around. Visitors can buy items like t-shirts, pottery, and various handmade crafts, and they can try local food for prices significantly lower than those of the Hotel Zone, and definitely more authentic.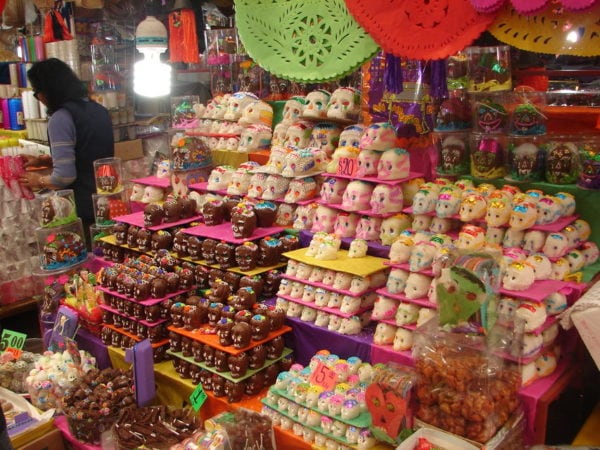 Most of the goods for sale here do not have set prices, so expect to bargain with the shopkeepers if you're looking for a good deal. Bartering is totally normal and expected here, so don't be afraid to name your price and walk away if they aren't willing to meet you.
Downtown Cancun has some great stuff, actually, if you're willing to give it a chance. The area between this Mercado and the Parque de las Palapas is worth exploring. You'll see a different side of Cancun and there are plenty of amazing places to eat and even some pretty cool places for nightlife, even if they aren't on the scale or craziness of my next suggestion…
Coco Bongo
Coco Bongo, which is located in the shopping area Forum by the Sea, is a popular disco and show venue. Visitors not only dance and party, but they also watch a variety of spectacles including flying acrobats and light shows — this is an experience unlike any other that I've ever had.
It's a pretty amazing show and dance party, even if you aren't someone who loves the club scene (I don't), but this goes so far beyond that that it makes it hard to describe.
The Coco Bongo show isn't cheap, but it's definitely worth the money. You can buy tickets which include an open bar throughout the show, but if you're on a budget like we were, you can barter with the ticket salesman for different deals.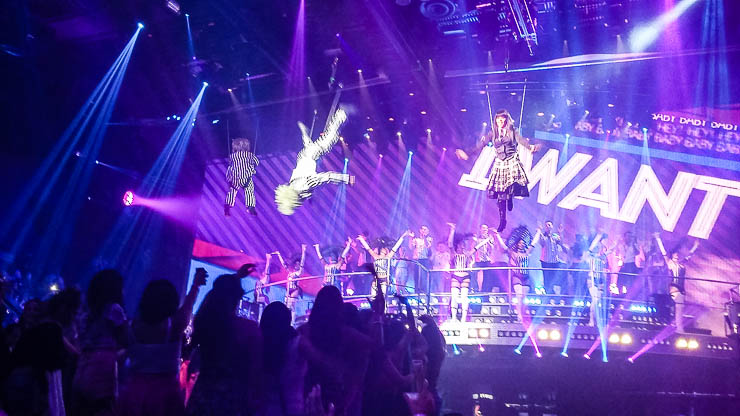 For instance, we got our tickets for the Coco Bongo show at $30 per person which did NOT include an open bar inside of Coco Bongo but did include an open bar pre-party basically across the street.
It also had a later entrance time, allowing us into Coco Bongo at 11:30 pm. Basically, we just hung out across the street for a few hours, drank it up, and then danced and enjoyed the crazy show in Coco Bongo for a few more hours.
Coco Bongo is for adults only or 18 and above. If you're going to boil Cancun down into its core identity, it is beaches and nightlife. We already covered the beaches, and I think Coco Bongo is probably the best nightlife in town, and honestly one of the most awesome things to do in Cancun. They claim it beats anything in Las Vegas, and I think they're right.
Interactive Aquarium Cancun
The Interactive Aquarium Cancun is home to roughly 1,500 species that include sea mammals, reptiles, and invertebrates as well as countless fish. It features touch tanks, a dolphin show, and an auditorium.
Visitors may also enjoy a "fish spa" in which Garra Rufa fish exfoliate dead skin from the client's feet. Children and the young at heart may visit the "iPad Zone" in which they play a variety of educational games.
El Rey Archaeological Site
El Rey is an archaeological site within Cancun, and it contains Mayan ruins that are at least a thousand years old. There are 47 structures in the area. Some are mere foundations, while others are more substantial.
These aren't the most impressive ruins, of course, since they are located right along the same strip as the Hotel Zone. If you're planning to go to Chichen Itza or Tulum, you may want to skip El Rey.
Alternatively, you could visit El Meco ruins just north of Cancun where you will even find a small pyramid and aren't likely to encounter many crowds. The El Meco ruins are more impressive than El Rey.
Museo Maya
Also located near Cancun's Hotel Zone, not far from El Rey, is Museo Maya (Mayan Museum), which opened in 2012. This modern museum contains exhibits devoted to the history of the Maya and represents one of the most important collections in the Yucatan. The various artifacts cover about 2,000 years of Mayan history, from their earliest settlements to the 19th century's Caste War.
Tickets to the museum also cover the nearby San Miguelito Archaeological Zone, which includes a temple, a pyramid, and several residential buildings. In a city of beaches and parties, this is the one museum that you should plan on visiting!
While the museum is always closed on Monday, it is open from 9 a.m. to 6 p.m. the rest of the week.
Museo Subacuático de Arte (MUSA)
MUSA, known in English as the Underwater Museum of Art or just as the Cancun Underwater Museum, is located between Cancun and Isla Mujeres. It was established in 2009 and now consists of over 500 sculptures, statues, and monuments that are between 3.5 and 8 meters (11.5 and 26.2 feet) underwater.
The various sculptures are designed to promote coral growth as well as impress visitors. Travelers may take a glass-bottom boat or go snorkeling; scuba diving is allowed only in the deeper parts of the museum.
But either method of visiting MUSA will provide you with a pretty interesting experience where you can see the many statues undersea as well as some cool marine life too.
Places to Eat in Cancun
Señor Frogs
Señor Frogs is a popular and almost cliche place to go… But when in Rome! It is a restaurant and bar that is part of a chain with locations in Mexico, the Caribbean, and even the US.
It serves lunch and dinner and has been known for its "infamous party scene" since 1969. The restaurant is perfectly family-friendly until 8:00 p.m. when the more adult party scene starts.
They've got decent food for basically US prices, as well as a number of massive drinks and other shenanigans that are sure to entertain.
Hacienda Sisal
Hacienda Sisal is considered one of the best restaurants in the area. It uses organically grown produce and locally caught seafood in its dishes, and its recipes are inspired by the traditions of the old estate houses in Mexico. Similarly, it serves mezcal and tequila made through artisanal methods. Hacienda Sisal serves lunch and dinner every day, plus a Sunday Brunch. It also has a happy hour every day from 2:00 to 5:00 p.m.
La Habichuela
If you're looking for a break from the Hotel Zone and want to head downtown for an amazing and even slightly romantic meal, then look no further than Restaurante La Habichuela near the Parque de las Palapas. The food is excellent here, and prices are reasonable considering the quality and quantity of the food you're getting.
They've got a pretty sweet setting too, and you're to get better food for better prices compared to the hotel zone.
Street Food
Mexico has some of the world's best street food, whether you're getting tacos al pastor, gringas, gorditas, tortas, and whatever! The Hotel Zone can be a little hit or miss, so be sure to ask around (prices are definitely more expensive too), so if you're a dedicated street food junkie, then you'll want to head downtown where you can find some great options.
Check in the area of Parque de las Palapas and the Mercado. If you see lots of locals, that's a good sign!
Best Day Trips from Cancun
Chichen Itza
Chichen Itza, which was declared a UNESCO World Heritage Site in 1988, was one of the largest Mayan cities in the area. Parts of it date back to the 5th century. The Maya lived there for about a thousand years before abandoning it in the mid-15th century. Some of the more popular sites in the area include the Great Ball Court, the Temple of Warriors, and an ancient observatory called El Caracol.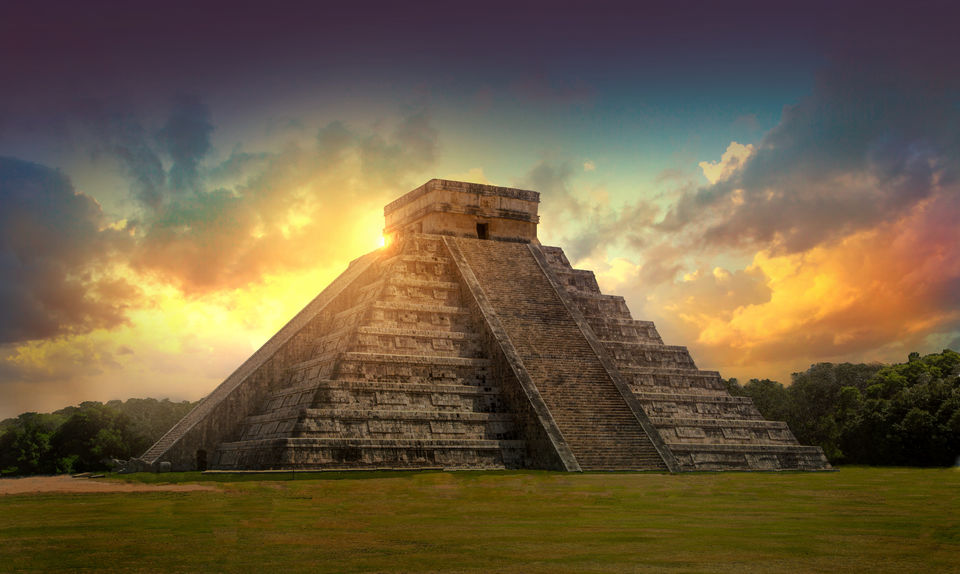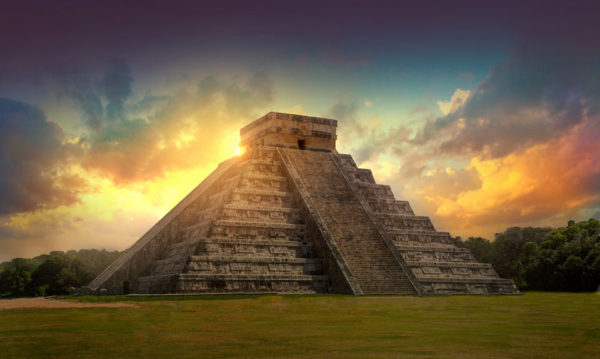 El Castillo (The Castle), which is also known as the Temple of Kukulkan, is the most popular attraction, by far. This is the classic photo you see all the time of an ancient Mayan pyramid jutting out of the landscape.
While I wouldn't consider Chichen Itza to be the most stunning of the Mayan ruins (Palenque in Chiapas or Tikal in Guatemala are the best, in my opinion) it is still worth the visit, especially if you won't have the opportunity to visit any other sites.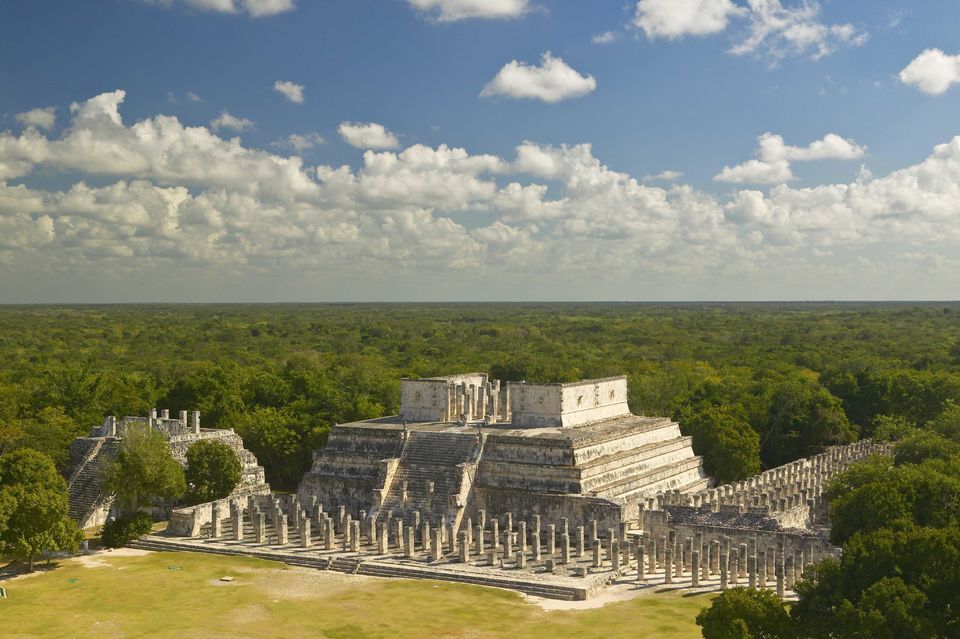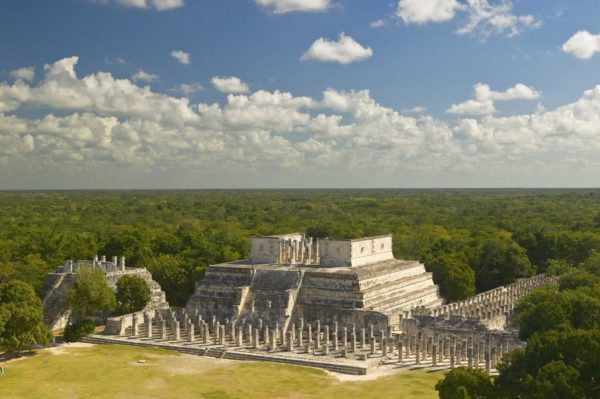 Just be aware that this place brings LOADS of tourists every day, thanks to its accessibility and proximity to Cancun which brings in tons of tours. The site is open to the public every day of the year. It is roughly 122 miles (196.6 km) west of Cancun.
Your best bet is to try and visit as early as possible. You can rent a car in Cancun and make the drive yourself (driving in this area is totally reasonable) or you can book a tour to not worry about all that. Read more about the Chichen Itza tours and what you should know when going.
Book your visit to Chichen Itza from Cancun now.
Isla Mujeres
Isla Mujeres is probably the second most popular day trip to take from Cancun, which you can access by a short ferry ride from Cancun. This little fishing village offers a nice contrast to the craziness of Cancun and offers lots of people views and a number of fun things to do here as well.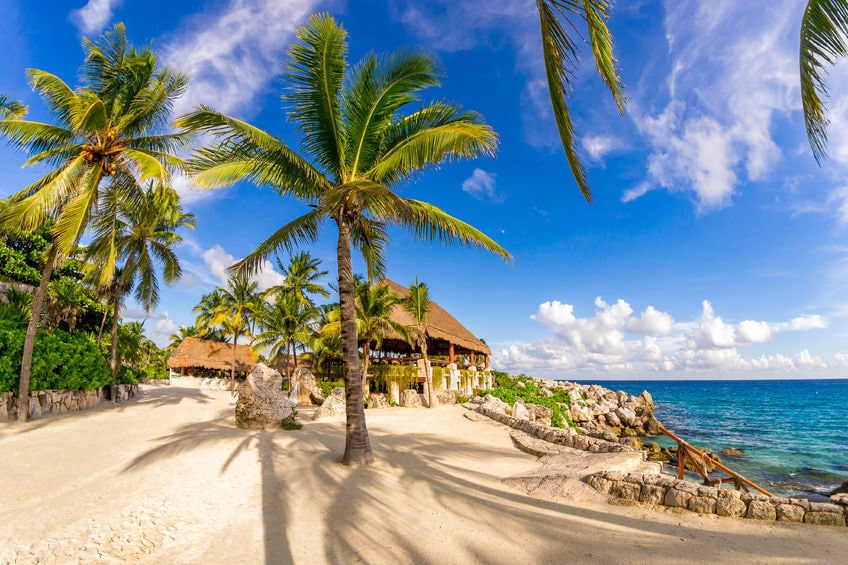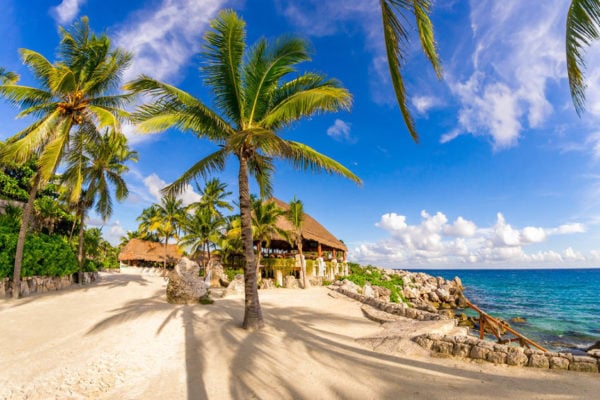 You can go snorkeling, grab some delicious seafood meals, drive a golf cart around the island, or just hang out and enjoy a change of pace. One other cool thing to do on Isla Mujeres is to visit the local turtle conservation center where you can see the sea turtles and even feed them. It is super cheap and worth checking out if you visit Isla Mujeres.
Valladolid
Valladolid is a town in Yucatan about 97 miles southwest of Cancun. It was built in the 16th century and has since become famous for its architecture. The cathedral, sometimes called the Cathedral San Gervasio, was partially built from the remains of a Mayan pyramid.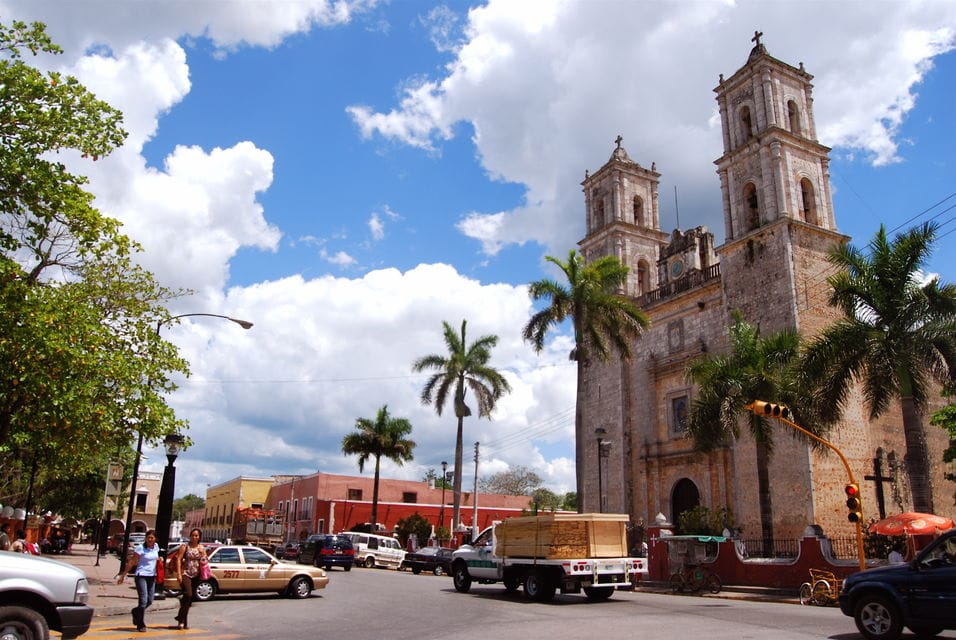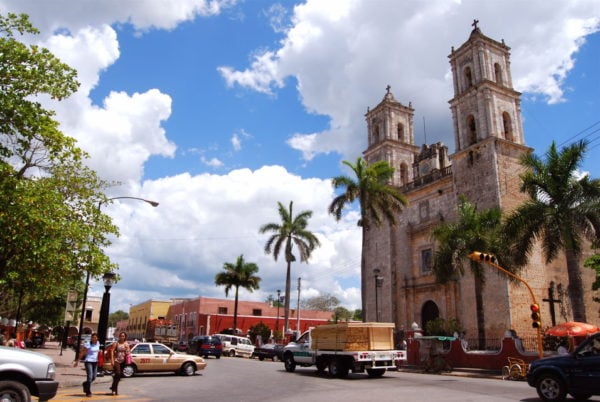 Valladolid also has several cenotes, including one, Cenote Zaci, near the town square, but you'll find even more impressive ones in the surrounding area. Calzada de los Frailes is a lovely street with lots of pastel buildings housing boutiques, cafés, and restaurants.
Honestly, if you can, you might want to consider spending more than just a day here, because the town itself is cool and it makes a good base to explore a little further out, with perhaps a day trip up to the famous Pink Lake "Las Coloradas" up near Rio Lagarto, or over to Merida which is probably my favorite city in all of the Yucatan.
Tulum
Tulum is an increasingly popular destination located a few hours south of Cancun in the Riviera Maya. Honestly, this little town deserves more than just a day trip because there are so many cool things to do in Tulum as well, but if you're all set in Cancun and can't get away for a few nights, then be sure to try and squeeze in a day trip to Tulum.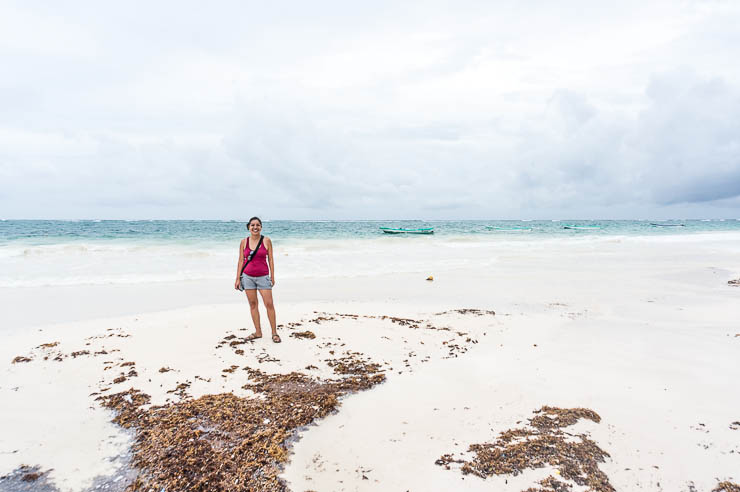 In Tulum, you'll find the amazing Tulum ruins set on a cliff above the white sand beaches and turquoise waters that you've come to know and love back up in Cancun. The tourist stretch of this town is also pretty cool and hippy chic with plenty of great food, fun activities, and other things to do.
Read more: The coolest things to do in Tulum.
Visit Cancun Mexico
Yes, Cancun is super touristy, leading to a sort of white-washed, Las Vegas-like experience in the middle of Mexico…
But despite that, the beaches are undeniably beautiful (probably the most stunning I've yet to see in my travels and without a doubt the most beautiful in Mexico), there is fun nightlife and partying to be had, there are some more down to earth and authentic experiences to be had, and it makes for the easiest introduction to Mexico for new tourists, for sure.
You'll find amazing infrastructure and amenities to tourists, ease of getting around, the ability to use English if you don't speak Spanish, and just smooth sailing overall.
It's for those reasons that Cancun is such a popular destination with tourists coming in for short vacations, even if it is a place that doesn't hold as much appeal for long-term travelers or backpackers in Mexico and Central America.
The area surrounding Cancun on the Yucatan peninsula has some truly incredible sights and experiences, like the pyramid of Chichen Itza the almost countless cenotes, or going a little further out to visit places like Tulum, Valladolid, or even Merida.
I hope this travel guide of things to do in Cancun has helped you plan a better trip and clarify what you want to get out of your vacation… Regardless of what you do here, it is bound to be an amazing and fun adventure for you and your friends or family.
Traveling to Cancun soon? Book your room on Booking.com or Hotels.com now to save but be sure to read about where to stay in Cancun first. And don't forget your travel insurance for Mexico which will protect you in the event of theft, illness, or injury. I use and recommend World Nomads.
Read Next: Best Cancun Tours and Activities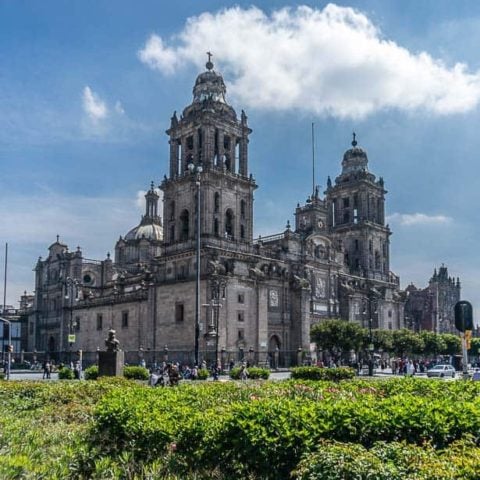 Mexico Travel Tips
Important tips and resources for planning an amazing trip to Mexico, based on my extensive experience traveling across the entire country.
Tools
Instructions
Book a cheap flight to Mexico with Momondo, or better yet, start travel hacking so you can fly for free.
Plan a rough itinerary and how long you will spend in each destination. Pick up Lonely Planet Mexico to help with this.
Work every day to teach yourself Spanish, you want to know as much as possible before you arrive.
Book your cheap accommodation in advance, at least for the first destinations -- For hostels use: Booking, for cheap hotels use: Hotels.com, for apartments use: Airbnb.
Reserve your on the ground tours and activities through Get Your Guide.
Purchase travel insurance for Mexico with World Nomads to protect yourself from illness, injury, and theft while in Mexico.
Check out my comprehensive guide about traveling to Mexico with information on cities, things to do, places to see, and more.
Learn more money saving tricks with my top budget travel tips if you want to get more bang for your buck.
Put together your Mexico packing list.
Enjoy this incredible country!
Notes
I hope this helped you plan your travels in Mexico! I know it can be a struggle to find accurate and on the ground information when traveling to a new place like Mexico, which is why I started writing so extensively about it!
If you have any questions about Mexico, budget travel, or anything else shoot me an email at ryan@desktodirtbag.com.
(I love getting questions! That is how I get ideas for my blog posts and what to write about!)
Recommended Products
As an Amazon Associate and member of other affiliate programs, I earn from qualifying purchases.
Share This
Did you enjoy this post about the coolest things to do in Cancun Mexico? Take a second to share it Pinterest, Facebook, or Twitter. Thanks!
The following two tabs change content below.
Desk to Dirtbag is one of the leading budget adventure travel blogs online and is dedicated to helping its followers achieve their travel dreams through inspiration, information, and actionable steps. If you are new to the site, be sure to
Start Here
.
Latest posts by Desk to Dirtbag (see all)