This article may contain
affiliate links
. If you make a purchase through these links, I will earn a commission at no extra cost to you. Thanks!
When most people think of visiting the Caribbean, they imagine a tropical island like Jamaica or the Cayman Islands. However, to get a taste of that tropical paradise, you might want to consider a trip to the small coastal country of Belize in Central America… As a few plusses, the country uses the dollar, English is the official language, and there are a ton of fun and beautiful places to visit in Belize.
Situated just south of Mexico's Yucatan Peninsula, Belize is a place worth your time and attention. If you like the idea of white sandy beaches, a diverse and exciting local culture, and fabulous memories that will last a lifetime, Belize is the place to be.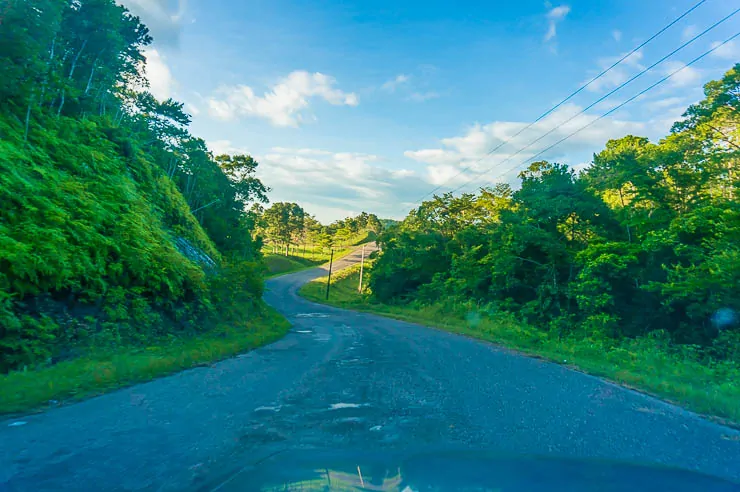 We loved this country during our road trip through Central America, and we know that you will too. We've compiled a list of the top 15 places to go so that you can get your itinerary ready in no time. No matter what you're into – relaxing, snorkeling, exploring – Belize has a bit of it all.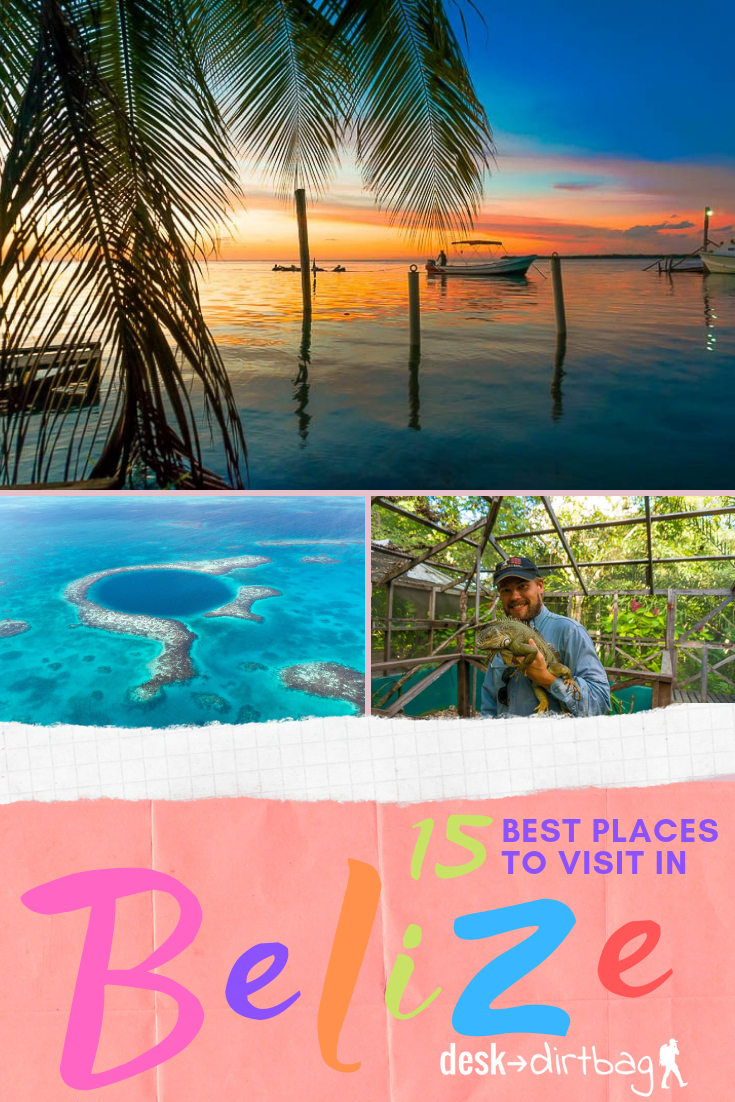 Cities and Towns in Belize
Belize is a country filled to the brim with Caribbean culture. Some parts of the country are so intoxicating that you may never want to leave. Indeed there is a growing expat retiree movement in some parts of the country. But first, let's break down a little bit more about the "big" cities of Belize.
Belize City
Before the 1970s, Belize City was the capital of the country. Based on its size and population, you would be forgiven for thinking that that was still the case. However, even though the current capital is Belmopan, Belize City still holds the title in spirit. Belize City is big for Belize, because, in reality, it is only home to about 60,000 people, still pretty sizable since the country is home to about 375,000 people.
Located on a small peninsula on the Caribbean, Belize City is where you will most likely arrive if you are flying into the country.
If we're being honest, Belize City isn't exactly the most fabulous place. Indeed, there is quite a bit of insecurity here, and much of the city is quite rundown. However, the views from the shore are some of the best in the world and eating your way through the various restaurants, and street vendors will tell you more about Belize than any travel guidebook — be sure to try the local meatballs, absolutely delicious!
Plus, it is a frequent jumping-off point to visit some of the neighboring islands (which are a must-visit)… I wouldn't recommend spending too much of your time here but thought we should talk about Belize City first before we move on to what makes this country truly special.
San Ignacio
On the other side of the country, near the Belize Guatemala border crossing, is the small town of San Ignacio. If you're planning on visiting the Mayan ruins of Belize (which you should), here is an excellent place to establish a base camp. As far as cities in Belize go, this is also a much more pleasant place compared to Belize City, full of exciting things to see and do, for sure.
What's incredible about San Ignacio is that it operates like a beach town – relaxed, laid back – but jungles and wilderness surround it. If you like the idea of staying within a stone's throw of nature, this is an ideal spot to visit.
As with most of the cities in Belize, your dollar will go further here, so be sure to check out all of the local restaurants and shops.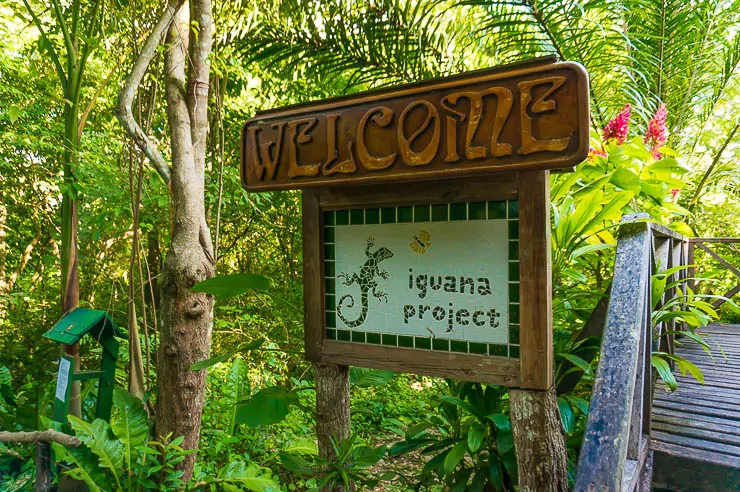 Be sure to visit the awesome Belize Iguana Project at the San Ignacio Resort Hotel. This incredible conservation project aims to teach locals not to overhunt the local iguanas (they eat them like chicken) and tries to protect them. Best of all, it's a hands-on experience where you get to feed the iguanas!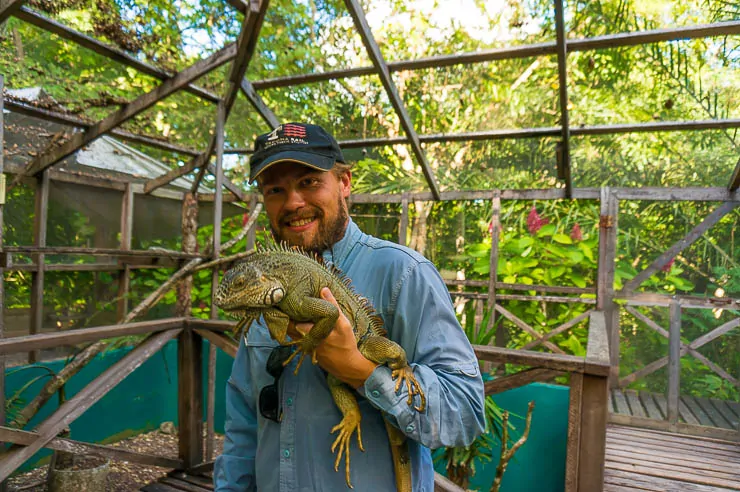 It was so much fun, and definitely worth the kind of steep $9 entrance fee per person.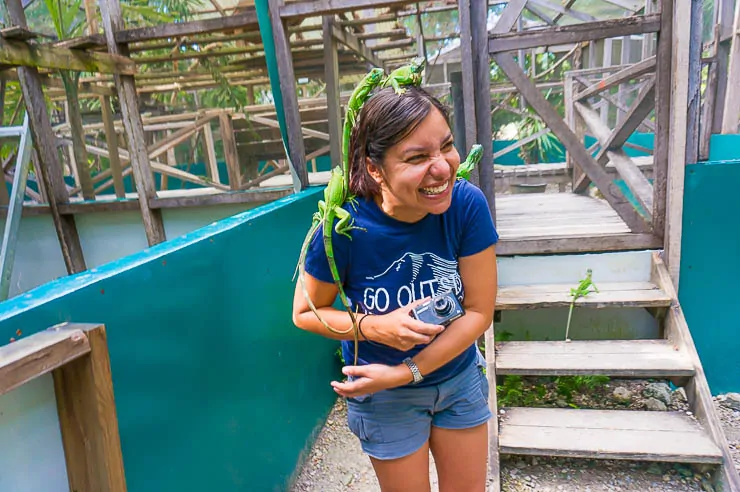 Placencia
Technically speaking, Placencia is both a peninsula and a sleepy little town. The strip of sand just offshore is home to three small and unique villages – Placencia, Maya Beach, and Seine Bight. All of them are worth a visit, and you will appreciate the local accommodations as much as you do the pristine blue waters.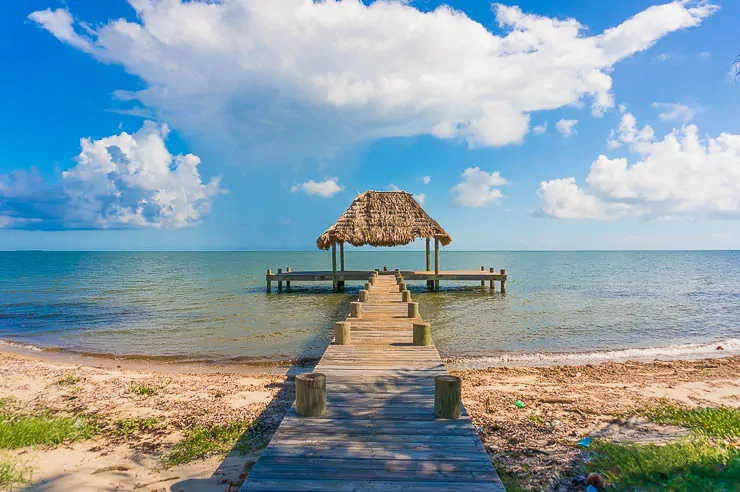 The sidewalk is the main strip of Placencia, acting as a promenade where you can sample the best that the area has to offer, both in food and souvenirs. Also, if you like water activities like kayaking, paddleboarding, or snorkeling, Placencia is an excellent place to do all of them and more.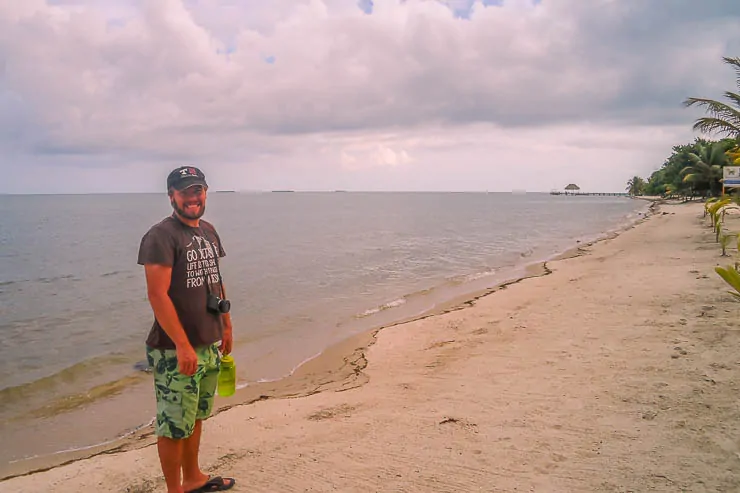 Really, Placencia is just a place to kick back and relax, living the island sort of lifestyle even if you're just chilling on the mainland. This is one of the more popular expat retiree locations, so expect to see lots of old folks hanging out at the laid-back Pickled Parrot bar for good drinks and food. The lunch is absolutely delicious and just 10bz ($5 USD).
Honestly, this is a fun little community with beautiful beaches that should be high on your list!
Dangriga/Hopkins
Belize is a wild mixture of different peoples and cultures… You've got Mayan descendants, Mennonite Germans with horse-drawn carriages, your standard Mestizo Latino, a large contingent of Taiwanese, and then there's a local group called the Garifuna… Garifuna culture is unlike anything you'll see anywhere else. The towns of Dangriga and Hopkins are the best place to experience Garifuna food, language, and traditions.
Garifuna are the descendants of Afro-indigenous West African slaves that were brought to the island of St. Vincent (in the Caribbean) and who were later exiled to the coasts of Central America, including Belize. They are a people who have been shaped mainly by the two diasporas (one from Africa and one from the Caribbean) which has led to their unique identity today, blending a variety of elements into one.
If you're looking to partake in a local festival, Hopkins has a celebration named after it, Hopkins Day. Everyone in the town parties in the streets until the early morning, so be sure to come with an enthusiastic attitude and you're bound to have a good time.
For those wanting to learn more about Garifuna history and culture, they can visit the museum in Dangriga, as well as the various monuments and murals spread throughout the town.
Cayes in Belize
When you look at a map of Belize, you'll notice that all of the surrounding islands (and there are hundreds of them) are called Cayes. In the US, we pronounce (and spell) them as Keys, just like the ones in Florida.
If you're curious what the difference between an island and Cay is, the latter is a shallow, sandy strip of land on top of a coral reef. Because there are so many reefs around Belize, almost all of these islands are considered Cayes.
Here are a few of the best ones to visit while you're here.
Ambergris Cay
In case you're not familiar with the name, Ambergris is a waxy substance produced by sperm whales when they ingest something that irritates their stomach (Bob's Burgers did an episode on it). This Cay is named after the substance, which should you give you some idea of the history of the area.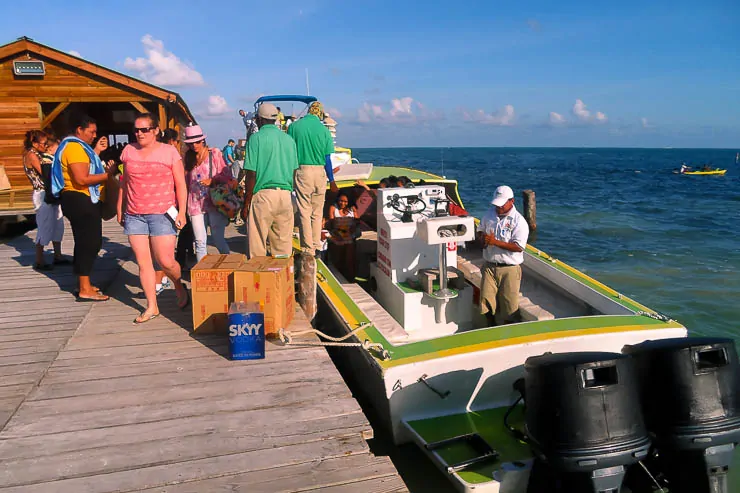 Fortunately (or unfortunately, depending on your preference), whale bile isn't the primary attraction on this beautiful island. Instead, Ambergris Cay is the largest Caye in Belize, and it has a lot to offer, particularly for those of us who love the beach life.
Whether you simply plan on staking out a beach chair or you want to get to the Belize Barrier Reef (more on that later), Ambergris Cay is perfect for everyone.
Caye Caulker
Unlike some of the other Cayes that get swarmed by tourists, Caye Caulker definitely still has a local vibe, despite its growing popularity. There are tons of great bars and restaurants, and here is where you go to unwind and relax by the water.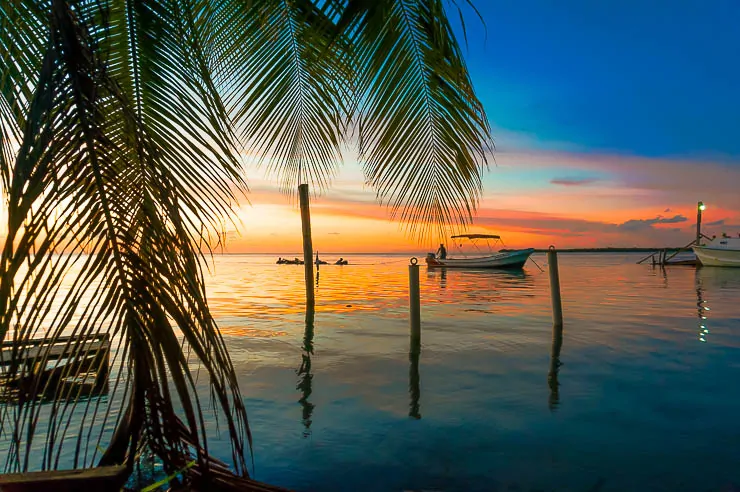 Time moves a lot slower here, and you'll find yourself losing track of the days if you plan on staying a few nights on the island (which you absolutely should).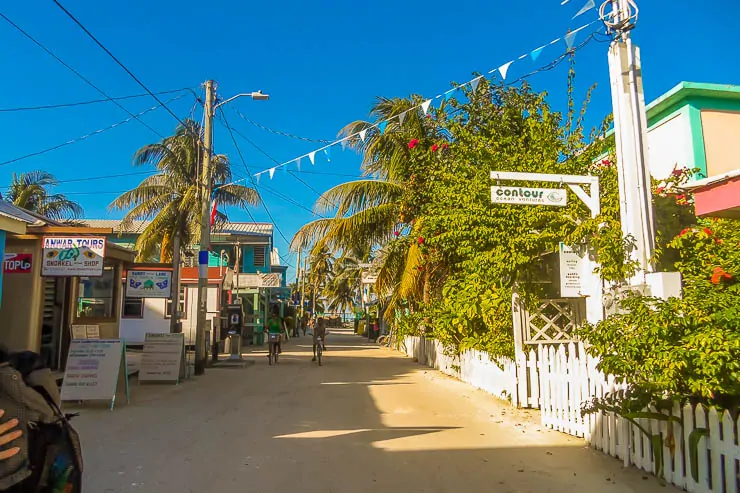 I loved our time on Caye Caulker, walking down the unpaved streets, talking with friendly locals, or just hanging out at the Split for drinks around sunset. You can walk (or bike) the length of the island in almost no-time, so this is a place where you can step away from cars and the modern world.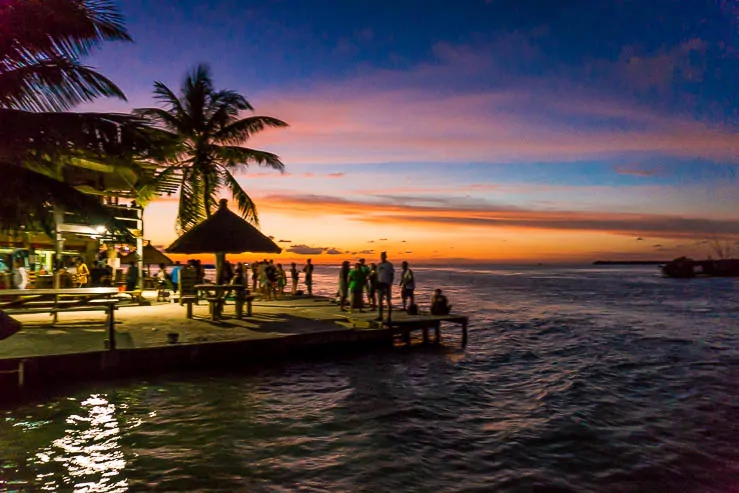 I spent my birthday here and got a lobster dinner for 25bz ($12.50 USD), and then we tracked down the Cake Lady (a mobile cake vendor) for a delicious piece of cake for 5bz ($2.50 USD). Some of my best memories in Belize are from Caye Caulker, for sure.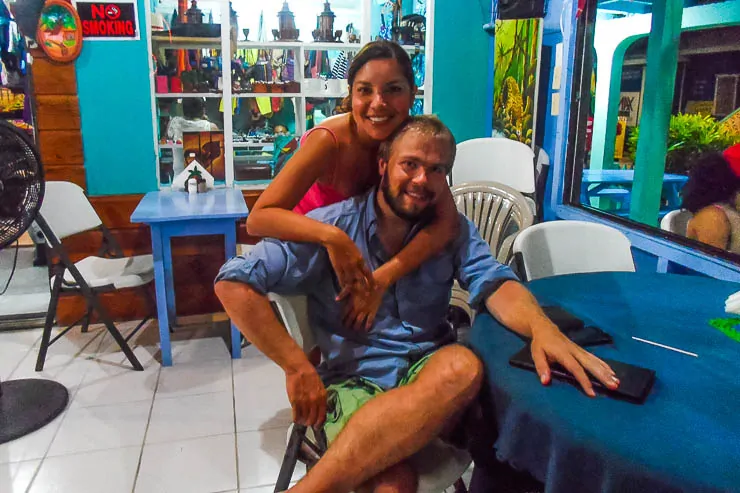 Tobacco Caye
If snorkeling and diving are part of your itinerary, then there are a few places that you have to visit while in Belize. We'll cover more in the Natural Wonders section, but Tobacco Caye is the perfect place to experience both the island life and life under the sea.
Since this Caye is situated in the South Water Caye Marine Reserve, the waters surrounding it are protected. You will be able to see tons of fish and other sea creatures without a doubt, so be sure to come for the day.
South Water Caye
As the name suggests, this island is also part of the Marine Reserve we listed above, and it's situated on top of the Belize Barrier Reef. Better yet, most of the tourists don't come to this island because it's not as flashy, so you can avoid many of the crowds and relax in the splendor of the Reef and the crystal blue Caribbean water.
Natural Wonders
As with pretty much every country in Central America, you're never too far from some stunningly beautiful, tropical landscapes. Visiting a tropical region of the world is always so fascinating because you never know what kind of exotic plants and animals you'll come across, everything is so different from what we're used to back home.
I stop and marvel at almost everything I come across here, like the time I was driving down the road in Belize and saw a tarantula walking across the street… I had to hit the brakes, back up, and hop out to grab some pictures of this massive spider!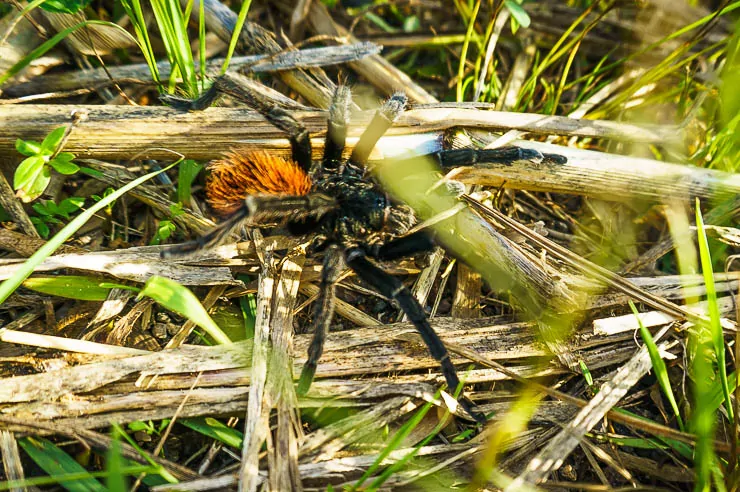 Anyways, we already touched upon some of the Mayan Ruins, but there are also plenty of natural wonders hidden within the country. Put on your explorer's hat and hit the trail with these top sites.
Actun Tunichil Muknal (ATM) Cave
Spelunking isn't usually on most people's travel list, particularly when visiting a Caribbean country. However, Actun is consistently ranked as the number one sacred cave according to National Geographic, so that should tell you something about how awesome it is.
That being said, you will have to plan ahead if you want to experience ATM. In their efforts to preserve the cave, guides can only take groups of eight people at a time. That means that you have to pay up to $120 per person for the trip, but it's worth every penny.
You start the tour by hiking through the jungle and then diving underwater to get inside the cave. From there, you'll explore for a couple of hours, seeing both the natural aspects of the rocks as well as how the Mayan used the cave for religious ceremonies. At the end of the tour, you'll see the remains of human sacrifices.
Overall, if you can only put a few items on your Belizean bucket list, this should be close to the top, especially if you love adventure activities.
The Blue Hole
Being out on the Caribbean waters is fun no matter what you're doing, so why not travel somewhere to get an excellent photo op as well?
You may have seen the Blue Hole on social media – it's a massive sinkhole just south of Lighthouse Reef, and it would obviously be much better to see it in person than on a small screen. The perspective is obviously best had from the air with a flyover tour, but there are also boat trips out to the Blue Hole.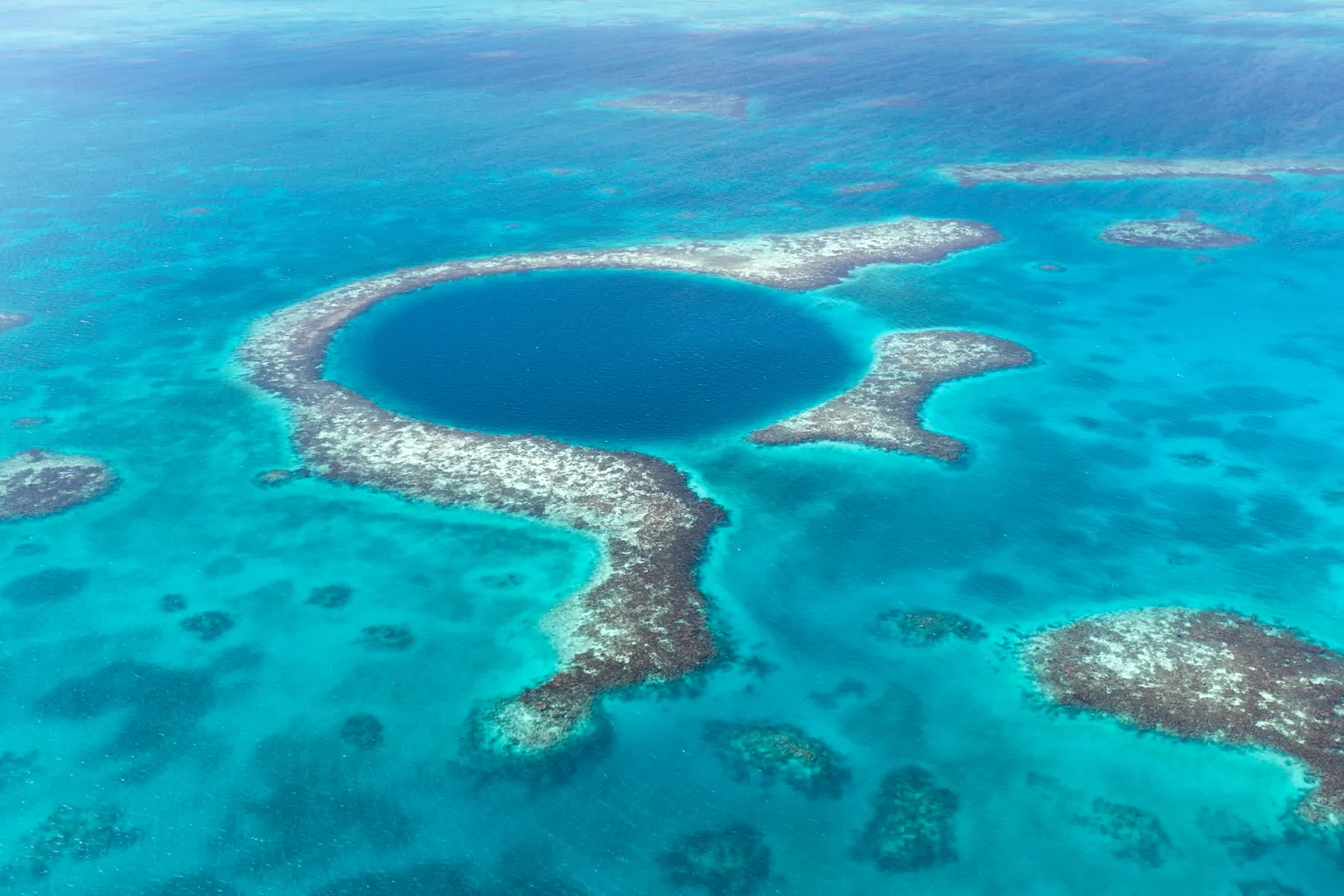 This is something that remains on my list, simply because we couldn't afford it at the time since we were in the middle of our multi-month trip across Central America.
Belize Barrier Reef
Second only to the Great Barrier Reef in Australia, this site is one of the best locations to see all kinds of underwater creatures. Snorkelers and divers from around the world come here to get a glimpse of this awe-inspiring natural formation.
As we've already discussed, many of the attractions in Belize are on or near the Reef (including the Blue Hole), so there is a lot to do in the area.
Indeed, it is the island, the reefs, and the crystalline waters that are the primary draw for most travelers to visit Belize, even though the mainland has quite a bit to offer too…
Cockscomb Basin Wildlife Sanctuary
Considering that you're surrounded by the jungle wherever you go in mainland Belize, why not take some time to explore it a little more in-depth as well? There are a few nature preserves in Belize, but this is perhaps the best one of them all. Also known as Jaguar Preserve, this sanctuary is one of the largest in the country, and it's the perfect place to explore a bit of what else Belize has to offer beyond the beautiful Cayes.
Although you probably won't see a jaguar while hiking, you should take a few days and hike to the top of Victoria Peak. It's known as a somewhat challenging climb (mostly for the heat and humidity), which will take about 3-4 days in total. Alternatively, you could try for some of the shorter day hikes like the Tiger Fern Trail which will give you a small taste of what the Cockscomb Basin is like.
Caracol
We've mentioned the Mayans a few times already, and now we're highlighting one of two major sites in the country. Although most people think of Mexico or Guatemala for Mayan ruins, Caracol is still impressive. Best of all, it's nowhere near as crowded as the more popular places like Chichen Itza, so you can feel like you have them all to yourself.
There are about 40 monuments in Caracol, including Canaa (translated to Sky Place), which is the tallest structure in all of Belize. Yes, that includes modern-day buildings as well.
Another benefit of Caracol's less-crowded status is that you're able to climb on the ruins. Be sure to make it to the top of Canaa and take in the sights from all around.
Overall, this site may not be quite as impressive as some of the Mexican or Guatemalan versions, but it's still worth a visit. It will nicely complement a visit to Tikal, across the border in Guatemala, if that's on your radar – the place that I'd still consider the most impressive set of ruins I've visited.
Shark Ray Alley
If you had to guess what kind of animals you would see in Shark Ray Alley, what would they be? If you answered sharks and rays, then congratulations on being an astute observer! This area is just south of Ambergris Cay, so if you're planning on visiting the island, there's no reason not to dive underwater and see the real locals, if you will.
One of the highlights is when guides feed a school of sharks (while you're safely on a boat, mind you), so if you've ever wondered what a feeding frenzy looks like up close, now's your chance.
Also, just because sharks and rays are the highlights of the Alley, that doesn't mean you can't still see other tropical fish and sea turtles as well.
Xunantunich
As we mentioned, there are two primary Mayan ruins in Belize, and Xunantunich is the second. Depending on your reason for visiting the ruins, it may also be the better of the two, as it's more developed and well preserved.
You won't get as grand of a view here since the ruins are not as tall as Caracol, but you can marvel at the best of Mayan engineering, including a frieze carved into the nearby rocks. Also, this site is relatively close to Tikal in Guatemala, so if you're down for hopping the border and seeing two ruins in one day, this should be your first stop.
Lots of Places to Visit in Belize
Honestly, that's just a taste of the highlights of Belize, but that doesn't mean that there aren't more incredible moments and memories to be had in small towns around the country, whether you're just hanging out in Belmopan or exploring other natural wonders like the Pine Ridge Forest Reserve.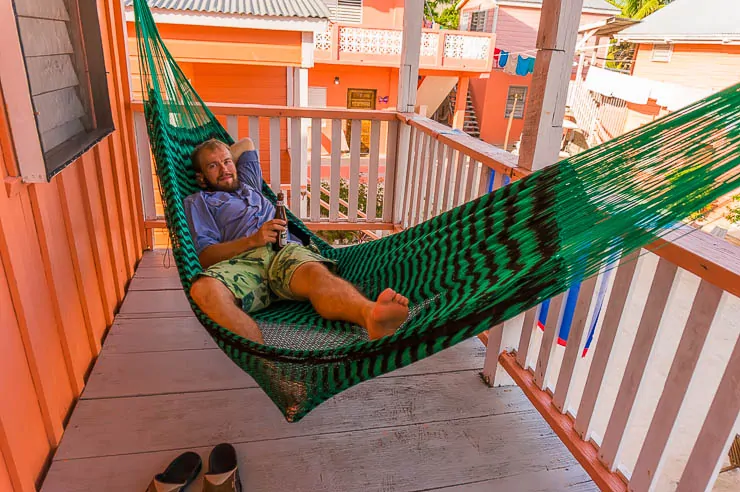 I didn't really know much about Belize before I went there, to be honest, so I found myself blown away almost immediately after the Mexico Belize border crossing with everything the country had to offer. The country itself is also quite safe, although there are some areas or things to watch out for.
Read More: Is Belize Safe? Tips + Advice
Not only that, but I also recommend it as an accessible entry-level destination for travelers to Central America thanks to its currency pegged to the US Dollar and the fact that English is the official language here.
While it isn't as "easy" as going to a resort town in Mexico, it is perhaps the next logical step for those who feel like they want to take the next step in exploring the wonders of Central America.
Traveling to Belize soon? Book your lodging on Booking.com now to save. Don't forget to purchase your backpackers travel insurance for Belize as well, to protect yourself against illness, injury, and theft. I use and recommend World Nomads for its combination of coverage and affordability.
Read Next: The Biggest Myths About Central America
Share This
Did you enjoy this post about the best places to visit in Belize? Take a second to share it on Pinterest, Facebook, or Twitter. Thanks!
The following two tabs change content below.
Desk to Dirtbag is one of the leading budget adventure travel blogs online and is dedicated to helping its followers achieve their travel dreams through inspiration, information, and actionable steps. If you are new to the site, be sure to
Start Here
.
Latest posts by Desk to Dirtbag (see all)