This article may contain
affiliate links
. If you make a purchase through these links, I will earn a commission at no extra cost to you. Thanks!
To help fellow overlanders as they pass through Central America, I wanted to publish my notes about the Belize Guatemala Border Crossing (from Benque Viejo Del Carmen, Belize to Melchor de Mencos, Guatemala). This was a pretty quick and easy crossing that we somewhat spontaneously decided to do pretty late in the afternoon, after a few busy weeks trying to hit all the amazing places to visit in Belize.
Which is not something we normally do, preferring to try and cross around mid-morning, generally speaking. But despite that late start, everything was smooth sailing. Here are the details you need to know about this Central America border crossing when doing so by vehicle.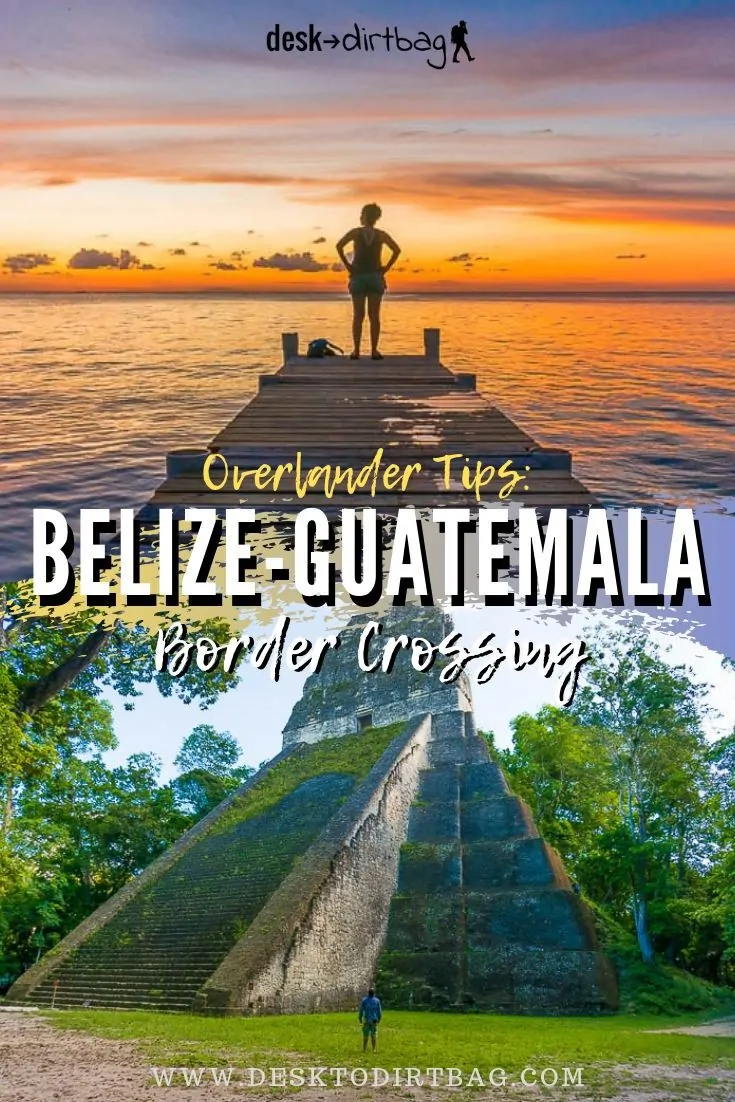 Leaving Belize
We decided to leave after a somewhat busy little day in the town of San Ignacio and went to scope out the border, not sure if we'd cross. Everyone assured us that it would be quick though, so we pulled over to the right so we could enter immigration on foot for the exit stamp. It ended up costing 37.50 bz per person. As is often the case, we had to go pay at the next booth over and bring back the receipt in order to receive the stamp from the immigration official.
After that, we went around to the other side of the building to customs so they could stamp out the vehicle (Belize puts a stamp in your passport for the vehicle). Be sure to have the paperwork they asked you to keep at the initial Mexico Belize border crossing. The official here did go out to the vehicle to look and confirm it was the same.
After you have both immigration and customs done, you'll hop back in your vehicle to pass through the booth where they will revise paperwork.
The woman working the booth started asking for our receipt for the truck for 30 bz ($15 USD)… Which I didn't have because I thought the guy in the parking lot at the Mexico Belize border crossing was just trying to scam me at first, then we never saw him again.
So it would appear that the charge is official after all, oops!
She put up a bit of a fuss for a while that she couldn't let us go through without the receipt, and I was just like "well, what do you want me to do then drive back to the other border?"
She insisted she didn't know and it went back and forth before she eventually just let us go. Very strange!
Read More: Is Belize Safe? Tips and Advice
Guatemala Border Crossing
First, we had to pass through the fumigation stand, then park to pay 17 q for the fumigation. Be sure to get your receipt.
Drive ahead and park to the right so you can enter the covered plaza area. Your first step here is to head to the right for migration to receive your passport stamp to enter the country. Simple and straightforward process.
After you get a stamp, you'll continue to the customs booth to the right. Here you will have to provide a copy of your passport with the Guatemala entrance stamp, a copy of the vehicle registration, and you'll need to show the originals of each.
They will then print out a bill for 160q, take that and go over to the bank window and pay. Then you'll bring back the stamped half of your receipt to customs to receive your paperwork and a sticker for the windshield.
Then you can hop in your vehicle and continue down the road where you'll encounter a barricaded or gated road where you can talk to the officials and show them your paperwork. If everything is in order, they will open the barricade to let you pass through.
From the border crossing to the town of El Remate (which is where we wanted to go before the Tikal Ruins) takes about one-hour driving. But since we did this crossing so late in the afternoon, it was about to turn dark and we just decided to stay in the town of Melchor de Mencos, right on the other side of the border.
We were recommended Hotel Quetzal from one of the border officials, and it only ended up costing us 175 quetzals per night (about $20 USD). The place was okay, at least it offered up private parking and air conditioning, although it had no Wifi.
If you're looking for a bite to eat in Melchor de Mencos, we ended up going to La Morenita El Centro for 25q ($3) for a big meal in a pretty tasty restaurant. I'd recommend it!
The town of Melchor de Mencos is certainly nothing to write home about, but it makes for an easy stop either before or after a border crossing.
Read More: Places to Visit in Guatemala
Again, this was a pretty simple and straightforward border crossing that posed no serious challenges. Our time in Guatemala was one of the absolute highlights of the entire drive through Central America, so I hope you enjoy it too!
Read Next: Guatemala El Salvador Border Crossing
Share This
Did you find this post about the Belize Guatemala border crossing helpful? Take a second to share it on Pinterest, Facebook, or Twitter. Thanks!
The following two tabs change content below.