This article may contain
affiliate links
. If you make a purchase through these links, I will earn a commission at no extra cost to you. Thanks!
As part of my series of overlanding tips from our time driving from the United States on the Pan American Highway through Central America (and beyond to South America), here are my notes and experience from the Guatemala El Salvador border crossing between Ciudad Pedro de Alvarado, Guatemala and La Hachadura, El Salvador.
This is the southernmost border crossing between the two countries, so the route closest to the Pacific Ocean, if you'll be exploring those areas.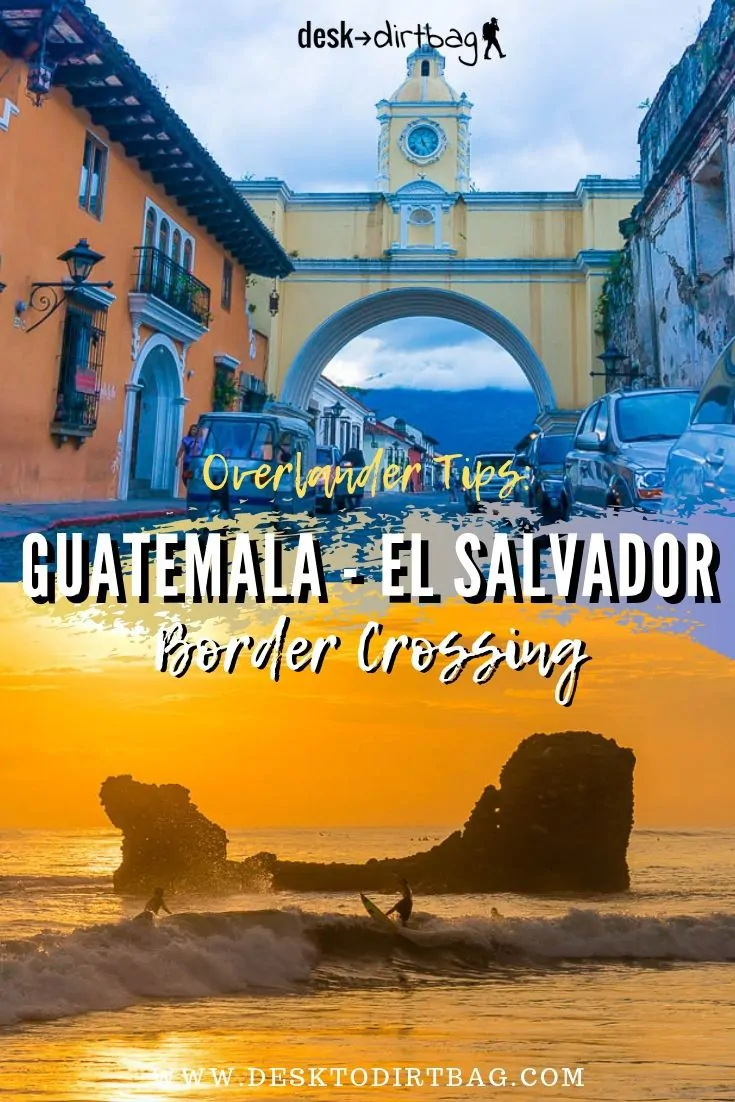 Guatemala's Border Crossing
We drove up and encountered a massive line of commercial trucks on the Guatemala side. One might be tempted to wait to behind them, but you can just bypass them in the other lane of oncoming traffic. If you see an oncoming vehicle, you can just pull over to the far left side of the road and let them pass.
After passing the line of trucks, you will come upon a building between the two lanes of the road where you will probably be flagged down. Pullover and park here. You will need your paperwork for your temporary import permit as well as one copy to the guy stamping outside, in order to leave Guatemala.
This gentleman came out to the truck and confirmed our VIN and stamped and dated some things. We then continued to the migracion to be stamped out of Guatemala. On the backside of the building (where traffic is entering Guatemala) you will find the customs (aduana) office.
Here in Aduana, you will need to present copies of your vehicle title, passport (with the migracion exit stamp), drivers license, and the temporary import permit. The official came out to inspect the vehicle and remove the sticker from the windshield that they placed at the Belize Guatemala border crossing. He will print the cancellation on the back of your temporary import permit and stamp it. You're done. No charges here.
Continue driving ahead where you'll encounter a checkpoint where you'll present your finalized temporary import permit and documentation to proceed to El Salvador
Read More: Places to Visit in Guatemala
Entering El Salvador at La Hachadura
These officers at the checkpoint will direct you on to El Salvador and the building just ahead, where you will encounter parking beside the building on the left.
First, you'll want to head to migracion (we had a short but slow line) where the official will ask all the normal questions and put your info in the computer. Easy. We received no passport stamp from El Salvador due to the C-4 agreement. Next, you'll continue on to the Aduana office inside.
Inside, they will hand you a simple form to fill out with info about the vehicle and the owner. We had a long wait for the official to attend to us, but at least the office has A/C!
I presented copies of my title, license, passport (including the exit stamp from Guatemala) to the woman behind the desk, and she came outside to verify the VIN and other vehicle info.
We headed back inside and waited another while for another employee to print out our import permit with a sticker attached. I had to sign a document about the law regarding a temporary import permit and fines for overstaying. Then she sent us on our way. No charge here either.
While the border crossing didn't appear to be busy, we still had long waits to go through each part of the procedure. Plan on budgeting an hour or so here.
Continuing ahead you will be asked for your temporary import permit document. We were also flagged down at a police checkpoint shortly down the road for the same document.
That was it, both parts were a mostly straightforward and pain-free process, especially if you don't count the waiting we had to do.
We continued ahead along the coast — highway 2 just beyond Apancoyo is quite beautiful — to the sleepy surfing town of El Tunco which we quite enjoyed.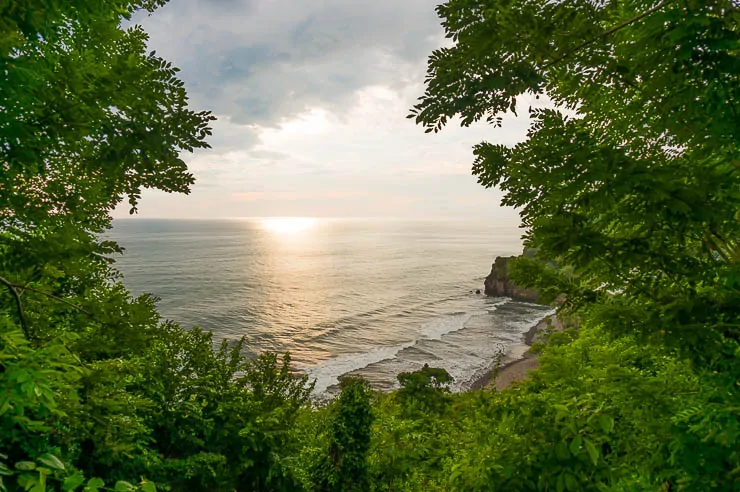 We ended up staying at La Sombra Hostal, at $25 per night, for a private bathroom, decent wifi, and secure parking. They've also got a shared kitchen, potable water, and coffee. I'd recommend the place, it was the best we found in terms of price and amenities. Just a short walk to the ocean or to the heart of the small town.
Don't forget to grab your first pupusas to eat! Delicious! Enjoy lovely El Salvador, we most definitely did.
Read More: Places to Visit in El Salvador
Traveling to El Salvador soon? Book your lodging on Booking.com now to save, or if you plan to stay longer, I highly recommend looking for a place on Airbnb. And don't forget to purchase international travel insurance that will help protect you against illness, injury, and theft. I use and recommend World Nomads for its combination of coverage and affordability.
Read Next: The Best Countries in Central America
Share This
Did you enjoy this post about the Guatemala El Salvador border crossing? Take a second to share it on Pinterest, Facebook, or Twitter. Thanks!
The following two tabs change content below.