This article may contain
affiliate links
. If you make a purchase through these links, I will earn a commission at no extra cost to you. Thanks!
If you're like most people, the idea of visiting El Salvador probably seems a bit sketchy at first. After all, isn't the area unsafe for tourists? While the country may not be the world's top spot for safety and stability, it's far from the crime-ridden landscape that the media makes it out to be. Indeed, that's one of the biggest myths about traveling in Central America. On the contrary, El Salvador is a pretty incredible place for tourists to visit, and this small country packs a lot into it, which is why I put together this guide to a few of the top places to visit in El Salvador.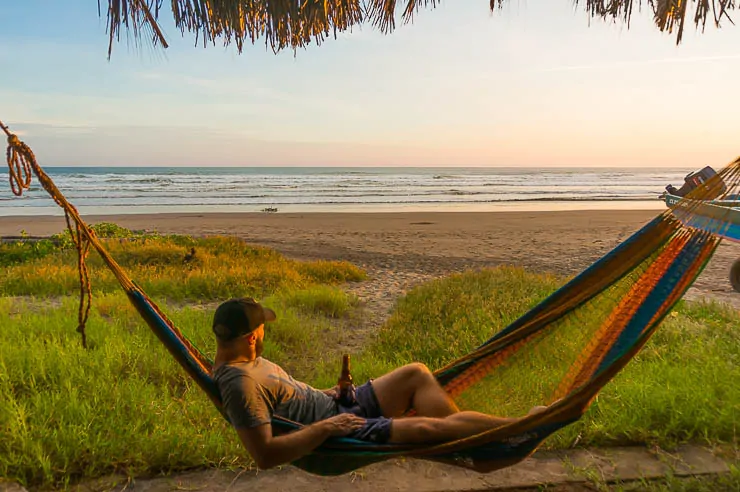 Also, it's important to note that El Salvador's unsavory reputation from years ago is starting to change as more travelers start to visit, although this is still a developing or up-and-coming destination that isn't on most people's radar in Central America, like Costa Rica or Guatemala.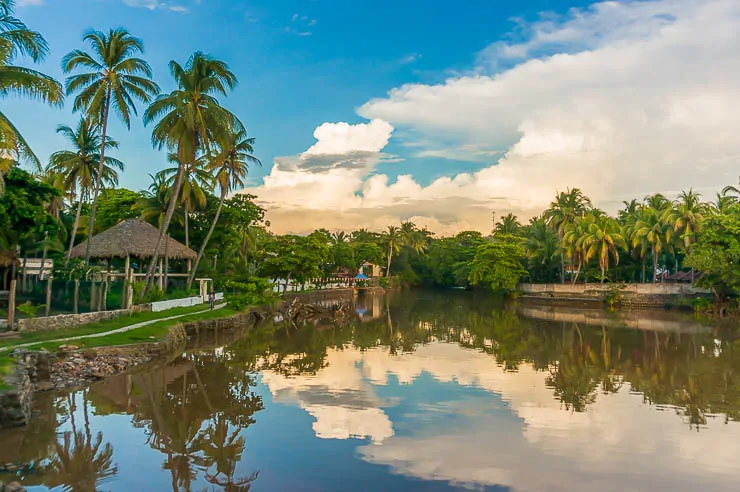 All the better for you though because many tourists choose to stay away from El Salvador, meaning you can marvel at some of these stunning locations and not have to fight your way through throngs of tourists.
In any case, let's take a look at a some of the top places to visit in El Salvador…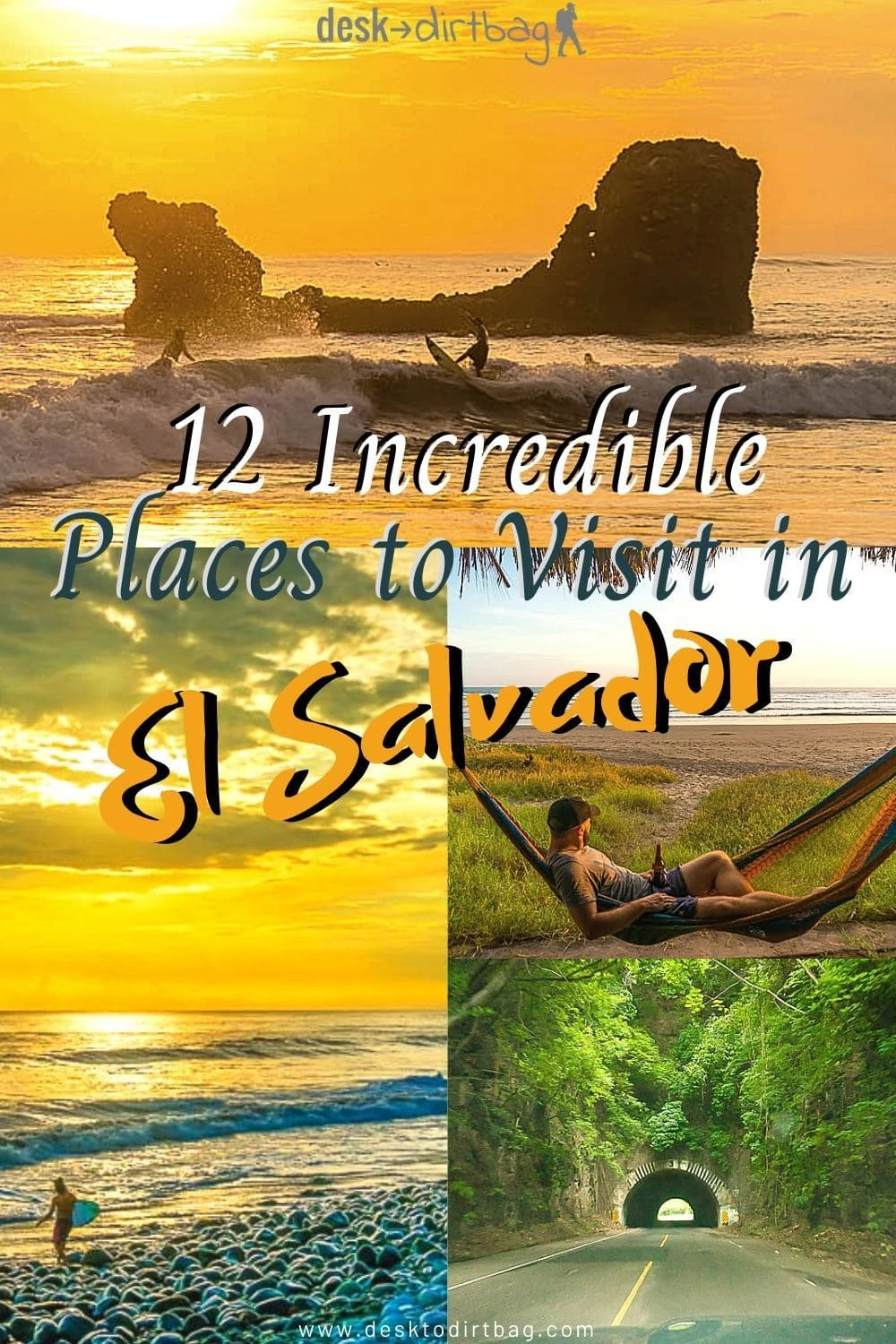 Cities in El Salvador
As with most countries in Central and South America, El Salvador was a Spanish colony. Thus, if you're looking for a trip that includes rich history along with mesmerizing scenery, El Salvador is an excellent choice. Let's see which towns and villages are worth your while.
San Salvador
The capital of El Salvador is also its largest city, so it's worth exploring, especially since most travelers will fly into and out of San Salvador, providing at least some opportunity to explore this bustling city.
That being said, the metropolis is still recovering from a poor economy and years of civil war, so keep a close eye on your belongings and try to stick to the more tourist-friendly spots and places with plenty of street life. San Salvador is actually the second largest city in Central America (after Guatemala City), but it doesn't feel as crowded or as densely packed as you might expect.
Indeed, the metropolitan area is home to about 2.5 million people, which isn't that big for a capital city in Latin America. The big difference here is that the entire country is home to about 6.5 million, so it is nearly half the population in the metropolitan area.
One of the best things about San Salvador (and El Salvador in general) is that you're never too far from the lush greenery. Volcanoes and dense jungle surround the outskirts, so you can be traversing through the wilderness in less than half an hour from the city center.
The main draw in the city can be found in the area surrounding Plaza Civica, where you'll find the San Salvador Cathedral, the National Palace, and a number of other cool architectural gems in the surrounding blocks.

Truth be told though, most people don't spend much time at all in San Salvador.
Suchitoto
Considering that El Salvador was a Spanish colony for about 300 years, there is a lot of history to unpack when visiting this country. One of the best places to see it in action is Suchitoto, where many of the original colonial buildings still remain.
Regardless of the time of year you visit, chances are that you'll come during one of the many arts and food festivals held within the city. Suchitoto is considered the cultural capital of El Salvador, and its residents relish in that title by showing off the best that they have to offer regularly.
Finally, if you fancy bird-watching but don't want to trek into the jungle too far, Suchitoto is home to many migratory bird species, owing to its position on the shores of Lake Suchitlán. You may have to get on the outskirts of the town for a closer look, but it's worth the effort if you love wildlife.
Be sure not to miss the famed waterfall, Cascada Los Tercios, to be truly wowed.
Santa Ana
For those looking for a bit of a mix between San Salvador's modern city life and Suchitoto's historical appeal, Santa Ana is an excellent choice. Santa Ana is the second-largest city in El Salvador, but as with the capital, you don't feel it.
Here you can spend the day wandering the streets and museums while taking in the cultural lifestyle of the locals. Be sure to check out some of the fantastic bars and restaurants while in Santa Ana so that you can experience all the flavors of the country.
Outside of town, you'll also find the Santa Ana Volcano, which is the highest volcano in El Salvador, along with tons of other lush green mountains. This area is home to El Salvador's coffee production, so if you're a fan of coffee like me, you'll want to do a coffee tour in the area.
Natural Wonders in El Salvador
As with all Central American countries, El Salvador is teeming with wildlife and beautiful natural wonders. Lush jungle forests, impressive volcanoes, pristine lakes – El Salvador has them all. Anyone who loves hiking and exploring the great outdoors will appreciate the fact that most of these spots aren't overrun with tourists. This also means that wildlife is somewhat easy to spot or stumble across, although not quite as easy as a place like Costa Rica.
Lake Coatepeque
With so many volcanoes in the region, finding incredible lakes is relatively easy. This one was formed about 72,000 years ago and sits within the caldera of a dormant volcano. Lake Coatepeque is one of the largest in El Salvador, so you can find plenty of water activities to fill your time.
Whether it's kayaking, scuba diving, or taking a boat tour to the island in the middle of the lake (Isla Teopan), you will be amazed at the beauty and awesomeness of Coatepeque. In fact, you can rent one of the many beach houses during your stay in El Salvador, and you'll be glad you did.
This is a must do while you are visiting the nearby town of Santa Ana.
Cerro Verde National Park
Although this park is named after the volcano Cerro Verde, it actually contains three separate volcanoes. The other two are Izalco and Santa Ana, although Verde is by far the most popular. One of the reasons for its popularity is its magnificent peaks and cloud forest, which offers incredible views of the countryside.
You can explore the park by yourself, but I'd highly recommend getting a guided tour, either by foot or horseback. Tours will show you all of the fantastic natural wonders of the park, including centuries-old trees and various exotic birds.
If you're looking for some active volcano action, Santa Ana is the one you can't miss. While you won't see plumes of smoke or lava, you can watch as sulfur and steam escape through various cracks in the rock.
This national park is also located right next to the town of Santa Ana.
Puerta del Diablo
El Salvador is a hiker's paradise, but for anyone who loves rock climbing, Puerta del Diablo is a must-visit. The name translates to "the Devils' Door," and it got that name from a rather morbid history. During the most recent civil war, the spot was used for various atrocities, but lately, it's been reclaimed and made into a peaceful sanctuary.
I imagine it can feel a bit odd to climb on a rock with that kind of past, but reveling in its natural beauty and using it for something positive can help reshape that history and turn it into something a lot more pleasant.
If anything, this place is so very emblematic of the changes that have taken place in El Salvador, once a place of terrible atrocities where no one would want to go, now you can see locals scaling the rock for fun and now becoming "conquistadors of the useless" as it has been put. Plus, the views from the top are undoubtedly spectacular.
Ruta de las Flores
Although Ruta de las Flores is technically a route that passes through several villages and forests, it's named after the various flowers that bloom along the way. If you want to make the most of this trail, be sure to visit between November and February, when the flowers turn the area into an artist's canvas.
The route may be named for the flowers, but the rest of the scenery is just as mesmerizing. You'll pass through several small towns, as well as see waterfalls, lagoons, and local markets. The span of the route is about 20 miles, so plan on taking the whole day to explore it from end to end. You'd be best off driving the route (we had my truck since we were overlanding, but some people rent a car), but you can also take a bus and get off whenever it stops.
Ancient History in El Salvador
The Mayan empire stretched through most of Central America, and its presence is still felt today in many respects. While El Salvador may not have ruins as world-famous as other countries like Mexico and Guatemala, the sites here are just as valuable in understanding the history of the region. During your visit, be sure to check out these two spots.
Tazumal
When it comes to impressive Mayan ruins, Tazumal is right up there with the best, including Chichen Itza or Tikal. Most of the excavation occurred in the '40s and '50s, but much of the site remains untouched. Who knows what secrets lay beneath the stepped pyramids and hollowed out underground chambers?
In the native language, this site was called "the pyramid where the victims were burned." I'm sure you can fill in the blanks as to what that meant for the Mayan, and what kind of history happened here.
According to scientific estimates, Tazumal was developed in around 5000 BCE and abandoned by 1200 CE. There is a museum on site that goes into further detail about its history and what was uncovered during its restoration.
These ruins lay very close to Santa Ana, making for an easy day trip.
Joya de Ceren
When it comes to preserved cities, most people think of places like Pompeii. However, El Salvador has its own version with Joya de Ceren.
Discovered in 1976, this city was buried in volcanic ash, much like its Italian counterpart. Most of the residents were able to escape in time, but their rushed evacuation meant that much of the city was left intact.
Joya de Ceren was consumed in 640 CE, so you can experience a day in the life of the Mayan people.
Although the site is not too expansive, its preservation makes it a must-visit for any ancient history buffs.
Beaches in El Salvador
With nearly 200 miles of coastline along the Pacific Ocean, you can bet that El Salvador has some pretty stunning beaches and coastal scenery. I, for one, was not disappointed. Indeed, it is the beaches that are the primary draw for most tourists to El Salvador. Sometimes it seemed like intrepid and budget-minded surfers were the main contingent of travelers to this often misunderstood country.
El Tunco
Almost directly due south of San Salvador is the humble little hippie beach town of El Tunco. This was probably one of my favorite places in all of El Salvador to be honest… I guess I just have a soft spot in my heart for cool little surf towns like this.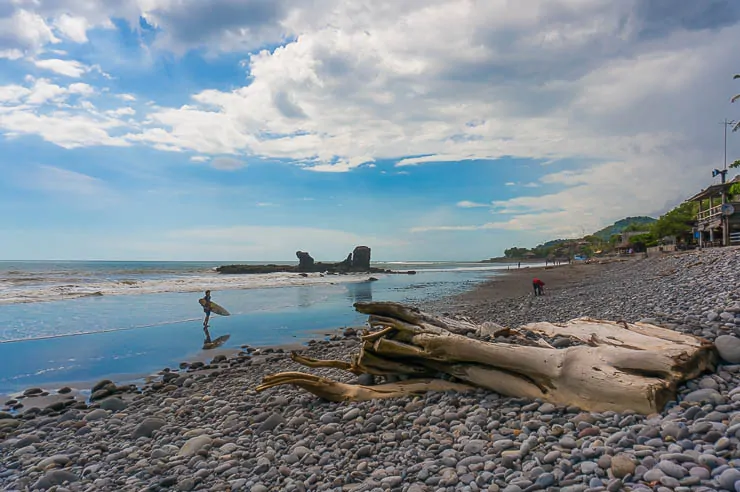 The beach here is basically massive boulders and the waves here are pretty thrashy, making it not exactly ideal for wading in the water, but more fitting for experienced surfers.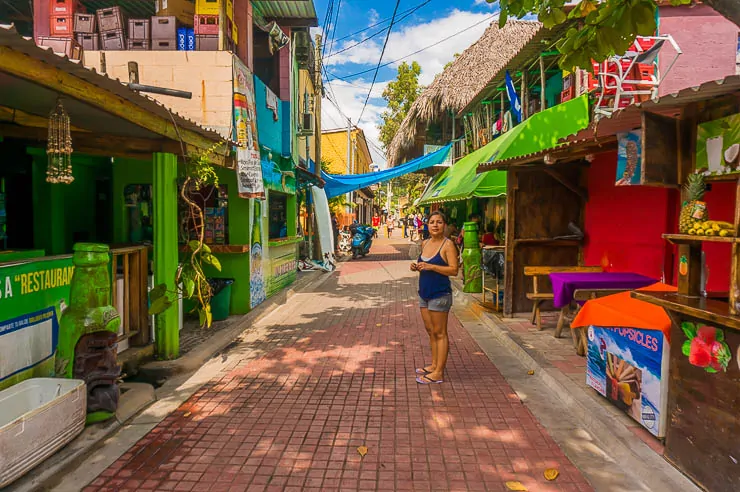 Our nightly ritual here was to just head out to the beach with a cheap beer in hand and watch people braving the violently churning water as the sun dipped over the horizon.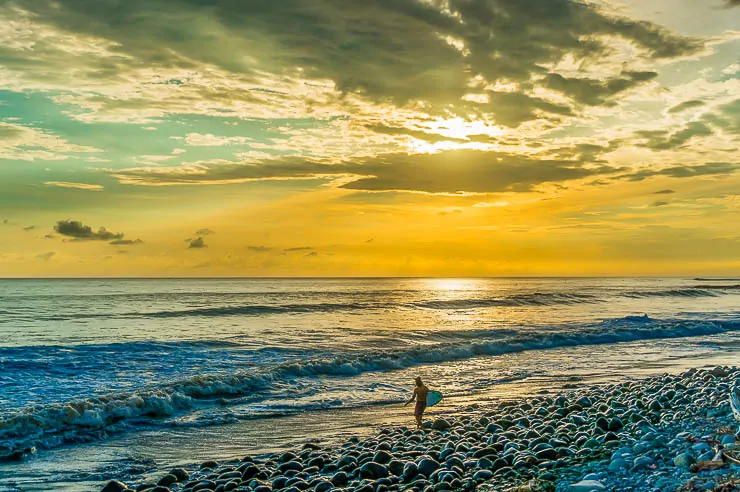 This is a cool place where you'll find a laid back vibe, tons of cheap and rustic hostels, cheap drinks, and delicious pupusas.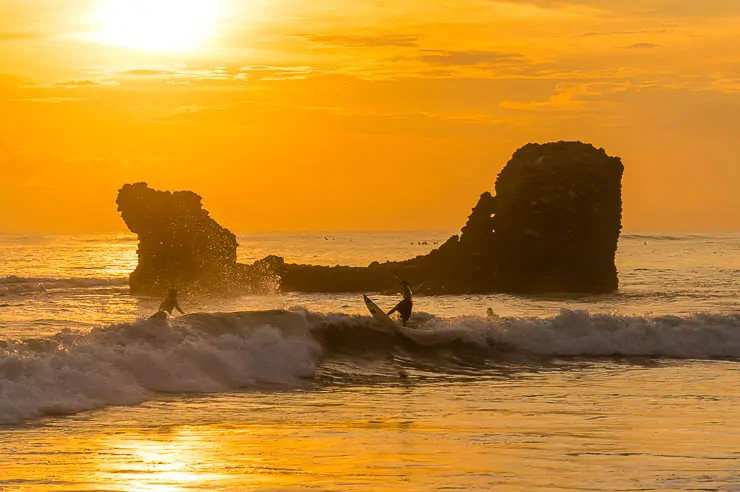 Costa del Sol
We mentioned that El Salvador is relatively untouched by tourism, but Costa del Sol is partially immune to that fact. While you may want to avoid throngs of visitors, this area is highly popular for a reason – it's insanely gorgeous. And even so, when I say "highly popular" that is relative… I mean it was still pretty sparsely populated when we visited. We're not talking like the beaches of Cartagena, for example.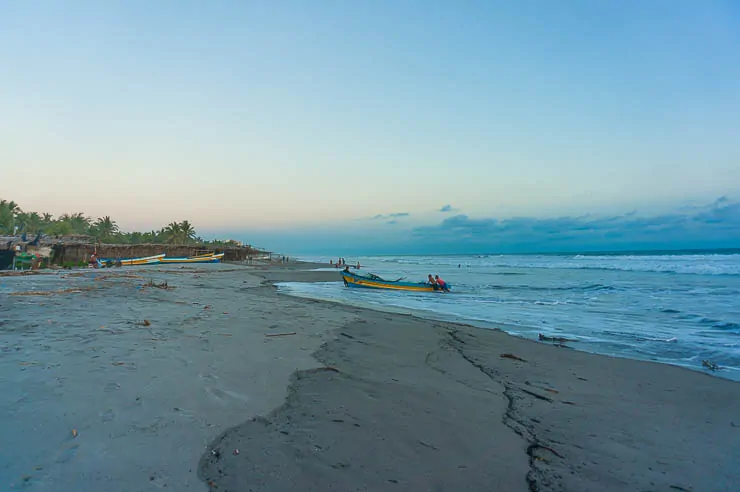 Costa del Sol is split between three beaches: San Marcellino, Los Blancos, and Costa del Sol. All three are exquisitely beautiful, but you don't have to visit all three to feel like you got the whole experience.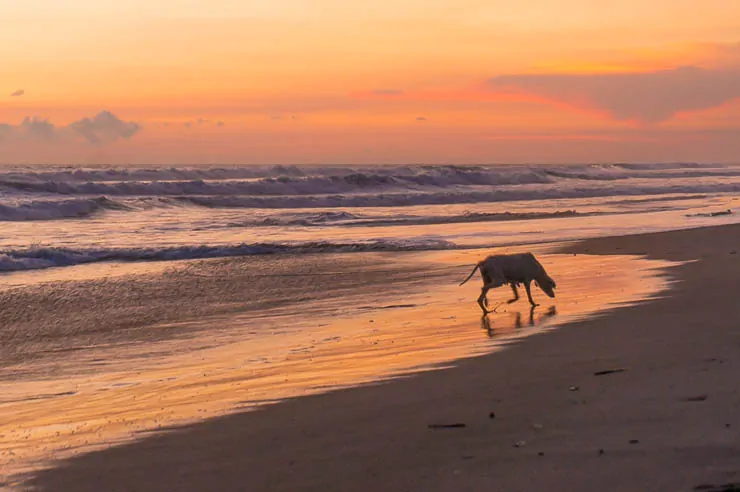 This area is also home to one of the only theme parks in the country: Atlantis Water Park. Because Atlantis is surrounded by such lush jungle and exotic wildlife, it's worth a visit. You can ride roller coasters and lounge by one of the many pools inside.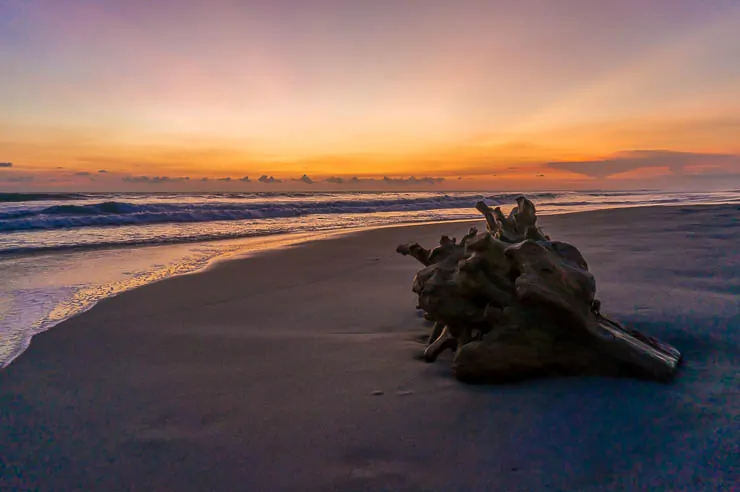 El Cuco
El Cuco sits far to the east, one of the last little towns that sits on the Pacific Ocean rather than the Gulf of Fonseca which is shared between El Salvador, Nicaragua, and Honduras. This is another laid back little beach town, quite a bit smaller and quieter than El Tunco, but still pretty amazing.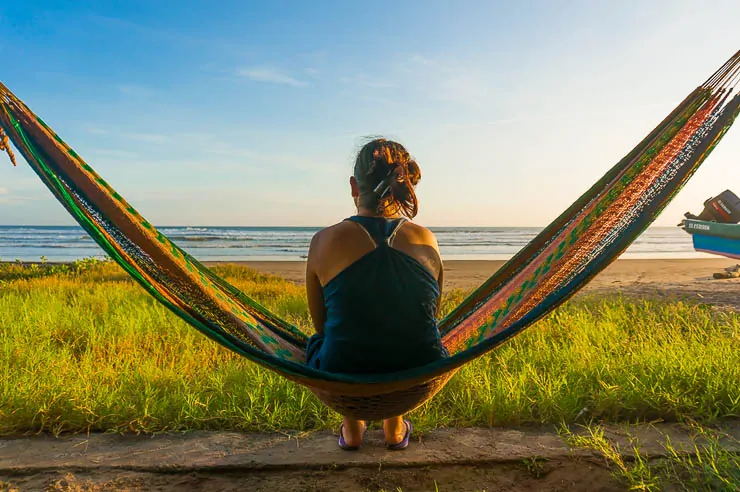 Here you'll find miles of pretty chill coastline, not like the rocky coast in El Tunco, where you can walk along with some friendly stray dogs, sit back in a hammock with a beer, or maybe try the more beginner friendly surfing waves.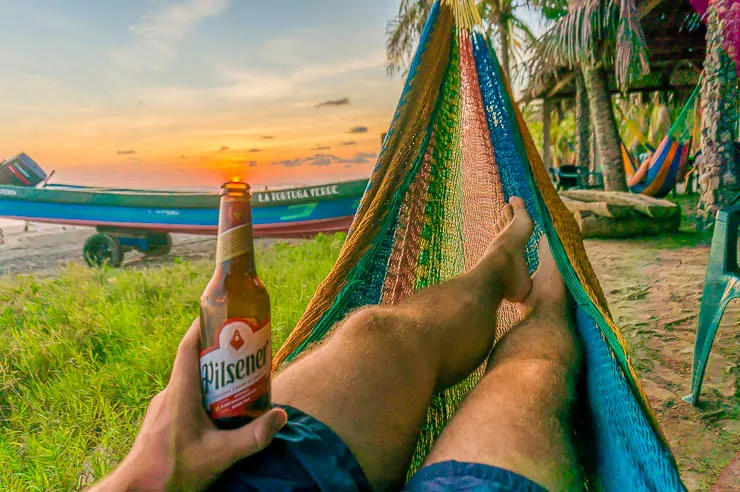 One of the absolute highlights for us in El Salvador was our time spent here in El Cuco, especially when we got to release baby sea turtles into the ocean. It was put on by our hostel (they have a turtle hatchery even), La Tortuga Verde, which sits outside the small town of El Cuco, right on the beach.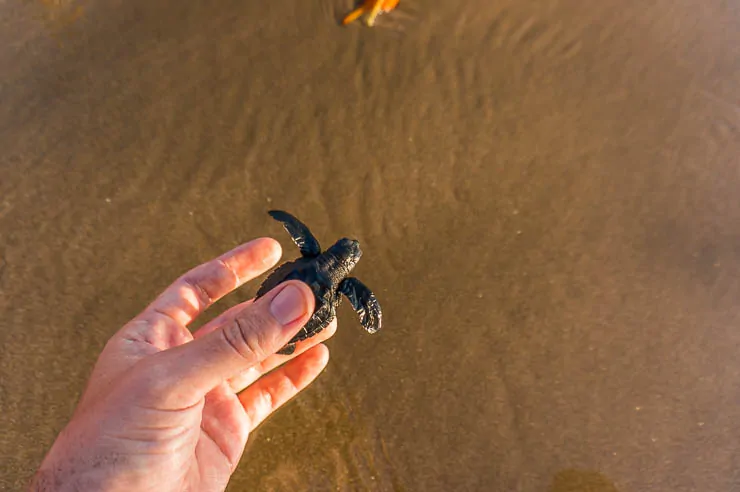 It's a pretty cool place what with the sea turtles, the pool, or the free yoga. Highly recommend popping into El Cuco before you make your way to Honduras or beyond.
More Places to Visit in El Salvador
El Salvador is a small country, but it has a lot to offer. If you're visiting for the first time, I'm sure you'll be impressed with its beautiful beaches and some of its amazing natural areas.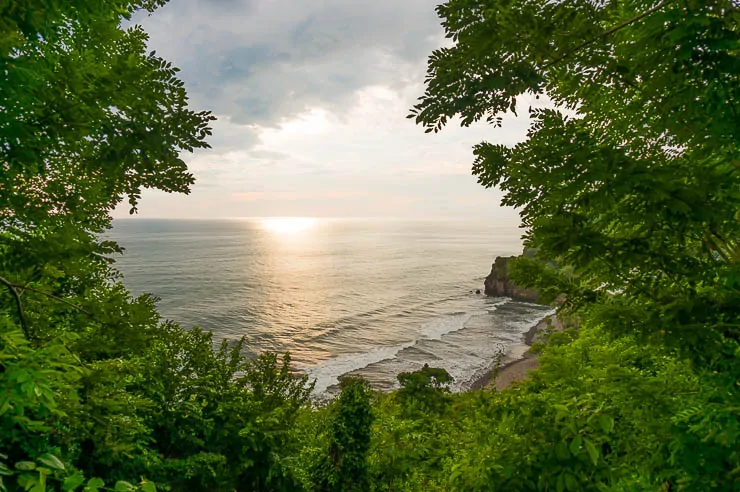 While the migration from Central America by those looking for a better life is a very real thing, since they face poor economic opportunities as well as pressure and violence from local gangs, I feel that increased tourism to the region would help this country immensely and open up new sources of employment in the tourism sector.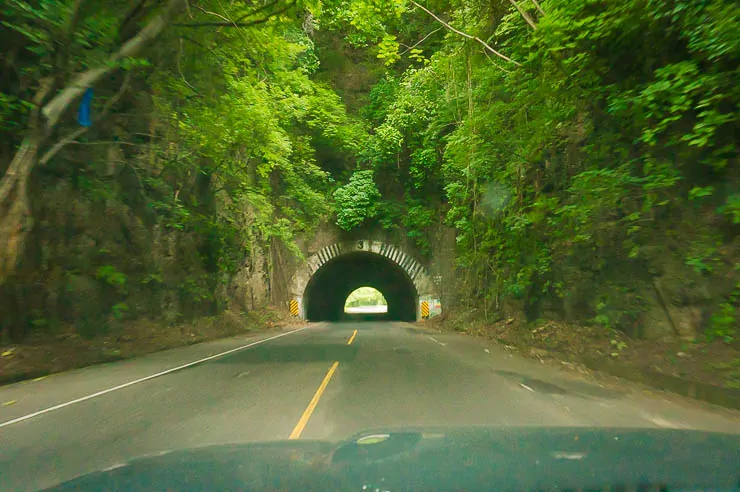 I should also note that the insecurity and violence in El Salvador is not something that impacts tourists, beyond the normal advice of watching your belongings and being careful (as with anywhere in Latin America). This is a fun, beautiful, and amazing country if you give it a chance…
Enjoy your trip to El Salvador, I know we did!
Traveling to El Salvador soon? Book your lodging on Booking.com now to save. There are also Airbnb units in El Salvador that you can book for longer stays. Don't forget to purchase your backpackers travel insurance for El Salvador as well, in order to protect yourself against illness, injury, and theft. I use and recommend World Nomads for its combination of coverage and affordability.
Read Next: The Safest Countries in Central America
Share This
Did you enjoy this post about the best places to visit in El Salvador? Take a second to share it on Pinterest, Facebook, or Twitter. Thanks!
The following two tabs change content below.
Desk to Dirtbag is one of the leading budget adventure travel blogs online and is dedicated to helping its followers achieve their travel dreams through inspiration, information, and actionable steps. If you are new to the site, be sure to
Start Here
.
Latest posts by Desk to Dirtbag (see all)