This article may contain
affiliate links
. If you make a purchase through these links, I will earn a commission at no extra cost to you. Thanks!
Cartagena, Colombia is an absolutely gorgeous seaside city… Not only does it feature colorful streets, friendly locals, delicious tropical Colombian fruits, and amazing seafood dishes, but it also has more beaches than anyone can count. Here are some of the best Cartagena beaches to explore on your next trip.
Cartagena sits on the northern coast of Colombia and abuts the tranquil Caribbean Sea (did you realize that Colombia sits on the Pacific Ocean and Carribean?). Even though there are many awesome things to do in Cartagena both inside the old city walls and out, you can't deny the fact that the tropical climate lends itself to enjoying maximum time by the beach.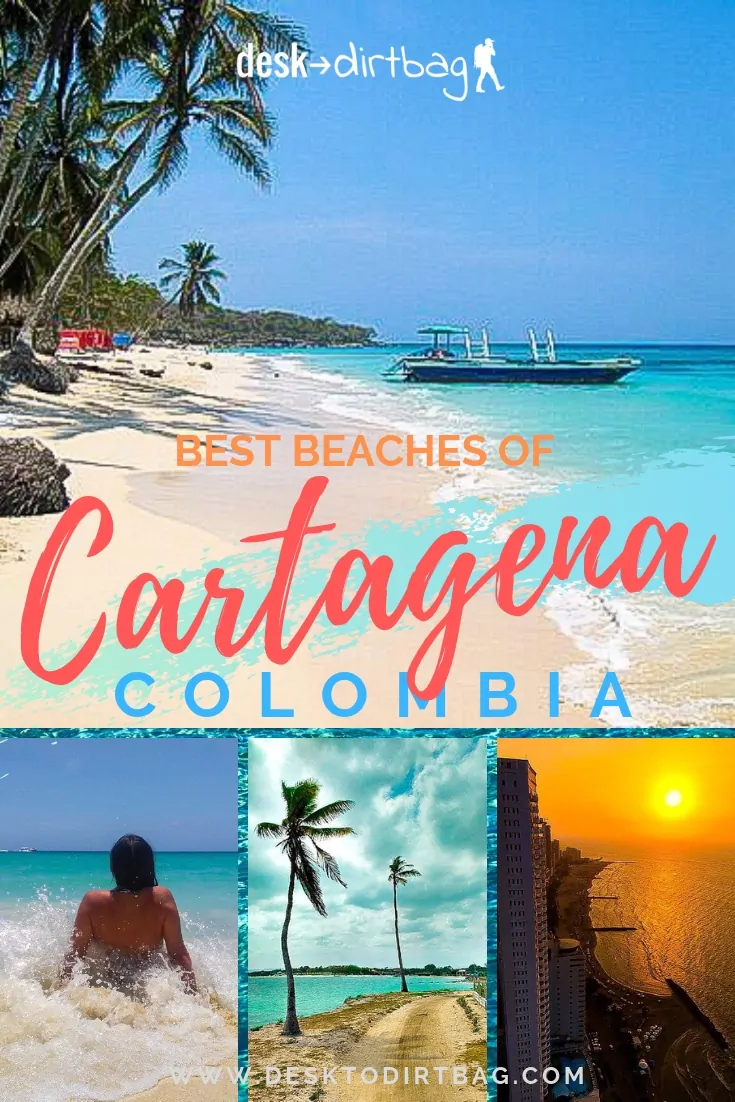 Playa Blanca
Playa Blanca is Cartagena's most famous beach for a good reason: it is simply exquisite. If you are looking for a beach that is paradise on earth, then this is the beach you want to go to. The pure white sand and crystal blue waters set a simply beautiful scene that is totally worth the trek outside the city.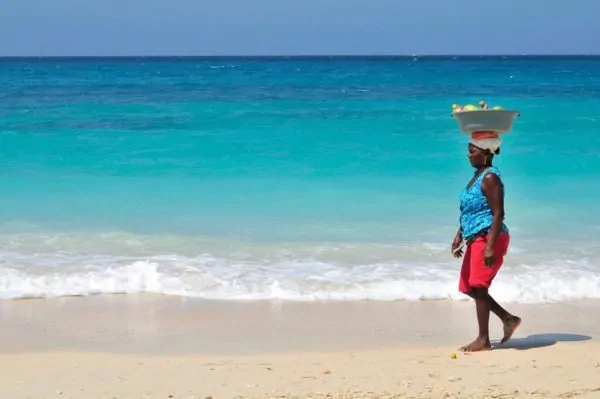 Yes, this most famous of Cartagena beaches isn't actually in Cartagena, but rather lies on the Isla Baru, which can be reached with a boat trip from town or even by a 40-minute drive.
When you are there, you will have to contend with throngs of visitors and numerous vendors who are trying to sell their wares. But, the turquoise waters and beautiful beach is worth it. If you want to get away from the crowds, you can walk a short way up the beach to find less populated areas.
Do yourself a favor and stay at Playa Blanca until after the sun goes down. You will see one of the most incredible sunsets you will ever witness. It is more than worth sticking around for. In all honesty, this is a place that is worth making an overnight stay to more fully enjoy it, rather than a quick day-trip.
For the best place to stay on Isla Baru and Playa Blanca, be sure not to miss my guide to the best Cartagena hostels.
Castillogrande
You can find Castillogrande on the Bocagrande peninsula in the heart of Cartagena. This peninsula is where you will find the best sandy beaches within the actual city limits of Cartagena, and Castillogrande lays at the extreme end of Bocagrande (furthest from Old Town Cartagena).
> Read more about where to stay in Cartagena
The Castillogrande beach is a bit more exclusive and upscale than other beaches in the area. This is the ideal beach to hit if you are looking for someplace that is peaceful, laid-back and not as crowded with other tourists.
One of the highlights of this beach is its clean sea that is perfect for swimming. Although there are many beaches in the Castillogrande area of Cartagena, they are more isolated than the ones that are closer to the city.
La Boquilla Beach
The beaches in the La Boquilla area (located east of Cartagena along the coast) are plentiful and favorites of tourists in Colombia. Not only are there plenty of beaches from which to choose, but there are also lots of restaurants and shopping kiosks to visit, too. The beaches in this area are not too far from Cartagena's airport, so it also makes for a popular place to base yourself if you don't want to be in the city.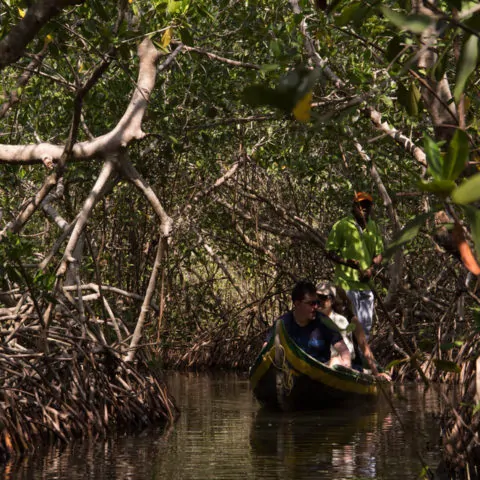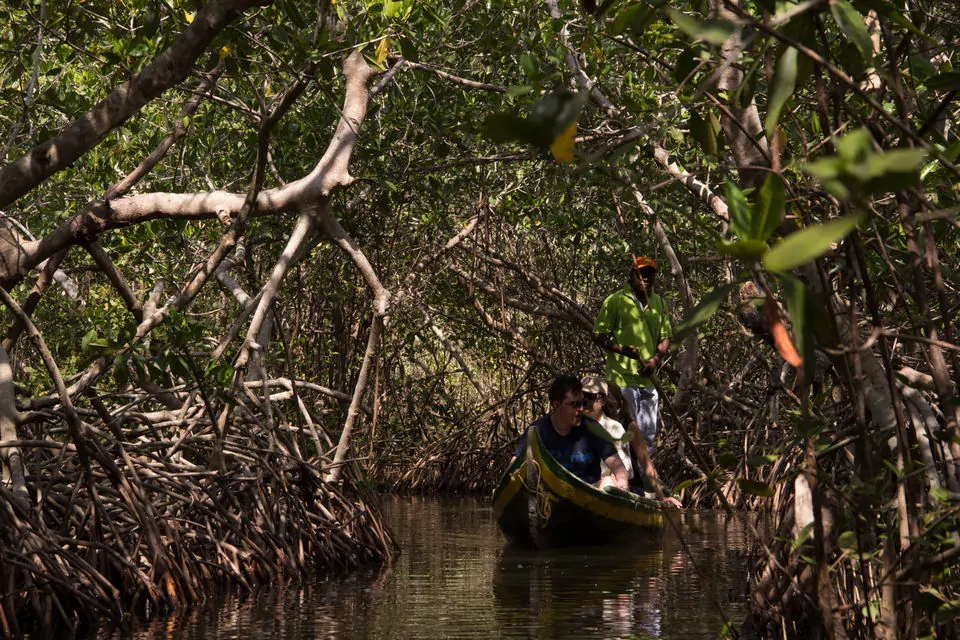 It is also worth your while to take a boat tour of the nearby mangroves. One factor to keep in mind, though, is that the beaches in this area are not as visually appealing as some of the other beaches in the Cartagena area. So, you need to be willing to sacrifice some aesthetics if you decide to visit here.
Regardless, you'll get a more rustic beach experience, with less crowds, and some incredible nature to explore like taking that La Boquilla Canoe Tour through the mangroves.
Bocagrande
Bocagrande is perhaps Colombia's most famous beach, located right on the aptly-named Bocagrande Peninsula. It has an urban setting, not far from the Old Town (this is the best beach that is close to the Old Walled City of Cartagena) and it is located directly in front of the neighborhood with the same name, which is known for its upmarket hotels and skyscraper-lined peninsula.
It is just a few minutes walk from some of Cartagena's best neighborhood (like Old Town, Getsemani, or the rest of the Bocagrande Peninsula) and is also home to some pretty upscale hotels and resorts. So, it is a favorite spot for the glamour-set of Colombia.
This is the place to base yourself if you want a higher end hotel experience, direct access to the beach, and still be within easy striking distance of Old Town Cartagena.
Punta Arena
Punta Arena beach is located on Tierra Bomba island. It is a quick 10-minute boat ride from the shores of Castillogrande. Once you are there, you will get to enjoy pristine white sand beaches and clear turquoise blue water.
It is an entirely different experience from the urban beaches of Bocagrande and El Laguito. Although the beach can be somewhat crowded with locals and tourists, if you walk just a short way, you can find some more secluded areas. This area is also filled with several beach clubs, so there is no shortage of entertainment to keep you occupied.
Plus, Tierra Bomba is just different from the rest of Cartagena… This is the place that Anthony Bourdain called an entirely different world if you've watched his shows on Colombia.
Manzanillo del Mar
The beaches at Manzanillo del Mar are farther away from the urban area of Cartagena than many other mainland beaches. So, they are the ideal beaches to visit if you are craving quiet and tranquility.
The town of Manzanillo del Mar is approximately 35 minutes outside of Cartagena by road. But the journey is worth it. The beaches are expansive, and the people are few. If you want to hit one of the best Cartagena beaches without so many people, head over to Playa de Oro in Manzanillo del Mar.
Rosario Islands
The Rosario Islands are an archipelago of mostly-protected national park land along with some private land. Thankfully, there are a number of amazing spots within these islands that are open to public use. If you are a fan of snorkeling, you need to head over to Isla Grande. There is lush vegetation and awesome mangroves to explore. Plus, the island is home to the best snorkeling near Cartagena.
Another great beach on the Rosario Islands is Playa Libre. This beach is the most accessible among the most beautiful beaches in the archipelago and will not disappoint anyone who visits.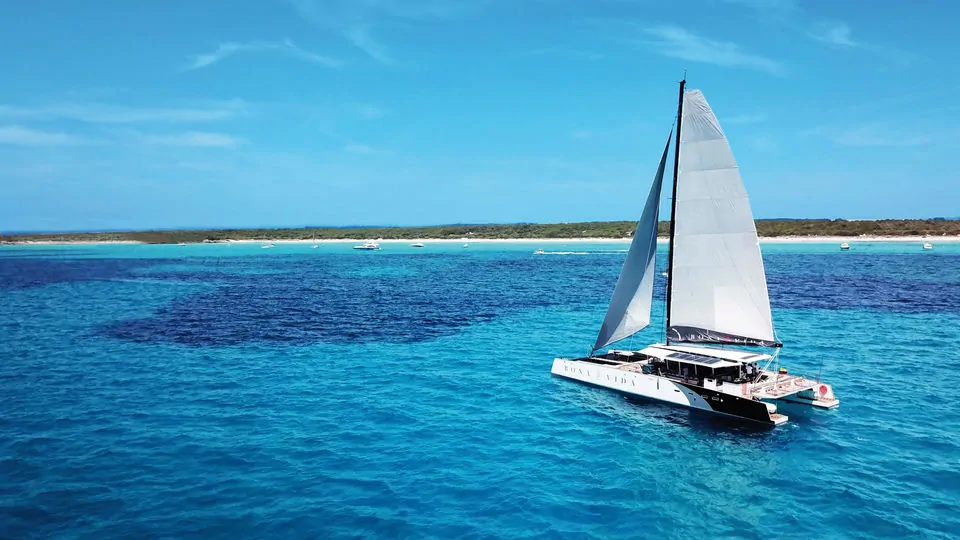 Since they are islands, you will have to visit with an organized tour… The most popular way to experience the Rosario Islands is via a catamaran tour boat which allows you to party your way over to the islands with an open bar, stops at a few different beaches where you can take a dip or go snorkeling, and much more. It's for sure one of the top things to do while you're here…
The Best Cartagena Beaches
If you are planning a trip to Colombia, it will not be complete without a stop in Cartagena and then making a visit to at least one of these fabulous Cartagena beaches. If you have the time, check out several of them so you can decide for yourself which one is the best!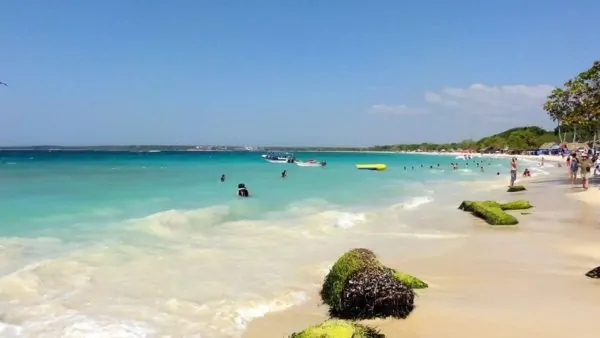 Of course, Cartagena is much more than just beaches, so be sure to read my article about the coolest things to do in Cartagena.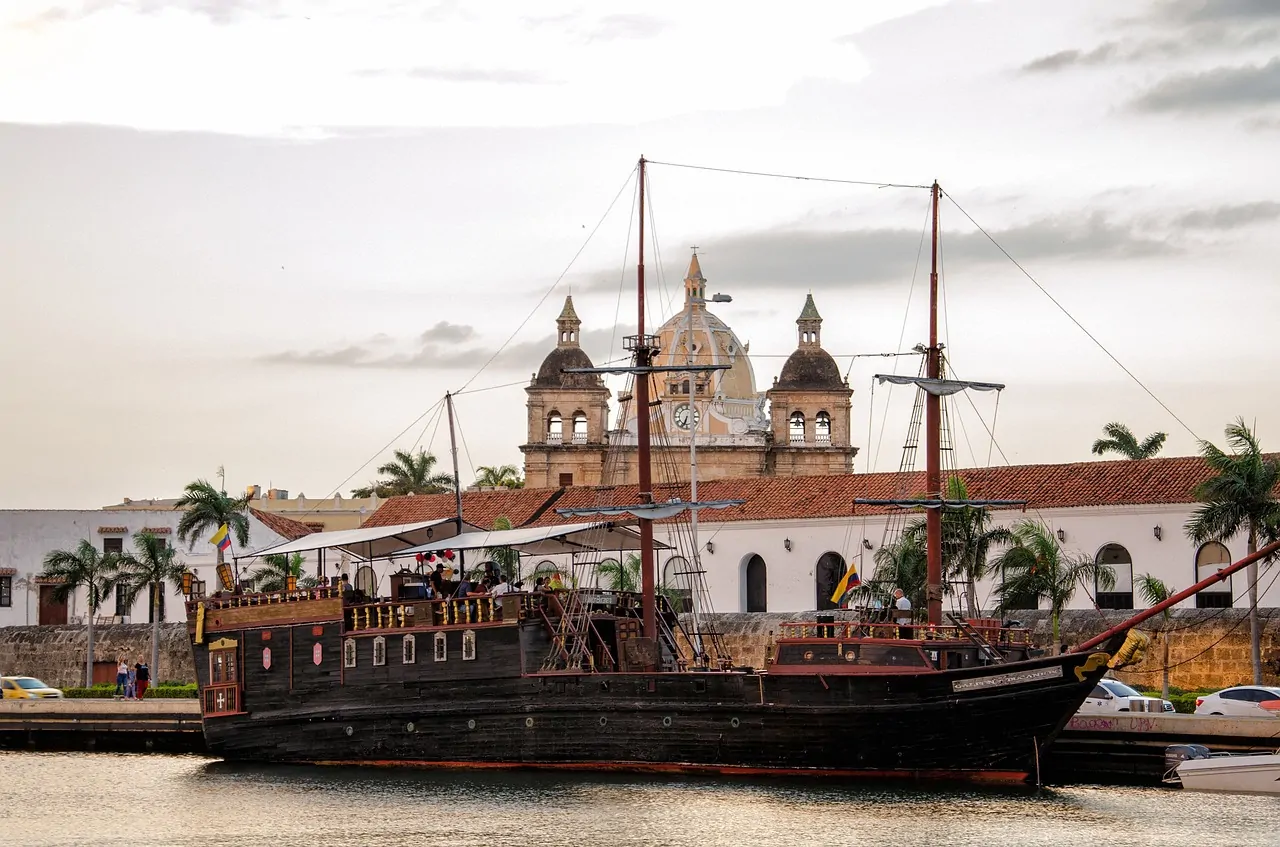 Traveling to Cartagena soon? Reserve your room on Booking.com now to save, and don't miss my comprehensive guide to the best Cartagena hostels. Finally, I highly recommend picking up travel insurance for Colombia to protect yourself against illness, injury, and theft. I use and recommend World Nomads for my travel insurance needs.
Read Next: 7 Cartagena Tours You Shouldn't Miss
Share This
I hope you enjoyed this ultimate guide to the best Cartagena beaches. If so, please take a second to share it on Pinterest, Facebook, or Twitter. Thanks!
The following two tabs change content below.
Desk to Dirtbag is one of the leading budget adventure travel blogs online and is dedicated to helping its followers achieve their travel dreams through inspiration, information, and actionable steps. If you are new to the site, be sure to
Start Here
.
Latest posts by Desk to Dirtbag (see all)