This article may contain
affiliate links
. If you make a purchase through these links, I will earn a commission at no extra cost to you. Thanks!
Volunteering abroad can be an incredibly rewarding experience that you will cherish for decades to come, but the very idea of how to go about volunteering abroad and sorting out the logistics can be almost overwhelming for many. Just a few of the things you'll need to consider is which country you want to go to, deciding on which organization to work with, planning your travels, what to bring, what experiences you need or what you should learn beforehand, how to apply, etc. etc. etc…
But to help you decide on all of these things, including whether or not volunteering abroad is appropriate for you, we've put together this massive guide to finding volunteer opportunities overseas and what you should consider when going into.
I've had a number of experiences volunteering abroad in my travels and working with different types of organizations, ranging from more selfish reasons like wanting to save money for a period of time to truly believing in the cause and really putting in some sweat equity. I've had amazing volunteer experiences and some less than stellar ones (though none that were downright bad), but regardless, they've all impacted me on some level and I've taken something away from all of them.
Honestly, some of my experiences volunteering abroad have created some of the most vivid travel memories I have, and in the process I did a bit of good, learned new skills, and created some lasting friendships.
Following graduation from college, I strongly considered joining the Peace Corps for a volunteer abroad experience, and although my path took a different turn and that never happened for me, I still believe in the value of volunteering overseas, even for short periods of time. No, you don't have to commit to 2+ years with the Peace Corps or some other organizations to volunteer and travel at the same time.
Also, while I've had a number of volunteer experiences, they are still limited in the grand scheme of things, so I have invited some other experienced bloggers to share their stories about offering their time and effort to a wide variety of organizations in many different countries around the world.
I hope this article offers you a comprehensive look at what volunteering abroad entails (including pros and cons) and the sheer variety of different opportunities available all over the world if you know where to look.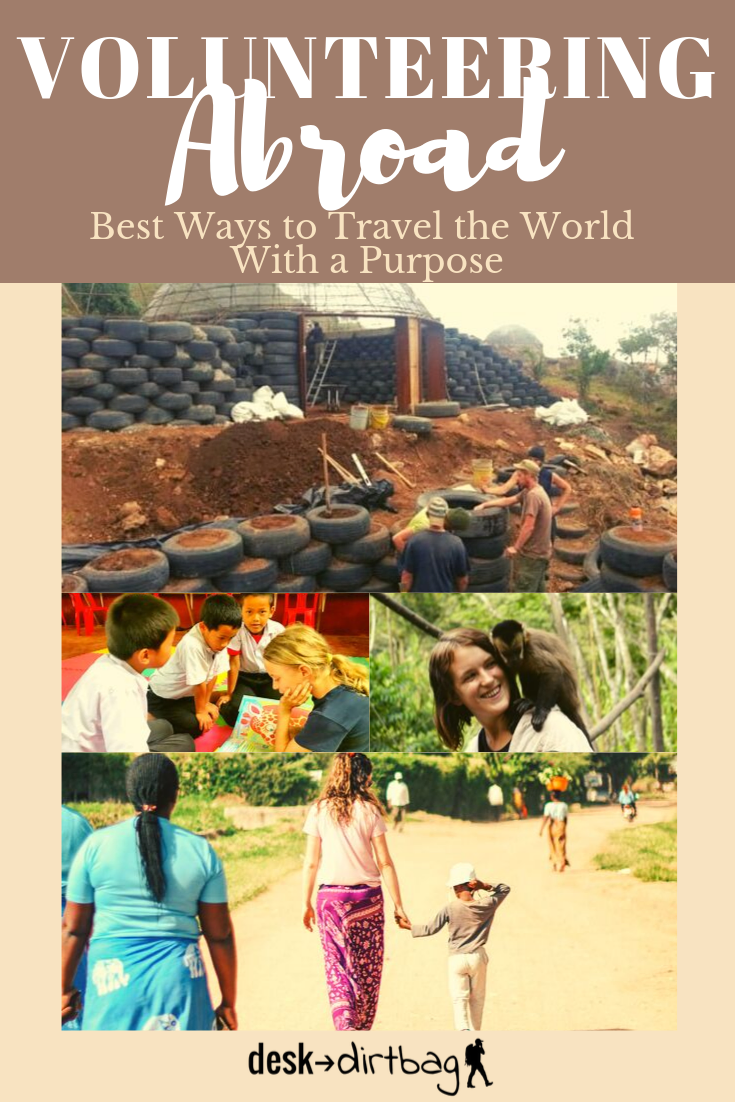 10 Things to Think About When Volunteering Abroad
There are a lot of things to consider before you commit to volunteering abroad. Doing your due diligence and knowing what you're getting into will help properly set expectations for your time abroad.
1. Know
Be honest about your real intentions in volunteering abroad. Is it just because of free meals and lodging in exchange for a few hours of work? Do you want to learn the language? Or is it because you have a skill set that you would like to share or put into practice? Is it for professional improvement or cultural immersion? There are a lot of questions you should ask yourself but being honest with yourself should be your first step in ensuring that you find the best volunteer work that aligns with your goals.
You may feel like you "should" want to go volunteer with Syrian refugees, but if all you really want is to immerse yourself in southern France eating wine and cheese, then you'll probably be unhappy with the former.
2. Research
Research extensively about the organization that you would like to volunteer in. If you can find public reviews of former volunteers, read them and try to learn from their experience (hence this collab post). You will also see how this organization is seen by the community (both locally and internationally) and learn about its reputation within the country.
By researching, you also get to know if your beliefs and values are aligned with the organization of your choice. And last but not least, be responsible and make sure that your volunteer work is not taking away jobs from the locals.
3. Cover
Cover the basics including your travel visa, travel insurance, and a medical examination and vaccinations. Some organizations will have a more formal process, including an application that you may need to fill out. If possible, you should ask for a letter from the organization to certify that you have been accepted as a volunteer. Also, make sure you have the right visa for that country.
Be ready for the unexpected while abroad. Things can and do wrong, so I highly recommend getting World Nomads for your travel insurance when abroad. Just for safety, make sure you have completed your medical examination and your vaccinations before entering that specific country. For many destinations, you can expect a bevy of shots in order to prepare. These are important as many volunteer opportunities can be fairly remote with limited access to medical care.
4. Pay
Be aware that NOT everything will be covered even with you volunteering your time and talent, indeed, some organizations may ask for a base payment to cover your meals and lodging. Paying for this sort of thing is common practice and it ensures that other funds are dedicated to helping locals or delivering services, rather than sustaining volunteers from abroad.
There are some organizations, however, who charge exorbitant fees to place you into a volunteer program and these should definitely be looked at with a skeptical eye. Personally, I have no problem covering my expenses to volunteer for a cause I believe in, but don't look too kindly on paying them a lot to work for free.
There are also plenty of volunteer opportunities that are absolutely free to participate in and offer free meals and free accommodation in exchange for work. These types of opportunities are favorites of budget travelers looking to lengthen their travels.
5. Speak
Try to learn the language. Speaking the language gives you the confidence to communicate with the locals and it creates a bridge between you and the culture of the people. Again, many volunteer opportunities tend to be in more remote areas where people tend to speak less English. Even if you're volunteering abroad to teach English, you should still make a concerted effort to learn the basics of a language.
Thanks to the internet and the ease of access to information, it is easier than ever to learn and practice a language before you even get on the plane. Thanks to websites like Duolingo, you can learn the basics of dozens of languages, and websites like iTalki where you can connect with native speakers to practice, you can arrive with the basics already under your belt.
Obviously, you should learn the language of the destination you plan on volunteering in, but if you don't have a specific country in mind yet, Spanish or French are two of the most useful international languages to learn.
6. Embrace
Embrace the culture of the place so you will never find yourself an outsider and won't feel as uncomfortable with things unfamiliar to your own ways or customs. Indeed, bridging these cultural gaps is one of the most enriching parts of travel.
You'll learn that there are different ways to see the world, society, work, family, etc. All too often we tend to see certain aspects of other cultures as bad or negative without really understanding them. Travel gives you a chance to do just that.
Remember also that is a cultural exchange that goes both ways. Depending on where you are going and what you are doing, the people you are volunteering with may have never had the opportunity to interact with someone from your country.
You are essentially an ambassador for your country, as well. While we know better than to generalize and stereotype, humans do it all over the world. If you are hardworking, kind, and considerate, locals will begin to associate that with your country, while the opposite is also true.
When I was living in Yemen, I remember countless interactions where I was the first American that they've ever met, and while they detested many of the US political decisions, they still left with a good impression of Americans thanks to our interactions. I was happy to play a role, albeit small, in changing their perspectives of Americans.
7. Open
Be open-minded to whatever changes that may happen along the way. There's a saying about how the adventure doesn't really start until something goes wrong, which is also true of travel. You've got to expect the unexpected and be flexible.
If you stress about every bump in the road or inefficiency or so forth, then you're setting yourself up for a bad time. Also, you have to be open to whatever challenges that you have like a change of weather or change of location, and even prepared for people trying to take advantage of your generosity.
8. Pack
Pack the right wardrobe and things going to the country of your choice. You wouldn't want to get frozen in the mountains of Peru with your shorts and cotton shirts. A little bit of homework will allow you to come prepared rather than to be surprised by the unexpected.
That being said, it is also important to realize that you don't absolutely have to dot every I and cross every T. You'll be able to find all the basics pretty much everywhere in the world. They sell shirts and shorts and jackets and toothbrushes and so forth all over. Highly specialized items are harder to track down while traveling though.
9. Call
Do call your loved ones back home to let them know you are still okay. If you are in a place where the internet connection is intermittent or the phone signal comes and goes, you should let your family know how often you can contact them. And of course, they would love to hear more about your adventures wherever you may be!
Thankfully, cell service with data is widely available, even in countries with relatively undeveloped infrastructure. Purchasing a local sim card should be one of your first steps when you arrive. For areas with very weak signals, WhatsApp is often the best way to stay in touch. If you can get a 3G or 4G connection, you can definitely do Skype calls. It's good practice in many cases to use a travel VPN as well to ensure the security of your data.
Read More: The Cheapest International Phone Plan
10. Work
Work it! Volunteering is not about lazing around or going to the beach anytime you want. Volunteer work should be treated as serious business. Remember the organization has accepted you for your commitment to work for them and help them out. Be sure that you know what is expected of you, get into a daily routine, and be sure to finish your working hours.
Even low cost or free volunteer opportunities entail some level of lost opportunity cost as they bring on a new volunteer and have to train them and get them up to speed. It's important to respect that and to try and do the best job you can for them.
I hope those considerations will help you better evaluate whether the world of volunteering abroad is right for you and deciding whether or not a specific opportunity is a good fit.
Where to Find Volunteer Abroad Opportunities
There are tons of different places to find volunteer opportunities across the world across all sorts of different types of work. Here's a quick look at some of the most popular websites and online resources to find a volunteer opportunity abroad for you:
That's just a taste of some of the most popular ways to find volunteer abroad experiences, which is why I also asked some of our dear travel blogger friends to contribute to this epic guide to volunteering abroad by sharing their experiences, volunteer opportunities, and how they found them.
In total, we have 23 entries for volunteering in different countries all over the world, including my entry in Colombia. From these 23 entries, we've represented 5 for South America, 1 for the Caribbean, 5 for Asia, 2 for Africa, and 10 for Europe.
So, read on and see what ideas you can discover from our friends' adventures and experiences… We'll start with one of my recent experiences volunteering abroad.
Volunteering in South America: Colombia
Building Earthships and More
By Ryan of Desk to Dirtbag
When I first set out traveling to South America, I was going to be traveling on a budget but I really wanted to stretch my time on the continent. One of the ways that I knew I could really stretch my time on the ground (and give myself more time to study the language or just stay put in one location) was by volunteering with different organizations.
One of my first stops was a lengthy WWOOFing assignment where my buddy Jeff and I settled in San Gil, Colombia with a young couple, as we helped them get their countryside hostel and glamping off the ground.
It was an interesting experience feeding the goats and doing other farm tasks, but in retrospect, it was a bit strange working six hours a day, sometimes doing hard labor, in exchange for room and board, for what was to be a private business venture (read Claudia's experience below in Costa Rica for a better discussion on this dynamic).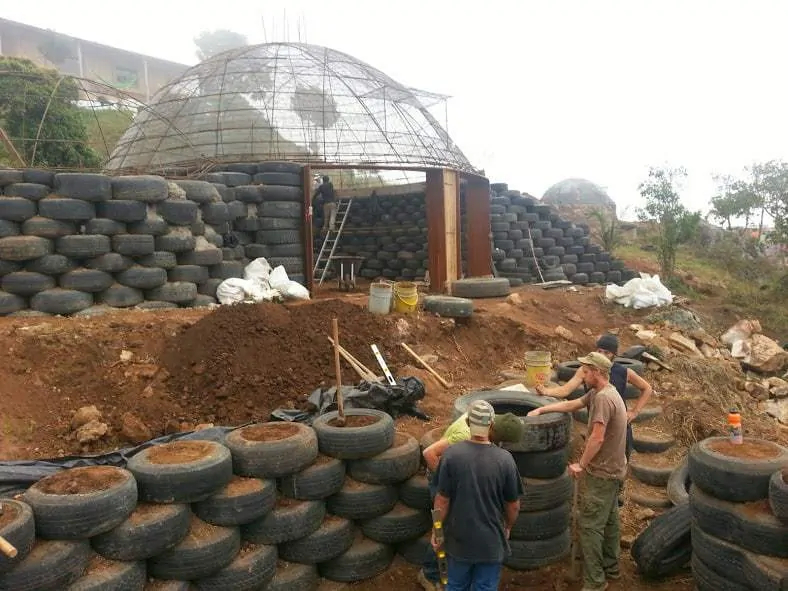 The next big volunteer assignment was in Choachi, Colombia, just outside of Bogota, where we stopped to help build earthships in Colombia with the organization Long Way Home. Now, in case you aren't familiar with earthships, these are off-the-grid homes built largely with recycled refuse such as old tires, glass bottles, and other materials.
The tires are packed with dirt by sledgehammers and used to build the walls of the structure, creating a natural sort of insulation, and the colorful glass bottles are often set within the roof (which is poured concrete) to allow for natural light inside.
I'd worked a bit of construction in my life, but this project was unlike anything I'd ever seen or experienced… There was a group of 20 or so of us from all over the world, including a core group of workers from Guatemala (who were not volunteers but employees of Long Way Home) who put in some long, tough hours.
These earthships are very labor-intensive to build, requiring thousands of man-hours to complete. We arrived while the project was already underway, and it was incredible to see the progress being made even within the limited time we were there. By the end, we all felt a bit like family as we slaved away in the mud and high altitude.
Volunteering for the project was not free, but was low cost, as we only had to pay for food expenses as a volunteer, and lodging was in a tent on the property. There was one existing (non-earthship) structure on the property which served as the base of operations for hanging out, cooking, bathrooms and socializing, but it was mostly a rustic experience full of hard work.
Most of the time we were too tired to do much more than hang out and have beers, but sometimes we'd head into town on the back of a truck and visit the local hot springs in Choachi.
While this was far from a chill or relaxing volunteer abroad experience, it was certainly one of the most interesting and rewarding volunteer experiences I've ever had, and it is cool to think that Colombians are living in these unique and unusual houses now.
Long Way Home is an organization based out of San Juan Comalapa, Guatemala where they have a school teaching the construction of earthships and other sustainable building practices.
Learn more about this organization Long Way Home and their cause here.
Volunteering in South America: Bolivia
Building Libraries in Rural Communities
By Steph Dyson of Worldly Adventurer
I volunteered for seven months in Sucre, Bolivia via a program I found on Volunteer South America. It's a website that compiles dozens of volunteering opportunities for each country across the continent – most of which are free and only require you to cover your own food and accommodation costs).
My program was as a Volunteer Coordinator for the charity Biblioworks, an NGO focussing on building libraries in rural communities in the Chuquisaca region. I spent most of the week in our office in Sucre working alongside my Bolivian colleagues, where I answered emails from potential volunteers who I would then assign to Librarian and English teacher roles across our network of libraries.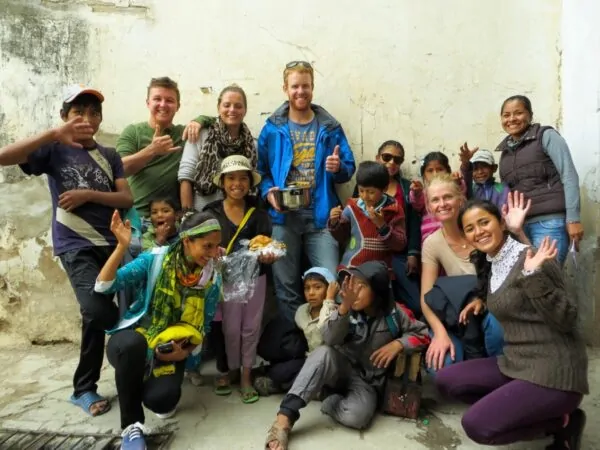 Every few weeks, I was able to visit one of the libraries, taking rattling trufis (minivans) into the hills around the city, where I would have the opportunity to meet children and families from some of the most impoverished communities in the country.
It was an eye-opening experience and one that made me reevaluate my attitude towards volunteer work in South America. I became aware of how short-term volunteering, regardless of your intentions, can do more damage than good.
If you really want to make a difference using your time, at least six months or even a year is a good amount of time to commit to a program, particularly if you're planning on working with children. By sticking around for a longer time, the rewards from building those relationships with colleagues and communities are far greater.
Along the way, because I worked predominantly with Bolivian colleagues who spoke little to no English, I was able to hone my Spanish, acquiring a decent level of fluency during the period. I even appeared on live Bolivian television in Spanish – although I've never managed to get my hands on that (most likely hilarious) recording!
Learn more about this organization Biblioworks and their cause here. For Volunteer South America, check them out in this link.
Volunteering in South America: Bolivia
Taking Care of Rescued Animals in the Jungles
By Lora Pope of Explore with Lora
During my trip to South America, I spent two weeks volunteering at La Senda Verde Wildlife Sanctuary in Bolivia upon recommendation from another traveler. The sanctuary is in the jungles of Bolivia near the town of Coroico, a three-hour drive from La Paz.
The mission of La Senda Verde is to take care of rescued wild animals that are victims of illegal trafficking, cruelty and habitat loss within Bolivia. They are home to over 700 animals and 54 species. As a volunteer at La Senda Verde, your main responsibilities include cleaning, feeding, and enriching the lives of the animals.
There are five different areas that volunteers work on a rotational basis. These include specials, big cats/bears, monkeys, quarantine/tortoises, and the aviary. Volunteers are also responsible for giving tours to visitors who come to visit La Senda Verde, which training is provided on.
As a volunteer, your days are long and tiring as you must be awake early to feed the animals, and the weather is hot and humid. But the work is rewarding as you will form bonds with the animals and directly see your impact. You also get to learn a lot about taking care of wildlife, and the issues with wildlife trafficking in Bolivia.
The organization requires a minimum two-week commitment from volunteers. The cost to volunteer is $230 USD/week and decreases the longer you stay. A small percentage of that fee is used to cover the cost of volunteers room and board, and the remainder goes towards the care of the animals.
If you are interested in volunteering with La Senda Verde, you can submit an application directly through their website. It is possible to book through third-party websites but I don't recommend doing this as the fees will be higher and the profits do not go back to the organization.
Learn more about the La Senda Verde Wildlife Sanctuary and their cause here.
Volunteering in South America: Costa Rica
Choosing Where to Volunteer
By Claudia Tavani of My Adventures Across The World
A lot of backpackers and long term travelers volunteer as a way to support their travels. It's a thing that people on a tight budget do to save a buck or two: they offer their skills in exchange for a bed or a meal and hope to help a good cause.
This isn't an issue in and of itself, really. However, most of the time long term backpackers end up volunteering for businesses who are finding sneaky ways to save money. These businesses should be hiring (and paying) members of the local community, but would rather look for "volunteers," suggesting that these can gain "work experience" and save money for their travels.
But is this the case, really?
After having had a try at WWOOF in Costa Rica, I concluded that there is absolutely no point in surrendering your time and skills to a company that is making profits.
Let me tell you a bit more about my experience.
Costa Rica is very expensive by Central America standards. As I was on a long-term backpacking trip and kept hearing about backpackers who were making (or saving) money while traveling, I thought I'd also give it a try. I'd be a good opportunity to learn more about the local life and culture.
I opted to work at a local farm in the central valley of Costa Rica. It was a place that was meant to focus on permaculture and that prided itself in rescuing stray cats, dogs, and other animals. I was hired to take care of the animals. It made sense to me – I had volunteered at animal shelters before.
But this was not a shelter. This was just a farm owned by a foreigner who was at complete odds with the local way of life, and who in reality had a business project she had no intention to invest money in.
Soon after I arrived, it became clear that the farm was not a farm really: there was no permaculture to learn about. And my duties went well beyond caring for the animals. I soon found myself scrubbing the filthiest kitchen you can think of, completely infested with cockroaches, in the hope to bring back to life a small restaurant. I had to do this in exchange for 3 daily meals that consisted of just fruits and (at times) some raw vegetables.
I was starving. I wasn't learning about permaculture. I wasn't caring for the animals.
A few days later, I packed my bags and left. I told myself I'd never again commit my time and efforts to a business that is making (or aiming at making) profits, and to only volunteer for charities and NGOs that have a proven reputation.
I keep seeing young backpackers that decide to "volunteer" for businesses such as hostels in exchange for a bed and I wonder if they have any idea that their attempt to save the equivalent of $5 or $10 per day is damaging the local economy. While they will never make a career out of that "job", a person from the local community is probably losing the opportunity to earn money that would support his or her family and children.
It is only volunteering when time and skills are devoted to a humanitarian cause that aims at empowering the local community. Working as a receptionist in a filthy backpackers' hostel, cleaning toilets, scrubbing floors in exchange of a bed and/or a meal is not volunteering: it is slave labor and it's not doing a favor to anybody else other than the owner of the business.
Learn more about WWOOFing and their volunteer opportunities here.
Volunteering in South America: Costa Rica
Taking Care of Sea Turtles
By Joshua Kian of Veggie Vagabonds
Although nesting turtles can be found in most tropical regions around the world some of the waters in Costa Rica host a true phenomenon: the Arribada!
This spectacle is when thousands of Olive Ridley turtles come to nest on a single beach over the space of a few days. Because of human exploitation and global warming, there are only a few places around the world where this can still be seen and the Camaronal Wildlife Refuge is one of them.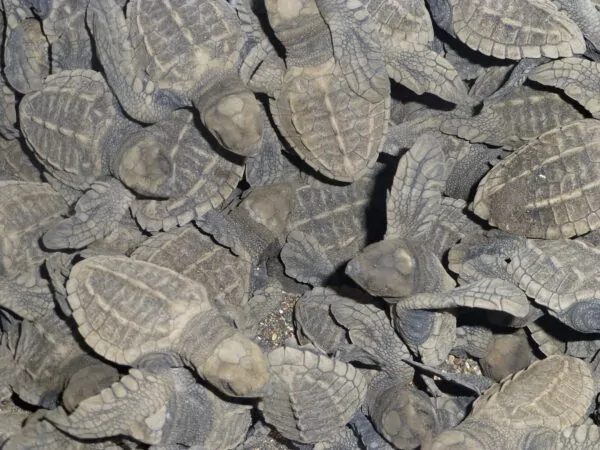 For my university placement, I was fortunate enough to spend a year monitoring turtles at Camaronal (one of the perks of studying environmental conservation!). Although 5 species of sea turtles nest within this natural reserve it's famous for the thousands of Olive Ridleys which come to the beach during an Arribada.
This only happens once every few years so if you ever get the chance to see one you really should consider yourself lucky!
The marine reserve is secluded and away from the public so you have complete solitude with nature. Each night or early morning I would either patrol the beach for nesting turtles or monitor the turtle hatchery.
Whilst I was here I lived with a mixture of international volunteers, students and conservationists doing research and local park rangers and villagers. Life was simple, we ate delicious yet basic Costa Rican food which we cooked together, all chores were shared and we lived in a big dormitory.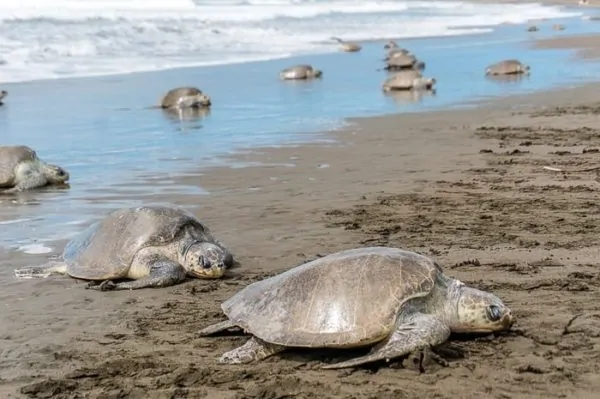 To this day one of the most incredible experiences of my life was witnessing the Arribada. Nothing can prepare you for seeing thousands of incredible animals crawling onto land at the same time. I also got to lie next to a Leatherback turtle as it laid its eggs, which was unforgettable.
If you're interested in marine conservation then I would definitely recommend turtle monitoring programs. This experience was organized directly with the Camaronal Wildlife Refuge to work as a research volunteer.
I believe there are volunteer companies which can organize placements in the region but you should do your research before you pick one. Many big volunteer companies can actually have a negative impact both socially and environmentally. If you are looking to volunteer abroad then make sure you do some research on the company to check it's an ethical organization!
Check out Volunteer World to volunteer for Camaronal Wildlife Refuge in this link.
Volunteering in Europe: Armenia
Choose Your Own Adventure with Armenian Volunteer Corps
By Carine and Derek of We Did It Our Way
Armenia has a special place in our hearts. This ancient country is young and old all at the same time. Its capital just celebrated its 2800th anniversary, but Armenia has only been an independent republic since 1991. It's modern in certain aspects, yet very traditional in many others. Volunteering here is a great way to get a sense of the contrasts that make this one of the most unique places on earth.
Derek and I spent 2 months of our 15-month-long trip in Yerevan, where we volunteered for a few weeks with the Armenian Volunteer Corps. I (Carine) had already worked with them 10 years prior and knew the great work they do with companies and organizations, big and small, in every field possible. They have close to 1,000 partners you can choose to work for. This is really great if you want to work in your own field or if you want to try something new.
The way the Armenian Volunteer Corps (AVC) works is quite simple. Anyone above the age of 21 can apply, regardless of background or origin. They have the Volunteer Corps for younger people looking to volunteer or intern for a minimum stay of one month, up to one year.
If you're over the age of 32, you can choose to work through the Professional Corps program we did. It's designed for those who have a minimum of five years' work experience, and who want to share their expertise to make a difference in Armenia. For professionals, the minimum stay is for two weeks but can go up to a year.
Best of all, AVC provides logistical support to its members ranging from airport pick-up to host-family living arrangements, Armenian language classes, special events, excursions, and more.
Placements are available year-round in a wide variety of sectors and organizations. AVC will interview you and see, depending on your experience and requests, what organization would best fit your needs.
We worked with a non-profit company that trains stray dogs to become therapy dogs for children with physical or learning disabilities. We helped train their dog, created marketing material and a social media strategy for them. We also gave a helping hand in organizing their administrative files.
Overall, we loved our experience. We got a better understanding of locals, their thoughts about stray dogs and children with disabilities. We had deep discussions that helped us understand how we can better help make this a better environment for everyone. And best of all, we got to work with our furry friends to find them a better home where they can help others.
Learn more about the organization Armenian Volunteer Corps and their cause here.
Volunteering in Europe: Finland
Off the Grid in an Organic Farm
By Oli Diprose of Not Brits Abroad
When we quit our jobs to travel the world, we decided to head to Finland for a month and give WWOOFing a try. We found Majvik, a nice little organic farm around half an hour east of Helsinki. Despite being quite close to the city, the farm was far enough along the Finnish coastline to be surrounded by forests and beautiful nature.
We found the farm using the WWOOF Independents website. The site supports any country that doesn't have its own national WWOOF organization. You'll only pay one sign up fee to access all of the countries on the site. This makes it a great place to sign up to if you're not sure where you want to go WWOOFing first or if you're planning on going to lots of places around the world.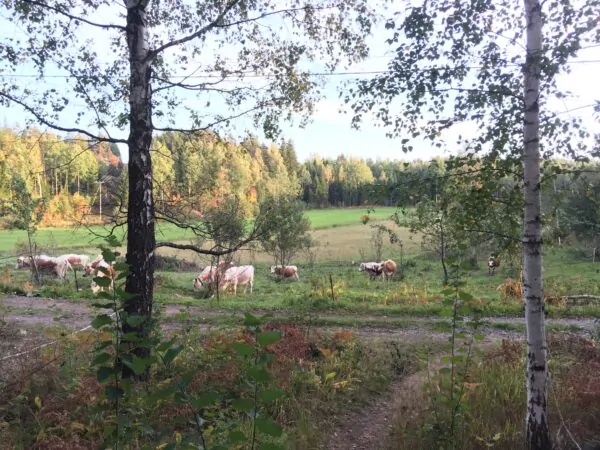 Majvik is primarily a vegetable farm growing potatoes, beetroot, parsnips, onions, cabbages, and a number of other different products depending on the season. Day to day life often involved feeding the cows first thing, picking veg from the fields until lunch and then sorting them by quality in the afternoon. The farm also supplies local organic restaurants with produce so we'd put orders together every other day for Atte, the farmer, to deliver.
If you haven't tried WWOOFing before, it may be a shock to the system. It was difficult for me having worked an office job for years to then move to something more physically demanding. We still kept a Monday to Friday routine working 8 am until 4 pm with weekends to ourselves. However, the toughest part wasn't the physical work, it was adjusting to the lifestyle.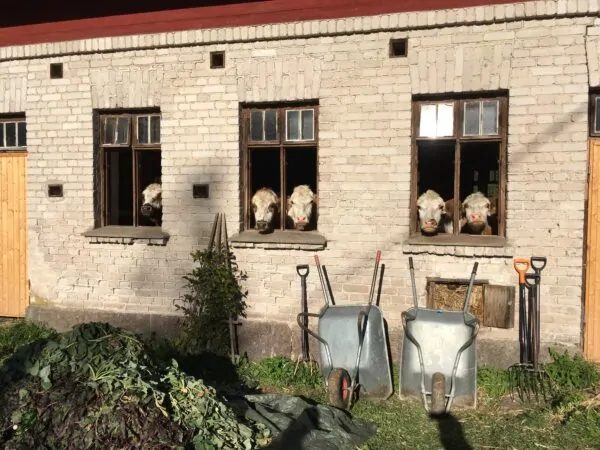 Our accommodation was a small wooden cabin amongst the trees opposite one of the fields. The farm had several composting outhouse toilets scattered around and we shared ours with another couple. The shower was also outside, this time behind the cowshed. The most difficult thing to adjust to was needing the toilet in the middle of the night and having to find your way to the nearest outhouse in the cold and dark.
Despite hating it when we arrived, after spending a month there it was really difficult to leave. We fell in love with the detachment from normal society and enjoyed the slower way of life. The work, although repetitive, was never stressful. We learned how to enjoy doing nothing which must have done wonders for our mental health. WWOOFing turned out to be a fantastic experience and we're really glad we chose Finland for the first time.
Learn more about WWOOF Independents here.
Volunteering in Europe: France
Housesitting Alpacas in a French countryside
By James of Portugalist
A few years ago, while browsing Trusted Housesitters, I stumbled across a unique house sitting opportunity in the French countryside. Rather than looking after a cat or a dog while the owners went away, this housesit involved looking after a farm of 18 alpacas (and 7 cats).
Of course, as this was a farm, the owners couldn't just go away and leave me with the farm. There would be 2 weeks of training, during which time I would learn how to feed, weigh, herd, separate the males from the females, and everything else that went with owning an alpaca farm including the most important part: avoiding getting spat at. Accommodation would be provided, but I would be responsible for everything else.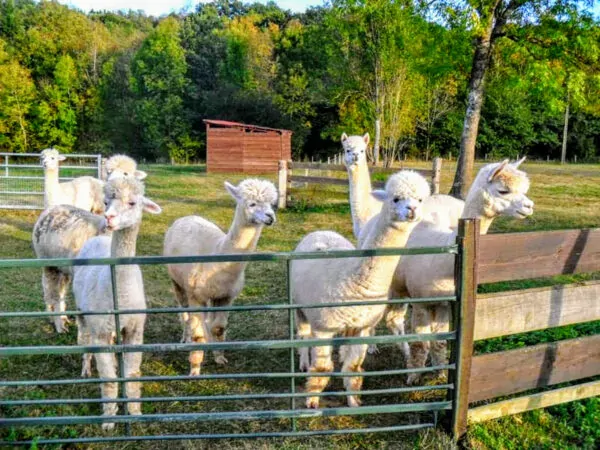 Being honest, it wasn't what I was looking for. I'd just started out freelancing full-time and this was essentially a full-time volunteering position. What I was really looking for was a nice easy house sit where I'd get to look after a cat or maybe something even less maintenance like a goldfish. However, it was also an incredibly unique opportunity and so I decided to just go for it. I could always work in the evenings.
It turned out to be even more work than I'd initially imagined. It wasn't just all of the tasks mentioned above, but I was also expected to be able to recognize the alpacas by name and also know which alpacas were related to which. That was definitely no easy task: alpacas pretty much all look the same.
Still, every day I got up and worked with the alpacas and by the end of the first week, I could almost tell them all apart. By the end of the second week, I knew their names, their family tree, and their entire medical history. Finally, the owners felt like they could go away and they would be leaving their farm in safe hands.
Learning the ropes of running an alpaca farm isn't a typical house sitting job, but opportunities like this (including other alpaca minding jobs) do crop up from time to time on the various house sitting sites. Looking after any kind of farm animal is a lot of work, and a lot of responsibility (alpacas are expensive), but it's also a fun experience that you'll be talking about for years to come. If you see an opportunity like this, it's definitely worth applying.
Learn more about Trusted Housesitters.
Volunteering in Europe: France
A Free Fortnight at a Historic Chateau
By Michelle C. of Intentional Travelers
When we first became digital nomads, we decided to try a two-week Help Exchange to extend our trip to France for no additional cost. Help Exchange (helpx.net) is a cultural exchange membership network. The site has listings of hosts around the world (farm stays, homestays, B&Bs, lodges, hostels and even sailing boats) who invite volunteer helpers to stay with them in exchange for some combination of room and board.
I began by searching the Help Exchange host profiles for opportunities that interested us, specifically in rural areas with a hospitality component. With hundreds of farm/garden hosts in the French countryside, a fair number of them run part-time B&Bs or vacation rentals. Next, I sent messages through the Help Exchange platform to a few of the hosts that looked interesting and had positive reviews.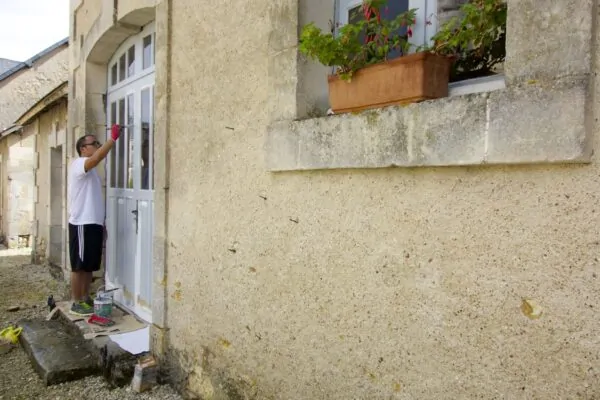 We connected with an English expat who had fixed up a 15th Century chateau in the Loire Valley with 9 acres of land. They host events, run a Bed and Breakfast, and rent out holiday cottages. Our agreement was six hours of work, five days per week, in exchange for a two-week free stay at an apartment on the property and all our meals covered.
We typically worked from 9 am to noon, stopped for lunch, and completed another three hours in the afternoon. Our work included watering plants around the castle, picking vegetables, weeding, cleaning, even putting together shelves from Ikea.
We were also there during the village Heritage Day when the chateau was open to the public, so I got plenty of good French practice by giving tours of the underground tunnels and caves. Then we enjoyed a big feast outside with all the guests.
During lunch breaks and in the evening, we'd take out our laptops in the lounge to do some remote work online for our clients back home. In our free time, we would take the owner's bicycles out for a ride to neighboring towns, go for a walk, or read and relax.
Our first exchange was an interesting experience to see the inner-workings of such a unique, historic place. Something we couldn't anticipate was that our host had some stress going on, so while his mood wasn't always the best, we enjoyed other aspects of our stay. For example, we were treated to some fantastic dinners and met some lovely visitors. And best of all: after two weeks, we hadn't spent a single cent of our money!
Learn more about Help Exchange and their volunteering opportunities here.
Volunteering in Europe: Greece
Feeding the Refugees
By Shara Johnson of SKJ Travel
I had been specifically searching for a humanitarian volunteer opportunity for a while when I ran across A Drop in the Ocean, a nonprofit organization that operates inside refugee camps in Greece, where neither special skills nor physical strength (which is a limitation for me) is necessary.
In 2017, my husband and I volunteered at a refugee camp on the island of Chios, Greece, only four miles away from the coast of Turkey, where many people fleeing from war-torn areas of the Middle East flock, and where boatmen take large sums of money from people desperate to be ferried to Greece, where they imagine conditions will be better than in the Turkish camps, and that their chances of receiving asylum will be increased.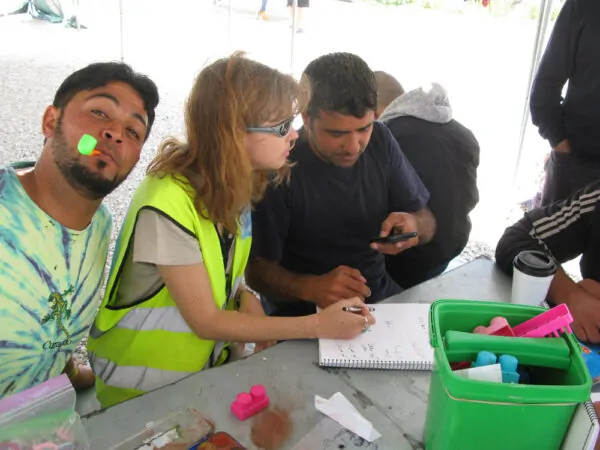 As volunteers, we served three meals a day to the refugees inside the camp … which was more involved than it might sound — setting up a temporary distribution tent for each meal, unloading the meals brought in by truck, keeping order in the lines of hungry people waiting, handing the meals out, and cleaning up.
We also organized a warehouse full of donated clothing and conducted "shopping" days for the refugees to select a limited amount of clothing for themselves and their children. Each morning we had an officially organized period of time ostensibly for "children's activities," though many men were so bored out of their brains with no work, and nothing to do but sit in that camp waiting for interviews, that they took part in the activities as much as the kids (things such as coloring, drawing, and other arts and crafts).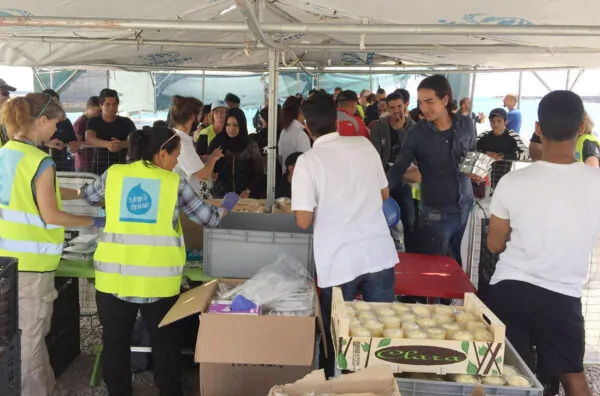 It was a profound experience to witness the deplorable conditions of these cramped camps, to see the hopelessness in many peoples' eyes and behavior and feel their frustration at the callous bureaucratic monster they're trying to wrestle with, to learn what they fled from and of the dead they left behind.
For some volunteers, it was literally a life-changing experience in that they rearranged their lives to continue helping the refugees, who often become friends, past the time they had originally scheduled with A Drop in the Ocean.
Mostly what I took from my time was a heavy heart — sadness for the refugees and their losses, and anger at the rest of the world who doesn't want to take them in. The empathy and sympathy I grew from that experience sometimes feel unbearable.
But it's so worth having, so worth knowing the true depth of gratitude I should have for my relatively privileged place in this world. Souda camp has now closed down but A Drop in the Ocean still operates at several other camps inside Greece, and they can always use volunteers. There is no fee, however, volunteers must pay for their own board.
Learn more about this organization A Drop in the Ocean and their cause.
Volunteering in Europe: Hungary
Teaching English to Business People
By Gemma Armit of Two Scots Abroad
During our 18-month sabbatical to travel the Americas and Europe, we (Gemma and Craig, Two Scots Abroad) kept costs down by volunteering at a range of different programs through Workaway. For example, I (Gemma) spent just under one-week supporting Hungarian business people improve their English. The event took place in a country house about an hour outside of Budapest.
We started our day by conversing over breakfast. Then we spent the morning working on challenges and tasks in one to one or two to one settings. Again we chatted over lunch before an afternoon of doing a lighter a task which involved discussion. We received an hour to ourselves in the late afternoon before communal dinner and social activity which we could create if we so wished.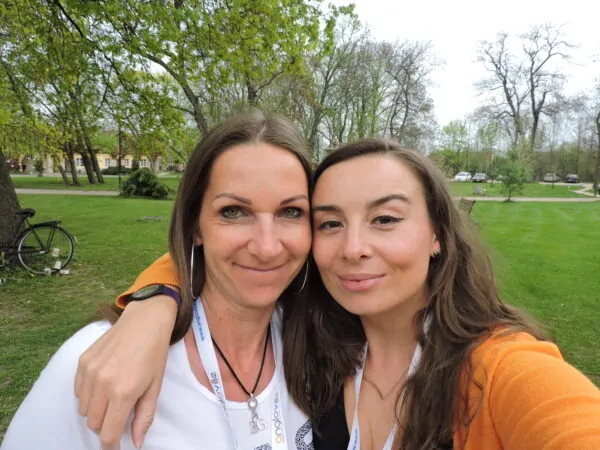 We were also responsible for one attendee. We were expected to coach them through the planning and delivery of an end of session presentation which had to be delivered in English. The attendee could choose any topic. It was great to see how much the Hungarians had progressed by the end of the week.
You may have guessed from the brand name that we are Scottish so working with me was no easy task for the locals.
This laughable part of the exchange even made it into one of the attendee's final presentation! She joked that this was her second time attending the program and the first time she was matched with a Liverpudlian (someone from Liverpool in England, with a very strong accent). She couldn't believe it when she met me, a Scottish bird from Fife! We laughed. It was these types of exchanges that made the intense week enjoyable.
Board, food, and use of the gym were covered in exchange for our ability to speak and teach the English language. I am a teacher to trade but there were no qualifications required. I met the most lovely people, not only from Hungary but also from around the world who were there to teach too.
Learn more about more volunteering opportunities at WorkAway.
Volunteering in Europe: Iceland
Free Food and Lodging in a Small Village
By Danielle Lawson of Live in 10 Countries
Browsing the internet, I became a member of HelpX.net about 4 years ago. There's a small annual fee, less than the cost of a lunch per year, and it allows you to get active in contacting hosts with unpaid work placements.
Crucially, they include honest reviews and a good search feature which allows you to narrow down the type of placement you want to do. Most placements are farm work, but there are more indoorsy options too. I decided to volunteer with HelpX in Iceland.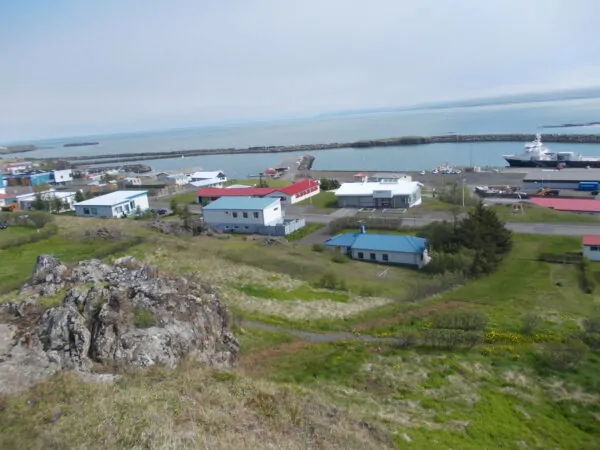 I found and contacted a local police officer who was looking for nannying help. Initially, the role was based in Reykjavik, but when my host moved and accepted a new job, the opportunity moved as well to a small village on the other side of the island. Being flexible is a must for this type of arrangement. She made me feel comfortable by chatting with me on Skype and I felt confident enough to book my flight.
The agreement was that I'd receive a room, in a local workers dorm which was deserted for the summer, and all the food I could need in exchange for 5 hours' work per day. It was a bit unusual, but because my host lived far from the village and I had no car, I couldn't stay at her house.
It was pretty unique as a situation and opened up a lot of doors. I worked a bit online too and saved enough to travel everywhere I wanted to in Iceland, plus spend a few months living in Reykjavik after that. It was easy to keep my living costs very low in the village, but harder to find people who spoke English that I could hang out with. For that side of things, the internet was a lifesaver and helped me connect with other young backpackers and couch surfers.
Learn more about the volunteering opportunities at HelpX.
Volunteering in Europe: Italy
Meditating with the Monks
By Annalisa Fran of Travel Connect Experience
The Istituto Lama Tzong Khapa is located in Pomaia, a quiet tiny village 50 km away from Pisa, Tuscany. The school started operating at the beginning of the '80s when a family from Milan renovated an old manor at the feet of the hills around Pisa and reclaimed the woods and grasslands around it.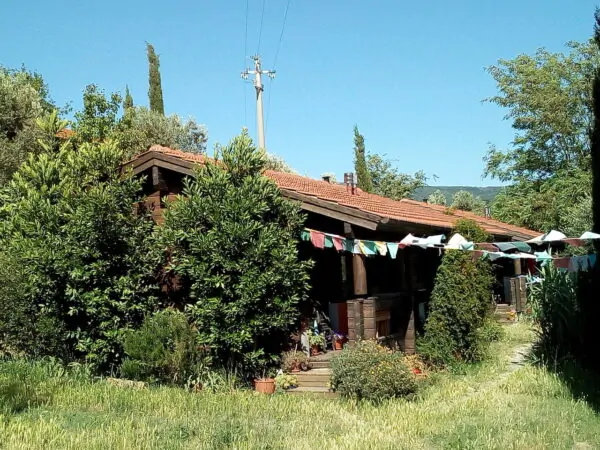 Nowadays, it's become one of the most important centers for the study of Tibetan Buddhism in Europe, receiving several visits from the Dalai Lama, and hosting a community where laics, monks, and nuns get together to learn, meditate, and enjoy a simple life based on kindness.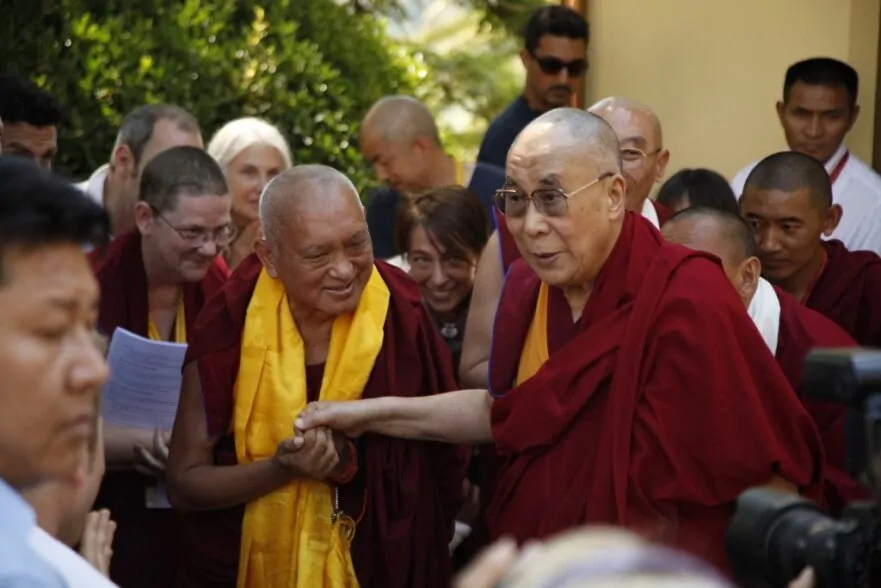 I've learned about the opportunity offered in the institute by word of mouth, and later I applied through their website. Volunteers at the institute work 6 days a week, 6 hours a day in 3-hour shifts (one in the morning, and one in the afternoon). Newcomers usually help in the kitchen (serving breakfast, loading the dishwasher, cutting bread. Other works are gardening, cleaning the guest's rooms, helping in the library.
Volunteers are required to commit to at least 2 weeks to get used to the work, the community. The village of Pomaia with its few shops and houses is roughly a 5 minutes walk from the school. Work is repetitive and easy and it's referred to as "karma yoga", which is an action performed with focused awareness. Volunteering is free.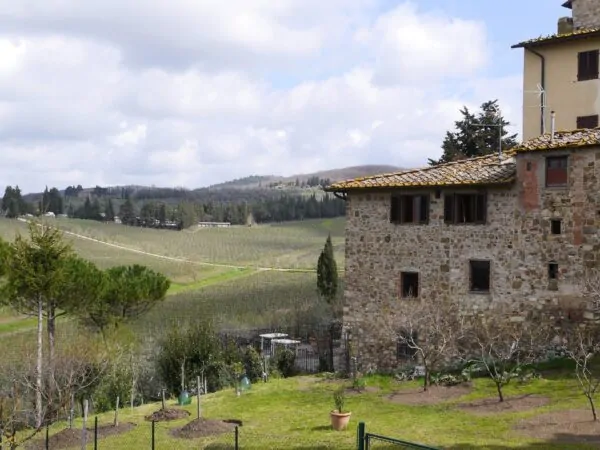 You get 3 vegetarian or vegan buffet meals a day (abundant), a bed in the female/male dorm shared with other volunteers and the students of the Buddhist school. Each morning at 9, you can join a nun/monk for the morning group meditation and you can also join all the classes held by the Tibetan Lama.
Everybody is welcomed to join the volunteer program, as long as they have a sincere interest in meditation and the practice of karma yoga. The sense of community is very strong, and even if I'm rather introverted, I made quite a few friends during my stay at the institute. It's an experience I'd be glad to repeat.
The surroundings of the school are enchanting and there are so many people passing by to attend the courses. The Tuscan seaside with clear water and pinewoods is just a half-hour drive away, while Pisa can be reached by train or bus.
Learn more about Istituto Lama Tzong Khapa and click here to apply as a volunteer.
Volunteering in Europe: Macedonia
How to Be a Nurse
By Kylee Nelson of Passports and Preemies
Having been a nurse for over two years, I found myself craving more than just showing up to work for a paycheck. I had the desire to spend my time and knowledge helping others who weren't as fortunate as I had been throughout my education. After feeling this sensation for months, I found myself on Google typing in the search engine, "How to volunteer abroad as a nurse." Hours of research ensued, but in the end, I was led to Project Hope.
Project Hope is a non-profit, humanitarian company seeking to use healthcare professionals to help with disaster relief situations as well as to train local healthcare professionals around the globe, ultimately saving lives.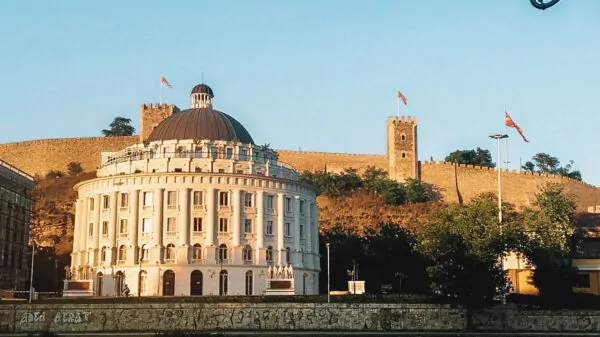 While Project Hope's needs vary across healthcare professions, different healthcare fields, and different locations around the globe, I found myself responding to a need for a NICU nurse in Skopje, Macedonia. The objective was to train nurses with new healthcare equipment that they were soon to receive, enforce safe hygienic practices, plus be an extra set of hands while they flew their English speaking nurses to Amsterdam for extra training.
I spent eight weeks at the Children's Hospital of Skopje working side by side with the doctors and nurses in the NICU. I learned that healthcare disparity starts from the top and trickles down. That the people who didn't work in the hospital, yet were calling the shots, didn't have the best intentions in mind. I taught through language barriers, culture barriers, and more to teach at least one nurse one new thing.
My experience volunteering with Project Hope did more for me than it did for whom I was helping. I ultimately learned that healthcare and education in the United States is a privilege, and the nurses working in Macedonia were some of the hardest working nurses I've had the privilege of working alongside. Volunteering with Project Hope turned out to make me a better healthcare provider than I was when I started.
Learn more about this organization Project Hope and their cause here.
Volunteering in Europe: Switzerland
Monastery Sisterhood
By Cate Michelle of Sacred Wanderings
I have spent a part of three summers in the last six years volunteering at a monastery in Western or French-speaking Switzerland. I would never have considered a monastery as a place to volunteer abroad until I was approached by a professor who hoped to re-build relationships with this community and wondered if, as a French speaker, I was interested.
The monastery, an open-air complex built in a quaint Swiss hamlet on a river, is home to nearly 40 Protestant and Ecumenical nuns. Their aim in hosting volunteers is not to proselytize but offer respite. Attendance at prayers (in French) is not required of volunteers but is welcome.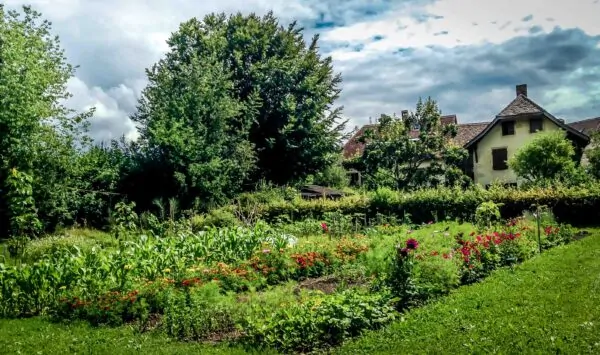 I adored working in the dining hall and gardens so much I have returned again and again, and I can say truly that I call some of the Sisters there dear friends. You can find the Communauté de Grandchamp at their Website (which is in English, French and in German, as they have a second location in German-speaking Switzerland where they welcome German-speaking volunteers) and write to their volunteer coordinator.
The location, near Neuchâtel, not far from Geneva, is ideal to explore French-speaking Switzerland, and very near incredible hiking, as well as swimming in Lake Neuchâtel. Volunteers have bicycles they can use and work approximately 20 hours a week, leaving plenty of time for exploration.
Especially if you are looking for a spiritual or retreat-like volunteer experience, Grandchamp is a wonderful and welcoming place. It feels good knowing your hard work is helping a deserving group of women who are giving their lives in prayer to and service for the world.
Learn more about La Communauté de Grandchamp and see how you can volunteer here.
Volunteering in the Caribbean: US Virgin Islands
Help after the Hurricanes
By Erika Bisbocci of Erika's Travels
All Hands and Hearts is a non-profit disaster relief organization that was founded after a devastating earthquake hit Southeast Asia in 2004. Today, the organization responds to natural disasters around the world–with active programs in Peru, Mozambique, Puerto Rico, and the United States.
In the wake of hurricanes Irma and Maria in 2017, I spent ten days in the US Virgin Islands volunteering with All Hands and Hearts. During my volunteering stint, I worked eight hours a day, six days a week, gutting buildings that were destroyed by the twin hurricanes.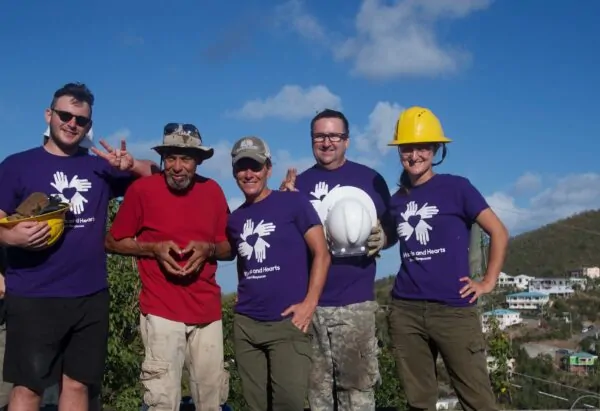 Unlike organizations that charge volunteers thousands of dollars for free labor, All Hands and Hearts aims to cover the basic needs of those who are giving their time. The organization provides volunteers with accommodation and three meals per day.
Eating and sleeping arrangements differ from placement to placement. On the island of St John in the USVI, volunteers shared a large dorm-style room made up of several individual cots. At mealtimes, they took turns preparing breakfast and dinner. Lunch generally consisted of packed sandwiches and breakfast leftovers.
Duties and responsibilities can also vary depending on the project and location. Some programs focus on clearing debris and prepping work sites, while others task volunteers with rebuilding. The program in the USVI focused primarily on the cleanup and the removal of debris.
Working with All Hands and Hearts is tough. It is not a sponsored vacation by any means. While I was able to visit some of the most beautiful beaches in the USVI during my time volunteering, I realized pretty quickly that most days involved long hours of manual labor. As a result, travelers seeking free room and board in exchange for a quick hour or two of work would be better served looking elsewhere.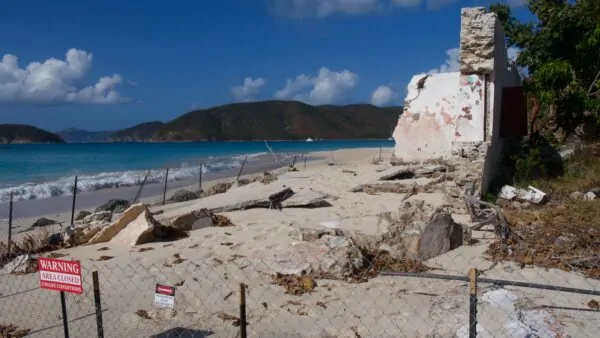 Those looking to give back to disaster-stricken communities in meaningful ways, however, will find that volunteering with All Hands and Hearts is both challenging and rewarding.
Learn more about this organization All Hands and Hearts and their cause here.
Volunteering in Asia: Nepal
Learning and Working in a Teaching Hospital
By Hanna Thomas of Solar Powered Blonde
When I was given the opportunity of a placement abroad during my nursing studies, I chose Nepal immediately. I had wanted to go for a long time and I felt like this was my opportunity. However, once I started looking at the organized trips such as Work the World, I soon realized I would have to organize it myself.
I decided I would use Pokhara as my base during my trip to Nepal, and managed to find some decent accommodation here for less than $10 USD a night. Once I had decided where to stay, I started to look at hospitals in the area and contacted a few via email. Finally, I found Manipal teaching hospital replied, which is about a 20-minute journey from Pokhara.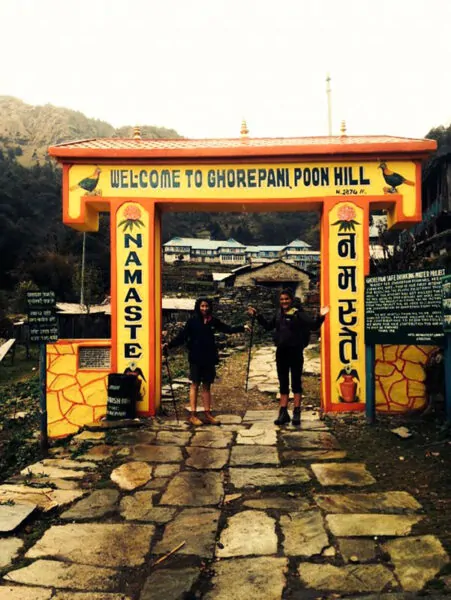 I was told that for £50 I would be able to come and work here for 4 weeks of my placement. In the hospital, I was able to get involved with anything I was interested in. There were also teaching sessions I was able to attend due to it being a teaching hospital.
It was amazing to have certain experiences that are hard to get involved in the UK. For example, I was able to watch many operations that it would be hard to get to in the UK, I also watched a birth as well as helping out in the emergency department. I was also able to work in the neonatal intensive care, which I had never done before.
There were other students there who had come with an organization and were paying £4,000 for their 4 weeks and were also staying out of the center of town and eating the same food each day. They were shocked to hear how much I had paid, including the £350 return flight I had found. As meals and accommodation here are also cheap, I think my whole trip couldn't have cost more than £1,500 for the 6 weeks.
Pokhara is full of great restaurants and even has a good nightlife; I spent my 21st birthday here! I got to learn so much while also being able to share my knowledge of practice in the UK. The only downside was that most of the nurses here couldn't speak English. However, all the doctors could and we able to translate for us.
Check out WorkAway, WWOOF, and HelpX for great opportunities for volunteering abroad.
Volunteering in Asia: Nepal
Giving Back to a Nepalese School
By Stephen of A Backpacker's Tale
My volunteering experience is a little different as I didn't go through a company. Instead, I just walked up to a school and asked if I could help. The school was in Naragkot, Nepal – an hour from Kathmandu.
Walking through the tiny town of Naragkot, my friend and I noticed a tiny school that had been damaged by the 2015 earthquake. The students were now in quickly constructed tin shacks. Looking at the school, our hearts went out to the teachers and students. And I thought "the world has been so good to me, why not try to give a little back?" So we walked up to the first teacher we saw and asked to speak to the principal.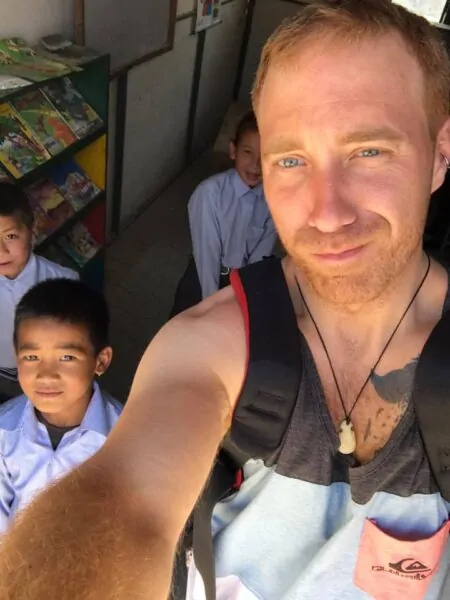 We explained that we were traveling through Nepal and would like to help out for a few days. The principle was delighted to let us. We spent the next few days playing with the kids, being aids to the teachers, and helping out any way that we could.
The last day my friend gathered up a group of poorest students and bought them all new school outfits and shoes. What I learned in this experience is not only how easy it is to help. But also how important it is to do it. And that you can have an impact, no matter how small, on the places you visit.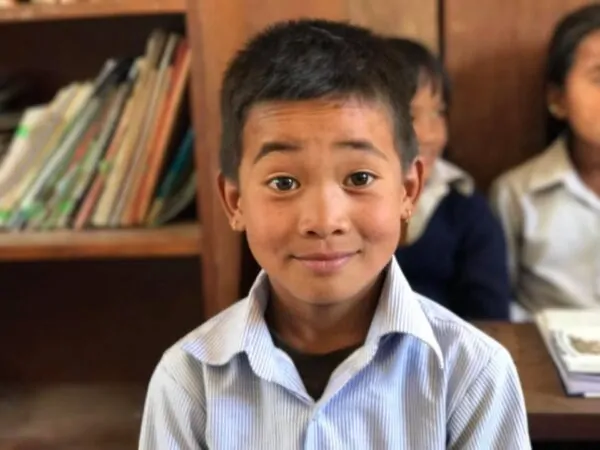 This was my first volunteering abroad experience. I have always shied away from paying thousands of dollars to companies to volunteer. I've found the best way to help is to see where the greatest need is and then have the courage to give something back. The little things matter. And if thousands of us banded together to make little changes for the better in the places we visit, well, that would add up to something big.
Check out WorkAway, WWOOF, and HelpX for great opportunities for volunteering abroad.
Volunteering in Asia: Nepal
Removing the Rubble of an Earthquake
By Ellis Veen of Backpack Adventures
I lived and worked in Nepal for almost 3 years and therefore Nepal always had a special place in my heart. The news of the devastating earthquake in 2015, therefore, affected me personally and I wanted to return to Nepal and do something back for the country that I once considered to be my second home.
Doing something good in a disaster zone isn't that easy and the only organization that I knew of that somehow managed to put unskilled volunteers to good use was All Hearts and Hands volunteers. The idea is that a team of both local and international volunteers help in projects like clearing rubble, building temporary schools and eventually rebuilding them.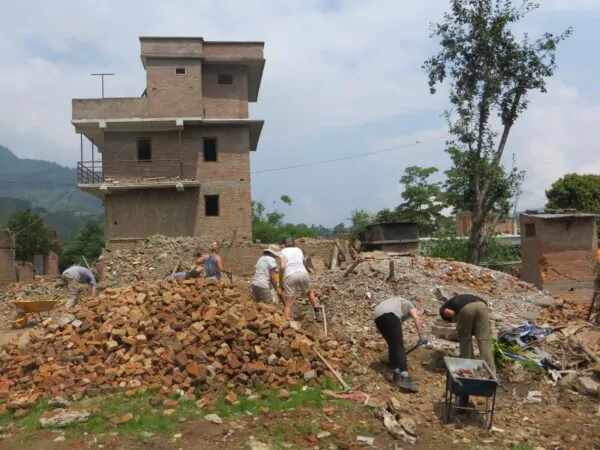 It was physically hard work, but very rewarding. Every day we went to someone's house to clear the rubble. The homes were carefully selected to be families that could not do the work on their own. Among them were a lot of elderly people, but also widows or families with disabled people.
Sometimes we managed to find valuable items under the rubble like pictures or kitchen utensils. Families were so happy to see some of their belongings back. We were in teams of 7 to 8 volunteers and often it took us less than a week to clear the rubble. Something that would have taken several weeks for a family if they had to do it themselves, especially if they had to combine it with their jobs.
I only volunteered for a month, but it was a great time and I met so many interesting people from all over the world. It's easy to make friends and you bond easily doing physical work together.
The only downside is that of course this work could have been done by local employees. It is good to realize that volunteering is also something that you do for yourself. My plane ticket alone could have paid a local employee to clear the rubble. But that is not the approach of All Hands and Hearts. Besides helping in disaster zones they also want to give unskilled volunteers the opportunity to do so.
Learn more about this organization All Hands and Hearts and their cause here.
Volunteering in Asia: Laos
Sharing English and More with Kids
By Ania James of The Travelling Twins
While visiting Luang Prabang with kids, I chanced across an easy and rewarding opportunity for my girls to experience voluntary work. My idea was both to help others and at the same time to show my girls how fortunate we are living the life we live.
Big Brother Mouse is a non-profit organization which helps Lao people to learn English. Part of its way of working is to facilitate English conversation between Lao and foreigners. You can come to the Big Brother Mouse shop in Luang Prabang every day at 9:00 am and/or 5:00 pm to help young adults learn spoken English.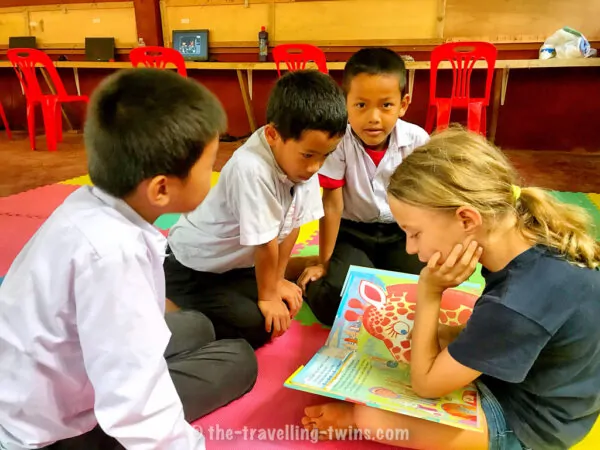 It was fun for me to have discussions with young people and learn about Lao culture while telling them about our adventure, but my girls were a bit bored. However, while we were there, I learnt about Big Sister Mouse too.
Big Sister Mouse is a primary school located outside Luang Prabang. It is open for volunteers to join in with English lessons. During a whole day in school, we played with the kids, we engaged in their English lessons and we had a great time. Everything felt a bit haphazard, though.
We didn't know what to expect and of course, we weren't prepared for the lesson. So we decided to visit again, and this time to do a little homework ourselves so we would have more to contribute. This time it went even better.
First, the kids already knew us so they were less shy and we could concentrate more on the content of what we were doing. Second, my girls were more relaxed too and so they were more forthcoming with the kids. They played together, read books, and wanted to visit again.
I very much hope that we were of use to the school and the kids, but I know for sure that we got a lot out of it ourselves. It was the perfect escape from the formality of the town, it gave us lots of food for thought to see a little more deeply into life from the other side, and I'm really happy and proud to say that my girls loved it. This experience has certainly primed them to become more giving in life.
A day volunteering in Big Sister Mouse school costs $12 US. This pays for transportation to the school and for a simple lunch.
Learn more about this organization Big Brother Mouse and their cause here.
Volunteering in Asia: India
Auroville: Model City for the Future
By Erika Van 't Veld of Erika's Travelventures
Auroville is an international township, which was founded by Sri Aurobindo and Mira Alfassa, known as "the Mother", in 1968. It is located in the state of Tamil Nadu in South India and is home to about 3,000 permanent residents, (about half are from foreign countries, half are Indians), and hundreds of volunteers.
Auroville is an intentional community that strives to become a model city for the future, by being sustainable in energy, food, water, education, and building. Auroville is both a spiritual and scientific community. Scientists, researchers, and spiritualists from all over the world come to Auroville to learn, teach and discover new Auroville innovations and ways of thought.
Auroville and their special volunteering office, SAVI, welcomes volunteers from all over the world for 2-12 months (non-Indians are required to volunteer for a minimum of 6 months in India as a visa requirement).
This is not a typical "voluntourism" opportunity because you will be an engaged member of the Auroville community, helping with cutting-edge research or methods to realize Auroville's goal of becoming a city of the future.
SAVI will help you find a group or organization within Auroville where your interests and skills are a good match for their needs. Volunteers can choose from categories such as alternative healthcare, village women empowerment, ecological practices, building and architecture, organic farming, animal care, education, renewable energy, and village outreach. SAVI also helps in finding suitable accommodation within Auroville for volunteers, who can stay in guesthouses and hostels for a discounted rate.
When I volunteered in Auroville, it was for Auroville Consulting, a group centered around sustainable living consulting (my background is in Energy and Environmental Policy, and Economics). I made spreadsheets for them to calculate their carbon footprint, helped collect survey data, and wrote grant proposals.
My everyday expenditures were minimal – I stayed in Auroville's youth hostel for less than $100 USD per month, which offered a buffet breakfast for $1 each morning. My volunteering was from 9 a.m. until 4 p.m., Monday-Friday, with a one-hour lunch break, lunch provided for free, and two tea breaks during the day.
My only other 'large' expense was renting a moped, which cost less than $100 USD per month. Other volunteer opportunities such as living and working on an organic farm may have even fewer expenses if accommodation is covered by the farm.
Learn more about Auroville and see the current list of volunteering opportunities in this link.
Volunteering in Africa: Tanzania
Taking Care of Angels
By Annie of Off Goes Annie
Volunteering at Forever Angels Baby Home in Mwanza, Tanzania was an incredible, truly life-changing experience – so much so that I've now dedicated over almost a year of my life, in 4 separate trips, to working at this wonderful organization.
Forever Angels Baby Home opened in 2006 to care for orphaned, abandoned, and disabled babies. The goal was always family reunification and family is at the heart of everything that they do. To date, Forever Angels Baby Home has cared for over 360 babies, providing nutrition, medical care, security, education, and love.
Most of the children are aged from newborn to four years old and remain at the Baby Home until a more permanent home can be found. 80% of the babies have returned home to their biological families or have been adopted into new homes.
On top of this, Forever Angels has begun an innovative outreach program to help the families left behind when mothers sadly passed away during childbirth. One tin of formula milk is frequently more than a month's wage for a family, so in the past, babies were abandoned or put into orphanages.
The program tackles this by providing weekly formula milk for malnourished and at-risk babies, inviting family members to Forever Angels every Tuesday. Here, the program also gives weekly training workshops on HIV, malaria prevention, first aid, child development, nutrition and setting up small businesses.
As a team of between two and ten volunteers, you are required to work five six-hour shifts per week in the Baby Home, assisting with the general care of the children, their education and medical needs. It is for this reason that previous experience with children, teaching, disabilities or medical professions is necessary for volunteering here.
A typical day might involve organizing an educational trip out into the local town with the older children, or assisting with a physiotherapy session with one of the disabled children. Volunteers are also encouraged to offer training sessions to staff if they have expertise in a particularly useful area. Whilst working, volunteers are required to pay their own expenses, but these are far from unreasonable due to the location in Tanzania.
Sometimes when new babies arrive at the Baby Home, it can be quite upsetting – they often come in under challenging circumstances or ill health. Consequently, the experience has taught me so much about the importance of teamwork with colleagues, whilst it has undoubtedly significantly toughened me up! If you work in any of the aforementioned professions and have at least a month to dedicate to a volunteering placement, I cannot recommend Forever Angels enough.
Learn more about this organization Forever Angels Baby Home and their cause here.
Volunteering in Africa: Kenya
Protecting Wildlife in Africa
By Jacomijn Heupink of Safe and Healthy Travel
I wanted to do some volunteering in Africa to protect wildlife. It's not the cheapest option in the world to do volunteering but I wanted to work with the rangers out there to protect the wildlife from poachers! Catching them would be my ideal situation! I know it is a dangerous job but the wildlife needs us and I wanted to take the risk.
I searched the internet for an affordable option and found it at IFRE website in Kenya. The project was all about protecting the wildlife against poachers, I would go on daily patrol with the rangers to search for traps or any irregularities.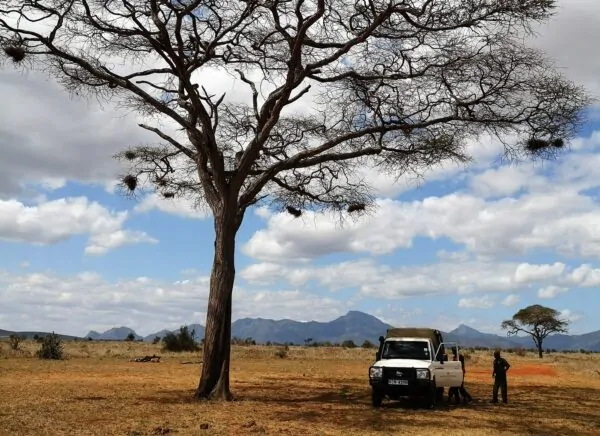 Shortly before I was placed the project seemed to be too dangerous and they changed it a bit. I was placed on the sanctuary of the hotels Taita Hills and Saltlick Lodge in Tsavo National Park. My days were filled with driving the sanctuary looking for wildlife.
Is there a wounded animal? Did an animal have an encounter with a trap or anything… I loved that we spent so much time in the park. On the other hand, we had to do some repairing of the roads as well, in the end, it was a hotel sanctuary for tourists.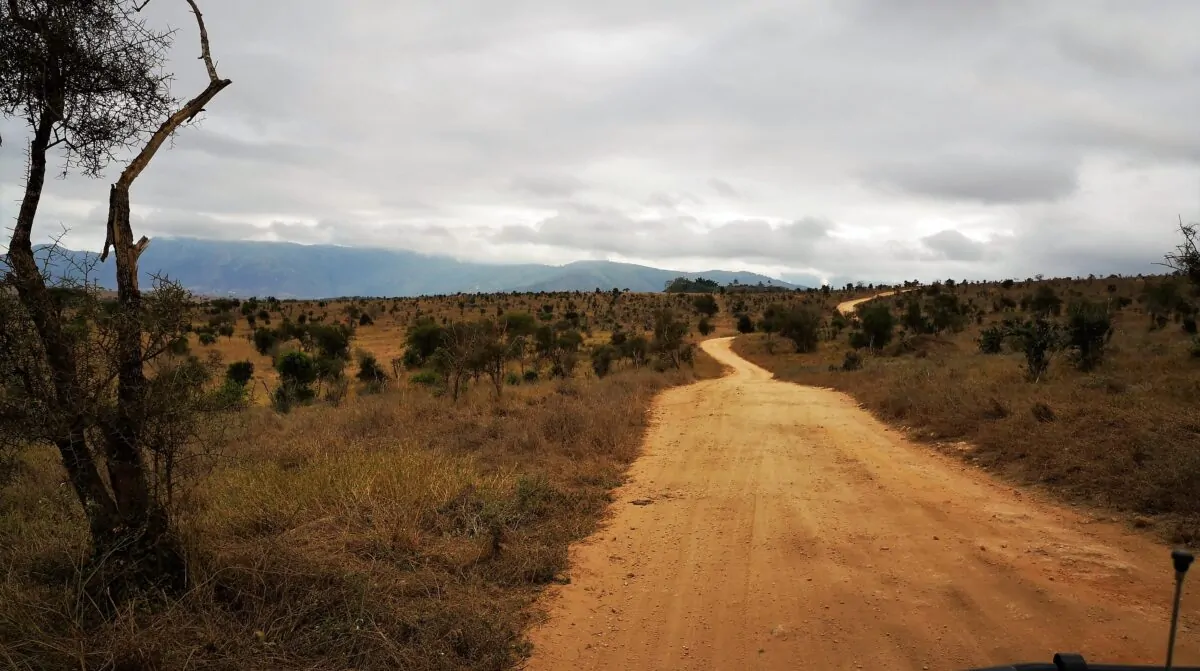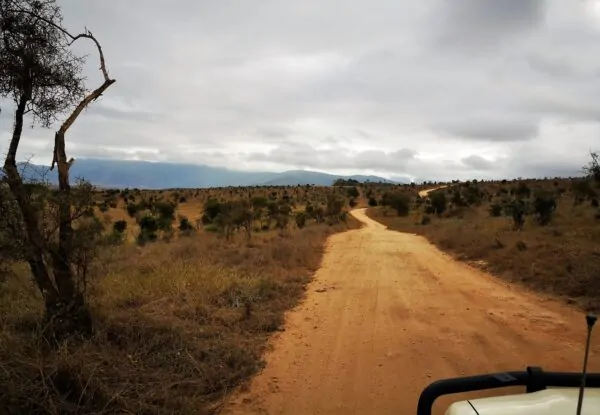 I lived in the local village inside the park, spent my time with the Kenyan workers that worked at the sanctuary's hotel and in the park. I got to know a lot of them on a personal level and that gave the experience a deeper meaning. I loved it and would do it again in a heartbeat.
From Voi, Kenya I was picked up to be brought to the sanctuary in Tsavo East NP. I paid 750 Euros for the project and the week stay and food. It is the cheapest option to do volunteering in Kenya to protect wildlife from poachers.
Learn more about how to volunteer in Kenya through IFRE.
More About Volunteering Abroad
I hope you have a few new ideas on what to consider for your own volunteer work abroad now that we've gone through this incredibly wide-ranging list of volunteer experiences.
Remember that this experience is not only for you but is also about sharing yourself and your time to fill some gaps in society that only kindness from humanity can take on. It's often only through our initiative can we fill the gaps that governments or private businesses often fail to address for whatever reasons.
And whether you are volunteering in the mountains of Nepal or as an au pair in the French countryside or in any country you choose, make sure you go out of your way to learn a thing or two about that country, do your best to connect with the locals and learn to speak the language.
By doing so, you take a chance to get to know the world a little better, one place at a time, and make the world a little smaller and more interconnected for all of us. You'll also forever carry that experience and parts of that country with you, which is priceless.
Volunteering abroad soon? Be sure to book your room from Booking.com now to save on the best lodging before you get settled into your volunteer opportunity. Or better try Airbnb too for longer stays. And don't forget to purchase international travel insurance to protect yourself against theft, sickness, and injury. I use and recommend World Nomads for the best combination of affordability and coverage.
Read Next: Best Travel Tips and Resources
Share This
Did you enjoy this article about volunteering abroad? Then take a moment to share it on Facebook, Pinterest, or Twitter. Thanks!
The following two tabs change content below.
Desk to Dirtbag is one of the leading budget adventure travel blogs online and is dedicated to helping its followers achieve their travel dreams through inspiration, information, and actionable steps. If you are new to the site, be sure to
Start Here
.
Latest posts by Desk to Dirtbag (see all)