This article may contain
affiliate links
. If you make a purchase through these links, I will earn a commission at no extra cost to you. Thanks!
When most people think of traveling to Central America, places like Costa Rica and Panama may first come to mind. However, while those countries have plenty of their own appeal, one place that is worth your attention is Guatemala. Indeed, I'd go so far as to say that it is one of the best places in the region to visit, full of history, culture, amazing sights, and filled with so many incredible places to visit in Guatemala.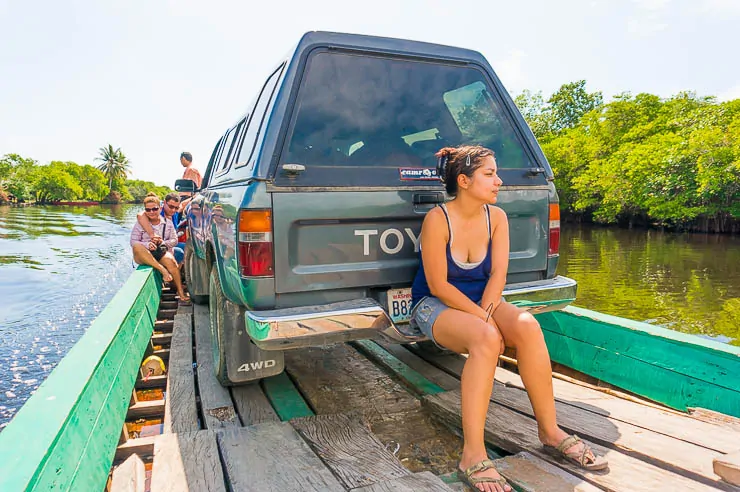 If you haven't considered Guatemala for your next travels, now is the perfect time to start planning something – I promise that you won't be disappointed by Guatemala. Here are 20 places that make this country both fresh and exciting, and why it is one of the best places in Central America (and also one of the safest).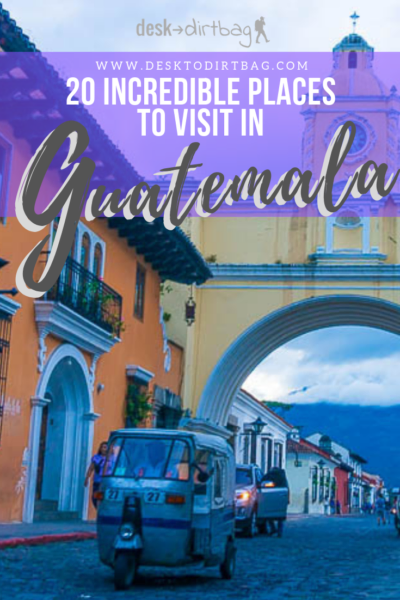 Tikal National Park
One of the primary reasons to visit Guatemala is because of its rich history. As an epicenter of Mayan activity, there are several incredible spots where you can see the ancient ruins of this once mighty empire.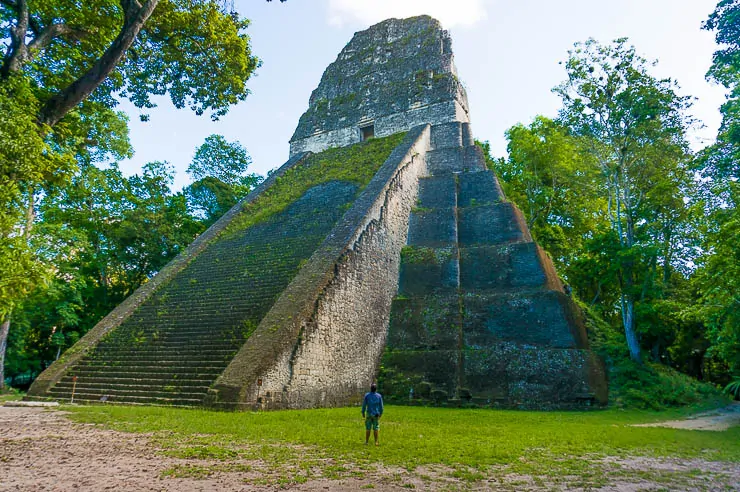 The most well-known of these is at Tikal, where the stone buildings sit, relatively untouched, surrounded by miles of dense jungle. If you're a fan of the original Star Wars film, then you'll recognize the massive pyramid, as it was featured in A New Hope.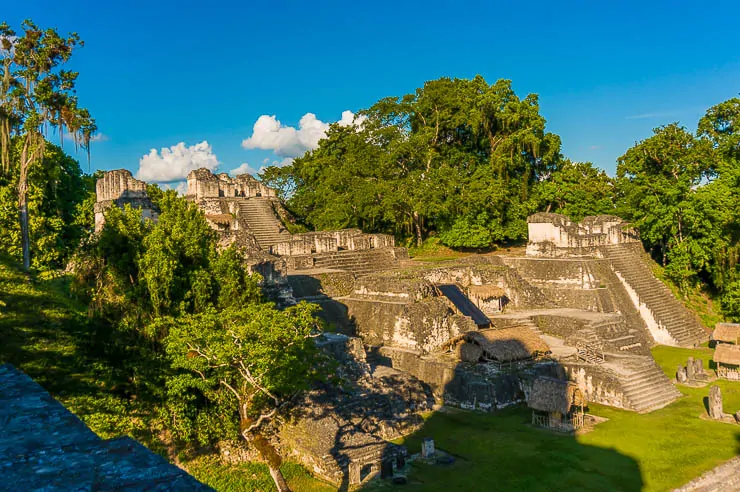 Although as far as Hollywood films go, it felt much more reminiscent of Indiana Jones with dense jungle and steep pyramids at over 200 feet high — it's impressive no matter what.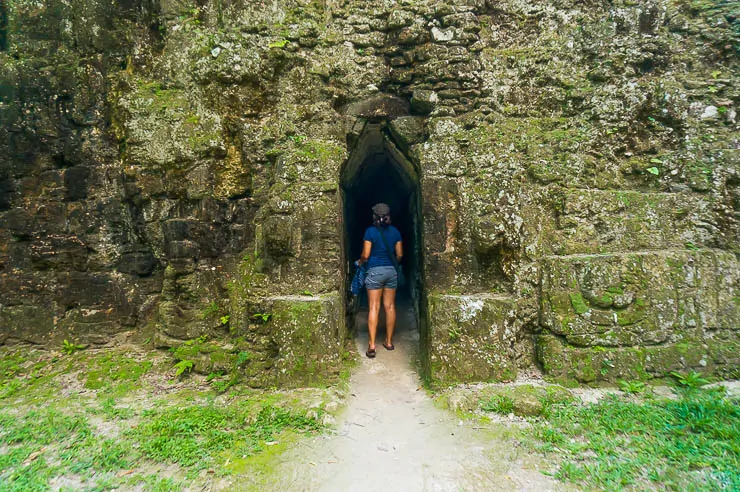 Compared to other Mayan ruins in Central America, particularly those in Mexico such as Chichen Itza, Tikal is much less crowded and touristy. Although it's the most-visited in Guatemala, you don't really feel it because the complex is so expansive and the country has managed to preserve much of the surrounding wilderness.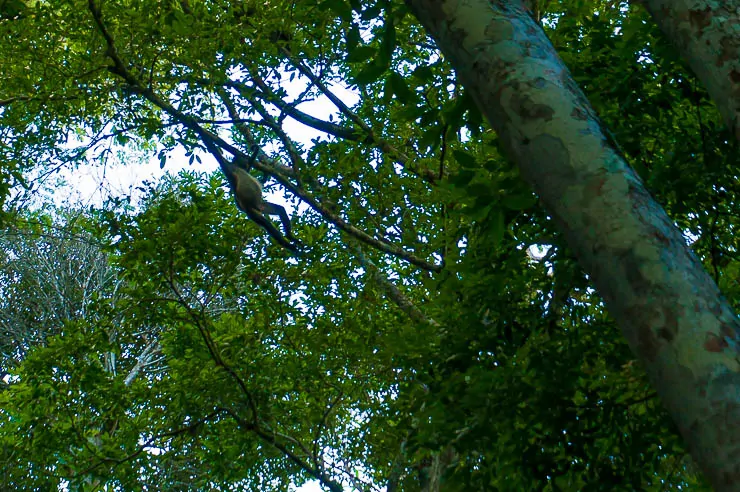 This preservation also means that you can get a glimpse (or hear a snippet) of a variety of wild animals in the surrounding foliage, whether it is coates or howler monkeys.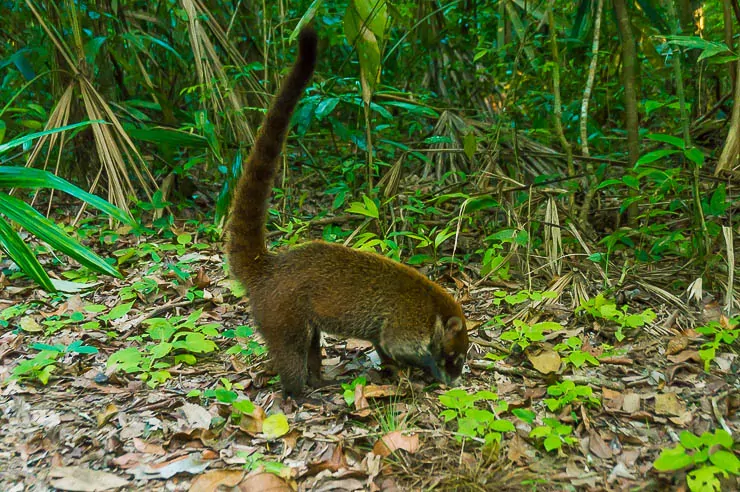 After traveling through all of Latin America, I still think that Tikal was the most impressive ruins we visited, much of which is simply due to the setting among the jungle… And yes, I'd personally consider Tikal to be more impressive than Machu Picchu.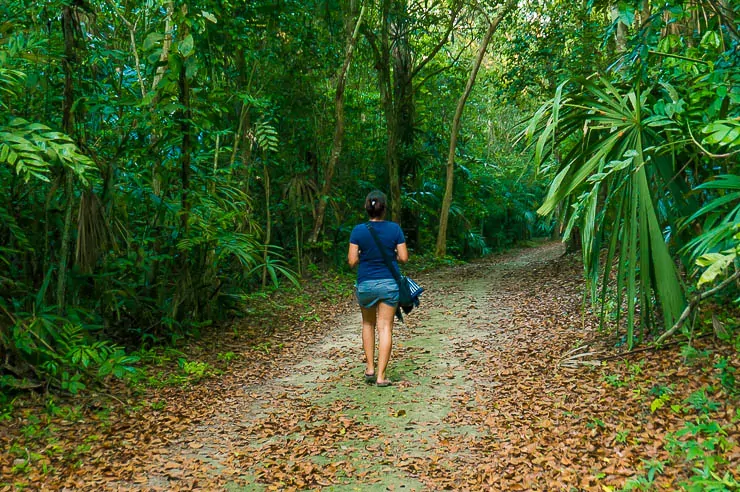 Flores
When it comes to unique and memorable places in Guatemala, many spots vie for the top spot, but I'd have to say that Flores is among the best. As a town, it has a distinct allure, both because of its location and its history.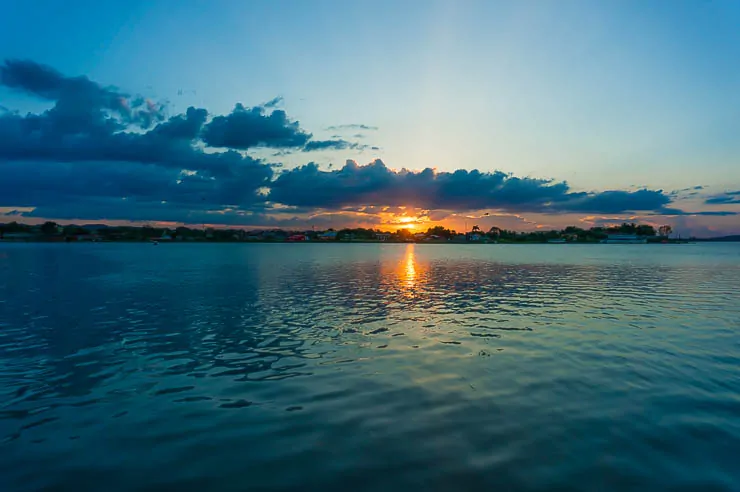 Flores is located in Lake Peten Itza. It's an island connected to the mainland by a causeway, making it a prime destination for tourists who want to relax along the water. The town's history is notable because it was one of the last places conquered by the Spanish, as the Mayans held out thanks to the natural barrier provided by the lake.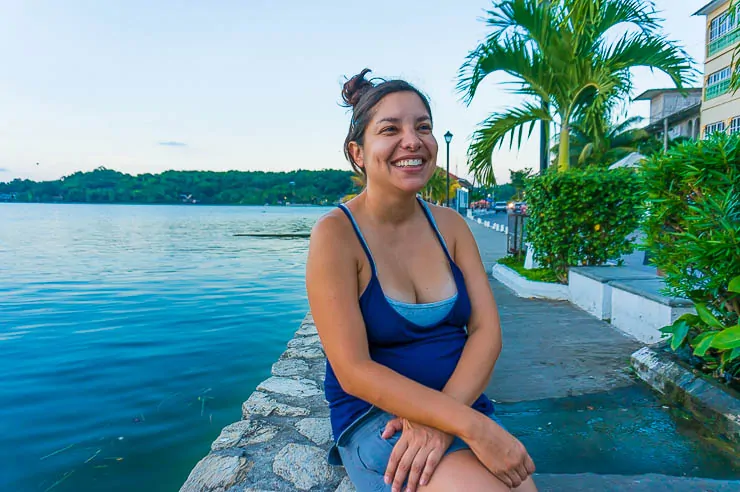 Speaking of the Mayans, Tikal is close by, so if you want to hit the ruins, Flores is one of the best places to stay as a jumping off point. Although Flores used to be a Mayan hideout, it was eventually taken over by the Spanish, which is where much of the architectural and cultural influences originate.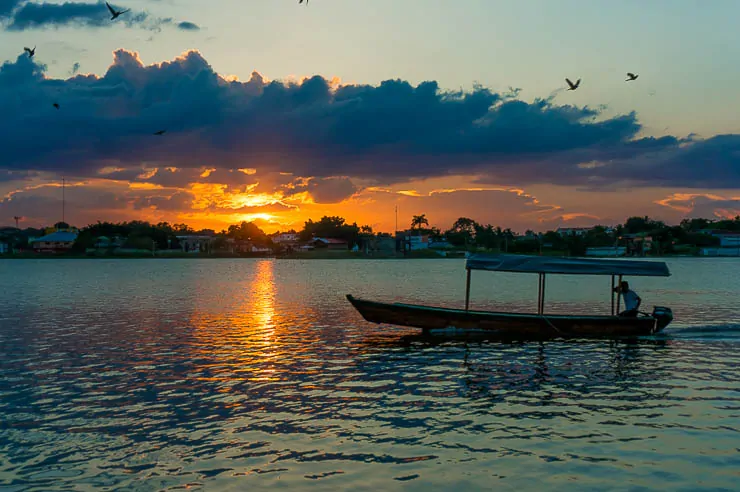 Overall, if you like the idea of staying in a colonial town and spending your days relaxing on the water, Flores is one of the most entrancing spots in all of Guatemala and it makes the best stopping point if you're doing the Belize Guatemala border crossing (also check out the best places to visit in Belize here).
El Mirador
We mentioned that there are many Mayan ruins in Guatemala, and El Mirador is another one of them. However, casual tourists need not apply, as this ancient city is hidden deep in the jungle, much more remote than Tikal. This all means that you can't just hop on a bus and get a tour here – you need to plan thoroughly and get a guide.
However, if that sounds exciting to you (akin to being a famous explorer), then these ruins will be a welcome addition to your trip.
To venture out to El Mirador, you have to stay in the nearby town of Carmelita. Saying it's nearby is a bit misleading though. From the city, it will take about four nights and five days to trek through the dense jungle to reach the ruins. As we said, you will want to hire a guide to take you out there, even if you have a wilderness survival merit badge.
In the end, though, making it to El Mirador is a significant achievement that few people can claim. Although the ruins are not as spectacular or as grand as other spots like Tikal (mostly because the jungle still obscures them), it will feel like a momentous accomplishment. You should be sure that your plan with the guide includes at least one night camping out by the ruins before trekking back to civilization.
Laguna Lachua
Compared to some of its Central American neighbors, Guatemala is not as inundated by tourists. Part of that is because the region hasn't always had the best reputation for safety (although that is one of the biggest myths about Central America, because it's become a lot better in recent years), but that also means that most of the best spots are still unspoiled gems.
Nowhere is this more evident than at Lake Lachua. It can take about half a day to get there, riding on rough terrain and hiking into the center of the protected area, but once you arrive, you will be glad you made it.
A significant part of the appeal to this lake is the fact that most tourists don't come here (mostly because of the trek). Thus, if you want to be surrounded by the jungle and its natural beauty, this is one of the prime destinations to visit.
Hiking and swimming are essential parts of this journey if you make it, so plan accordingly. The hike to and around the lake takes about an hour, but it's not too difficult. Also, shampoos and other chemicals are banned from the water, so it's still a pristine and vibrant blue.
Semuc Champey
While you're in Laguna Lachua National Park, you will want to take a day and visit the natural pools of the famous Semuc Champey. As with most of the other places on this list, getting there can be a bit of a trek, but it's well worth the time and effort once you see these spectacularly colored waters below you.
You can explore all around the pools and even swim in some. The pools were created by the Cahabon river, which currently runs underneath the site.
Because the area is made of limestone, there are dozens of caves nearby, some of which you can explore. Only the adventurous can reach the caves that have flooded entrances, meaning that you have to swim underwater to reach them.
Antigua
As the former capital of the Guatemalan kingdom, Antigua is another city with a rich and colorful history. When the Spanish took over the region, they settled in Antigua and made it one of the central hubs for trading and exploration. Currently, the city is a UNESCO World Heritage Site, which should tell you something about how captivating this place is.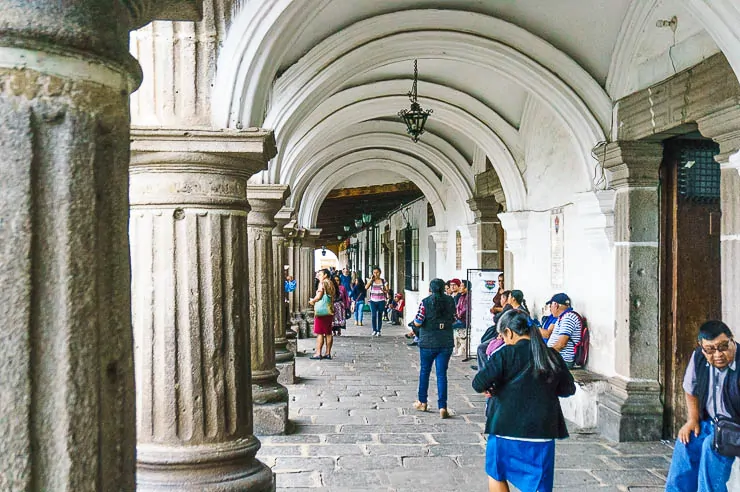 Because of its significance, here is where you can see a lot of Spanish baroque architecture. One of the reasons for Antigua's fall from grace was the fact that the city is prone to earthquakes, but that also means that you can see the ruins of many of the churches that dotted the landscape.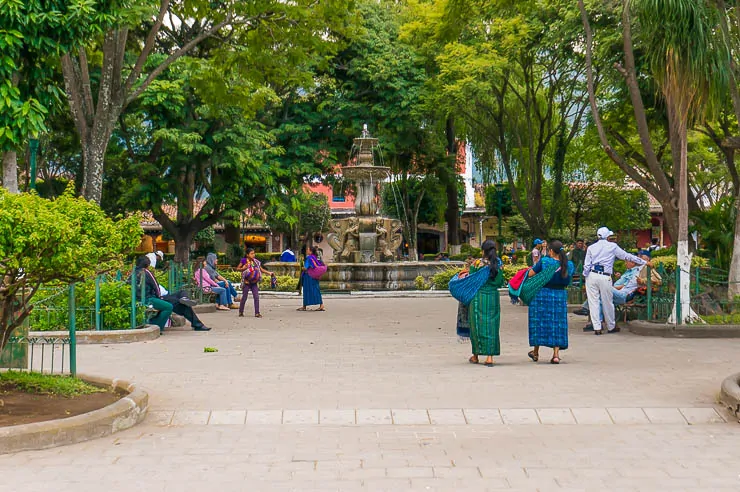 Overall, Antigua is a fascinating place for tourists to stay, and it's a lot more exciting and safer than the current capital, Guatemala City.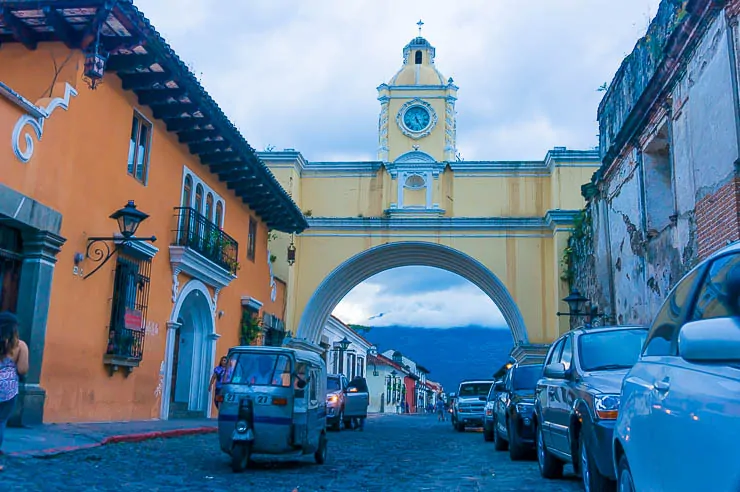 In terms of the best cities in Guatemala, I'd definitely say that Antigua is the most appealing, even if it one of the more touristy places here. There's just something undeniably charming about the cobblestone streets, colorful buildings, and massive volcanoes rising around you.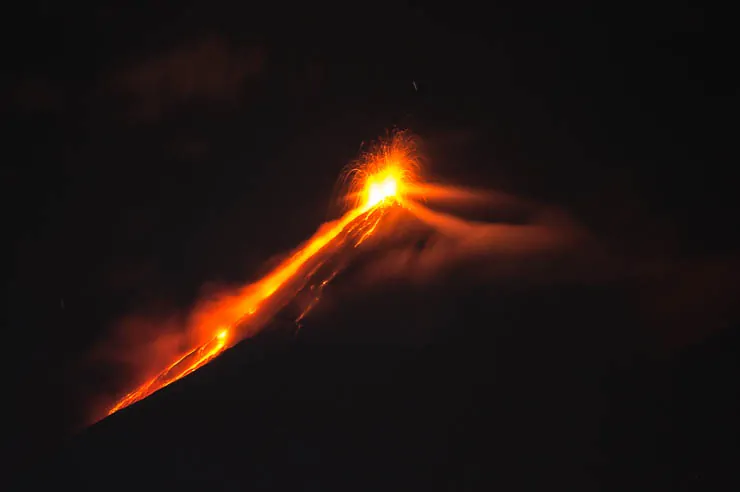 Here is also one of the best places to learn Spanish from one of many affordable schools, or you can find one of many other outdoor tours, including coffee, chocolate, or jungle exploration (including zip lining).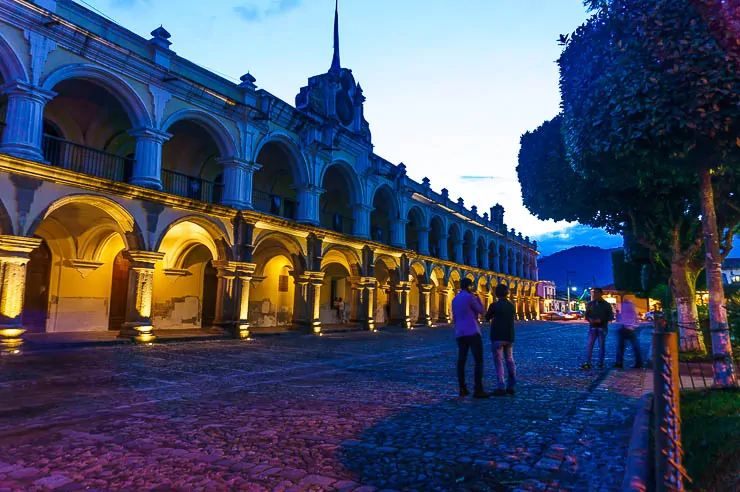 Read More: Things to Do in Antigua Guatemala
Rio Dulce
In Spanish, this is called the "Sweet River," and once you cruise along it, it's easy to see why it has the name.
There are plenty of places to relax and unwind in Guatemala, but Rio Dulce is unique because it delivers access to a variety of towns and ports that are worth exploring. Here are a couple of highlights you can see on a boat tour.
Castillo de San Felipe de Lara – this is an old Spanish fort that warded off Caribbean pirates from raiding the river.
Livingston – although there isn't much to do in Livingston, it can be nice to visit and meet the locals. This town is only accessible by boat, so its local culture (the Garifuna people) are unique to this spot alone in Guatemala.
This part of Guatemala along the Caribbean coast is almost totally different from what you will see and experience in the rest of Guatemala, so it provides a nice bit of diversity on your travels.
Chichicastenango's Market
If you're like most travelers, then you may want to buy some souvenirs from your journey (I always try to, unless I've still got lots of travels left to do). There are many quality places to buy trinkets and handcrafted items in Guatemala, but why not do it at the largest outdoor market in Central America?
The market is open on Thursdays and Sundays, so plan your visit accordingly. It's almost impossible to see all of the different shops and stands in one day, so you may be tempted to come back if you can manage it.
If you've never been to a big market like this, then you will be entranced by all of the vibrant colors, smells, and sounds coming from the market. Vendors from across the country come to Chichicastenango to sell their wares, which also means that the selection rotates throughout the year.
This city is also a spectacular place to experience a more authentic (but modern) Mayan culture, as most of the residents are direct descendants of the ancient empire. One of my favorite ways to experience a different culture is through food, and you can find a lot here that is rooted in ancient Mayan traditions. Be sure to come with a bit of money and an empty stomach.
Quetzaltenango (AKA Xela)
As the second largest city in Guatemala, Quetzaltenango (or Xela as the locals call it) is a great place to stay during your trip. It's a beautiful mix of modern and antique decor and architecture, so you can explore the city and get a taste of all that Guatemala has to offer.
Better yet, Xela is also much safer than the capital of Guatemala City, so it makes for a more relaxed and enjoyable big city experience. As with Antigua, you can find plenty of things to do, including learning Spanish from one of the local schools, hiking the mountains nearby, or taking a day tour to explore some of the highlights of the region.
Xela is also a perfect starting point if you want to see some of Guatemala's many volcanoes. The Santa Maria and Laguna Chicabal volcanoes are close by, although Santa Maria is the only active one.
El Boqueron Canyon
If you're planning on going to Rio Dulce, then you should also take half a day and explore the Boqueron Canyon. As with some of the other spots on this list (i.e., Lake Lachua), it's virtually untouched by tourists.
The canyon is made of limestone, so it offers a wide array of colors and plant life along its walls. You will have to pay a guide to take you here, but once you arrive, you won't regret the added expense. Also, because the canyon isn't touristy (yet), the boat tours are on canoes, which adds to the experience.
Seeing the canyon is breathtaking, and you can swim in the pristine blue waters as well. Here is a place where you can almost certainly be alone and one with nature.
Quirigua
We still have a couple of Mayan ruins to discuss in our overview of Guatemala, and Quirigua is one of them.
Although not as flashy as Tikal or as hidden as El Mirador, the site is one of the most critical from a historical perspective. It has the largest Mayan plaza in Central America as well, making it even more notable.
Those who want to better understand the ancient history of the region should make the journey to this site, where you can see several important monuments and religious sites.
It only takes a few hours to go through the place, so adding it to your itinerary shouldn't be too difficult if you're in the area.
Volcan Pacaya
As we mentioned, Guatemala has many different volcanoes, although not all of them are active. If you want to see some lava during your vacation, then Pacaya Volcano is the best place to do it.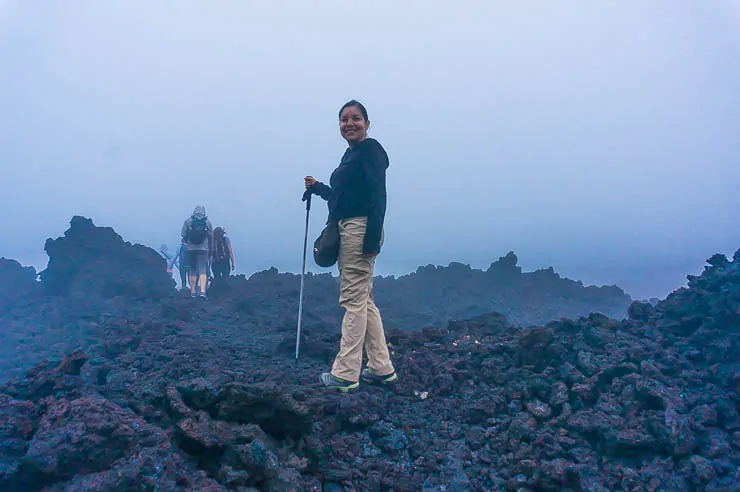 Pacaya has erupted over 23 times in the last 500 years, making the most active one in the region. Even though the last eruption was in 2014, lava still flows from the surface, so you can see it (and feel the heat) during your hike to the summit.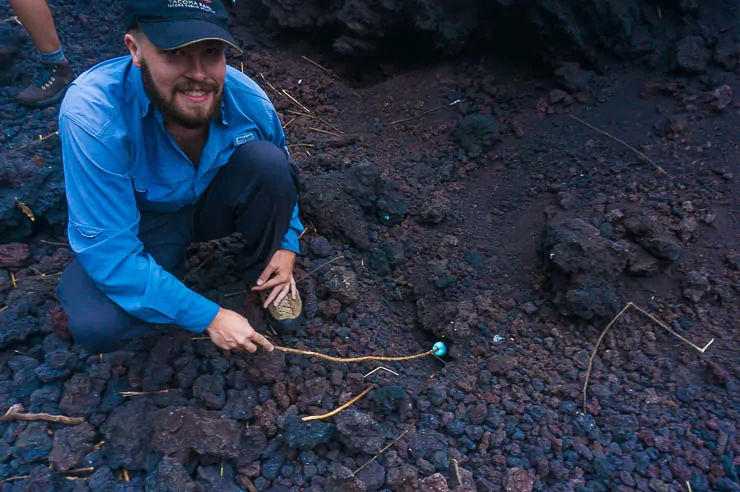 One thing people like most about Pacaya (besides the lava) is the fact that the hike is not as strenuous as other volcanoes. Simply put, you don't have to be in incredible shape to make the climb, so almost anyone can enjoy the scenery. Also, supposedly the view of the surrounding area is jaw-dropping (unless you're fogged in), and we highly recommend heading up in the early morning to watch the sunrise.
Todos Santos Cuchumatan
For the most part, the local culture of Guatemala permeates the region, but one of the best places to experience it in all of its glory is Todos Santos. This city is one of the places where the locals dress traditionally (and not just for tourists), and most of them are also native Mayan.

Visiting Todos Santos during the year is great if you want a taste of local Guatemalan culture, but the best time is during the All Saint's Festival. If you're not familiar, All Saint's Day is on November 1st (known better as Day of the Dead in Mexico).
All of Guatemala celebrates the occasion, but Todos Santos (which translates to All Saints) is one of the highlights of the country. You can see horse racing, as well as get plenty of booze from the locals. It's the party of the year, so don't miss out if you're traveling during that time.
Sacatepequez
Speaking of All Saints Day, another great celebration is in the highlands of Sacatepequez where the locals celebrate by constructing giant and elaborate "kites" of wood and colorful paper… We are talking huge, though, too big to fly, which are then propped up throughout the local cemetery as smaller kites fly through the sky.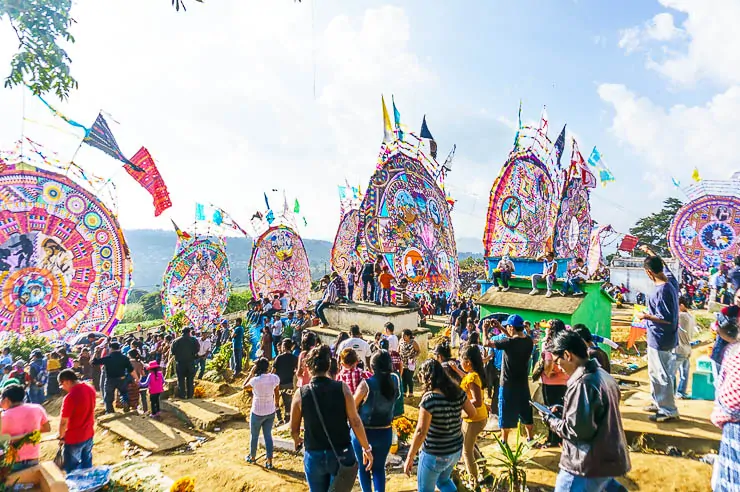 This celebration is a big deal here too, and thousands of locals take to the streets in town and to the cemetery, basically having a party. You'll see people clambering over tombs, dancing to live music, drinking, and eating – a wholly different sort of experience than what we are used to in the United States, at least, in terms of relation with the dead.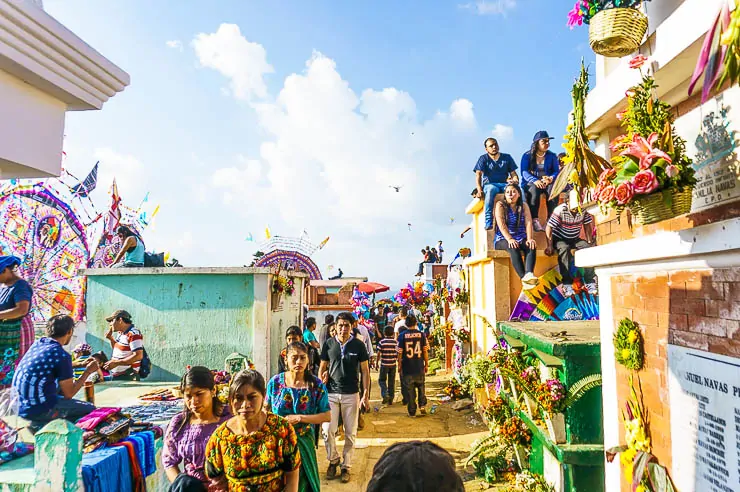 We made the drive here to this little town specifically for this celebration and we were not disappointed. But be sure to plan in advance in terms of where to stay, as it can be difficult to find accommodation thanks to all the locals who visit.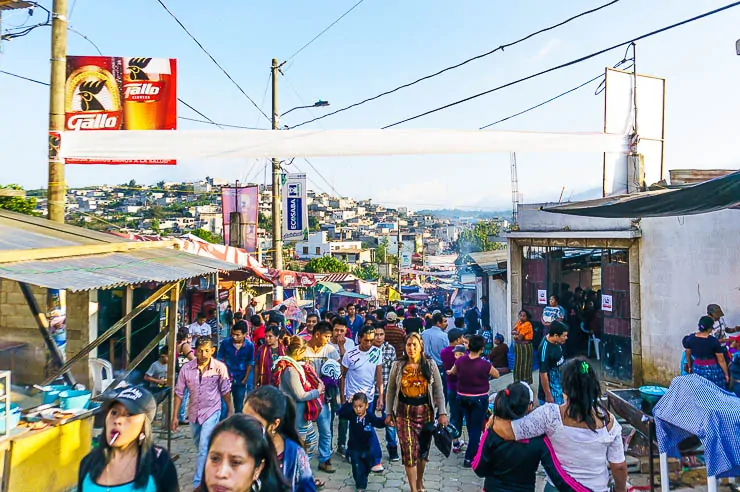 Monterrico and Paredon
We could separate Monterrico and Paredon as two different locales, but the fact is that they are both pretty similar, and they aren't too far apart, so you can hit both of them in one day or explore the ocean-front stretch between them.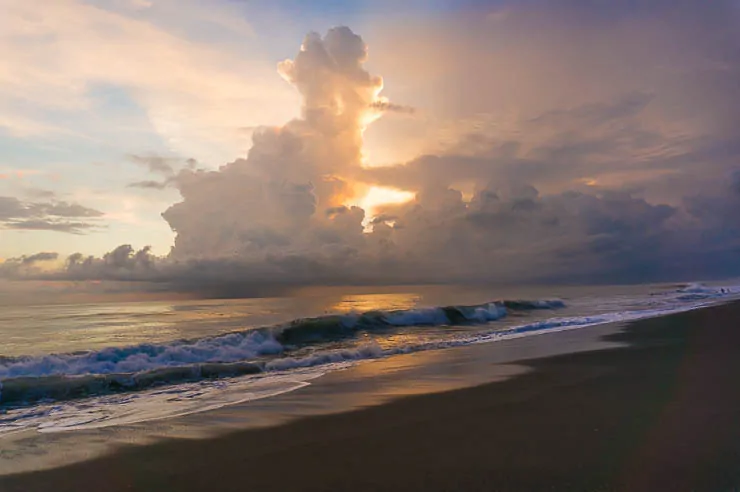 Monterrico is unique because it's nestled within a mangrove swamp. If you're not familiar with mangroves, be sure to read up on them as they can be toxic if you're not careful. However, the added element of danger also means that few tourists visit the beach, so you can enjoy the surf without having to share the sand.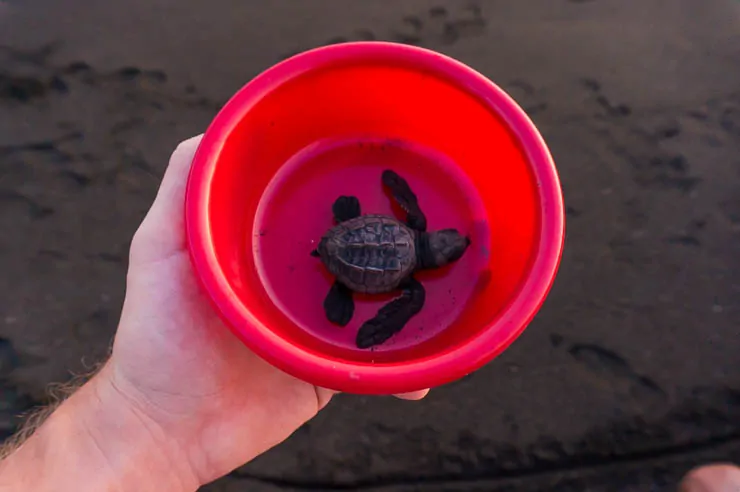 Paredon is a tiny village on the coast, and it's well-known for high-quality surfing. Even if you're not a pro, there are a couple of surf schools, so now is a perfect time (and place) to learn.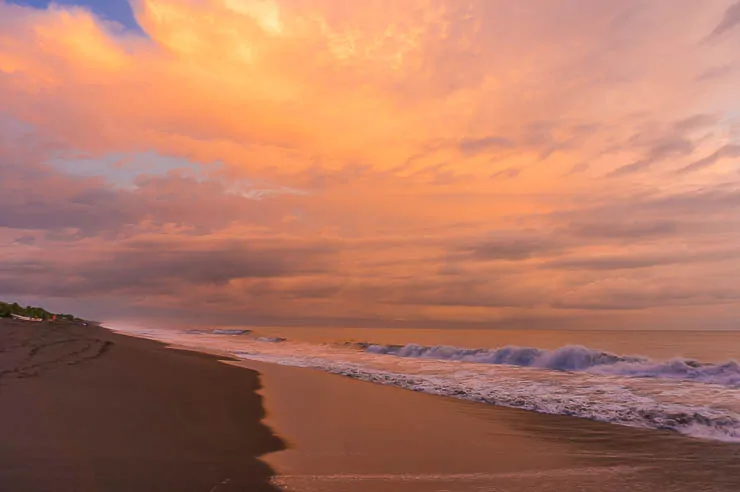 Overall, there isn't much to do in either place, but if you're looking for gorgeous sand and surf (and seafood), they are worth the trip. One of our highlights from the time on Guatemala's coast was being able to release baby sea turtles into the ocean in Monterrico – such a cool experience! We were able to partake thanks to staying at Johnny's Place which is a cool hostel with multiple pools, located right on the ocean.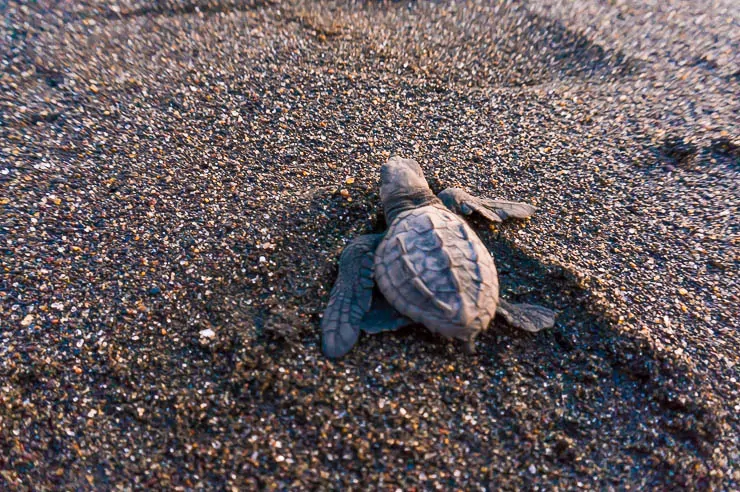 Finca Paraiso
We covered some of the highlights along the Rio Dulce, but we didn't mention Finca Paraiso, which is a local hot spring and waterfall. This area is on private land, but tourists can visit as long as you have a guide.
Most of the locals come before noon, so you can enjoy the falls in the afternoon and evening if you want them all to yourself. What makes the water so enjoyable is that the hot springs create the waterfall, which cascades into icy cold water. So, it's like having a natural hot tub and pool next to each other.
Yaxha
As the third largest Mayan ruins in Guatemala, Yaxha is another highlight if you're trying to discover as much about the country's ancient past. This area is kind of a mix between the dense jungle of El Mirador and the pomp and circumstance of Tikal.
Exploring these ruins can take a whole day, partly because there are over 500 buildings to see, including 13 altars and pyramids.
Currently, you can climb on most of them (something you can't do at most of the ruins in Mexico, nor Tikal), which enables you to get spectacular views of the surrounding areas. The site is also next to a lake if you want to dip your feet and get the perfect selfie.
Sierra Del Lacandon National Park
We've covered a lot of different territories in Guatemala, and the fact is that the whole country is relatively unspoiled by humans. However, if you want to get some more pictures of exotic animals on your trip, then you need to make a stop at Sierra Del Lacandon National Park.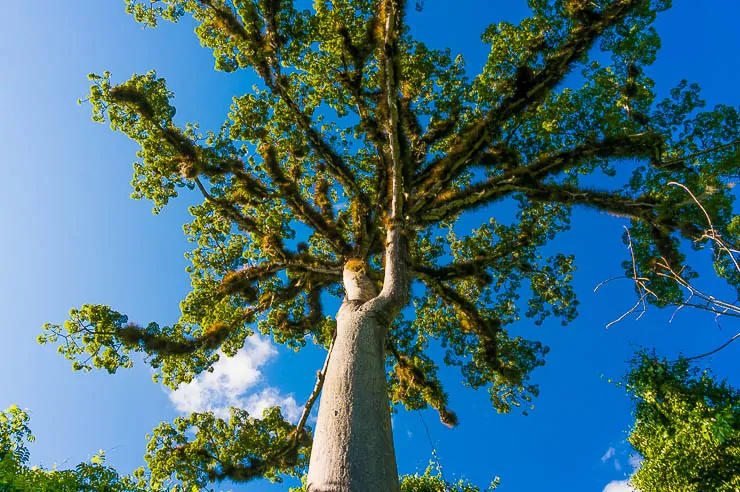 Guatemala itself is well-known for its biodiversity, but this is where it hits its climax. The park boasts the most biodiverse jungle in the country, so you're sure to see plenty of colorful birds and other animals during your stay.
The park is also home to some ruins (can't seem to get too far away from those), so feel free to explore to your heart's content.
One other highlight of the park is the abundance of Cenotes (sunken water holes), so plan to swim during your adventure. The park itself covers over 20,000 acres, so you won't be able to see it all in one trip.
Lake Atitlan
Going through this list, your vacation in Guatemala can take you all over the country. However, if you want to pick a specific location and stay there for the duration, then we highly recommend Lake Atitlan.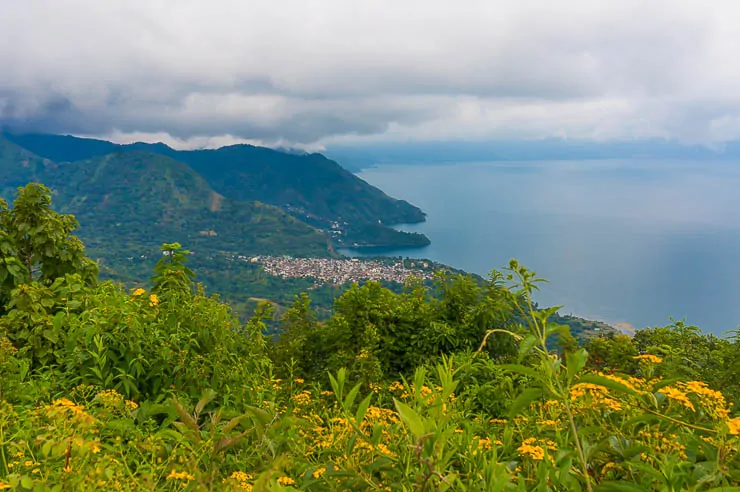 Not only is this one of the most beautiful lakes in the world (and the deepest in Central America), but it has a variety of towns on all sides of the like, each of which has a different vibe and are worthwhile to visit. The largest is Panajachel, but we don't recommend staying there, only weaving through the markets to buy some souvenirs.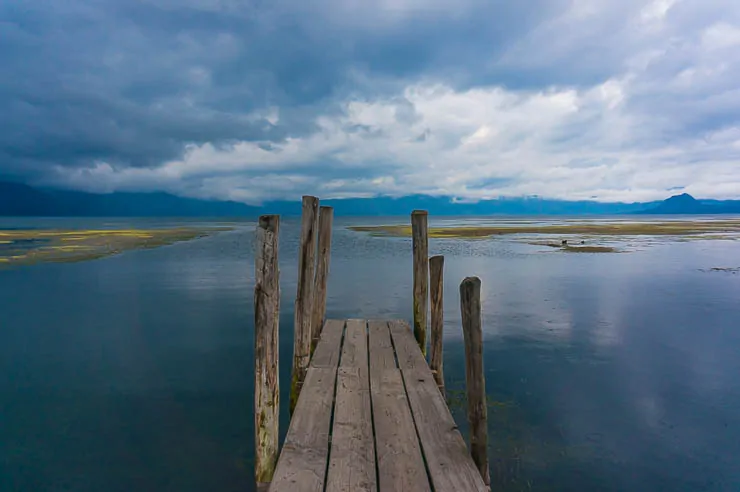 Along the lake are many different Mayan villages, as well as the towns of San Juan and San Marcos. Both places are excellent for exploring or staying overnight. While parts of Atitlan may be super-touristy, it's hard not to deny the beauty of the area, particularly the prominent peaks that rise above this massive lake.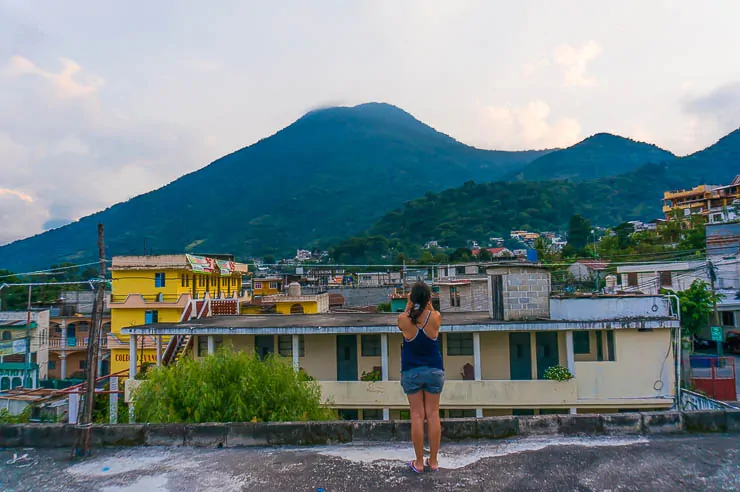 It's also a good place to hang out, learn Spanish, and grab some falafel and kombucha from Israelis that set up shop here, hah, not a very authentic Guatemala experience, but still fun nonetheless.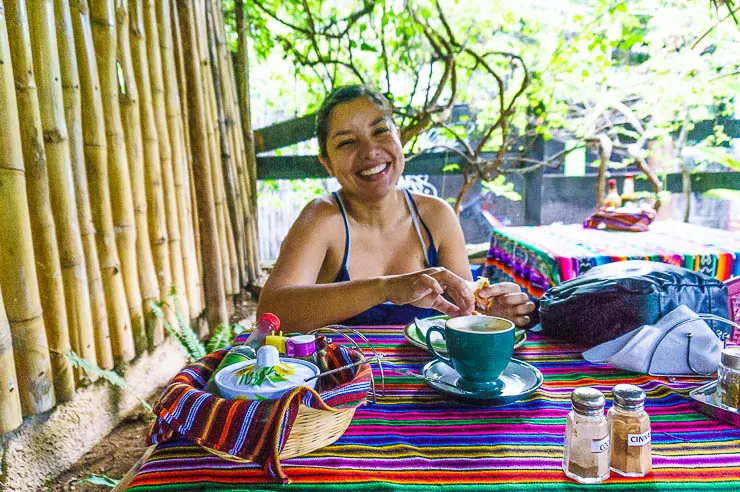 Guatemala City
Considering that you'll have to go through Guatemala City to get to and from the country (as it's the only place with an international airport) or to go between major parts of the country, you might as well take in some sights while you're here.
Guatemala City has a rough reputation, but overall, the city is safe enough to explore during the day, but just try to avoid staying out on the streets at night. During the day, you'll see that plenty of police patrol the area and the city is broken up into different zones, some of which hold much more appeal than others.
Zones One and Four are our top picks. Four is where you can experience most of the art culture of the country, and Zone One is where most of the city's history lies. You can also venture out into Zone One at night, as the nightlife is incredible – you can check out various bars, clubs, and restaurants, but keep your wallet or purse close by at all times and only carry what you need for the evening, nothing more.
More Places to Visit in Guatemala
Honestly, that's just an overview of the highlights to visit in this amazing country, but there are plenty more incredible places to visit in Guatemala that we didn't get into…
Don't let the country's old reputation dissuade you from coming here. If anything, the myth of an unsafe Guatemala has helped to keep it from becoming overrun with tourists, meaning that you can enjoy most of the sights without having to stand in line or fight crowds to get there.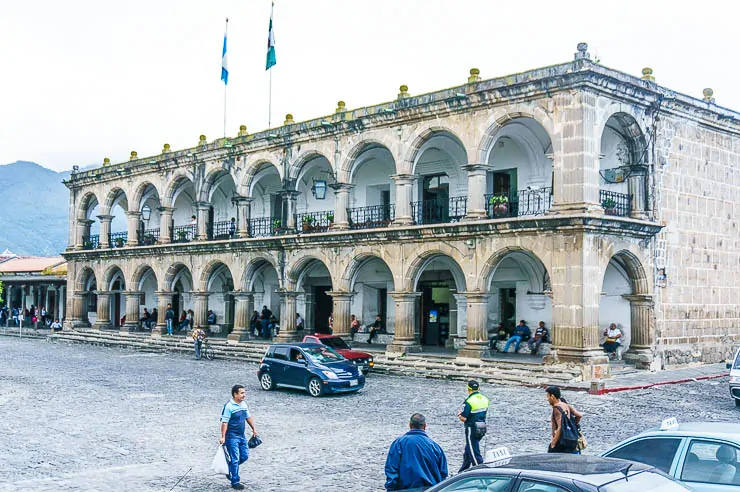 Overall, as long as you take precautions, exercise common sense, and be vigilant of your surroundings in the cities, visiting Guatemala will be one of the best trips you take, full of incredible natural wonders, amazing history, and nice locals. It's perfect for nature lovers and anyone who loves hiking and other outdoor activities. Let Guatemala surprise you on your next trip and explore at least a few of these places to visit in Guatemala.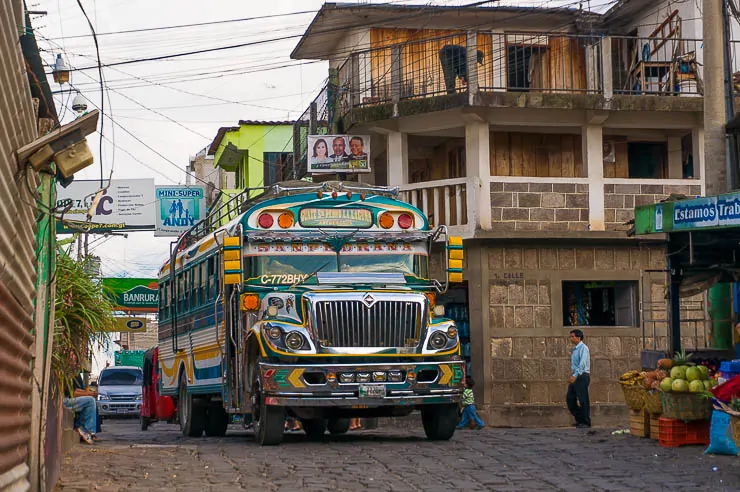 Traveling to Guatemala soon? Book your lodging in advance and save money by using Booking.com. And don't leave home without purchasing backpacker travel insurance for Guatemala to protect yourself against theft, injury, and illness. I use and recommend World Nomads for its combination of affordability and coverage.
Read Next: The Biggest Myths About Traveling to Central America
Share This
Did you enjoy this post about the best places to visit in Guatemala? Then take a second to share it on Pinterest, Facebook, or Twitter. Thanks!
The following two tabs change content below.
Desk to Dirtbag is one of the leading budget adventure travel blogs online and is dedicated to helping its followers achieve their travel dreams through inspiration, information, and actionable steps. If you are new to the site, be sure to
Start Here
.
Latest posts by Desk to Dirtbag (see all)