This article may contain
affiliate links
. If you make a purchase through these links, I will earn a commission at no extra cost to you. Thanks!
Antigua Guatemala is, beyond a doubt, one of the best places to visit in Guatemala, filled with a lot of fascinating things to do, where you can see an erupting volcano, stunning colonial architecture, and wonderful arts and crafts are just a few of the things that attract visitors' attention. This article will help introduce you to some of the coolest things to do in Antigua Guatemala, even if it just feels like we're scratching the surface of this incredible Guatemalan city.
We drove into Antigua Guatemala on our road trip through Central America, not really knowing what to expect. Sure, it's a popular place on the so-called Gringo Trail through Central America, and we quickly saw why. We were blown away by our time there, and it was one of the highlights in a country filled with amazing places to visit.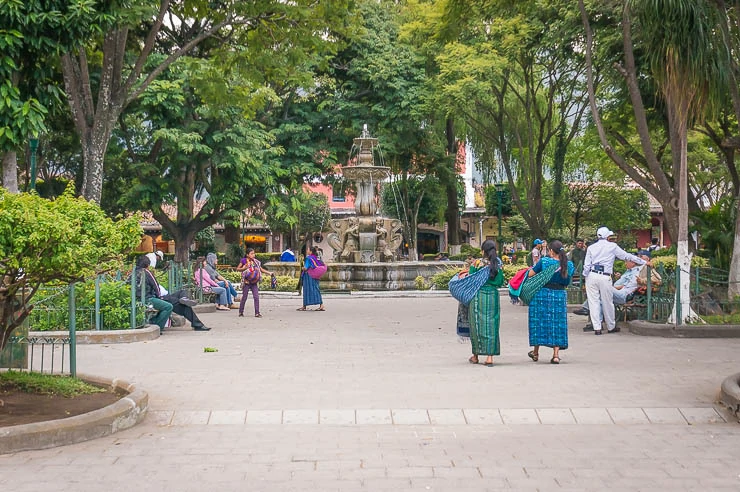 You can't go wrong by planning to spend some time in Antigua if you're going to travel to Guatemala. While we spent a lot of time off the beaten path since we had our own wheels, it is hard to deny the appeal of popular places like Antigua! There's a reason places like this become mainstays of every Central America itinerary, and honesty, Guatemala is one of my favorite countries in Central America.
If you're flying directly into Guatemala City, you may want to consider heading straight to Antigua to serve as your home base, because it is only a short distance away and is a much more agreeable place to spend time.
Enough with the intro, let's get on with the coolest things to do in Antigua, Guatemala, so you can maximize your time and enjoyment of this city.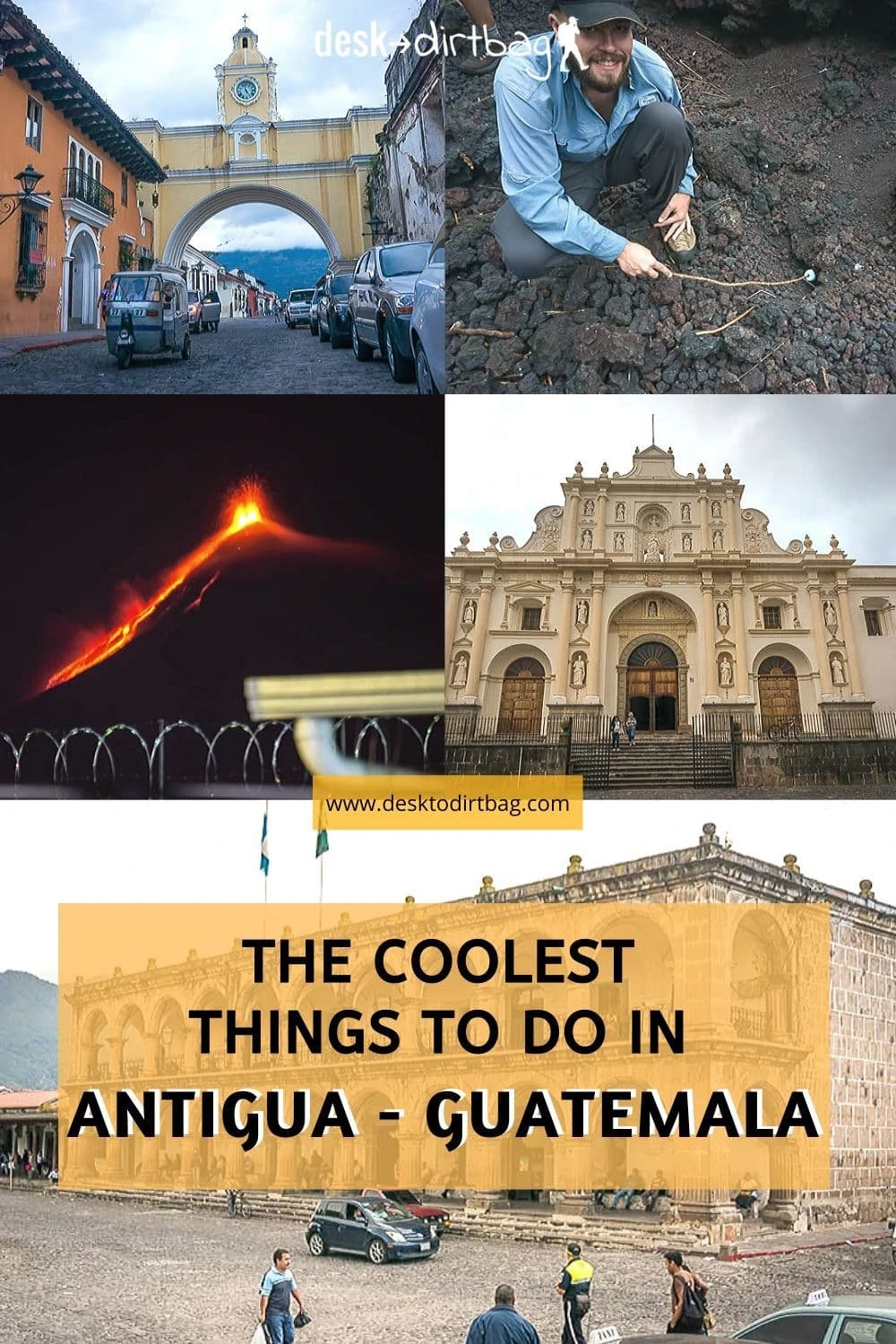 Activities to Try in Antigua Guatemala
Walking tours are a great way to get familiar with Antigua and one of my favorite activities to do upon arrival in any new city. As a town that has UNESCO World Heritage site status, there is a lot to see, ranging from markets highlighting local crafters to cobblestone streets and colonial buildings with volcano views. A three to four-hour guided walking tour through the historical center will serve as a great introduction to this stunning city and will serve as an orientation to help you get around
Book Your Free Antigua Walking Tour Now
If you have a sweet tooth, you may want to give the ChocoMuseo a visit, where you can learn about the cacao tree and all that is involved in chocolate production. This museum also has a chocolate factory, and part of its appeal is related to this factory. The factory offers chocolate-making workshops that help you become a chocolatier for a day.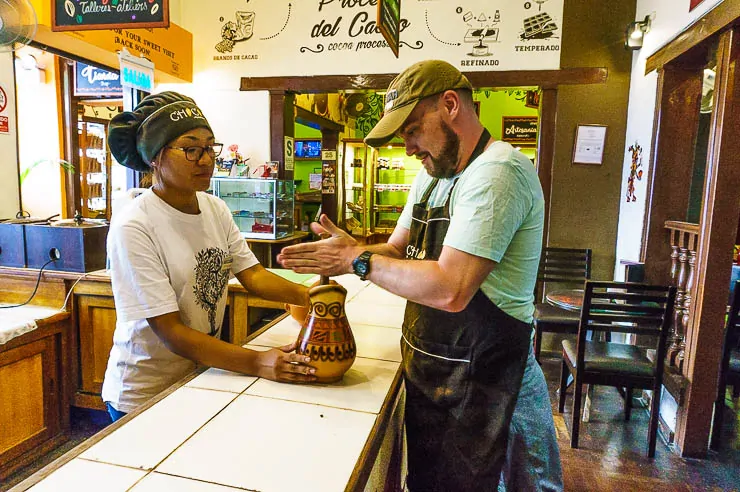 We went to the ChocoMuseo in Lima, Peru and had a great time learning how to make chocolate and even got some samples to take back with us. I'd recommend it! Doing a chocolate making class is a seriously fun experience.
If you're up to something new and different, consider giving an Antigua food tour a try. This tour helps give you the chance to find local eateries and food stalls that you might otherwise overlook or not consider trying. They'll take you through the highlights and to street food places that are popular with locals. The tour will include a guide who will give you fun insights on both local culture and cuisine and offer a way to make connections with some friendly local people.
Book Your Antigua Food Tour Now
One of the best parts of visiting Antigua is being able to buy tons of incredible craft items, which include wood crafts, pottery, and textiles. The El Carmen Ruins feature an indoor market where you can browse crafts, and the Mercado de Artesanias is another indoor market where you can put your bargaining skills to use.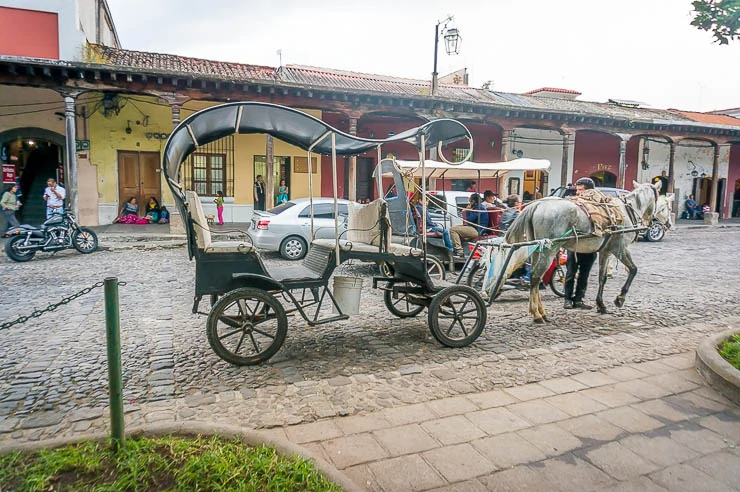 Nim'Pot is a popular craft market, set up like a consignment shop with fixed prices that offers a broad selection of crafts representing the region's traditions. You'll see some truly impressive textiles on display and is an excellent place to but souvenirs to take back home. You can find cheaper prices in other neighboring villages, but if you aren't traveling extensively, then this might be your best bet.
Antigua also has a primary central market or mercado, which is open every day. Mondays, Thursdays, and Saturdays are usually the busiest times. Some of the items you can find include fish, fresh meat, produce, and clothes. Regardless of whether you're looking for treats for yourself or gifts, you're sure to find something you'll like. It's a great place to stock up for cooking in your hostel too if you want to save cash.
If you've been impressed with the local food and want to perfect the art of preparation (a great way to take your travels home with you), cooking classes are available throughout the city. One organization that provides cooking classes benefiting the local community is De La Gente. You'll not only be able to prepare a meal but will also learn a little more about regional culture in the process.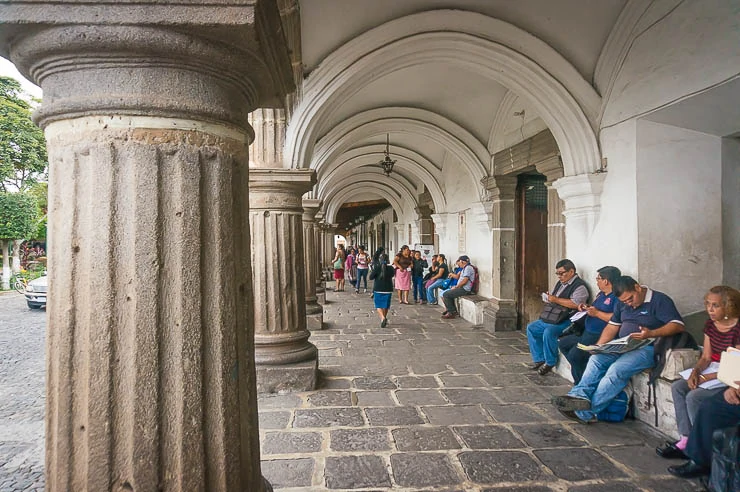 Top Tourist Attractions in Antigua Guatemala
Caoba Farms is one of the top organic farms that offer tours, a farm-to-table restaurant, and opportunities to volunteer. Night activities are available on Thursday and Friday. On Saturdays, the farm hosts a farmer's market with free events, vendors selling their unique crafts, and even live music.
One of the most popular attractions at Caoba Farms is the Butterfly House, open Wednesday through Sunday. Sundays and Wednesdays yoga classes are also hosted, with the farm recommending calling first ensure availability. On the first Saturday of each month, there is a flea market where visitors can find a wide variety of new items. It is a short walk from the center of town.
With coffee forming such a significant part of local life, trips to Antigua coffee farms top many visitors' lists. These smaller farms are family-run, and you can see how buying coffee from these farms is helping the farmers and their families live better lives.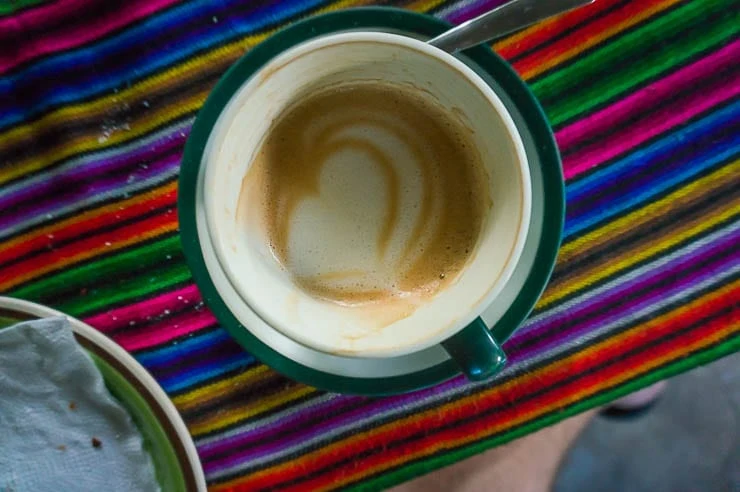 When you tour one of these coffee farms, you can see how the coffee-producing process works and garner a greater appreciation for this drink that so many of us have on a daily basis! Guatemala is one of the best producers of coffee in the region, so a coffee tour is a must-do!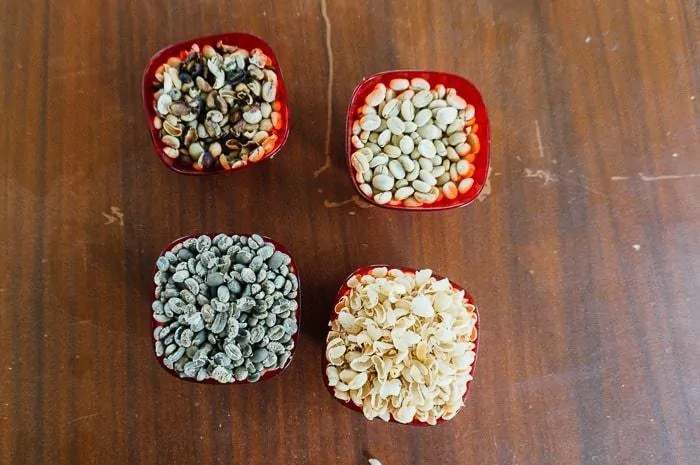 Plaza Central Park is a picturesque, traditional town square with tree-lined streets. You'll see some beautiful examples of Colonial architecture in the buildings surrounding this area. Tourists and locals alike enjoy spending social time in the square. It's fun to just hang out here and people watch, but you'll also find lots of vendors selling their wares here if you want to negotiate. We bought some intricate masks here in Antigua that we now hang on our walls.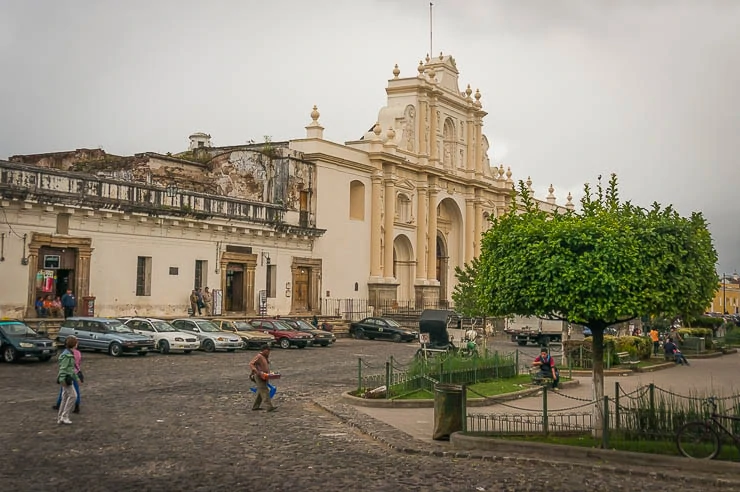 Historical Sites in Antigua Guatemala
One of the most iconic historical locations in the city you will likely notice right away is the Arco de Santa Catalina. This arch dates back to the 17th century and originated as a passageway between a school and the monastery that it was affiliated with. Today, the arch stands as a type of monument to the city's colonial past, with the surrounding buildings having withstood a 1773 earthquake. It is perhaps one of Antigua's most recognized symbols.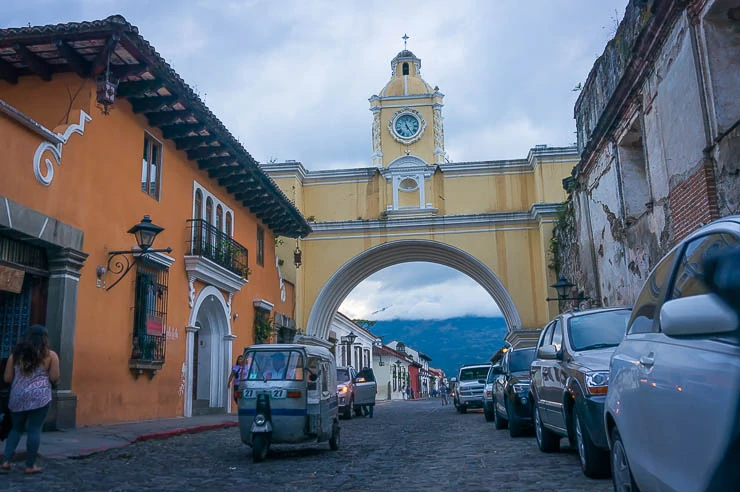 Iglesia de La Merced is one of the best-preserved, most beautiful Baroque churches in the city. First opening in 1767, the church has Moorish influences that represent the Spanish design of the time. There is plenty here for anyone interested in architecture or design to appreciate.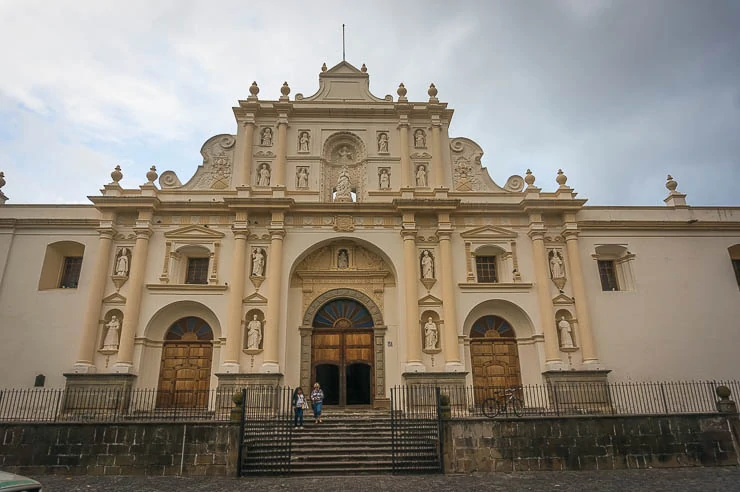 You won't want to miss out on a chance to see the Casa Santo Domingo Museums, housed on the site of a former convent. The collections that you can see here are quite extensive, including Mayan artifacts. There are also artifacts that help showcase the site's Spanish heritage after the period of conquest and colonialization.
One of the biggest highlights of Casa Santo Domingo is the collection of works from Efrain Recinos, who has been compared to Picasso. Like all the other exhibits, the works are free of charge to see.
San Francisco Church is another popular historical landmark with a beautiful baroque facade dating back to the 17th century. While the church itself is beautiful and worth checking out, perhaps the most interesting part is the old ruins left behind from a large earthquake, where you can still pick out some of the art and frescoes.
Foods to Try in Antigua Guatemala
Traditional foods are always worth trying and Guatemala is no exception. Many foodies consider the food in this region to be some of Central America's best, and I'd definitely have to agree. In addition to local foods you don't want to miss, there are also international foods worth checking out here in Antigua, thanks to the large tourist influx.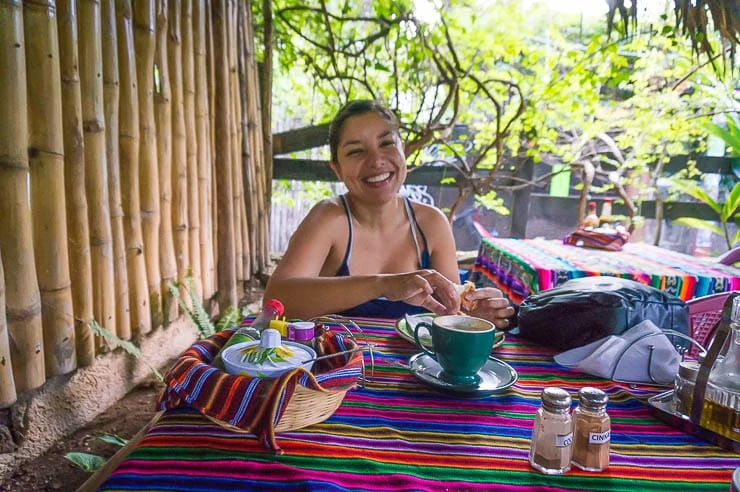 One of the most popular local dishes is Pepian, a chicken stew usually served with rice. Pumpkin seeds and spices blend nicely, offering a sort of smoky taste full of flavor.
Another type of chicken stew popular in Antigua is Jacon. Like Pepian, it is also served with rice. Instead of red tomatoes, it is made with tomatillos, small green tomatoes with a unique flavor.
A plato tipico can be a breakfast, lunch, or dinner plate. Eggs and fruit are usually served during breakfast. When the plate is a lunch or dinner plate, it will include beef or chicken with black beans, rice, and corn tortillas. The platos tipicos are usually simple but hearty meals that will fill you up and won't drain your wallet.
Tamales are famous in Guatemala, just as they are in many Latin countries. The possible fillings include cheese, vegetables, or meat. The fillings are stuffed into cornmeal dough, then baked or steamed in a husk.
Coffee is a frequent addition to meals or snacks at any time of day. You can also expect avocados to be either a feature or a garnish at many meals. Consider treating yourself to a dish of sweet, crunchy, fried plantains.
A unique option for dining, enjoying drinks, or both, is visiting a rooftop bar near the main plaza. The views are amazing and give you a relaxing setting to enjoy the drinks or foods of your choice. Some of the most popular locations include Antigua Brewing Company, Cafe Sky, and Los Tres Tiempos.
Fun Day Trips from Antigua Guatemala
A day trip from Antigua that you won't want to pass up is a chance to go on a guided Acatenango Volcano tour. The trip will last two days, and you'll be able to enjoy an unforgettable show from a height of 13,000 feet. Volcan de Fuego is about a mile away from the summit, and you'll probably have a chance to see the volcano erupting — it is a regular occurrence — so long as you have a clear day.
When you choose to include seeing Volcan Fuego on your trip, you'll find it worth the five to seven-hour trip. Once you've reached the base camp where you'll spend the night, the eruptions will be incredible. Seeing a volcano erupting about every half-hour is one of the best parts of camping out here overnight.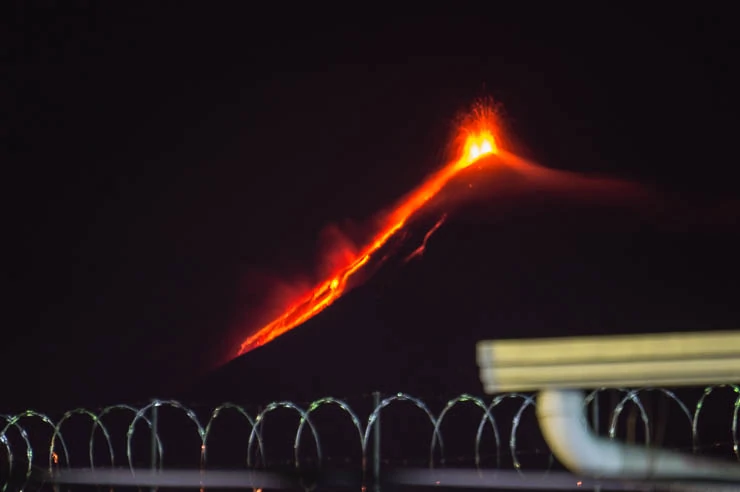 You'll have the best view from Acatenango, but you can see the volcano erupting right from town, albeit at a much larger distance.
If you want to get up close with a volcano without the length of an overnight trip then you've got to check out Pacaya Volcano! This short day trip will have you hiking up to the top of the summit in an accessible way without too much demand. Horses are available for rent to help you reach the summit if you prefer not to hike.
Tip: Read my guide to the day hike essentials you should bring.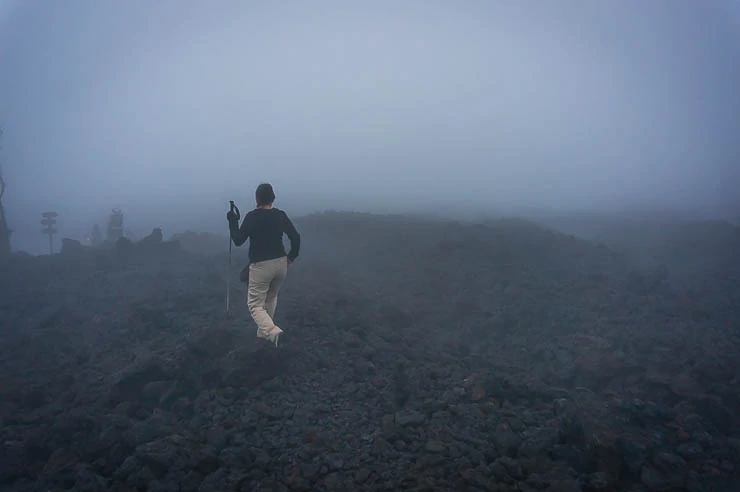 Warning: If you are huffing and puffing even a little, locals will show up with horses insisting that you'll need it to make the top with high-pressure sales tactics. It is pretty annoying, and unless you're really suffering, you probably don't need it. Just keep that in mind.
When you reach the top, you can enjoy a marshmallow toast right from the ground and enjoy an exciting landscape. We loved our trip to Pacaya and I'd consider it one of the top things to do when in Antigua, even though we went on a cloudy and overcast day. The views though are also supposed to be excellent.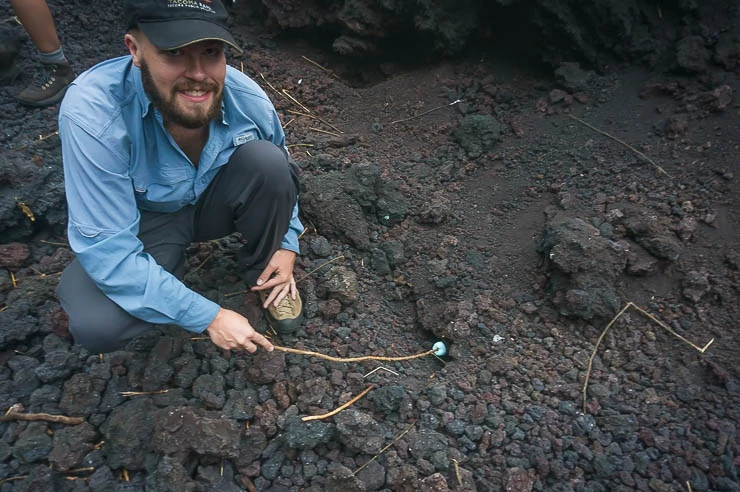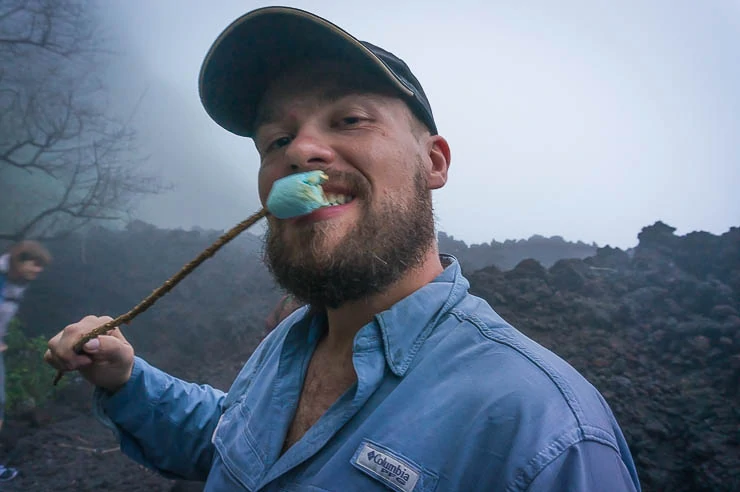 Click Here to Book a Tour to Pacaya Volcano
Another fun day trip from Antigua is Lake Atitlan, the largest lake in the country. There are three distinct villages to enjoy that you can reach by boat with a guide. San Pedro la Laguna is near an impressive volcano, San Juan la Laguna hosts a community of mat-makers, and Santiago Atitlan, the liveliest of the three towns. If you've got the time though, you should definitely do more than a day trip to Atitlan.
An overnight trip that many visitors find exciting is a stay at Earth Lodge, the site of an avocado farm with beautiful views over the lake. Lodging is in a treehouse, and you'll also enjoy delicious home-cooked meals. If you're on an extended stay in Guatemala, Earth Lodge welcomes volunteers for six-week or longer terms.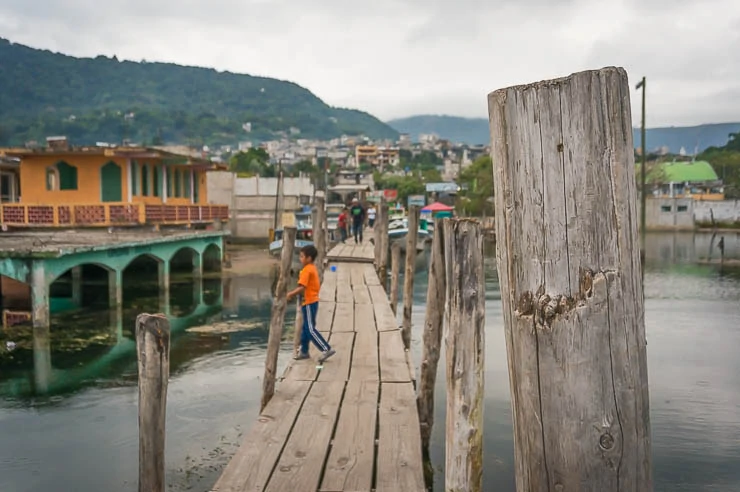 If you want to try visiting a place that is a shorter distance from the city center, give Cerro de la Cruz a try, with its stunning views of the city. The location is easily accessible by either taxi or tuk-tuk if you're not driving. A set of stairs makes the climb to the summit easier, and you can spend as much time as you wish to visit.
Get Ready for an Awesome Trip to Antigua
There are so many things to do in Antigua Guatemala that you have no chance of running out of exciting experiences, activities, and things to do in Antigua, Guatemala. Honestly, you'd be hard-pressed to do everything we've outlined in this article on a single trip, but hopefully, it gives you a great jumping-off point to customize a trip to your tastes.
I have so many fond memories of our time in Antigua (and Guatemala as a whole) as we explored the local markets, strolled the cobblestone streets, or just hung out on the rooftop of our hostel watching the volcano erupt overhead every half hour!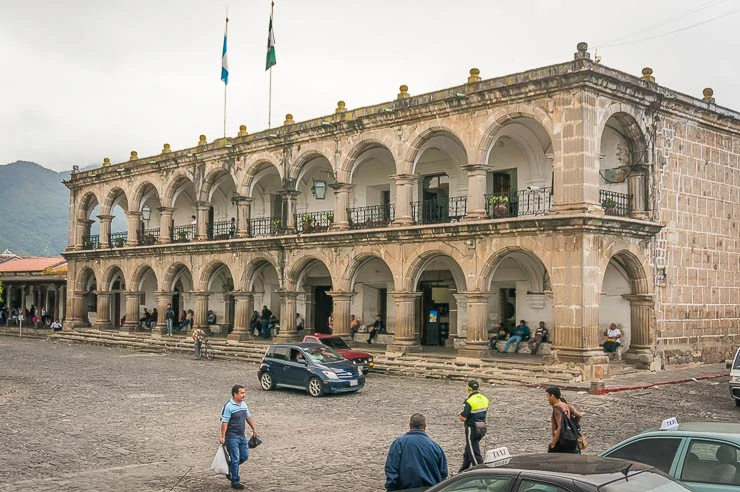 Antigua, Guatemala is one of the most amazing places to visit in Guatemala and should be high up on your list. I'd recommend planning at least three nights in Antigua if you've got the time, but you could easily stay for longer and still not worry about running out of things to do here.
Traveling to Guatemala soon? Book your hostel or hotel on Booking.com now to save, or if you plan to stay longer, I highly recommend looking for a place on Airbnb. And don't forget to purchase international travel insurance that will help protect you against illness, injury, and theft. I use and recommend World Nomads for its combination of coverage and affordability.
Read Next: The Safest Countries to Visit in Central America or The Best Countries to Visit in Central America
Share This
Did you enjoy this post about the best things to do in Antigua, Guatemala? Take a second to share it on Pinterest, Facebook, or Twitter. Thanks!
The following two tabs change content below.