This article may contain
affiliate links
. If you make a purchase through these links, I will earn a commission at no extra cost to you. Thanks!
I had the pleasure of chatting with Jason Moore over at the Zero to Travel podcast about how to overland Central America, where we discussed our big road trip through every country in Central America, including touching base on what to know before you go, what to expect when you are on the road and so much more.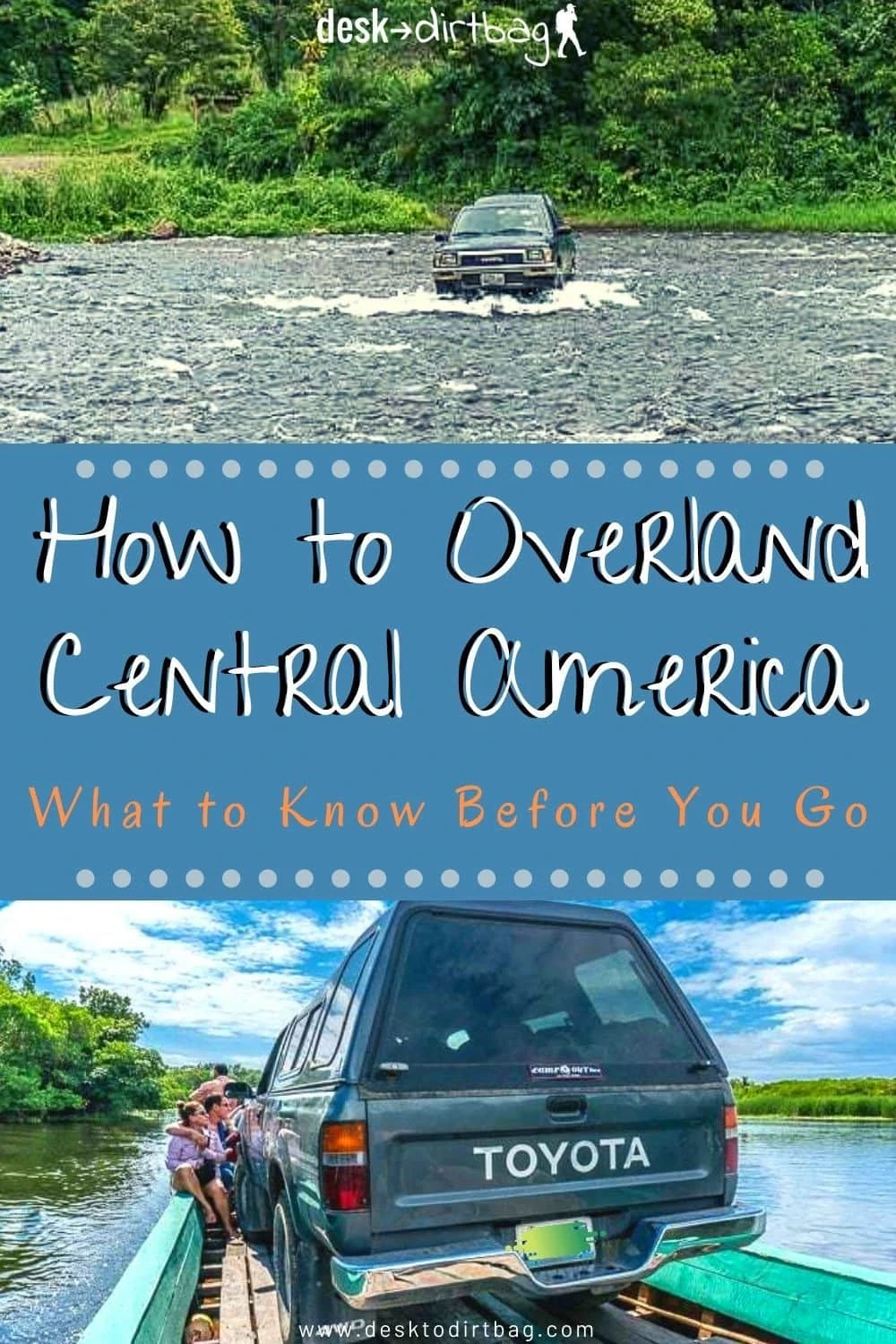 I must say, that trip was one of the coolest, most life-changing experiences I have ever undertaken. Trying to overland Central America isn't the best type of travel for everybody, but if you've got a spirit of adventure and don't freak out when things don't go exactly to plan, then you can probably undertake this trip.
You don't need to be a professional adventurer, you don't need to be an auto mechanic wiz, this is a trip that is undertaken by people of all backgrounds and abilities.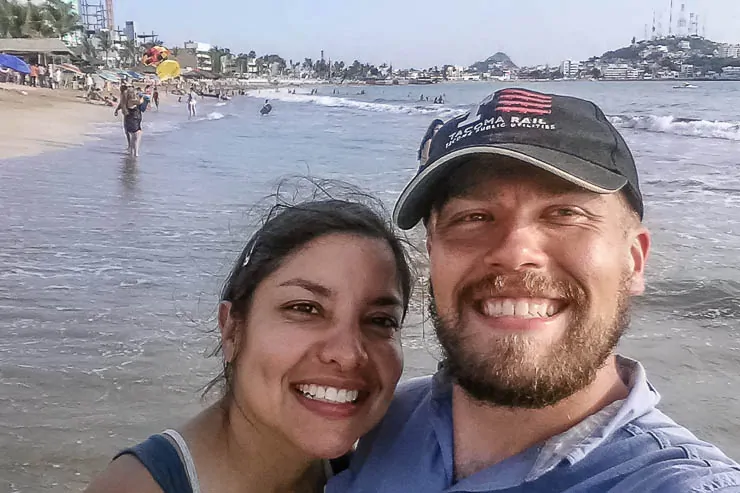 You can give it a listen through the embedded player below, give it a listen on iTunes, on Stitcher, or just download the episode directly.
Jason and I talked about the pros (and cons) of overland travel, what to expect on a road trip through Central America, some of my favorite gear on the road, some of my favorite resources to find camping and a lot more:
How to unlock a hidden world of infinite possibilities during your travels
Another definition of dirtbag
Where to find 'normal' people that do overland travel
How to prepare your vehicle for overland travel
Precautions to take while driving in Central America
Primary benefits of overland travel
How to deal with car insurance
Best practices for your cooking set up
How to develop an organized system for storage
Best recommendations for sleeping spots
The best amount of time to allow for a trip through Central America
A general daily budget you should think about
Hidden gems and unexpected surprises in Central America
About the Journey
You can expect to spend a minimum of a few months to do the journey in its entirety, although the more time you can spare, the better. There is a lot to see, particularly in Mexico. I wouldn't recommend doing the journey with less than six months' time, honestly. With about six months, you could allocate half the time to Mexico and half the time to the other countries.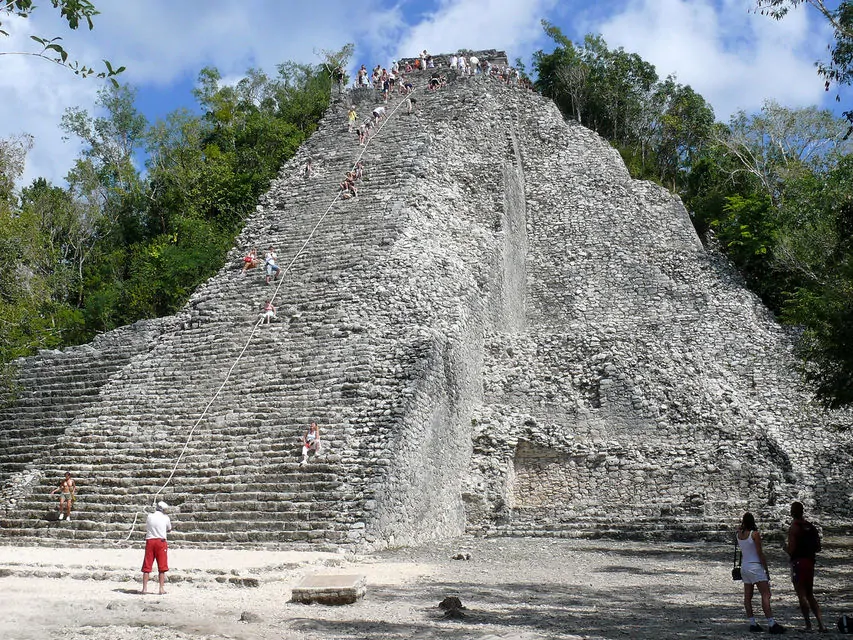 On this journey, you'll travel through eight countries: Mexico, Belize, Guatemala, El Salvador, Honduras, Nicaragua, Costa Rica, and Panama. There are a number of routes that you could take, but the one we took and I'd recommend, would start in Baja California, take the ferry across to Mainland Mexico, continue down toward Lago Chapala, toward Mexico City, south to Oaxaca, across Chiapas to the Yucatan (Merida, Cancun, Tulum, etc), then south through Belize.
The Central American countries aren't so big so you can easily zig-zag between interesting areas, primarily hugging the Pacific Coast.
Read More: The Best Countries in Central America
What Kind of Vehicle
If you're considering driving to Mexico and Central America, then one of the biggest questions is about what is the best vehicle for overlanding. While you don't need a four-wheel-drive vehicle unless you plan on visiting some really out of the way areas, it still would be a good call to have a high clearance vehicle like an SUV or truck for the journey.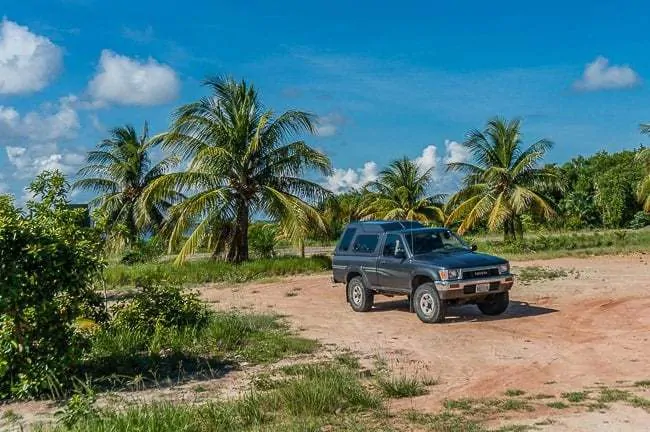 It isn't uncommon to find roads that are in pretty bad shape with large potholes or huge speed bumps that pop out of nowhere. I'm partial to Toyota vehicles which are ubiquitous around the world meaning that replacement parts are easy to come by and mechanics are experienced and knowledgable with those types of vehicles. My 1991 Toyota Pickup served me very well throughout the journey without so much as even a flat tire.
Having a vehicle that allows you to sleep out of it like a truck or van is also a good idea because you can drastically reduce your lodging expenses at times, although there are a plethora of cheap hotels throughout the region.
What Kind of Paperwork Do You Need?
You really don't need much, if you're coming from the US or Canada, you can do everything quite easily without much pre-planning. Paperwork for migration and the vehicle is done at each border and differs from country to country. But basically, all you need is your driver's license, passport, vehicle title, and maybe the vehicle registration (never asked for).
Most of the border crossings are free but there are some that require a small processing payment for paperwork and permits. Honduras was the most expensive and cost like $40 for paperwork. Each country's process is different too, requiring X number of copies of this or that. You can easily research what is needed online from other recent border crossings. It helps to have an idea of what to expect before you arrive at the border. I usually did this the day beforehand so I could get the necessary copies and then review again the morning of the crossing. Time-wise, you can expect borders to take about an hour or two, generally speaking.
How Much Does it Cost?
One of the biggest questions about overlanding Central America is how much the whole thing would cost. Obviously, the length of time you're traveling and the speed with which you need to travel will impact your total budget. As a rule of thumb, $75 for a couple per day is more than doable through the journey.
If you're traveling solo, I'd budget about $50 per day. If you're planning to travel for six months, for example, you can expect to need to have about $13,500 for a couple or about $9,000 solo. You could easily spend more or less though, but that is a comfortable budget for those who want a mix of hotels, activities, lots of eating out, etc.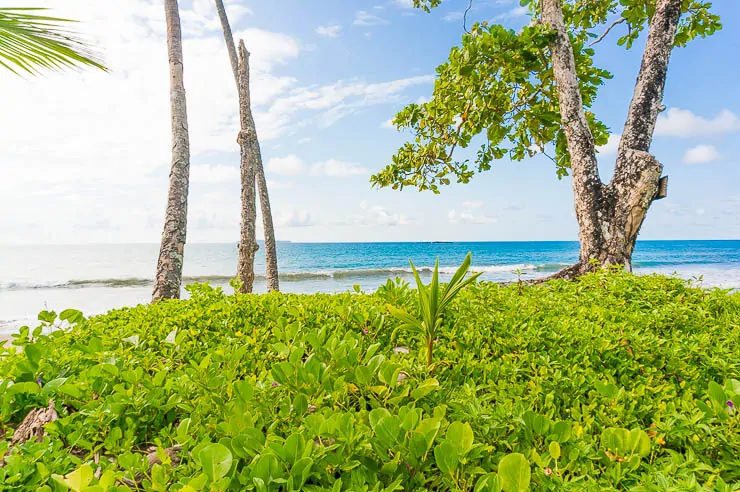 Most of the countries are quite cheap but Costa Rica is the major exception as it is very expensive compared to its neighbors, with prices that are almost like that of the United States in a much more rustic and undeveloped setting. It is an absolutely beautiful country and full of incredible wildlife all over.
Continue to South America
Of course, one of the most common questions is about whether you can drive from North America to South America, and while that is not physically possible due to the Darien Gap, you can load your vehicle into a shipping container between Panama and Colombia to continue the trip south. Which is exactly what we did as we continued the drive through all of South America for about a year and a half extra.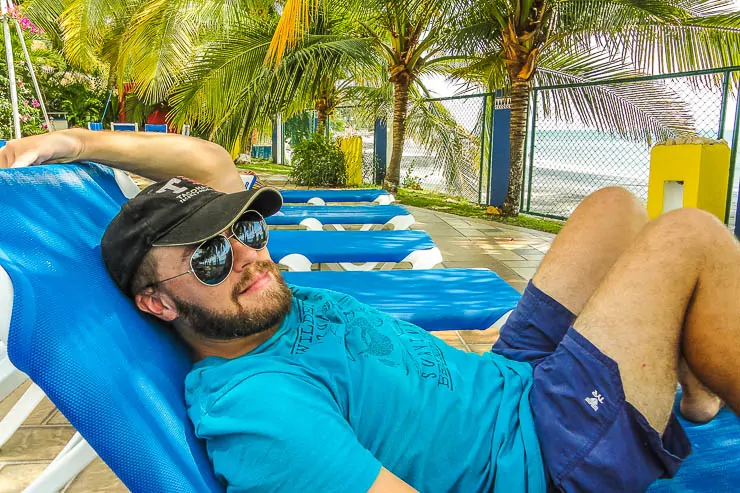 Be sure to give this podcast episode a listen and check out more of his episodes with other veteran travelers.
Our Central America overland journey was a once in a lifetime journey that I'll never forget. It was filled with special moments like exploring the Mayan ruins, camping beside the howl of monkeys, seeing hundreds of sea turtles storm the beach, and so much more. It is an affordable but incredible journey that is easily within reach of anyone living in North America.
Read Next: Myths About Central America Travel
Share This
Did you enjoy this post on how to overland Central America? Please give it a share on Facebook, Twitter, or Pinterest.
The following two tabs change content below.