This article may contain
affiliate links
. If you make a purchase through these links, I will earn a commission at no extra cost to you. Thanks!
After rounding out the bottom of the peninsula to visit Los Cabos, we headed back north again so we could hop on the La Paz ferry to mainland Mexico. This guide will help you plan your own trip across the water and learn from our mistakes in terms of how to best do it!
La Paz Ferry to Mainland Mexico
There are two main choices when it comes to visiting the mainland:
1) Los Mochis or Mazatlan? Los Mochis offers a shorter crossing time but is located further north.
2) Baja Ferries or TMC? Baja Ferries is more passenger oriented, while TMC is more of a commercial trucking service.
We left Los Cabos with the idea of arriving 1 day prior to our planned departure, and we hoped to catch a boat to Mazatlan to get a little further down the road.
Boats to Mazatlan are not necessarily every single day, so you should check the schedule in advance.
Pichilingue
Rather than stay in La Paz, we decided to head to Pichilingue where the port and ferry service is actually located. That way we could save half an hour the next day.
We didn't know where we would stay or what we would find in Pichilingue… Small port cities are usually pretty dismal, grimy places.
Right adjacent to the Baja Ferries ticketing office in town we found the Cantamar Hotel, which was right on the water with a great pool, swim up bar, and restaurant over the water.
For just 600 pesos per night ($37) it was a definite steal. Pichilingue was actually amazingly beautiful, we were totally blown away.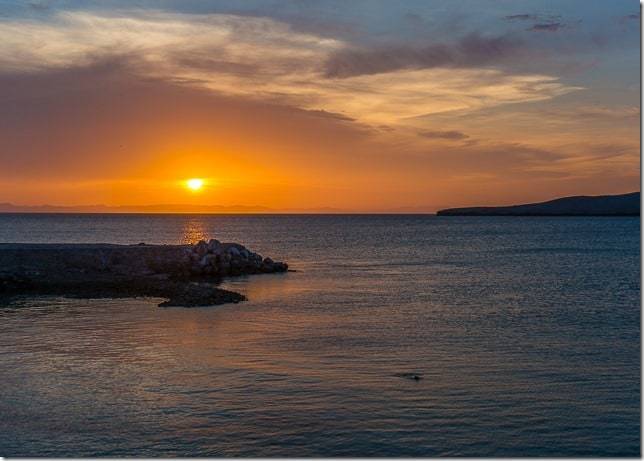 The restaurant at the Cantamar Hotel was super slow, but we contented ourselves with standing at the railing and watching all the little fish swim by below in the crystal clear water.
There were pelicans flying all around and even seals swimming in the harbor.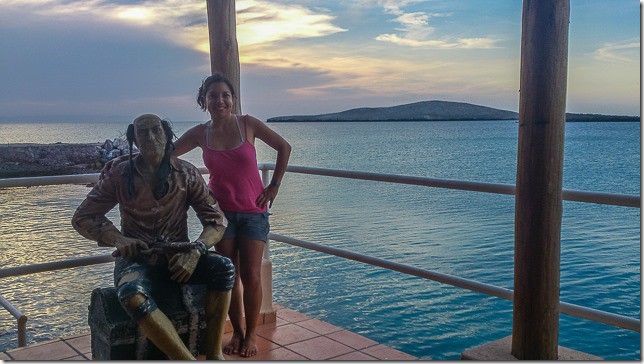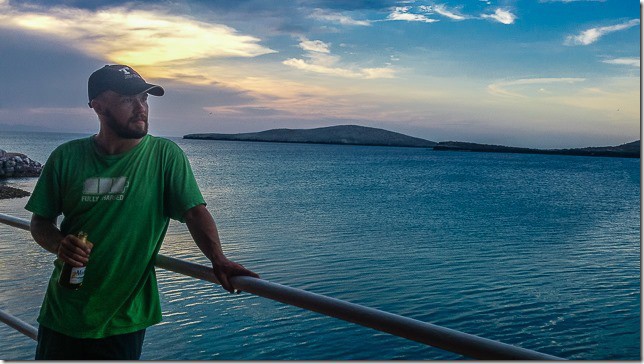 The hotel also has a small private beach with sand. It was idyllic.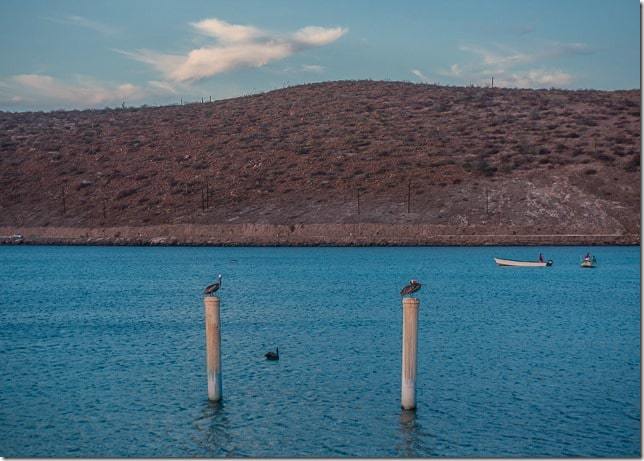 The following day we headed out to the port, located just down the road, so we could work out the details of our crossing.
Richard and Ashley over at Desk to Glory put together this great aerial overview map: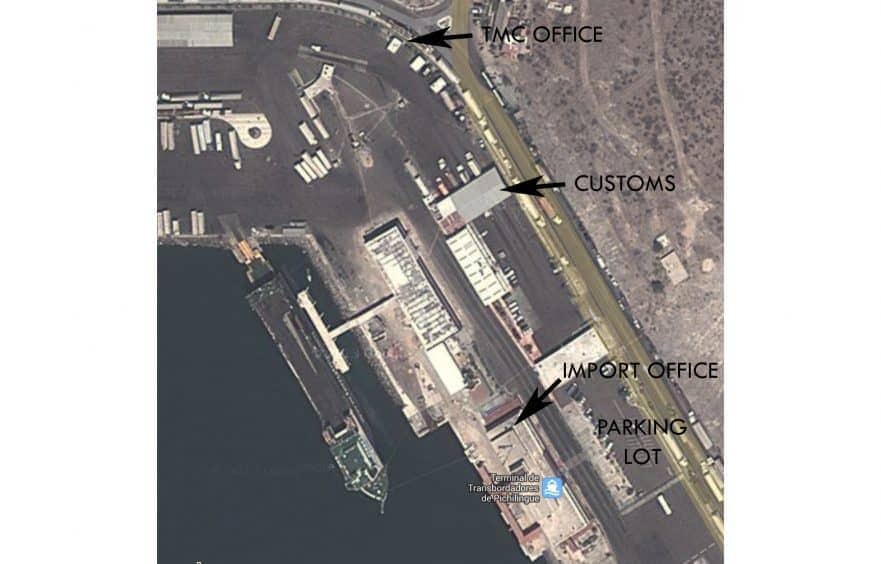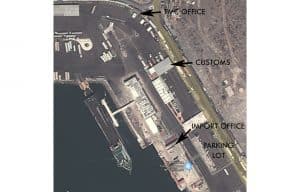 Vehicle Import Permit
First, we needed to get a temporary vehicle import permit for the truck (you don't need this for Baja, but you do for Mainland Mexico).
After pulling into the ferry terminal we took a left into a paid parking lot (around 30 pesos).
In the large building just beside the parking lot is where you will find the import office. We chatted with the woman who explained the details and what we would need including copies of my passport, FMM (tourist card), vehicle registration, etc.
We walked around the corner to another office where we could make copies.
Back at the import office, we were quickly able to get things sorted out: $44 for the temporary import permit, a $200 deposit (which you get back when you leave the country), and a cool little window decal so everything is official.
We left the truck where it was and walked down to the adjacent building (heading toward the loading docks) so we could inquire about tickets.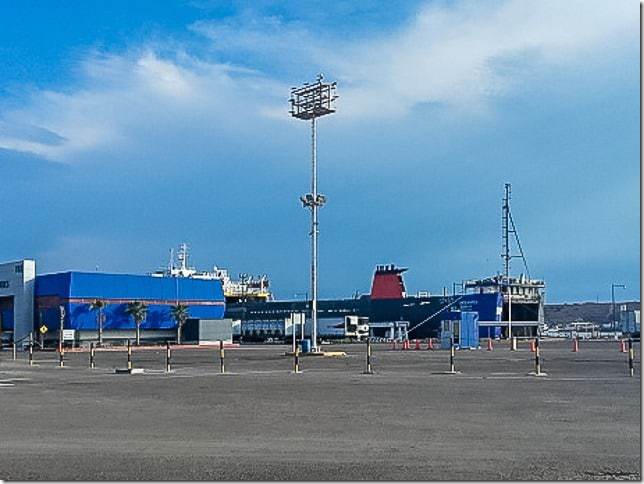 Buying Tickets for the La Paz Ferry to Mainland Mexico
We chatted with Baja Ferries about the trip to Mazatlan that evening… And all of their assigned seating was sold out. Meaning we would be stuck on the floor fo18-hour8 hour trip—and they'd still charge us the same price as everyone else.
Baja Ferries does NOT allow you to return to your vehicle after embarking either.
The next sailing for the La Paz ferry to Mainland Mexico was in two days, on Friday, and it was already sold out as well. Bummer.
We then turned to the folks at the next window, TMC, the other ferry company. The guy working the window initially told us that they didn't allow passenger vehicles, it was purely commercial.
Strange, I thought, because I know that other bloggers have made the crossing with them. I mentioned this to Andrea as we turned away and she went back in for another attempt…
This time a younger guy at the back of the office came forward and told us to follow him.
We left the office and walked through the customs area, weaved between parked trucks, and headed to a little shack at the corner of the port. This was the main TMC office.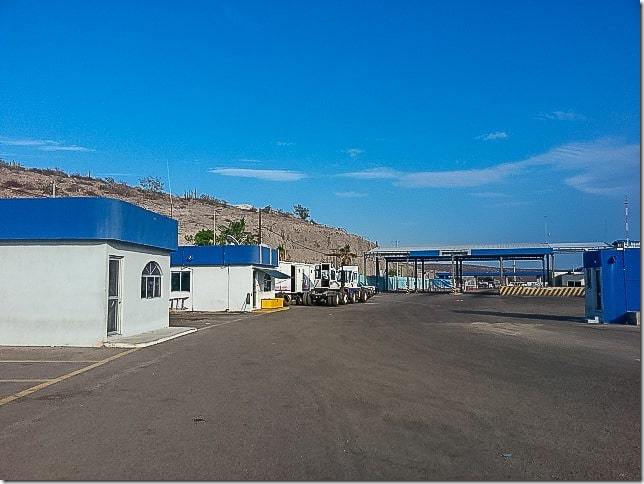 The women working inside where immediately helpful, could have us on board the sailing that night, departing at 9 pm, told us there was no problem returning to the vehicle during the sailing, and they didn't even need us to pay upfront—telling us to come back later that evening a few hours in advance.
Easy!
We headed back to the Hotel Cantamar restaurant for lunch and to use the internet while we killed time.
Boarding the Boat
Heading back to the port at about 6 pm, this time we drove through customs—they revised the paperwork and the new temporary import permit.
We then continued to the scale so they could weigh and measure the truck and gave us a piece of paper with the details.
Parking a little closer to the little shack office this time, we headed in and made the final arrangements for the sailing. You pay for the vehicle (based on size) and per passenger.
In total, we paid around 3,000 pesos for the crossing (unfortunately, when my phone died I lost all the expenses I was tracking), or around $187 dollars for the 10-hour crossing.
They give you your tickets, including a ticket for food in the galley (included) and then you get to sit around and wait. We found some shade thanks to an 18-wheeler.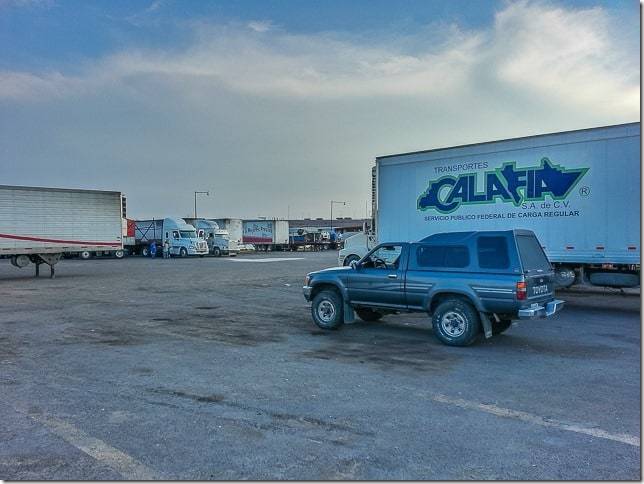 About 1 hour before departure they began boarding—we were the second vehicle onboard and parked at the stern of the ship, right beside the water.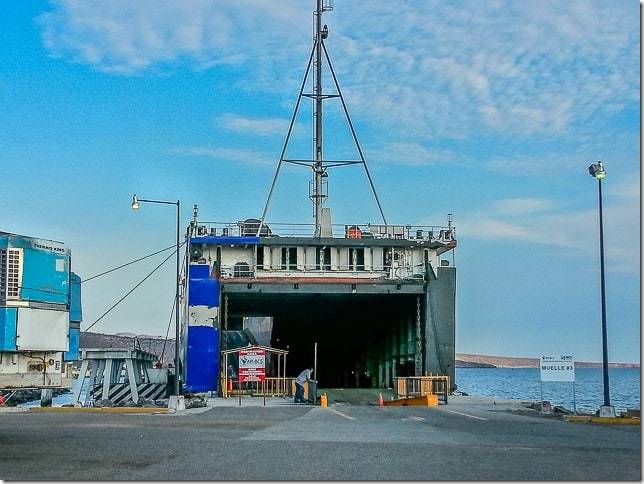 Setting Sail on the La Paz Ferry to Mainland Mexico
After parking, we headed up to the waiting room which thankfully has air conditioning.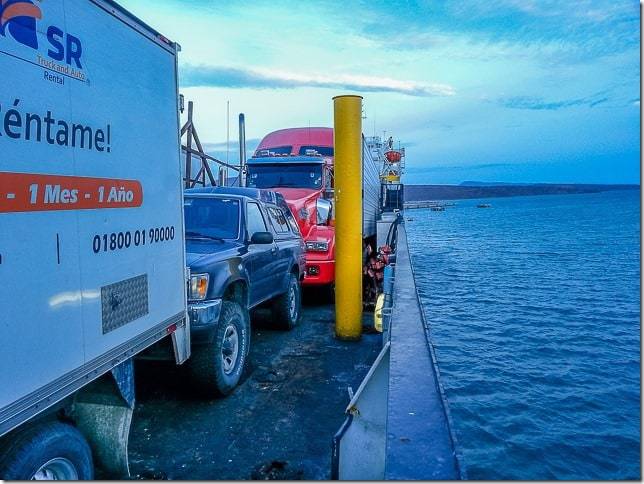 The waiting room area is pretty beat up—but features padded chairs (which many people remove from the seats and use as makeshift mattresses on the floor), two flat screens where they show movies, and that important A/C.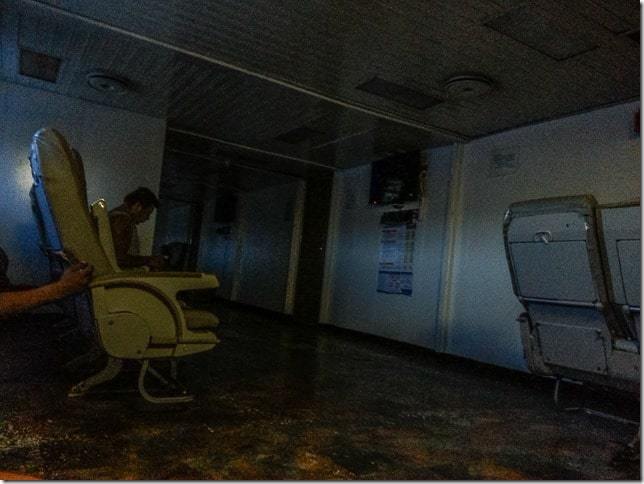 We opted to skip the included meal—it looked pretty iffy.
As mentioned, TMC is primarily used by commercial truck drivers. The place was full of guys—we thought Andrea might be the only woman on the boat—but later on, another family arrived with their children and grandma in tow as well.
We started the evening with a showing of the new Three Stooges movie and then everybody began tucking in for the night. Making beds with cushions, sleeping in the chairs, some even brought their own cots along to be assembled.
The floor quickly filled with snoring Mexicans.
We decided to join them and headed back to the truck to retrieve our big sleeping mattress, pillow, and a sheet. We had to tiptoe over people to get out and get back into our corner of the waiting room.
We were rocked back and forth to sleep by the gentle sway of the boat.
The next morning we were awoken early by the stirs of the crowd. We had arrived in Los Mochis (or actually in Topolobampo) by 8 am, but it took another hour or so to offload all the trucks.
Since we were the first ones on, that also meant being the last ones out.
In total with the boarding and disembarking of the vessel, it was at least 12-13 hours.
But here we were in Mainland Mexico… The real deal!
What I Would Do Different
Knowing what I know now if I was sailing on the La Paz ferry to mainland Mexico and given the option between sailing to Los Mochis or Mazatlan, I would definitely pick Mazatlan.
It is cheaper and shorter to sail to Los Mochis, but you will arrive tired, you still have at least 4 hours to drive to get to Mazatlan (and 400 pesos in tolls if you take the cuota), and we got stopped twice by two different cops in Los Mochis who wanted to see our permit.
Never got hassled in Mazatlan or anywhere else nearby.
In the end, I think the cost ends up being about the same when you take into consideration the tolls and gas between the two cities.
There is nothing to really see around Los Mochis either… We just turned south and drove for Mazatlan, tired and hot.
Though you might be interested in taking the train up to Copper Canyon and then driving back down… That could be cool!
Further Resources
Traveling to La Paz before taking the ferry? Book the perfect room on Booking.com today! When traveling south of the border, be sure to pick up travel insurance for Mexico to protect yourself against illness, injury, and theft. I use and recommend World Nomads.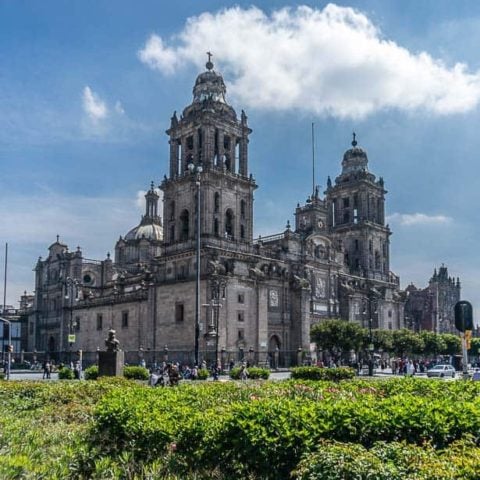 Mexico Travel Tips
Important tips and resources for planning an amazing trip to Mexico, based on my extensive experience traveling across the entire country.
Tools
Instructions
Book a cheap flight to Mexico with Momondo, or better yet, start travel hacking so you can fly for free.
Plan a rough itinerary and how long you will spend in each destination. Pick up Lonely Planet Mexico to help with this.
Work every day to teach yourself Spanish, you want to know as much as possible before you arrive.
Book your cheap accommodation in advance, at least for the first destinations -- For hostels use: Booking, for cheap hotels use: Hotels.com, for apartments use: Airbnb.
Reserve your on the ground tours and activities through Get Your Guide.
Purchase travel insurance for Mexico with World Nomads to protect yourself from illness, injury, and theft while in Mexico.
Check out my comprehensive guide about traveling to Mexico with information on cities, things to do, places to see, and more.
Learn more money saving tricks with my top budget travel tips if you want to get more bang for your buck.
Put together your Mexico packing list.
Enjoy this incredible country!
Notes
I hope this helped you plan your travels in Mexico! I know it can be a struggle to find accurate and on the ground information when traveling to a new place like Mexico, which is why I started writing so extensively about it!
If you have any questions about Mexico, budget travel, or anything else shoot me an email at ryan@desktodirtbag.com.
(I love getting questions! That is how I get ideas for my blog posts and what to write about!)
Recommended Products
As an Amazon Associate and member of other affiliate programs, I earn from qualifying purchases.
Share This
Did you enjoy this post about how to take the La Paz ferry to mainland Mexico? Please take a moment to share it on Facebook, Pinterest, or Twitter. Thanks!
The following two tabs change content below.