This article may contain
affiliate links
. If you make a purchase through these links, I will earn a commission at no extra cost to you. Thanks!
After we got away from the hassle of two police stops in Los Mochis we headed down the coast to link up two of Mexico's most famous Pacific coast destinations by driving from Mazatlan to Puerto Vallarta.
Our first big shock on the drive was the toll roads. Obviously, we had heard about toll roads in Mexico—one thing that is nice is that by law they have to have a free alternative road which is usually much slower, often with potholes, and definitely full of speed bumps. I prefer the free roads though, generally speaking, because they are more laid back and offer some more local insight. It's akin to road tripping on the major interstates vs. taking the backroads. If time isn't the primary factor, the free roads are my preference.
But the fact that I wanted to arrive quickly after a long night (and little sleep) on the ferry from Baja, meant that I needed to use the toll roads.
What was shocking though was:
how expensive they were—we spent about 400 pesos ($25) total to get to Mazatlan, and
how frequent they were—there were at least 5 or 6 toll booths on that 4 hour stretch of road.
Scammed on the Toll Road
We also had another bad taste put in our mouth on an already bad day, when one of those toll booth operators shorted me out of 17 pesos ($1)…
I had no small bills and had to break one, he handed me back a few bills and a handful of change, as I started to give it a cursory glance, he started talking to me and asking inane things (to distract me).
I figured the change looked more or less right (I didn't count the coins—but they have coins for 10, 5, 2, and 1 peso) and headed out to not hold up traffic. I handed the change to Andrea and she realized that he shorted us.
Yeah, it was only a $1, but still, I hate it when people take advantage of travelers like that.
Between the sleepless night, the multiple police stops, and the short change, we weren't really liking Mexico much today.
We finally made it to Mazatlan after a long and stressful day. Now we had to find somewhere to stay the night… Easier than done when you are on a budget and it is high tourist season in Mazatlan.
We did our usual stop and ask at various hotels… Many were totally full or charging exorbitant rates (especially those "all-inclusive" hotels). We finally headed into the historic centro where we came across the Posada Colonial for 600 pesos ($37.50) per night with parking in the plaza. That works!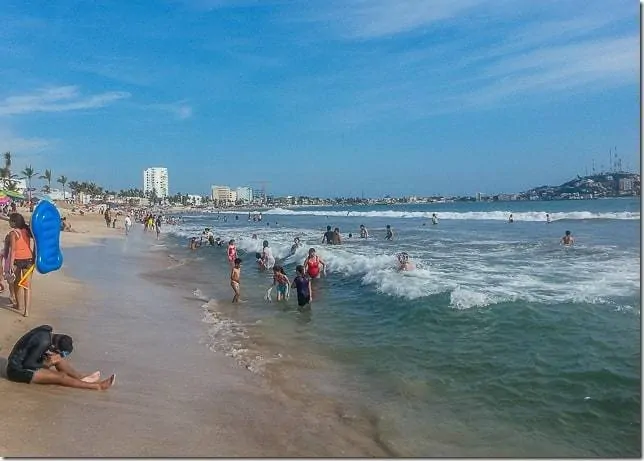 The Best Restaurant in Mazatlan
That evening we wandered down to the restaurant Panama on the recommendation of the receptionist, and we were definitely not disappointed! Panama is an old institution in both Culiacan and Mazatlan and a must visit in Mazatlán.
They have an incredible selection of food from across the country, delicious shakes, and desserts. You can't go wrong with them.
Andrea said outright that it was the best restaurant we had been to since we set out from Seattle. So good that we went right back the next morning for breakfast.
The next day we needed to take care of a few things with the truck since I was due for an oil change after our long drive through Baja.
It took a bit of hunting to find a place—and luck have it, he was just closing up shop for the day. He told me to follow him as he left and he'd lead me to another reputable place so that's what I did.
I got the full-service oil change which included changing out the spark plugs, new oil filter, cleaning the brake pads, etc. Turns out one of my brake pads was nearly completely worn out, so I got those handled as well. The whole thing took nearly two hours, but it only cost me about $112.
Mazatlan Waterfront
By now it was mid-afternoon so we headed straight down to the waterfront to check out the famous beaches of Mazatlan.
We walked along the picturesque beach that I'd heard so much about from my parents' vacation there years ago… The parasailing, sport fishing, etc.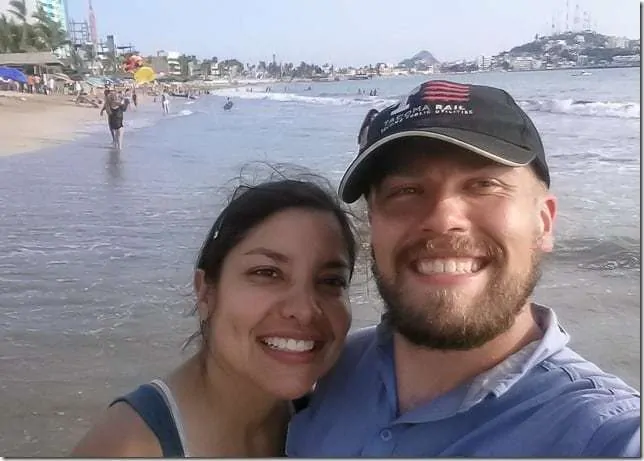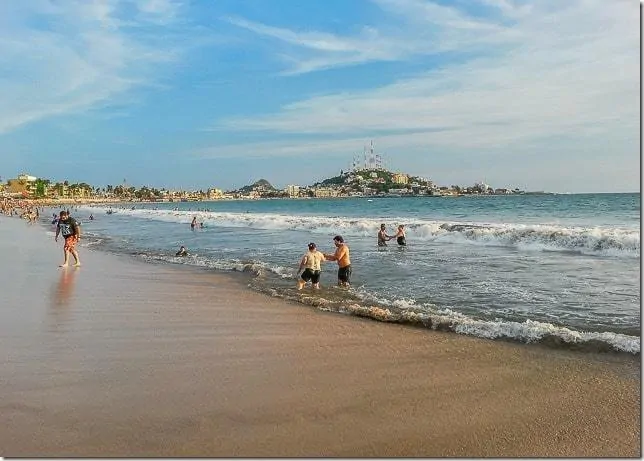 The roar of the Pacific is strong here, and you must pay attention to the flags on the beach which show where the currents are strong (and potentially deadly).
The beach is lined with bars and restaurants, we popped into a busy little shack for some ceviche.
The brought out the biggest plate of ceviche I'd ever seen. I wasn't even able to finish it all—and Andrea doesn't do seafood. The ceviche was absolutely delicious though, for so cheap relative to the huge plate.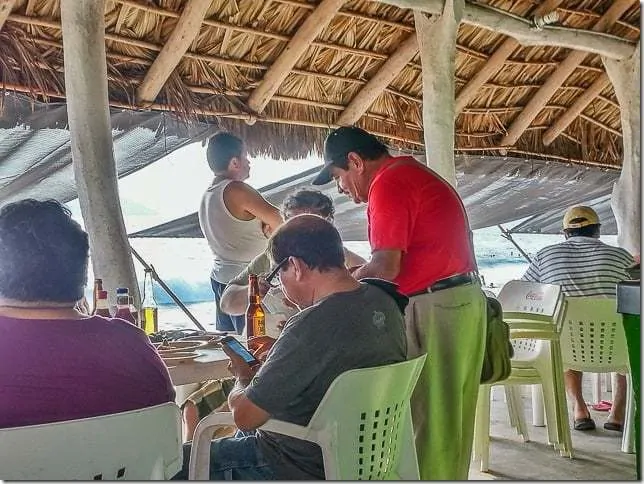 After the gorgeous sunset, we headed out to a cheap place to pass the night…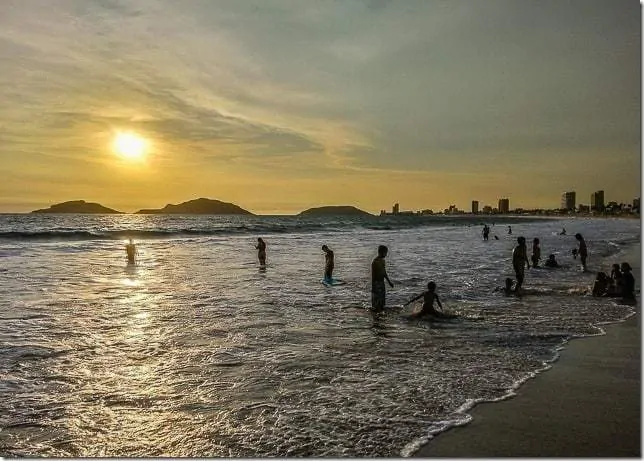 The guys at the oil change place recommended a cheap motel on the way out of town, Motel Eiffel, which only cost us 350 pesos for the night.
Traveling to Mazatlán on your next trip? Book the perfect room on Booking.com today!
Read More: Things to Do in Mazatlan
Mazatlan to Puerto Vallarta
The next day we got an early start for the long, scenc drive from Mazatlan to Puerto Vallarta via the free roads.
People have asked me: is it safe to drive from Mazatlan to Puerto Vallarta? Yes, it is safe and sane, nothing major to worry about here, just follow the normal rules of traveling in Mexico. More than anything, it is Acapulco and the surrounding area that you need to worry about.
The distance from Mazatlan to Puerto Vallarta is approximately 440 kilometers or 275 miles… It doesn't sound like much, but if you take the free roads as we did, you can expect to spend about seven or so hours on the drive. You can cut off some time by taking toll roads, but we weren't in a rush today, and it only saves about an hour on this route.
Welcome to Puerto Vallarta
Puerto Vallarta is undeniably beautiful, but it is also a strange town to drive in—lots of old colonial cobblestone streets, and peculiar systems like the divided main road from the auxiliary side roads. For instance, if you want to turn left, you must exit to the parallel road on the right and then turn across four lanes of traffic.
It also made it a problem to find cheap accommodation: by the time you passed a decent looking hotel, you couldn't access it thanks to the divided road.
Driving through Puerto Vallarta was frustrating with the peculiarities here—and once again we had problems finding somewhere affordable to stay. That first day we ended up leaving Puerto Vallarta to the neighboring town of Nayarit where we found a really cheap and somewhat creepy hotel, hah.
We survived the night and then headed to Starbucks in Riviera Nayarit so we could get online and search for a better place to stay in Puerto Vallarta.
Where to Stay in Puerto Vallarta
I had $75 of credits on Airbnb thanks to referrals (you can sign up here and get some free credits for my referral!) and we were able to find an awesome apartment on the top floor of a 4 story building, rooftop deck, secure parking garage, and two balconies with a view of the water.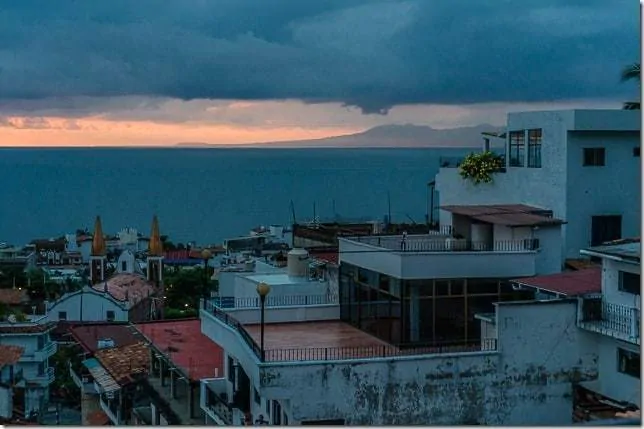 Such an amazing place to stay in Puerto Vallarta!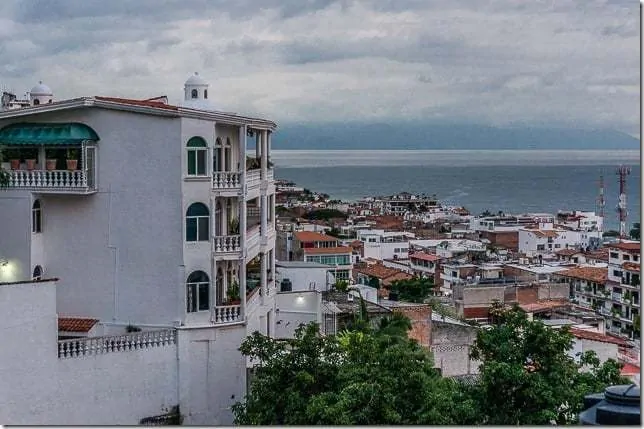 Unfortunately, both of us came down with a stomach bug (was it the Starbucks?!) during our time in Puerto Vallarta and we spent most of the time in the apartment to be close to the bathroom.
I'll spare you the details.
As a result, we never really got the opportunity to adequately explore the town, the beach, or much of anything, really… We just got to know the city from the car and looking over it from the balcony.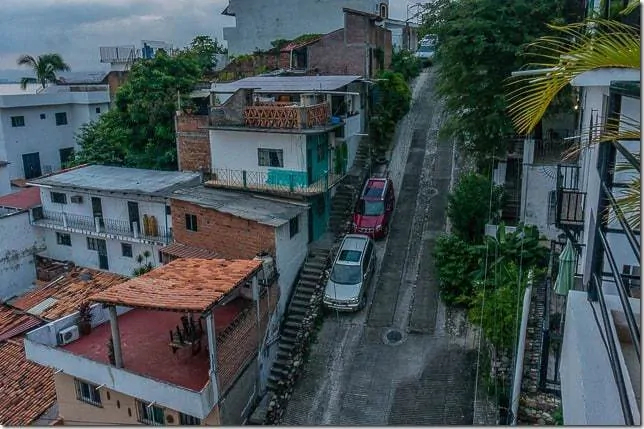 We were treated to the most spectacular thunderstorm and light show that I've ever seen. The Pacific was lighting up every second, it seemed.
Sad though, because there are truly a lot of awesome things to do in Puerto Vallarta.
Traveling to Puerto Vallarta on your next trip? Book the perfect room on Booking.com today! Be sure to check out these best Puerto Vallarta tours, and don't forget to book your travel insurance for Mexico with World Nomads!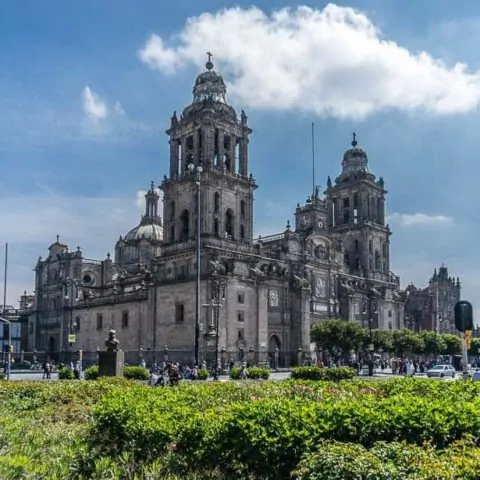 Mexico Travel Tips
Important tips and resources for planning an amazing trip to Mexico, based on my extensive experience traveling across the entire country.
Tools
Instructions
Book a cheap flight to Mexico with Momondo, or better yet, start travel hacking so you can fly for free.
Plan a rough itinerary and how long you will spend in each destination. Pick up Lonely Planet Mexico to help with this.
Work every day to teach yourself Spanish, you want to know as much as possible before you arrive.
Book your cheap accommodation in advance, at least for the first destinations -- For hostels use: Booking, for cheap hotels use: Hotels.com, for apartments use: Airbnb.
Reserve your on the ground tours and activities through Get Your Guide.
Purchase travel insurance for Mexico with World Nomads to protect yourself from illness, injury, and theft while in Mexico.
Check out my comprehensive guide about traveling to Mexico with information on cities, things to do, places to see, and more.
Learn more money saving tricks with my top budget travel tips if you want to get more bang for your buck.
Put together your Mexico packing list.
Enjoy this incredible country!
Notes
I hope this helped you plan your travels in Mexico! I know it can be a struggle to find accurate and on the ground information when traveling to a new place like Mexico, which is why I started writing so extensively about it!
If you have any questions about Mexico, budget travel, or anything else shoot me an email at ryan@desktodirtbag.com.
(I love getting questions! That is how I get ideas for my blog posts and what to write about!)
Recommended Products
As an Amazon Associate and member of other affiliate programs, I earn from qualifying purchases.
Share This
Did you enjoy this post about traveling from Mazatlan to Puerto Vallarta? Please take a moment to share it on Facebook, Pinterest, or Twitter.
The following two tabs change content below.