This article may contain
affiliate links
. If you make a purchase through these links, I will earn a commission at no extra cost to you. Thanks!
So, you're headed to Mazatlán. Congratulations, you'll love your time there. Sandy beaches, surfing, boardwalks, and fishing draw quite a crowd to this beautiful Mexican resort town in Sinaloa, and you're sure to have a packed trip because there are plenty of awesome things to do in Mazatlan.
But be warned — many of the activities you'll find in Mazatlán will cost a pretty penny. I don't need to tell you that expensive nightlife, high-end restaurants, and other attractions can make quick work of your vacation budget.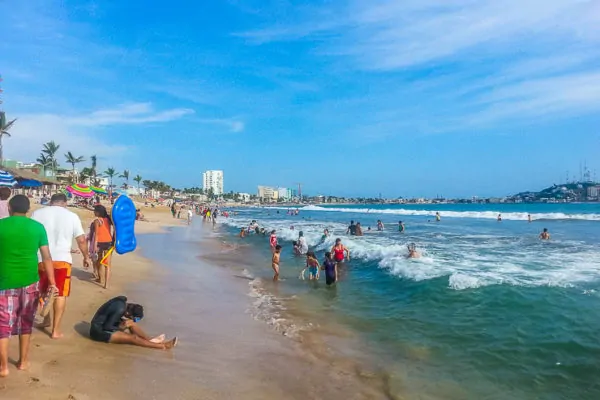 Not everything does, though. In fact, the budget conscious traveler can still have a great time in Mazatlán, if they know where to look. Since we visited Mazatlan as part of a super long trip driving across all of Latin America, we had to watch the budget. If you want to make the most out of a trip here, but don't have a lot to spend, consider a few of these cool things to do in Mazatlan, Mexico that won't break your budget.
Let's get on with this roundup of the best things to do…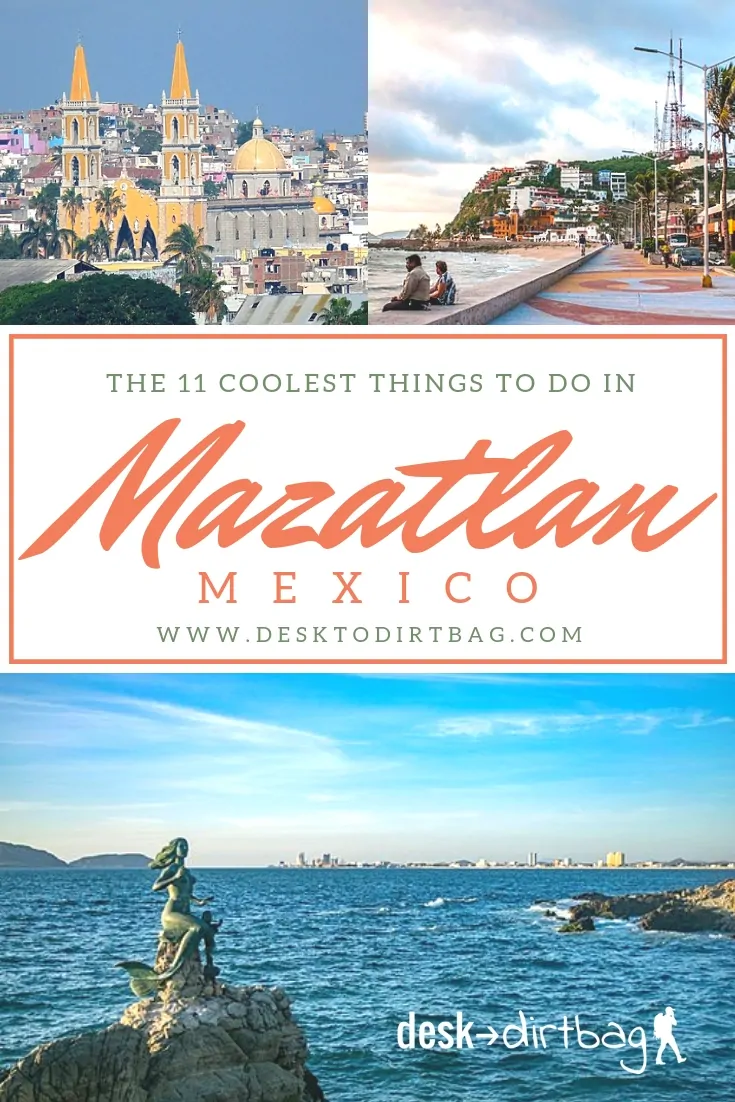 Enjoy a Stroll on the Malecón
This beautiful four-mile-long boardwalk sees lots of foot traffic during the day as visitors and residents enjoy a nice walk, run or cycle. If you have a little money to spend, you can always rent a bike to enjoy the waterfront, or just enjoy it for free on foot as we did. Tourists and vacationers revel at the many unique statues and monuments they encounter as they wander along this beautiful boardwalk.
In addition to the aforementioned public art, you can expect to see plenty of bars, dance clubs, and restaurants — but if you'd like to save money, consider buying food from the street food vendors.
One of my best meals on Mexico's Pacific Coast was undoubtedly the MASSIVE plate of ceviche that I had from one of those random and seemingly improvised restaurants along the beach. Wash it all down with a cheap Pacifico beer and watch the sunset over the Pacific…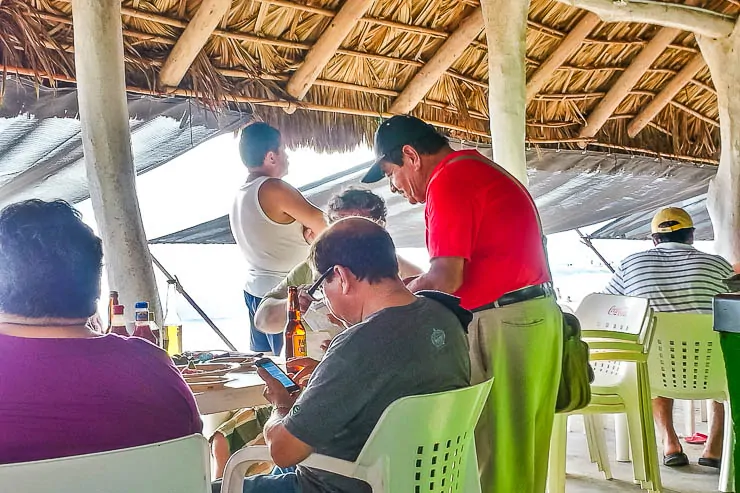 This is why you came to Mazatlan, right? And it was all quite reasonable in price! Too much food really, since Andrea doesn't really "do" seafood and I had to eat it all myself.
Along the Malecon, you can also enjoy the spectacle of buskers and street performers, and even cliff diving at the Glorieta Rodolfo Sánchez Taboada park as cliff divers jump from heights of 20 meters up into relatively shallow water.
Explore Old Mazatlán
If you enjoy architecture and cultural history, you'll love the Centro Histórico, better known to visitors as Old Mazatlán or sometimes Mazatlan City. You can spend all day wandering the streets here, exploring twists and turns and tucking into alleys. In addition to the fantastic architecture, enjoy the many art galleries and small shops.
Walking around Old Mazatlán won't cost you a cent, but you might want to bring a little money with you. It's fun to experience a pulmonia — local, Mazatlan-only open-air taxi-carts that speed through the small streets — and the ride isn't too expensive. Likewise, the street food vendors provide a delicious food option that won't cost an arm and a leg.
Pro Tip: You can find some pretty great budget hotels here in the old town instead of staying at a big resort. We stayed at the quite comfortable and well-located Hotel Posada Colonial for just about $37 per night for a couple. A steal compared to rates up in the Golden Zone.
There's so much to see in Old Mazatlán that you shouldn't rush through the area. A few of the unique attractions that you should make time to visit include:
The Ángela Peralta Opera House
The Angela Peralta theater, completed in 1874, was scheduled to host the famous opera singer Ángela Peralta in 1883. Tragically, it was not meant to be, as she died of yellow fever shortly after arriving in Mazatlán.
In 1975 a hurricane left the theater in lousy shape, but in 1992 a full restoration returned the opera house to its former glory. Now you can visit this beautiful theater for a guided tour. Highlights include information about the difficult construction and the 1883 yellow fever epidemic that claimed the lives of Ángela Peralta and 76 of her 80-person troupe.
The Basilica of the Immaculate Conception
If you love architecture, a visit to the Basilica will reward you with traces of Neo-Gothic, Neo-Baroque and Neoclassical architectural design, all built into one church. The exterior is lovely, but you should consider exploring the inside as well.
Should you decide to enter, remember that the Basilica still holds services several times a day. You could also consider a nighttime visit when you're less likely to walk into mass. Whenever you go, look up at Mexico's largest chandelier, hung from the Renaissance-inspired central dome.
Be sure to check out the multi-foil arches, the stained-glass windows and the white marble Baroque style altar featuring a depiction of the Last Supper.
Plaza Machado
You would never suspect that the beautiful Plaza Machado, often referred to as the heart of Old Mazatlán, started out as marshland. Now it has become known as perhaps the most picturesque spot in Old Mazatlán, and its swampy origins will never enter your mind during a visit.
The Plaza grew into a meeting place for people from all walks of life, a tradition that continues to this day. Restoration has returned the 19th-century grandeur to the Plaza, but the laid-back and welcoming atmosphere remains.
While here, make sure to visit the wrought iron bandstand at the center — this beautiful metal gazebo provided a stage for performers and helped transform the Plaza Machado into the precious public space that it is today.
Of course, there's a great deal more worth seeing in Old Mazatlán than these three attractions — consider these your starting point, and explore from there. You might consider going on a tour at the Pacifico brewery or making a stop at the Pedro Infante Museum to learn more about one of Mexico's biggest film stars. And if you work up an appetite while downtown…
Eat at Panama
No, I don't mean the country of Panama further down south, but the amazing Panama Restaurant and Bakery! This is surely one of the best restaurants we ate at during our entire trip through Mexico (and we ate at a LOT, so that's saying something).
Panama serves up a huge variety of both regional and national dishes and also have great desserts, shakes, and bakery items. The place was so good that one evening we were there for dinner and the next morning we were there for breakfast. Can't recommend it enough, and it's only available in Mazatlan or the nearby city of Culiacan.
El Faro
Hikers, view-seekers and ocean lovers alike will love visiting this lighthouse. On the harbor's west side, perched upon a large rock at the end of the isthmus known as the Cerro Crestón, El Faro has served as a navigational beacon in some fashion since 1828, although a true lighthouse wasn't constructed until 1879.
The lighthouse still serves its purpose, but most visitors are more interested in the view. The lighthouse rests 160 meters above sea level, and if the half hour or longer trek up more than 350 steps doesn't make you lose your breath, the fantastic views certainly will.
Beware of cloudy days though, as they will detract from the panoramic views. Sunset makes for an excellent visit, although be warned that you will probably have lots of company, and might have to walk back down in the dark.
Hit the Beach in Mazatlan
If you'd like to have a fun beach experience, Mazatlán has a couple of options for you. The first, Playa las Gaviotas has a very touristy feel to it since it is up in the so-called Golden Zone near the resorts — loud music plays everywhere, vendors walk along the beach offering wares of every imaginable sort and crowds should always be expected here.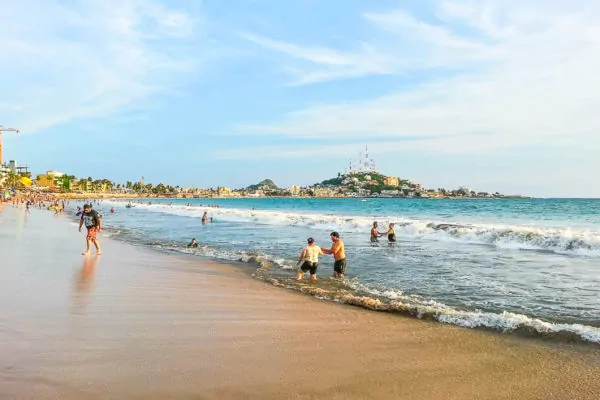 For some people this atmosphere means fun. They enjoy the ongoing party, the abundance of watersports and the groups of people having a great time. This atmosphere isn't for everyone, and if you prefer a calmer beach experience, you should avoid Playa las Gaviotas. Instead, head to Playa Olas Altas for a more "local" beach experience.
The Olas Altas beach offers a great experience right near the Centro Historico — you'll still have the occasional vendor, but they're less aggressive than at Playa las Gaviotas. The few cafes along the beach don't blast loud music and won't destroy your budget if you decide to get a drink.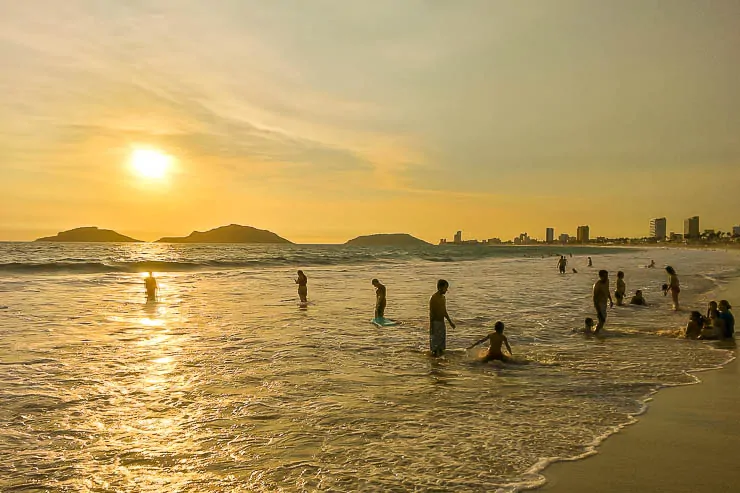 Be warned though, the waves get pretty big at this beach so don't expect a nice relaxing swim. If you like surfing, however, the waves at Playa Olas Altas will make it a great beach to visit.
Throughout Mazatlan, you will see flags posted along the beach that warns you about the dangers of swimming due to riptides or strong currents, so avoid swimming where you see the red flags.
Escape the City on Isla de la Piedra
Isla de la Piedra, or Stone Island, isn't actually an island. Yet because of the geography and topography of the area, it might as well be — trying to get there by car or bus will take you hours. Instead, you should make the trip by boat.
You can skip the tour companies charging fares of $30 and up, and instead snag a ride on one of the ferries or water taxis departing from the docks close to the Pacifico Brewery or the La Paz ferry terminal. You'll pay a much less expensive fare.
Once you step foot onto the island that isn't really an island, you have lots of options. This beach will be less populated than Playa las Gaviotas and better for swimming than Playa Olas Altas, so you can enjoy sunning yourself and splashing in the water.
You can also try your hand at fishing the waters or even horseback riding on the island. The restaurants here range from fancy dining to small shacks so you can find something that fits your budget pretty easily.
Tequila Tour Day Trip
If you're looking to get a little further out of the city for a nice day trip or just to see more of the beautiful Sinaloan countryside, then I'd recommend heading out on this half-day tour which will take you to a few picturesque villages like La Vinata and La Noria.
This day trip culminates in a stop at a tequila distillery in El Quelite where you'll learn a little more about the process of making tequila and do some tasting, as well! If you can't make it to that actual town of Tequila, as we did, then you're going to want to take advantage while you're here in Mazatlan.
Book the Mazatlan tequila day trip now.
Visit the Mazatlán Aquarium
If you have children with you or just love marine life, the Mazatlán Aquarium offers a great spot to spend a few hours, for only about $7 a person. The aquarium's 50 tanks feature more than 250 species of fish — as well as sea horses, eels, stingrays and sea lions.
With shows featuring the sea lions as well as a shark and diver show, the aquarium appeals to all ages, so don't worry if you have kids and adults in your group (or just adults, like us, hah). They'll all have a great time at the Mazatlán Aquarium, as well as the botanical gardens and aviary on the grounds.
Have Fun in Mazatlán
Your trip to Mazatlán doesn't have to drain your bank account. While this beautiful Mexican resort town has tons of expensive attractions, not everything is outside of your budget. You can enjoy basically all of the spots on this list without worrying about how much you'll spend.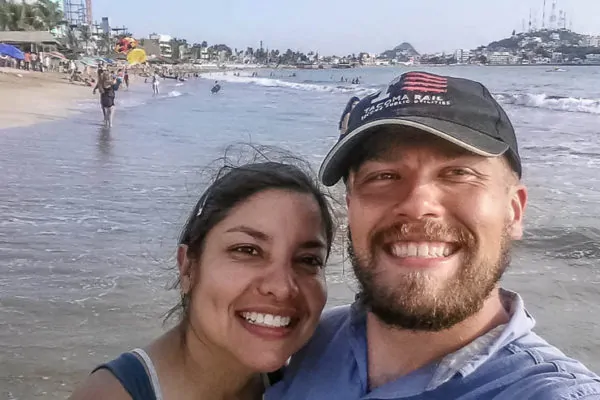 While you'll want to make sure that you have money for food and probably some souvenirs, you absolutely can enjoy your stay in Mazatlán without going bankrupt. Enjoy soaking in the sun, learning about the culture or just exploring the area.
This is a beautiful place, and there are dozens of more things to do in Mazatlan, so you're sure to enjoy your stay. I know we did… We were a little sad to have to push on for the drive from Mazatlan to Puerto Vallarta, but that's another story!
Traveling to Mazatlan on your next trip? Book the perfect room on Booking.com today and don't forget to book your travel insurance for Mexico with World Nomads!
Read Next: Best Mazatlan Tours and Activities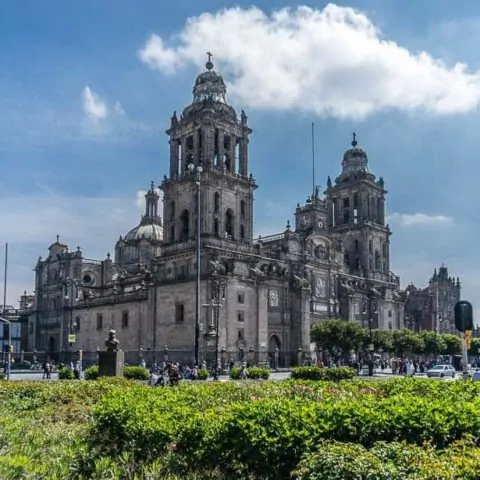 Mexico Travel Tips
Important tips and resources for planning an amazing trip to Mexico, based on my extensive experience traveling across the entire country.
Tools
Instructions
Book a cheap flight to Mexico with Momondo, or better yet, start travel hacking so you can fly for free.
Plan a rough itinerary and how long you will spend in each destination. Pick up Lonely Planet Mexico to help with this.
Work every day to teach yourself Spanish, you want to know as much as possible before you arrive.
Book your cheap accommodation in advance, at least for the first destinations -- For hostels use: Booking, for cheap hotels use: Hotels.com, for apartments use: Airbnb.
Reserve your on the ground tours and activities through Get Your Guide.
Purchase travel insurance for Mexico with World Nomads to protect yourself from illness, injury, and theft while in Mexico.
Check out my comprehensive guide about traveling to Mexico with information on cities, things to do, places to see, and more.
Learn more money saving tricks with my top budget travel tips if you want to get more bang for your buck.
Put together your Mexico packing list.
Enjoy this incredible country!
Notes
I hope this helped you plan your travels in Mexico! I know it can be a struggle to find accurate and on the ground information when traveling to a new place like Mexico, which is why I started writing so extensively about it!
If you have any questions about Mexico, budget travel, or anything else shoot me an email at ryan@desktodirtbag.com.
(I love getting questions! That is how I get ideas for my blog posts and what to write about!)
Recommended Products
As an Amazon Associate and member of other affiliate programs, I earn from qualifying purchases.
Share This
Did you enjoy this post about the coolest things to do in Mazatlan? Take a second to share it on Pinterest, Facebook, or Twitter. Thanks!
The following two tabs change content below.
Desk to Dirtbag is one of the leading budget adventure travel blogs online and is dedicated to helping its followers achieve their travel dreams through inspiration, information, and actionable steps. If you are new to the site, be sure to
Start Here
.
Latest posts by Desk to Dirtbag (see all)