Some articles on Desk to Dirtbag (and just what is a dirtbag, anyway?) contain affiliate links, meaning that if you make a purchase through these links, I may earn a small commission (at no extra cost to you!). Thank you for reading!
---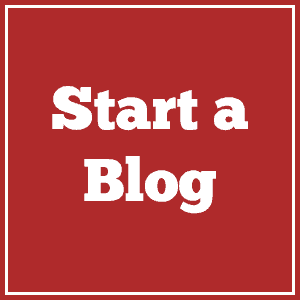 We've already covered the 7 Reasons Why YOU Should Start an Adventure Travel Blog, but how do you actually go about it and start a travel blog?
How do you do it in a manner that will best help you meet your long-term goals?
I started my blog for the primary purpose of holding myself accountable, but I also wanted the blog to not be totally amateur hour and I wanted to keep the door open to future growth and new possibilities, which I will clarify shortly.
In this article we are going to talk logistically about how you go about launching your very own blog in less than 24 hours, some of the choices you will have to make in the process, what you should consider to not inadvertently shut any doors, and how to start off putting your best foot forward.
At the end I will also share with you one simple trick to getting a professional blog setup without spending a dime of your own money… Which is exactly how I started this site.
First Things First
"Dear Diary, a blog doesn't need to be anything more than a simple personal journal…"
You don't need anything fancy. You can go to WordPress.com, Blogspot.com, Tumblr.com or any number of other websites and start a quick, easy, and free blog. If you have absolutely zero aspirations of something beyond a personal journal, than that is what you should do.
Simple.
If however you have the slightest inclination or hope of stepping up from the "My Journal in Public" approach and have more than your mom read it, that's what we are going to address in this article.
To clarify: in order to reap some of the benefits I talked about in the 7 Benefits of Starting an Adventure Travel Blog post, you don't have to do anything beyond a simple free journal site as mentioned above… IE you can still hold yourself accountable, connect with a like-minded community, clarify your thoughts, and more.
But, as we'll get into, I think you can better do all of those things by taking your new endeavor a little more seriously.
Or, at the least, not close the door on future opportunities.
Which leads nicely into our next point…
Define Your Reasons Why
Most importantly you should define why you are starting a blog, what exactly you hope to get out of it and what your goals are. Knowing your reasons WHY can help you make the best choices when you consider HOW going forward.
Do you ever hope to make some money from it?
Do you want to be taken seriously as an influencer or leader in your niche?
What is your niche?
What topics do you plan on addressing?
Is it simply a passion project or would you like to go full-time?
Knowing your reasons will help you when it is time for…
Buying a Domain Name
The domain name, which is basically your address on the Internet and how everyone comes to find you, is not a requirement to start a blog (you can use a free sub-domain like those on WordPress or Blogspot).
But it is something that I would argue should be a requirement, regardless of how "serious" you plan to get with your site.
A domain name lends a great deal of credibility to any website… I mean, www.desktodirtbag.com is my brand, my home, my little piece of Internet real estate. It just isn't the same to telling people to find me at http://desktodirtbag.wordpress.com.
Having a sub-domain based website screams amateur straight away. When you are searching Google for information on anything, you are most likely to see and trust websites with a proper domain name.
Additionally, I think buying your own domain name provides an important psychological boost in how you look at YOUR OWN website. You just invested a little bit of money to get it, you feel more professional, you take it more seriously, you've got your own YOURNAME@YOURWEBSITE.COM email address, and hey you don't want buy something like a domain name and let it sit there totally unused.
The least you can do is buy a domain name. It's only about $10. If you can't bother enough to take yourself seriously, who else is going to?
I have used Namecheap.com for all my domain name purchases but there are a myriad of websites out there. Namecheap has been great to work with, but all the sites basically have the same prices and same level of service. It doesn't really matter where you buy it, but it is nice to not put all your eggs in one basket, meaning buy your domain from somewhere other than your host (coming up soon).
Considerations When Choosing a Name
Choosing a domain name is the first real concrete step, and it is fairly important for a number of reasons.
For one, you want to get it right the first time. You don't want to end up unhappy with your name down the road and have to change it and lose whatever backlinks and work you put into getting them.
Two, be sure to choose something that is easy to spell and remember, that isn't too long, doesn't contain any hyphens, and has a standard .com ending.
Without a doubt www.bobthetraveler.com is much cleaner and easier to remember (as well as telling people in person) when compared to www.bob-the-traveler.info…
"Yeah check out my site at bob dash the dash traveler dot info."
Don't forget that word of mouth is the best form of advertising, especially in the beginning.
Three, consider whether to name based on keyword or branding. If you're only blogging about climbing, it can certainly help you in Google's organic search results to have climbing somewhere in the domain name, at least early on. You don't need to include a keyword though, you can go for a brand image… Think Google.com, Uber.com, Kayak.com, Amazon.com or virtually all of the major businesses out there.
If you time traveled to the present from the past you would have no idea what those websites are about. Yet we all know exactly what each of those sites are. That is branding. Most will say that naming from a branding perspective is a more strategic long-term approach.
Finally, also consider the potential limitations of a domain name.
Your name should probably be specific, memorable, and maybe even descriptive of the main focus. For example, desktodirtbag.com is a pretty good brand name, but if I ever wanted to shift focus to luxury travel, five-star hotels, and so forth, I am not likely to be able to find work like that with the word dirtbag right in the title.
That's not a bad thing necessarily, but it is something you should think about when choosing a name.
Others have chosen domain names related to their age or being newlyweds or a geographic area, but just think about how that might limit things as time goes on.
Once you're set on a name, head over to Namecheap.com or another service to ensure that your domain is available and then scoop it up.
You've got a name, now it's time to decide what platform to launch your blog on…
What Backbone Should You Use
In order to launch your blog you will need some sort of backend that is turning your words into a pretty website. Again, there are many options from WordPress, Joomla, Blogspot, Wix, Tumblr, Squarespace, and more.
Let's just cut to the chase: WordPress, that's what you want.
It's the biggest and most widely used out there. Millions of websites use WordPress as their backbone, including countless websites that don't appear to be blogs at all, but are storefronts, news sites, or just a simple 2-5 page business website. It's popularity means that there are a huge number of resources when you need help, when you need themes, plugins, or anything really.
This is one thing that I don't think is debatable. You will regret starting your site on Blogspot.com and it will be a pain when (not if) you want to move it over to WordPress. I've done it, please save the headache and start off on the right foot. Likewise, avoid starting your site with all-in-one platforms like Squarespace or Wix where functionality is limited and it becomes complicated if you want to monetize your site.
So WordPress, huh? The question then becomes…
Self-Hosted or WordPress.com
WordPress is the backbone that will run your website. You've got two options when making the decision now: use free web hosting at WordPress.com with essentially the same backbone or pay a provider to host your WordPress.
You may instantly be saying "Free, of course!" but I think that is a mistake.
First of all, like we talked about before for domain names, investing just a little bit of your own money will ensure that you take your website and new endeavor more seriously.
Second, while WordPress.com is free, in exchange they seriously handicap much of it's functionality. You cannot install plugins, you are hindered if you want to monetize your blog, they even make it difficult to put in an email subscriber box.
It is an extremely compromised experience which will keep you from fully realizing your blog's potential. No question.
So again, the question you really need to address is what the goals of your website are and what you hope the future holds for it. If it is anything at all beyond a platform to voice your personal thoughts then you should strongly consider starting with a self-hosted WordPress account.
Moving from WordPress.com to self-hosted once you've reached the point where you want to grow beyond, perhaps monetize, and take your site to the next level is a HUGE pain. I started directly with self-hosting for this site because I knew better from research, but I have done the transition for freelance clients, and it isn't fun and not always easy… That's why they paid me to do it.
Shared hosting plans can be had for $6 per month or as little as $4 per month (it all depends on how long you purchase your hosting for in advance). I just purchased one-year worth of hosting to start, which was enough for me in case I didn't stick with blogging.
If the cost of hosting is a huge obstacle, be sure to read to the end of the article to check out what I did to setup my site without spending any of my own money.
There are a number of providers that offer cheap shared hosting plans but Bluehost and HostGator are the two most common for new bloggers… Why? Because they are both cheap (like $4 per month), dependable, and should be more than good enough for the first few years.
I used HostGator for this very website when I first started and I would definitely recommend them to any new blogger. I have not suffered downtime in three years (or barely any), they are responsive to technical problems, they are affordable, and come well recommended by many. Once your website grows bigger, you may find it more advantageous to switch to another host, which is why I moved to SiteGround after almost four years.
* Wish you could travel more and more affordably? Click here to grab my free course and resources that will show you exactly how I've been able to travel for more than four years.
One other point related to buying your domain and hosting service that we touched on above: it is advisable to purchase both separately – why I use Namecheap.com for domain purchases and HostGator.com for hosting – and don't purchase them both through my host.
Which makes it easier when you've grown to the point of wanting to transfer hosting to another provider down the road, and you don't have both your eggs in one basket which makes things trickier. Keep a little separation between the two to avoid headaches.
You don't lose anything by doing so, but there are two quick intermediate steps to take if you do not buy the domain from your host. If you purchased both the domain and hosting through HostGator, go ahead and skip the following two intermediate steps.
So you've got your domain name and your hosting service set up… What's next?
Name Servers
If you purchased your domain and hosting separately, as I do and recommend others do, you're going to need to link the two together by pointing your name servers. This is just a fancy way of saying where the domain name needs to look in order to find the content for the website.
It isn't hard to do.
First you log into your Hostgator.com Cpanel (the info they sent you when you signed up for the plan). In the dashboard down at the bottom left you will find two name servers listed which would read something like ns1234.hostgator.com and ns2345.hostgator.com.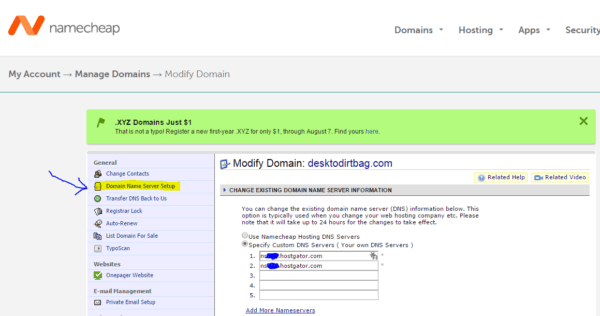 Now you're going to want to log into your Namecheap.com account, click on the domain you purchased, and then along the left hand side click on Domain Name Server Setup.
Below you will see a few boxes where you will paste in the above two nameservers that you found in your HostGator dashboard and then save changes.
You've now redirected your site to find the host. Propagation, as it is called, now takes place where the changes come into effect and can take up to 24 hours to happen. In my experience it often takes hold within a few hours, but you may still see some errors where it won't find your site during that first 24 hour period. Nothing to panic about.
The second quick step to take care of if you purchased the domain and hosting separately as I recommend is to add the actual domain name into your HostGator dashboard.
One-Click WordPress Install
You've done the hardest part, and it wasn't that bad, was it? Congratulations!
Now that the Nameservers are all pointing in the right direction and you've got your domain name added into your HostGator account, the next step is to actual install the backbone to your website, WordPress.
As we talked about there are a number of other options available to you, but there's no real reason not to use WordPress and there are a dozen or so reasons why you should be using it, so let's just get it installed.
Thankfully, HostGator, BlueHost, and any other good shared hosting service makes it ridiculously easy to install WordPress. In the HostGator dashboard locate the Quick Install icon.

Select WordPress and fill in the user information that you would like to use to access the site. Then hit install.
It's pretty much 1-Click easy and, provided your Nameservers have propagated, you're ready to head into your new website… How exciting! I love that new website smell.
HostGator will send you an email in a second confirming that the install was successful and reiterate your username along with providing you an automatically generated password.
To access the dashboard for your website (where you login to work on your website itself, not the HostGator dashboard), you will go to www.yourwebsitehere.com/wp-admin/ where you will be prompted to enter the username and generated password.
There you have it! Your website is effectively ready to go… Just click on Posts > Add New. Here you can punch in a title, type up some quick text and then hit Publish. You've just published your first blog post on your very own website.
Visit your domain name in order to see the changes automatically reflected.
The beauty of WordPress is that once installed it takes all the technical difficulties of managing a website and code out of the picture, and allows you to focus on what really matters: the content. It has a visual and intuitive interface that you probably already know how to manage… The little chain means to add a link, you can change the text font and style easily, and add pictures by clicking on the little picture icon.
Of course the default WordPress install is not customized whatsoever for your website and is completely generic and maybe even a little ugly.
Thankfully with WordPress there are thousands and thousands of themes available which you can upload that will completely change the layout and design of your site and visually improve it by leaps and bounds.
Choosing an appropriate theme for you is something you should do right after installing WordPress, so you can then tweak things as necessary instead of doing it twice if you decide to change your theme in a month.
Choosing a Theme
We've made it to the last really big step that comes with launching a new blog, and which is also one of the most fun… Choosing a theme for your piece of cyber real estate.
As with every step we've talked about up to this point: you can either choose a free theme or find a more professional premium theme.
Again, I went with a premium theme right away because I feel like if you're gonna do something you might as well do it right. In turn I received a number of comments from friends that mentioned my site was the slickest "dirtbag climber" website they've ever seen. Not that that is hard, when all the others are tacky blogspot.com sites.
There are plenty of decent free themes out there, so if your budget is tight you can do that (don't forget to read to the end for a special tip on how I effectively started my website for free), but as with anything free you pretty much get what you pay for.
Most free themes are not fully optimized for a few important things like Responsive design (changing the layout based on the device the person is using from a cell phone, laptop, or iPad) and they aren't fully optimized from an SEO perspective (how Google finds your website).
I've worked for business clients that used free themes for their websites and I can't help but think why they didn't bother to invest the $40-60 for something better? They are a business after all.
With a small investment you can do better than them, and it helps to think about your site as a business from the get-go.
You can better customize the designs of most premium themes, they have better features built in, and they offer technical support if you ever have problems or questions that need resolved (good luck if that happens with a free theme).
Another key reason why I decided to purchases a premium theme right away was to differentiate myself from all the other sites. The few really good free themes out there are used in many thousands of websites (or more!) and I didn't want my site to look like so many other cheap sites. I wanted something that would be professional and at least keep the door open to working with brands about gear reviews or press trips.
If you want to go free just Google "Best free wordpress themes" and you'll get a slew of results.
If you're looking to purchase something there are tons of choices available. I just went to ThemeForest.com and browsed through the top choices until something caught my eye. I ended up going with the Big Feature theme to highlight photographs at the top of the page. I liked it, though after three years I figured it was time for a change, so I implemented X-Theme, which I love.
How I Launched My Site Without Using My Own Money
If I was going to launch a blog, I wanted to do it right from the beginning. That meant buying a domain name, purchasing shared hosting so I wouldn't be hampered by a free host, and purchasing a premium theme.
I didn't want to cut corners and regret it a few months or even a year down the line. So I was looking at $10 for the domain, about $66 for a year of hosting, and another $50 for a theme.
A little more than $120 to launch my new online empire. Which really isn't that much money when you think about it… Just $10 per month.
But I was still kind of cheap and didn't want to shell out any of my own money in the process.
If you're familiar with my site at all, you know I'm big into traveling hacking and finding ways to travel for long periods of time without spending big amounts of money. Well one of those tactics I've used is credit card promotional offers for frequent flier miles which have save me to date about $1,400 cash.
Mileage cards offer the best value, but there are other cards that give straight up cash bonuses in order to earn your businesses as a customer.
Just before I started the site I took advantage of an offer for the Chase Freedom card which, at the time, was paying $300 in cash back bonuses to new customers. It had no annual fee and a modest minimum spend to get the bonus. I signed up immediately and essentially invested less than half in order to get my website going.
I don't remember what I did with the other half of the bonus, I think I just pocketed it, but that was an amazing promotion and money well spent.
Pick up the Chase Freedom or similar promotional card and use the money toward starting your very own online empire. Their current offer will land you $100 cash—almost enough to fully cover your costs.
Even though I started my site with "free money" it would have been worth the investment of my own cold hard cash since it has gone on to earn many times more than I invested in it (in income and other less-tangible benefits).
My biggest advice to you when starting is please don't be afraid to invest in yourself and your site and just do it right from the beginning.
So many people are afraid to invest in things like this, invest in worthwhile information, or tools, but have no problem shelling out $40 or $50 for a night out. Somehow that seems more tangible and a better use of their money… But one is a fleeting moment and the other is an investment that will carry on in the future.
So What's Next?
Your next big steps will be working little by little to flesh out the website, customize the design to meet your needs, and start the important process of building the basic pages like About You, Contact, etc.
The learning and modification phase never really ends. I am constantly tweaking and improving on aspects of my site as well as learning new things. It is an ongoing process, but it is so rewarding to watch your little site grow into something bigger.
Even though I invested in parts of my website in order to give it the best foot forward, there were other things that I didn't do right away which would have helped me immensely.
In Part III we will be diving beyond the simple process of setting up a blog and talking more about what you can do to best position yourself for success as a blogger. AKA what I would do differently if I had to start all over again today.
Resources
Read Next
How to Build a Successful Travel Blog
The following two tabs change content below.