This article may contain
affiliate links
. If you make a purchase through these links, I will earn a commission at no extra cost to you. Thanks!
Looking for an unusual and out-of-this-world fine dining experience? Then the Space 220 Restaurant at Walt Disney World's EPCOT needs to be on your radar. This unique dining experience takes you on a simulated space elevator ride from Orlando, Florida to a cool space station 220 miles above the earth where you can enjoy some delicious food and drink while overlooking the world below.
Space 220 is a new restaurant that opened at Disney's EPCOT near the end of 2021 after facing delays for a few years due to the pandemic. One day I happened across a video of the restaurant on social media and thought it was awesome and something that I'd love to do! Fast forward just a few months later and a last-minute trip to Orlando materialized very unexpectedly since my travel between Memphis and Medellin would take me through Orlando rather than Miami (which is the norm).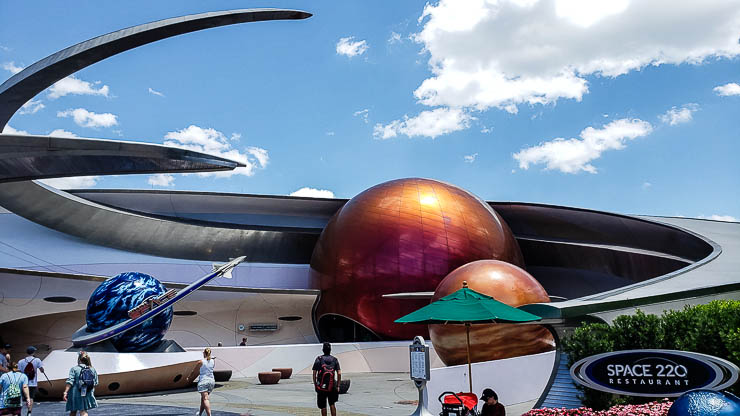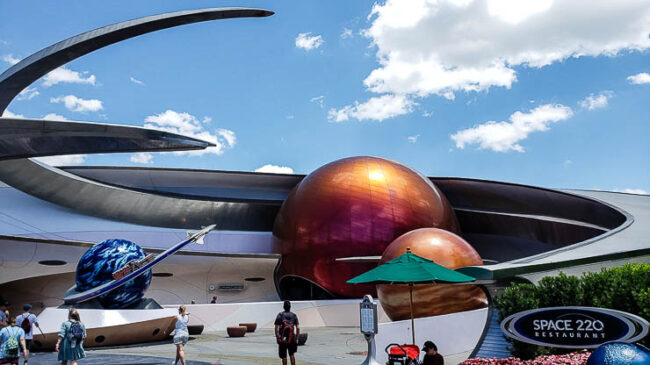 It was also unplanned because it was Mother's Day weekend, so I invited my mom to meet me down in Florida and we had an action-packed long weekend in Orlando. When I realized we would be in Orlando, I knew that trying to visit and eat at Space 220 was near the top of my list, and it would let me see a new park, EPCOT, that I'd never been to before.
Just one problem… The trip was only a few weeks away and there were no reservations available for Space 220 restaurant during our trip. I was bummed! But I was still looking forward to exploring EPCOT, even though I had no idea what to expect… EPCOT left me pleasantly surprised! And being able to get into Space 220 at the last minute was the highlight of the day.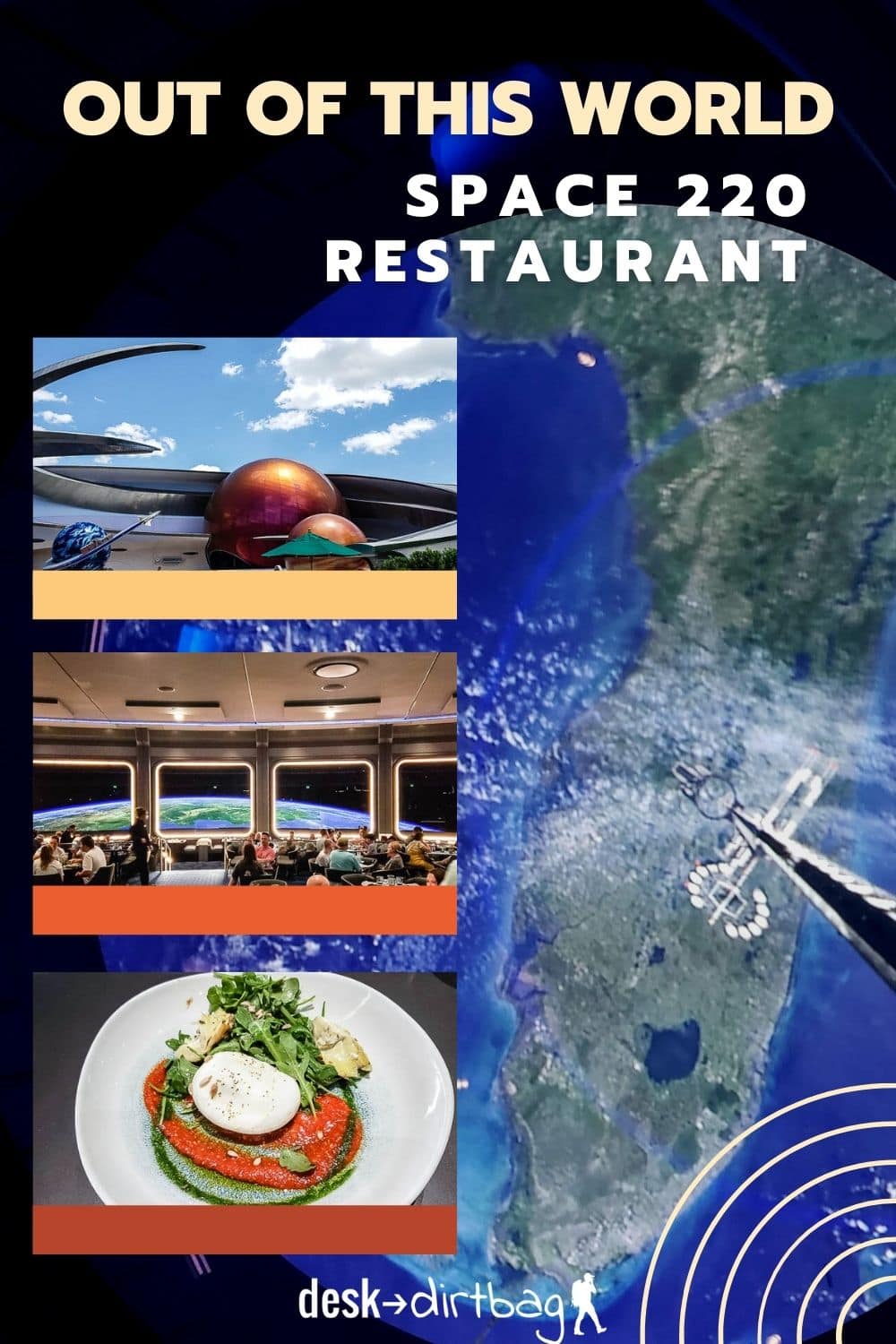 Space 220 Reservations
As I mentioned, we weren't able to get reservations. You should try to get reservations if Space 220 is a priority on your visit to Orlando. Most people plan an Orlando vacation months out which means that tables can be filled for the next few months. There are however a couple of tricks that you should know about (which I didn't realize until we were already there).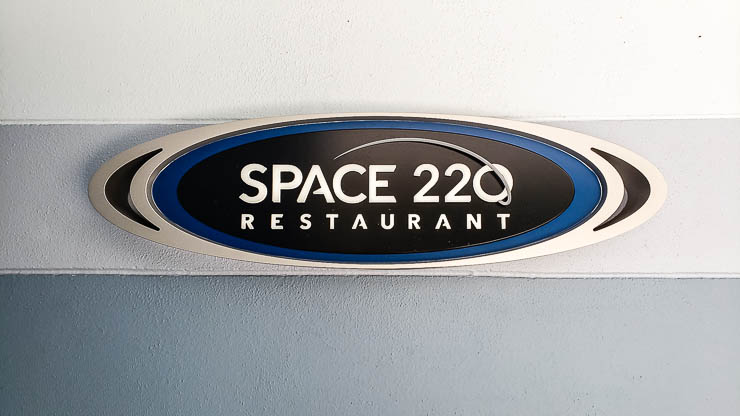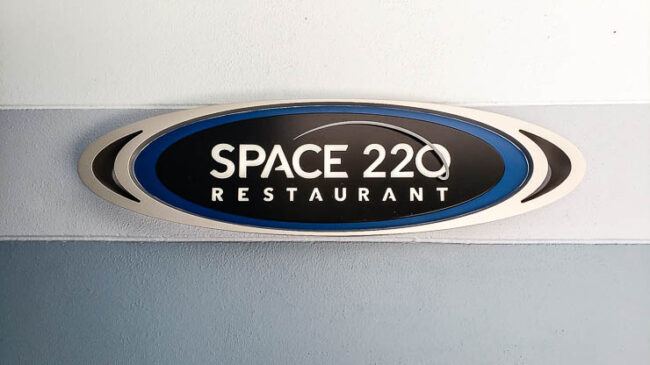 First, if your entire party is over 21, you can ask to sit at the bar. This is on a first-come, first-serve basis, meaning you will probably have to wait in line to grab a seat. You get the same experience as guests with reservations in terms of the elevator ride and the awesome view of the earth. Not only that, but lounge seating provides more flexibility in terms of dining because you can order a la carte options, the prix fixe at the restaurant, or just order some cocktails.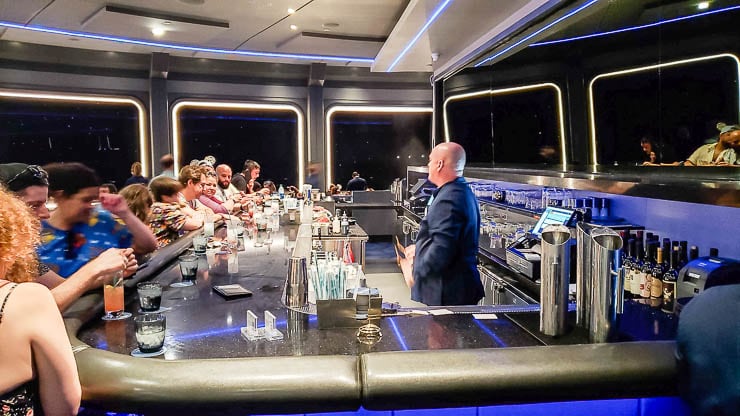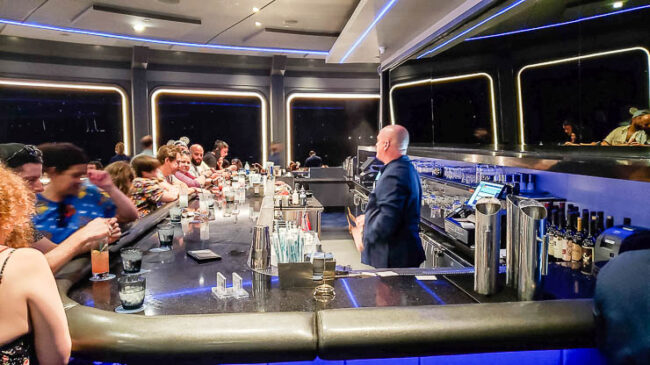 Second, you can usually score walk-up tickets for dining as well. There will often be last-minute cancellations or no-shows, so it is always worth asking! This is what we ended up doing and they were able to seat us immediately. This is easier for smaller parties (it was just the two of us). But remember, if you have any guests under 21, then you will need to be seated in the restaurant, not the lounge.
Arriving at Space 220
Space 220 is located in the World Discovery section of EPCOT, located beside the Mission: SPACE attraction. Side note, Mission: SPACE is very cool and worth doing, you feel 2.5 G's on the Orange Team as you rocket to Mars, a much more convincing experience even compared to Kennedy Space Center's Shuttle Experience ride.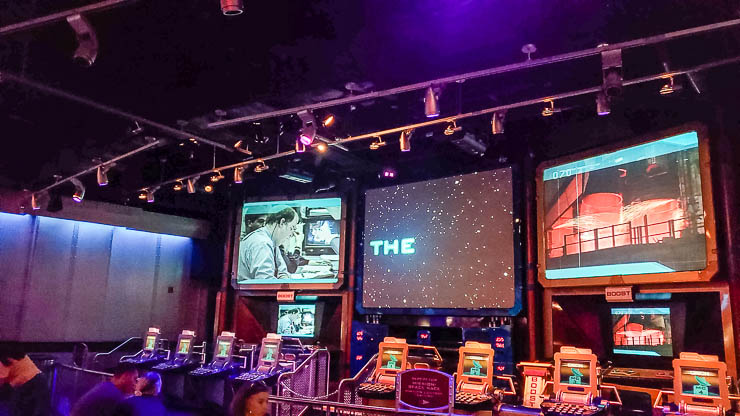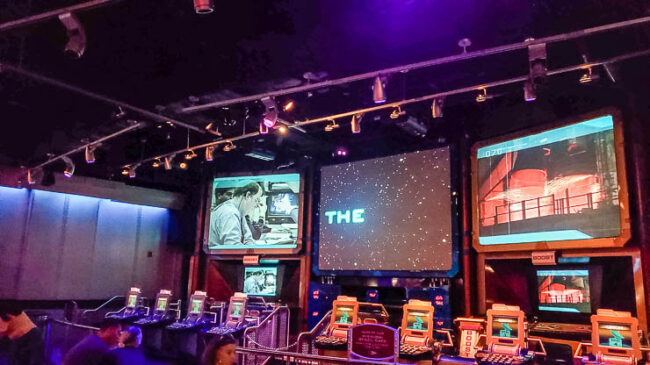 We did Mission: SPACE Orange Team first (they also offer Green Team for a less intense experience) and then walked over to the Space 220 restaurant to inquire about lunch. Thankfully we were able to get right in, somewhat unexpectedly and we weren't even starving at this point, it was more just to ask. But I jumped at the opportunity since I thought it would be a very memorable Mother's Day lunch.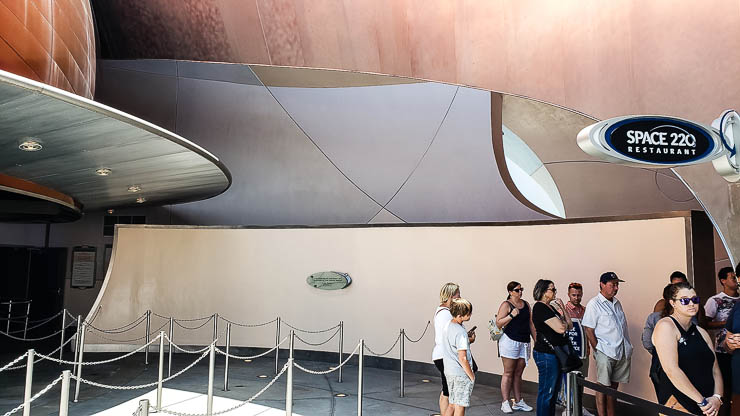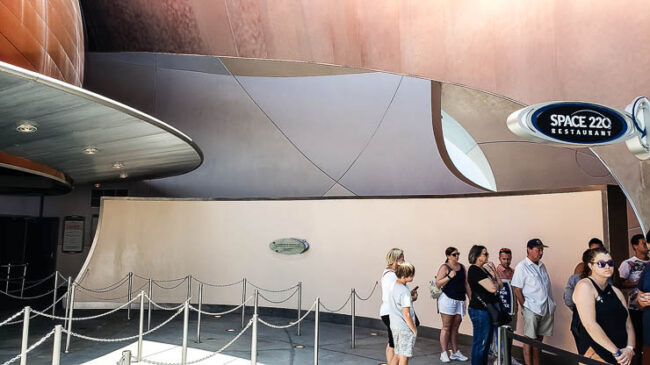 The entrance itself is a bit non-descript but you enter a lobby area where you receive your ticket to the Centauri Space Station 220 miles above the earth. But the real journey was about to begin…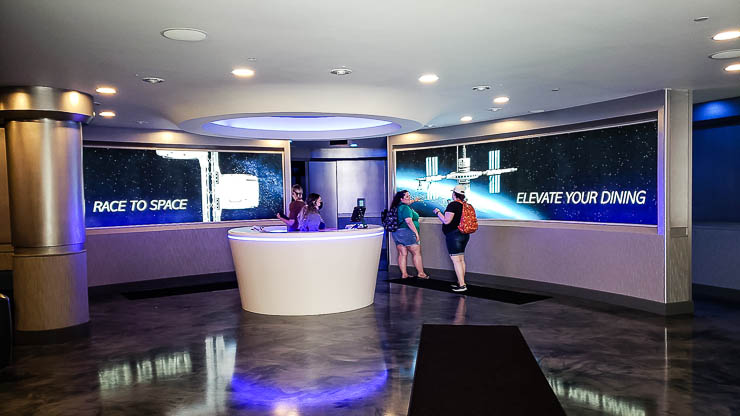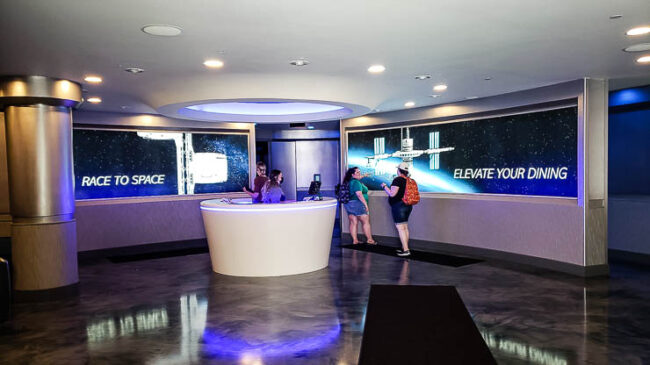 Space 220 Elevator and Arrival
Guests then board the elevator, called a Stellarvator, in small groups for the ride up to the station. Designers of the attraction consulted with NASA about the logistics. The idea of a space elevator is sci-fi but based in reality in some perhaps not so distant future (which is the central premise of EPCOT).
A true space geek will critique that a space elevator would have to be nearer the equator or could never operate at that speed, but with a small suspension of disbelief, the whole experience is quite convincing. In terms of the altitude above earth, it is pretty similar to the ISS (International Space Station) which orbits about 227 miles above the earth, compared to the Inspiration4 mission which orbited at around 360 miles.
Inside the space elevator, a porthole opens above and below you and the elevator begins to lift off from EPCOT as you see the park begin to grow smaller in the window. The speed picks up quickly and you begin to pass through the clouds. In a few moments you look up and the Centauri Space Station comes into view in the porthole above.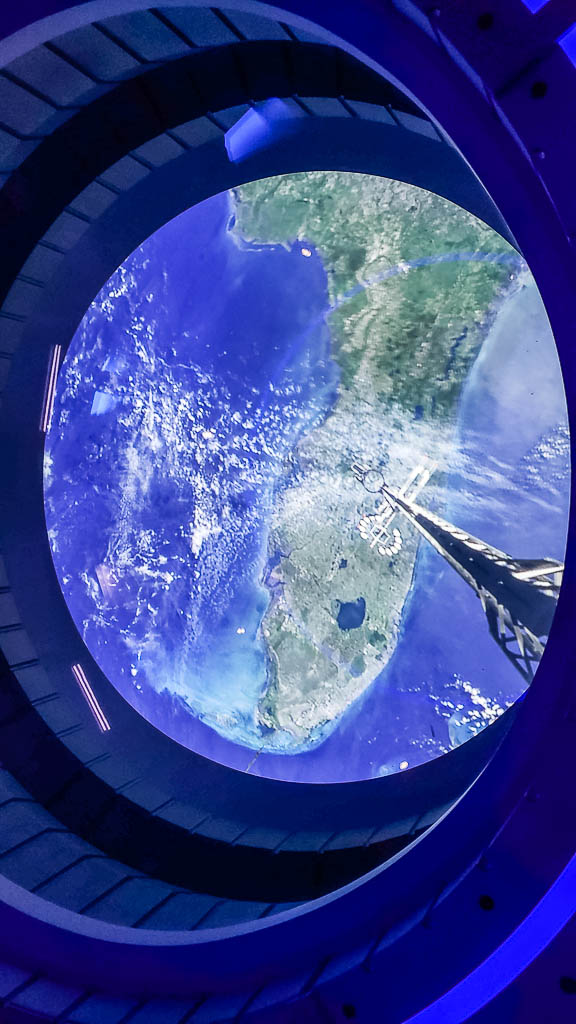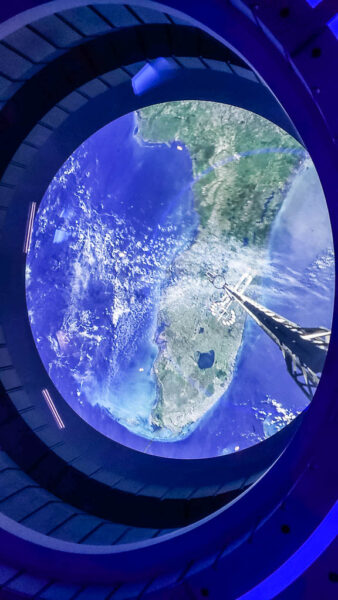 Upon disembarking from the elevator you walk through a corridor that includes off-shooting branches of the space station where they have a gently rotating greenhouse for vegetables.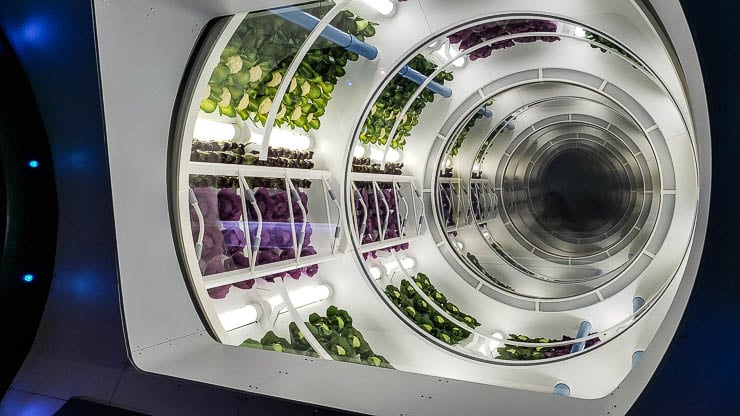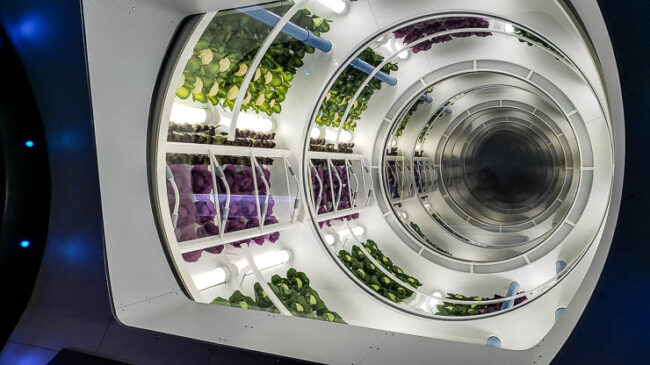 A cast member soon greets you to take your boarding ticket and then escorts you through their futuristic wine cellar and to your table.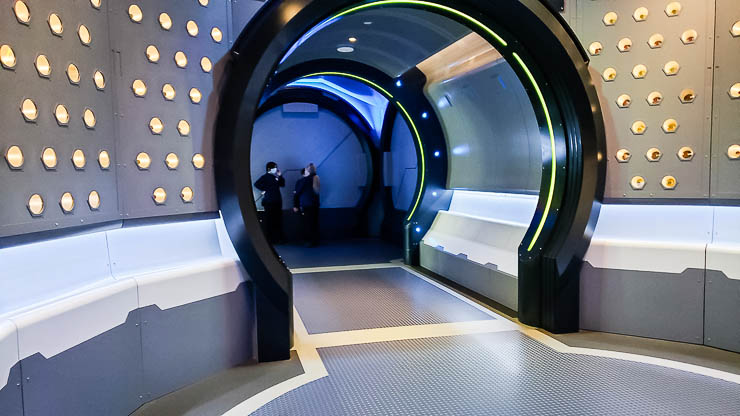 Space 220 Menu and Dining
You are immediately greeted by the large windows overlooking the earth inside of a convincingly retro-futuristic concept of a space station, very fitting for EPCOT. The entire restaurant feels like something pulled out of Star Wars or Star Trek.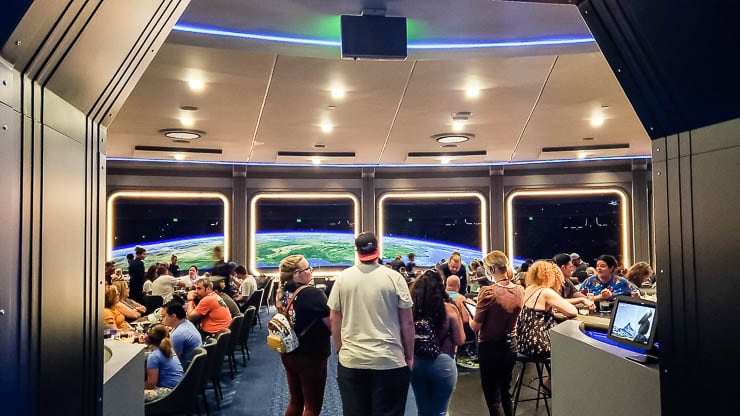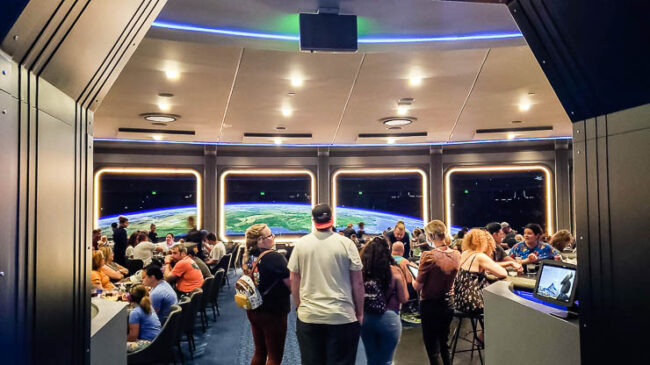 We were escorted to a window seat on the lower deck, which was a pretty great seat, although I believe the tables from the second deck offer a fuller view of the earth below. I have seen some complain that window seats along the edges of the restaurant offer very obstructed views, but ours was quite nice and we felt lucky to get it at the last minute.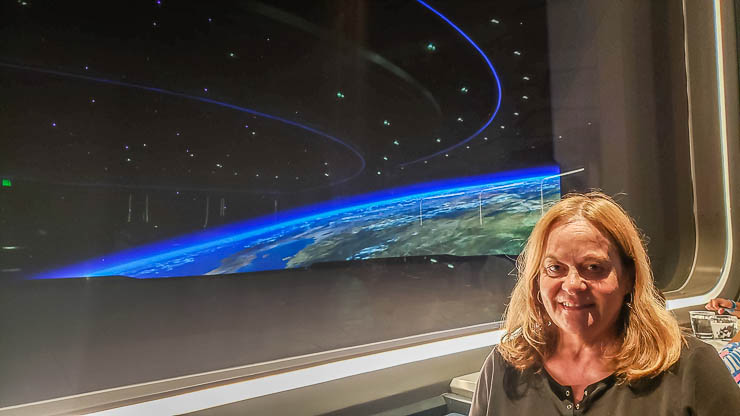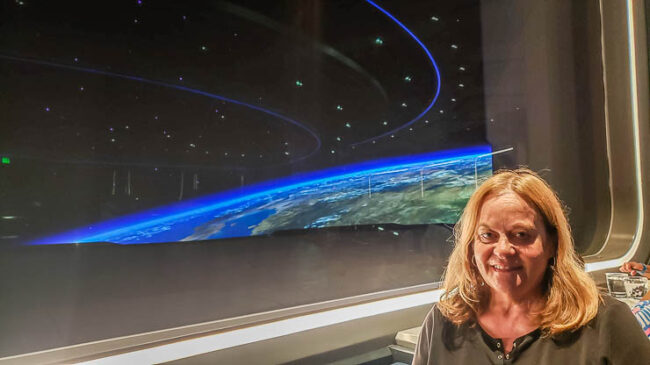 Our waiter was very prompt in greeting us. He explained a bit more about the Prix Fixe menu which was $55 per person for lunch or $79 per person for dinner. We were there for lunch. Prices are a bit high, but lunch includes one appetizer each and one main dish, as well as soda. Alcoholic drinks or specialty drinks are extra.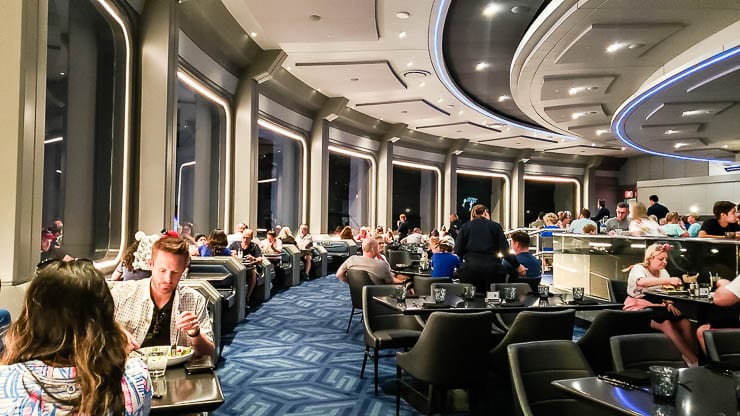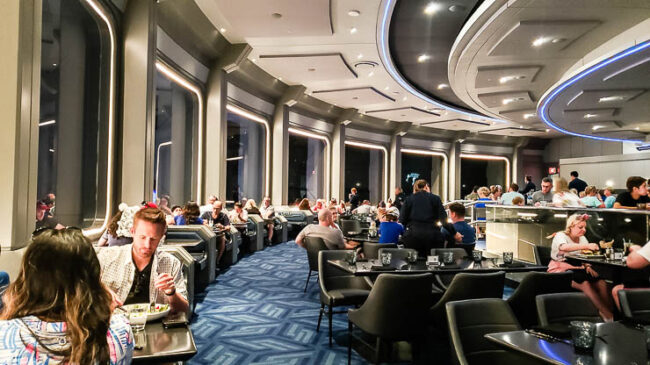 While the prices are a bit high, it isn't too bad when you compare it to other dining options in the parks. Here you get sit-down dining with full service including an appetizer and main course. For a burger, fries, and a coke elsewhere you would still spend almost half that and still have to fight for a seat somewhere.
Plus this is experiential dining aboard a space station! It's part attraction, part lunch. The dinner menu is also Prix Fixe and is nearly the same as lunch but includes a dessert for each person in addition to the appetizer and main.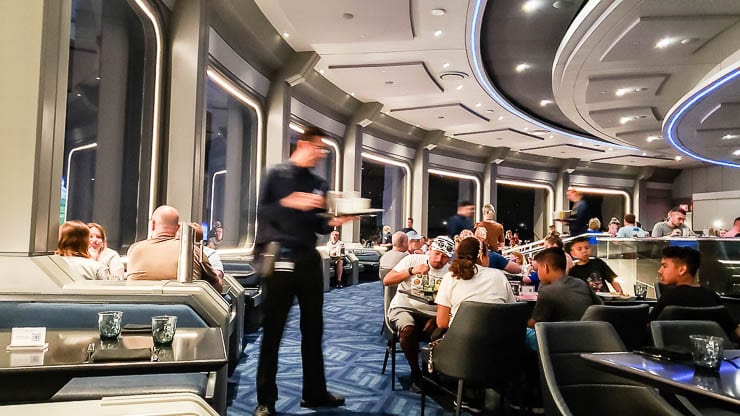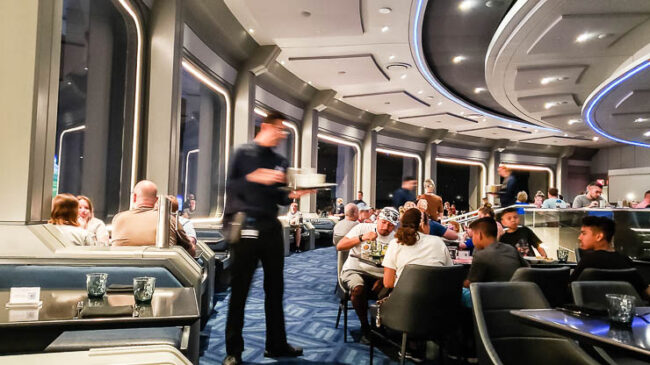 Dining options on the prix fixe menu include several great choices for modern American cuisine. Among the appetizers, called Lift Offs here, you will find space named things like the Big Bang Burrata, Starry Calamari, Blue Moon Cauliflower, Neptuna Tartare, Space Greens, Centauri Caesar Salad, and so forth.
Check out the latest Space 220 menu here.
I opted for the Big Bang Burrata which had burrata cheese among mixed greens and a tasty red marinara sauce. My mom went for the Starry Calamari which was properly prepared, quite tender, and not at all chewy like you sometimes find with calamari. It included two dipping sauces: a nice spicy marinara and a citrus aioli.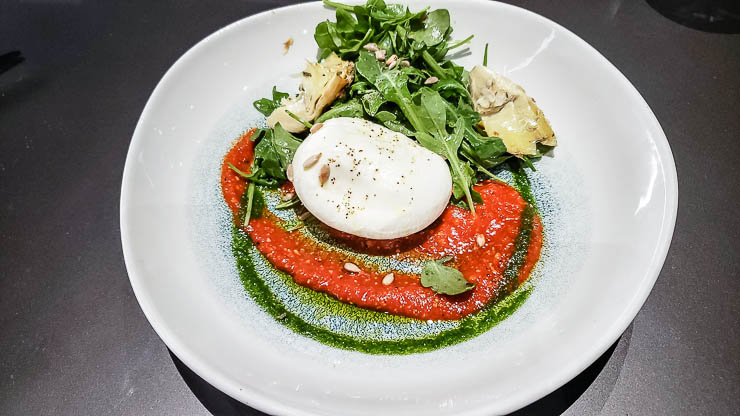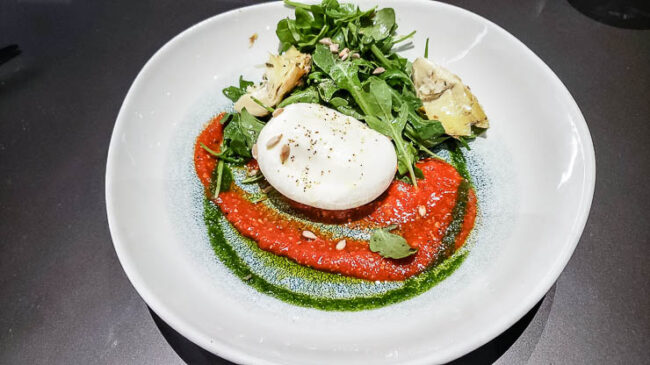 For the main dishes, called Star Courses, you will find salmon, tuna, burgers, pasta, steak, and similar options. I went for the Steak & Frites which had a deliciously crusted coffee-rubbed steak served with a generous portion of fries. I loved it and had no complaints!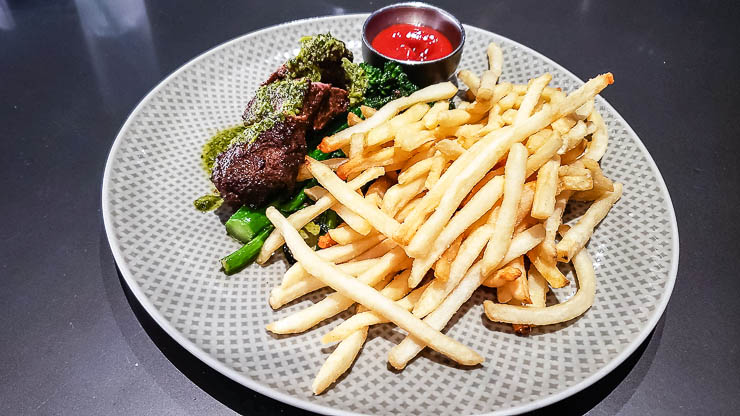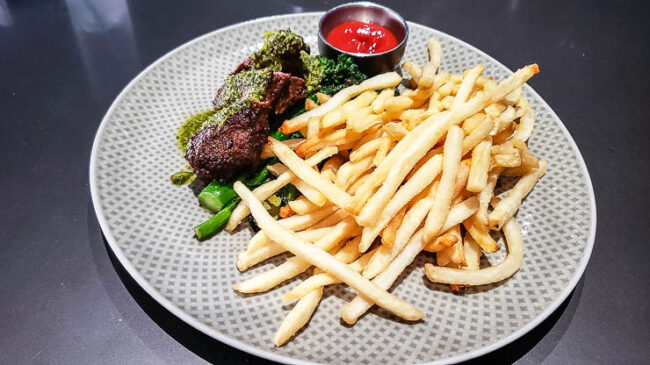 My mom went with the Galactic Salmon served with glazed carrots, baby bok choy, and mushrooms. We didn't know that it was a popular dish to grab video of, but our waiter gave us the heads up. It comes served under a glass bowl full of smoke. The smoke imparts a deep delicious flavor to the salmon that is very reminiscent of smoked salmon (but not dry, obviously).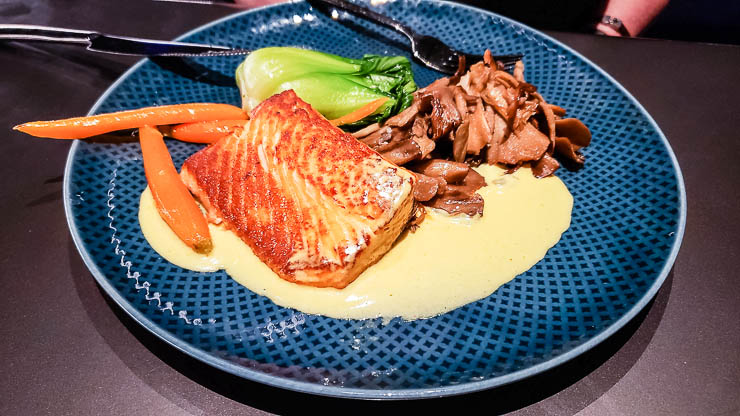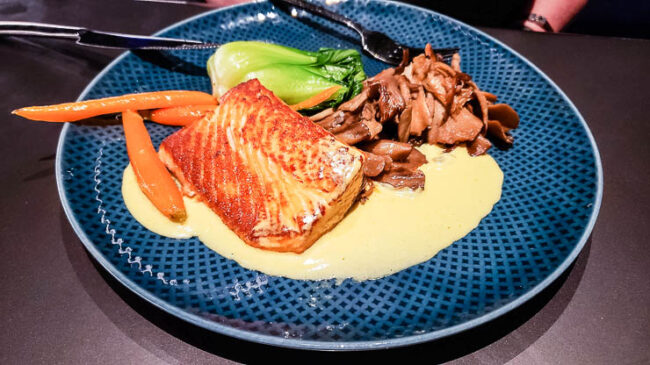 We didn't order dessert (called Super Nova Sweets) or alcoholic drinks (called Atmospheric Spirits), because we were stuffed by the time our two-course meal was done.
In a sense, eating this much wasn't ideal because EPCOT is a foodie destination where you can eat tons of different little things from all over the world at the aptly named World Showcase section of the park. We had to walk around for a few hours to try and work up an appetite to try some of those other amazing bites.
While eating, you can't help but have your eyes drawn to the beautiful earth below. The earth isn't spinning below you, of course, as it would on the International Space Station because the Centauri Space Station is fixed to the earth directly (via the space elevator) above Florida.
The earth simulates either night or day depending on what time you are visiting. They took pains to also accurately simulate the local weather in Orlando when you are zooming up the space elevator (if it is sunny, cloudy, raining, etc).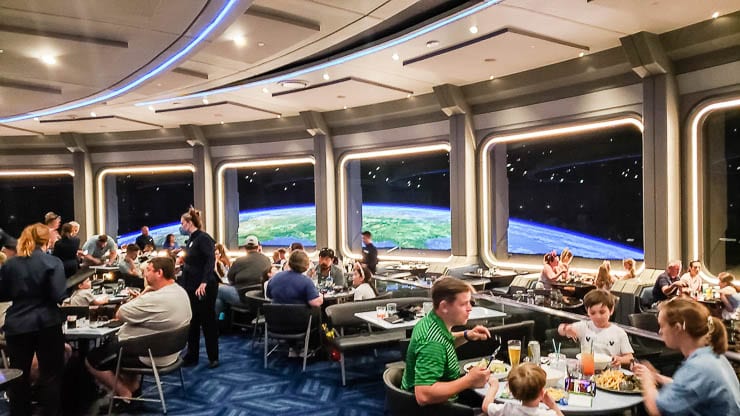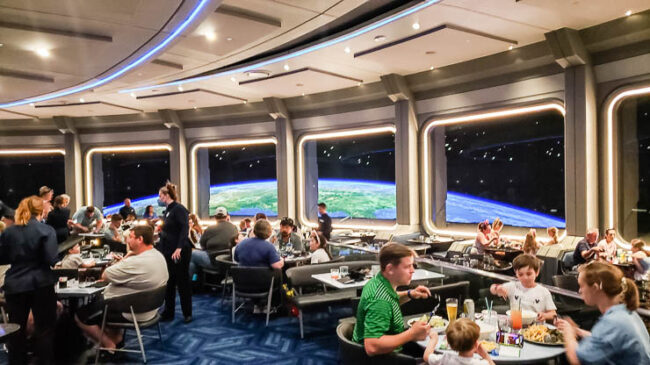 Outside the windows you will also frequently see space ships coming and going from the space station, astronauts doing spacewalks, satellites zipping by and all sorts of fun stuff. There are all sorts of convincing details around the space station like signs warning about the loss of gravity or showing space suits on the figures for the bathroom signs. There are even Easter eggs with astronauts with lightsabers or X-Wings, so keep your eyes open!
The sensation of looking out of a window toward the earth is pretty convincing. I loved the ambiance!
Leaving the Space Station
We never felt rushed to leave the restaurant, which was a pleasant surprise. Indeed, we took our time and even got some pictures taken on the steps overlooking the earth to remember this special mother's day.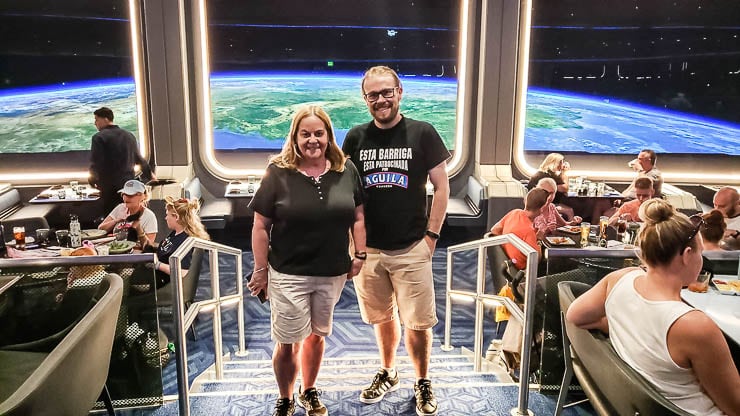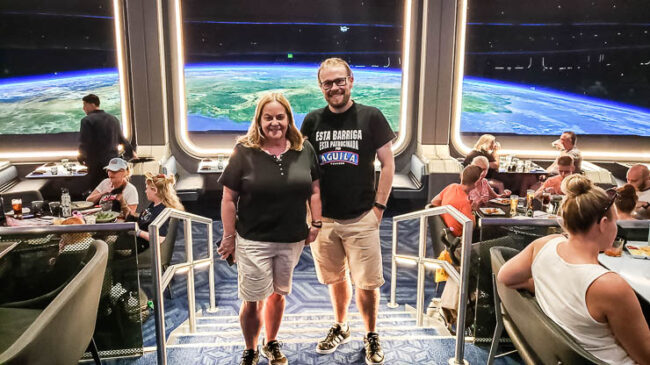 EPCOT is the best foodie destination in Orlando and for me, a bit of a space nerd, this place certainly didn't disappoint. A big part of it is the entrance and overlooking the earth with the whole simulated space thing. The food itself was great, in my opinion, but the real draw for me was the ambiance and the feeling or idea of it all. It was an unforgettable dining experience, to be honest.
To leave, you head back out the same way you came: boarding the space elevator in a small group and zipping back down to earth, this time watching the space station grow smaller and seeing Florida growing in the window below, passing the clouds, and zooming back down to EPCOT.
Space 220 Final Thoughts
If you appreciate space at all, I think this space-themed restaurant is a must-do when you're in Florida (among some of the other futuristic attractions at EPCOT, visiting Kennedy Space Center, and seeing a real rocket launch). It is one of those places that is worth going to once for the experience alone.
Who knows? Maybe someday we will have a real space elevator and you can say you experienced it here first at Disney's EPCOT.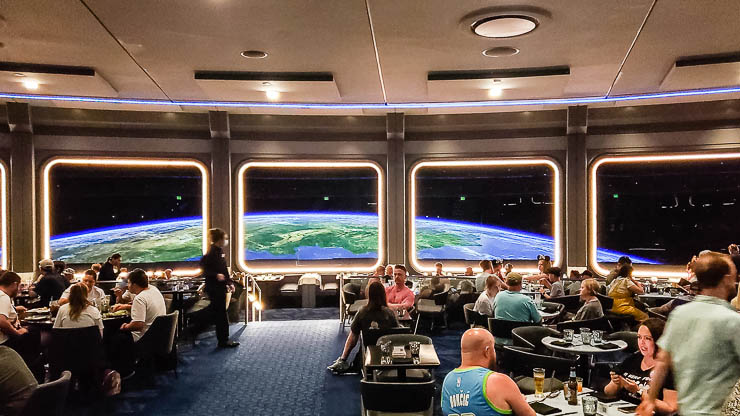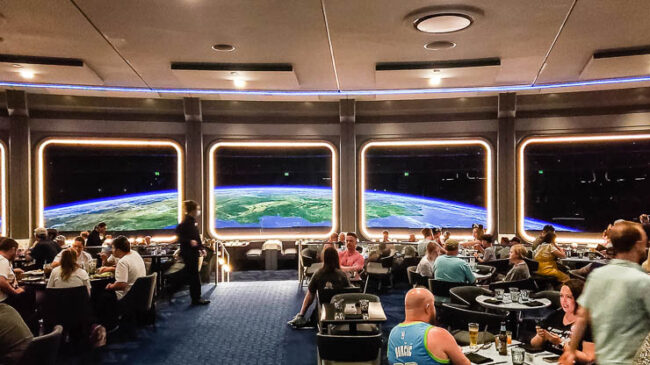 One addition I would love to see would be a direct link between Mission: SPACE and the Space 220 Restaurant. Even NASA astronauts have said that Mission: SPACE orange is one of the most convincing launch simulations they've felt besides the real thing. How cool would it be to blast off there and dock at the Centauri Space Station for lunch then take the space elevator down? Just an idea!
In any case, I'd recommend doing Mission: SPACE before you dine at Space 220. There is a possibility for motion sickness and a bit of stress with the 2.5 G's experienced.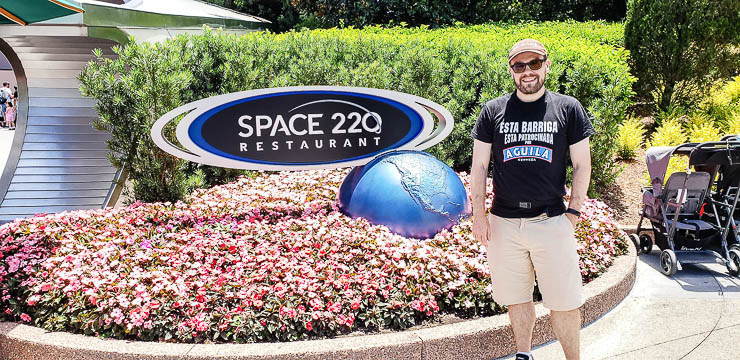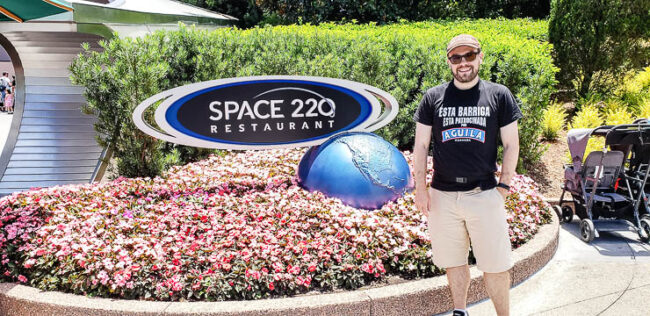 All-in-all, I really enjoyed visiting EPCOT and thought that Space 220 was a highlight of the day, for sure. I love the idea that they can bring fantastical, futuristic concepts down to earth and make them accessible to all of us. Even if these ideas aren't real (yet), they show the promise and possibility of the future, a time not too far removed from our own.
If you're planning a trip to Orlando or Walt Disney World, I highly recommend planning a visit to Space 220 for an unforgettable and out-of-this-world dining experience unlike any other.
Read Next: Planning an Orlando Family Vacation
Tips to Book Your Trip Now & Save Money
Book Your Flight
Book a cheap flight with Momondo, they're my favorite search engine. Or better yet, start travel hacking so you can fly for free. Another great search engine is Skyscanner.
Book Your Accommodation
Book cheap accommodation in advance. For hostels I recommend HostelWorld, for hotels I use Booking.com or Hotels.com, and for apartments or longer stays, I use Airbnb. I like to check reviews on TripAdvisor prior to reserving.
Don't Forget Travel Insurance
This is easy to overlook but SO important. It will help protect yourself from illness, injury, and theft while traveling. VERY important. And be sure to read my article about international travel insurance for more details
Looking for the Best Companies to Save Money With?
Check out my budget travel resources page for the best companies to use when traveling. I list all the ones I use and recommend to save money when I'm on the road.
The following two tabs change content below.