This article may contain
affiliate links
. If you make a purchase through these links, I will earn a commission at no extra cost to you. Thanks!
If you're visiting Clarksdale, Mississippi, and looking for an incredible place to stay as you explore the (still) thriving Blues music scene in the Mississippi Delta, then you're in luck! Even though Clarksdale is a relatively small town of just 15,000 people, you will find a few great lodging opportunities here for all different budgets, including the hip artist-run Travelers Hotel. This is where I stayed and certainly one of the best places to stay in Clarksdale MS, particularly if you want the convenience and ambience of the historic downtown.
In this article, we will talk a little bit about Clarksdale, the best places to stay, what makes Travelers Hotel special, and a few alternatives to consider, including a small Clarksdale Hostel. Let's dive into it!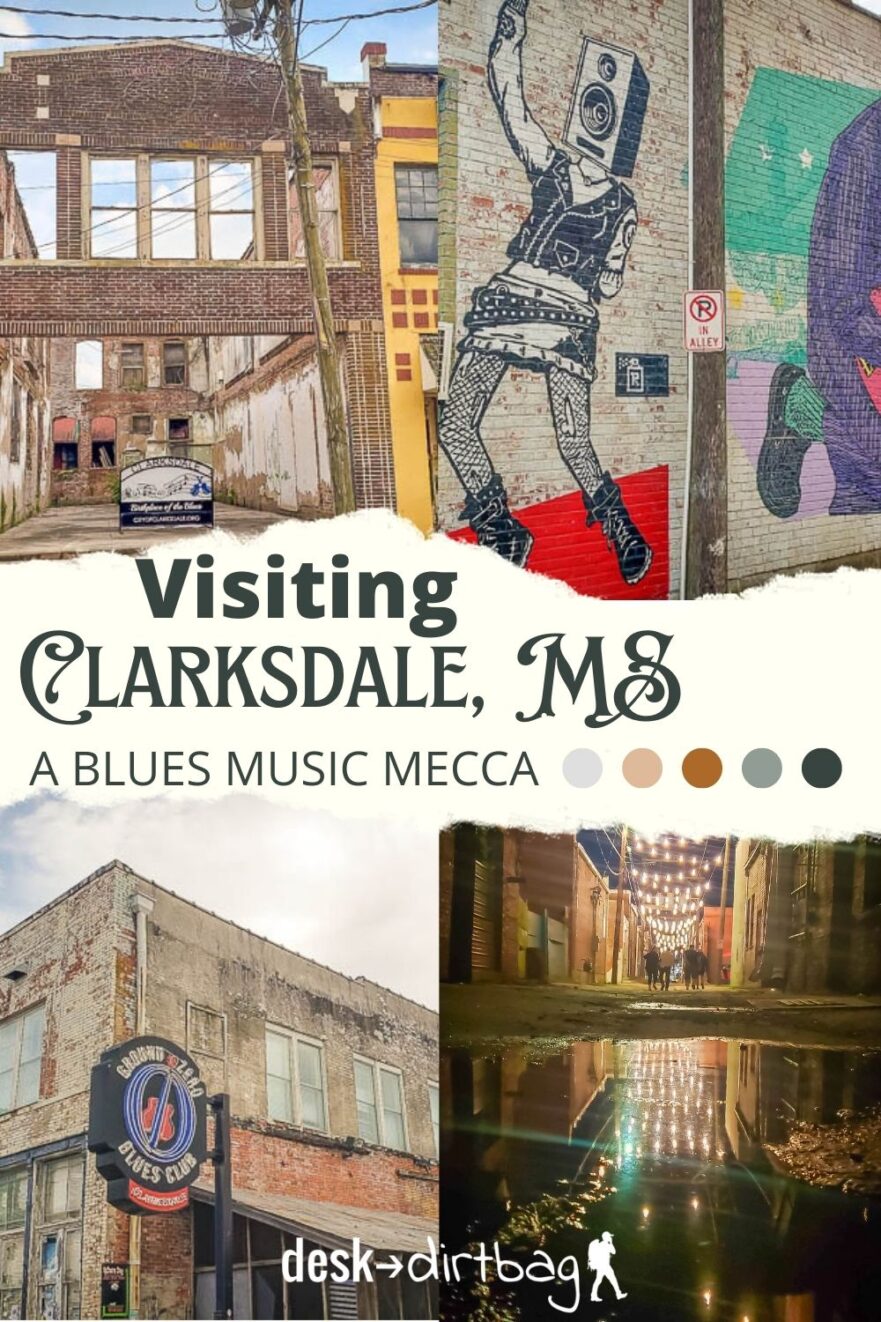 About Clarksdale MS
You'll be forgiven for not having heard of Clarksdale, Mississippi. It's a small town in a remote corner of one of the least popular states for tourists to visit — which is a total shame! Mississippi is a place that truly surprised me, and Clarksdale was my favorite town during my brief visit through the north.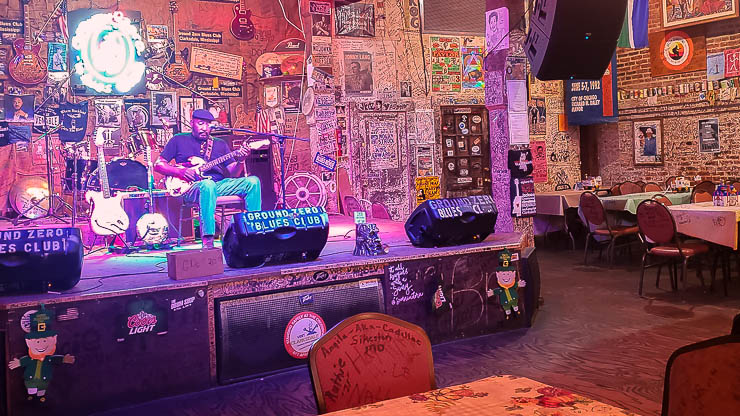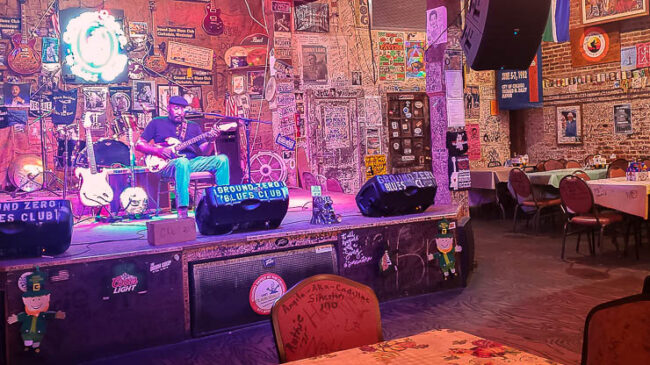 If you didn't know, Mississippi is the birthplace of American Music. Clarksdale sits in the heart of the Mississippi Delta which is the birthplace of Blues music, the only music that has been recognized as being truly original to the United States. It was here in Clarksdale, Mississippi where Blues legend Robert Johnson supposedly sold his soul to the devil to become the best guitar player, right at the Crossroads.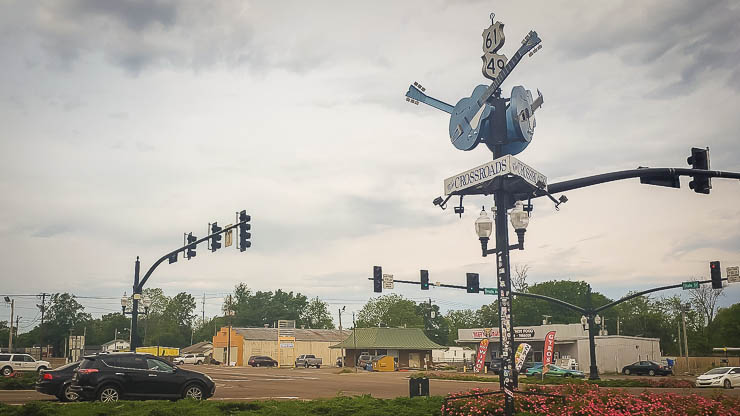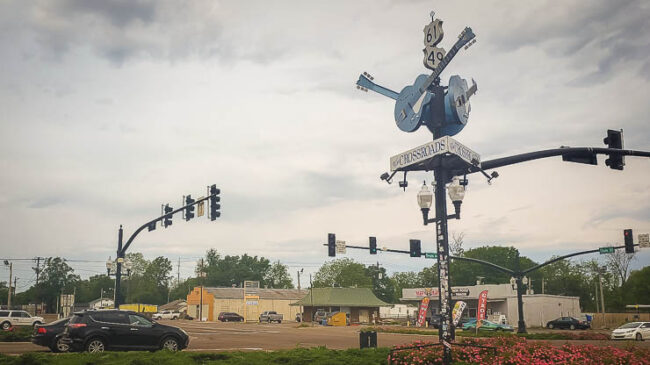 The Blues, of course, gave birth to rock 'n roll, gospel, country, and so much of the music that we listen to today. Chances are you can trace the influences of your favorite artists of today back to their roots in Blues and the Mississippi Delta. Highway 61 runs right through Clarksdale, a road that rivals Route 66 in the Americana Lore and which was pivotal in the American music scene.
This would be an ideal place to swing through if you're on an epic cross-country road trip and traveling through Mississippi.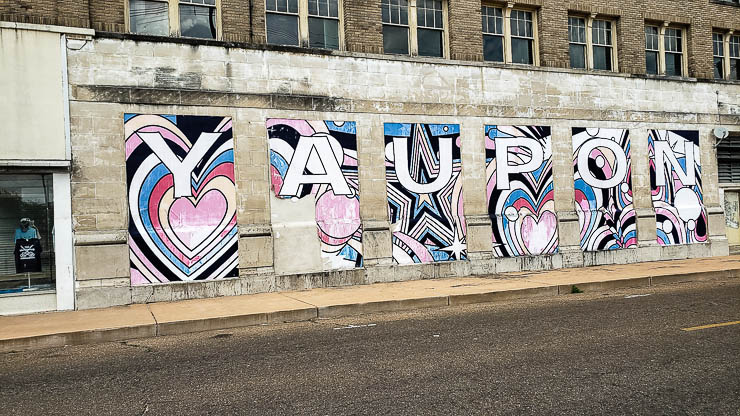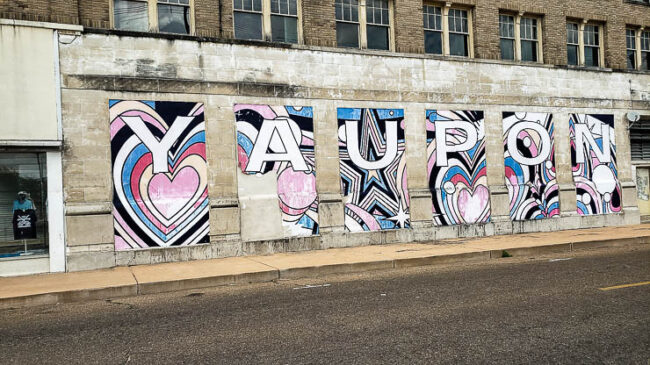 Looking beyond the music history from yesteryear, the music scene is still alive and thriving today in this deeply Southern city. You can find numerous festivals throughout the year and live music 365 days a year… Yes, every single night you can find live music at a bar, restaurant, cafe, back alley, or juke joint here in Clarksdale, MS.
Clarksdale and the Mississippi Delta is truly a music lover's destination vacation!
Places to Stay in Clarksdale MS
Clarksdale is a pretty small town, so almost anywhere you stay, you're going to be fairly close to the beating musical heart of the city. There aren't a ton of hotels in Clarksdale, MS, but you'll find old standby's like the Quality Inn or Hampton Inn on the outskirts of the city, along a major highway, next to chain restaurants and big-box stores.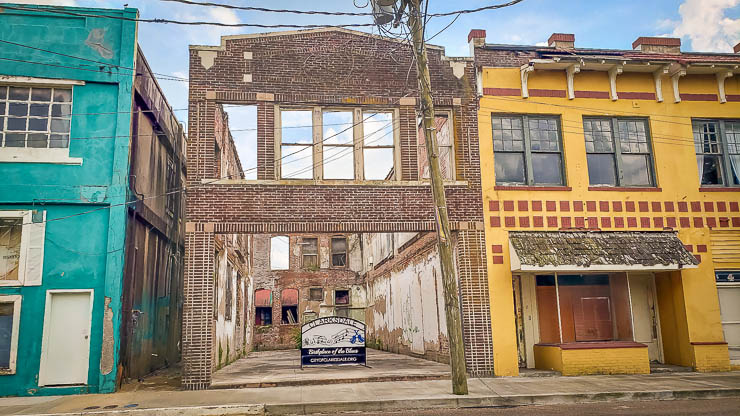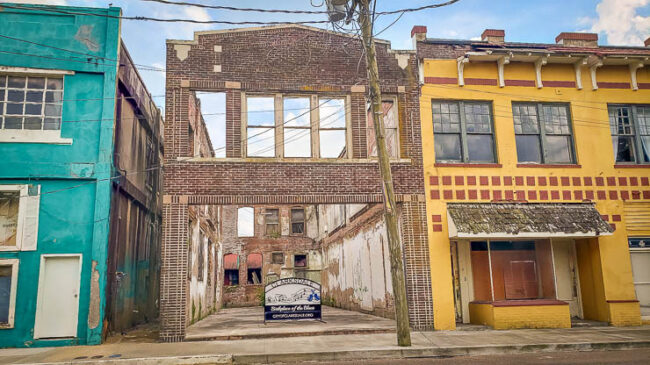 Those places are fine when you're just passing through and need a place to lay your weary head while on a road trip, but you will miss the charm and what makes Clarksdale a special place if you stay here and don't go looking for it. My recommendation is almost always to stay in the heart of historic downtown when you're traveling to a new place, and this town is no exception if you're trying to find where to stay in Clarksdale, MS.
The historic downtown of Clarksdale is where you will find the main music joints, local restaurants, vibrant street art, trendy coffee shops, and mom-and-pop stores. All of these places are what make Clarksdale memorable, and if you stay in one of the bigger hotel chains on the outskirts of town, then you'll be about a 30-minute walk to all of this (I think the best way to experience a new place is on foot).
Travelers Hotel in Clarksdale, MS
This unique boutique hotel is located in the heart of the historic downtown of Clarksdale, MS. You are just a few minutes' walk from the famous Ground Zero Blues Club (owned by Morgan Freeman), the Delta Blues Museum, and great places to have a drink or grab a bite to eat.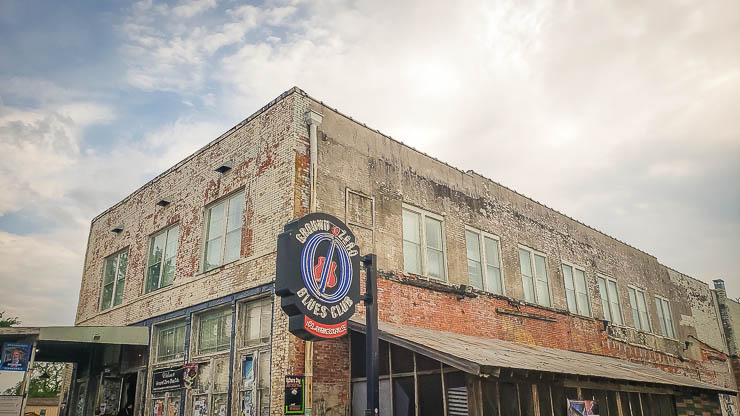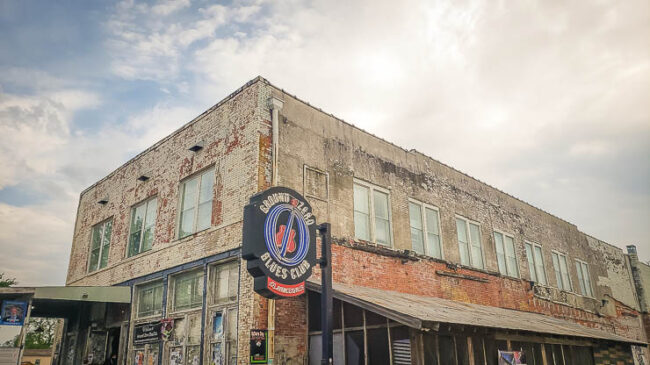 Travelers Hotel is a small, independent hotel with just 20 rooms in a former bare-bones overnight stop for railroad workers beginning in the 1920s. The first floor was also home to the Clarksdale Printing Co. until the 1990s but then it sat vacant for thirty years.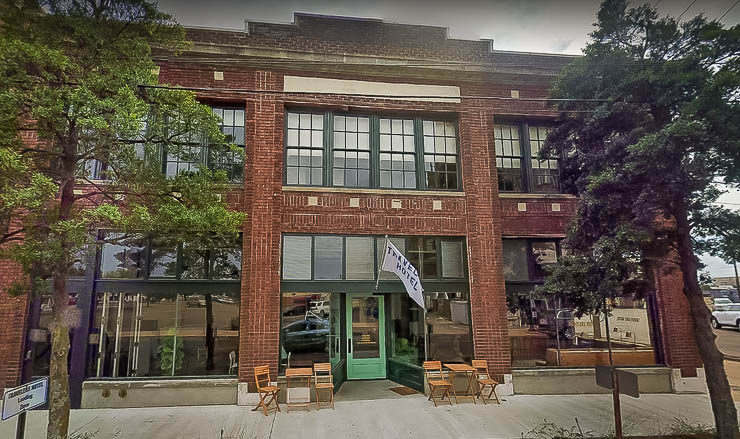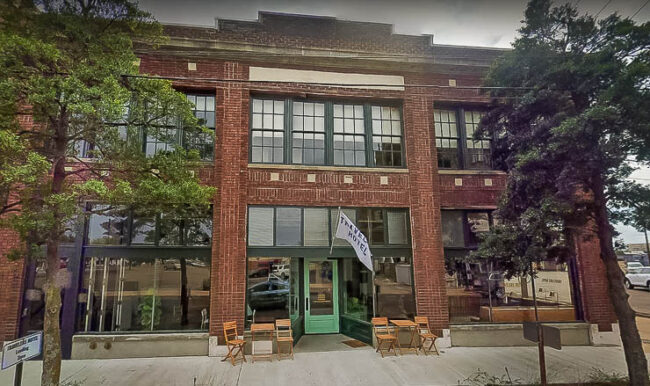 Today, the space has been renovated into a minimalist, industrialist chic boutique hotel with all the comforts you need in a hotel, and nothing you don't.
Travelers Hotel is an initiative by the nonprofit Coahoma Collective to help revitalize the historic downtown. Like many small towns across the United States, Clarksdale suffered many years of outward migration as people headed to the big cities.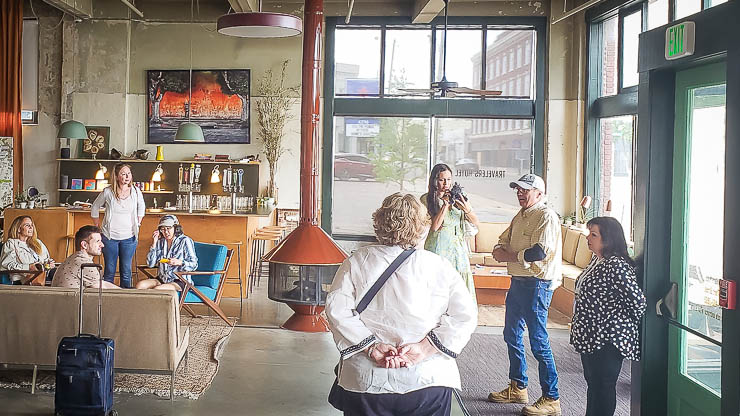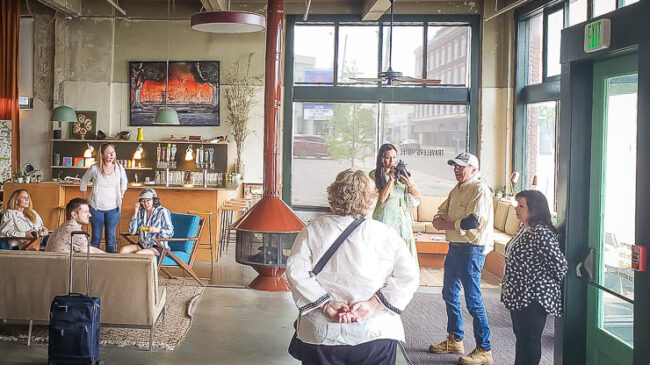 The hotel owner and Clarksdale native, Chuck Rutledge, was inspired by a New York Times Op-Ed titled A Way for Artists to Live which detailed the trials and tribulations of opening a collectively owned and operated B&B in Brooklyn. On a page out of the same book, Travelers Hotel was born in Clarksdale.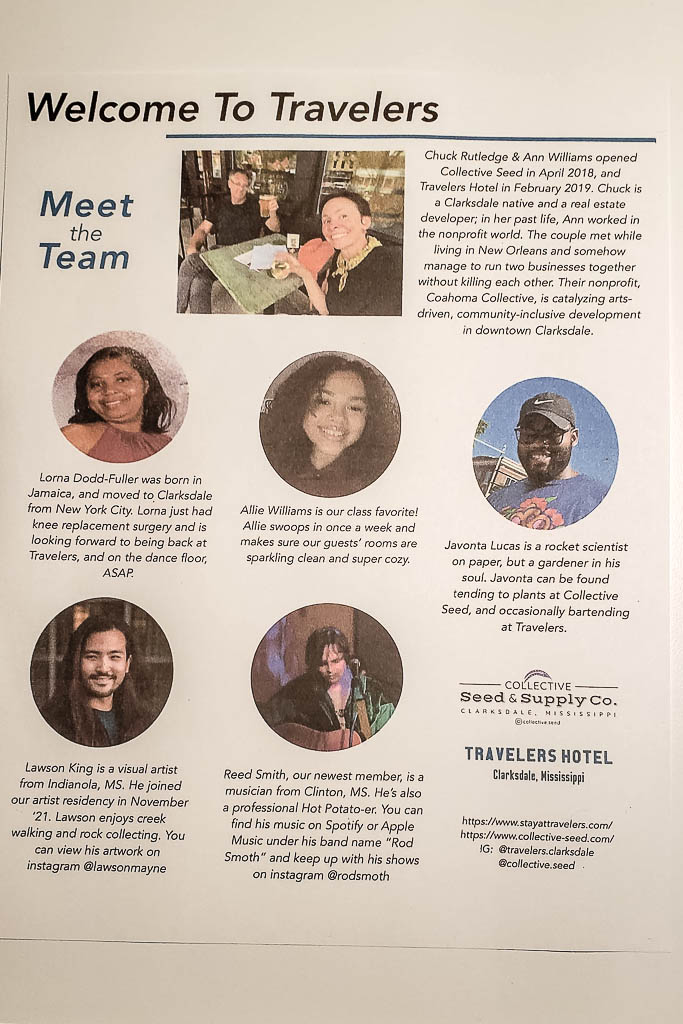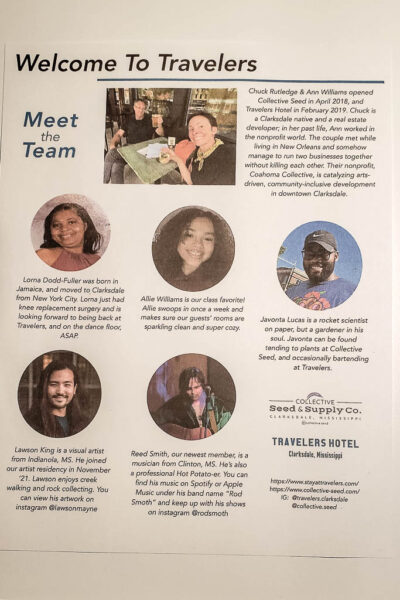 Travelers Hotel is run by a collective of artists in residence who come to Clarksdale and operate the hotel along with the nearby Collective Seed & Supply Co. with flexible hours (~25 hours per week) in exchange for lodging and a small stipend for living expenses, allowing these artists to focus more of their time on doing what they love: ART!
I love the idea of this revitalization effort and it reminds me of similar efforts like Tulsa Remote which incentivizes digital nomads to take a chance there while offering a much-improved work/life balance which so many of us lack.
Read More: Reimagining Remote Work and Startup Cities
Patronizing local businesses and doing so in a way that supports a local artist collective is a huge reason to support a place like Travelers Hotel Clarksdale.
This type of arrangement brings cool, notable places to stay in the heart of a historic downtown that had no lodging options and gives artists a way to make ends meet while still having time to pursue their craft, whether that is art in the form of painting, writing, music, or a myriad of other mediums that draw people to Clarksdale.
From the music on the streets to the funky shops, the town oozes creativity and I'm so glad to see a project like this embody it. This feels like a fresh new take on the book Real Artists Don't Starve by Jeff Goins.
The Travelers Hotel model has since expanded into New Orleans, Louisiana with a similar artist-run collective model. Hopefully, I will get the chance to visit that one someday soon — New Orleans has long been on my list.
Inside Travelers Hotel Clarksdale
Travelers Hotel sits in a quaint two-story brick building along 3rd Street in Historic Downtown Clarksdale, Mississippi. Walking through the doors, you're met with an industrial-chic lobby which serves as a social or common area for this small hotel.
The hotel is unique in that there is no true reception in the lobby. You will be greeted by the staff made up of one of the co-op artists, but normally guest access is controlled by a pin code activated smart lock in the after-hours entrance. These smart codes also control access to each guest room — a little more on that later.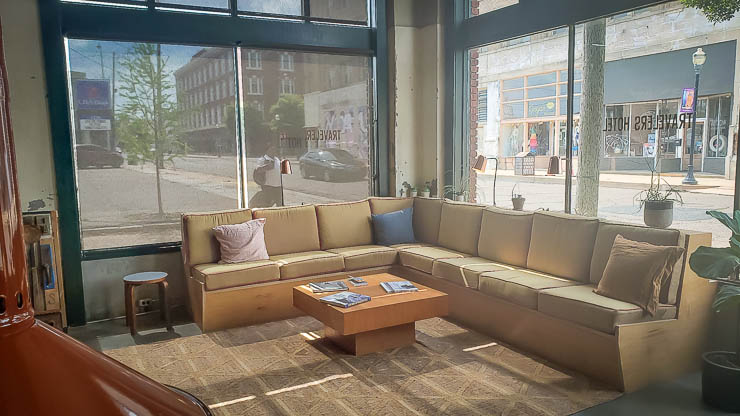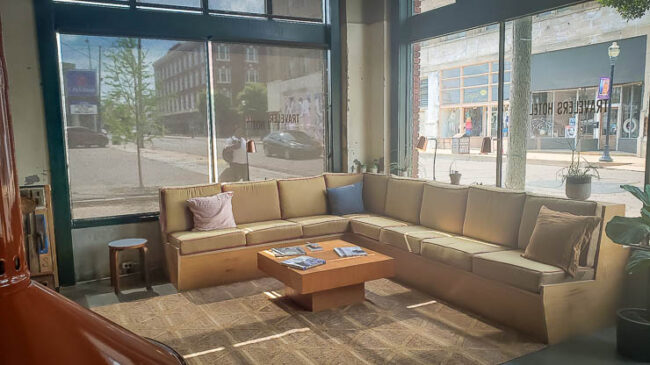 On the first floor, there are several communal sitting areas, including a large L-shaped couch accompanied by a freestanding vintage Malm fireplace (my dad had one of these!). There is also a cool, self-serve bar where you can serve yourself some local and regional beers from Mississippi. The bar is on the honor system, so you just mark yourself down for the beverages you consumed.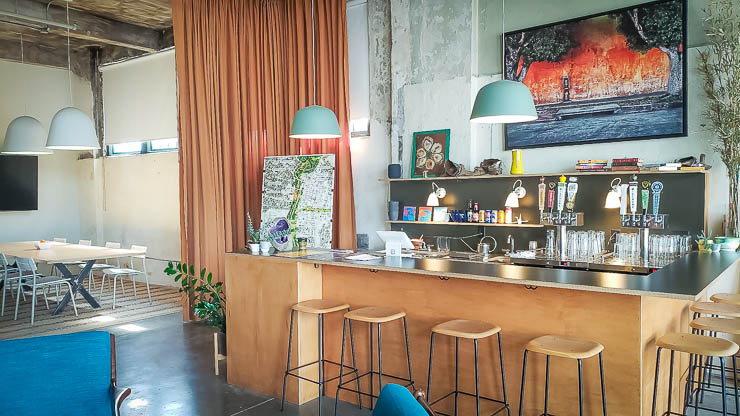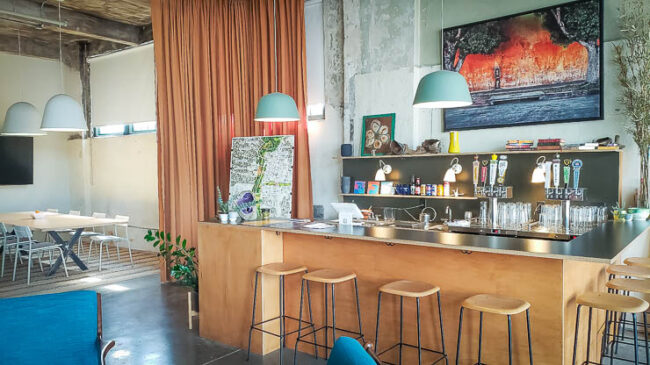 There is also a kitchen area where you will find an awesome coffee machine with beans from Meraki, a local craft coffee shop just a few blocks from the hotel. While the lobby coffee machine is great, don't miss out on visiting the coffee shop too. Like Travelers, Meraki is a force for good in that it is a workforce development program that supports the parent non-profit, Griot Arts.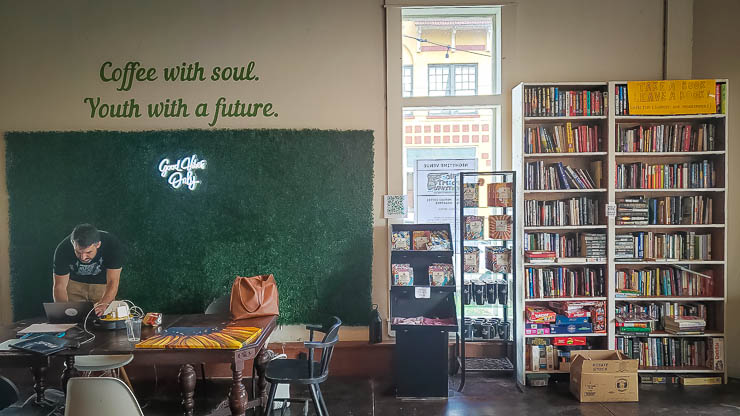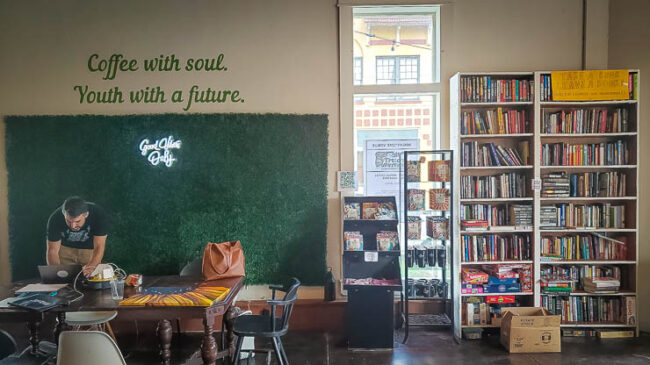 On the first floor of Travelers Hotel, there are seven rooms, and another 13 rooms on the second floor, up the industrial metal staircase.
Inside the Rooms at Travelers Hotel
You'll find a variety of rooms available at Travelers Hotel, including some with bunk beds, a corner suite, double beds, and so forth, but they all share a similar style and aesthetic that draws on that history and background as a simple but functional overnight stop for the railroad workers.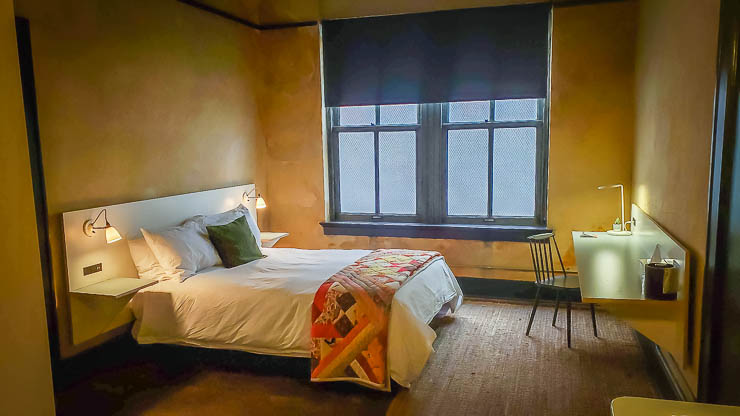 The property has been restored and renovated, of course, so we don't have to deal with the shared bathrooms as the original users once did. Today, you'll find each room has a private bathroom, with a sink outside the bathroom, calling back to those railroad days.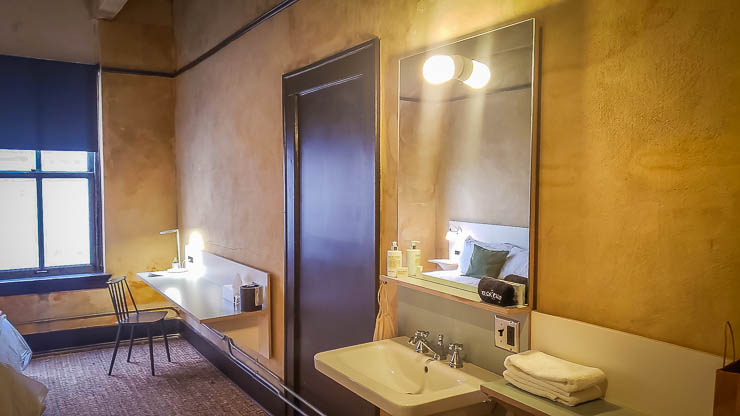 The rooms are minimalistic and elegant, with rustic patina on the walls that show the age of the property and feel like something out of the Old World in Europe or a colonial town in Latin America. I quite dug the vibe, to be honest.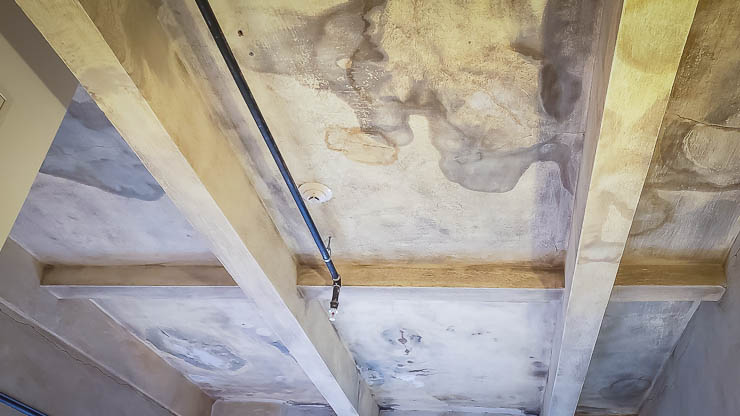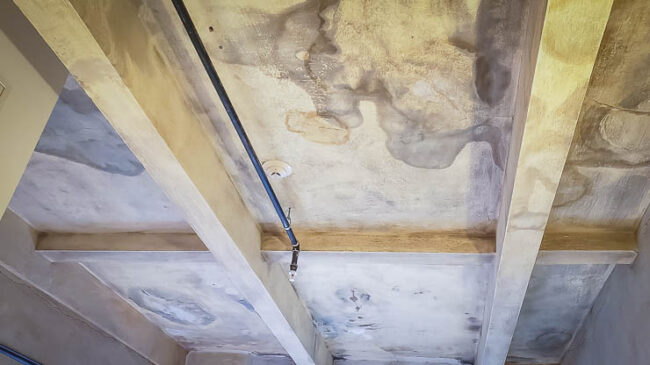 The rooms are well-appointed but minimalistic. You won't find any TVs here in the room. You're better off experiencing a Clarksdale — walking the streets, visiting local restaurants, taking in the local music. Or just hanging out in the common areas on the first floor with a local brew! This place attracts guests from all over the world, truly — lots of European blues fans.
Rooms do have air conditioning (a must for those Mississippi summers) and you will also find large refillable bottles for the toiletries, rather than the small disposable bottles, which I'm glad to see more and more hotels doing away with to avoid the plastic waste and garbage.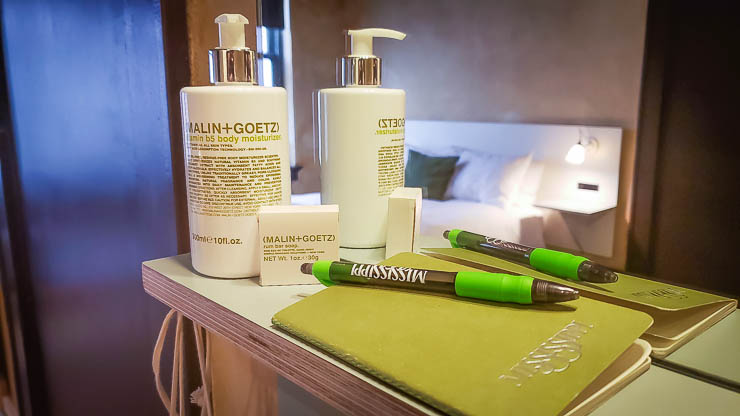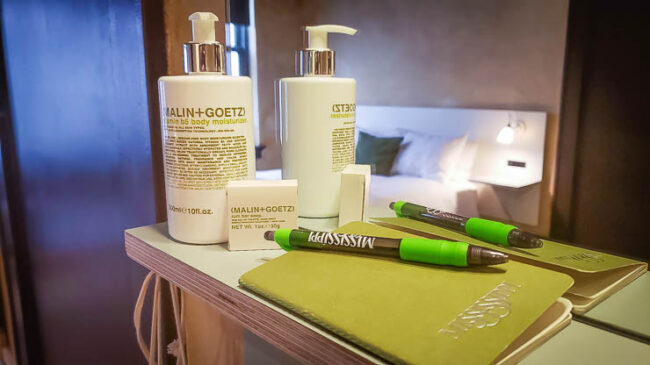 The rooms have a small desk area for those who might need to get some work done, along with numerous outlets (including modern USB connections), and a fast WiFi that gave me no problems.
The only issue I had during my stay was getting locked out of my room when my room's smart lock died deader than dead. Chuck, the owner, had to come and fight with the thing and eventually had to switch me to another room for the night. Kind of a weird, freak occurrence because the lock wouldn't even respond to an external battery as it normally should. So it was certainly more the fault of the manufacturer, Yale, than it was Travelers Hotel.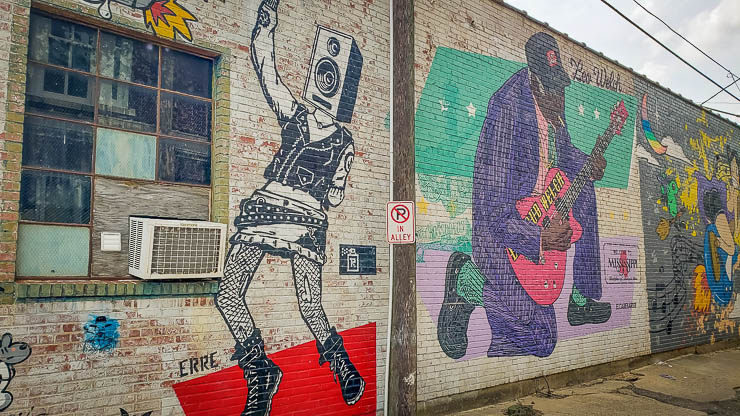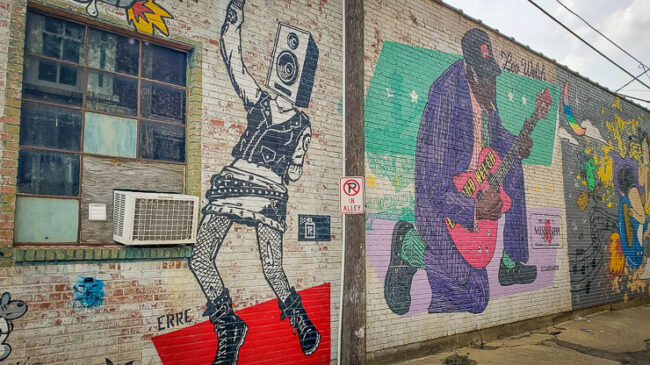 All-in-all, the rooms are nice and comfortable, the hotel is chic and cool, and the location really can't be beaten for Clarksdale. Plus, I found Clarksdale to be the absolute highlight of our trip through Mississippi. It's a small town with a lotta life. I loved the vibrant music scene, the delicious Southern food, and the sheer amount of street art. You gotta visit this place to truly understand.
Reviews on Trip Advisor | Check Prices and Availability
Other Notable Hotels in Clarksdale
Of course, Travelers Hotel isn't the only game in town, but it is probably the best location. If you want to compare others, here are a few notable places to check out:
Shack Up Inn: Quirky place about four miles outside downtown where you can stay in individual sharecroppers' cabins on expansive farming grounds.
Riverside Hotel: A place of great historical importance to the Blues, but currently not in operation. It sits near the Sunflower River and was the place where legend Bessie Smith died after injuries from a car wreck.
Auberge Hostel: Clarksdale's only hostel! They offer dormitories and private rooms, the perfect place if you want to save some money and have that social aspect of a hostel. Like Travelers, they have another location in New Orleans, as well.
Learn More About the South
Before you go, maybe pick up a book or two to learn more about the area?
The Warmth of Other Suns: a book detailing the great migration of African Americans from Mississippi and other places in the south to the northern cities like Chicago, New York, etc.
Dispatches from Pluto: a humorous travel book written by a Brit by way of New York who moved to the Mississippi Delta.
Tips to Book Your Trip Now & Save Money
Book Your Flight
Book a cheap flight with Momondo, they're my favorite search engine. Or better yet, start travel hacking so you can fly for free. Another great search engine is Skyscanner.
Book Your Accommodation
Book cheap accommodation in advance. For hostels I recommend HostelWorld, for hotels I use Booking.com or Hotels.com, and for apartments or longer stays, I use Airbnb. I like to check reviews on TripAdvisor prior to reserving.
Don't Forget Travel Insurance
This is easy to overlook but SO important. It will help protect yourself from illness, injury, and theft while traveling. VERY important. And be sure to read my article about international travel insurance for more details
Looking for the Best Companies to Save Money With?
Check out my budget travel resources page for the best companies to use when traveling. I list all the ones I use and recommend to save money when I'm on the road.
Special thanks to Visit Mississippi, Visit Clarksdale, and Travelers Hotel for hosting me on this trip.
The following two tabs change content below.