I'm Ryan, a world traveling adventurer who enjoys road trips, mountains, mother nature, and new places.
I'm originally from the Seattle area, but after college I headed to Washington DC to work in politics.
I spent five years working on the the Hill covering a myriad of different policy issues for a senior member of Congress.
When my boss decided to retire instead of run for reelection, I figured this would be as good a time as any to take a 'mini-retirement' and spend some time on the road climbing, backpacking, and exploring America's most spectacular nature areas.
I set out in January of 2013 on what I jokingly dubbed my Epic Dirtbag Adventure, and spent the better part of a year living out of my truck and on the road.
Multiple people warned me when I set out down this path that I wouldn't want to go back to the traditionally working world. They were right.
Every year has been a new adventure, and I've yet to stop traveling…
2014 – I flew to Cartagena, Colombia to explore a new continent and culture, learn Spanish, and pursue other adventures. I spent a few months traveling around the country before being pulled in by the draw of Medellin, Colombia, where I put down some roots for the better part of the year.
2015 – My Colombian girlfriend Andrea headed north to the USA where we explored from Miami to Fairbanks before setting out in my truck for another tour of the American West. Many thousands of miles, a few months, and 17 National Parks later and we then headed south of the border and into Mexico for a road trip through Central America.
2016 – Saw me settling back into expat life in Medellin, Colombia as we regrouped, I worked on my second book, and we prepared for the next big adventure…
2017 – We will be setting out for our biggest trip yet… Driving all the way to the end of South America: Patagonia!
Travel and adventure, to me, is more than just 2-3 weeks per year of vacation time or long weekends. It's a way of life.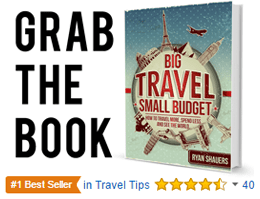 After nearly three years of continuous travels and constantly hearing from folks who wish they could follow in my footsteps, I decided to sit down and write a book showing exactly how to travel on the cheap.
Thus was born my #1 bestselling budget travel book, Big Travel, Small Budget: How to Travel More, Spend Less, and See the World, available on Amazon.com.
What is Desk to Dirtbag?
Desk to Dirtbag is dedicated to inspiring armchair adventurers and weekend warriors to get out there.
To show that any old Average Joe has the means and ability to undertake a life changing journey and adventure.
You don't have to be some sponsored pro-climber or some son of a wealthy business tycoon to hit the road, travel, and live the life you want.
It has more to do with realigning your priorities, putting the gears in motion, and committing to doing it.
P.S. For those of you not familiar with climber vernacular, a dirtbag is someone who takes things to the extreme and forgoes the traditional comforts of life (a home, family, job, etc) to pursue their passions and desired way of life 100%.
Let's stay in touch!
Work With Me
I welcome relevant businesses, organizations, and fellow bloggers as sponsors, advertisers, or affiliates.
If you would like to work with the Desk to Dirtbag brand, please feel free to reach out to inquire about pricing for services for your project or mission.
I am also available for freelance writing gigs, reviews, guest blog posts, and more.
Please visit my Media Kit page for more details about services offered, site and social media statistics, and audience demographics.
Affiliates and Sponsors
I do employ the use of affiliate links throughout the site where applicable. These are for products or services that I genuinely believe in.
If you click and subsequently purchase through an affiliate link I will receive a small referral commission.
Your purchases help support the hosting and upkeep of this blog, and maybe even on a good month provide me with some coffee money.
Thank you!