This article may contain
affiliate links
. If you make a purchase through these links, I will earn a commission at no extra cost to you. Thanks!
The cold ground below gave a loud crack … Then another.
"This isn't good," I thought to myself as I realized what was happening and looked at our rental car beside me.
We were in the middle of nowhere outside of Fairbanks, Alaska and had been looking for a wide open space during the dark of night. It was March, but the land was still blanketed in winter with snow and ice covering everything.
We found the wide open space where we could park to watch the Northern Lights swirling overhead, but we were so entranced with the natural light show above that we didn't really pay attention to what we were parking on…
Turns out this wide open space also happened to be a frozen pond or lake, and while it was still winter, the days had been getting longer and warming up…
We quickly packed up the camera gear and hopped back into the rental car to make a loop around the lake so we could head back to solid ground.
We both sat there silently during that short drive hoping that the ice would hold and we wouldn't crash through the ice into the frigid water below.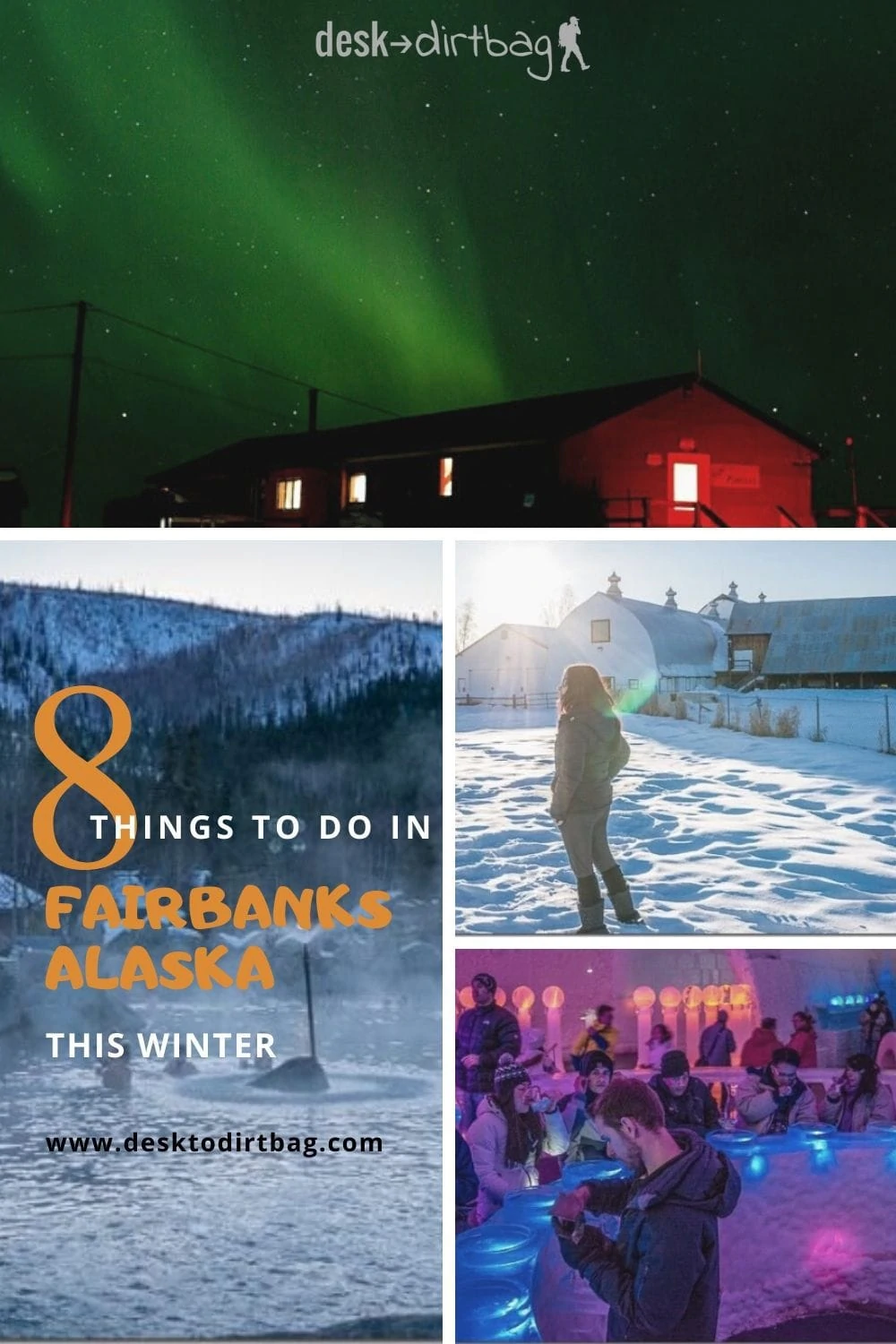 Out of all my travels, Fairbanks, Alaska remains one of the most incredible places I've ever been.
In winter the place is a wonderland.
Every time Andrea and I look at photos or video of that trip, Andrea will say "It's incredible that we were actually there…" "We've got to go back, one day!"
See the Northern Lights
Seeing the northern lights in person was one of the most incredible experiences of my life. Fairbanks is an excellent place to see the lights with frequent and highly active displays coupled with reliably clear skies.
They say that if you stay at least three nights, you've got an 80% chance of seeing the lights while there.
On our first night in town they were already shining, and during our week long stay, we only had one night where there was cloud cover and we were unable to see the aurora borealis.
Read more about the logistics of when and where to see the northern lights.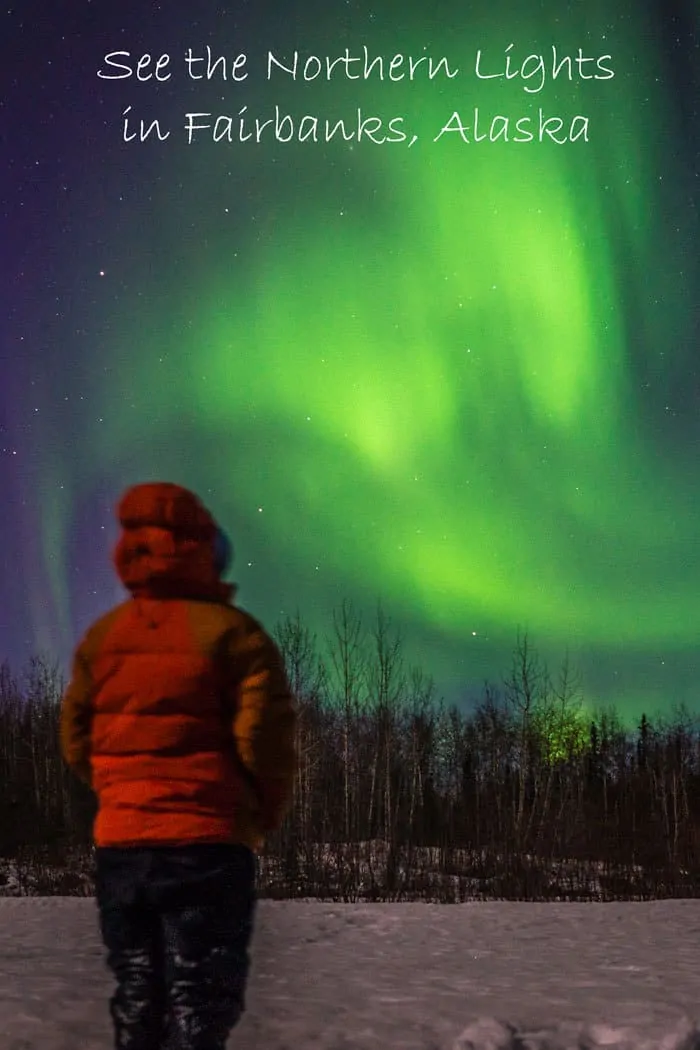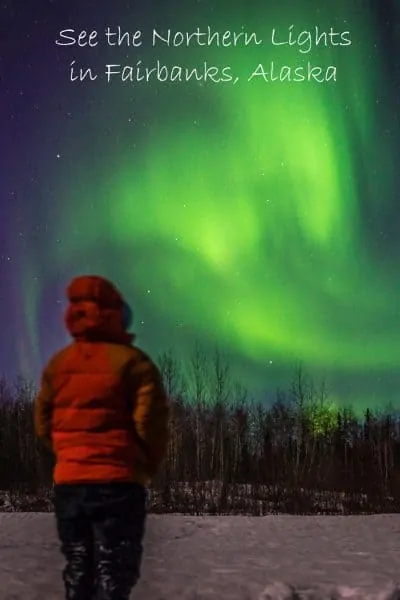 Soak in the Hot Springs
The Chena Hot Springs are located just outside of town, and there's nothing quite like stripping down to your swimsuit as snow falls around you.
The waters and nice and warm, and they've got both an indoor and outdoor section with pools at different temperatures.
You can even hang out until nightfall and hopefully get the northern lights overhead.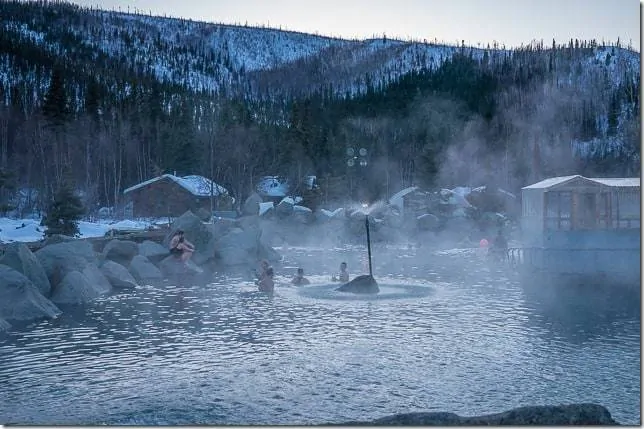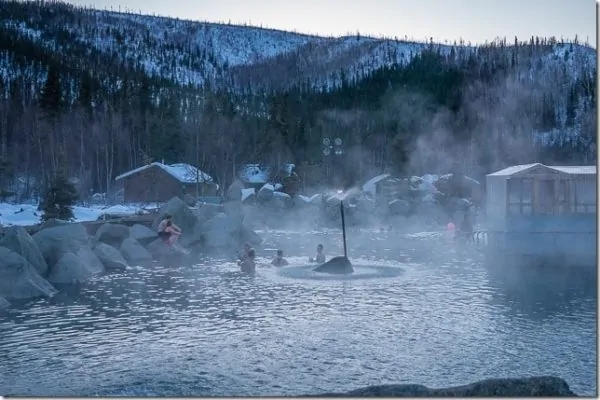 Visit the Ice Bar
While you are at the Chena Hot Springs, be sure to visit their ice museum, which features elaborate ice carvings and incredible designs. inside what seems to be a giant igloo.
With your entrance, you can also choose to get a cocktail at the ice bar, which is served in a martini glass made out of, you guessed it, ice.
All in all, it is a really cool experience that is not to be missed.
Best of all, it is open year-round as well.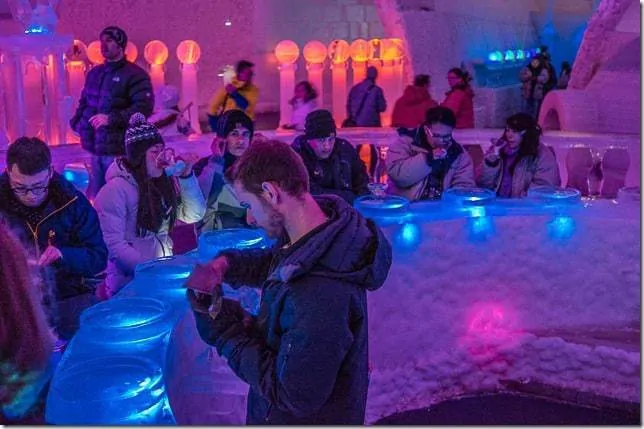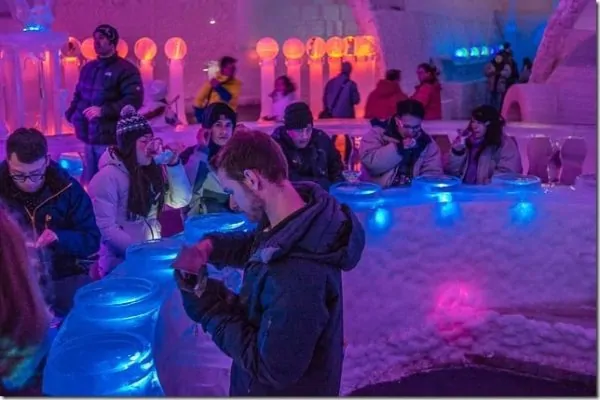 Go for a Hike
There is nothing like hiking through the snow with the soft crunch underfoot, the only sound in an otherwise silent place.
You can often see little birds picking their way through the snow, and everything just has an amazing atmosphere during the winter.
If time is short you can hike through the flat terrain near Creamer's Field right in town. There are large forested areas and small ponds or creeks in the migratory bird refuge.
There are lots of options outside of town as well, such as the Chena Dome Hike.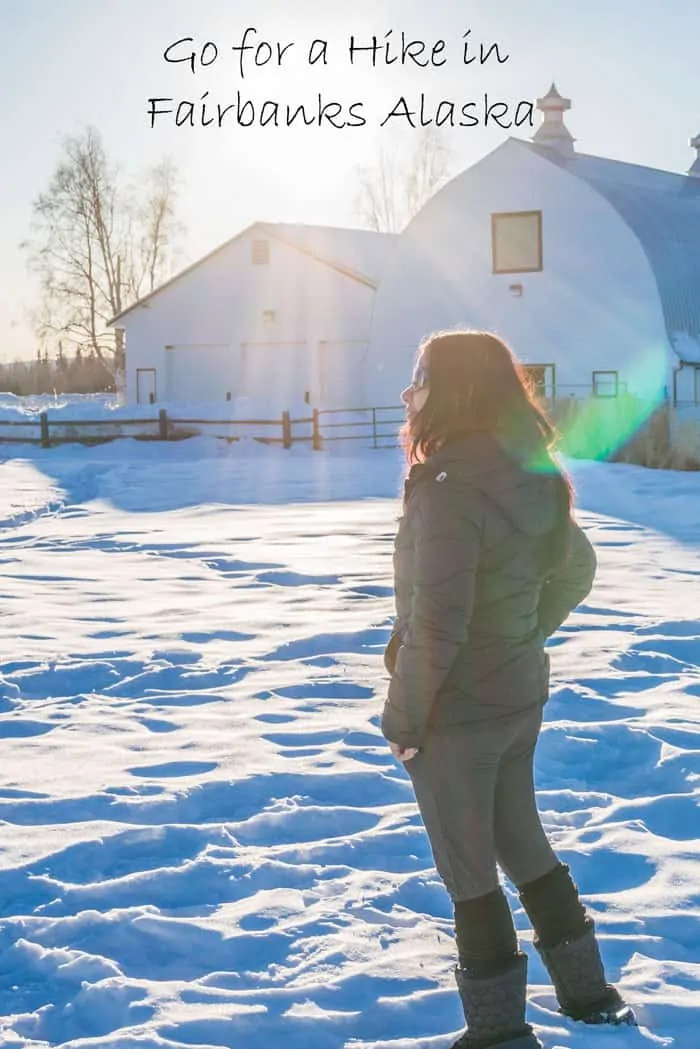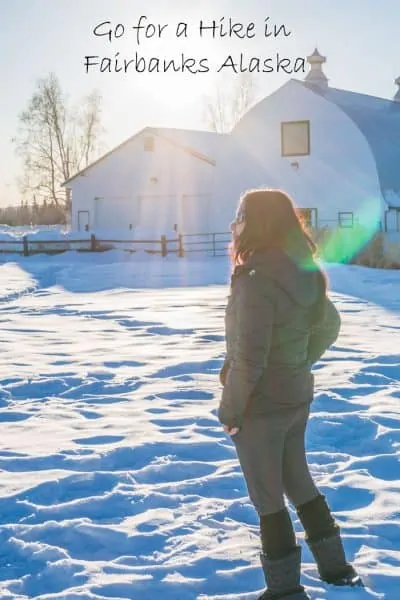 See the Ice Sculptures
The World Ice Art Championships are held in Fairbanks each winter and the works of art are absolutely incredible to behold.
Intricately detailed and quite massive in size. They are carved with painstaking detail and effort, and they are all ephemeral and melt at the end of the season.
Don't miss this one of a kind attraction.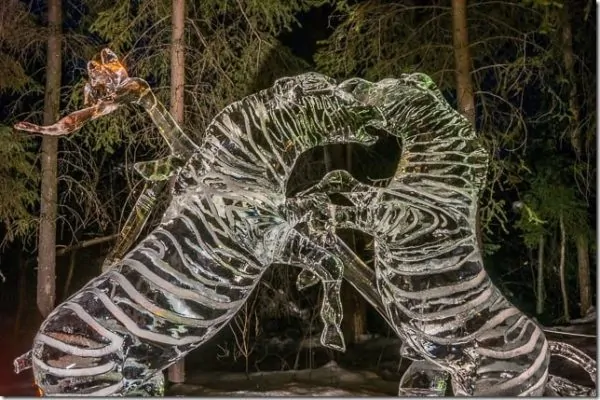 Visit the Antique Car Museum
Maybe you aren't a car person, I'm certainly not. But you shouldn't miss out on this unique and comprehensive collection of antique cars at the Wedgewood Resort in the Fountainhead Antique Auto Museum.
It portrays the development and progress of the automobile from the earliest times and gives a unique and interesting perspective of the first cars in Alaska, which is pretty remarkable when you consider just how remote and rugged Alaska was (and in many ways, still is).
Take a Road Trip
There's a ton to do in Fairbanks, but I'd still recommend that you take at least a day to rent a car in Fairbanks and head out of town to see the surrounding area.
The drive to Denali National Park is full of spectacular scenery and will surely be an incredible adventure.
If you want to take more time, you can head all the way down to Anchorage, where you can see the snow-capped mountains meeting the snow, and giant ice blocks floating along the shore.
Taking a road trip will also give you a greater appreciation for just how massive Alaska is.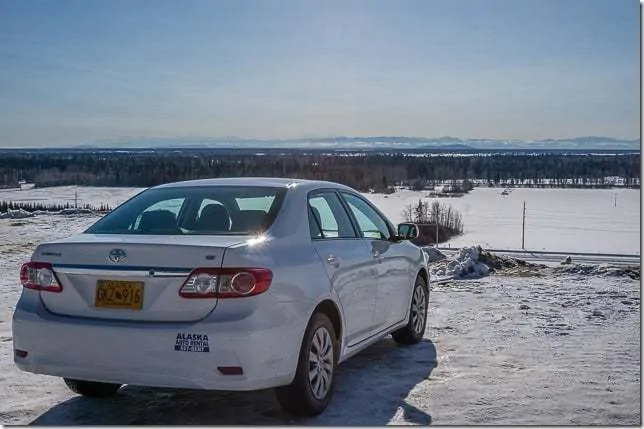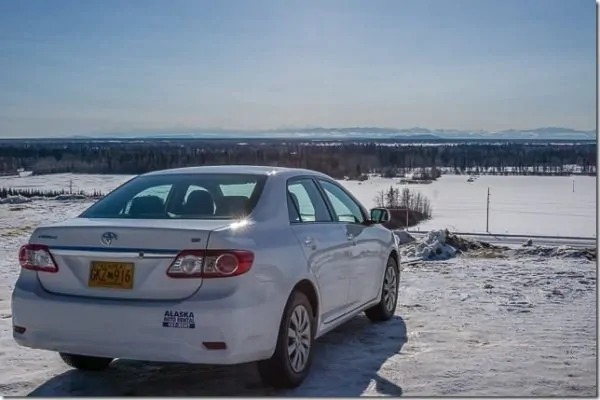 Go Dog Sledding
I couldn't miss the chance to try Alaska dog sledding while in Fairbanks…
Sirius Sled Dogs is owned and operated by Josh and Nita on an amazing property (also with great views for the Aurora) about 40 minutes outside of Fairbanks.
We were instantly taken in with their warmth and hospitality, and enamored with the dogs that were all over.
For Josh and Nita, mushing is a way of life, and they have created a really special place where they share their passion, as well as their dogs' passion for mushing.
You might initially think that the dogs are doing some grueling work that they don't really want to do, but as soon as you see the team being put together on the line, and you can see and feel the excitement of the dogs as they are absolutely aching to run!
We meet up with Claudia, an Aussie, who was volunteering abroad with Sirius and helping out in order to learn to much her own team, took us under her wing and showed us around the property.
Riding on the rails of the dog sled as we flew through the snow was incredible. We took two runs, one during daylight and one during the night, which was a whole new experience as the aurora borealis began to appear overhead.
Read more about my experience dog sledding with Sirius Sled Dogs.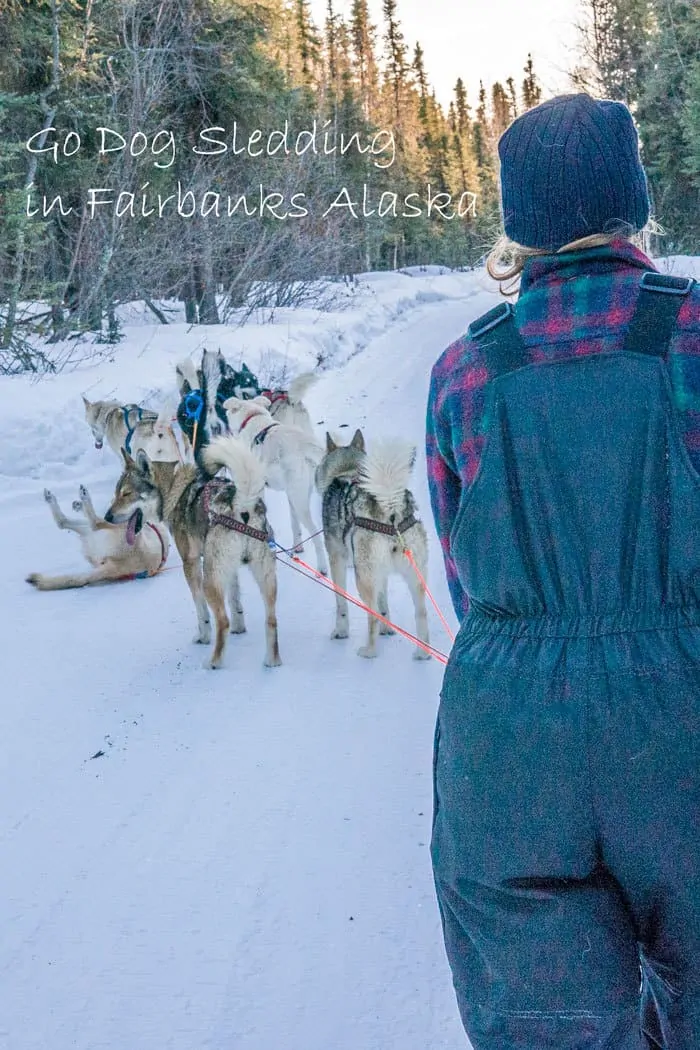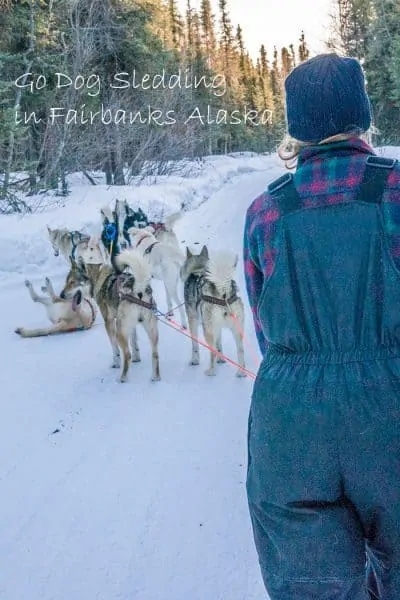 What Else?
Check out my more comprehensive blog post about chasing the Northern Lights in Fairbanks, Alaska with more details about where we went, what you need to know before you go, and how to maximize your probability of seeing the Aurora Borealis.
Alaska is a land of superlatives, no doubt. And Fairbanks is the heart of it…
If you haven't already, put Fairbanks, Alaska in the winter on your bucket list. Be sure to visit Explore Fairbanks for more info.
I challenge you to NOT be blown away by this place.
Wish you could travel more? Click here to grab my free resources for affordable, long-term travel.
Traveling to Fairbanks, Alaska soon? Book your lodging on Booking.com now to save, or if you plan to stay longer, I highly recommend looking for a place on Airbnb. And don't forget to purchase travel insurance that will help protect you against illness, injury, and theft. I use and recommend World Nomads for its combination of coverage and affordability.
Read Next: The Best Time to See the Northern Lights
Share This
Did you enjoy this post about things to do in Fairbanks Alaska? Please take a moment to share it on Facebook, Pinterest, or Twitter.
The following two tabs change content below.