This article may contain
affiliate links
. If you make a purchase through these links, I will earn a commission at no extra cost to you. Thanks!
Everyone always talks about how to start a blog, how to make money with a blog, awesome blogging tools, and other important and foundational aspects, but what never ever seems to get talked about is how to actually run your blog as a business… By that, I mean like a real business in terms of legal structure, finance, cash flow, accounting, building a team and so forth.
Yeah, I guess the topic of running a blog as a business isn't as sexy as the others, but it is super important!
Here are 8 steps you should take to if you want to run your blog as a business.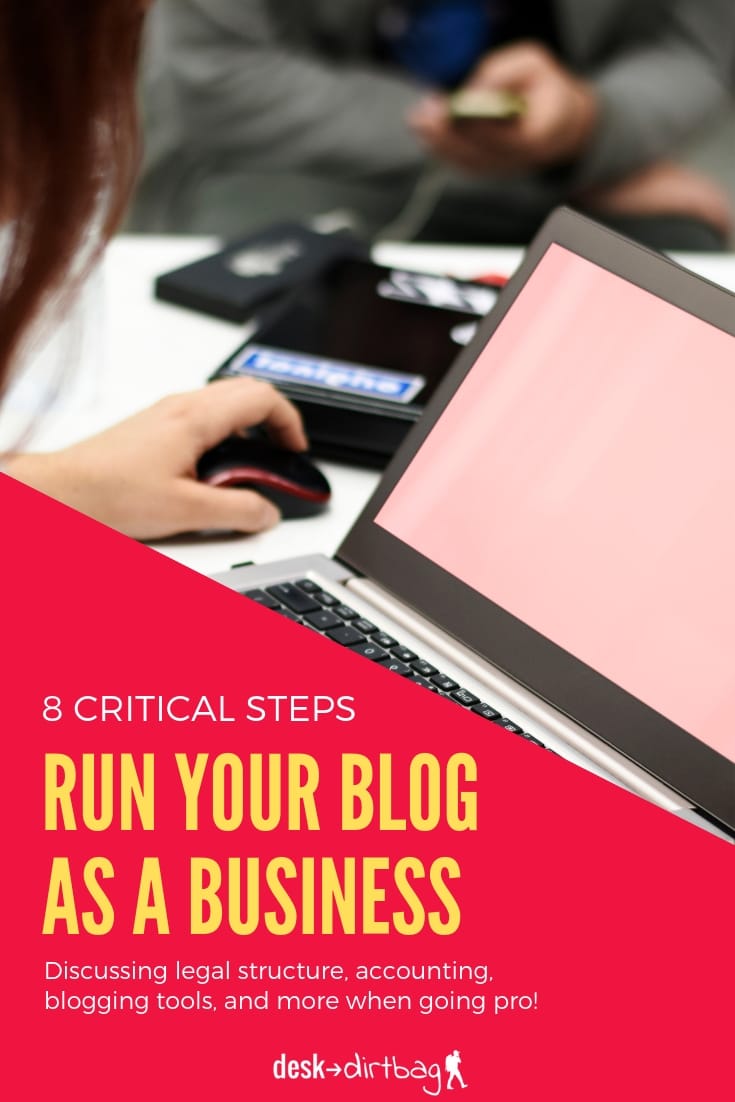 Treat it Like One
The first and perhaps most important step is to simply start thinking about your blog as a business and treating it like one. Many of us just start a blog for whatever reason (hobby, personal, or otherwise), keep it up, but don't have any plans about turning it into a business, making money from it (whether it is a side hustle or a full-time income) and thus never take the next logical steps.
I did this myself… For years, really. I used the blog more like a journal about my adventures and freelancing efforts while neglecting the actual blog and the crucial step of turning it into a business by first thinking about it as a business and treating it as such.
Part of this step is moving toward monetizing your site and making your blogging business profitable!
Separate Bank Accounts
Once you've made the leap to thinking about your blog as a business, your next step should be to obtain a separate bank account for your business. Now, even if you don't have official legal documentation that your blog is a business, like when you're in that early stage of just getting things off the ground and trying to earn money online, then you should still open up a NEW personal bank account and treat that as your business bank account.
This means that any income from your blog will go to this separate account and any business expenses from your blog will also be handled from this other account.
Not only do you keep things neat and clean for tax season (you should always keep business and personal expenses separate), but you will also gain a MUCH clearer picture of the general flow of the business money.
If you're just getting started, you may want to invest a certain amount of money in your blog business (say, $600 for operating expenses, not counting the costs of starting a blog) which can serve as your operating expenses.
Doing so will give you a budget to work with for the year (in this case just $50 per month for extra blogging tools or necessary purchases) then you can watch as that slowly draws down toward zero.
This should help you think about where to spend your money wisely AND it should provide you with some extra impetus to monetize your blog and make sure that you quickly start to break even and then eventually start to make a profit.
Check out the Top Business Banking Accounts
Business Credit Card
Speaking of those business expenses drawing your funds down… I recommend getting a business card straight away… You will need a credit card for most blogging related purchases online whether that is hosting, tools, or whatever.
Again, the goal here is to keep business and personal expenses isolated because many online payments will have to be made with a credit card rather than being drawing directly from your business bank account in step one.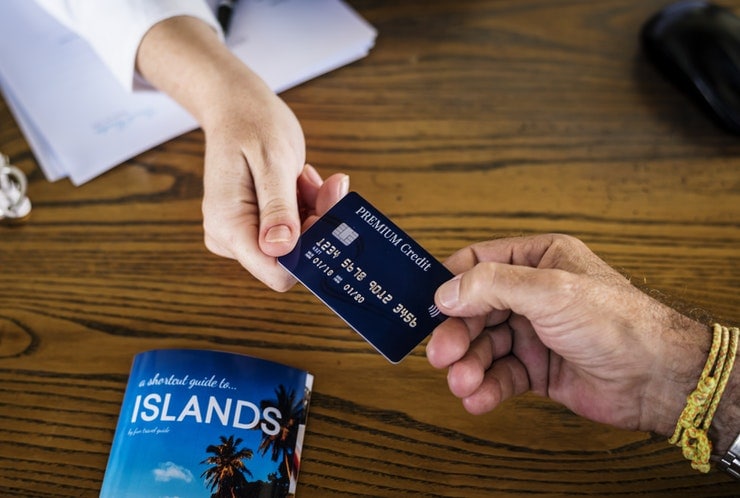 You can usually get a business credit card much easier than a business bank account even if you don't have the official documentation. But again you can also just apply for a personal credit card which you will designate as being the one ONLY for business expenses.
Plus, you can take advantage of travel hacking here too, which basically means getting tons of points or miles from new credit card sign up bonuses due to your business expenses. Read more in my Travel Hacking 101 article.
Check out the Best Business Credit Cards
Accounting
Accounting is no fun, but it is also necessary in order to keep everything straight for tax time and have a clear idea of Profit & Loss and other metrics from which to evaluate how you are doing running your blog as a business and how that business is doing financially.
Quickbooks is the industry standard whether you are just launching a side hustle or have taken your blog into the realm of a legit small business. Quickbooks self-employed is what I use and recommend, but it does have a small monthly fee for using it.
A free option for true accounting software is Wave Apps, or you could also just use Mint from Intuit (also the makers of Quickbooks). Mint is what I use for my personal finances, and which would work on a rudimentary level for tracking business income and expenses so long as you have separated your finances per steps two and three above.
Note: If you already use Mint for personal finances, you will want to create a new account with a different email address to use for your business.
Beyond just keeping up the books every month and monitoring expenses in and out, your next should be working with an accountant which will be a tremendous help in terms of paperwork and tax deductions — get one as soon as you can justify the expense!
That being said, you should also educate yourself about business deductions because not all accountants will be entirely familiar with what are the typical expenses of a blog business… Educate yourself with a book like Deduct It! as to what you can and can't claim so you know what to suggest or discuss with your accountant.
Put Profit First
Having money going into and out of the same bank account separated from your personal accounts is a fine first step, but there are better ways to go about it… The book Profit First by Michael Michalowicz was a huge revelation for me in terms of how I handle my business finances. While it couches itself as an accounting system, it's really just an awesome cash flow system where you can easily segregate your business banking further.
What really clicked for me in this book was how he recommends managing cash flow by having at least FIVE different bank accounts (well, at subaccounts, at least).
One-pot of money and sub-account for:
revenue,
profit,
owner's pay,
operating expenses,
and taxes.
So, 100% of incoming money goes into revenue and then gets distributed once or twice a month to the other accounts per your target percentages… For example, 20% to profit, 40% to owner's pay, 25% to operating expenses, and 15% to taxes, which are my current distributions.
The normal equation for a business is revenue – expenses = profit. He flipped this so it was revenue – profit = expenses. This means you are taking out a percentage of revenue as profit every single month, no matter how big or small… Even if it is just 1%.
You also implement a quarterly calendar and have profit distributions (50% of what is in the Profit account) just like major corporations, which gives you a little time to celebrate when you receive your blog profits.
It may sound simple, but Profit First was a game-changer for me, and I think it would be as well for any new small business owner or blogger. There are lots of other details in the book about how to use this simple but effective system, and I highly recommend giving it a read no matter where you are in the journey.
Purchase Profit First on Amazon
Invest to Run a Blog as a Business
If you start a traditional business, everyone knows that you will need to invest money upfront and ongoing every month in order to achieve success. When you are running your blog as a business it shouldn't really be treated any differently, even though the amount you need to invest is MUCH, much smaller.
While any blogger will have to invest upfront for hosting and a theme, if you want to turn your blog into a business you should also be thinking about other investments that you can make to improve the bottom line.
This could come in the form of blogging tools, business conferences, online courses, learning, or even just marketing. For example, the Small Business Administration recommends setting aside at least 7-8% of gross revenue for marketing. I think any serious blogger should look at doing at least 5%, so carve out 5% of that operating expense account for growing your brand through Facebook ads and other marketing services.
For example, I've invested in courses like Superstar Blogging from Nomadic Matt or the Critical Business Skills course from the Great Courses (which is like a mini-MBA). Don't just look for blogging specific advice, but also consider general business advice which translates across all industries and expands your line of thinking, even if that just means reading all the business books for free at your local library.
Check out my Favorite Blogging Tools
Start an LLC
Starting a Limited Liability Company (LLC) for your blog is a step that may come earlier or later in the process depending on each individual. I wouldn't consider it to be absolutely necessary when you are just starting to run your blog as a business unless you have significant personal assets or you are blogging about something that could be particularly litigious.
Most bloggers just start out as sole proprietors and then consider creating a formalized business structure — most often an LLC — once they start to actually earn some regular income. There are some tax advantages that can be had when you've formally registered your business, such as being able to choose an S-Corp taxation structure for your LLC (commonly recommended once someone reaches about $40k in annual revenue).
An LLC and the S-Corp taxation is my recommendation based on my own research and speaking with accountants, of course, so be sure to do your own due diligence. I read a few different books on the theme when I was doing research, like the Start Your Own Corporation book, before ever speaking to an accountant.
When you do elect to create an LLC or other legal entity for your blog business, I'd highly recommend going with IncFile, which can do the processing all online for you at a rate that beats Legal Zoom and other competitors.
Build a Team
All too often most bloggers feel like they have to do EVERYTHING themselves. That means writing, photography, SEO research, technical work, graphic design, marketing, social media, and on and on. And while I do believe that every blogger should start by doing basically everything themselves (if only to better understand what it entails and best practices), that doesn't mean that they should continue doing everything by themselves forever.
Indeed, before long you will reach a bottleneck where you simply can't grow and you will have hit your maximum output, often wasting your valuable time performing the menial tasks that also go along with running a blog as a business.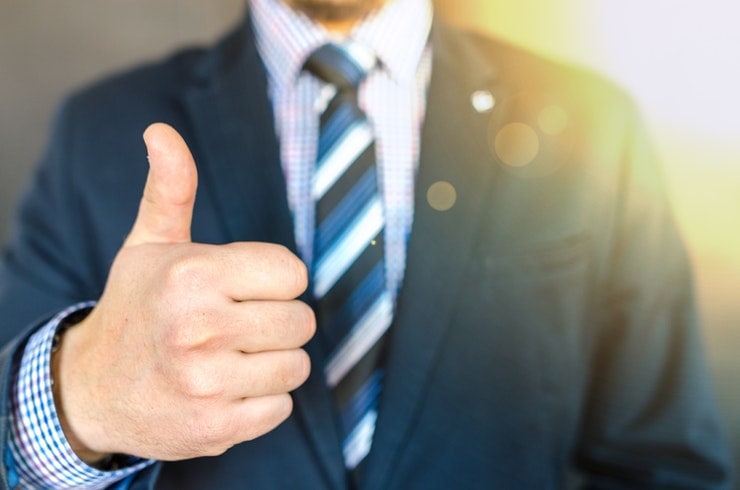 Every successful business will hit the point where it needs help and can't continue as a solo show. In the case of blogging, that could mean outsourcing some technical work or other tasks that you don't enjoy performing so that you can focus on the aspects that you DO enjoy the most and which bring you the highest returns. Ideas for things you can get help with include bringing on a virtual assistant to handle things like social media, web design, article research, SEO optimization, blog post formatting, or any number of other tasks.
The easiest place to start outsourcing is through a website like UpWork where you can hire freelancers for individual jobs or ongoing part-time work.
If you want to take it to the next level, check out the book Virtual Freedom from Chris Ducker which is all about outsourcing and building virtual teams. Another great resource is the Virtual Assistant Assistant website which has plenty of free tips and features reviews of many different platforms.
Share This
Did you enjoy this article about how to turn your blog into a business? Take a second to share it on Pinterest, Facebook, or Twitter. Thanks!
The following two tabs change content below.