This article may contain
affiliate links
. If you make a purchase through these links, I will earn a commission at no extra cost to you. Thanks!
Let's face it, we could all use a few new resources and good ideas about how to make extra money whether online or locally. Thankfully, for an enterprising and dedicated individual there is no lack of opportunities out there, and you don't even have to quit your day job to reap the benefits of these side hustle jobs.
I've spoken at length about the benefits of side hustle jobs when it comes to long-term travel (see my side hustle calculator for a better idea), but a side hustle is an amazing thing to have, whether you plan to travel or not.
It means extra money in your pocket each money, even if it's only a few hundred dollars, which can go towards paying down your debt or student loans, getting started investing, toward a family vacation fund, or just having more money to go out to nice restaurants or engage in your favorite hobbies.
Embracing minimalism and cutting out spending money on things that aren't important to you is a great step, but it's also nice to earn more money so you can more fully do the things you love, and be able to do them without regret.
How to Make Extra Money with Side Hustle Jobs
It's thanks to various side hustles that I've been able to keep traveling for four years straight (don't miss my post about the truth about how I get paid to travel the world), and while a side hustle won't make you rich, it will most definitely help you live a richer life.
The most important part of a side hustle though, in my opinion, is that you will no longer feel so trapped by your 9-to-5 job when you see there are more options out there and it will help get your entrepreneurial juices flowing, even if you've never used them before.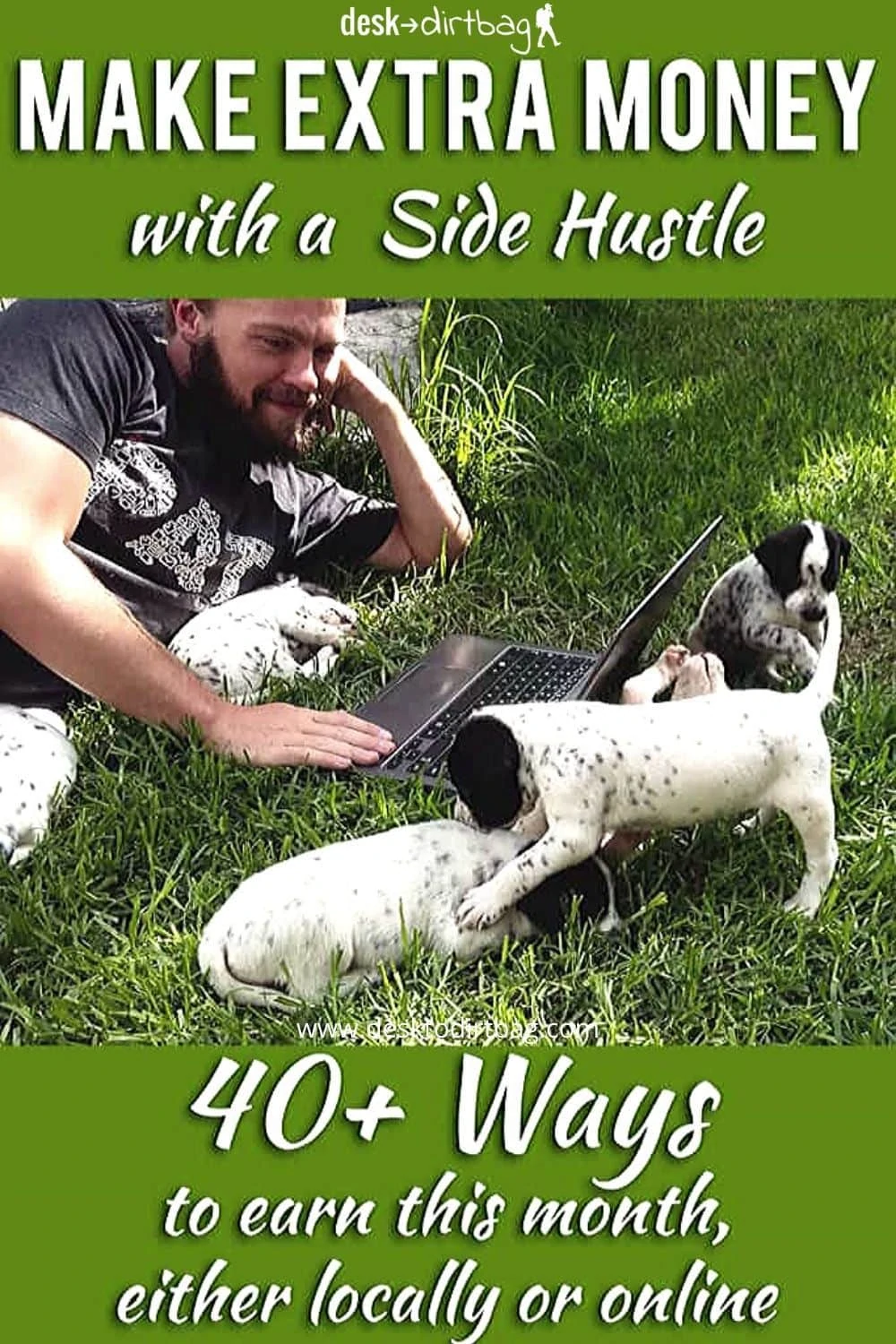 42 Side Hustle Jobs
So without further ado, let's jump into a few dozen different side hustle jobs that are open to virtually everyone, so long as they've got a desire to work and earn a little extra.
1. Sell Your Stuff
This is by far the easiest way to earn extra money and it has a pretty fast return. Just go clean out your closest or garage and get rid of all that stuff sitting around unused.
You get the added benefit of minimizing your belongings while putting a bit of extra money in your pockets. I know that before I set out on this nomadic lifestyle, I had tons of books, outdoor gear, and other things that I was able to sell online and locally and put hundreds of extra dollars in my pocket.
Sell larger items locally on Craigslist or via local Facebook groups and sell smaller more easily shippable items via eBay where you can reach a larger market or list them for sale on Amazon.com.
2. Create an eCommerce Store
If you have a product to sell, there is no better way to reach your clients than by setting up an eCommerce store. Even if your item is especially niche, you can often find hundreds or thousands of interested customers thanks to the power of the internet.
One of the easiest ways to launch an eCommerce store is through the widely respected Shopify platform which makes it dead easy.
But if you've got a little more time and experience running a website, you can go with WooCommerce to manage your eCommerce store — which is what I use on my site.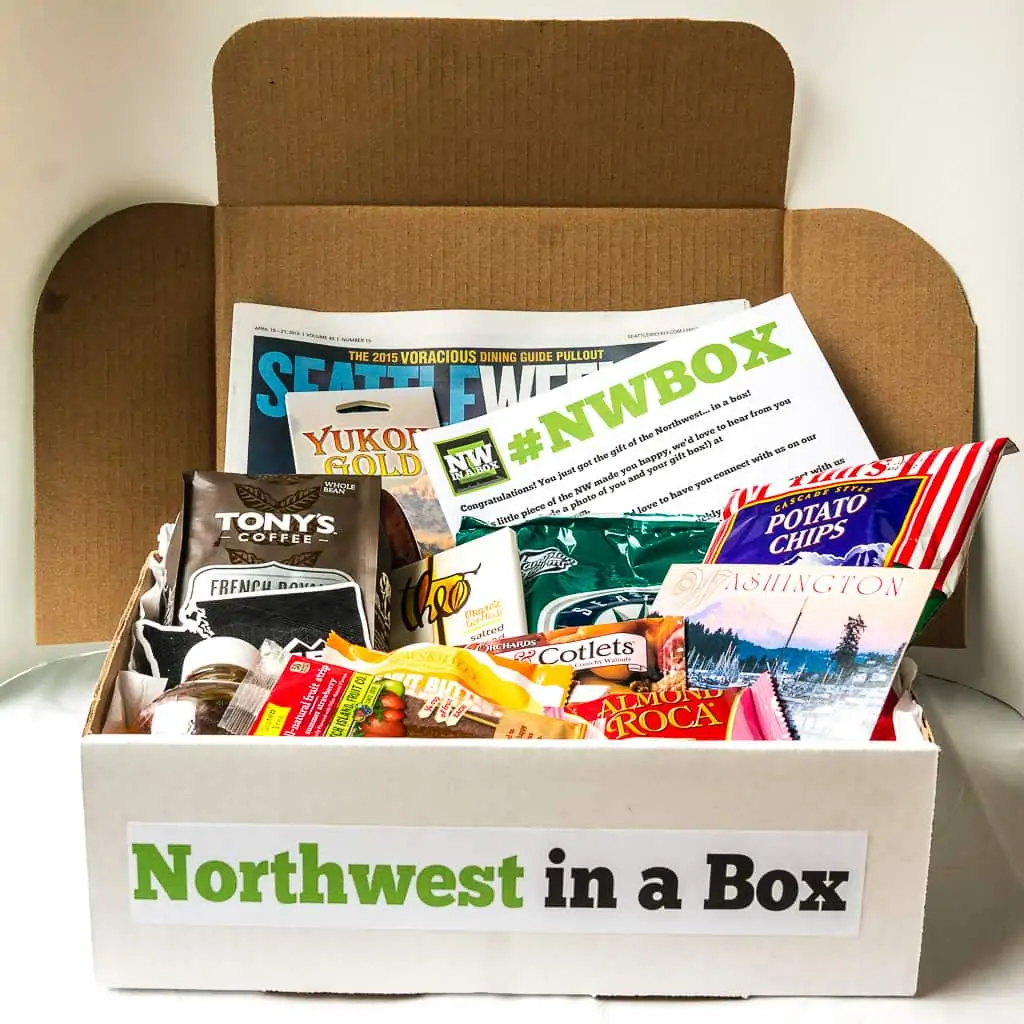 3. Publish an eBook
The barrier to entry when it comes to publishing a book is incredibly low. All you need is the time to sit down and write.
Self publishing my book Big Travel, Small Budget was one of the best moves I've made, not only was it a huge step in my side hustle game which gave me a great deal of confidence (and clout for future projects), but it also continues to earn a decent income month after month, even more than two years after it was first published.
I've only got one book, but lots of other people have managed to make a really, really good income by publishing a handful of different books.
One of the best introductions to the topic is the straightforward and cheap book title Book Launch by Chandler Bolt.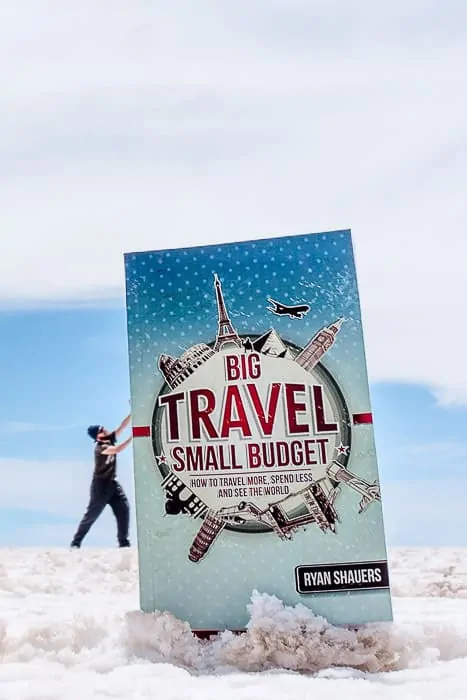 4. Test Websites
Websites like Usertesting and Testbirds hire people with no particular experience to test websites and share feedback as they navigate to different places on the website.
It's a simple task, but it helps a website owner to better understand what works and what doesn't work with their website. Sometimes a simple tweak can result in thousands of dollars of revenue for a large website.
5. Peer-to-Peer Lending
When you lend money to friends or family you're not making anything, but thanks to the Internet, you can lend small or large sums of cash to previously vetted customers. Lending Club is among the most popular platforms, and they boast 5-7% returns historically.
It's a win-win because the person taking the loan pays less interest than a traditional bank, and the person lending the money (you) earns a higher return than they would find in a traditional savings account.
6. Fill out Surveys
This is always the shadiest sounding of the "make extra money" pitches so you need to be careful not to sign up for one of those unreputable places that is simply a waste of your time.
Luckily, Survey Junkie is one of the good ones, with an A+ rating from the Better Business Bureau and millions of happy customers.
By filling out surveys with your honest opinion, you are providing valuable market research to businesses trying to launch products, websites, or so forth.
You won't get rich by using Survey Junkie, but you can definitely earn a little extra money in about the easiest possible manner during your downtime.
7. Rent Out a Spare Room
This is one of the easiest ways to make decent money and the embodiment of side jobs at home, therefore it is a side hustle I highly recommend. It can definitely be much more lucrative than having a roommate.
If you've got extra space in your apartment or house, you can list the room on Airbnb and charge whatever you want to rent it out to travelers. I love traveling by Airbnb, but more than that, Airbnb has also helped me live rent free while living overseas.
It's a subject I talked about at length in my book Big Travel, Small Budget, but I actually had a three-bedroom place to myself, and then rented out the other two bedrooms in order to cover my rent, utilities, and sometimes even earn money — and that was with only about 50% occupancy.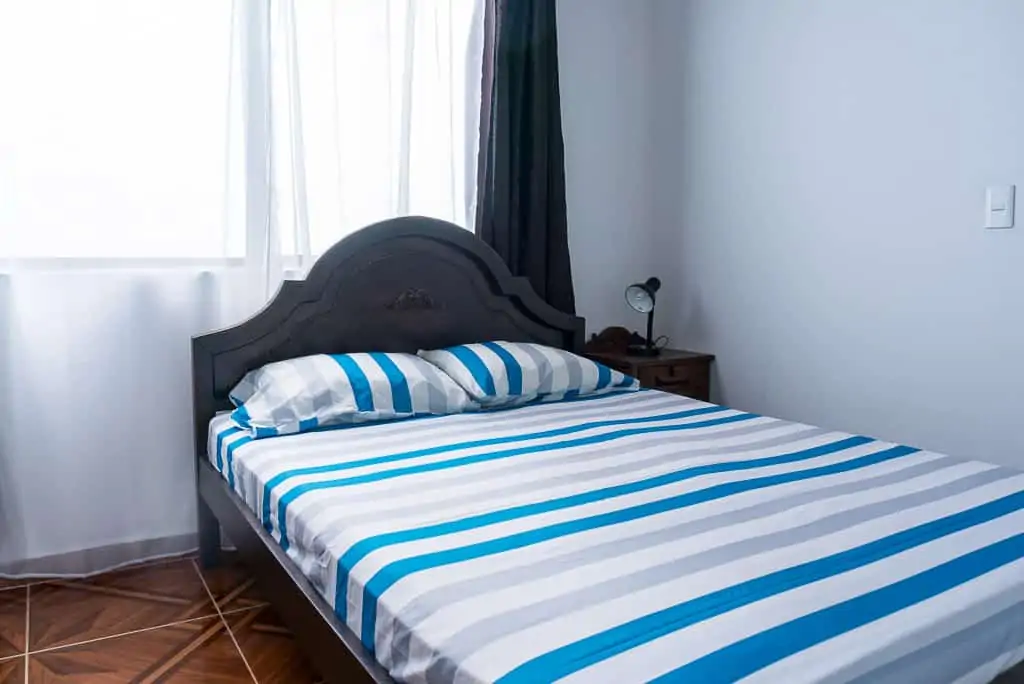 8. Invest in Real Estate without Buying a House
Real estate has long been one of the most powerful ways to invest and earn money (and no I don't mean the house you live in, since that isn't really an investment), but you obviously need a lot of cash flow to purchase a house and create a traditional rental property, which is also full of plenty of risk.
Luckily, in the modern age, you have the ability to invest in real estate without buying a house and without shelling out 10s or 100s of thousands of dollars.
Check out a site like Fundrise which is a crowdsourcing real estate investment platform which allows you to purchase eREIT's with as little as $500 and diversifies your investment across many different properties. Returns are averaging 9-10% — far better than any savings account.
9. Searching the Internet
Yeah, sounds strange, but you can actually earn money for going about your normal online routine, searching things on the internet and browsing the web.
Swagbucks is one of the most popular and well-known of these services which will pay you for searching the internet and using their browser add-on and search engine by default.
10. Teach English Online
If you are a native English speaker from the US or Canada, with a bachelor's degree in any field, and have at least a year of experience in mentoring or tutoring (even back in the day in college), then you can get set up with an online teaching company called VIP Kid.
Basically you are set up with a student in China who wants to learn English, and VIP Kid even creates the course and curriculum, for your online classes.
VIP Kid has been all the rage for people who demand a location independent job. All you really need is fast internet and free time — though the hours can be odd if you're in North America since you need to work around free times in China, on the opposite end of the world.
11. Make a Phone App
Creating apps for Android or iPhone has proved to be a lucrative side income for many. You don't actually need to know how to program in order to do it, there are plenty of simple tools to build apps online or if your idea is more complicated you can hire someone to implement it for you.
You don't even need to charge for your app to make money, since the bulk of these free apps earn money with display ads within the app.
12. Use Your Car to Earn Money
The new sharing economy has opened a myriad of potential side hustles, including the ability to use your car to shuttle people around like a taxi.
Lyft is among the top sites for this type of side hustle (and it doesn't have jerks running it like Uber), where you can set your own hours and choose which jobs you will and won't take, giving you virtually full control of your income.
Lyft is also offering bonuses up to $500 for new drivers.
Prefer to avoid shuttling people around? Check out DoorDash where you can get paid to deliver food to hungry customers. In some cities you can even deliver food by bicycle or scooter.
You can also simply rent out your car — without you being the driver — to others if there are often periods were your vehicle sits unused. Some earn up to $1,000 per month by offering their car for short-term hourly rental via sites like Turo or Hyrecar.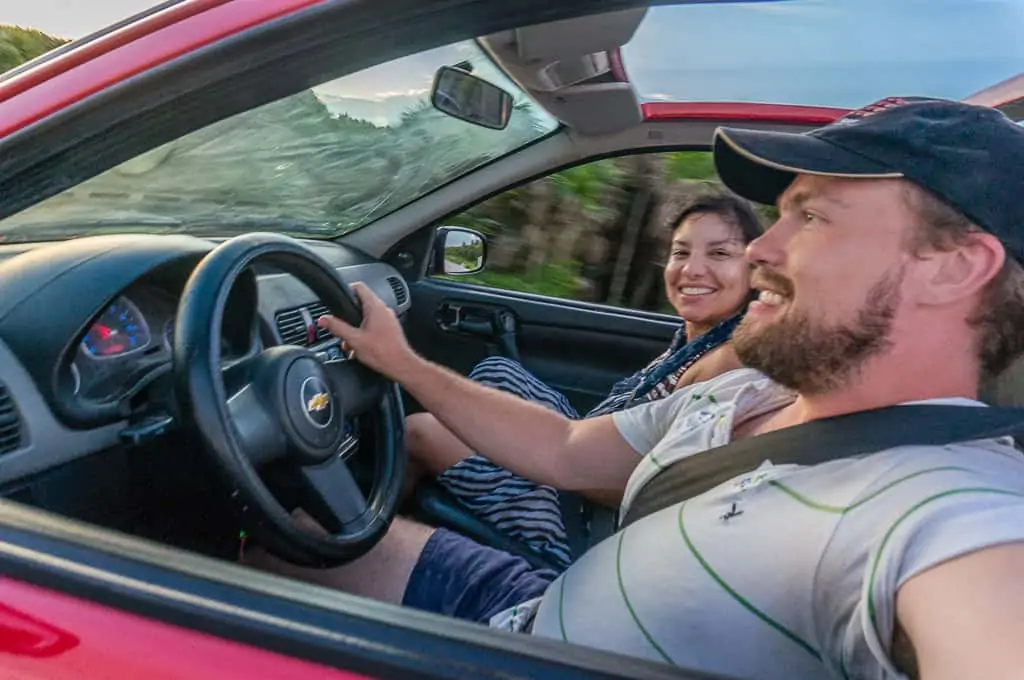 13. Get Paid for Shopping
Shh, don't tell my girlfriend, but you can make money cash back for the things you purchase on Walmart, Amazon, and many other popular retailers thanks to the website Ebates.
Again, the trick here is only buying things that you would otherwise need. It sounds like a scam, but the idea is that Ebates gets a commission for a referring a sale to these retailers and they basically split the cut with you .
If you make regular online purchases you can get back a pretty decent check — this isn't truly a side hustle job, but we've all got to shop, at least a bit.
To get started, they're even offering a $10 gift card or cash back for signing up.
14. Sell Your Hand Made Goods
If you've got a knack for being crafty then you could create and sell your own hand made goods via a website like Etsy or even by setting up a table at your local farmers market (yes, it's for more than fruit and vegetables).
You could sell anything from woodworking, paintings and art, although it is especially popular among women for buying everything from hand-made jewelry, knitted products, or vintage style items.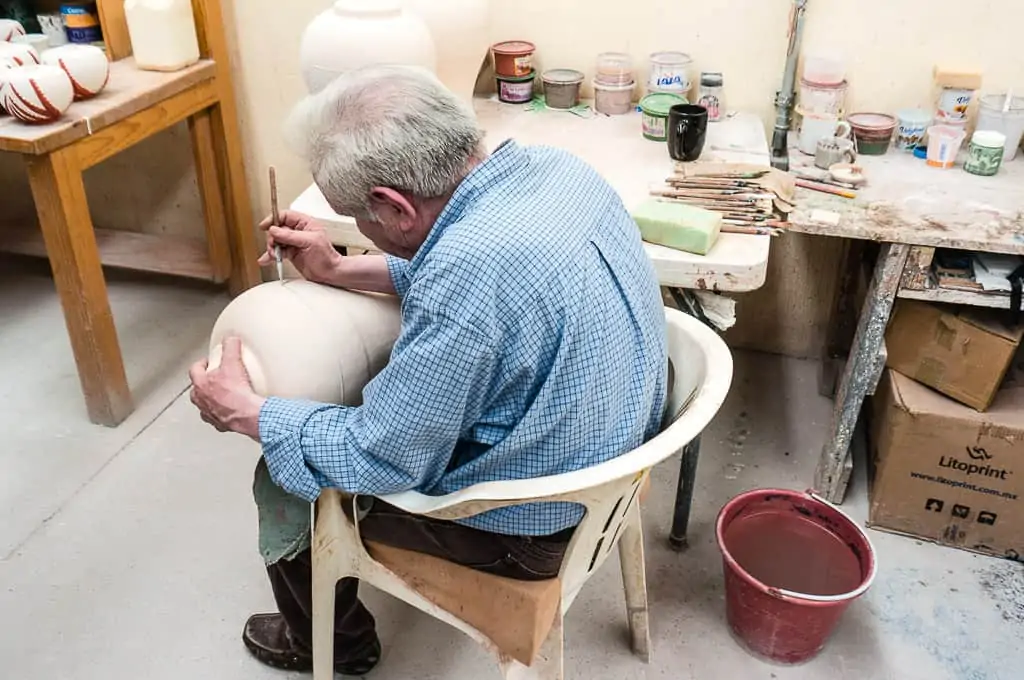 15. Make Money Buying Groceries
We've all got to eat, and you know the saying about a penny saved is a penny earned. So turn your grocery shopping into cashback by using Ibotta to save considerably on your grocery bill.
The trick here is to only buy (and save) on products you would already buy, and not just buy random things that you hate to "save a buck".
16. Photography
If you're a decent photographer you can make some money by doing portrait photography, wedding photography, or even selling your prints online through a website like SmugMug or a stock photography website.
But that's not the only way to make money through photography, many non-professional photographers have offered their services to hotels, local businesses, Airbnb properties, or restaurants.
You don't need to be the world's best photographer, you just need to be better than the business owner (here's a few resources on how to improve as a photographer) — and we all know the prime candidates, those businesses that have terrible, low quality, misaligned cell phone images. If you can take a better shot, you can offer your services.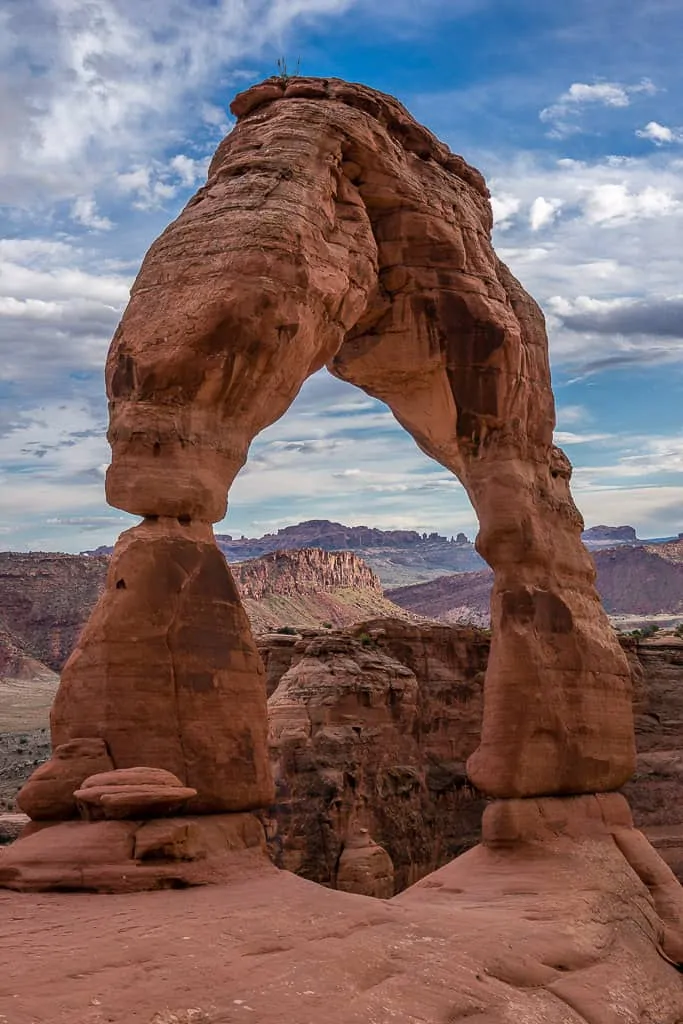 17. Design and Sell Products
If you've got a good eye or idea for designs you can make extra money by selling stickers, mugs, calendars, and so much more through websites like CafePress or RedBubble.
Personally I sell a number of products that I personally designed via RedBubble, which allows you to set your commission rate as a percentage markup on the base price.
If you don't have any design skills, you can always pay someone to implement your idea via Fiverr or Upwork and give you the commercial rights. Either way, this might one of the best side jobs from idea, and one that is done easily doable for most.
18. Start a YouTube Channel
If you don't mind being on camera, you can make decent money by creating YouTube videos and earning ad revenue via Google.
I'm not big on being on camera, but I've released a handful of videos Desk to Dirtbag, some years old now, which continue to earn me money month after month with no additional work. Obviously there are plenty of others out there who actually make a good living via YouTube videos.
The best way to do so is by regularly creating new content around a central theme or niche and by creating content that is helpful to the viewer (YouTube is the second biggest search engine, and is usually people looking for answers).
Although there are plenty who have managed to make it big by just Vlogging about their daily life, surprisingly.
19. Get Paid to Watch Videos & Play Games
This sounds like every slackers dream, but it's actually a possibility with InboxDollars.
Yes, they will actually pay you to watch videos, but better than that, if you're a gamer because they will pay you to download and play games as well.
20. Deliver Pizzas
Yeah, it isn't glamorous, but it's something that can be done by pretty much anyone so long as you've got a set of wheels.
The busy times are obviously the evenings and weekends, or during game days like in Football season, so it can easily be combined with a 9-to-5 job for increased earnings.
Pizza delivery drivers earn an hourly wage and also receive decent tips, so it is one of the most easy and accessible side jobs to make extra money.
21. Bartending or Waitstaff
Likewise, you could also seek out evening work at a local watering hole or eatery to earn a decent side hustle income, particularly through tips.
It's not the best long-term solution but depending on where you live, it can be a solid source of extra income.
But maybe read travel-extraordinaire Anthony Bourdain's book Kitchen Confidential for a look at the dark side behind this industry before you start, hah.
22. Babysit
If you enjoy being around kids and are responsible and mature, you can offer your services to the many families who are eagerly looking for qualified people to look after their children while they are at work or when they head out on a date night.
Websites like Care.com allow people to create profiles with references and reviewers in order to find additional gigs or assignments.
23. Play with Pets
Many pet owners simply don't have the time to look after fido in the middle of the day thanks to their jobs — so if you have time you could offer dog walking services to local neighbors.
Plenty of others want to jet off on vacation but can't take the family pets with, and many will offer a decent daily rate to take care of them while they are gone since it is so much cheaper than a boarding service.
I've utilized pet sitting to travel the world and stay in otherwise expensive places for free. Honestly, if you enjoy animals it doesn't even feel like work, it's just fun.
You can advertise via neighborhood pamphlets or on sites such Care.com which has a directory of pet sitters too.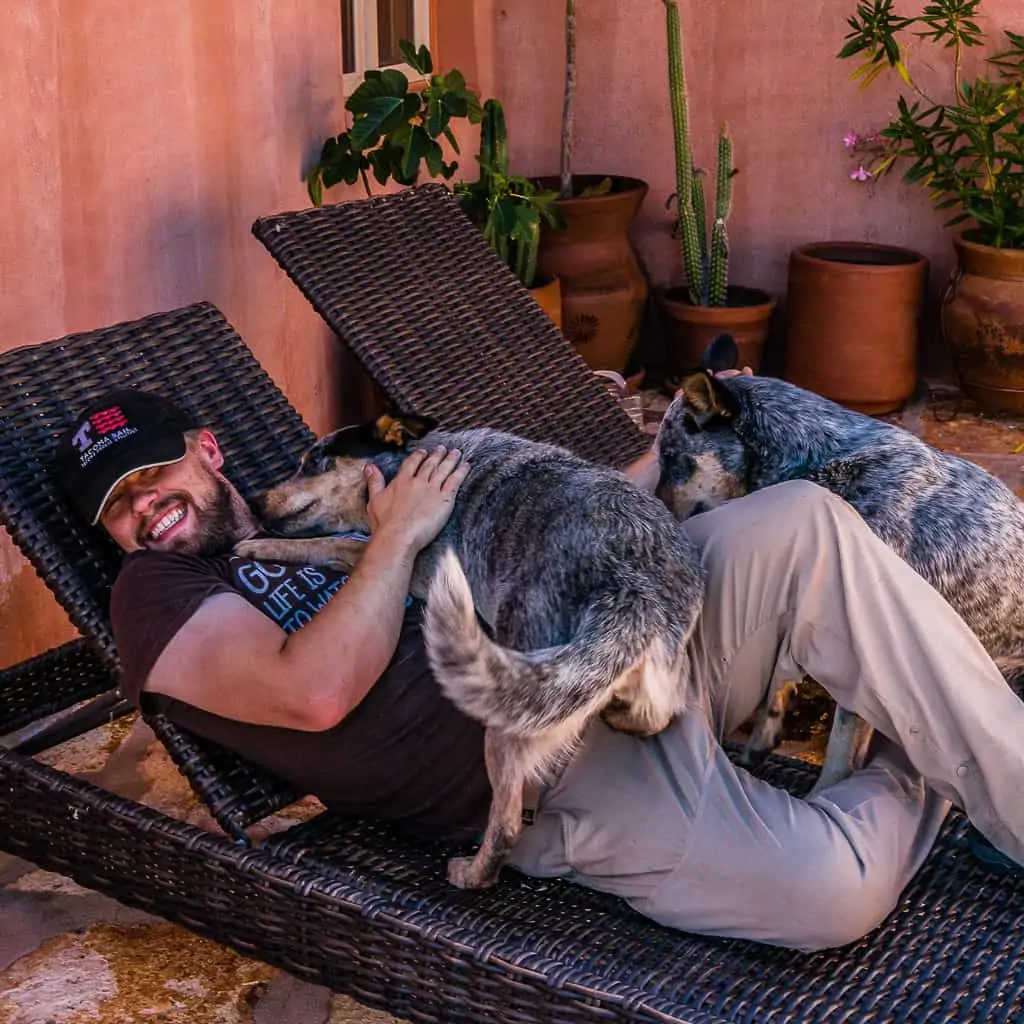 24. Deliver Newspapers
Yes, people still get the paper delivered every morning. This was something my aunt did for years to earn a little extra money, and it's perfect if you don't mind early mornings and working every day of the week for a few hours.
Reach out to your local daily periodical about getting set up with a route.
25. Local Odds and Ends
While I'm all about location independent online jobs, there are a million ways to start a side hustle locally… Especially when it comes to manual labor type jobs that most people don't have the time to do themselves.
Think about a lawn mower service (this was my first side hustle for extended family), painting fences or even houses, small handy man or fix-it jobs, washing cars, cleaning or organizing local homes or businesses, washing windows, repairing computers, or even power washing driveways or leaf blowing properties.
I remember one story of a guy who made a killing by offering a free power wash of drive ways and then owners marveled about the dramatic change and hired him on to power wash the rest of their property.
The best side hustle is one that requires little upfront cost (if you're purchasing equipment like a lawn-mower or pressure washer) and is most lucrative if you can combine multiple properties in one neighborhood (offer a free sample or first-time discount to the neighbors of existing clients).
You can start by printing up simple fliers and passing them out and by offering your services online through Craigslist or local Facebook groups.
26. Offer Services on Fiverr
Fiverr allows anyone to offer virtually any sort of random service to the world and is the ultimate online portal of people offering their side hustle jobs. It could be anything from shooting simple and short video testimonials, logo designs, article writing, or even shouting out businesses, products, etc on your social media.
Services start at $5 — thus the name — but can include extras that raise the price considerably. I've hired on Fiverr in the past and have found it to be great for a wide range of diverse services that simply aren't available elsewhere.
27. Get Paid to Post on Social Media
Yeah, people get paid to post about products or businesses on Facebook, Twitter, or Instagram. Some people can command thousands of dollars for a single post in this line of work known as influencers.
Of course, you will need to have a sizable and active following on one or more social media accounts in order to pursue this line of work, but plenty have turned this side hustle job into lucrative careers that allow them to travel endlessly.
28. Advertise on Your Car
If you don't mind a bit of advertising you can get set up with a car wrap via Carvertise.com just to go about your regular day.
You fill out an application about your driving habits and locations, they set you up with an advertiser (you can approve or deny), and they set up the actual car wrap advertisement.
Then they send you a monthly check just to keep doing what you normally do. The standard payments range from $100-$200 per month. At least it will help reduce your gas bill.
29. Become a Voiceover Artist
Got a good voice and a quiet place to work? You could serve as a voiceover artist, and I mean much more than those people who talk on TV commercials for trial lawyers and new pharmaceuticals.
Plenty of people are hiring online for simple voiceover work for YouTube videos, or hiring people to narrate audiobook adaptations of their ebooks.
Pay is generally good and there is a law barrier to entry — you'll just need a computer and a quality microphone. You can find work on places like Upwork or on sites like ACX.
30. Graphic Design
Graphic designers are always in high demand, and can kind great work from both brick and mortar companies and online. If you've got a knack for design and know your way around Photoshop or Illustrator then you've got an excellent side hustle.
Check out 99 Designs where you can find tons of people looking for a graphic designer for logos, shirts, advertisements, and so much more.
31. Web Design
This was another one of my early side hustle gigs after losing my job and embracing the nomadic lifestyle. It was simply as a result of having experience running my own blog and I never did any actual hard coding since most everything is run off the WordPress dashboard which is an easy interface.
Often that just meant keeping things running smoothly on the backend, installing plugins, optimizing various parts of the site, and other simple tasks for busy business owners.
Again, you don't need to be an expert, you just have to be either more knowledgeable than the owner or at least need to be able to take something off their busy plate.
32. Proofreading and Editing
Even an experienced and professional writer needs the help offered by another set of eyes. I have used a number of editors over the years, including for the release of my book Big Travel, Small Budget and on my upcoming second book which isn't yet complete.
It's an important and invaluable service that ranges from simple proofreading for spelling, grammar, etc, to full-blown content edits where you help form the ultimate shape of the writing.
Upwork is one of the best places to search for freelance work, including editing work.
If you're interested in pursuing this line of work consider taking a course like Proofread Anywhere.
33. Virtual Assistant
Virtual assistant work is one of the most popular side hustle jobs and which can entail just about anything that can be done online — most often that means assisting businesses or bloggers with their projects ranging from publishing blog posts, updating social media, scheduling pins on Pinterest, or anything else.
But it could also mean organizing travel details, putting together contacts into spreadsheets, purchasing gifts online for a wife or family member, and beyond.
I've employed the use of a virtual assistants for small projects at times and have found them to be a valuable addition to help take things off my plate at times. If you are looking for virtual assistant opportunities check out a site called Outsourcely.
34. Start a Blog
Starting a blog is NOT a good way to quickly earn a side income, but it can be a great long-term plan to bring in a decent side hustle if you are able to stick with it for awhile.
Don't listen to anyone who tells you that you will get rich blogging, that is almost definitely not true. But most bloggers who manage to build a readership over a few years can easily earn a few hundred dollars or more with their blog.
I've written extensively about how to start your own blog if you want to go that route, as well as how I make money on my blog for a totally transparent look behind the scenes.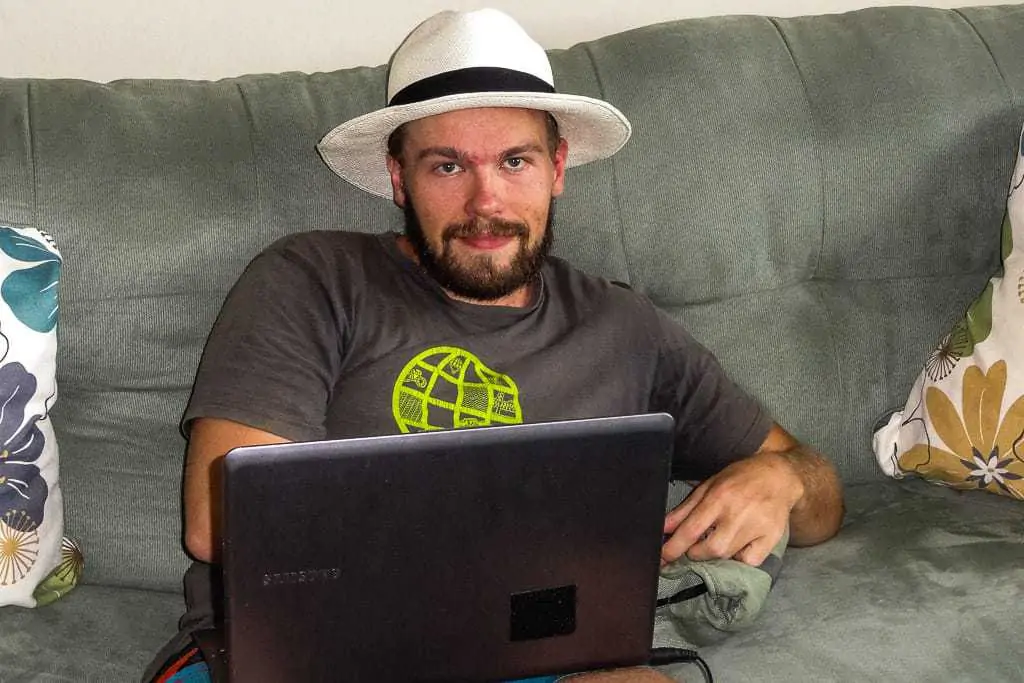 35. Affiliate Marketing
While you don't need a blog to get started in affiliate marketing — that is the most common way to do so. Affiliate marketing simply means providing a special link that tracks any referrals and purchases for a product.
In my case, that could be anything from awesome books or movies on Amazon to a recommend travel blogging course or an incredible hotel for your next vacation.
It's all about recommending products, goods or services that you use and love to interested followers, whether through your website, email list, or YouTube videos, or just your personal Facebook page.
Affiliate marketing (primarily for physical products) is how I make a good chunk of my passive monthly income.
Check out Making Sense of Affiliate Marketing for a better idea on how not just get started but to thrive.
36. SEO for Businesses
Search Engine Optimization means helping a business rise up the ranks of Google for a certain keyword phrase. The difference between being number 1, 2, or 3 in Google and being 4, 5, or 6 (or worse) is massive in terms of the clicks it brings to a website.
Most business owners know nothing about this and are too busy focused on the day-to-day of the actual business to bother. Again, even if you aren't an expert but just know more than them, you can find work pitching people.
I've done work like this on and off and it is a great side hustle because most businesses (especially local businesses) neglect this very important aspect.
There are tons of great tools for digging into SEO details, but personally I use SerpStat (SERP stands for Search Engine Results Page) which allows me to look at keyword traffic per month, my rankings for important keywords for me or clients, and so much more.
I can't overstate how HUGE SerpStat has been for more over the past few months to improve my Google ranking across the board in both new and old articles — which in turn helps boost my earnings across all channels.
I've taken my own SEO research and work a step further by utilizing Keysearch, which offers up great insights into which keywords to target based on search volume and difficulty. That way I can actually target keywords (whether for me or my clients) by aiming for keywords which are actually possible for me to rank for and thus receive traffic to. New users can use the coupon code KSDISC for 20% off their membership with Keysearch.
37. Coaching, Tutoring, or Classes
Do you have any skills that you can teach? Are you an excellent swimmer? Tennis player? Photographer? Math wiz? There is a market for people of all ages and abilities, whether that means teaching children how to play guitar or teaching adults how to draw.
If you have business related skills, they can be easily turned into consulting work. This form of education can be done both locally, in-person as well as online through 1:1 Skype calls.
Even if you don't have many marketable skills, you can surely do something like teach English online as we mentioned earlier with VIP Kid.
38. Earn Money as a Copywriter
If you've got a knack for sales, then you can help businesses craft effective writing known as copywriting that is meant to drive sales.
Copy Hour by Derek Johanson is one of the best courses out there on the subject, or you can read some classic books like How to Write Copy that Sells or just study modern masters like Ramit Sethi.
39. Start Freelance Writing
Freelance writing has been a game-changer for me, personally, and is basically the reason that I've been able to travel the world for as long as I have.
Many people think of glamorous writing like pitching a story to National Geographic Travel about traveling the Silk Road and then getting paid cold hard cash with their name below the story…
That's certainly possible, but it's definitely tough.
When I talk about freelance writing I mean ghostwriting (aka not published under your name) blog posts for big business like real estate agencies, lawyers, doctors, dentists, whatever, so they can generate content and get noticed more via Google.
That's the type of freelance writing I do and what pays most of my bills these days. And it earns me between $65 and $200 dollars for a short (600-700 words) article that typically takes about an hour or two to write.
In most cases, you don't need to be an excellent writer (though you do need to be a typo free, native English speaker), but you do need to be a good researcher since 95% of the time the subjects for articles are on things I don't know much or anything at all about.
If you'd like to start freelance writing (my #1 recommend side hustle), I'd highly recommend taking a look at Get Paid for Your Writing by Unconventional Guides. It is, honestly, one of the best ways to make money on the side with a full time job.
40. Rent Stuff You Own
If you didn't heed the first point above about getting rid of things you barely use, then you can turn it to your advantage and rent it out to others.
This could include virtually anything, especially big and expensive items like kayaks, stand-up paddle-boards, leaf blowers, trailers or campers, and beyond.
You could start by advertising on Craigslist or local Facebook groups, but there are plenty of peer-to-peer rental services online where you can rent out everything from camera gear, to bicycles, to boats, and more.
41. Create an Online Course
For many in the online space, this is considered the holy grail. If you are engaged in freelancing or consulting you are still trading your time for money, but with an online course you can reach an ever scalable amount of people with the same initial investment.
Some people earn a few hundred bucks each month, others can earn a hundred thousand.
The beauty of an online course is that they can be taught about virtually anything. There are courses about woodworking, baking sourdough bread, playing a musical instrument, or how to use a popular computer application.
Often these courses employ a combination of text, video, and quizes but they can take many different forms. They can be a few hours long or a hundred hours long.
Thankfully you don't even need to have your own website, existing customers, or so forth — just something you want to teach the world. Teachable and Udemy are two of the most popular ways to launch an online course, since they take care of everything on the backend, and they can help you reach an active and engaged community of customers.
42. Sell T-shirts
This is another one that I've employed by selling a variety of t-shirts through the D2D store via a site called RedBubble. Here you simply create a high quality design (or pay for someone to do it for you) then you list it on their website.
Any purchases are handled 100% by them, so you don't have to worry about printing, shipping, or anything really.
The coveted site is Merch by Amazon which opens your designs to the millions of Amazon customers, but they've got a long waiting list before you can join so you can practice your craft via RedBubble.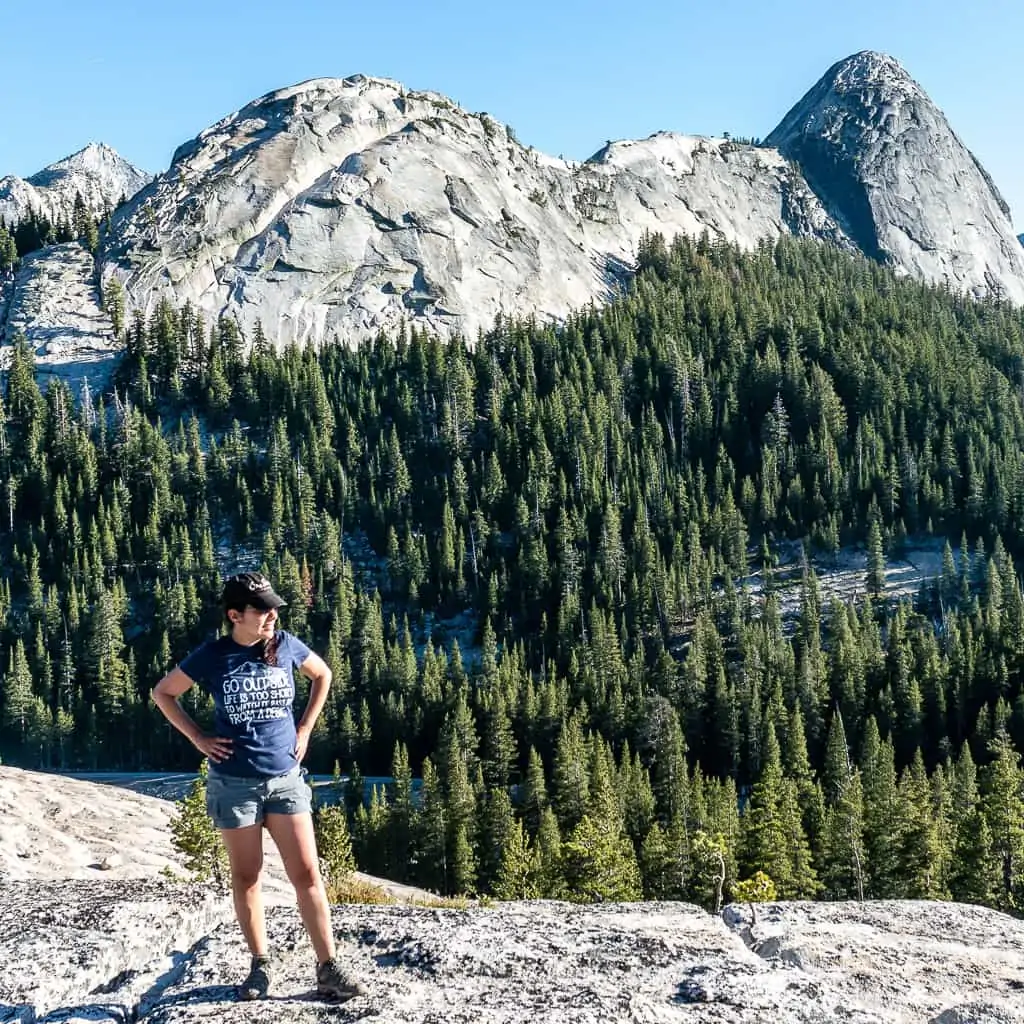 Lots of Different Side Hustle Jobs
This is but a sample of a few ways to make extra month, both online and locally, but there are dozens more ways you could find a way to make a little extra money on the side.
What are your favorite side jobs for extra money? Sound off in the comments below.
Share This
Did you enjoy this post on side hustle jobs? Please take a moment to share it on Facebook, Pinterest, or Twitter.
The following two tabs change content below.