This article may contain
affiliate links
. If you make a purchase through these links, I will earn a commission at no extra cost to you. Thanks!
Being able to travel and make money on the side while on the road can have a significant impact on your travel plans and the length of your trip. Even a modest side hustle income can start to dramatically impact the length of time you can spend traveling, even if it is just a part-time gig and relatively little income.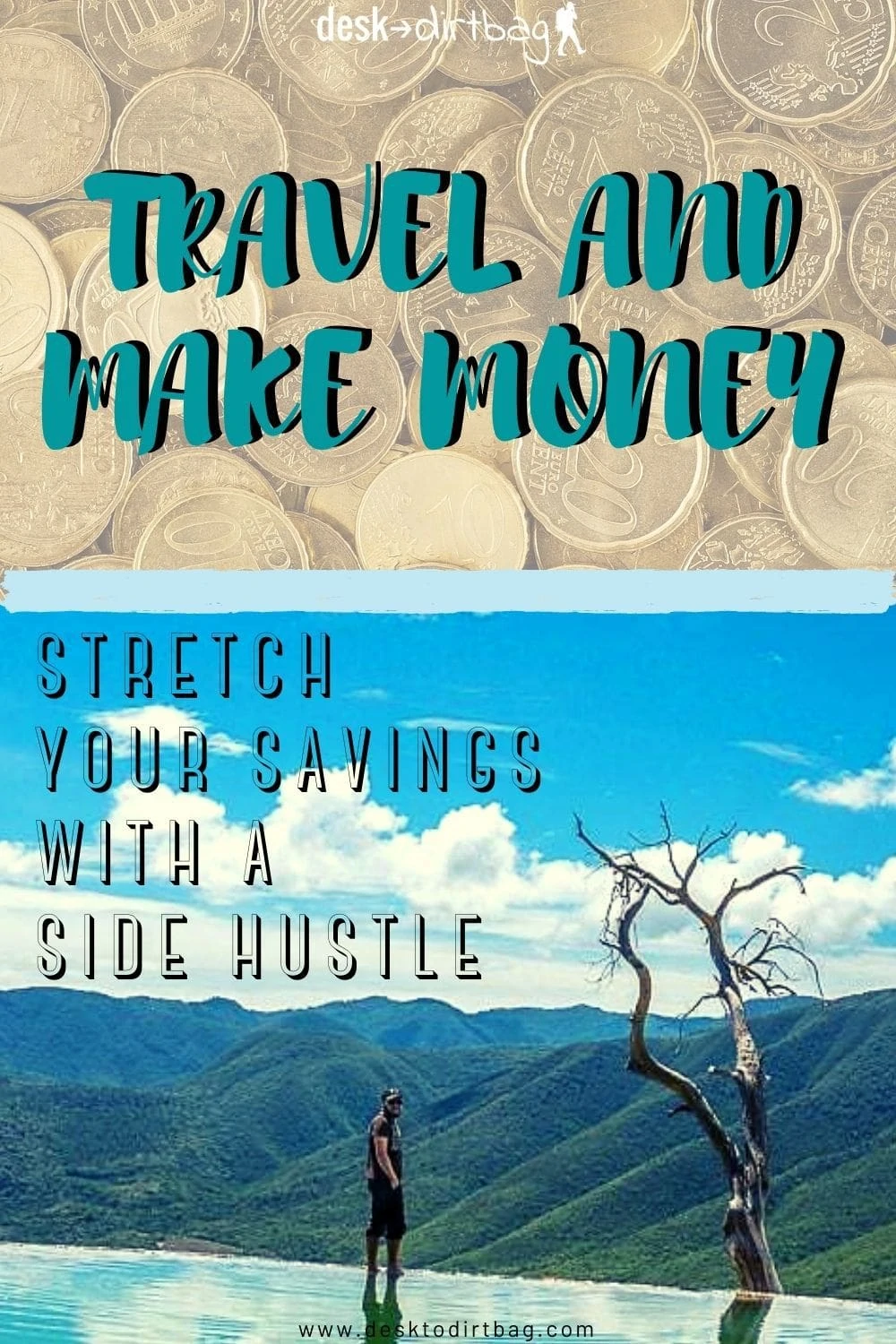 There are three primary financial factors you should look at when setting out on a long term trip and how you can maximize your time spent traveling and on the road. If you want to travel and make money and wonder how far it can take you, this article will help make it clear.
Travel Savings
How much money you have in the bank will, for most people, form the foundation for setting out on a long term trip (3+ months). So long as you don't have a mountain of debt, you should start socking away as much money as possible every month and get rid of everything now.
Some people have made the case that having a very minimal safety net will get those creative side hustle muscles working overtime, I'm not a big advocate of totally flying by the seat of your pants.
The best advice I can give is to always to save up as much as you can before leaving but don't fall into the trap of "If only I had X more dollars in the bank" and you just keep working and working and never leave.
There is never a perfect time to quit your job to travel, and there's never a perfect amount of money to have in the bank… You could always have more.
Read More: How to Save Money for Travel
Spending
Getting a really solid idea of your expected expenditures on the road is supremely important. The cost per month will obviously depend a lot upon the nature of your particular trip, where you are going, and your personal style of travel.
People can get by for as little as $600-700 per month in Southeast Asia, for example, which makes it a hot spot for aspiring location independent freelancers.
In Medellin, I was able to spend about the same by house hacking my living situation through Airbnb (something I talked about in my book, Big Travel Small Budget). Your costs will vary if you are bicycling across the United States or partying across the European capitals. Be sure to research online for an expense report from a fellow traveler doing the same sort of thing. I've published my own expense reports from time to time.
I was spending about $1,200-$1,500 per month while living in my truck and road-tripping around the West Coast USA for a year. Here is a road trip expense report for a month.
Average budget travel figures would probably clock in around $1,000-1,500 per month, which for most can be quite a bit less than most of us spend at home.
I recommend targeting $1,200 per month for budget travelers.
Read More: How Much Does it Cost to Travel the World?
Travel Side Hustle
This is where the magic happens to your long-term travel plans.
If you can earn money in dollars while keeping your expenditures low (while living in a truck or by spending in pesos or in other places where the dollar goes further) while earning even a little money on the side, you can draw your savings out for a much longer time.
You could use your newfound budget to live a slightly more luxurious lifestyle while you travel (fewer noodles and rice, more meat!), or you could use it to simply travel for a longer period of time (which I think is a better approach).
With the extra time you could simply see more and experience more things during your trip, and/or you could use this additional time to ramp up your freelancing or other income-earning endeavors (here's how I get paid to travel the world) to further yet extend your travels.
Perhaps indefinitely.
Warning: There is math ahead, but if you're a liberal arts major like me, I've included a super-fancy interactive calculator at the end so you don't have to do the calculations yourself!
Doing the Travel Math
Let's look at some simple travel math for savings, side hustle, and expenses.
If you have $5,000 in savings when you leave and are expecting to spend $1,200 per month on your trip, you can expect to travel for about 4 months, assuming you get some free plane tickets through travel hacking.
Add in a small, but not insignificant side income of just $200 per month and you'll be able to travel for a full five months, nearly a month in extra time on your trip.
Obviously the closer you can bring the expenditure and income numbers, the more profound the effect.
This is the benefit of the Travel Side Hustle.
Travel and Make Money (Side Hustle Calculator)
I put together this handy dandy interactive calculator so you can punch in your expected savings and expenditures and see how even a few hundred on the side would benefit you in terms of your travel itinerary and the possible length of your trip.
You can edit the figures in yellow to arrive at different results.
Your Homework
Next, you'll want to dive into more logistics about launching your side hustle and why you should do it, even if you don't have any immediate plans of setting out on a big adventure.
Your mission for right now is to begin brainstorming what skills you could offer as you travel, or what skills you'd like to learn in a short amount of time that you could offer.
Read Next: 40+ Side Hustle Ideas to Earn More Money
You may also enjoy reading:
Share This
Did you enjoy this post about how to travel and make money? Take a second to share it on Pinterest, Facebook, or Twitter. Thanks!
The following two tabs change content below.