This article may contain
affiliate links
. If you make a purchase through these links, I will earn a commission at no extra cost to you. Thanks!
This is a guest post from my buddy Robert Domingo as he prepared to embark on a 'Round the World trip. I asked Robert to tell his humorous story of how he got rid of everything for a life of travel. Though he may have reached "middle age", he's proof that you can still take on big, life-altering changes, set out to travel, and follow the path you want to… No matter what your age is. Take it away, Robert.
---
"It is easy to buy things. It's hard to sell things. And it's even harder to sell things at a profit."
– Jean Chatzky, Money Rules: The Simple Path to Lifelong Security
"The things you own end up owning you. It's only after you lose everything that you're free to do anything."
– Chuck Palahniuk, Fight Club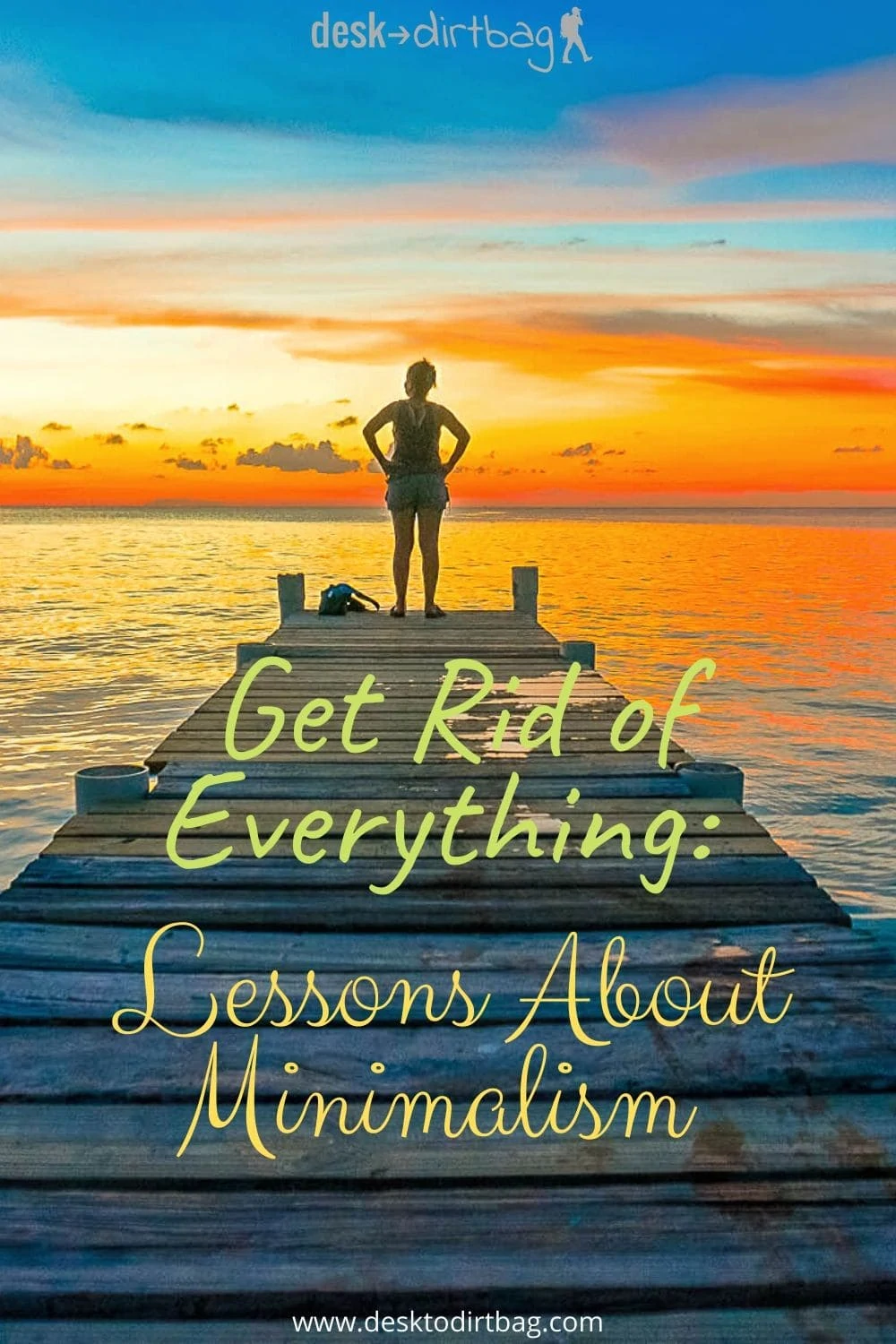 I couldn't believe this ponytailed, glasses-wearing nerd was trying to take advantage of me.
It was two days before I was scheduled to move out of my apartment. I had been trying to sell my organic mattress for over a month.
I paid $3,395 less than three years ago. With the bed frame, pillows, sheets, topper, and mattress pad, the total cost was $5,835.
Stupidest purchase I ever made.
My asking price for the mattress on Craigslist had dropped from $2,000 to $500.
Finally, I got a text from someone who couldn't pay $500 but could pay $200. I took it. Better than nothing.
She said her boyfriend would pick it up. Later that night I showed him the mattress.
Then he said something that made my squint my eyes and think "You gotta be effin kidding me!"
Maybe you want to live out of your truck and trade your 9-to-5 for climbing 5.9s.
Or you want to live out of your backpack and trade your cubicle for a round-the-world trip.
Either way, things are the enemy.
Every thing is something you have to try to sell on Craigslist, list on eBay, donate to Goodwill, recycle, throw away, give away, put into storage, ship across the country, or cram into your checked baggage.
Every thing weighs you down and takes up space in your pack, your trunk, and the back of your mind.
Start to take an inventory of your things now.
Imagine you're getting on a plane to Medellin in three days.
How would you deal with each thing?
Is it essential to your adventure?
If it's not essential, sell it, or otherwise get rid of it.
On the other side of your stuff is the freedom you've been looking for.
"I know my girlfriend said $200, but I just brought $100. If that doesn't work for you, we can talk about it."
The thought of rewarding this kind of slippery behavior made me sick.
I told him, "There's nothing to talk about" and kicked his ass out of my apartment.
The next day I paid $137 to watch my beautiful organic mattress get dragged down the sidewalk by the guys from 1-800-GOT-JUNK.
I dropped off my keys at my landlord's office and got on a cross-country flight with my things packed in a box, suitcase, backpack and jacket.
My mattress was a massive loss. However, getting rid of the mattress — my biggest thing — brought me one massive step closer to my round-the-world trip.
What is your "mattress," and how will you get rid of it?
About the Author
Robert Domingo is preparing for his first round-the-world trip starting in The Philippines. Follow his journey on Twitter at
@robertdomingo
.
More Reading About Minimalism
Share This
Did you enjoy this story about one man's attempts to get rid of everything? Please take a moment to share this on Facebook, Twitter, or Pinterest. Thanks!
The following two tabs change content below.