This article may contain affiliate links. If you make a purchase through these links, I will earn a commission at no extra cost to you. Thanks!
It's a pretty simple message: "Stop buying things and start doing things."
Our culture centers around consumption.
We buy certain brands or certain types of items for the status and recognition that we think it construes.
We buy bigger houses, only to fill them with more things.
Even our standard of living tends to be conflated with the GDP measurement of the country.
"We no longer live life, we consume it." — Your Money or Your Life.
But study after study over the past few decades has found that the purchase of these material goods isn't what makes us happy, it's the experiences we have that make us happy.
"This might seem counter-intuitive. After all, when faced with a trade-off between doing and buying, many people opt for the material good because "it will still be there" long after the experience would have been enjoyed. In one sense that's correct: The material good lasts while the experience is fleeting. But psychologically it's the reverse. We quickly adapt to the material good, but the experience endures in the memories we cherish, the stories we tell and the very sense of who we are." — Time Magazine.
"One reason that paying for experiences gives us longer-lasting happiness is that we can reminisce about them, researchers say. That's true for even the most middling of experiences. That trip to Rome during which you waited in endless lines, broke your camera and argued with your spouse will typically be airbrushed with "rosy recollection". — New York Times
Of course, we need some amount of money and things to meet our most basic needs: food, clothing, shelter, etc. But beyond that, the way we spend our money would be better spent on cultivating the types of experiences we love rather than just buying things to fill our homes.
Those of you who love to travel or explore the outdoors are probably nodding your heads in agreement. The actual act of doing the things we love is so much more fun than buying the things that allow us to do it, and thankfully the things us we buy are meant to get us out there doing.
Backpacks to carry our gear, tents to sleep in, mountain bikes to go riding.
These are all worthwhile things to spend money on, so long as you're out there actually using them.
But let's face it, the gear for travel and adventures can be very expensive indeed.
If you're out there and getting use from them and having fun, that's all that really matters. Thankfully, the relative cost of an item goes down with time, as well: a $300 tent used once might as well be a stay at the Hilton, but a $300 tent used hundreds of times over a few years is a much cheaper proposition–not to mention all the memories it provides along the way.
In some hobbies though, it seems like the gear and accessorizing can supersede the actual activity itself, a sort of consolation prize for not doing the activity. I've seen this in ultralight backpacking where people get wrapped up in the latest and greatest gear, the online forums, and cutting their baseweight, but they very rarely get out and actually go backpacking.
It is easy to convince yourself you need to go buy something else, something newer, something better, just one more accessory, just one more thing in your pack to make your trip easier, more successful, more something. But every time that thought pops into your head, take more than just a few days to really analyze whether that is true.
Maybe it is, maybe it isn't.
Be sure to remember that every dollar you spend on gear and gadgets is one less dollar you can spend on getting out on your adventures, making that dream trip come true, and having those experiences that will be cherished for the rest of your life…
I do know that it is far easier to find things to buy and add than find things to leave behind or get rid of.
Every long term traveler, whether they are backpacking around the world, thru-hiking the Appalachian Trail, or overlanding across the African continent, has that story of all the stuff they brought but didn't need or use.
"Perfection is achieved, not when there is nothing more to add, but when there is nothing left to take away." — Antoine de Saint-Exupery
What do you think? Do you feel that the consumer culture has consumed your hobbies? How have your own purchases either enhanced or detracted from your experiences? How do you balance the purchasing of things, with getting out there and doing things?
Help Spread this Message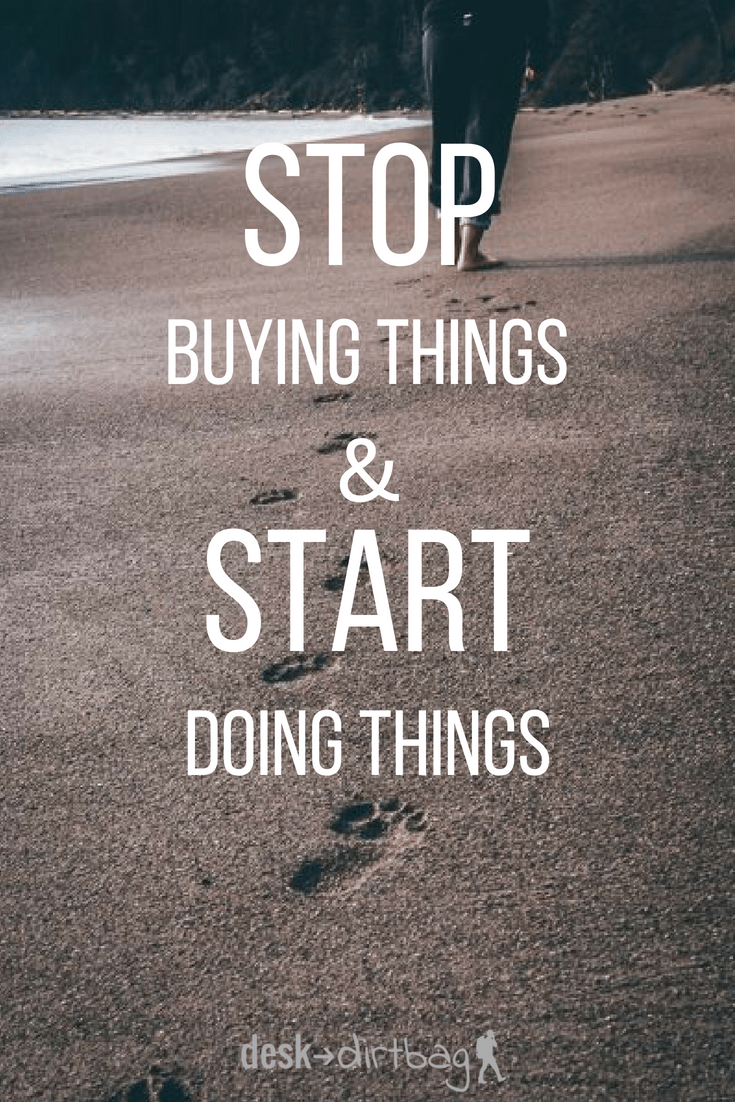 Click to Tweet
"Stop Buying Things & Start Doing Things"
You might also like…
Downsizing and Minimalism for Long Term Travel
Do You Have a Trust Fund? Thoughts on Financing Long Term Travel
The following two tabs change content below.