This article may contain
affiliate links
. If you make a purchase through these links, I will earn a commission at no extra cost to you. Thanks!
If you're planning a trip to Bogota, Colombia, then you may be wondering about lodging and where to stay. Let's face it, Bogota is an absolutely massive city and your perspective of your trip will largely be shaped by the neighborhood you stay in. Yes, you'll be able to travel to other parts of town to explore, but with traffic and congestion as it is, you'll want to make sure you have a good home base. I hope this guide about where to stay in Bogota will help you identify the best neighborhood for you and your stay.
And, of course, as you plan your trip, you need to decide what experience you want. Are you looking to be close to the top tourist attractions or things to do in Bogota for first-time visitors, or are you wanting to be in the heart of the nightlife and dining scene? Both are valid options, but both are quite far apart.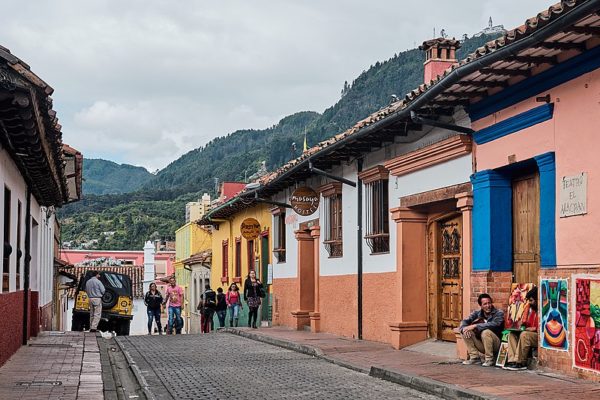 Alternatively, you may need to be close to the business district or the American Embassy, or want to be on the outskirts of Bogota, away from the mad rush. Check out the best hostels and best budget hotels in each of the neighborhoods for my recommendations.
There are a lot of different Bogota neighborhoods to choose from, so we're going to be running through the most popular choices among foreign travelers along with the pros and cons of each area to help you decide.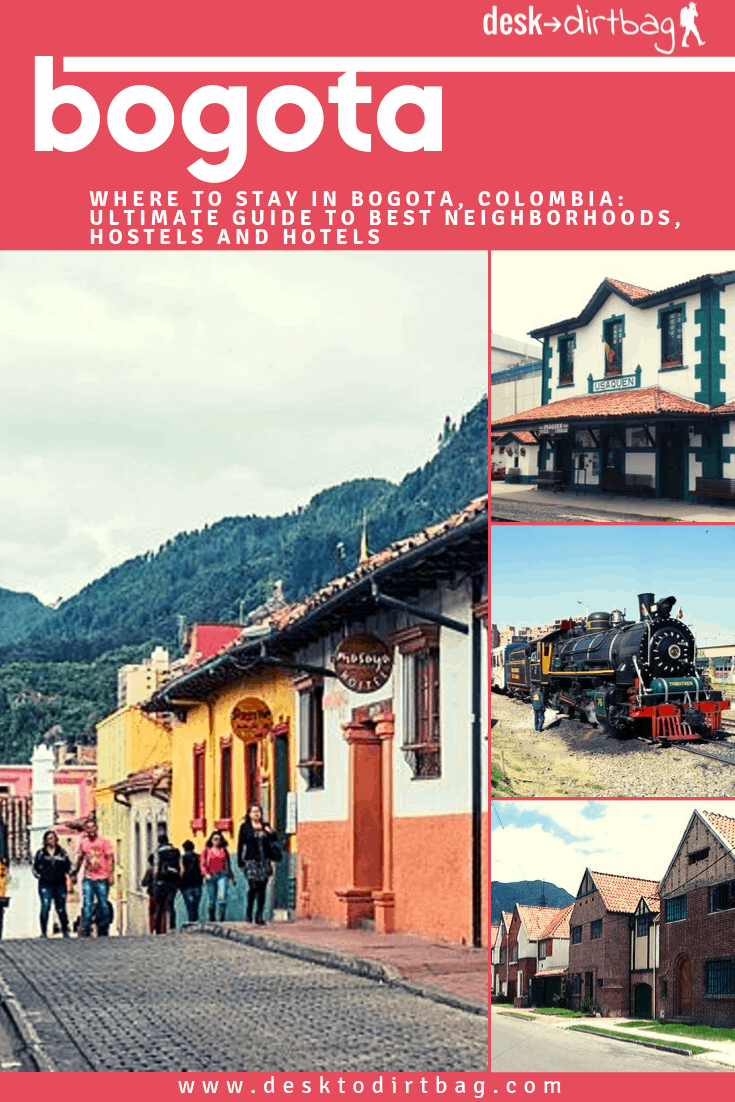 Usaquen
If you prefer to be a little further from the hustle and bustle, then you may want to consider basing yourself in the Usaquen neighborhood on the northern edge of the city.
While a bit quieter than other options on this list, this neighborhood still offers you a great food and dining scene, along with cool things to do. In terms of the dining, you'll find tons of options for both local Colombian dishes and international dining. Asian fusion food is famous in Usaquen. But, you can find other international cuisines like Chinese, Spanish, Italian, Indian and French.
Not only do you have a large selection of food choices, but there are restaurants at all price points for your budget. If you are looking to watch your pennies, another good food option is the street food stalls where you can also find reasonably priced authentic Colombian food.
The food is not the only thing that Usaquen offers its visitors. The flea market is perhaps one of the most popular things to do in Usaquen and it is also a great place to find those unique souvenirs. You can find everything from jewelry to hand-knitted sweaters. If you find something you like, do not be afraid to barter with the merchants. You may get a better deal on your trinket or souvenir.
For those with an interest in history and art, another point of interest to visit is Santa Barbara Church. The church is located right in the town square. The church has incredible historic architecture and displays 17th-century paintings from local Colombian artists.
When it comes to finding a place to stay in Usaquen, you have numerous options. Usaquen has both hotels and hostels available for your stay. The hostels are more affordable for those on a tighter budget (read our guide to staying in hostels for the first time).
#1 Hostel in Usaquen: Rua Hostel
#1 Budget Hotel in Usaquen: Hotel Maceo Chico
Parque 93
The Parque 93 neighborhood is quiet and relaxing. The main attraction for this area is the parks: both Parque 93 and Parque Virrey. In these spaces, you can find people picnicking, playing with their dogs, and or just hanging out and people watching. You'll find lots of different restaurants and cafes surrounding the park. So, you can find food quickly when you get hungry.
The restaurants in the area range from upscale dining to fast food. Your food choices in this neighborhood include crepes, waffles and a tater tot ice cream sandwich. If you decide to visit an upscale restaurant in the area, make sure to confirm whether you need a reservation.
When staying in Parque 93, you can keep yourself busy by touring the Gold Museum or the Botanical Garden. As you walk through the Gold Museum, you will see displays of the gold works from the pre-Hispanic era. If you are looking for another place to relax, the Botanical Garden can provide that. You can slow your pace by sitting next to the waterfall or sun clock in the Botanical Garden.
If you are looking for a more adult type of entertainment, you can find several breweries or coffee bars in the neighborhood. You can sit outside and have a drink while you watch the people pass by.
#1 Hostel in Parque 93: Music House Hostel
#1 Budget Hotel in Parque 93: The Click Clack Hotel Bogota
Zona Rosa or Zona T
The neighborhood of Zona Rosa (also known as Zona T) is the center of nightlife and activity for all of Bogota. So, if you are looking for a Bogota trip filled with entertainment and night-time fun, then Zona Rosa is the first place you should consider. If you stay here, then you won't miss anything because the night clubs, restaurants, and hotels are all within walking distance.
During the day when the nightlife quiets down, you can still keep busy in this upscale neighborhood. You may choose to do some street shopping or head to the shopping malls in Zona Rosa. The neighborhood also has designer shops for you to explore during your shopping excursion, although that's a bit too rich for my blood.
Zona Rosa is a popular spot for many visitors, but if you aren't particularly interested in the nightlife, then you may want to consider elsewhere.
#1 Hostel in Zona T: Mad Nomad Hostel
#1 Budget Hotel in Zona T: Top Tours Accommodations
Zona G
If you're a foodie, then you'll definitely want to make your home base in the so-called Zona G, which stands for Zona Gourmet. As you might imagine, this neighborhood is known for its food, and Zona G provides you with prestigious and upscale restaurants for your dining experience like.
Vitto Ristorante
Osaki Zona G Artisan
Rafael
You not only have the choice of prestigious restaurants but also countless specialty restaurants.
Zona G is a great place for foodies. But it is worth pointing out that there are few hotels or hostels in the area, although there are some great options on Airbnb. But if you are looking for a superb dining experience, and can't find lodging available, then you may need to look to another adjacent neighborhood for accommodations like the Zona Rosa or Chapinero Central.
Check out the #1 Hostel in Zona G: 12:12 Hostel and #1 Hotel in Zona G: Embassy Suites by Hilton Bogota
Teusaquillo
A great location for family visits to Bogota is the neighborhood of Teusaquillo. This neighborhood has plenty of suitable activities for kids. In Simon Bolivar Metropolitan Park, you can keep the kids busy on the playground, walking trails or out on the lake with a paddleboat, or you can hit up the Salitre Magico Amusement Park.
There is no shortage of museums in this neighborhood, such as the Kid's Museum or other local museums like the National Geological Museum, which sits on the campus of the National University of Colombia.
Although there are some great parks and public spaces, there are plenty of other interesting things to do here, including dining options. It doesn't sit too far from the El Campin Stadium, either, which is a popular spot for soccer games or the adjacent Movistar Arena which is popular for other big events like concerts.
This neighborhood is also home to the US Embassy, in case that tells you something about the area.
#1 Hostel in Teusaquillo: Hostal Casa Cubil
#1 Budget Hotel in Teusaquillo: Ayenda 1036 BOG Urban
Engativa
This neighborhood is great for the traveler's that are making a quick stop. Engativa is adjacent to the international airport, making it easy for travelers to come and go. Do not get the wrong idea, Engativa has quite a few things to keep you busy and not break your budget.
For the shopper, you can explore Titan Plaza's 200 stores or other shopping malls. If you are not in the mood for shopping, you're still within easy striking distance of the Metropolitan Park or Botanical Garden.
This is an okay option, but it is better suited to those who need to be close to the airport for an early flight out, rather than a place to base yourself for exploring all that Bogota has to offer.
#1 Hostel in Engativa: La Quinta
#1 Budget Hotel in Engativa: Hotel JB Mansion
Chapinero
Chapinero is perhaps the best all-around neighborhood in all of Bogota, particularly for those that don't need or want to be around the touristic center of La Candelaria or the downtown core of Santa Fe. While there is plenty of things to do in Bogota, the most interesting part of the city is everything that happens in between the tourist destinations. And Chapinero is perhaps the best example of that.
This area is one of the most diverse, cosmopolitan, and bohemian parts of the city. Here you will find an eclectic mix of entrepreneurs, local businesses, art, foodie destinations and so much more. This is a place that has been called a sort of hipster paradise, a mini Williamsburg, if you will, with coffee shops, lively streets, and an experimental vibe that isn't found elsewhere.
This would be my top pick for the best neighborhood in Bogota, not only because the area itself is interesting (particularly Chapinero Central and Chapinero Alto) but because it is centrally located between La Candelaria, the Zona Rosa, and is even within walking distance of the Zona Gourmet dining scene. Overall, this is a great pick.
#1 Hostel in Chapinero: Hobu Hostel
#1 Budget Hotel in Chapinero: Hotel Maceo 55
La Candelaria
For those that are looking for that historic charm and the center of tourist activities and things to do, then the colonial neighborhood of La Candelaria will be your top choice. Here in the heart of Bogota, you can visit several historic and political landmarks like:
– Bolivar Plaza
– The Palace of Justice
– Monserrate Hill
– Parliament of Colombia
– The Cathedral of Colombia
– The Museum July 20
– The Holy Chapel
– City Hall
– The Independence Museum
– The Gold Museum
On one side of the neighborhood of La Candelaria is the main downtown of Bogota, known as Santa Fe.
There are also a number of universities bordering La Candelaria which gives the neighborhood a younger population with a hipper vibe. To the south of La Candelaria is a more questionable area which can become problematic at night.
#1 Hostel in La Candelaria: The Cranky Croc Hostel
#1 Budget Hotel in La Candelaria: Hotel Casa de la Vega
Santa Fe
Keeping busy in Santa Fe is easy because the activities are plentiful since it is considered downtown. If you choose to keep to indoor activities, you can explore the many museums in the neighborhood. Some of your nearby museum choices include:
– National Museum
– Gold Museum
– International Emerald Museum
– Military Museum of Colombia
– Museum of Modern Art
If you want a change of pace, then you can visit the District Planetarium.
If you are looking for a break from the big city, then you may want to consider some hiking. Monserrate Mountain stretches above Santa and La Candelaria and it overlooks the entire city of Bogota.
The view is truly spectacular, and you do not want to miss it… If you don't feel like hiking, don't worry, you can take the cable car or a funicular to the top.
#1 Hostel in Sta. Fe: El Pit Hostel
#1 Budget Hotel in Sta. Fe: Hotel Classic
Best Neighborhoods in Bogota
I hope that gives you a better idea of some of the main areas of Bogota. Of course, you may still be wondering what the best neighborhood is for you, so I thought I'd put together my own personal ranking and recommendations here.
Chapinero
La Candelaria
Parque 93
Those are the main areas where I would consider. If it is your first time to Bogota, you may just want to stay in La Candelaria since that is where the main attractions are. You can run through the majority of the top things to do in Bogota in this area in a few days.
If you are staying longer, or don't mind being a little further away from that zone, then Chapinero and Parque 93 are both excellent options. These neighborhoods are best suited to those spending a bit more time in Bogota and they offer an almost endless number of local restaurants and businesses to explore and things that go beyond the typical tourist attractions.
I'd consider the Zona Rosa/Zona T and Zona G to be runners-up in terms of places to base yourself. Honestly, all of these neighborhoods are great in their own right, you just want to make sure that your desires and expectations align with what it has to offer.
In any case, I hope that this guide helped you determine the best fit for you during your stay in Bogota. Don't miss our other comprehensive resources when traveling to Colombia ensuring that you plan an epic and unforgettable trip.
Traveling to Bogota, Colombia soon? Book your lodging on Booking.com now to save and don't miss our guide to the best Bogota hostels. If you plan to stay longer, I highly recommend looking for a place on Airbnb. And don't forget to international travel insurance for Colombia that will help protect you against illness, injury, and theft. I use and recommend World Nomads for its combination of coverage and affordability.
Read Next: 12 Best Hostels in Bogota: Where to Stay in the Best Neighborhoods
Share This
Did you enjoy this post about where to stay in Bogota? Take a second to share it on Pinterest, Facebook, or Twitter. Thanks!
The following two tabs change content below.
Desk to Dirtbag is one of the leading budget adventure travel blogs online and is dedicated to helping its followers achieve their travel dreams through inspiration, information, and actionable steps. If you are new to the site, be sure to
Start Here
.
Latest posts by Desk to Dirtbag (see all)