Some articles on Desk to Dirtbag (and just what is a dirtbag, anyway?) contain affiliate links, meaning that if you make a purchase through these links, I may earn a small commission (at no extra cost to you!). Thank you for reading!
---
Many people traveling to Colombia will wonder whether or not they should visit Bogotá, Colombia. While it is a typical sprawling capital city of a Latin American country with a chaotic atmosphere, where millions of vehicles are jammed into the gridlocked roads and highways and where a veritable sea of people from all corners of Colombia come to the big city to improve their lot in life. While the chaos and sheer humanity can be overwhelming, it's precisely for that reason that makes it such a dynamic and interesting place. One thing is certain, there are many things to do in Bogota, Colombia, and you won't be left bored here.
Bogota is a cosmopolitan city, consisting of around eight million people concentrated in a valley across 613 square miles, making it the largest and most populated city in Colombia. Many people from all over the country (as well as foreigners from around the world) come to Bogotá to look for better work opportunities or to study in the prestigious universities.
However, despite the numerous problems that arise with cities of this size in a developing country, you can see many things that set the city of Bogotá apart from some of the other boring cities that I've visited in my lengthy travels through Latin America. One thing I love about the city, is how very multicultural it is, but it still retains some characteristics that give it its own identity.
Anyways, here are but a few of the many recommendations for things to do in Bogota and which will help you make up your own mind about this bustling big city.
Monserrate Hill
It is the symbol par excellence of the city. Monserrate is a hill that stands out at 10,341 feet (3,152 meters) above sea level, on top of which there is the church of the Fallen Lord (Señor Caido) that inspires many pilgrimages due to the miracles that have been attributed to it.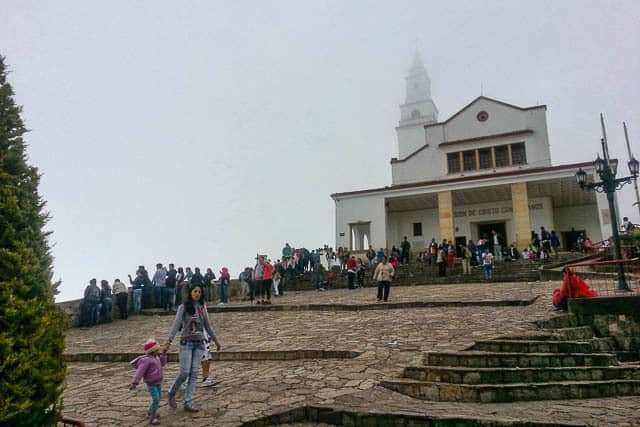 In addition there are colonial style restaurants with national and international cuisine and sales of handicrafts and typical foods like the very famous, hot chocolate with cheese, which is very characteristic of the city (don't miss my huge guide to Colombian food).
You can climb the entire hill on foot (a climb of almost 500 meters), by funicular (it's like a tram) or cable car (I personally like this one more). You can find schedules and rates here.
Visiting Montserrate will give you an unparalleled view of the city and will keep you busy for at least half a day or almost an entire day. On the cloudy day when I visited, we couldn't even see the edge of the city.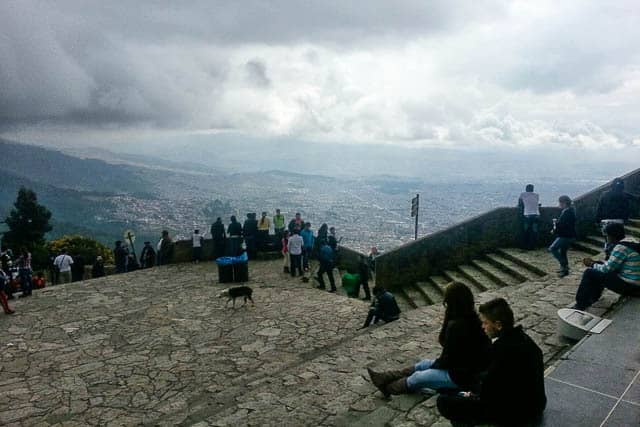 If you go to Bogota and do not go to Monserrate, it is as if you had not been. I consider this to be a must do.
Neighborhood of La Candelaria and Church of La Candelaria
La Candelaria is located in the center of the city and its colonial style makes it very interesting in its architecture on a cultural and historical level, making it ground zero for most backpacks and foreign travelers (while most stay here, you might want to check out this guide to choosing the best neighborhood in bogota).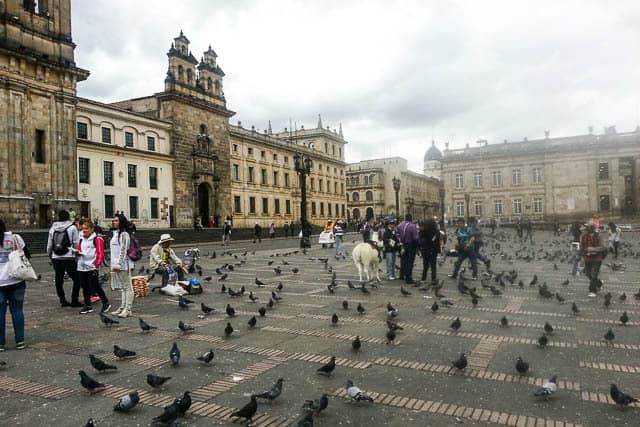 Basically it's like Monserrate, you've got to visit La Candelaria, not only because it is the most traditional neighborhood of the city, but also because it is where you will find the Gold Museum, the Church of Candelaria, Plaza Bolivar, the House of Nariño (presidential house), the Congress, but also many museums, churches, restaurants, cafes, cultural houses, theaters and more.
It's a place where you can just walk around, exploring aimlessly, or hop on one of those organized tours, like one that tours all the graffiti art or goes by bicycle. But if you aren't into organized tour, the next best thing is to explore Bogota like a local. If you don't know anyone there, I'd recommend contacting this company to have a local Colombian plan your trip. I've organized a 5% discount with them for all my readers.
There are many affordable and cool hostels here, so it makes it a logical place to stay in Bogota, if you want to be in the heart of it.
Gold Museum
The Museum of the Bank of the Republic is located in the La Candelaria neighborhood, right in the center.
It is the museum with the largest gold collection in the world and was declared a National Monument. It has more than 30,000 pieces of gold and more than 50,000 pieces including ceramics and textiles from the pre-Columbian period by some of the most important pre-Hispanic cultures of the region.
It also has coffee shop and a restaurant, thankfully, because it will definitely take you all day to cover this massive museum. It is something that no museum lover can miss.
You can see schedules and rates here.
Chapinero
Another of the traditional and most popular areas of the capital, Chapinero is a neighborhood located in the north of the city.
There you will find the best and most varied restaurants, cafes and bars, El Teatro al Aire Libre de Bogotá, Plaza de Mercado de Paloquemao, museums and more.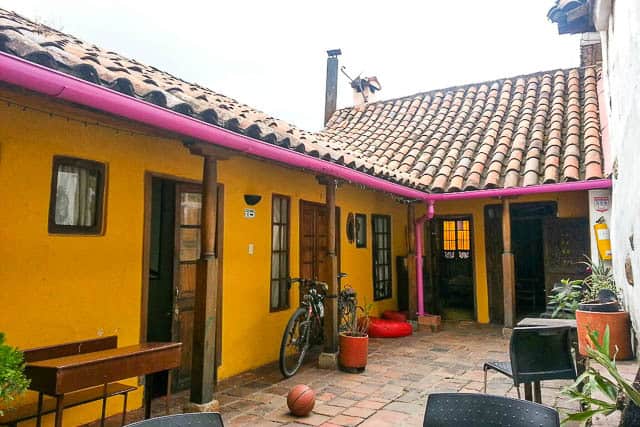 The area is bohemian and youthful, because it houses a large university population. You can walk its streets and enjoy the many cultural and gastronomic spaces of the area.
If you're staying long term in Bogota, or want to get away from the backpacker mecca of La Candelaria, then Chapinero should be at the top of your list for an eclectic, interesting, and hip neighborhood.
Ibero-American Theater Festival
This theater festival has been happening for nearly 30 years since it first began and has shows over the course of approximately two weeks. The festival has thousands of invited artists from around the world and hundreds of plays performed in theaters with tickets for every budget, including many free street performances.
During the festival they turn almost the entire city into one of the most important cultural spaces worldwide. If you don't want to miss this important cultural event, then check the calendar because it takes place every two years around March and April.
Simon Bolivar Metropolitan Park
It is the largest and most important park in the city, it is a space where concerts are held, since it has an open-air theater; but its most important function is to provide a space for recreation.
Here you can play sports and relax in its green areas and lakes that cover an area of 280 acres, and also contains many tracks for cycling and jogging and walking.
It is also particularly popular on Sundays, or where nine-to-five workers enjoy their free time like lunch breaks, along with El Virrey Park, located near the Zona Rosa, which I will discuss later.
Eat Ajiaco
Ajiaco is one of the most popular and traditional typical dishes of Bogotá and Colombia.
It's basically like a really delicious chicken soup with a few differences; but I'm not going to give you any more details because you definitely have to try it yourself. It is unforgivable if you do not try ajiaco in Colombia, and it is delicious!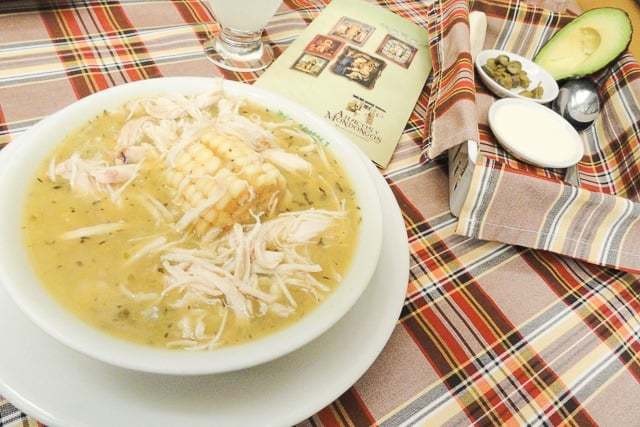 In the following link there is an article in Spanish with 5 restaurants that offer the best ajiacos in the city, according to those who know and know more about the city click here.
Zona T
The Zona T is also known as the Zona Rosa, is the upscle and luxurious part of Bogota, where you will find shopping centers, 5 star hotels, high end bars, restaurants, clubs and all the best nightlife of the capital.
It is in the same area is the Parque de la 93 and El Virrey, with many options to eat and party (rumbear in Spanish). While prices may be higher than normal in Colombia, it will still be comparatively cheap since you're in Colombia and paying in pesos.
If you want to explore this part of the city, especially at night, I recommend Uber as a good way to get around.
Botero Museum
The Botero Museum is located in the La Candelaria neighborhood, where you can find many works by Colombia's most famous artist, Fernando Botero. His works often depict plump, fat figures, people, and still life and he is famous around the world.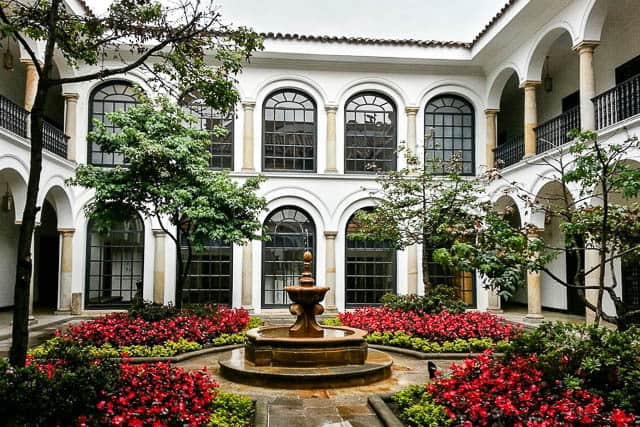 Many of the works were donated by Botero to the Banco de la República, which make up the bulk of the museum, but there are also many other renowned international artists.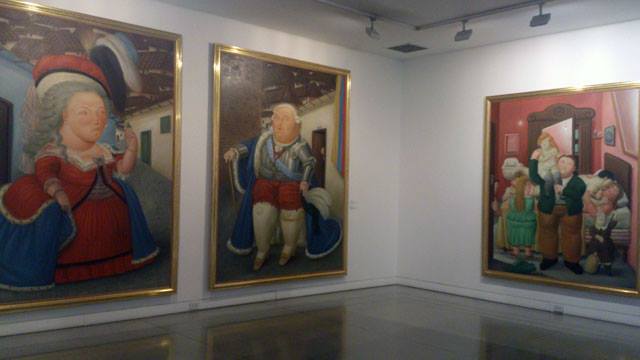 And best of all is that entry is free! See the museum schedule here.
National Museum of Colombia
If you want to learn more about early human history in Colombia, this is the place. Here you will find thousands of archaeological pieces of the different ethnic and cultural groups of the country during pre-Hispanic times, as well as the works of artists from more recent times.
The entrance fee is super economical and you can find the schedule here.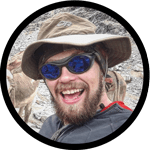 Wish you could travel more and more affordably? Click my face to grab a free guide and other resources that will show you can travel more affordably and find more freedom.
Colpatria Tower
If you were in love with the view of Bogotá from Monserrate, you can enjoy another opportunity from the viewpoint of the Colpatria Tower in the middle of town.
With 49 floors and a height of 561 feet (171 m), it is the second tallest building in Bogota and the third highest in Colombia, and offers a panoramic 360 degree view of the city, all for only 7,000 Colombian pesos (a little over $2).
Do you want to know the schedule? Click here.
Usaquén
The town of Usaquén, which is simply a northern area of the city close to the Zona Rosa, is composed of several high-end neighborhoods.
It is characterized mainly by offering several options of shopping centers, good restaurants and bars, and is a popular place for many to enjoy a walk on a Sunday afternoon and tour the streets of its colonial center.
Laguna de Guatavita
This lake is just over 2.3 square miles, sits in the municipality of Sesquilé 35 miles (57 km) north of Bogotá.
The lake is the place of origin of the legend of the golden city of El Dorado, a place where the natives of the Chibcha culture performed rituals and had many gods made out of gold; and which is why it has been the epicenter of numerous expeditions to search for these valuable relics.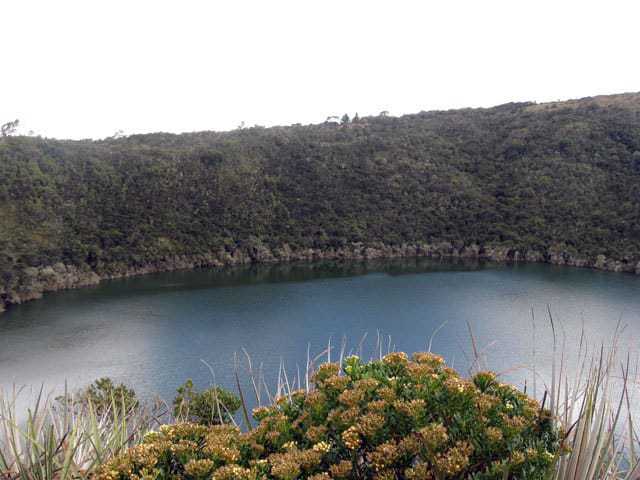 The place offers a path to relive the times of old and also allows you to see the distinct fauna and flora typical of the páramos of Colombia, which sit above 10,000 feet (3,100 meters) above sea level and where you will find the frailejones plants.
You can enter the park from Tuesday to Sunday and Monday holidays from 8:30 a.m. at 4:00 p.m. For more information and other recommendations, enter here.
Tequendama Falls
This 515 foot waterfall on the Bogotá River is located 18 miles (30 km) southwest of the capital in the town of Soacha. While the waterfall is towering, please note that the water is not super clean, since it carries the waste from a small part of the city.
Although it was once a much larger waterfall in terms of volume, complete with a lot of amazing fauna and flora making it a natural tourist attraction for a long time, the pollution of the Bogotá river and the reduction of water for hydroelectric plants before the falls have greatly reduced its flow and hence its primary appeal.
During that touristic golden age there was the construction of an old luxury hotel, now abandoned and converted into a museum, where ghosts are now their only guests, according to popular legend. These stories are fueled by the number of suicides that occurred at the beginning of last century at the falls.
Its surrounding wooded landscape helps give it a more mysterious and haunting atmosphere as well.
In short, Tequendama Falls is a place that generates conflicting opinions, some recommend it and others do not like it. At the least, it is a look into the negative impacts that man has made to some of our most spectaculr natural resources.
The good news though, is there are now projects for the recovery of the falls and surrounding area. I tell you about the good and the bad so that you can decide yourself whether to go or not.
Salt Mines of Zipaquirá and Nemocón
While Zipaquirá is more famous and deeper than Nemocón, they both offer an appeal for tourists.
The salt mine of Zipaquirá is where you can find the very famous salt cathedral. It is located in the municipality of Zipaquirá, two hours from Bogota if you go by the tourist train in the town of Usaquén or one hour by bus. It is suppedly the largest salt reserve in the world, the Salt Cathedral sits 590 feet (180 m) underground where you can take guided tours in different languages.
If you want to know the entrance fees, check it out here.
The Nemocón mine is half an hour from Zipaquirá and doesn't receive quite so many visitors but both places offer a strange atmosphere with colorful lighting and water mirrors that make them magical. Visiting the salt mines is a must do.
National Park of Chingaza
For those seeking a dose of nature, this 50,000-hectare national park is located in the Andes, 4 hours north-east of Bogotá between the department of Cundinamarca and the department of Meta.
It attracts travelers for the diversity of fauna and flora, as well as its many lagoons. If you can, it is best to visit in the dry months of December to March, but to go you must make a reservation 15 days in advance, since access is restricted.
You can only reach the car by private transport (there is no public service). It offers shelter, camping areas and 6 trails, but a simple day tour can be done in a car.
To know more and know the recommendations to go, you can visit this page in Spanish and this one.
Park Jaime Duque
This is a fun recreational park and cultural attraction for all ages, the highlight of which are the replicas like the Taj Mahal and the seven wonders of the ancient world like the Pyramids of Egypt, the statue of Zeus, the Lighthouse of Alexandria, the Tomb of the Mausoleum, the Temple of Artemis, the Hanging Gardens of Babylon, and at the entrance is the statue of the Colossus of Rhodes, among many other attractions.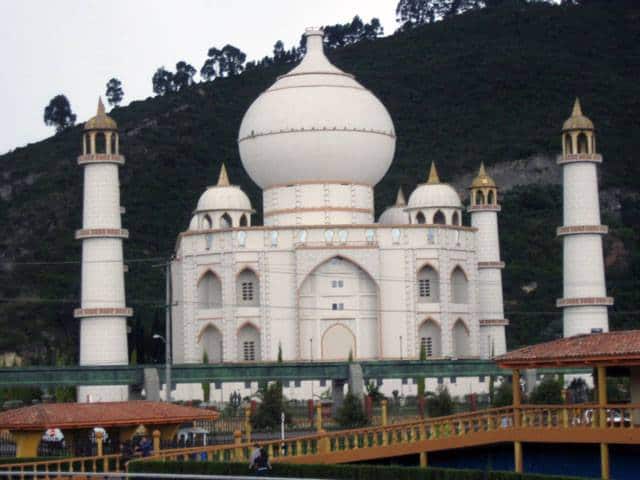 It is located in Tocancipá on the outskirts of Bogotá, around 45 minutes along the Autopista Norte. It was founded by Jaime Duque, one of the pioneer pilots of aviation in Colombia. The best thing is that they use the profits of the park to help many different charities for children and the elderly in the country.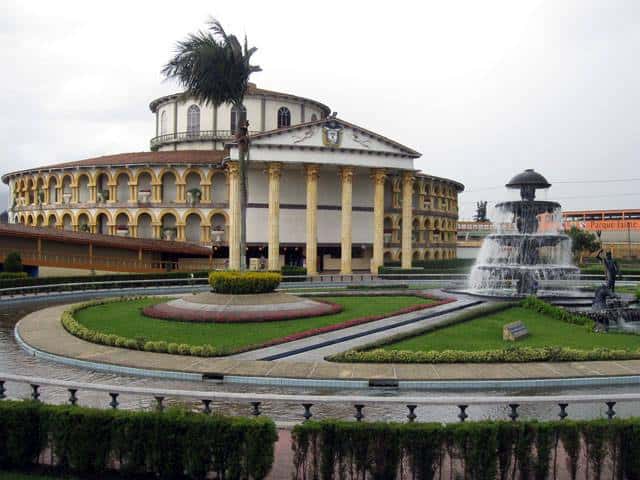 It is a really interesting and entertaining experience for both children and adults. To see the schedule and entrance fee, click here.
Historical Museum of the National Police
Recommending a police museum might seem strange, but it was a cool place I stumbled across while in Bogota. You get a personal, guided tour by an active police officer who will explain various historical pieces. I found it interesting at least.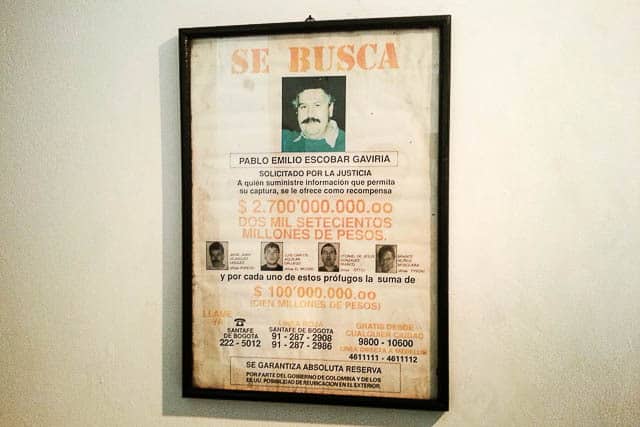 Besides, it is a source of pride for the police to explain what their institution represents and the role they have played in stopping some of the unfortunate events that have impacted the country throughout history, for example Pablo Escobar.
It is located in the La Candelaria neighborhood and is a one-hour guided tour, either in Spanish, English, French, or Portuguese, free from Tuesday to Sunday from 9 am to 5 pm.
Read More: Pablo Escobar Tours in Medellin
Rock 'n Roll
Bogotá is the epicenter of local and international rock concerts, so if your visit coincides with a big concert, you should take advantage of it! There are tons of local establishments that play rock, rather than salsa or reggaeton like in other parts of Colombia.
Also for more than 20 years, around the month of July, an international rock festival is held, called Rock al Parque, it is the largest free outdoor festival in Latin America and the third largest in the world.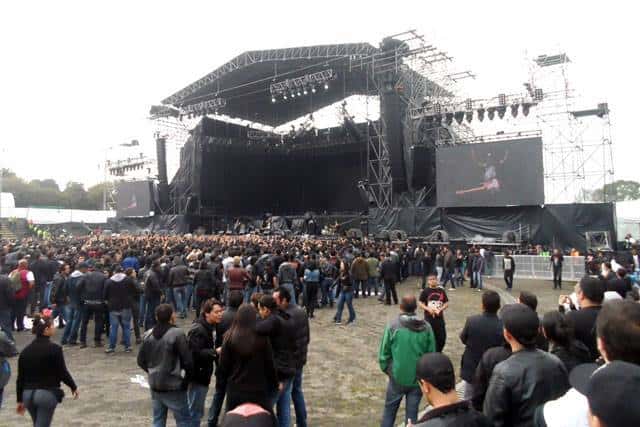 There are three days of concerts with programming that differs each year, the groups are of great quality and genres such as rock, punk, metal, reggae, and ska, however, be aware that since it is an event organized by the city, alcoholic beverages are not allowed. In this link you will find the dates and the programming.
Many More Things to Do in Bogota
What most differentiates Bogotá from the rest of the country is the sheer amount of free or affordable cultural spaces, museums, theaters, libraries and events, as well as the restaurants of national and international cuisine, bars (I love the large number of rock bars that there are), cafes, and even shopping centers.
There are a million things to do in Bogota, and this means that even if you stay for a long time, there is always something to explore and you won't be bored. The variety of options is unlimited, so much so that even an article this long only skims the surface of everything to see and do.
If these incredible recommendations convinced you and you decide to go to Bogotá, do not forget your sweater and sunscreen, it is a city located at 2,640 meters (8,660 ft), which gives it a cool climate with an average temperature of 60 degrees F (15 ° C). Although it can be cold and gray, when the sun comes out it can get really hot this close to the equator and you will burn quick at this altitude.
In terms of safety in Bogota, it is your standard safety issues in a big Latin American city, no different than Mexico City, Lima, or Buenos Aires. I have been through a few times and I have never had a problem, but be sure to follow the basic safety tips like never flash expensive things, never travel with tons of cash, be aware of your surroundings, be careful hailing taxis on the street, and so forth.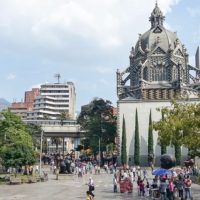 Colombia Travel Tips
Important tips and resources for planning an amazing trip to Colombia, based on my years of traveling and living in Colombia.
Tools
Notes
I hope this helped you plan your travels in Colombia! I know it can be a struggle to find accurate and on the ground information when traveling to a new place like Colombia, which is why I started writing so extensively about it!
If you have any questions about Colombia, budget travel, or anything else shoot me an email at ryan@desktodirtbag.com.
(I love getting questions! That is how I get ideas for my blog posts and what to write about!)
Recommended Products
As an Amazon Associate and member of other affiliate programs, I earn from qualifying purchases.
Share This
Did you enjoy this post about things to do in Bogota? Please take a moment to share it on Facebook, Pinterest, or Twitter.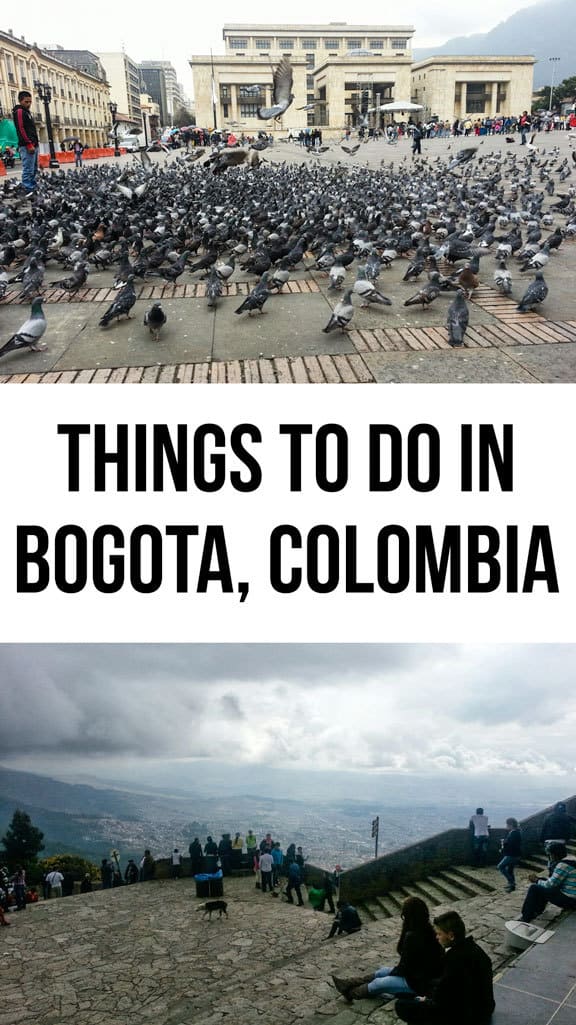 The following two tabs change content below.