This article may contain
affiliate links
. If you make a purchase through these links, I will earn a commission at no extra cost to you. Thanks!
Without a doubt, the Museo de Antioquia is a must-visit and one of the top things to do in Medellin, Colombia. This is the best of all the museums in Medellin and is one that reflects the lifestyle, history, and culture of the place and its people. But beyond that, it is also home to the beautiful and impressive collection of art from Colombia's most important artists such as Fernando Botero and Pedro Nel Gomez, along with a handful of others.
The Museo de Antioquia is also a testament to Medellin's dramatic change over the years in this city that has been defined by the transformation. You can see in and around the city the change that it has brought to the sectors of the community here. Why not also try the best tours and activities to do in Medellin? I am sure you will have a blast!
Let's take a closer look at this amazing museum and see why it is one of the coolest tourist attractions in Medellin…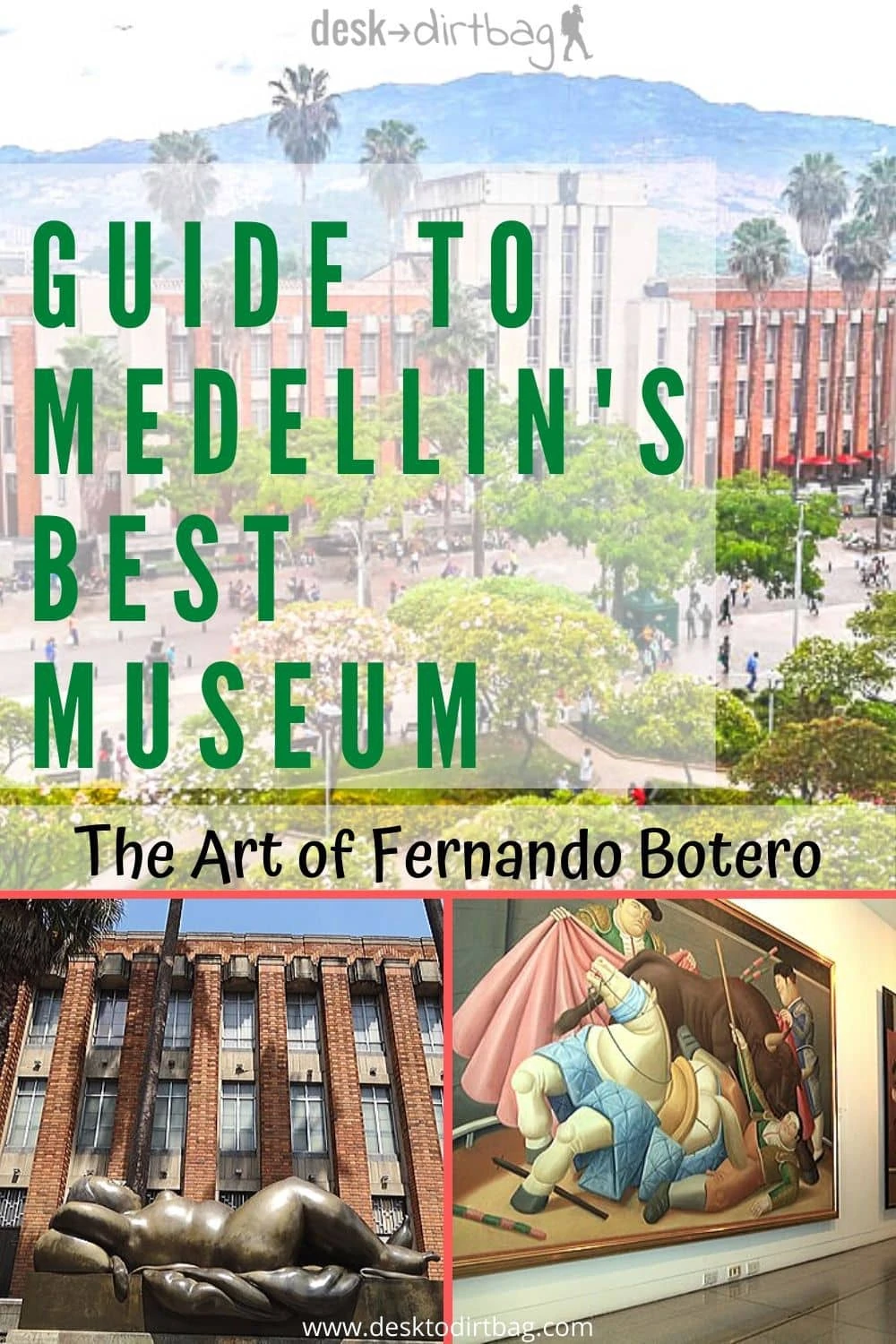 History of the Museo de Antioquia
This museum has been in existence since 1881 when a group of locals named it the Zea Museum in honor of Francisco Antonio Zea (Vice President of Colombia under President Simon Bolivar). It was first located at the Library of the Sovereign State of Antioquia. The museum was renamed more than once and even closed for some time because they turned the building into the official palace of the Governor of Antioquia.
The museum reopened through the work of several Medellin citizens who are members of the Honor Society for the Betterment of Medellin. These individuals were concerned that the city does not have its own museum.
The museum tried to buy one of the works of Medellin's own son and world-famous Fernando Botero, who is renowned for his plump, fat, or disproportionate figures. They asked if they can pay him in installments since they cannot afford his works but wanted to have one of his works displayed in the city museum. In 1978, Fernando Botero instead donated his works and suggested the name Museo de Antioquia which the Governor of Antioquia also accepted.
This important museum is now located in the heart of the historic center El Centro, situated prominently in Plaza de Botero. The easiest way to get to this museum is via the Parque Berrio metro station.
Is it really worth the visit?
While the entrance fee is cheap, many visitors may be wondering what they can see inside this museum? Or is the Museo de Antioquia really worth the visit?

First of all, this museum was the first museum in Antioquia and the second in all of Colombia, not only that, but it has thousands of important objects of history and culture of the city (and country) making it the most important museum in the region. And second, thanks to Fernando Botero, this museum houses the large collection of works by Botero who was born and grew up in Medellin.
Works Featured in the Museo de Antioquia
Of course, the museum is most famous for its collection of works by Fernando Botero, but it is by no means the only thing to see in this museum.
Life and Works of Botero
Fernando Botero, Colombia's most famous artist, donated a total of 118 works of art where are displayed in 12 separate rooms, some of these are from the artist's private collection. Whether you know Fernando Botero by name or not, you have probably seen his paintings or sculptures featured in museums or in art books over time.
His signature style in art is painting or sculpting all of his subjects may it be people, animals, still life or life scenes in exaggerated proportions, giving his subjects "fat" forms in more layman terms. It was his study and exploration into proportion, size, and volume which has characterized his work throughout the decades.
History and Culture of Colombia
The museum has 17 rooms for the permanent collection which includes Pre-Columbian, colonial, 19th-century paintings, Colombian art, and Contemporary art.
It is also home to a library of documents, flags, weapons from the time of the Colombian independence. For the Pre-Columbian era, the museum also showcases some rocks, minerals, coins, and other items from that time.
Library of Documents and Films
Talking about history, this museum has volumes of books and documents about history, culture, art, and science. It also houses a vast collection of the first publications in the country, teeming with information and the recorded history by the print media.
It also has films and other library resources about the history of Medellin and Colombia. One can also join workshops and training in this museum under the School of Arts.
The History of Art of Colombia
There are 500 works of art from the different regions of Colombia from the 19th and 20th centuries. Photographs, drawings, cartoons, paintings, and sculptures are showcased to reflect the art and culture of this amazing country.
Before and During the Spanish Conquest
More than 200 items in La Sala de las Tres Culturas (The Room of Three Cultures) are deemed to be the best reflection of the culture before the Spanish conquistadors came to Colombia. This gallery also showed some of the religious art during the Colonial period.
Tips for Visiting the Museo de Antioquia
A little tip for you, don't miss out on getting the little handheld guides available at the museum entrance in order to learn more about the art displayed within, also available in English. The highlight of the museum, as mentioned, is the permanent collection of Botero's works, available on the top floor, so I'd recommend starting here first.
On the first floor, you will also see a small café (the Laboratorio de Café is one of the best coffee shops in Medellin), restaurant, plus a great little gift shop where you can find some high-quality souvenirs to take back home.
Either before or after visiting the Museo de Antioquia, do walk around Plaza de Botero outside for a bit to marvel at the 23 bronze statues. This walk in the plaza will be a beautiful capstone to your Medellin history and art tour in the museum.
And of course, do not forget to look at the amazing architecture of this museum, but for a better view of Plaza Botero and the Museum, head across the plaza to the Palacio de Rafael Uribe Uribe (the pretty checkerboard building that looks like a church) where you can enter for free and head up to the upper floor for great photo opportunities of the area, including the metro rail.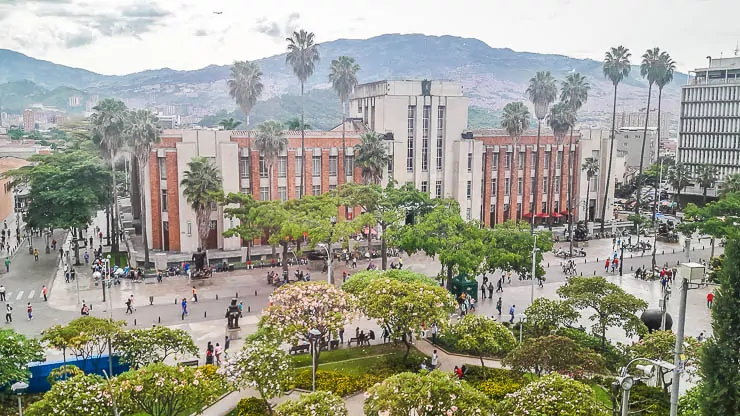 Planning Your Visit to the Museum
How to get to the Museo de Antioquia:
Quickest and easiest way is via the Parque Berrio Metro Station right on the main line.
Location of Museo Antioquia in Medellin:
CRA 52 #52-53
TEL: (574) 251-3636
HOURS:
Monday, Wednesday, Thursday & Friday (9:30 a.m. – 5:00 p.m.)
Saturday, Sunday & Holidays (10:00 a.m. – 4 p.m.)
Tuesdays – Closed for maintenance
PRICE:
$5000 pesos – General Admission
$3000 pesos – Students holding a current ID and those who are over 60 years old
Planning Your Trip to Medellin
Exploring all that Medellin has to offer? Be sure not to miss my ultimate guide of things to do in Medellin or read more about where to stay in Medellin, including the best Medellin hostels, to plan an excellent trip. If you're traveling throughout Colombia, don't miss my detailed guide to traveling to Colombia.
Read Next: Guide to All the Museums in Medellin
Travel Insurance
Don't forget to purchase travel insurance for Colombia to protect yourself against theft, sickness, and injury. I use and recommend World Nomads for the best combination of affordability and coverage.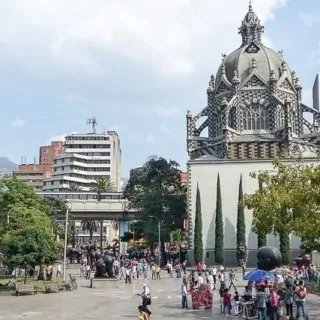 Colombia Travel Tips
Important tips and resources for planning an amazing trip to Colombia, based on my years of traveling and living in Colombia.
Tools
Colombia Trip Planning
Instructions
Book a cheap flight to Colombia with Momondo, or better yet, start travel hacking so you can fly for free. Traveling between major cities is much better by flying, trust me.
Plan a rough itinerary and how long you will spend at each destination. Use an itinerary planning service for custom recommendations and pick up Lonely Planet Colombia.
Work a little every day to teach yourself Spanish, you'll want to know as much as possible before you arrive.
Book cheap accommodation in advance, at least for the first destinations -- For hostels use: Booking, for cheap hotels use: Hotels.com, for apartments use: Airbnb.
Reserve your on the ground tours and activities through Get Your Guide.
Purchase travel insurance for Colombia with SafetyWing to protect yourself from illness, injury, and theft while in Colombia. VERY important. And be sure to read my article: "Is Colombia Safe?" for my honest opinion and safety tips.
Sign up for my free emails about planning a better trip to Colombia, and be sure to check out my comprehensive guide about traveling to Colombia.
Learn more money-saving tricks with my top budget travel tips.
Put together your Colombia packing list.
Enjoy this incredible country!
Notes
I hope this helped you plan your travels in Colombia! I know it can be a struggle to find accurate and on the ground information when traveling to a new place like Colombia, which is why I started writing so extensively about it!
If you have any questions about Colombia, budget travel, or anything else shoot me an email at ryan@desktodirtbag.com.
(I love getting questions! That is how I get ideas for my blog posts and what to write about!)
Recommended Products
As an Amazon Associate and member of other affiliate programs, I earn from qualifying purchases.
Share This
Did you enjoy this post about visiting the Museo de Antioquia? Take a moment to share it on Pinterest, Facebook, or Twitter. Thanks!
The following two tabs change content below.
Desk to Dirtbag is one of the leading budget adventure travel blogs online and is dedicated to helping its followers achieve their travel dreams through inspiration, information, and actionable steps. If you are new to the site, be sure to
Start Here
.
Latest posts by Desk to Dirtbag (see all)