This article may contain
affiliate links
. If you make a purchase through these links, I will earn a commission at no extra cost to you. Thanks!
Ever since I first started writing extensively about traveling to Colombia and even more specifically about the wonderful city of Medellin, Colombia, I've been getting lots of emails and inquiries asking for my opinion about where to stay in Medellin…
We are going to be getting into the details of the best neighborhoods in Medellin and for what kind of traveler and their interests, which should be your first step in determining where to stay in Medellin, and then within each of these neighborhoods or barrios, I will be giving some specific recommendations about the best hostels or hotels in Medellin and some alternative options when applicable.
Who Am I to Say?
Unlike all the other articles I've seen online about the best places to stay in Medellin, which seem to be based on a cursory Google search or a brief stay in the city, I've been here in Medellin for a few years now (on and off between other travels).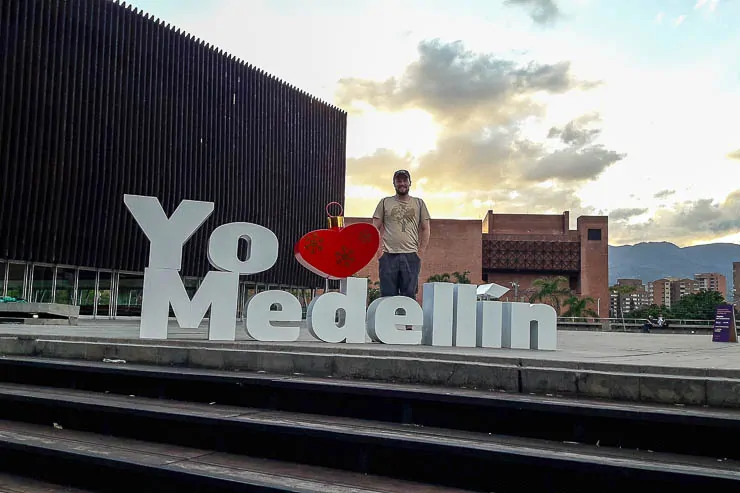 Beyond that, I've stayed in different types of lodging across many different parts of this city… Belen, Envigado, Patio Bonito, Conquistadores, Estadio, Poblado, Suramericana, Laureles, Estadio, and have gotten to know many other parts of the city quite well over the years.
That is all to say that I've got extensive experience all across the city and I've spent a great deal of time here… So this isn't just some "Stay here, even though I was in town for a week and I've never stayed anywhere else in Medellin" type of article like all the other articles I've been seeing online…
Determining the Best Neighborhoods in Medellin
I'm assuming that you are coming to Medellin to enjoy life in this vibrant and interesting city, so we will primarily be focused on the best neighborhoods in Medellin and their proximity to the typical tourist attractions here as well as awesome restaurants, bars, and coffee shops.
Of all the neighborhoods in Medellin, I'd really only consider five areas: Poblado, Envigado, Belen, Laureles-Estadio, and El Centro. I honestly wouldn't really recommend other places like Sabaneta, Robledo, Bello and so forth (they are just too far away and are not that interesting in and of themselves) although they may be better suited for expats than visitors (but they don't really interest me, to be honest).
Let's take each neighborhood one at a time…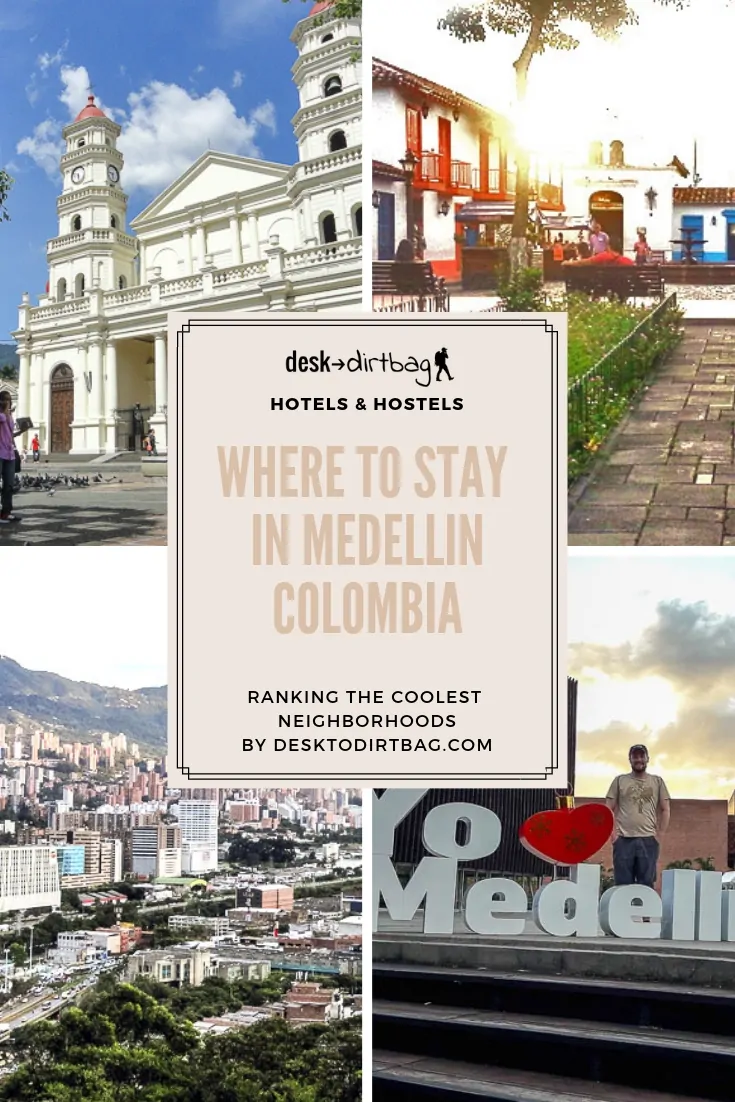 Poblado
Poblado is the most popular neighborhood for foreigners due to the upscale nature of the area. This hilly part has long been considered Medellin's most posh area, a place filled with mid to upscale restaurants, high rises, nightlife, shopping, malls, and so much more.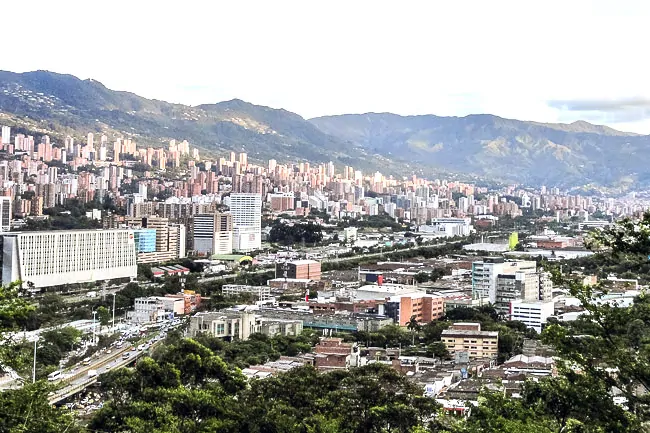 If you want to be in what is, socioeconomically speaking, the best part of a city, then Poblado is without a doubt where you want to be.
Pros: Center of fine dining and nightlife in the entire city; cool residential towers with awesome views; the most accessible area for foreigners with limited Spanish.
Cons: Beyond the few prime zones it is primarily suburban or residential in nature with huge areas that are dead zones and where a car is needed; little in the way of mom and pop anything left; elevated prices pretty much across the board.
Best for those who want a taste of luxury at much cheaper prices, or those who want to be in the center of nightlife, dining, or foreigner/expat life.
Random Things to Do in Poblado:
Enjoy unparalleled nightlife in the Parque Lleras zone like dancing the night away at the Blue nightclub.
Get some work done in Medellin's best coworking spaces, like the stunningly beautiful WeWork.
Eat as you've never experienced before (and for a much more reasonable price) with molecular gastronomy dining at El Cielo.
Envigado
Envigado always felt like a world away, but most recently I've found myself living down south… Whereas before I'd dismissed it, I've found out there's a lot to like about life in Envigado.
Envigado is actually one of the "least poor" places in Colombia (not the richest place, but on the whole features less poverty), and it has always been defined as a somewhat rich area and one that has been (at least relatively speaking) much safer than Medellin.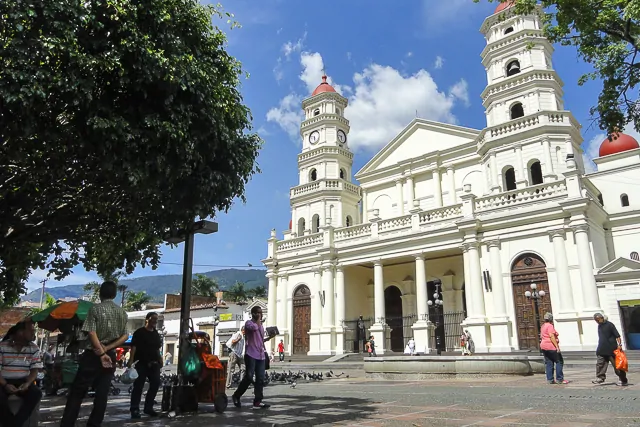 The heart of Envigado feels much like a small town pueblo, but there are a number of exciting areas popping up around the edges of Envigado and this is definitely a place on the rise in terms of its appeal for travelers as an excellent home base from which to explore the rest of the city.
Pros: Small town feel while still offering up a lot of cool places to check out; considered to be safer than Medellin; still has easy transport to parts of Medellin.
Cons: Slightly far away from the main areas of interest for foreigners; can feel a little too pueblo at times.
Best for those who don't want to be in the heart of the city and want easier access to nature, affordable local areas, or more peace of mind.
Random Things to Do in Envigado:
Hang out in the Parque Envigado and people watch, grab a bite to eat at El Canasto del Balcon near the main square.
Explore Jardines and grab a coffee at Amati Cafe, get lunch at El Trifasico where the former President always ate.
Attend a cultural event in Otraparte or just grab a coffee in their garden.
Read More: Guide to Envigado, Colombia
Belen
Belen is actually the first place in Medellin that I stayed and is a place I often return to because my girlfriend has family in that part of the city.
Belen is a huge neighborhood, broken down into many other small sub-neighborhoods, but is pretty much everything on the other side of the airport and extends further up toward the northwest.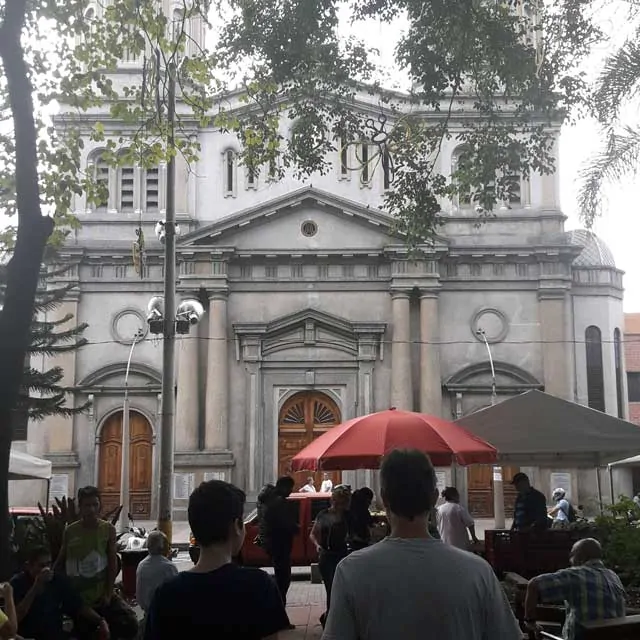 This neighborhood is primarily residential, made up mostly of smaller houses and apartments rather than big buildings. It hosts a pretty standard mix of little tiendas, restaurants, stores, and more. It is probably the best look at an authentic Medellin-style experience that doesn't have as many foreigners.
Belen isn't my personal favorite though, as it lacks the appeal of interesting, cool, or progressive places. Belen is like a little time warp, which may appeal to some.
Pros: Very affordable; classic sorts of Medellin type neighborhoods; certain areas have great transport (with the MetroPlus).
Cons: Not super interesting; parts can be quite lonely; feels cut off in terms of transport and accessibility thanks to the airport.
Best for budget travelers who want to a place off the tourist trail, in a typical neighborhood, but without the chaos of downtown.
Random Things to Do in Belen:
Workout at the Unidad Deportiva with a pickup basketball game, soccer, or a swim.
Grab a coffee and a bite to eat while petting and playing with cats at La Gatoria Cat Cafe.
People watch in Parque Belen where all the pigeons and old folks hang out.
Laureles-Estadio
We'll consider Laureles-Estadio as one area for now which comprises a big chunk of land directly west from downtown and north of Belen. This part of town is probably the second most popular with the foreign tourist crowd, after Poblado.
Really, I divide Laureles and Estadio into two separate areas, each with its own character, but they do share some similarities…
The Laureles area has a solid mix of mid to upscale restaurants along with a healthy amount of local mom and pop stores and restaurants. While the height of the buildings here isn't that tall, the city planning is more urban in nature. This is Medellin's most bikable and walkable part of the city.
Personally, I think Laureles (not talking about Estadio) is the coolest part of Medellin and the best place to stay… Offering up the best mix of things with a great lifestyle.
Pros: Walkable and urban in nature; a tremendous mix of restaurants and coffee shops; quite affordable prices.
Cons: Low elevation which means it can be hotter than the hillsides; the confusing layout of streets; can be sketchy around Estadio.
Best for travelers who don't want to be in gringo heart of Poblado and want access to more affordable things while still being able to splurge on cool restaurants, coffee shops, etc.
Random Things to Do in Laureles-Estadio:
Enjoy some of Medellin's best coffee shops like Rituales
Go for a stroll along Nutibara or hang out in the First and Second Parks of Laureles.
Head to a soccer game at the stadium when Atletico Nacional is playing.
Read More: The Ultimate Guide to Laureles
El Centro
This is Medellin's downtown core, also known as La Candelaria. It is busy, hectic, and considered slightly dangerous. In the daytime, you are generally safe here (though you should always be careful, but that's true of anywhere in Medellin) while at night time it is not recommended to be walking around here.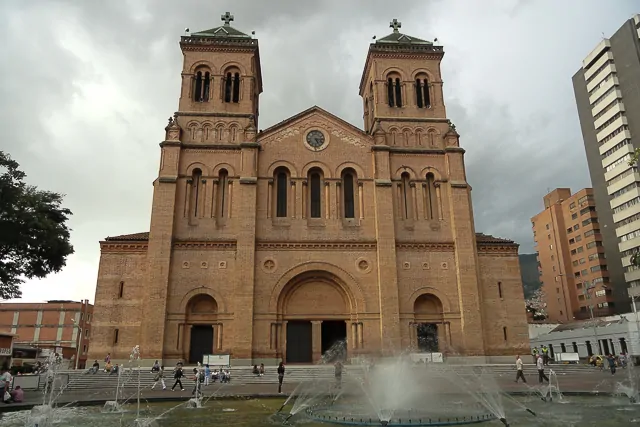 Most tourists do NOT stay in El Centro, but rather just visit for the museums (especially Museo de Antioquia) or as part of the amazing Medellin free walking tour. I would also not particularly recommend this neighborhood to stay, but El Centro is becoming more and more interesting every year, and there are a number of pretty cool places actually. Dare I say, there are some awesome places that just can't be found in other parts of the city.
You can also get a pretty nice place to stay here for prices that just can't be beaten anywhere else in the city.
Pros: Surprising variety when it comes to restaurants, bars, nightlife; easy access to all forms of transport; the center of economic life and full of activity.
Cons: Lots of "characters" about, statistically the most dangerous part of town, generally somewhat chaotic and gritty.
Best for budget travelers who like to be well off the beaten path, away from the gringo trail, and immersed in the bustling local life.
Random Things to Do in El Centro:
Go to happy hour or grab a bite to eat on the rooftop bar of Credenza (on top of the Colombo-Americano building).
Stroll Junnin Street and grab a piece of chocolate cake at Astor Reposteria.
Enjoy something different (for Medellin) like a jazz bar (El Acontista), a tango bar (Salon Malaga), or one of the old rock bars in the Torres de Bombona.
Read More: All About Medellin's El Centro
So, Where to Stay in Medellin?
For me, I'm someone who is looking for an affordable place that offers up lots of interesting things to see and do, while still being an urban and walkable area in nature. If I was going to rank these neighborhoods, I would do so like this:
Poblado
Belen
Best Neighborhoods in Medellin…
For Nightlife: Poblado
For Access to Nature: Envigado
For Feeling Like a Local: Belen
For Luxury: Poblado
For Livability: Laureles
For Foodies: Poblado
For Location: El Centro
For Off the Gringo Path: El Centro
For Safety: Envigado
For English: Poblado
For Coffee: Laureles
Where to Stay in Laureles-Estadio
The coolest part of this area is definitely the Laureles part of "Laureles-Estadio"… And even within that area, I'd recommend staying in the area near Nutibara or along the First or Second Parks. If you trend closer to the northern half of Laureles you will be closer to transportation like the metro.
If you opt to stay in the Estadio portion, then anywhere close to 70 is where you will want to be, but I don't especially recommend this part of the neighborhood as it can get somewhat chaotic with the thousands of soccer/football fans that descend on this neighborhood whenever there is a game.
Best Hostel in Laureles-Estadio: Hostal Cattleya Medellin located near la 70.
Don't miss my post on the best Medellin hostels for more options, including those in Laureles, Floresta, and Estadio.
Where to Stay in Envigado
The most interesting part of Envigado is the northern edge in the neighborhoods of Magnolia and Jardines. Here you will find Envigado's most interesting cafes, restaurants, and cool spaces whether that's Otraparte or something else.
The center itself (Envigado downtown) or in the barrio of Alcala is pretty cool too, just not quite so cool. I live in the southside, which isn't bad either, it's just more residential and quieter in nature. If that's what you are looking for, check out Milan, El Dorado, or Primavera — of those three, I'd say El Dorado is the coolest.
Best Hotel in Envigado: Arame Hotel in the Alcala neighborhood.
A strange little asterisk about this, even though this hotel has great opinions, it is also the only hotel in Envigado and there are no hostels here. Airbnb is a good option for this area though.
Don't miss my comprehensive guide to Envigado with a further breakdown of the best parts of Envigado and what to do and where to eat.
Where to Stay in Poblado
The coolest neighborhood in Poblado, in my opinion, is not Lleras but rather Provenza located just a little further uphill. Lleras can be kind of a nightmare on weekend evenings if you aren't a party animal, whereas locals tend to stick more to the uphill part of Provenza and the surroundings.
Patio Bonito is pretty boring… But across Calle 10 is Manila, which is quite an eclectic and cool neighborhood and is an area that I'd recommend if you prefer being a little closer to the Metro and public transportation. I think Manila wins overall for what it has to offer as well as its strategic location between the Metro and Parque Lleras (and close to a giant Exito grocery store).
I'll briefly mention the Ciudad del Rio sector of Poblado and say that while it has a few interesting places popping up nearby (Mercado del Rio, 20Mission Brewery), it does seem like it would be quite a boring and isolated place to stay in Medellin.
Best Hostel in Poblado: Los Patios Hostel Boutique located in the Manila neighborhood.
Best Upscale Hotel in Poblado: Medellin Marriott Hotel on the Golden Mile
Don't miss my post on the best Medellin hostels for more options, including those in Manila, Provenza, and Lleras.
Where to Stay in Belen
The most interesting and lively part of Belen is the area surrounding Parque Belen and is the only part of Belen that I would seriously consider staying. This position will put you close to the MetroPlus (part of the metro system, but SO busy and overpacked it is almost a nightmare to use).
Belen is still lacking a lot in terms of interesting or cool places to go on a daily basis… I mean, even for a coffee shop you're pretty much just limited to Tostao.
Belen Malibu is the first area I stayed in Medellin, and while it isn't terrible, it certainly isn't the most interesting either — although it is nice and close to the Unidad Deportivo.
Best Hostal in Belen: Mochillin House near the Parque Belen
Where to Stay in El Centro
While El Centro is the only place on this list where I have NOT stayed and is somewhere that I don't particularly recommend, I do know of people who chose to stay in El Centro and even prefer it…
Admittedly there are a lot of cool places to check out, so I could see myself doing it if there weren't other places that I prefer a lot more. Either way, I still go to the Medellin Centro to explore every once in a while and I always have a good time.
If I were to stay in the Medellin Centro, the only place I would really recommend would be the neighborhoods directly east of Avenida Oriental, in places like Boston. The actual downtown core is not recommended and is a place that is mostly for people working in the daytime and empties out at night.
Best Hostel in Medellin Centro: Medallo Social Hostal located near Parque Boston.
Airbnb is a great option in El Centro too because you can get some pretty cool little apartments and generally cheap accommodation for prices much lower than other parts of the city. If you haven't used Airbnb, you can sign up and get a free credit toward your first stay!
Final Thoughts on Where to Stay in Medellin
Obviously, these are my opinions and where I think is best may not be the best for you… It really depends on what you are looking for and what you want to get out of your time here in Medellin, whether it is just 3 days in Medellin or three years like me.
My biggest tip for enjoying your time here in Medellin though is to not get stuck into the gringo bubble of Poblado where you only go to gringo places with other gringos. You're sure to miss the magic of what makes Medellin such a cool and interesting place to stay.
Traveling to Medellin soon? Be sure to book your room on Booking.com to save money and don't forget to purchase travel insurance for Colombia to protect yourself against injury, theft, and sickness. I recommend World Nomads for its combination of coverage and affordability. And be sure to read my thoughts to the question "Is Colombia Safe?"
Read Next: The Best Hostels in Medellin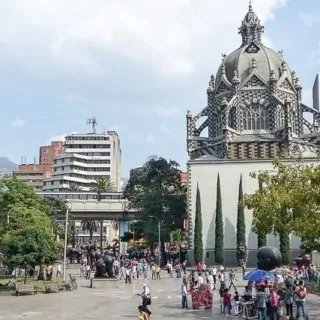 Colombia Travel Tips
Important tips and resources for planning an amazing trip to Colombia, based on my years of traveling and living in Colombia.
Tools
Colombia Trip Planning
Instructions
Book a cheap flight to Colombia with Momondo, or better yet, start travel hacking so you can fly for free. Traveling between major cities is much better by flying, trust me.
Plan a rough itinerary and how long you will spend at each destination. Use an itinerary planning service for custom recommendations and pick up Lonely Planet Colombia.
Work a little every day to teach yourself Spanish, you'll want to know as much as possible before you arrive.
Book cheap accommodation in advance, at least for the first destinations -- For hostels use: Booking, for cheap hotels use: Hotels.com, for apartments use: Airbnb.
Reserve your on the ground tours and activities through Get Your Guide.
Purchase travel insurance for Colombia with SafetyWing to protect yourself from illness, injury, and theft while in Colombia. VERY important. And be sure to read my article: "Is Colombia Safe?" for my honest opinion and safety tips.
Sign up for my free emails about planning a better trip to Colombia, and be sure to check out my comprehensive guide about traveling to Colombia.
Learn more money-saving tricks with my top budget travel tips.
Put together your Colombia packing list.
Enjoy this incredible country!
Notes
I hope this helped you plan your travels in Colombia! I know it can be a struggle to find accurate and on the ground information when traveling to a new place like Colombia, which is why I started writing so extensively about it!
If you have any questions about Colombia, budget travel, or anything else shoot me an email at ryan@desktodirtbag.com.
(I love getting questions! That is how I get ideas for my blog posts and what to write about!)
Recommended Products
As an Amazon Associate and member of other affiliate programs, I earn from qualifying purchases.
Share This
Did you enjoy this post about where to stay in Medellin? Take a second to share it on Pinterest, Facebook, or Twitter. Thanks!
The following two tabs change content below.