This article may contain
affiliate links
. If you make a purchase through these links, I will earn a commission at no extra cost to you. Thanks!
Laureles is my favorite barrio (neighborhood) in Medellin, Colombia, and one that I would wholeheartedly recommend to both tourists and those considering living in Medellin. Laureles in Medellin has become my home away from home… Indeed, this is my #1 recommendation when people ask me where to stay in Medellin.
The most popular and well-known neighborhood in Medellin is Poblado, this has traditionally been the place where the well-to-do live and is full of high-rise apartment buildings, upscale restaurants, boutique shops, and the center of weekend nightlife, and is ringed by Medellin's best malls.
In my opinion, Poblado is a great place to visit while in town or visit every once and a while, but there are far better neighborhoods when it comes to day-to-day living.
Laureles is certainly one of them.
Before I chose to settle down in Medellin, I stayed in many different neighborhoods, all over town, for varying periods of time: Poblado, Envigado, Estadio, Conquistadores, Belen Fatima, Patio Bonito, and Suramericana just to name a few.
I am pretty familiar with most of the major neighborhoods in town, except for maybe those on the north side. For me, Laureles stands out as the best. But if you don't want to take my word for it, check out my more comprehensive article about where to stay in Medellin.
This is a monster post, which took quite a while to put together–please give this article a quick share on Facebook, Twitter, or Pinterest if you find it helpful.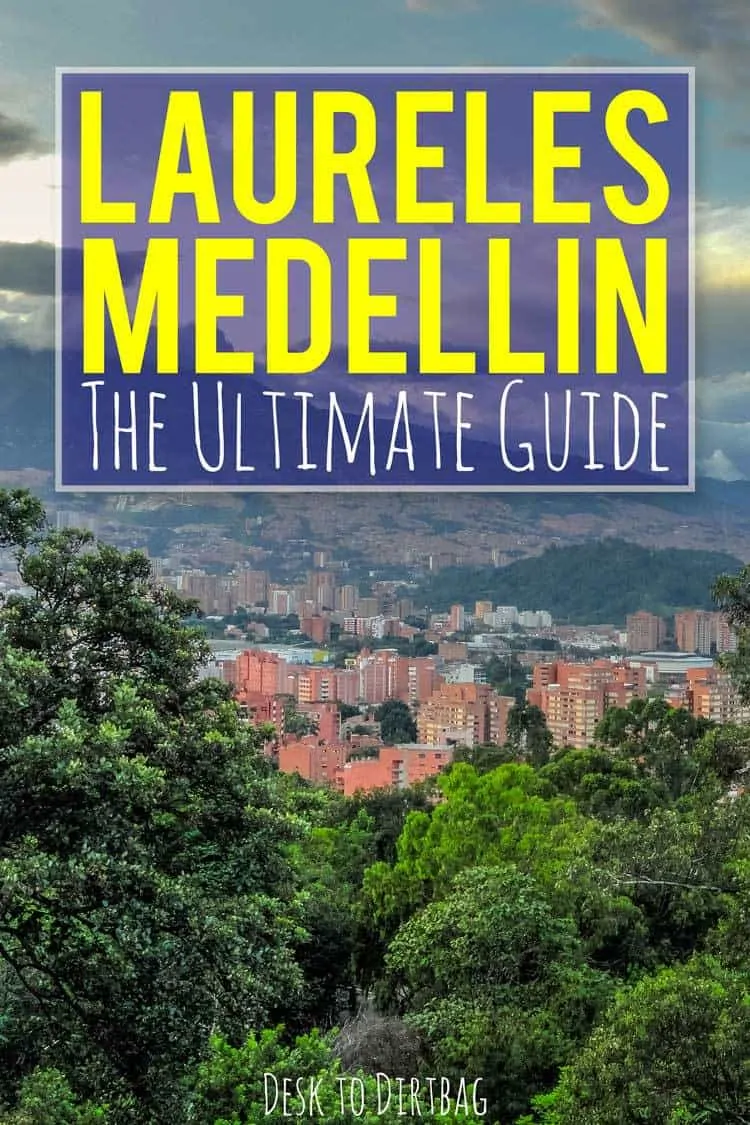 Also, be sure not to miss my monster post on 35 things to see and do in Medellin (and one thing to avoid).
Table of Contents
About Laureles, Medellin
Laureles is located west of downtown Medellin, a more quiet and residential neighborhood, featuring nice walkable streets and an atmosphere that is a blend of the more typical of Colombia with a bit of the upscale. Cheaper prices, a better quality of life, and access to everything I need or want (by foot) are the main things that draw me to Laureles.
You've got everything you need to live life like a local–something that Poblado really can't offer with few supermarkets and when the only options to eat are pricey chain restaurants with hot wings, hamburgers, and so forth.
Poblado, despite the huge towers, is more suburban and car-centric in character, with entire city blocks taken up by countless malls or gated apartment buildings with a doorman that no longer allows space for the little tiendas and restaurants. Whereas Laureles, despite the lower skyline, is more urban and walkable in nature.
Laureles offers most of the big-name chain restaurants that are popular throughout Medellin while also still offering plenty of mom-and-pop businesses opportunities to thrive. From affordable restaurants with menu of the day, and bakeries with fresh goods, to small tiendas selling fresh fruit, vegetables, eggs, and arepas.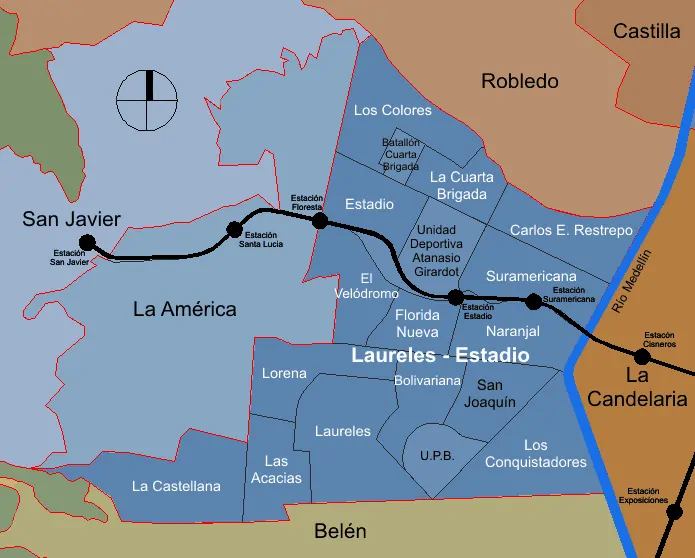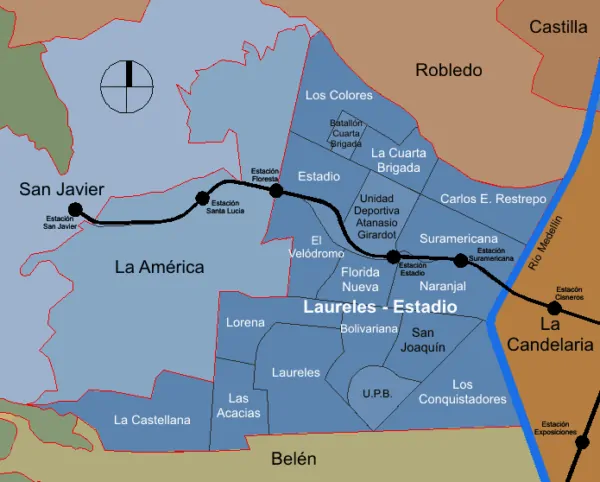 Getting Your Bearings in Laureles
Laureles is west/northwest of UPB (Universidad Pontificia Bolivariana) a local private university, which is rated among the best in Colombia.
I love Laureles because it is such a pedestrian-friendly neighborhood in a city/country that isn't very pedestrian-friendly. Almost anything you need is located within walking distance, though the unique, meandering layout of the neighborhood can be a little disorienting at first. You may want to download Google Maps for offline access to the area and refer to it on occasion.
The heart of Laureles is Avenida Nutibara (Transversal 39b on the map above) running diagonally across the neighborhood from the SE corner to the NW.
The barrio is bordered, more or less, to the north by San Juan, a major transportation thoroughfare also known as Calle 44; Avenida 33 (trenta y tres) to the south, which is a major center of nightlife in Medellin; Avenida 80 (ochenta) to the west, and Carrera 70 (setenta) to the east.
You can quibble with the exact boundaries since technically small parts of those areas may fall within other barrios, but that is what I and many locals would consider being Laureles.
Along or just off of Nutibara avenue is where you will find all the biggest name restaurants. From Nutibara you will find a unique street layout that defies the modern grid style for a more Hausmann Parisian flair.
Off of Nutibara, you will also find Tranversales running parallel to Nutibara (diagonally) as well as Circulares (which make circles). Just try to keep Nutibara as your reference point.
Activity isn't limited to Nutibara, you'll also find a number of not to be missed places along the secondary streets, particularly in the areas around El Primer Parque de Laureles, and El Segundo Parque de Laureles (the first and second park, respectively).
More on specific places you shouldn't miss in a moment…
Two things to keep in mind in Medellin: Calles run east-west and Carreras run north-south. So Calle 44 and Carrera 72 is a very different part of town from Carrera 44 and Calle 72. The former is in Laureles, while the latter is way off in Manrique, where the Tango Museum is.
Calles begin at 1 in the south and increase numerically as they head north. While Carreras begin in the east and increase in numerical value as they head west.
Getting Around
Metro
The one principal drawback of living in Laureles is that there is not a metro station in the barrio, though Poblado's station is a pretty decent walk from Parque Lleras as well (and it's uphill on the way back).
Depending on where you are coming from it is generally a short (and flat) walk to the closest station. Floresta and Estadio are the two closest stations and are about 15-30 minutes walking, and the metro will take you to a myriad of things to do in Medellin.
To reach the Floresta metro station you simply walk north on 78, past San Juan, and keep going straight until you run into the elevated subway rails. From there the station is just a few blocks to the west (left). To reach Estadio you would just walk north on 70 past San Juan until reaching the station.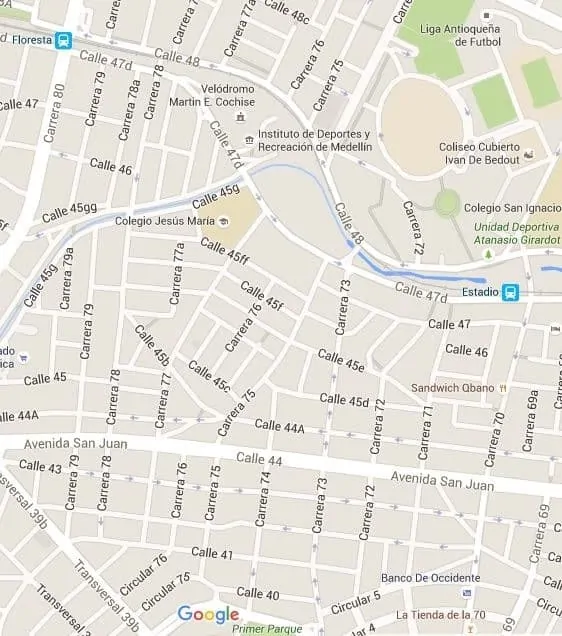 If you prefer not to walk you can also reach the metro by taking an Integrado bus which runs north along Nutibara avenue. These are buses that service the metro system directly and allow you to purchase just the bus fare or the bus fare AND a metro ticket at significant savings to you.
You MUST have a free tarjeta civica card in order to get the cheaper, combined bus fare, however. You can get the tarjeta civica from a few metro stations like San Javier or San Antonio.
If you don't have the tarjeta civica, you can still use the integrado by paying in cash, but then you will be paying the normal price for both the integrado and the metro, rather than getting a cheaper overall rate.
The bus ride will only take a few minutes to reach the Santa Lucia metro station where you can then easily reach any part of the city.
The integrado buses will be lined up outside and make the return trip down Nutibara avenue.
Buses
Buses in Medellin are cheap and frequent, and they are one of the best ways to get around. Beyond the integrado bus on Nutibara which will get you on the metro system, you have a number of options for getting around town.
Buses are now around 2.500 pesos.
Circular Sur
The Circular Sur buses run in big circles through the city, both clockwise and counterclockwise. Near Laureles they run along 80 and San Juan.
With the Circular Sur bus running clockwise (heading east on San Juan) you can easily reach the Parque de los Pies Descalzos (Barefoot Park), the northern part of El Centro, the San Diego shopping mall (which is also where you can catch a collectivo to the airport), the Museum of Modern Art, and also provides an alternative route to get to Poblado.
The Circular Sur heading west on San Juan will take you down by Los Molinos Mall, which is the closest big, modern mall to the neighborhood, though Unicentro has improved in recent years. This route will eventually circle back to all the places mentioned above as well.
Comercial Hotelera
The Hotelera bus is another convenient bus that runs down Nutibara. From here it passes by the San Diego shopping mall and heads up Las Palmas for a while before dipping into the neighborhoods above Poblado. You can easily reach El Castillo (the Castle) or even hop off a block or two from Parque Lleras (much closer than most other public transportation options). This bus also directly serves the Terminal del Sur bus station.
Going to El Centro
There are a number of buses that serve El Centro, practically all of them run eastbound on San Juan, where you can join the Medellin free walking tour, visit the Museo de Antioquia, El Hueco, or the other numerous attractions downtown (be sure to read my detailed guide to the Medellin Centro, too).
Medellin Bus Route Maps
The best way to discover routes throughout the city is through a Github bus map which allows you to place pins on the map (points of origin and destination) and see which bus routes serve that area.
Riding the Buses
Buses in Medellin generally aren't too comfortable. The buses are often old and worn down and the drivers are some of the craziest in town. For the most part, you can hail buses virtually anywhere, not exclusively from bus stops, just hold your arm out as it approaches. Pay is normally as you board. Hold on for dear life as you try and make your way to a seat (if there's one available).
Buses frequently feature salesmen who hop on and make the rounds between different routes. They will jump over the turnstile and hand out candies or pens or whatever to every passenger on the bus before giving a spiel and then recollecting their goods or payment.
Prices are generally cheap, so if you understand how much they are charging when they give the spiel, you shouldn't worry about getting ripped off on the prices.
Taxis
Getting around by taxi is another option. They are quite affordable and use the meter system with the prices displayed for what you will actually pay. No tricky codes to decipher or any of that nonsense.
There is a 24-hour taxi stand located on the west side of the Primer Parque de Laureles.
You can hail cabs pretty easily on the street on any primary or secondary street. Some people recommend, for safety reasons, that you don't hail cabs from the street, especially at night.
I hail cabs on the street and have never had a problem, but there have been reports of problems related to robberies by accomplices. It is best to sit in the back with the windows rolled up and, as always, don't show off lots of cash or other valuables (even cell phones).
Uber: Uber is actually illegal here, but it is still a good option. I generally trust Uber drivers more than taxi drivers since I can see their reviews, know the price beforehand, and don't have to use cash. There are probably 20 taxis for every one Uber though, so expect to wait a little longer for your Uber ride. Usually, they will want you to sit up front like a friend rather than in the back like a taxi in order to avoid trouble with the law. Sign up for Uber here.
Bike Share
A growing service here in Medellin is the Encicla bike-share service… Bike shares are an amazing service that allows you to pick up a bicycle at one of the stations scattered throughout the city, ride around, and then drop it off at any other station.
I used bike share quite frequently in Washington DC and I forgot how much I missed it after a few years on the road!
Medellin hasn't quite yet reached a critical mass of bike stations, but Laureles is easily the best-serviced neighborhood in the city in terms of the number of bikes and available stations (nearly half of the city's stations are in Laureles). Laureles also happens to be a flat part of town that is much more suited to bicycle life and also features plenty of bike lanes as well.
In order to use the bike share, you will need to have a tarjeta civica card which you can get from a select few metro stations around the city, including the San Javier metro station nearby. Thankfully you can register for a card as a foreign visitor with just your passport.
Drivers in Medellin are particularly terrible though and have little regard for pedestrians, so always be a little more cautious or aware (definitely one of the things bad things about Colombia).
Where to Stay in Laureles
I would try to find somewhere on the northern half of Laureles, ideal for me would be north of the parks and between Nutibara and 70 (outlined roughly in yellow below). That way you are closer to public transportation like the metro and closer to the most interesting parts of the neighborhood.
Airbnb
Airbnb is my favorite way to find an affordable place that offers a bit more of a relaxed and home-like atmosphere if you plan to come for a few weeks or longer. Over the years, we have also hosted many travelers in our awesome apartment via Airbnb.
If you are new to Airbnb, you can sign up and receive a $20 travel credit to use toward your first booking.
Hostels in Laureles
There are a number of hostels in the area, which tend to offer better opportunities for socializing and meeting fellow travelers.
While there aren't a ton of hostels in Laureles proper like you see in Poblado, the best far and away is Backpackers Inn Medellin which is located just a few blocks from the Primer Parque in a great location.
There are more options up in Estadio, which isn't as ideal of a location but is still pretty good. The best of the bunch is Hostal Cattleya Medellin (my #2 pick for the best in all of Medellin).
For more picks in Estadio or even Floresta, as well as other locations throughout the city, don't miss out on my article on the best Medellin hostels.
The Wandering Paisa Hostel is well known, particularly for the numerous social events such as free language exchanges and salsa classes.
Click here to reserve your stay on Booking.com.
Hotels in Laureles
If you're more of a hotel type of person, then you're in luck because there are plenty of options in Laureles-Estadio for all budgets.
Here are my top picks for Laureles:
#1 Budget Hotel in Laureles: Hotel Pomarosa
#1 Mid-Range Hotel in Laureles: Inntu Hotel
And for Estadio:
#1 Budget Hotel in Estadio: Obo Hotel
#1 Mid-Range Hotel in Estadio: El Portón de San Joaquin
Want to Travel More for Less Money?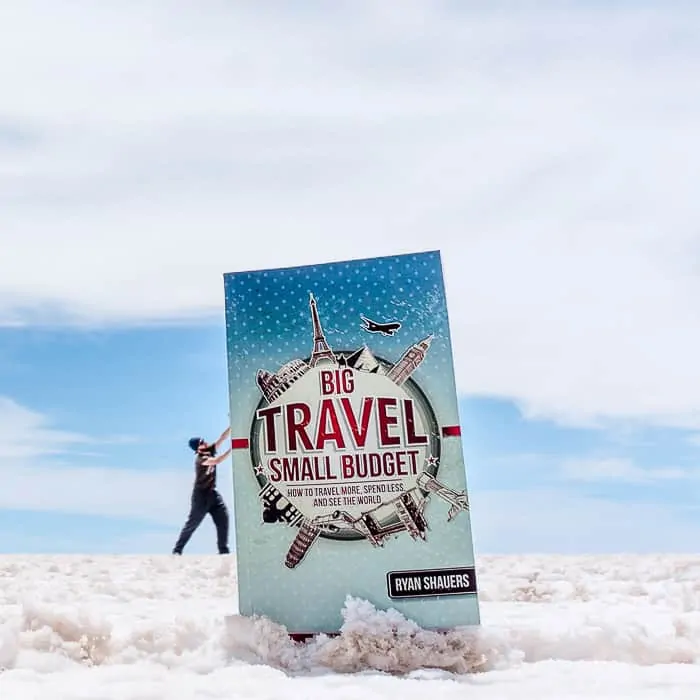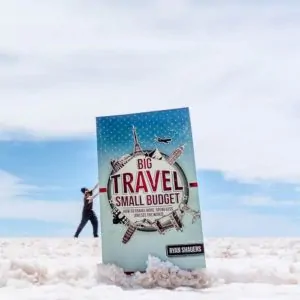 I will teach you the top methods I've used to save big money ??? during more than a decade of continuous travel in my best-selling book Big Travel, Small Budget. See for yourself, the book has nearly 200 unbiased opinions and 4.4 out of 5 stars on Amazon! ⭐⭐⭐⭐⭐
Exploring Laureles Medellin
Laureles is an amazing neighborhood in part because of the incredible variety and selection of where you can eat out. No, it doesn't have the truly upscale dining (like El Cielo, Carmen's, etc) that Poblado has, but you will find almost all of the mid to lower upscale chains as well as some real gems exclusive to the neighborhood.
Below you'll find a comprehensive overview of all of my favorite places in or around Laureles (located within walking distance). Including some places that I still need to go check out…
Consider this an evolving list as I continue to explore the neighborhood. There are a bazillion places to explore with more opening all the time.
PRO TIP: If you haven't already, be sure to check out Rappi — which is basically like the Colombian version of Uber Eats. I love this service, it's quick, it's cheap, and it goes well beyond just food delivery. Definitely check it out! New users can get free deliveries by signing up through my link.
Pizza
You've got the typical Domino's Pizza that you're probably already familiar with. But there are some local hits as well. My top choices are Piccolo and Ammazza. The rest are okay, but nothing to write home about.
#1 Piccolo: My absolute favorite pizza in Colombia. If you like thin crust and pepperoni, this one is hard to beat! Andrea's preferred topping is cabano, which is kind of like a mini-pepperoni. We usually do half pep, half cabano. You can expect to spend around 50,000 for a pizza for two with sodas. It's not just a good pizza for Medellin, it's good pizza anywhere in the world.
Ammazza Pizzeria & Gin Garden: A great addition to the neighborhood, with some amazing pizza that even gives Piccolo a run for its money. It specializes in thin-crust artisanal pizzas and fancy cocktails.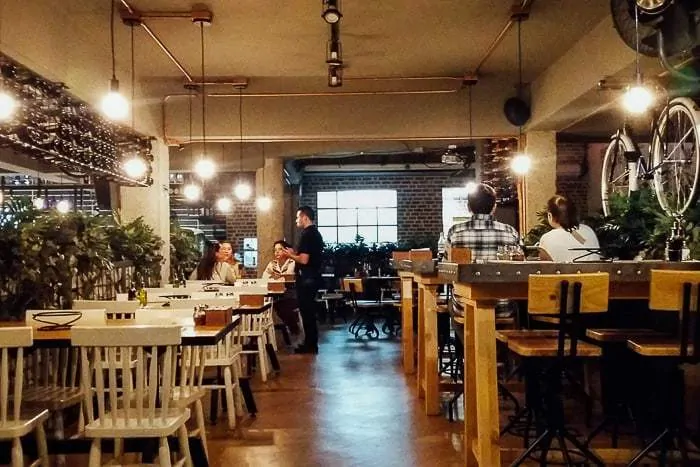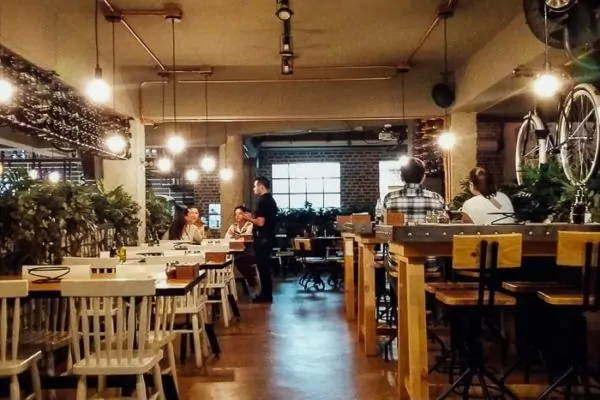 Ragazzi: Another favorite of mine and a previous winner of the Medellin Pizza Master competition. They have some truly delicious pizzas that are a must-try.
Papa John's Pizza: Unlike the U.S., Papa John's here is a sit-down restaurant that boasts some pretty good pizza for a really cheap price. It's probably the best cheap pizza in Medellin. You can get a medium pepperoni pizza for around 20.000 pesos.
Pizza Doble Pizza: a decent pizza, the catch is that you have to purchase two pizzas. Hence the word doble in the name… Two personal pizzas works.
Pizza a la Lena: a really thin and crispy wood-fired crust. I like thin crust, but this is like so thin and crispy it breaks as you eat it. Not my style.
Pizzeria Olivia: offering up some of the more artisan and interesting topping combinations. Not exactly my preference, but it is quite popular.
Hamburgers
If I'm craving a really good American-style hamburger, my go-to choices are:
#1 Jack & Roll: Killer hamburgers with some interesting variations including avocado burgers, chorizo burgers, pork belly additions, and more. The sauce is based on Jack Daniels is amazing. These are some really, really burgers.
#2 Chef Burger: Probably among the best hamburgers that I've had in Colombia. The burgers are made of fresh ground beef, made to order, with delicious buns and lots of great topping options. They've even got sliders and the occasional live music. Really lovely atmosphere too.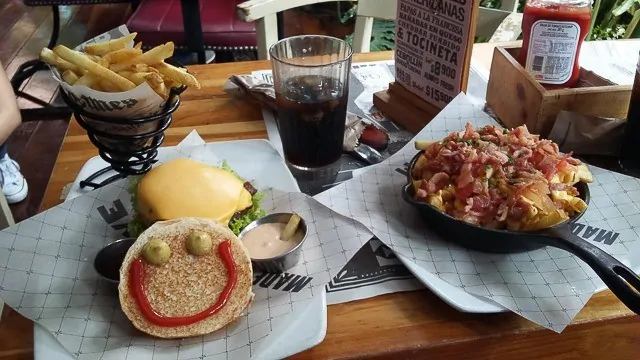 Firehouse: This place almost gives Chef burger a run for its money with some really great burgers at a decent price. They also specialize in hot wings here.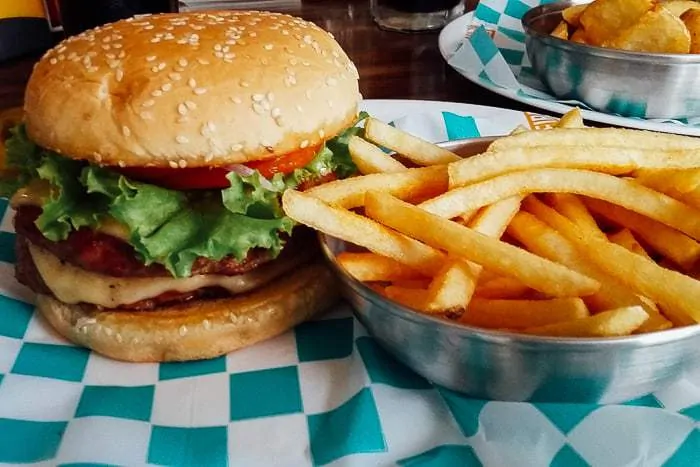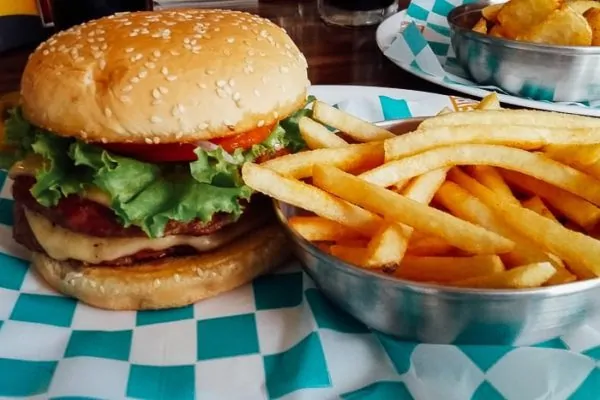 El Corral: offering up decent fast-food style hamburgers and fries that will feel familiar, albeit at a price that is more expensive than fast food in the States.
La Pampa Burger & Ribs: The Argentinian steakhouse, which is excellent, now has two burger offshoots in the neighborhood with one near each of the parks in Laureles. The burgers are fine, but not the best — and certainly not for the price, at least.
Hot Wings also offers up a pretty good burger combo at a super cheap price for burgers, fries, and soda.
There is also, of course, a McDonald's halfway down Nutibara, but I haven't eaten at a McDonald's since high school, as well as a Burger King located next to the Segundo Parque de Laureles.
Italian Food
Nothing like a big ol' plate of pasta!
#1 Il Forno: Probably my favorite Italian in the area with a lovely atmosphere and good food. The second floor with the plant wall and the park view is the best. A great place for a nice date night.
Parmessano: Located near the Second Park of Laureles, you'll find this popular chain restaurant which is comparable to Il Forno. I like this one a lot too, but Il Forno wins for ambiance.
Caduff Pasta Fresca: This is a really welcome addition to Laureles, offering not only incredible pasta dishes but selling fresh pasta that you can buy to take home and prepare rather than the stuff in a box. Feels a bit like Argentina in that respect!
Della Nonna: One of the places I have yet to go to, but another popular Italian restaurant in Medellin.
Pomo d'oro: An awesome little gem tucked away near 70. Delicious food and a beautiful patio garden dining area. The plates are around $5.
Mexican Food
Lots of Mexican food in the area (of the Tex-Mex variety). My top three choices would be Orale, Tacohouse, and Barrita Burrito, each with a slightly different style, but you won't find much in the way of truly authentic Mexican food.
#1 Orale: A great Tex-Mex choice just a block from 70th. Great flavor and decent portions for about $5.
Guadalupe: This is a place I still need to visit, but it is super popular with multiple locations including Bello and Belen. It is a mix of authentic, Tex-Mex, and inventive Mexican-inspired dishes.
Cuernavaca Taqueria: A pretty authentic taqueria joint specializing in Mexican street tacos among other dishes. You can get a tray of 10 tacos for about $10-12. The tacos al pastor are pretty good.
Tacohouse: An awesome place right on Nutibara avenue which will feel very familiar if you've been to Chipotle or Qdoba. Love me an awesome burrito bowl! About $5 for a chicken burrito bowl.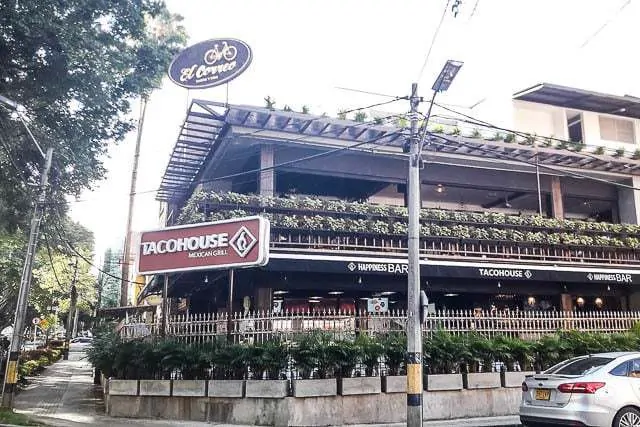 Barrita Burrito: Another build-your-own burrito place in the style of Chipotle, but with a slight Colombian twist on the ingredients (for instance you can add fried plantains to the burrito). Delicious burritos for about $5.
El DF: Okay Mexican food, but it is definitely not my favorite.
Milagros: Located right on the most prominent intersection on Nutibara, it's a popular place that is more presentation than good food. Not worth it for the price, in my opinion. I'm not a fan, but this place remains very popular with locals.
Coffee Shops
Laureles has easily become the most coffee-centric neighborhood in all of Medellin. When I first arrived here there were maybe two coffee shops in the neighborhood, now there are a dozen indy coffee shops and a few chain stores, with new ones opening all the time. The coffee culture is just one reason that I love this neighborhood so much. Very bohemian!
#1 Rituales: This small little shop has quickly emerged as one of the best local purveyors of coffee in the city and a popular spot among the local community of baristas. Not only that, but they also serve truly local coffee, from La Sierra, a neighborhood in the western hills of Medellin. The place is tiny, but it's definitely a gem.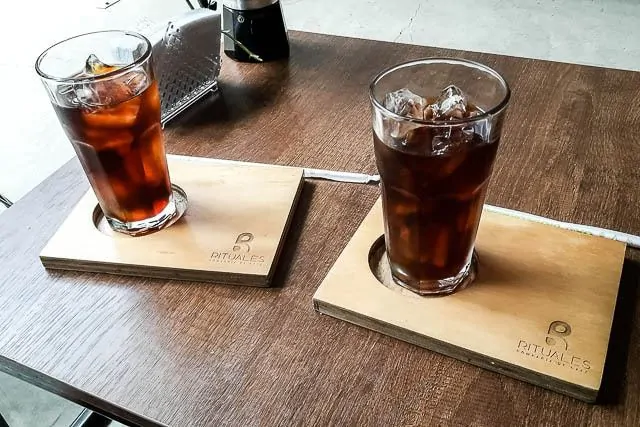 Cafe Cliche: Cafe Cliche is a French cafe that has a great atmosphere, and offers up some tasty food and desserts from wine and cheese to crêpes and hamburgers. I love the interior of the shop, and they serve an okay brew. Regardless, this is probably my favorite in the neighborhood for just hanging out and working on my computer or reading a book. They offer up some cool events as well from movie nights to DJ nights.
AMIgo Compincheria: This place is cool, it's almost like a pop-up coffee shop in the middle of a bookstore. Not only that, but they serve up some truly great coffee with Chemex, V60, etc. They were serving up the same coffee as Rituales, but my understanding is they plan to rotate beans. They could go for a few more comfy couches, but this big space is worth checking out.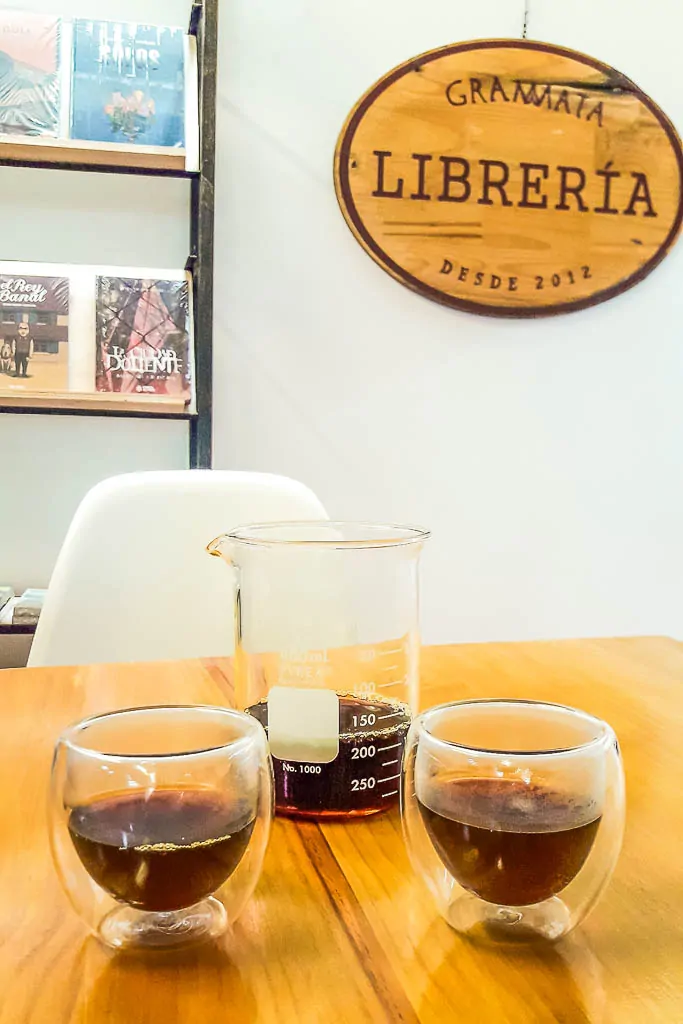 Cafe Revolucion: A favorite for a good cup of coffee in the neighborhood. This place was an original part of the coffee revolution here in Laureles, truly. The biggest drawback is the tiny size of the space.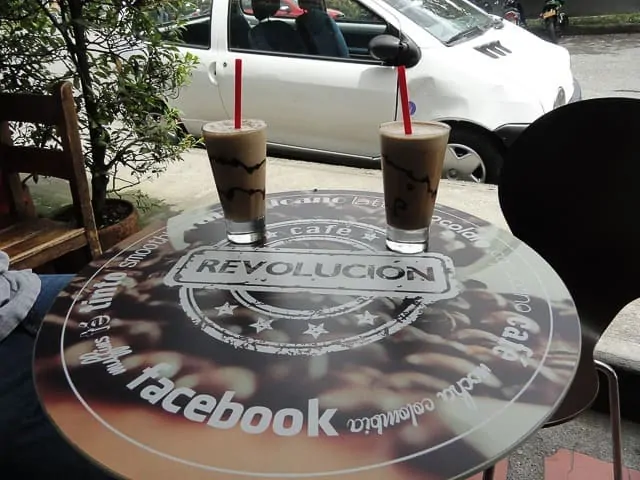 Tostao: This chain has literally exploded all over Bogota and Medellin, billing itself as a more economic and accessible version of Starbucks or Juna Valdez which is much more affordable for locals. I think Tostao offers up a pretty decent cup of coffee at a price that is half that of their neighbors. They have great pastries here too. I'd consider them to be the best big chain, to be honest.
Mina Rica: They took over the old spot where De Los Andes used to be and is one I still need to check out.
Delmuri: Another decent little coffee shop near the Primer Parque. If you're familiar with Pergamino in Poblado, then you'll feel at home here since the owner and employees have previous ties to Pergamino. They were even serving up the same beans when we visited. They've got great pastries, for sure.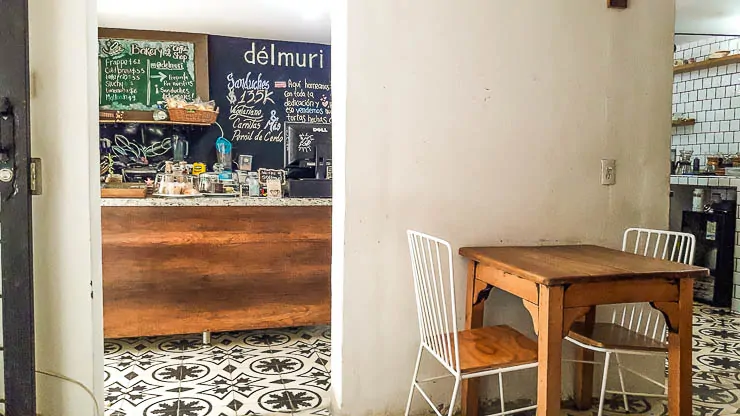 Cafe Zeppelin: In Laureles, this coffee shop is pretty great in terms of atmosphere, with so-so coffee. Comfy couches, quirky designs, and a great patio area. If you want to hang out for a while and socialize, come here. There is a distinct lack of power outlets for long work sessions though.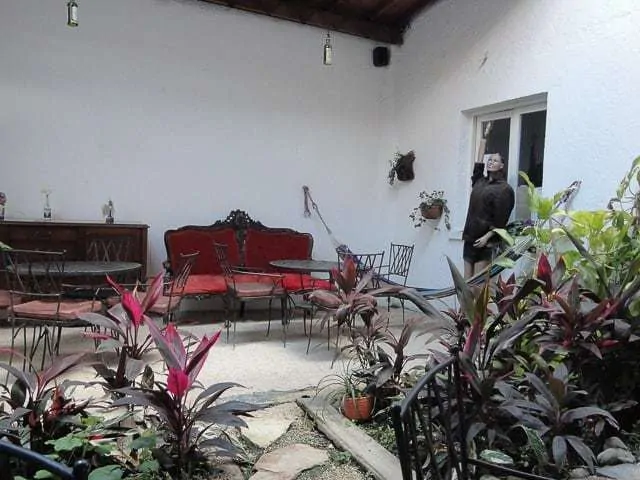 Cafe Vallejo: Another decent choice, with solid coffee in a little coffee shop.
La Taza: A small hole-in-the-wall coffee shop near Second Park. Nice atmosphere and an okay cup of coffee. They have since expanded to offer Greek gyros and Turkish coffee, which isn't necessarily my vibe when I want a coffee shop experience.
Starbucks: After a huge buildup of Starbucks locations in the Poblado area, Starbucks finally moved beyond and opened a shop on the most prominent corner of Laureles. While the coffee can't be considered the best, it's still good and familiar, and they do have an awesome second floor that is perfect for hanging out or working diligently.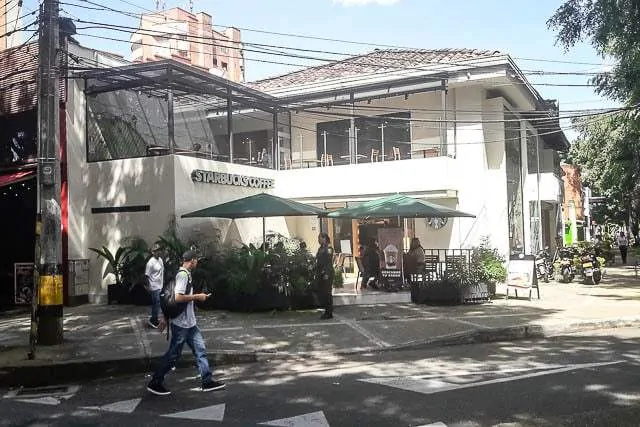 Oma: A local chain coffee shop that isn't my favorite, but I make an occasional stop. Located near the Segundo Parque de Laureles.
De Lolita: Another chain coffee shop located on Cra 76. I highly recommend you get the corazoncitos to accompany your coffee… They are SO good.
Dunkin' Donuts: Located in the basement of the super Exito on 80th, I occasionally spring for a Dunkacino (iced mocha) and an arequipe (caramel) stuffed donut when I'm passing through. Mmm good.
Juan Valdez: The heavy hitter in the Colombian coffee world, which surprisingly doesn't have a big presence in Laureles. The best you can find is a little stand in the Viva Laureles shopping mall or in one of the other local malls.
Desserts and Ice Cream
#1 Reposteria Astor: This place is a MUST go. The chocolate cake is absolutely amazing… Incredibly rich but so delicious. Astor is an institution in Medellin (the original is on Junin Street in El Centro, which is also worth a visit) and features a wide variety of sweet treats. The little animal figures are famous but aren't my favorite. We always go there to split a piece of chocolate cake and have a tinto.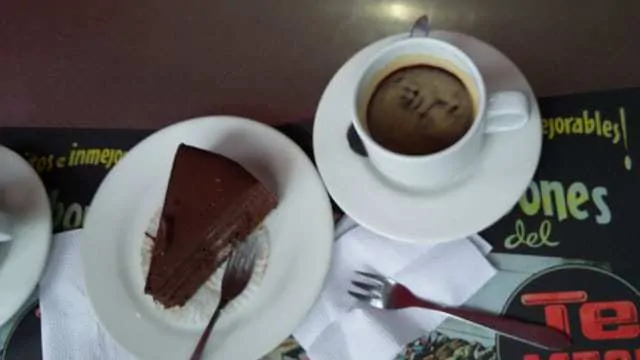 Soft Touch: If you want ice cream, this is the place to go. They've got a ton of great sundaes, milkshakes, etc. Prices are around $5 for a sizable cup. Go on your birthday and get 2×1.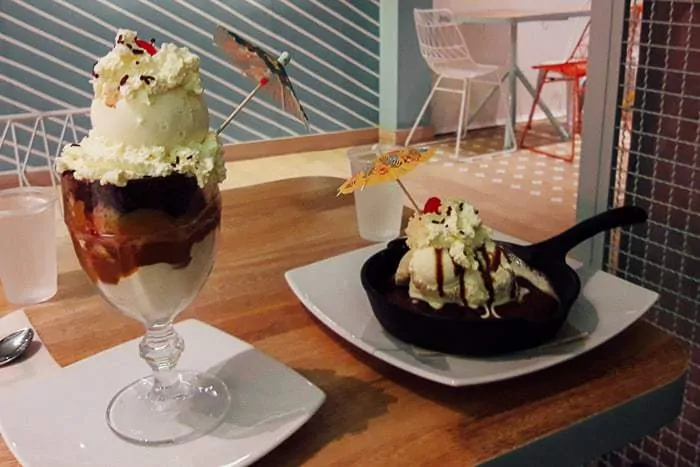 Deli: Another place with sweet treats. They have a pretty incredible chocolate cake here that almost gives Astor a run for its money. Definitely worth trying! They've got a whole range of desserts here and all of them have impressed me. I like the cinnamon rolls here.
Mimo's: Soft serve ice cream, for about $1 you can get it dipped in chocolate… delicious! Tuesday's are 2×1. There is a Mimo's located in the basement of the super Exito on 80.
Percimon: Ice cream… On my list of places to go.
Health Food
#1 Saludpan: An amazing restaurant located near 70 that serves up a non-traditional menu of the day at a decent price, with both a vegetarian or meat option for about $4. More options are available from the menu, of course. It also has a small health food store on site. This is probably the best healthy restaurant in all of Medellin.
Mezzaluna: Fresh greens and salads are very hard to come by in Colombia. If you're looking for a big ol' salad, this is your place. Not cheap, but not too bad either.
Lenteja Express: Specializing in healthy vegetarian fare, if you are looking for lentil or garbanzo bean hamburgers or falafels and hummus, this is your place. It's pretty delicious for what it is, but of course, I couldn't help but wish I was eating a burger from Chef Burger… 🙂
Naturalia Cafe: Located just a block south of Saludpan, they've got a vegetarian menu of the day for about $4, and you can add meat protein to that for an extra price. Pretty tasty food for a reasonable price, especially if you want a change of pace from the normal menu of the day. The salmon here is pretty good, considering we are so far from water and the natural habit of salmon. Naturalia also hosts tons of cool events in the evenings.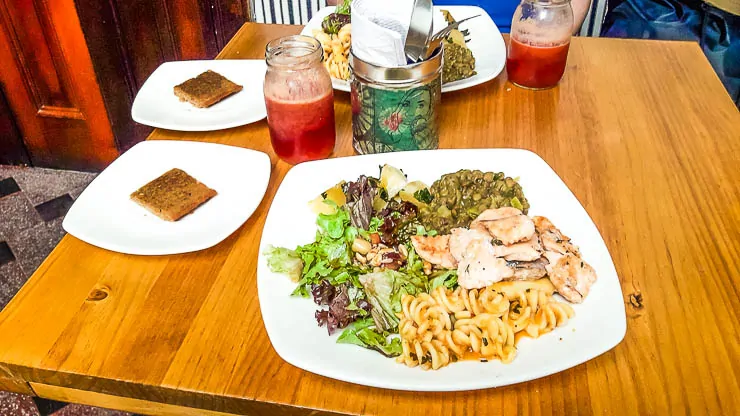 Vita Integral: An amazing health food store near Cra 77 and Nutibara with all you could need from quinoa, coconut oil, seeds and nuts, cereals, and on and on. The prices are pretty good, really. They also act as a sort of center for the whole healthy living community and frequently have folks offering up samples of new products, selling handmade goods, and so forth.
Cosechas: These chains are everywhere and can also be found all over Laureles. They offer up healthy smoothies for affordable prices. I love the Batidos Verdes (green smoothies), I went through and tried every combination they offer. My favorites are the Enermax, Verde Fit, Plus Balance, and Tropical smoothies. ccccccvcetfrgttinftrnhuldhbnljtcentnjjhhhjv
You can find Cosechas near the football field at UPB, on the north end of Nutibara near Cra 80, in the Viva Laureles mall, or on San Juan near Cra 74… Just to name a few… They are everywhere.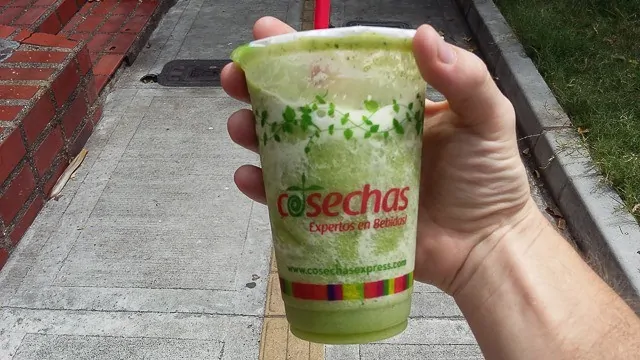 Colombian Staples
Below are a few of the recommended places to get great traditional Colombian dishes, but don't miss out on my guide to Colombian food for a better idea of what to eat in Colombia.
#1 Donde Dario: This is a great place for moderately priced, traditional Colombian fare, just over the border in the Belen neighborhood. If you want to try the infamous Bandeja Paisa (a must!), this is a great place to do so. Chicharron, frijoles, cazuelas, it's all delicious! Just a block south of 33 and Cra 76.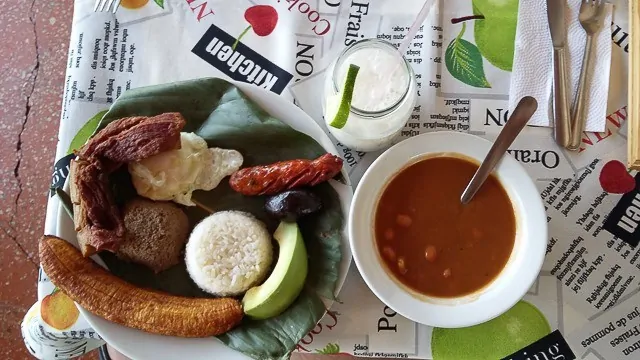 J&C Delicias: The arepa is a staple of life here in Medellin… A thick corn tortilla is most often eaten for breakfast with cheese or butter. I generally use cream cheese on top at home though. But arepas can be topped with almost anything savory, and J&C serves up a wide variety of options.
Mi Bunuelo: Bunuelos are little fried bread balls that have cheese mixed in… Reminiscent of a donut hole. When they are done right they are incredibly delicious! When they are done wrong, they are kinda gross. They must be fresh and not reheated. It can be difficult to find a great bunuelo, but Mi Bunuelo is a reliable source for a pretty good one. You may be able to find better ones at a local panaderia, but it can be a hit or miss search. Mi Bunuelo also serves up cheese sticks, empanadas, and other fried goods like egg arepas, all for very cheap.
Crepes and Waffles: A very popular chain in Colombia, serving up all manner of delicious sweet and savory crepes, and you guessed it, waffles! Not exactly Colombian food, but definitely a Colombian institution, serving up crepes for decades. Try the Thai chicken crepe, I love it. There are so many good options here and prices are very, very cheap even for Colombia — just about $4 for a crepe loaded. This chain also specializes in only hiring single mothers for waitstaff.
Menu of the Day
There are tons of traditional menu-of-the-day restaurants throughout the area which serve up your choice of soup, your choice of meat served usually with rice, avocado, plantains (though specifics vary), and your choice of juice. These places offer the best value without a doubt and they are all over the neighborhood (just ask around). Here are two that I frequent:
Palo Santo: What I have found to be the best menu of the day offering in the neighborhood. They serve up a limited menu but one that changes every day, with more interesting combinations. For instance, the meat usually has some sort of different sauce, salads that change each day, and non-typical side dishes. It comes, of course, with the soup and juice, but also includes a little dessert.
Restaurante Blasu: Affordable and delicious menu of the day eating, located near the corner of Nutibara and 79. You get your choice of soup, your choice of meat (chicken, pork, beef) on your "seco" (dry) plate which comes with rice, plantains, and salad usually, as well as your choice of juice.
Peruvian Restaurants
So there are about a million Peruvian restaurants in the area now, with new ones continuing to open. I haven't been to too many of them at this point, but Peruvian food is some of my absolute favorite!
Kusi: This is a pretty authentic Peruvian place with a spot on Pollo Saltado and a decent Papas a la Huancaina. It isn't 100% like Peru but pretty close. You can even find Inca Kola here too.
Puerto Inka: One I need to visit still. Right on the Second Park of Laureles.
Asian Restaurants
There aren't a ton of places that serve authentic Asian cuisine, and while there are a number of sushi houses in the neighborhood, I haven't explored too many of them at this point. Part of the reason is that I'm from Seattle and used to really, really good Asian cuisine from virtually any country.
District 1: Authentic Vietnamese restaurant that I still have yet to try.
Oppa Asado: Korean BBQ joint located near the First Park — still on my list to try, although I'm personally not a big fan of Korean BBQ.
Misc. Restaurants
Bracos: A gourmet pita place that has been getting rave reviews just over the border in Belen, this place is high on my list of places to try.
La Pampa: An Argentinean restaurant serving up amazing cuts of meat. If you want a great steak, you will not be disappointed here. It is one of the very best restaurants in the neighborhood, in my opinion. Though it isn't cheap, about 36,000 for the steak, with sides and a salad bar.
La Migueria: This is a French bakery, not really a restaurant per se, but it is without a doubt the best bakery in the entire city… They've got great empanadas, fresh bread, and amazing desserts. I haven't tried everything here yet, but everything I've tried, I've LOVED.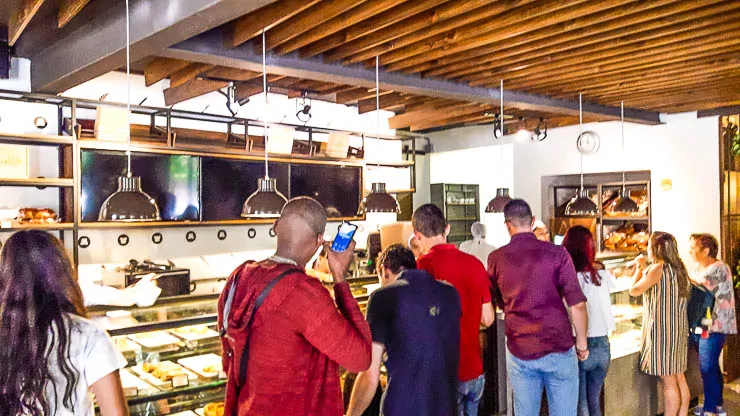 Delirio: A fancy restaurant on the most prominent corner of Laureles. It is a sort of Asian and Mexican fusion mix. I really wanted to like this place, but it was underwhelming for the price. Not only that, but Andrea and I both got sick after eating here. I'd avoid it!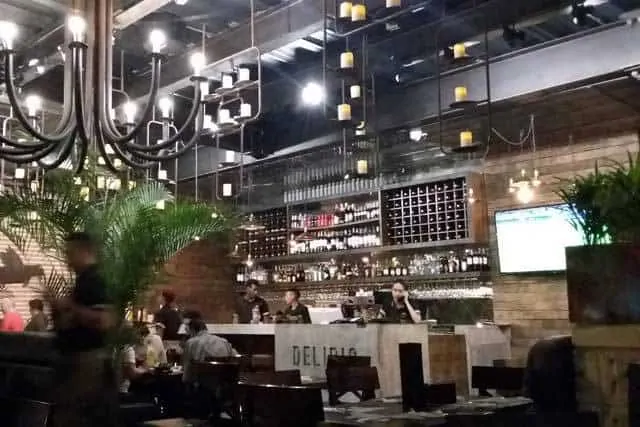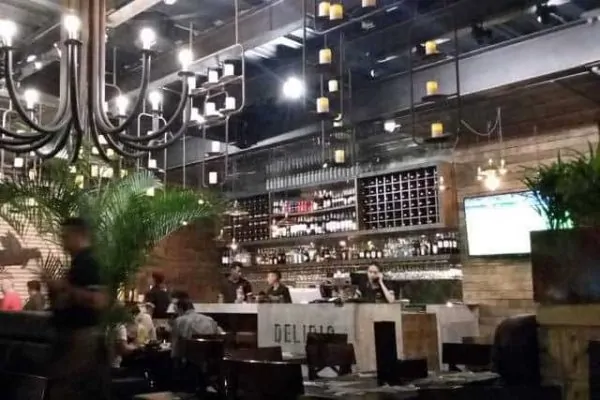 Fenicia: a delicious Lebanese restaurant that serves up all the typical stuff: falafel, kibbe, hummus, etc. Really good! Now located in a modern new building as well.
Full Arabe: Another great Lebanese restaurant, but more of a hole in the wall. They've got all the typical stuff, including shawarma wraps. The Full Arabe platter is perfect for two and has a bit of everything. Delicious!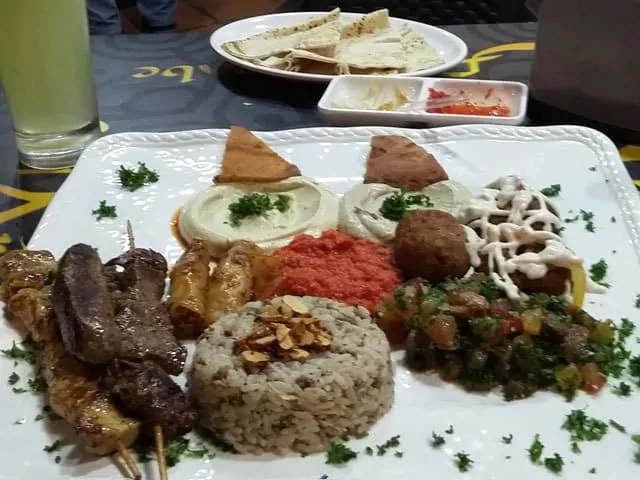 Konico Cono Express: An interesting idea… They serve up a variety of savory treats inside a cone (either crunchy like a taco shell or soft like pizza dough) with things like fajita, Thai chicken, greek, etc. Quite delicious, but a little challenging to eat (it's like a meat ice cream cone).
Pecositas: Serves up a wide variety of small snacks and traditional Colombian fare. The Cazuela de Pollo was delicious. The menu of the day (lunch hour) is the best deal, which costs around 15,000 pesos or nearly twice as much as a normal menu of the day. But the quality is excellent. Prices for a single dish outside of lunch hour are 20k+ pesos and a bit expensive for what you get.
Submarino Express: Submarino Express specializes in seafood with things like shrimp hotdogs, lobster hotdogs, crab burgers, and so forth. I had the fried shrimp hotdog, which was delicious. They've got a number of special sauces too, like mayonnaise maracuya.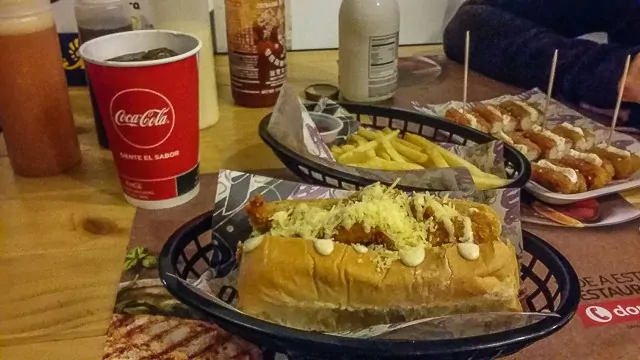 La Brasa Roja: An okay restaurant that serves up some traditional Colombian fast-food fare. Nothing out of this world… And not particularly cheap.
Choripanes Caminito: I love choripan in Argentina, but this is a place I have yet to visit in Medellin… Definitely on my list to try.
Frisby: A fast-food chicken place. I go there once in a while for the Frisnacks, an incredibly portable combo that has the soda topped with a little divided bowl for the chicken tenders and french fries (the straw pops up through the middle). The Frisnack costs around 10,000 pesos.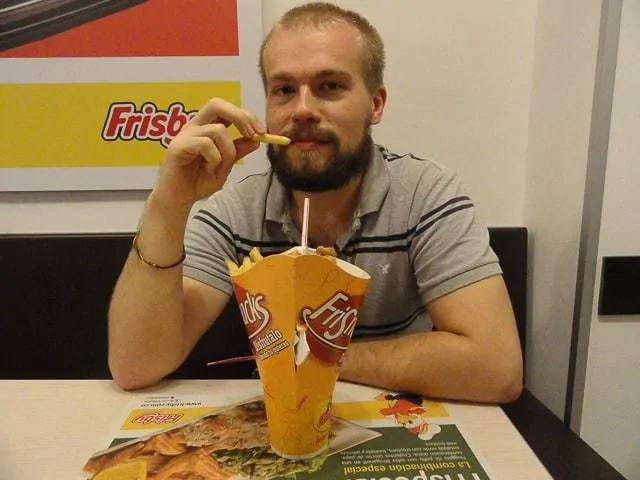 Ego's Fast Food Gourmet: Specializing in cuts of meat and fast food like hamburgers and hot dogs, but of better quality, than you'd find on the street. Prices are surprisingly cheap for all that you get.
Gyms and Exercise
The majority of my exercise consists of running through the streets. My favorite place to go running is doing laps around UPB (the university). It provides a loop of approximately 1.8 kilometers (1.1 miles) where you don't have to deal with dodging traffic, crossing streets, and other things that slow you down.
You may have to dodge students and people walking around on occasion, but I prefer that versus fighting my way across busy intersections.
Or I will head up to Estadio and run around the entire complex. There is a 400m track down in Unidad Deportivo Belen which is quite nice and tree-lined. Or you can head to Parques del Rio for a pretty nice running area. All three of these options are close.
Check out Strava.com for an idea of the most popular routes among all users of their app. It's pretty cool!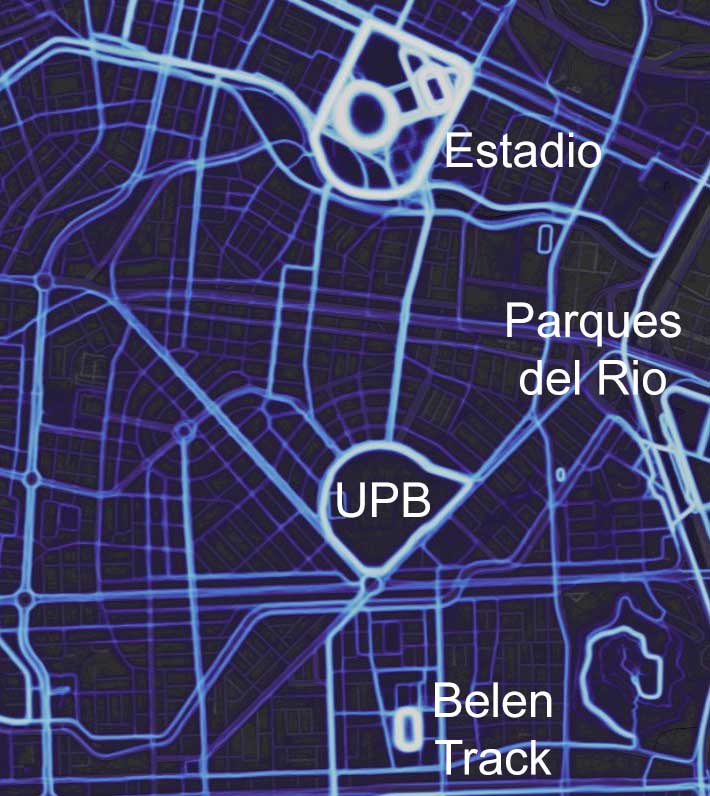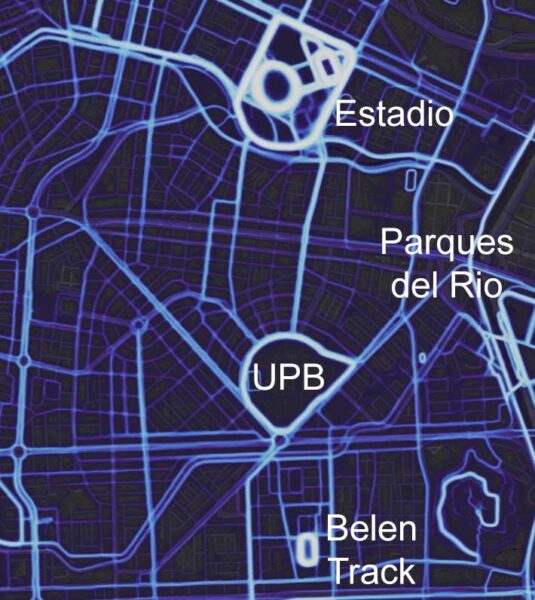 I joined a small neighborhood gym called Magnum Gym, located on Circular 75 around the corner from the First Park. This is NOT a fancy gym at all, but it's got a decent selection of run-down cardio machines and a large selection of weights and weight machines. It's primarily a bodybuilding gym, but the atmosphere is friendly enough.
If you're looking for a fancier gym, check out SmartFit or BodyTech located at the extremes of Laureles.
There are a handful of other options for gyms and exercise throughout Laureles.
Centro de MVMT: A cross between salsa, CrossFit, and group exercise classes, I believe.
Flying Tree Yoga: A popular, albeit expensive, yoga studio down by UPB.
Supermarkets and Groceries
Our shopping style is generally as follows: purchase most of the staples from D1 (discount store), fruits and veggies from the Plaza de la America market or occasionally from the mobile carts, and then whatever else leftover that we need from the Super Exito or Euro. Sometimes I hit Carulla when I'm looking for something hard to find (they have more imported stuff).
Laureles has a handful of great supermarkets to choose from and all within easy walking distance:
D1 (De Uno): They are located all throughout Laureles and are a chain of discount grocery stores. They have a limited selection of everything (don't expect to find 20 different boxes of cereal or even 3 different boxes). They offer what they offer, but it's all much more affordable than Exito. Though they don't have vegetables and not many fruits. We shop here for all the staples first and buy fresh produce from the market (La Plaza de La America).
Exito: The biggest and most popular of the chains. This super Exito along 80 is more akin to a Wal-Mart which also sells clothes, household goods, electronics, food, etc. It is located alongside the Viva Laureles shopping mall which offers up a decent amount of stores and restaurants. I also often head here to use the ATMs and withdraw cash.
Exito #2: There is another grocery store only Exito located just north of San Juan near Plaza La America (a traditional Colombian market offering up all manner of goods including foodstuffs, plants, and beyond).
Exito #3: Located on the corner of 70th and San Juan.
Carulla: located along Nutibara, Carulla, in general, is thought of as more upscale and pricier. A modestly sized market that offers up a wider selection of imported goods, perhaps.
Euro: Just down Nutibara is another big supermarket. Similar products to Exito, though perhaps slightly cheaper prices.
Consumo: Yet another big supermarket, this one near the intersection of San Juan and Nutibara or another near 33 and Cra 76.
La Plaza de La America: located just a few blocks north of San Juan and Nutibara, this traditional Colombian market is a great place to pick up exotic Colombian fruits and produce. You can find all the food items you need here (not just fresh produce), and prices beat the local tiendas and supermarkets. They carry much more than just food as well.
Tiendas: Nearly every other block has a local tienda that offers up everything from arepas, eggs, snack food, drinks, and basic fruits and veggies. Prices in many tend to be comparable with Exito (so not super cheap).
Fruit Carts: these mobile fruit carts make the rounds throughout the day announcing what they have. In general, you can find avocados, pineapples, bananas, and mangos at a minimum. Prices are the cheapest of all, but you should either know the normal prices or understand when he announces the prices over the loudspeaker, in order to ensure you aren't overpaying.
Coworking Space
I've never used a coworking space, but they have been gaining popularity among location-independent laptop warriors like myself. There are a few that come to mind in the area:
Semilla Coworking: They have a true coworking space upstairs and a more informal coffee shop-type workspace on the first floor. Probably the nicest and most inviting coworking space, located right in front of the First Park of Laureles.
Ivy Laureles: Located near the Primer Parque and also a wellness center with massages and such.
Kamado Coworking: Located furthest to the north
Nightlife
In Laureles proper, there aren't too many big nightlife spots, although there are tons of little places throughout the neighborhood for sure. The real concentration of nightlife is along 70 or 33 and there are tons and tons of choices, thankfully all within easy walking distance.
Due to the proximity of both major nightlife destinations, there are probably more options in terms of sheer numbers near Laureles than there are in Poblado.
I'll mention a few places that either stand out to me or those that we frequent, but if you're just searching for something cool, walk along 70 between the Estadio station and the UPB campus, or walk along 33 between UPB and 80. You'll find something up your alley undoubtedly.
Son Havana: One of the best salsa bars in the city, located one block north of San Juan on Cra 73. It's a little out of the way, but this place has a great vibe if you enjoy salsa and dancing.
El Tibiri on 70 is another one of the top salsa bars in the city and is also located within walking distance.
Pub Rock 33: There is definitely a lack of rock 'n roll along 70 and 33 (in all of Medellin, really), but there are a few good rock bars on 33. Pub Rock is one that we frequent which usually has a good crowd on the weekends with a few different rooms and frequently features live music. The service isn't the greatest though and the music can frequently stray into pop rock or 80s. Located on 33 between Cra 78 and 80.
Underground: A pretty great alternative to Pub Rock, and located nearby. They've got live shows on the weekends with music that ranges from the 80s to 90s typically. The prices are cheap and the service is pretty good. Fewer crowds than Pub Rock and slightly better music.
Punto 70 Rock 'n Roll: Literally the last bar on La 70 right across the street from the UPB campus. This is a much more chill bar, with a small space, and sparse crowds (even on the weekends). They've got pretty good music, fast service, cold beers, and cheap prices. This is kind of a go-to if it's just to hang out and talk over a couple of beers.
Public House: One of the few options right in the heart of Laureles, but haven't been yet.
Bogota Beer Company: A good choice for a craft beer in the neighborhood.
So there you have it! My ultimate guide to Laureles, Medellin… As mentioned above this is a living document that will be added to and revised as time goes on.
There's still a lot to explore and much still missing from this article, I know. But if you have some favorite places, please be sure to sound off in the comments below.
Traveling to Medellin soon?
Book your lodging on Booking.com now to save, or if you plan to stay longer, I highly recommend looking for a place on Airbnb. And don't forget to purchase travel insurance for Colombia that will help protect you against illness, injury, and theft. I recommend World Nomads or SafetyWing which are both made for backpackers or digital nomads, and provide great coverage at an affordable price.
Read Next: Guide to Traveling to Colombia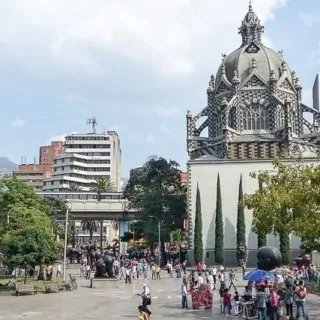 Colombia Travel Tips
Important tips and resources for planning an amazing trip to Colombia, based on my years of traveling and living in Colombia.
Tools
Colombia Trip Planning
Instructions
Book a cheap flight to Colombia with Momondo, or better yet, start travel hacking so you can fly for free. Traveling between major cities is much better by flying, trust me.
Plan a rough itinerary and how long you will spend at each destination. Use an itinerary planning service for custom recommendations and pick up Lonely Planet Colombia.
Work a little every day to teach yourself Spanish, you'll want to know as much as possible before you arrive.
Book cheap accommodation in advance, at least for the first destinations -- For hostels use: Booking, for cheap hotels use: Hotels.com, for apartments use: Airbnb.
Reserve your on the ground tours and activities through Get Your Guide.
Purchase travel insurance for Colombia with SafetyWing to protect yourself from illness, injury, and theft while in Colombia. VERY important. And be sure to read my article: "Is Colombia Safe?" for my honest opinion and safety tips.
Sign up for my free emails about planning a better trip to Colombia, and be sure to check out my comprehensive guide about traveling to Colombia.
Learn more money-saving tricks with my top budget travel tips.
Put together your Colombia packing list.
Enjoy this incredible country!
Notes
I hope this helped you plan your travels in Colombia! I know it can be a struggle to find accurate and on the ground information when traveling to a new place like Colombia, which is why I started writing so extensively about it!
If you have any questions about Colombia, budget travel, or anything else shoot me an email at ryan@desktodirtbag.com.
(I love getting questions! That is how I get ideas for my blog posts and what to write about!)
Recommended Products
As an Amazon Associate and member of other affiliate programs, I earn from qualifying purchases.
Did you enjoy this post about Laureles, Medellin? Please take a moment to share it on Facebook, Pinterest, or Twitter.
The following two tabs change content below.