This article may contain
affiliate links
. If you make a purchase through these links, I will earn a commission at no extra cost to you. Thanks!
The neighborhood known as La Candelaria is what makes up the Medellin Centro (aka downtown). While the name might officially be La Candelaria, pretty much everyone just calls it El Centro. The Medellin El Centro is still very much the heart of economic activity in this city and where you'll see the largest concentration of people. While I don't recommend it as the best place when people ask me where to stay in Medellin (there are better neighborhoods for day-to-day living), I still think that it is a cool place to come and explore from time to time.
Don't miss the printable Colombia Travel Tips at the bottom of this post which will help you plan a better trip and get more out of Colombia.
There is a certain beat or pulse to life in downtown Medellin that no other neighborhood can match, and while this part of town can be somewhat gritty, raw, and even sketchy at times, there are still plenty of awesome things to see, do, eat, drink, and explore.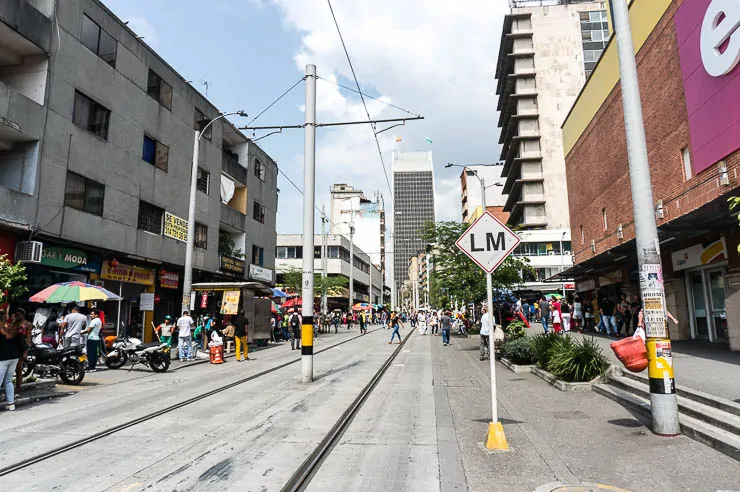 I think you'd be remiss if you came to Medellin and did NOT visit El Centro.
Even in the few years that I've been here in town, I've watched downtown Medellin morph and grow and change… There are some, dare I say, downright cool places in the Medellin Centro that you just won't find elsewhere.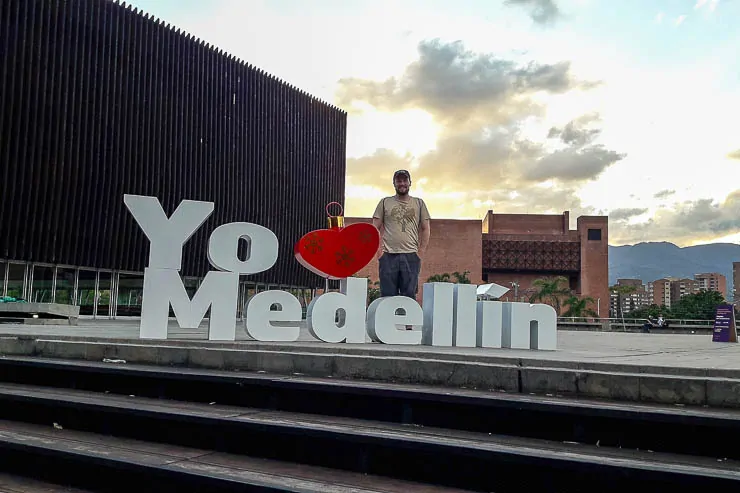 This is all to say that everyone visiting Medellin should definitely check out the gritty, chaotic, dynamic heart of this city. In this guide, we will only be covering downtown Medellin (check out my more expansive guide of things to do in Medellin if that's what you are looking for) by looking at getting around, safety, places to visit, places to eat, nightlife, and coffee shops, and just the coolest things to do in El Centro Medellin.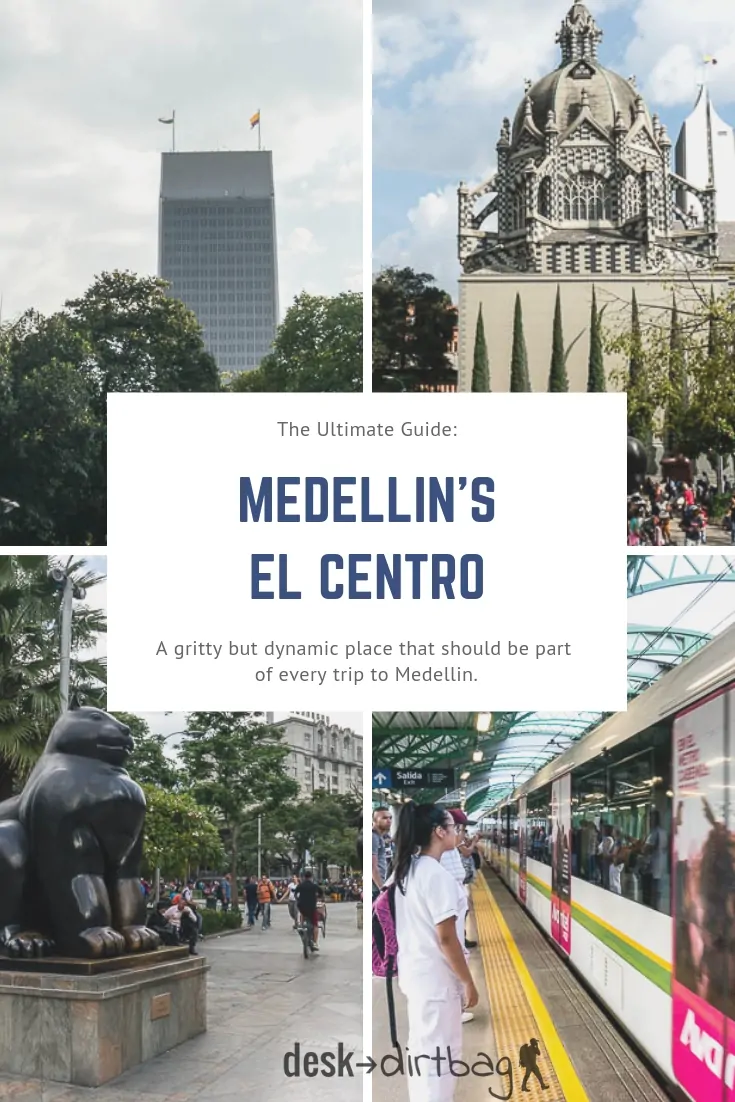 Table of Contents
Getting to and Around the Medellin Centro
The Medellin Centro is very easily accessible, whether you're coming from Poblado, Laureles, Envigado or anywhere else… Virtually all the buses head that way (look for any bus that says San Antonio, Alpujarra, Parque Berrio), and it is at the connection between both metro lines.
The best metro stops to use would be either San Antonio or Parque Berrio, as either one will spit you out in the heart of Medellin's downtown where everything is a short walk away.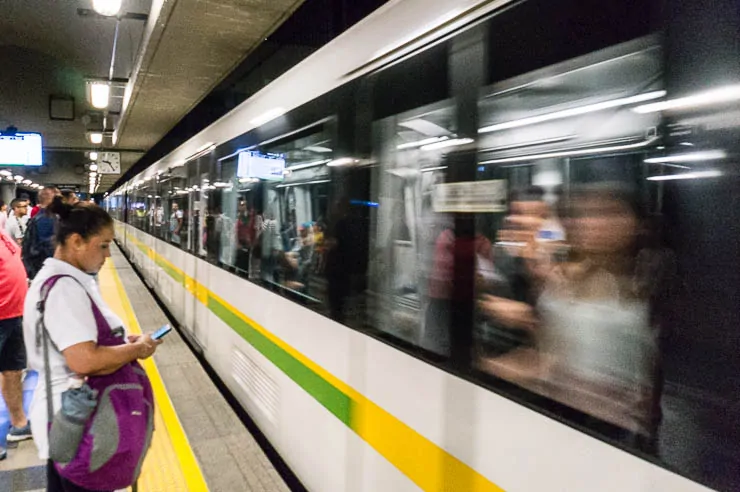 The heart of tourist interest in Medellin's El Centro would be Plaza Botero (which we will discuss later) which is closest to the Parque Berrio Metro Station and is where I would recommend starting out your exploration.
Downtown Medellin should be thought of in two halves, bisected by Avenida Oriental which is what Avenida Poblado becomes as it passes the San Diego Shopping Mall. The west half of downtown is the downtown core and then east of Avenida Oriental it transitions into a more residential area (although still decidedly urban in character).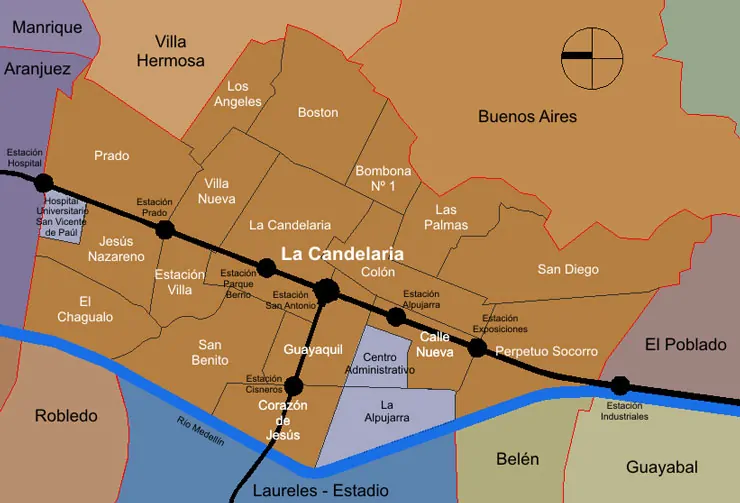 Safety in Medellin Centro
The Medellin Centro does NOT have a reputation as being the safest place. Indeed, statistically, it is the most dangerous part of Medellin in terms of robberies and so forth. While I think that El Centro is safe to visit, even alone, there are some general precautions that you should take when venturing around these parts.
Medellin Centro Safety Tip: Always stick to well-traveled areas where you see a lot of people.
During the daytime, all the places discussed in this article are generally safe, but at night is a different story. The downtown core (the area west of Avenida Oriental) is mostly workers that are leaving by about 6:30 or 7 pm (at dark).
The area east of Avenida Oriental is more residential and thus not so sketchy, but I would still recommend against wandering around any part of the Medellin Centro at night unless you know the area. As a rule at night, go directly where you gotta go and use taxis or Uber.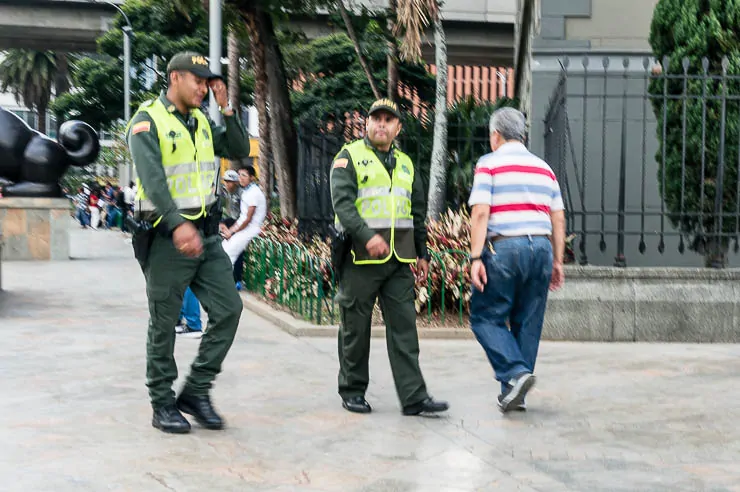 The areas both directly north or directly west of Plaza Botero (the centerpiece of downtown Medellin) is VERY sketchy. Don't head that way, even in the daytime.
Do not bring much in the way of valuables and cash downtown, be discrete with things like cellphones or cameras. I would not bring a backpack or purse at all here. If you do bring a backpack, take note of when and where locals wear their backpacks in front of them and do the same.
Watch your pockets in crowded areas, places like Parque Berrio are notorious for pickpockets.
This is all pretty common sense stuff in a big, bustling Latin American city. Just be cautious here and you should be fine. Thankfully, there is a fairly strong police presence throughout the main areas of interest in downtown Medellin.
Read More: Is Colombia Safe?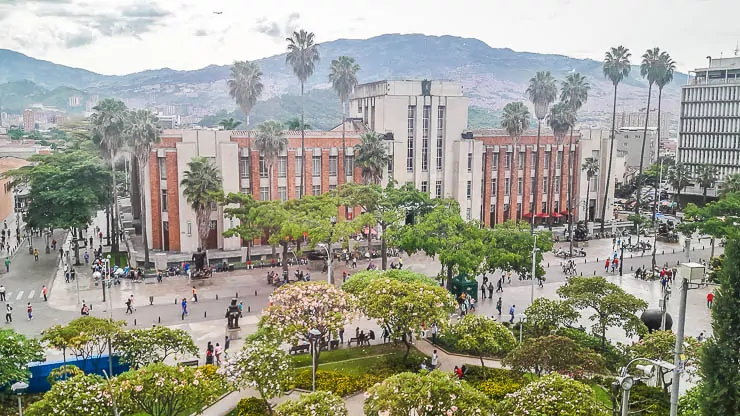 Interactive Map of La Candelaria Medellin Centro
This Medellin Centro map shows the various points of interest, restaurants, cafes, and so forth that we are going to discuss in this article. Avenida Oriental discussed earlier is the large avenue running north to south (seen here as white then transitioning into yellow before turning towards Prado).
The area outlined on the map in yellow is what I would generally consider to be the area of interest to foreign tourists visiting the Medellin Centro AND the area that would generally be considered safe to visit during daylight hours (refer to the safety section for more details).
Be sure to explore the map, zoom in and out, and read on for a better idea of everything outlined in the map.
Where to Stay in El Centro Medellin
While I've mentioned that I wouldn't put El Centro at the top of my list for where to stay, there are a growing number of travelers who choose to stay in El Centro and love it. That may be you… Please check out my much more detailed discussion about where to stay in Medellin as I discuss the various options and what I'd consider the best neighborhoods.
The long and the short of it for El Centro is that I would only seriously look at staying somewhere just east of Avenida Oriental, in places close to Torres de Bombona or Parque Boston.
In my list of the best Medellin hostels, there was one place in El Centro that made the cut, and that's Medallo Social Hostal near Parque Boston. Another great option is to look at Airbnb where you can get a pretty great place for a much better value (since it isn't as popular as other neighborhoods).
Places to Visit in Medellin Centro
Plaza Botero
Plaza Botero is basically the first stop that any tourist would want to make when they visit downtown Medellin. This plaza is decorated with 21 bronze statues by Fernando Botero, Colombia's most famous artist and who was originally from Medellin.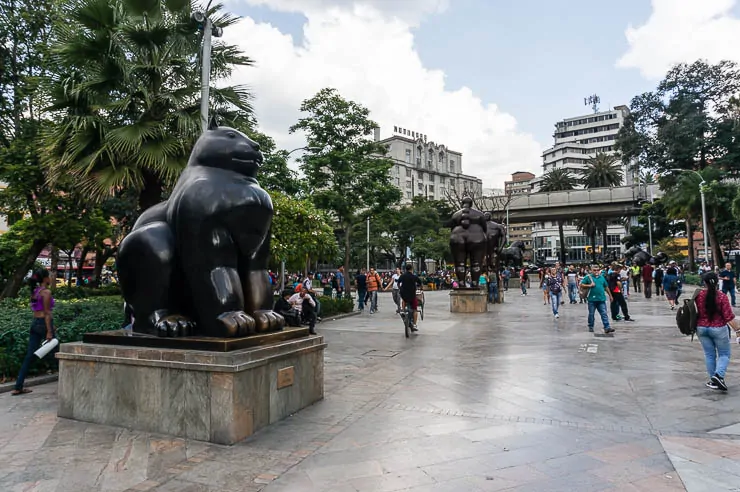 The Botero style is defined by his plump or fat figures which is characterized in everything from his portraits to still lifes.
On one end of the plaza sits the Museo de Antioquia and on the other sits the checkerboard patterned Palacio de la Cultura, below the famous Coltejer Tower and beside the iconic elevated metro track (the system is a tremendous source of local pride).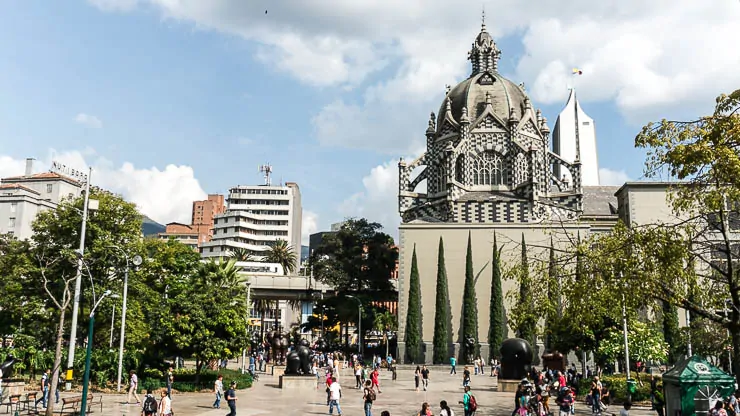 This plaza with free artwork from a world-renowned artist is a must-see and one of the top things to do in Medellin, for sure.
Museo de Antioquia
Right on the edge of Plaza Botero is the Museo de Antioquia, where inside you will find more incredible works from Fernando Botero, including more statues of his, along with many of his paintings, again in that plump style with exaggerated figures.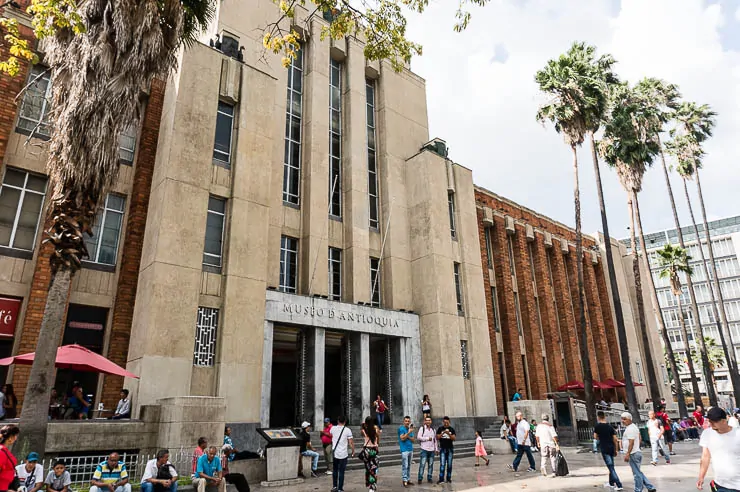 While the main show is the works by Botero, there is a range of other artwork from other Colombians, international artists, modernist works, and even early works from the so-called conquest of the Americas.
If you plan a day in El Centro, visiting here during midday for a few hours is a great way to escape the strong midday sun.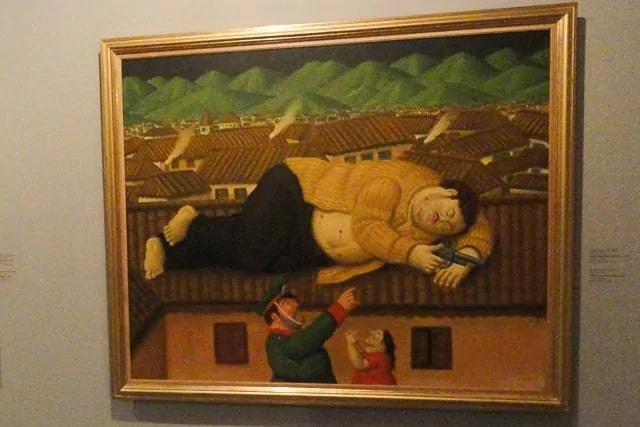 The museum has an entrance fee of about $6 for foreigners and is definitely worth the money. Plan to spend at least two hours here, minimum. The Museo de Antioquia is definitely one of the best museums in Medellin.
Read more about the Museo de Antioquia
Rafael Uribe Uribe Palace of Culture
Across Plaza Botero from the Museo de Antioquia lies the Palace of Culture Rafael Uribe Uribe (yeah, double Uribe!) in the church-looking building. This place isn't a must-visit, but it is a somewhat hidden gem because nobody goes inside…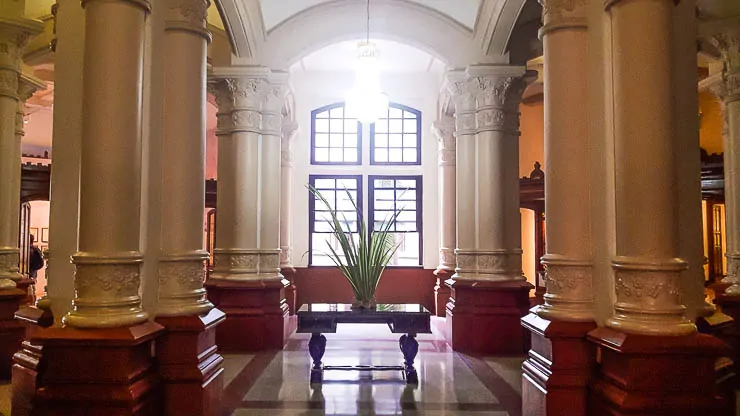 Inside, you'll find temporary art exhibits on the first floor along with a permanent exhibition about Rafael Uribe Uribe, the construction of the building (it was initially started by a Dutch architect who abandoned the project, leaving it to be finished by locals, giving it that half-done look it has today).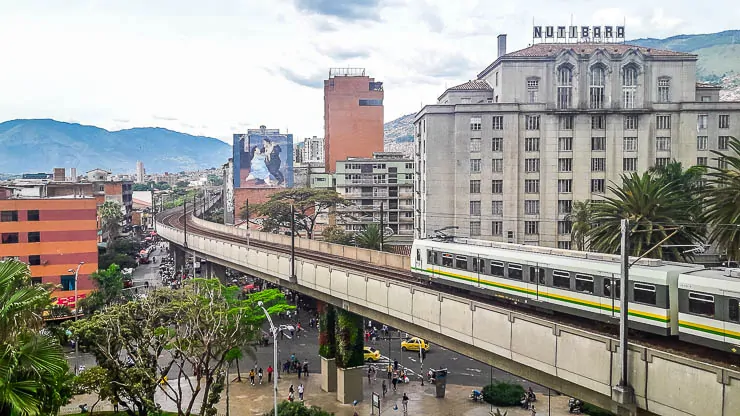 There is an awesome courtyard here where you can hang out and take a break from the chaos of downtown or escape the midday heat (accessed on the basement level) and you should also be sure to head up to the fourth floor where you can get a closer look at the dome, and get some great views of Medellin, Plaza Botero, and the Metro.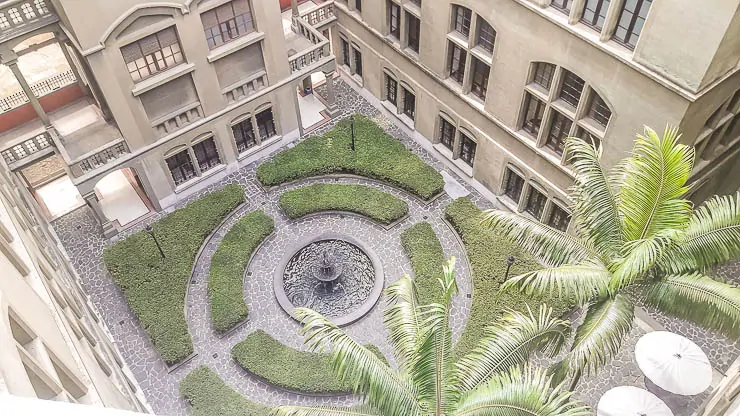 Entrance here is free, so you've got nothing to lose! The majority of the building houses various offices for government employees working on different arts and cultural projects, so you can skip the second and third floors. There is free and open WiFi here too.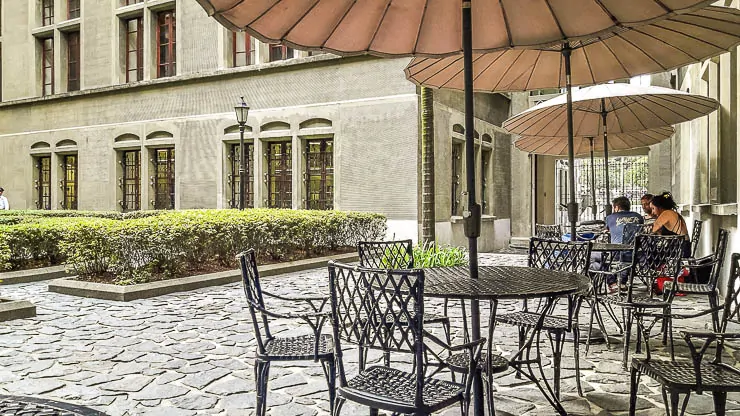 Edificio Coltejer
Coltejer Tower is the tallest building in Medellin at 574 feet and was designed to represent a large industrial sewing needle, representing the textile company for which it is named. It is an emblematic symbol of Medellin, perhaps second now to the Medellin metro system.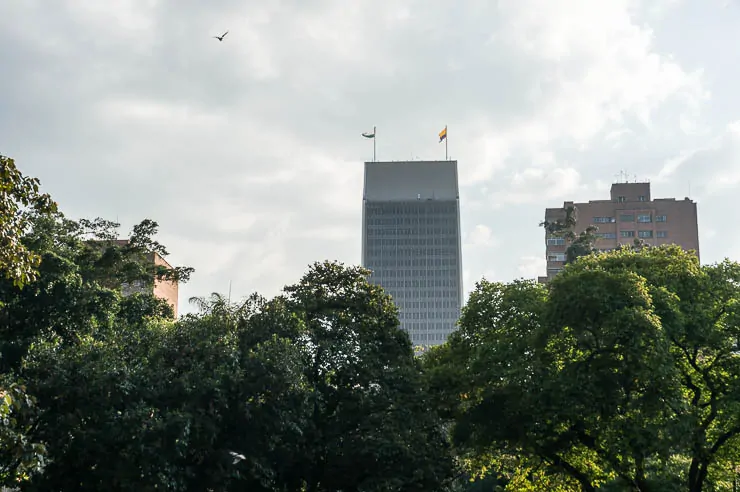 While the tower itself doesn't offer anything of interest for a tourist, it is an important landmark from which you can orient yourself while in Medellin's downtown.
Junin Street
For instance, in terms of orientation, Junin Street sits right at the foot of Coltejer, and this street is probably the most agreeable part of Medellin's downtown core… It is a cool little pedestrian street filled with shopping, restaurants, and flower vendors.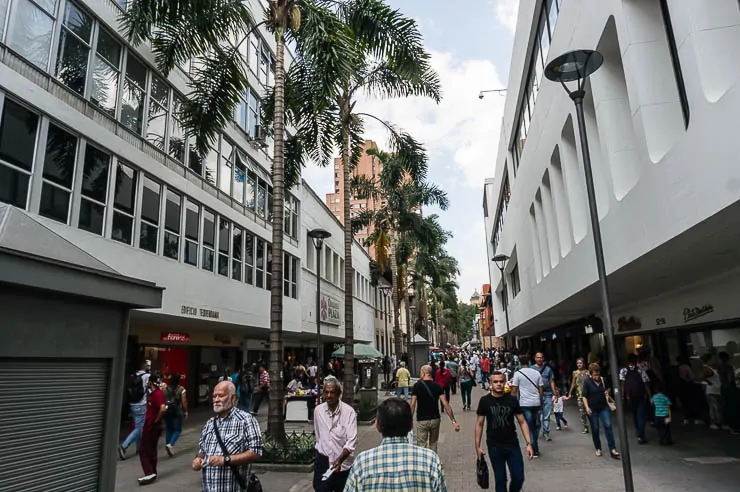 This street is about as upscale as downtown Medellin gets, with a number of (locally) big-name stores and restaurants. It is just a generally nice place to walk along and grab a bite to eat.
Personally, I love cities that prioritize pedestrian-only spaces, and while Junnin is the best here in Medellin, there are others like Carabobo or the newly formed Paseo Bolivar which are long stretches of pedestrian-only space.
As a side note, Junin street is the basis for the local word "Junninear" which is a verb that basically means window shopping.
Plaza Bolivar
Plaza Bolivar sits at the northern end of Junnin Street and is a large green park where you will see all sorts of characters hanging out in the plaza. This space has recently been renovated and improved. Along the edges of the park, you'll see new businesses popping up like Tostao if you want to pop in for a quick and good coffee.
But the real draw here is the first Saturday of every month when the entire plaza converts into a giant open-air market with people selling hand-made goods, antiques, paintings, and so much more.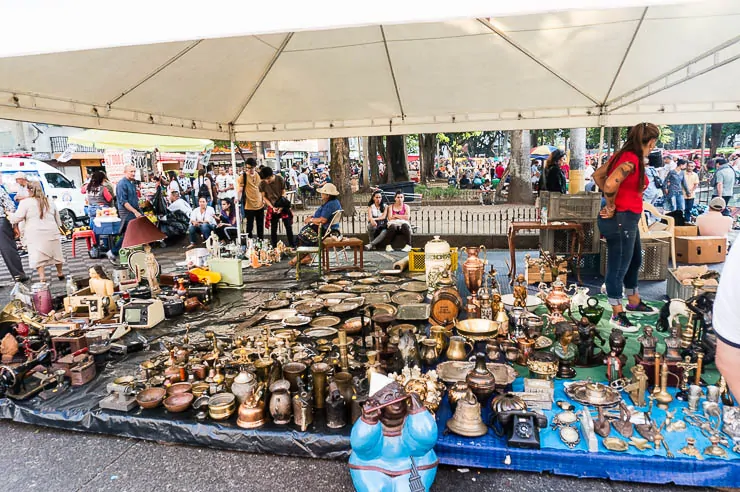 While there are smaller open-air markets that pop up throughout Medellin, this big one in Plaza Bolivar is the best of the best in terms of the sheer variety on offer and the number of vendors present.
The market is a really cool space, and something I'd love to see on a weekly basis, rather than monthly. But if you are here on a first Saturday, make it a point to come here!
Catedral Basilica Metropolitana
At the end of Parque Bolivar is the largest church in Medellin, the Catedral Basilica Metropolitana, which is also supposedly the largest brick oven-baked church in the world… So there you go!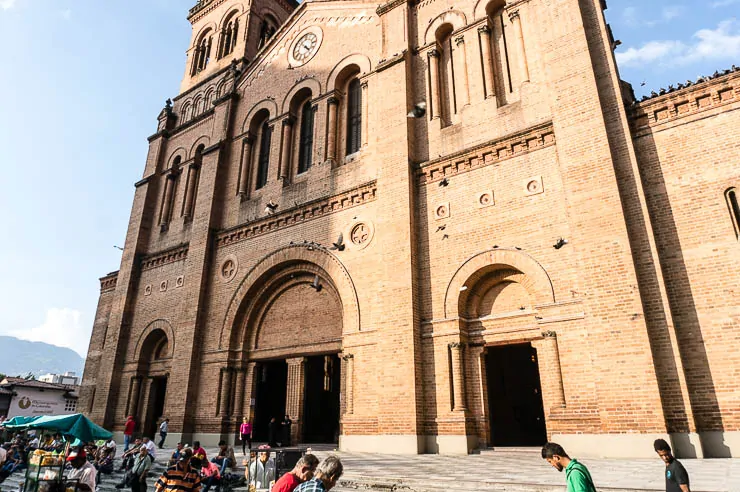 There are quite a few churches throughout Medellin, but this one is what I'd call the most impressive due to its sheer size. It isn't particularly jaw-dropping, but the inside is somewhat ornate as you'd expect with any Catholic Church.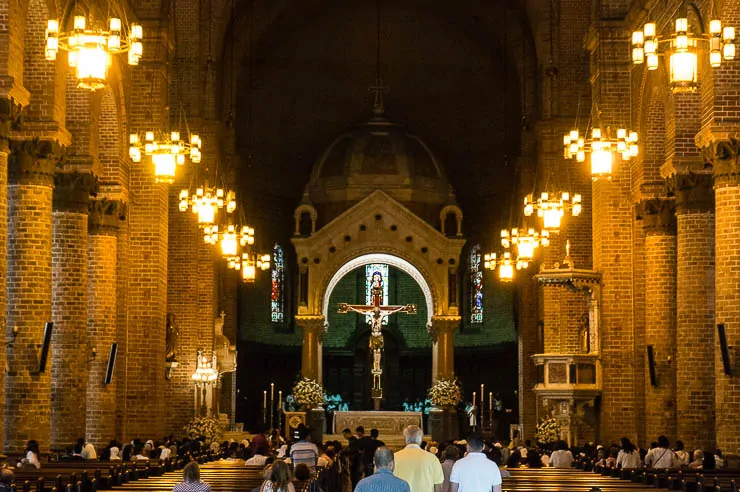 It is worth popping your head into… If you're looking for the oldest church in Medellin, be sure to check out the Basilica de la Candelaria from which the neighborhood gets its name, right on the edge of Parque Berrio.
Museo Casa de la Memoria
East of Parque Bolivar, across the Avenida Oriental, sits the Museo Casa de la Memoria. It is a museum dedicated to the history of violence and injustice that occurred (and occurs) in Medellin and throughout Colombia.
The main focus here is on the armed conflicts and wars which have brought hardships to generations of Colombians. The museum itself is free and is worth a visit. While the story it tells is particularly sad, the museum is fairly small and not what I would personally call the most interesting ever, but it still ranks among the best museums in Medellin, for sure.
Teatro Pablo Tobon Uribe
The Teatro Pablo Tobon Uribe is the largest theater in Medellin and an important landmark as you make your way to or from the Boston neighborhood. There are frequent theatrical shows here (maybe of interest if your Spanish is good enough), but there are also infrequent live music shows ranging from classical to rock to rap and other events.
You may want to check the calendar of events to see if there is anything that calls to you. But downtown Medellin has a number of much smaller theater venues (and a thriving scene, actually) that sometimes offer up free shows.
Plaza Cisneros
Sitting on the southern edge of the downtown core is Plaza Cisneros, aka Parque de las Luces, which is an open-air plaza that was retrofitted with a number of tall columns with lights that glow and change colors after dark.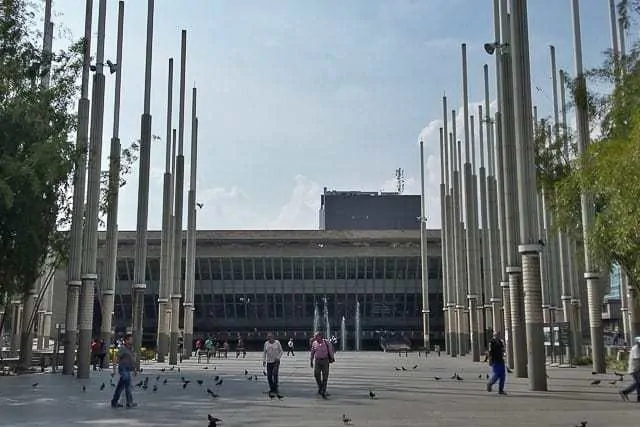 It is a cool space even during daylight, though if you go at night, remember our earlier talk about safety… It's not a place you should really hang around at night.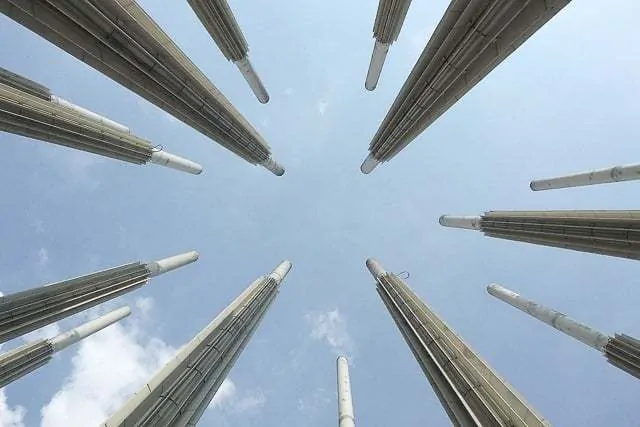 On the edge of the plaza sits the large library from EPM as well which is free to enter and hang out.
Monumento a la Raza
Across from Plaza is an area known as Alpujarra, which is where the center of government for Medellin and Antioquia sits. The main draw here is the large and impressive Monumento a la Raza at the center of the plaza. This statue depicts the history of Colombia and the many struggles it has faced.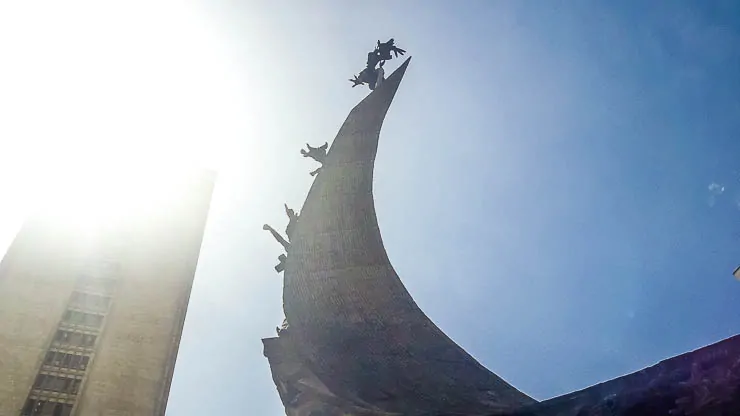 On the eastern edge also sits the Museo del Ferrocarril, the train museum which is dedicated to the importance of the train in the economic development of Antioquia and Medellin.
Admittedly, it's basically just a train sitting there on some old tracks. But this train and the initial coffee exportation on a global level was the impetus for Medellin becoming the big city that it is today.
Parque Pies Descalzos
Across the Avenida del Ferrocarril sits the famous Barefoot Park, one of Medellin's many efforts to create dynamic and cool public spaces that are accessible to all, despite their socioeconomic background. Here you will find big fountains, wading pools, bamboo forests, and sandy areas, all of which are designed to be experienced barefoot.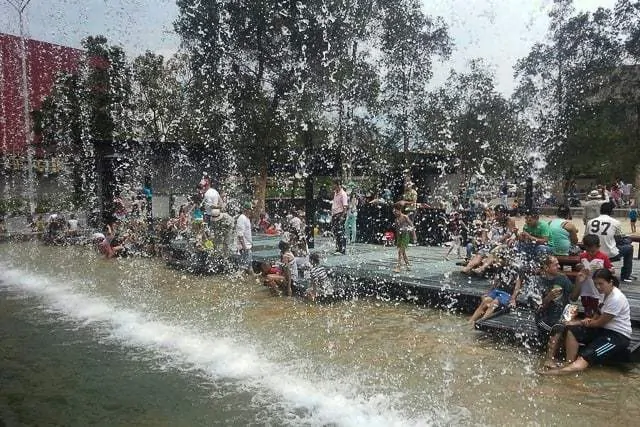 This area often turns into an open-air and free water park basically, filled with children frolicking in the fountains and playing in the water features. It is a cool space!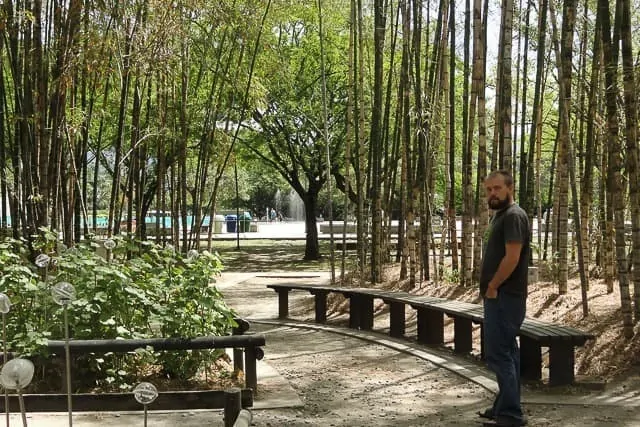 Museo de Agua
Near Barefoot Park also sits the Museo de Agua, the water museum. Now a museum about water doesn't sound like the most interesting thing, but Medellin does museums really well in terms of education and interactivity, and this museum is no exception.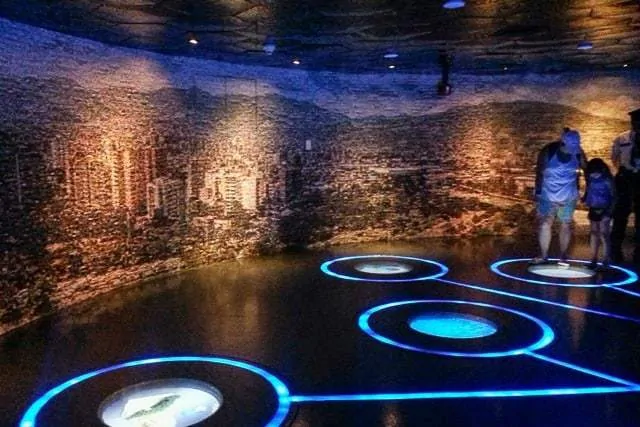 Here they will talk about the importance of water, where the local water comes from, teach a lot about ecology and conservation, as well as touch on the numerous ecosystems in Colombia (like the Paramo, Amazon, Andes, and so forth) which can be helpful in your future travels through Colombia. It has nine different rooms which are all related to the use of water.
This museum is super cheap too at just about $2.
Parques del Rio
One block west of the Water Museum and the Barefoot Park, you'll find one of Medellin's newest parks, Parques del Rio. This was a major infrastructure project to place the highway in a tunnel below ground and turn the previous "lost" space into an awesome park along both sides of the river.
The space is beautiful and is a great example of how much Medellin is investing in change and the betterment of the city. Definitely come check it out, you can also cross the river along some pedestrian-only bridges.
Plaza Minorista
Located well west of Plaza Botero is the massive and sprawling Plaza Minorista which is the largest and most varied public market in all of Medellin. If you've never been to one of these big crazy markets where they sell anything and everything ranging from exotic fruits, animals, and household goods, and serve up some killer food for cheap prices, then it is worth checking out. It is busy and full of interesting sights and smells, and it is something I recommend doing.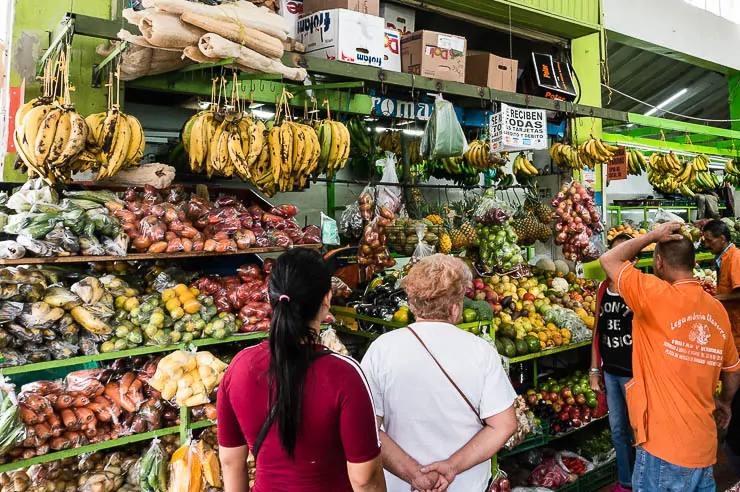 Do NOT walk to Plaza Minorista however, it is not safe to do so from the core of Medellin's Centro and passes along a particularly shady area known as Avenida de Greiff which is full of homeless bazuka smoking drug addicts. It is best to take a taxi here, honestly, or hop on the MetroPlus system.
In lieu of Plaza Minorista, you could go to Placita de Florez which is another bustling market (albeit much smaller) that sits in a more agreeable part of downtown just a few blocks from the Museo Casa de la Memoria.
Parque San Antonio
A few blocks from the San Antonio metro station sits the large San Antonio Plaza, the largest of downtown's plazas. At the southern end of the plaza sits the domed church also known as San Antonio (surprise!).
The east side of the plaza is lined with a number of kiosks where you can grab a beer below the shade and pull up a plastic chair with the locals, alongside a number of other Botero statues, but the real draw here is to see a specific piece of art from Botero… One that has been blown up.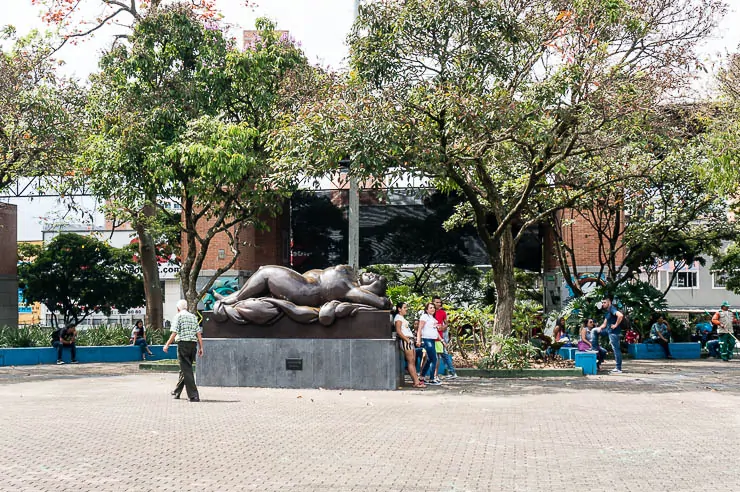 Back in 1995 one of Botero's statues (El Pajaro) was stuffed with 22 pounds of dynamite and detonated in the middle of a large concert in the plaza. The resulting blast killed 30 and injured more than 200. FARC claimed responsibility for the terrorist attack.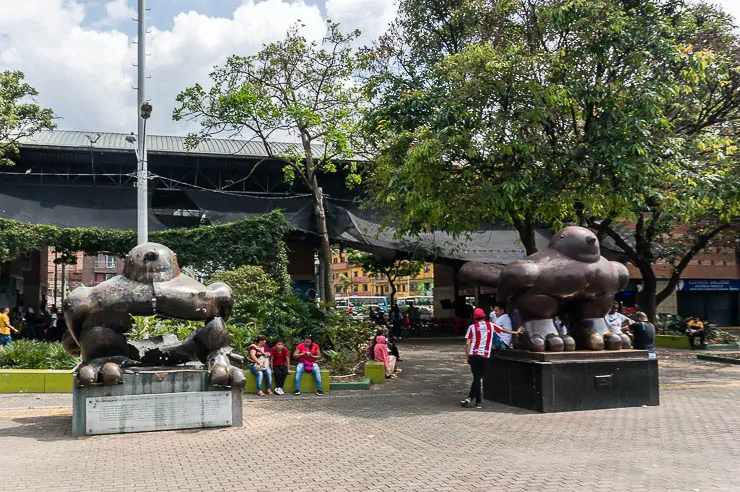 In 2000, Botero donated an identical statue but insisted that the bombed-out remains of the original statue remain… Now the statues together are known as the Birds of Peace, one a symbol of Medellin's violent past and the other a symbol of its bright future.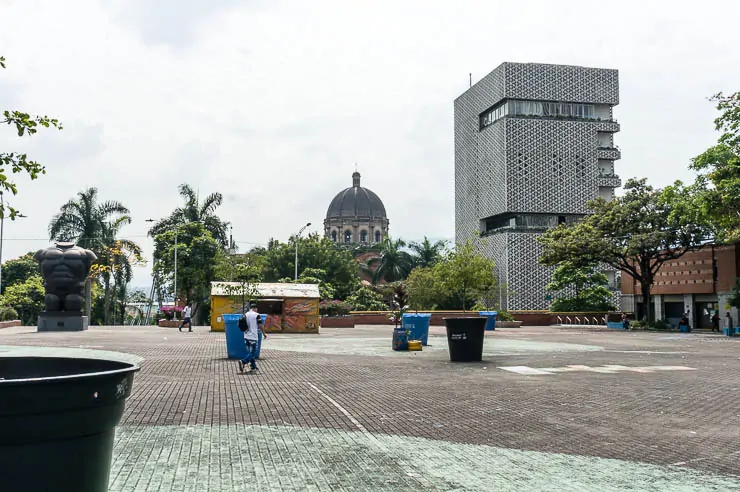 Places to Eat in Medellin Centro
Credenza
Credenza is a cool space that sits atop the Colombo Americano building, offering a medium-sized outdoor balcony overlooking the city. It's a good place for a drink and a bite to eat, offering up some original dishes based on Colombian favorites, like glazed chicharron for example.
The food is quite good, but the real draw here is the view. It's a perfect place to head just before sunset for a cerveza or cocktail.
Want to Travel More for Less Money?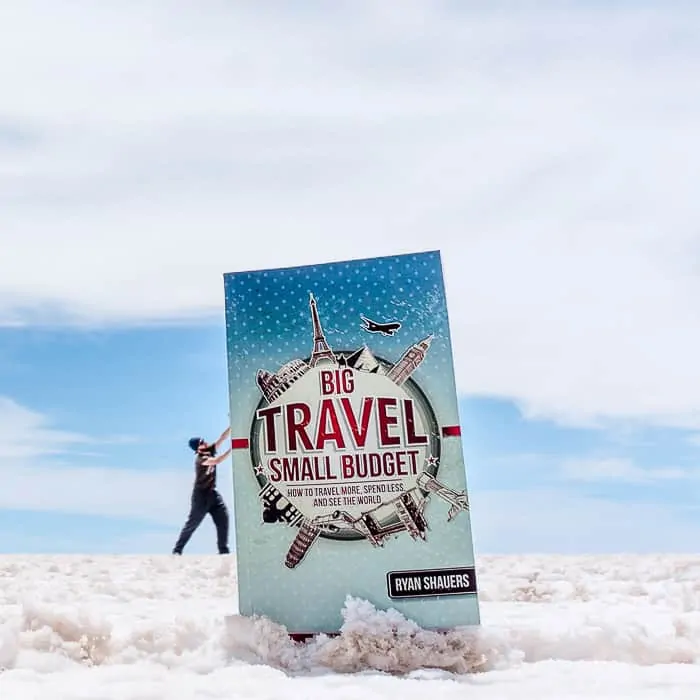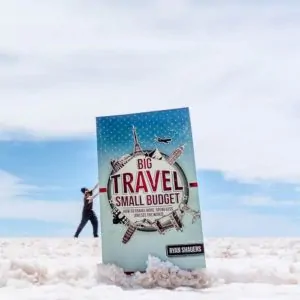 I will teach you the top methods I've used to save big money ??? during more than a decade of continuous travel in my best-selling book Big Travel, Small Budget. See for yourself, the book has nearly 200 unbiased opinions and 4.4 out of 5 stars on Amazon! ⭐⭐⭐⭐⭐
Reposteria Astor
This is hands down the best place for dessert, in the city, in my opinion. This place is an institution here in Medellin and offers up all manner of sweet treats, but the best of the best is definitely the chocolate cake.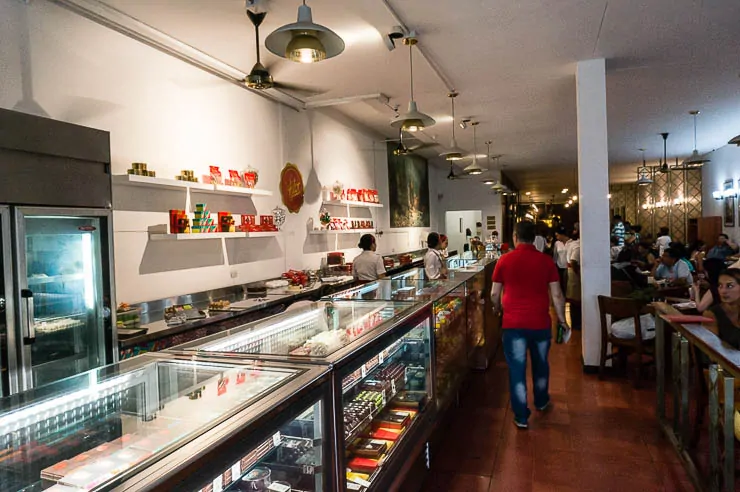 It is hard for me to resist a piece of decadent chocolate cake and a tinto from Astor. This place rocks, check it out, for sure!
Mercado del Tranvia
The Mercado del Tranvia is like a mini version of the awesome Mercado del Rio, which is a large warehouse converted into an incredible dining destination. The Mercado del Tranvia sits up in the Buenos Aires neighborhood, which is accessible by walking uphill along Ayacucho, or you can hop into the awesome Tranvia (streetcar) which leaves from San Antonio station and hop off at Buenos Aires.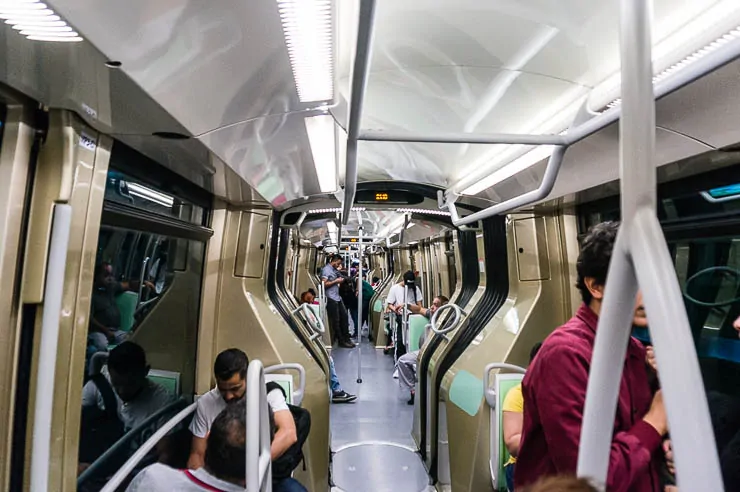 Prices aren't super cheap here ($7-10), as it is slightly upscale for Medellin, but it is an undeniably cool place with lots of different options. This neighborhood is also famous for food, so there is also plenty of other famous Colombian street foods that can be had just outside.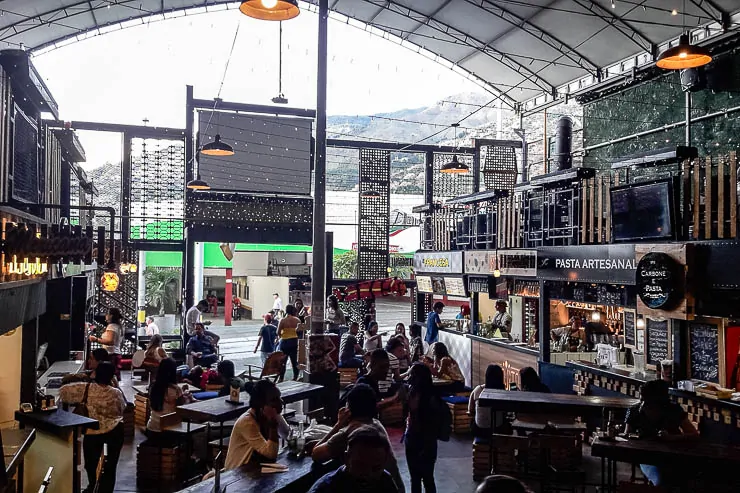 Govindas
Downtown near Plaza Botero sits this unassuming vegetarian restaurant run by the Hare Krishnas. It is probably Medellin's most well-known vegetarian restaurant and is certainly the best downtown.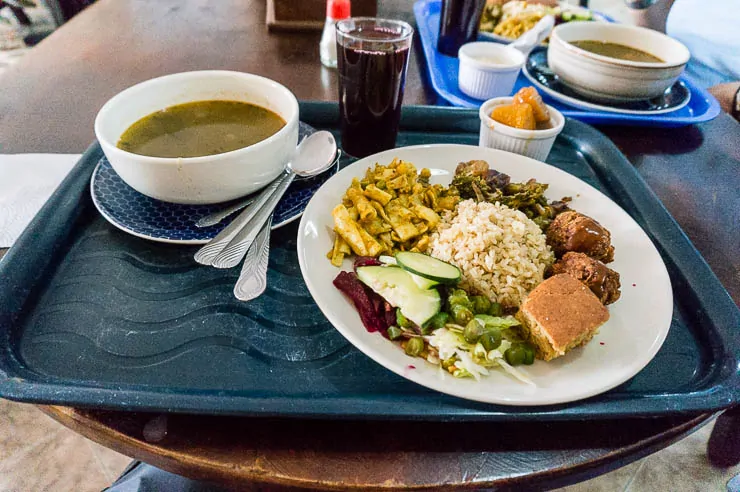 They serve healthy and cheap vegetarian food that will actually fill you up. Soup, main course, dessert, and juice can all be had for about $4. I'm not a vegetarian, but I really liked this place.
It sits on the third floor in a building directly opposite the Iglesia de la Veracruz. They've got another branch on La Playa, in the direction of Parque Boston.
Palazzetto D'Italia
This is a great little hidden gem of an Italian restaurant sitting north of the Colombo Americano building… There's nothing super special about the space, they just serve up good, authentic Italian food for a good price.
Versalles
Like Astor, Versalles is an institution in Medellin Centro! This place is more of a typical bakery (they've got desserts as well), while they do serve up menu of the day or other full meals. This place is popular and makes a good place to grab a bite to eat along Junin Street.
Hatoviejo
In terms of typical Antioquian cuisine, Hatoviejo is one of the best out there if you are looking for Bandeja Paisa, Cazuela de Frijoles, or other typical Colombian food. Prices are reasonable for the large portions. There are various Hatoviejos throughout the city, but the one downtown is near Coltejer Tower.
Hacienda
Hacienda right on Junin street is another really quality choice for some typical Paisa cuisine. They've got all the mainstays from Cazuela de frijoles to the Bandeja Paisa. The Cazuela goes for 22.000 and the bandeja at 32.000 — a little steep, but guaranteed good. The setting is on a second floor (right above Astor) overlooking the street with open-air and lots of ceiling fans.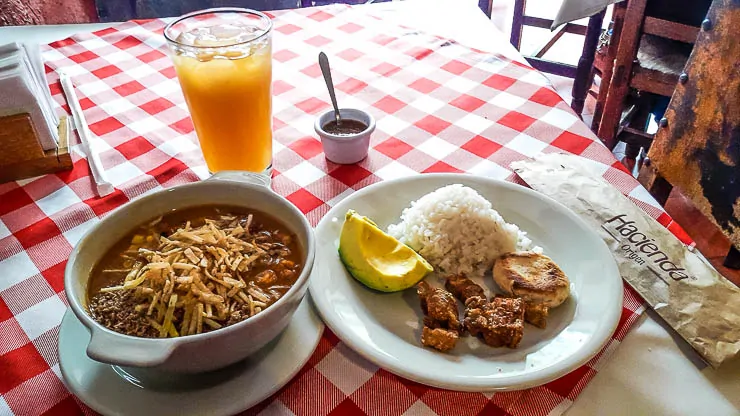 Nightlife in Medellin Centro
There is a lot of great nightlife in Medellin, but most travelers overlook the nightlife in Medellin's Centro. What I like about it here is that this part of town offers up a variety of tastes, styles, and music that just isn't seen in other parts of the city. Here's a sample of some of the most notable and interesting places.
Torres de Bombona
Nestled in the plaza between a number of residential towers is a popular place for locals to gather over cheap beers and cheap food, especially for those who love classic rock music or heavier rock. Expect to see college kids dressed up like rockers, sipping cheap bottles of Pilsen or Club Colombia on the steps out in the courtyard as the music spills out from the bars.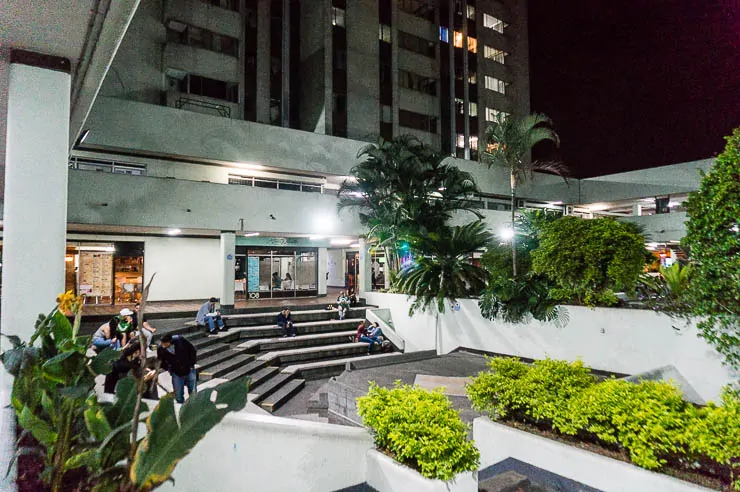 Archangel is a classic rock joint here. Rock Symphony is another that's been around for almost 20 years, and it also serves up some pretty killer pizza for cheap (like $7 for a two-person pizza). Beers are cheap everywhere here, and there are many other options. Great place for cheap crepes too.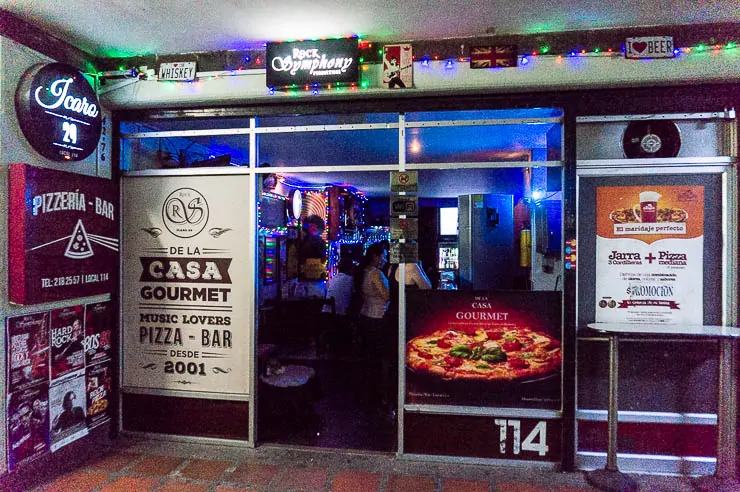 La Pascasia
A block south of the Torres is La Pascasia which is a dynamic space where art meets music. Here you can expect to find live music in a range of different styles (depending on the night) as well as interesting art exhibits. This is a hip place, tucked around small theaters and frequented by artsy types. Beers are cheap and they've got some decent food like choripanes and other things. I quite like this space.
Libreria el Acontista
Maracaibo street sits directly east of Parque Bolivar and it has a number of cool nightlife spots, such as El Acontista which is a jazz bar in a bookstore. Come here for a bottle of wine and take a break from crossover or reggaeton music. They also serve good pizza here.
El Eslabon Prendido
Along the same street is the famous Eslabon Prendido, perhaps the best salsa bar in the city. Come here on a Tuesday night for live music and a packed place where sweaty people are tearing up the dance floor. If you want a table, you'll have to get bottle service.
Also on this street is Wall Street, another cool rock bar, and the notorious Parque de la Periodista where tons of kids gather to drink in the park and smoke marijuana.
Salon Malaga
Closer to the San Antonio metro station is Salon Malaga, another institution here in Medellin Centro. This is a tango bar that also features a live tango show every Saturday from 5:30 to 10 pm. This place is in hot demand though, so you have to make reservations in advance if you want to visit on Saturday, it also has a minimum drink consumption of 50,000 pesos (about $16).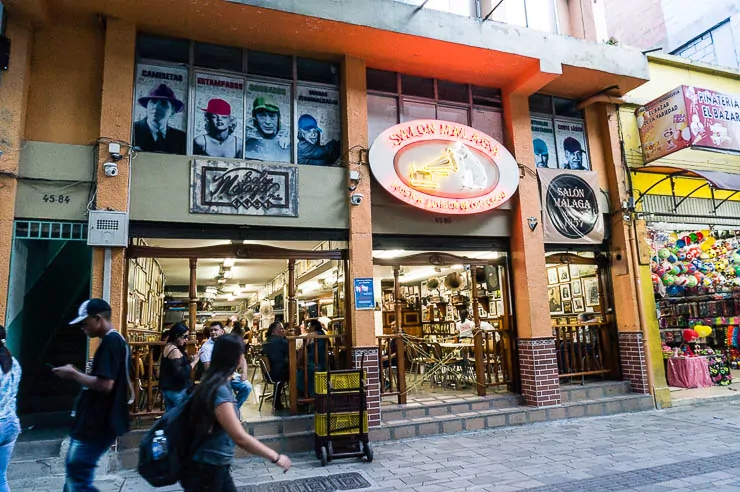 I really loved this place, especially when the dancers came out toward the end of the end. The crowd truly gets into it here. The whole experience brought me back to our time in Buenos Aires, the capital of tango.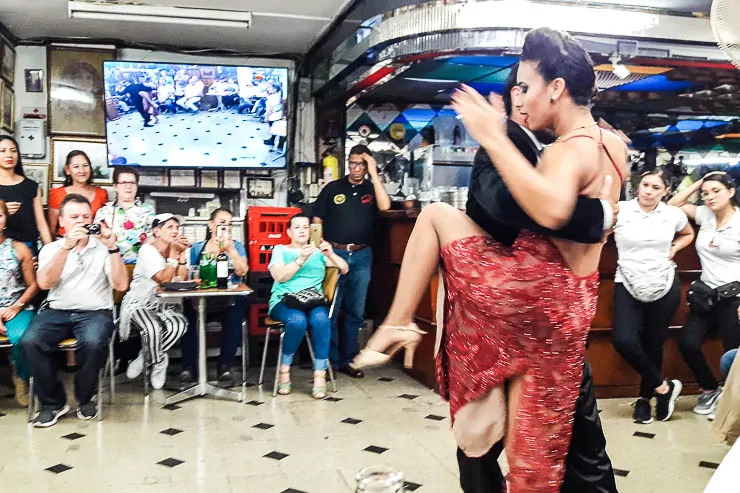 Coffee in Medellin Centro
Colombia and coffee go hand in hand, but what many foreigners don't realize is that coffee consumption (beyond instant coffee) is a relatively new phenomenon here in Colombia. While amazing coffee shops have exploded in Poblado and Laureles, it has been slower in other parts of the city, like here in Medellin Centro. But there are a few notable exceptions:
El Laboratorio de Cafe
El Laboratorio de Cafe sits on the terrace of the Museo de Antioquia, overlooking the famed Plaza Botero. The location is among the best in the entire city, and thankfully they also serve up some really good coffee and do preparations ranging from V60, siphon, Aeropress, and others. It's really good coffee. Just avoid the Iced Latte — it was more milk than coffee.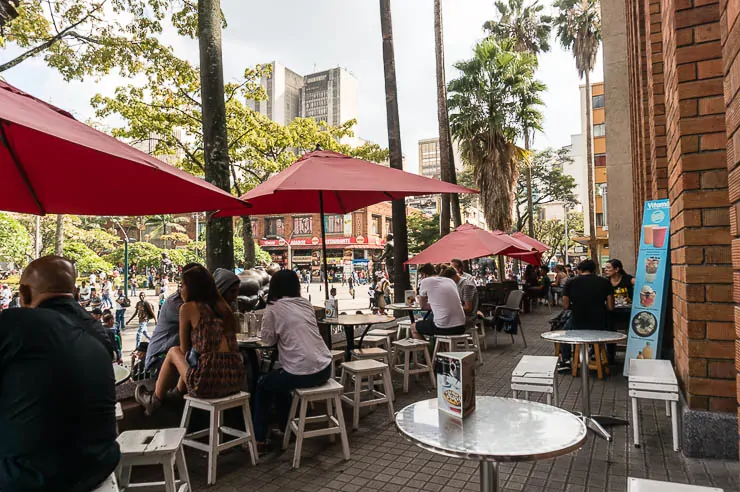 Cafe con Mucho Amor
Cafe con Mucho Amor is one of the best coffee shops in El Centro, working with small producers from Caicedo. They've got a tasty cold brew for 6.000 and supposedly Chemex and other brew methods. It sits inside the Palacio Nacional off of Carabobo street right near El Hueco. Be sure to try their coffee popsicles for something different and refreshing on a HOT day.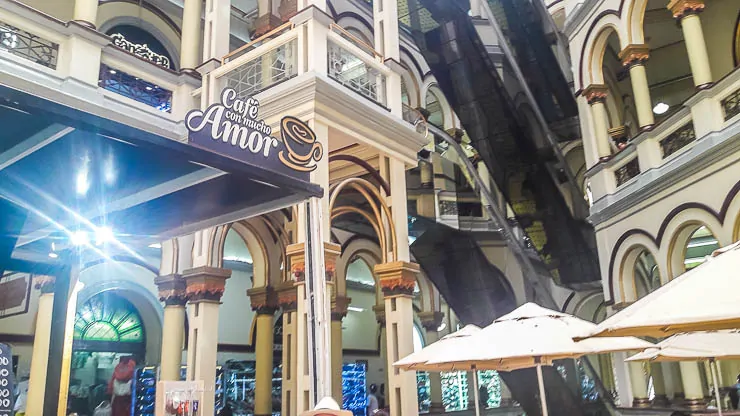 Tostao Cafe & Pan
The coffee chain Tostao has quite literally taken over the city. They have positioned themselves as THE place for good quality coffee and bakery items but with prices that are cheap and accessible to locals (unlike Starbucks for example, which is basically for the wealthy here), and this is why they've had such huge success. I can state without a doubt that the coffee here is really good and for prices that are like HALF that of any indy coffee shop.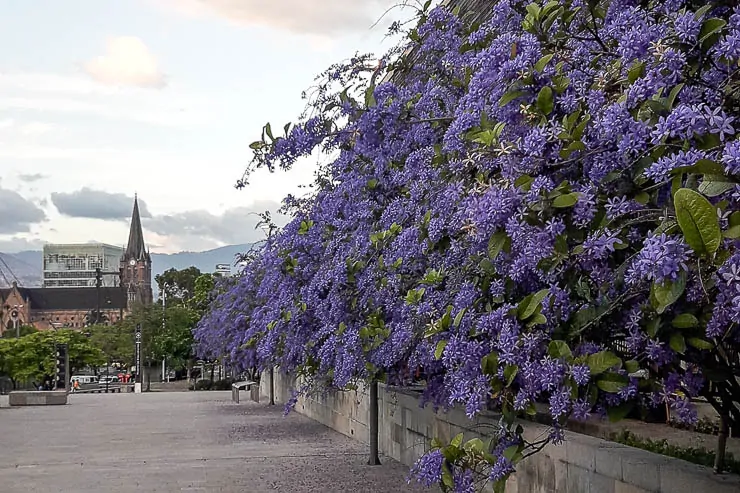 Must-Do in Medellin Centro
To summarize the many things to do here in El Centro, I'd say the best of the best would be:
Join the Free Medellin Walking Tour
Visit the Museo de Antioquia
Explore Plaza Botero
See the Blown Up Bird in San Antonio
Stroll Junin Street (stop for lunch or dessert here)
Explore Alpujarra, including the Barefoot Park, and then beyond to Parques del Rio
Go into the Palacio de la Cultura for the views on the fourth floor
Enjoy the first Saturday market in Plaza Bolivar
Take the Tranvia from San Antonio (get out in Buenos Aires for the Mercado del Tranvia, and/or continue to the end to go up the metro cable to La Sierra)
Enjoy some of the very unique nightlife only available in El Centro
Of course, be sure to couple your visit with some of the restaurant and cafe recommendations I made.
Visit Medellin Centro
So there you have it, the most comprehensive guide to the Medellin Centro, one which I hope will open up more travelers to some of the cool things to see in Downtown Medellin, and one which will get them off the typical tourist gringo trail here in town.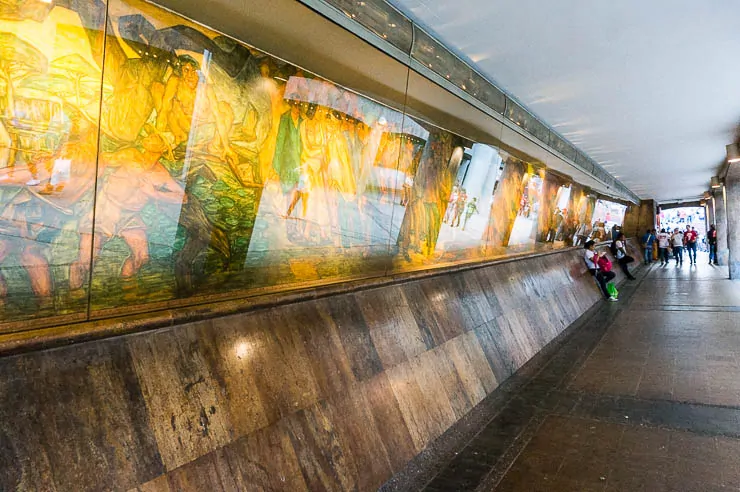 I've been visiting Medellin's Centro on and off now for quite a while, so this is like a highlight reel of options but isn't something that you could do all in one day.
Honestly, there are lots of things to explore here, and while it might take some effort to uncover the gems, I hope this guide gives you a quick start to some of the coolest places… Because I'm sure that if you give it a chance, you'll see what makes this city special and find some cool and worthwhile stuff in the heart of the city.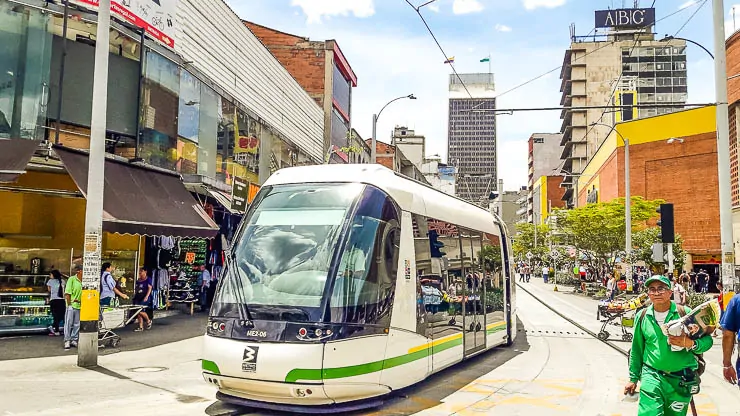 Also, if you are alone and visiting downtown Medellin for the first time, you are probably best off going with the awesome free Medellin walking tour.
It is an excellent way to see the city in a safe, guided way, allowing you to get your bearings to see where you would want to come back and explore while hearing a lot about the tumultuous history of Medellin and Colombia. 100% recommended. Check out my take on the best Medellin tours.
Traveling to Medellin soon?
Book your lodging on Booking.com now to save, or if you plan to stay longer, I highly recommend looking for a place on Airbnb. And don't forget to purchase travel insurance for Colombia that will help protect you against illness, injury, and theft. I recommend World Nomads or SafetyWing which are both made for backpackers or digital nomads, and provide great coverage at an affordable price.
Read Next: Guide to Traveling to Colombia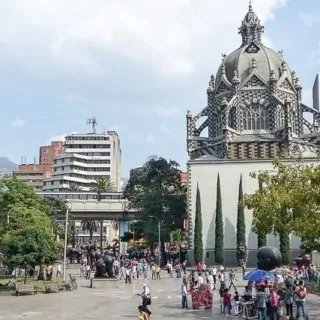 Colombia Travel Tips
Important tips and resources for planning an amazing trip to Colombia, based on my years of traveling and living in Colombia.
Tools
Colombia Trip Planning
Instructions
Book a cheap flight to Colombia with Momondo, or better yet, start travel hacking so you can fly for free. Traveling between major cities is much better by flying, trust me.
Plan a rough itinerary and how long you will spend at each destination. Use an itinerary planning service for custom recommendations and pick up Lonely Planet Colombia.
Work a little every day to teach yourself Spanish, you'll want to know as much as possible before you arrive.
Book cheap accommodation in advance, at least for the first destinations -- For hostels use: Booking, for cheap hotels use: Hotels.com, for apartments use: Airbnb.
Reserve your on the ground tours and activities through Get Your Guide.
Purchase travel insurance for Colombia with SafetyWing to protect yourself from illness, injury, and theft while in Colombia. VERY important. And be sure to read my article: "Is Colombia Safe?" for my honest opinion and safety tips.
Sign up for my free emails about planning a better trip to Colombia, and be sure to check out my comprehensive guide about traveling to Colombia.
Learn more money-saving tricks with my top budget travel tips.
Put together your Colombia packing list.
Enjoy this incredible country!
Notes
I hope this helped you plan your travels in Colombia! I know it can be a struggle to find accurate and on the ground information when traveling to a new place like Colombia, which is why I started writing so extensively about it!
If you have any questions about Colombia, budget travel, or anything else shoot me an email at ryan@desktodirtbag.com.
(I love getting questions! That is how I get ideas for my blog posts and what to write about!)
Recommended Products
As an Amazon Associate and member of other affiliate programs, I earn from qualifying purchases.
Did you enjoy this comprehensive article about La Candelaria Medellin Centro? Then please take a second to share it on Pinterest, Facebook, or Twitter. Thank you!
Tips to Book Your Trip Now & Save Money
Book Your Flight
Book a cheap flight with Momondo, they're my favorite search engine. Or better yet, start travel hacking so you can fly for free. Another great search engine is Skyscanner.
Book Your Accommodation
Book cheap accommodation in advance. For hostels I recommend HostelWorld, for hotels I use Booking.com or Hotels.com, and for apartments or longer stays, I use Airbnb. I like to check reviews on TripAdvisor prior to reserving.
Don't Forget Travel Insurance
This is easy to overlook but SO important. It will help protect yourself from illness, injury, and theft while traveling. VERY important. And be sure to read my article about international travel insurance for more details
Looking for the Best Companies to Save Money With?
Check out my budget travel resources page for the best companies to use when traveling. I list all the ones I use and recommend to save money when I'm on the road.
The following two tabs change content below.