This article may contain
affiliate links
. If you make a purchase through these links, I will earn a commission at no extra cost to you. Thanks!
Medellin, Colombia is skyrocketing in popularity among tourists, expats, and digital nomads… And for good reasons! There are a ton of awesome things to do in Medellin, the city is super affordable, and the weather is pretty great. One of the very first things that I recommend all new visitors to the city do, is to immediately get reservations for the excellent Medellin free walking tour by Real City Tours.
We'll be getting into the nitty-gritty of what the tour covers and what you should know going into it, but the short answer is without hesitation, yes, the tour is absolutely worth your time and it should be one of your first stops here — it is my #1 pick for the best Medellin tours, and it's free!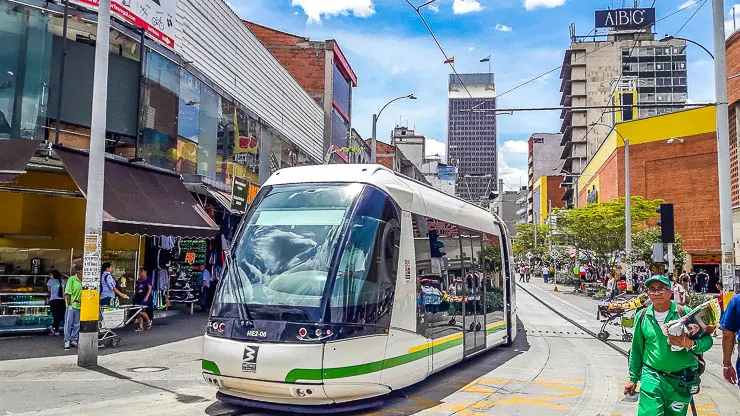 I've been living in Medellin on and off for a number of years now, and actually, it took me a few months to take the Medellin free walking tour, which is a shame because I learned more about the city in the four hours on the tour than I did in the first few months… That's maybe only a slight exaggeration, but I definitely learned much more about the tumultuous history and past during that time than I'd previously known.
The tour was so good that I actually repeated it recently, partly to refresh my memory and partly so I could bring you updated content here on Desk to Dirtbag about this top-rated activity.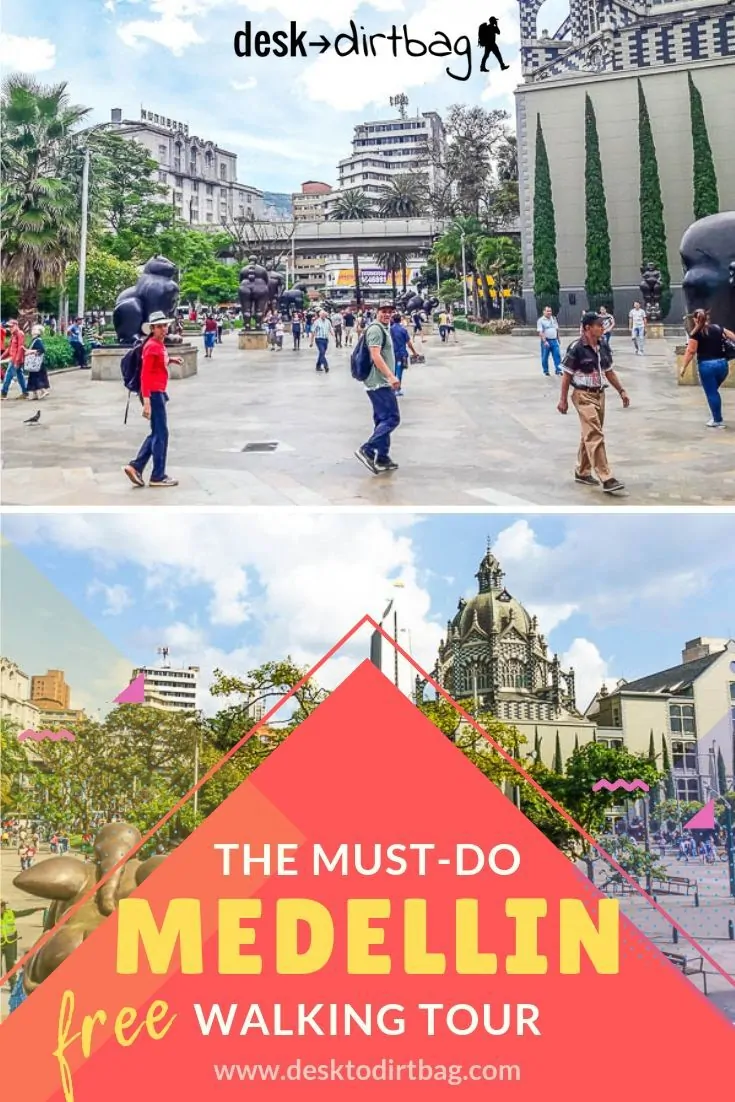 About the Medellin Free Walking Tour
I've been on a number of different walking tours around the world (they are one of my favorite ways to see a new city), and the Medellin free walking tour by Real City Tours stands out in my mind as one of the best, truly.
While the tour is indeed free, you should plan on giving a modest tip, which I'll talk about later in terms of how much.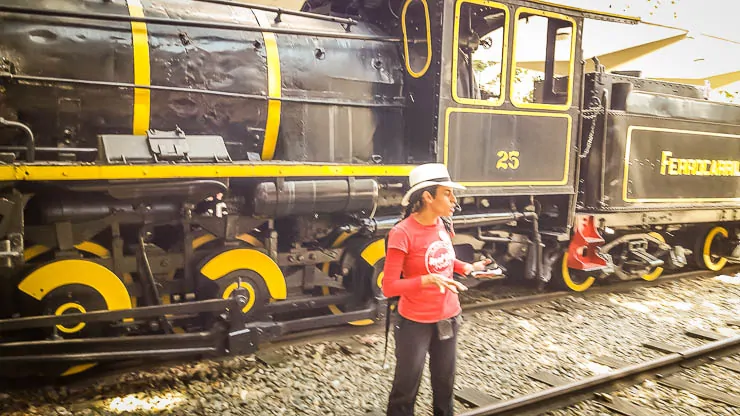 The guides are local Paisas themselves and have an intimate and personal knowledge of the many sad ups and downs that Medellin has faced over the years, from the tumultuous civil war years between the right and the left, through to the drug trade and the incredible violence it unleashed all across the city, and then up through to today, where Medellin is a model around the world for transformation and renewal (even if things aren't perfect here).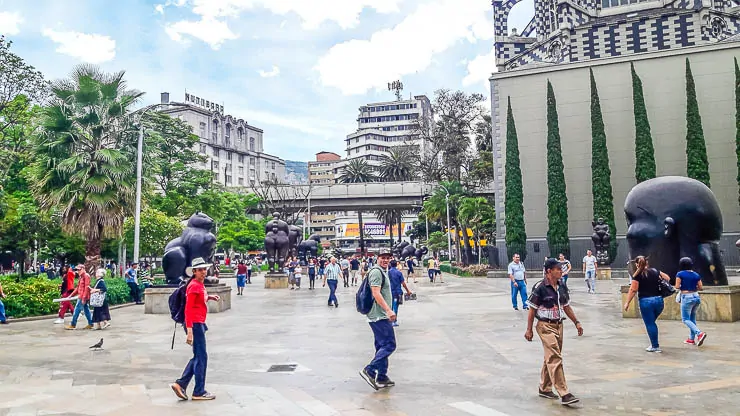 The tour lasts about 4.5 hours and is all in English with groups of about 20 people. Afterward, you'll have a greater understanding of the economic, political, and social history of this city (and the country as a whole) within a few hours than you would have in weeks of trying to piece things together on your own.
While the tour is over four hours long, it isn't four hours of solid walking or being on your feet, FYI. That's a common question. Indeed, at the beginning of the tour, the guide will hit a few different areas where you can sit down as they discuss some of the complex elements of Medellin and Colombia's past, albeit in a simplified fashion.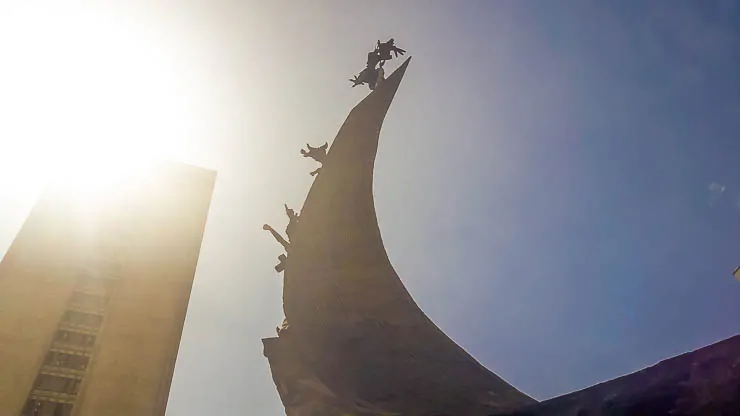 The Medellin free walking tour begins at the Alpujarra metro station (but there is a morning rendezvous at the Poblado station so you can travel together — more on that later) where groups will break out.
The first stop(s) on the tour will be within the Alpujarra administrative center which sits just south of El Centro (aka Medellin's downtown). Here's where Colombian history will be covered up through the drug trade, including delicate handling of the whole Pablo Escobar thing.
This is NOT a Pablo Escobar tour (indeed, you should not partake in those types of tours), but the history of the city is impossible to talk about without mentioning Pablo, who the guides will humorously refer to only as Voldemort.
This avoids potential problems with locals who probably don't speak the language and just hear "blah blah blah Pablo Escobar blah blah blah." The vast majority of locals hate Voldemort and certainly don't want tourists to get the wrong impression of their beloved city.
Read More: Don't Take a Pablo Escobar Tour
Also, it is important to note that this is NOT the graffiti tour, aka the tour of Comuna 13, which is in a whole different part of town. Rather, this walking tour of Medellin focuses exclusively on downtown. Here you will see a fair bit of art like the statues in Botero Park or the murals by Pedro Nel Gomez, but not much in the way of street art.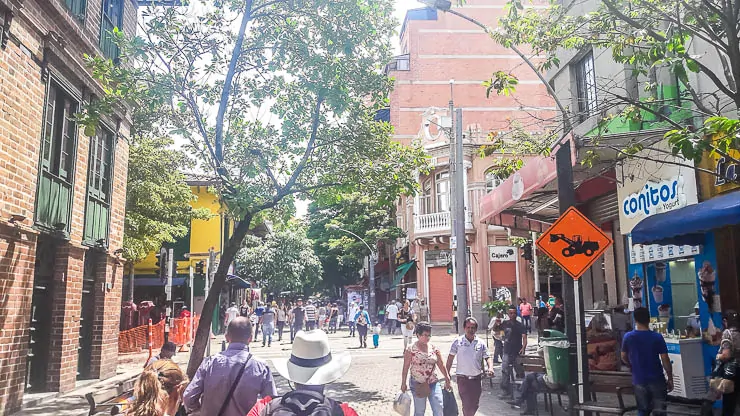 From Alpujurra, the tour will then start more of the walking portion where you head into the chaotic downtown heart of Medellin, stopping by all the most important locations, like the Parque de las Luces, Plaza Botero, Junnin Street, the Cathedral, Parque Berrio, and San Antonio Square.
Each location will feature more learning and history about the city, from how projects like Parque de las Luces were pivotal in the transformation, to the works of artist Fernando Botero, to violent moments like the grenade dropped from the Metro platform in Parque Berrio or the tragic bombing during a concert at San Antonio that killed scores of people.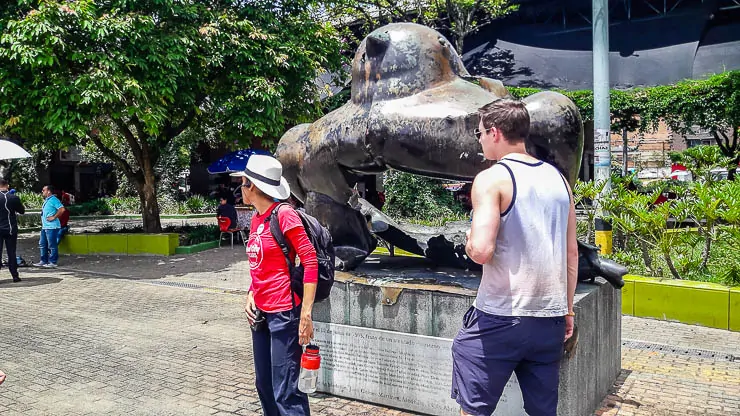 I won't rehash all the details of everything you'll learn on the tour because that would obviously take some of the wind out of tour's sails. Suffice it to say, you will learn a lot and it is definitely worth doing.
Why Take the Medellin Free Walking Tour?
Explore Downtown Medellin: El Centro has a reputation for being a busy, chaotic, and maybe even slightly dangerous place. I personally think that El Centro has its charms, but yes, it is best experienced for the first with a tour. It will help you get your bearings here in a fun and friendly way, empowering you to come back and explore on your own.
Deeper Understanding of Medellin: As I said, this will give you the political, economic, and social history of this city and country in just a few hours. But don't mistake that for being boring… The guides I've experienced are all gifted storytellers who make the history come alive and also relatable on a personal level.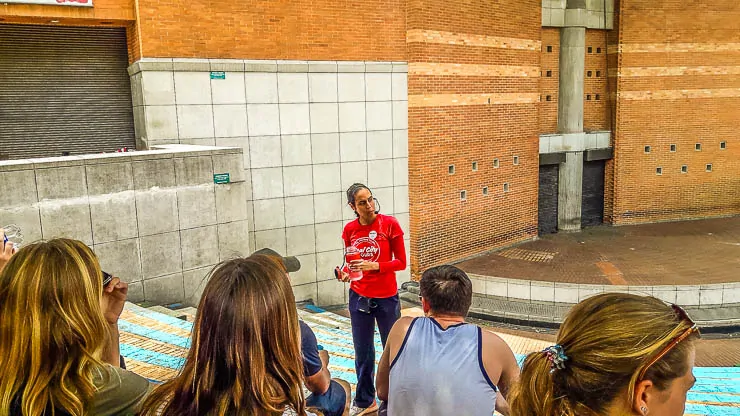 It's Free: Yes, this is not only one of the best activities that new visitors can do, but it is also one of the cheapest activities. All it requires is a modest tip… Totally worth it!
Hear Local Stories: Especially if you don't speak Spanish, you'll have the opportunity to learn about Medellin from a local. Medellin is not a typical "sightseeing" city like Europe where you walk around marveling at the architecture. Medellin, above all, is a story of transformation, resilience, progress, and even happiness in the face of adversity. If you don't understand this, then you probably won't "get" Medellin and what makes it special.
Free Medellin Walking Tour Details
When: Tours operate three times per day from Monday to Friday (morning, midday, and afternoon). Saturday there are two-morning time slots, and they do not operate any tours on Sundays. Each time slot will have various groups, depending on demand.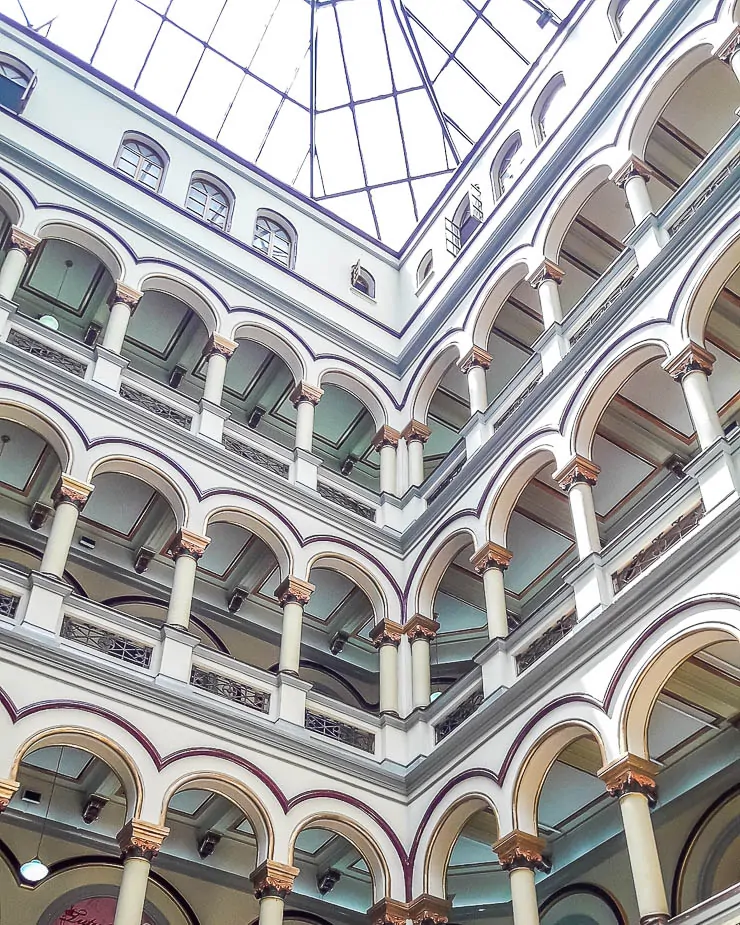 How: You need to have reservations to join the tour which can be made on their website 1.5 days in advance. Just visit the Real City Tours website to make your reservation.
Where: You will need to meet at the Alpujarra station by the NORTH ticket booth, or if you opt for the first morning session, you can meet at the Poblado metro station, which is where many foreigners decide to stay in Medellin.
Free Medellin Walking Tour Tips
How much should you tip? The recommended amount is 20-30,000 pesos which is the equivalent of $7-10 USD for a 4+ hour tour. Quite a good deal! At the end of the tour, your guide will pass around a super short survey which you'll fold up with a few bills tucked inside and stuff it into their pack.
When should you go? I recommend the morning tour so you can get oriented with downtown, grab lunch when midday is hottest (see my guide to El Centro for restaurant recommendations), and then take advantage of the afternoon by visiting the Museo de Antioquia. If not, you'd have to come back to downtown another day and do the museum, which is also a must-do. As I already mentioned, I'd also recommend doing this tour on your very first full morning in Medellin! Be sure to check out my guide to the best museums in Medellin, too. Plus, if it is going to rain here, it is usually in the afternoon.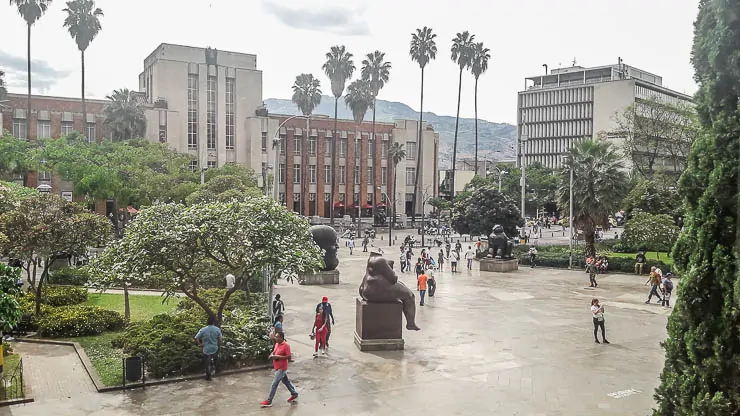 What should you bring? Obviously, bring comfortable shoes, but also be sure to bring sunscreen and/or protective clothing and hat… The sun here is fierce, especially at midday so you will burn without it. Be sure to bring your own water in a reusable bottle, rather than buying a disposable downtown. You don't need to bring food because there will be time to buy a local snack like empanadas or bunuelos — see my guide to Colombian food. You should also bring an umbrella in a small, unobtrusive daypack since you never know when it might rain in Medellin.
Want More? Real City Tours also offers a number of other (non-free) tours in Medellin, including the amazing off-the-beaten-path barrio tour (the barrio transformation tour) in Moravia Medellin and the delicious exotic Colombian fruits tour. Both of which I'd recommend, as well, if you have the time.
I hope this guide to the Medellin free walking tour proved helpful to you if you were on the fence or wondering what to expect when you go. I was not paid or sponsored by Real City Walking Tours in any way, just happy to help new tourists to the city I now call home.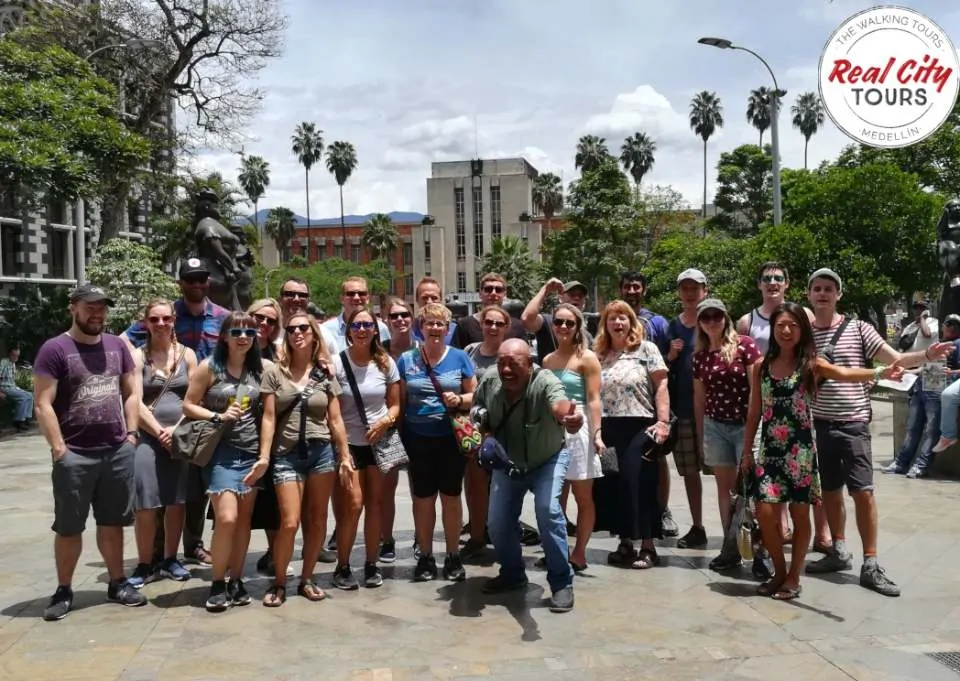 Planning Your Trip to Medellin
Traveling to Medellin soon? Book your lodging now via Booking.com to save, and be sure to check my travel guide about where to stay in Medellin, including the best Medellin hostels, or my ultimate guide of things to do in Medellin to plan an unforgettable trip. If you're traveling throughout Colombia, don't miss my detailed guide on traveling to Colombia.
Read Next: What You Should Know When Visiting Medellin
Travel Insurance for Medellin
Finally, don't forget to purchase travel insurance for Colombia to protect yourself against theft, sickness, and injury while in Medellín. I use and recommend World Nomads for the best combination of affordability and coverage. You may be interested in my answer to the big question of "Is Colombia Safe?"
Share This
I hope you enjoyed this article about the awesome Medellin free walking tour. Please take a second to share it on Pinterest, Facebook, or Twitter. Thanks!
The following two tabs change content below.