This article may contain
affiliate links
. If you make a purchase through these links, I will earn a commission at no extra cost to you. Thanks!
Medellin is not your typical tourist destination. You don't come here for the sightseeing or to marvel at centuries-old buildings or plazas that feel like Disneyland. You come to Medellin for the story it tells. A story about resilience, recovery, transformation, and progress: of how it can be home to some of the world's happiest people in spite of so many problems. This is a city that has experienced some dark decades but has pushed beyond that into a brighter future. You'll find the story of transformation all across Medellin, but perhaps nowhere else is this transformation as stark and incredible as that of the neighborhood of Moravia Medellin.
When people think of barrio tours in Medellin, they usually think of Comuna 13. That barrio is a place that has become famous for its street art, hip hop scene, and the electric escalators that whisk locals up the steep hillsides. It was one of the most dangerous neighborhoods, but now welcomes hundreds of tourists per day to this western edge of the city.
The Comuna 13 tour is perhaps the most popular barrio tour in town, but I honestly think there is a better story laying at the heart of the city, overlooked. And that's the one told by Moravia Medellin. I joined Real City Tours (also behind the incredible Medellin free walking tour in El Centro) on their Barrio Transformation Tour, and I was blown away.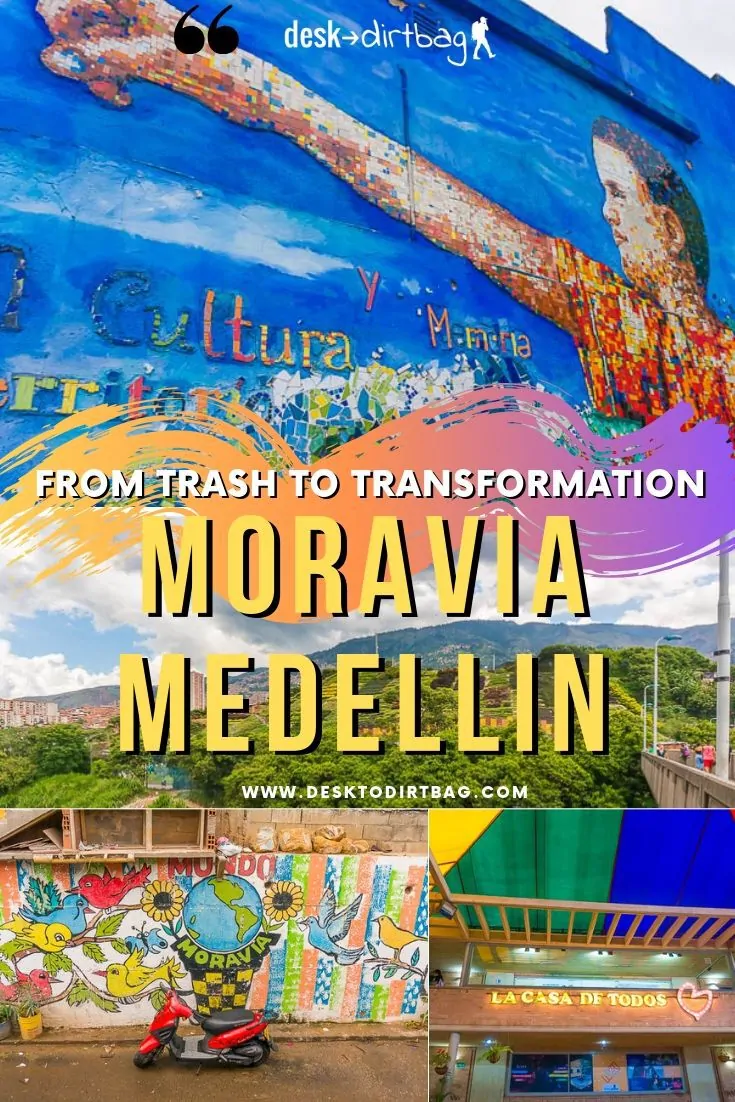 About Moravia Medellin
Moravia Medellin lies in the heart of the Valle de Aburra today, just north of the Medellin Centro, but was once the undeveloped northern edge of the city of Medellin back in the 1970s and 1980s. Here, at the edge of the city, is where all the refuse and garbage was dumped, eventually piling sky high into a literal mountain of trash.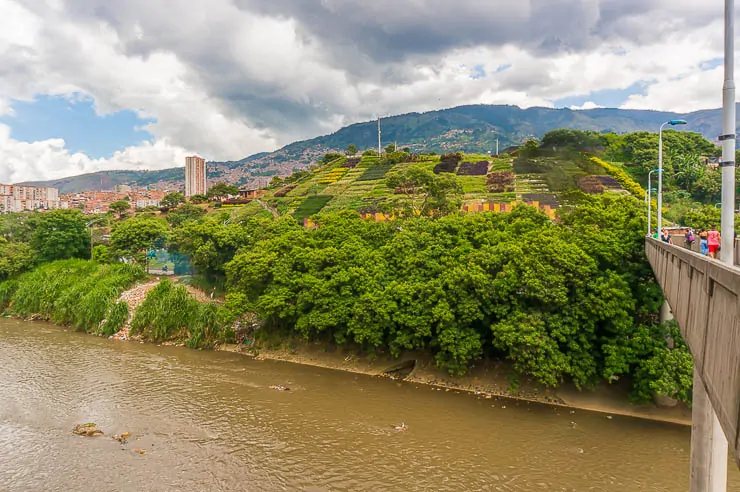 The story of Moravia is also shaped by the story of Colombia as a whole because many of these poor barrios or slums are a direct result of the violence and displacement that affected so many, particularly those in rural areas.
The conflicts between the waring paramilitary groups on the left and right played out primarily in the rural parts of Colombia, causing many to leave behind what little they had as they headed to the relative safety of the big city. The majority were left with nothing and had to turn to informal settlements on the margins of the city, building makeshift homes out of recycled materials.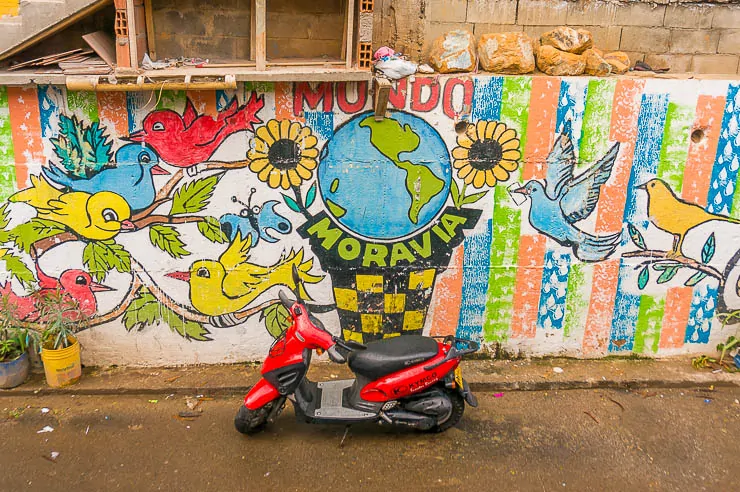 You can see many of these makeshift homes and settlements dotting the hillsides surrounding the city, but people also began building makeshift housing right on top of the mountain of trash. Here, people could make a meager living by sifting through the garbage as the dump trucks came in and pulling out anything of use or value.
Needless to say, the conditions on the mountain of garbage were appalling, dangerous, unsanitary, and unhealthy.
The garbage dump was moved in the early 80s, but numerous families continued to live on the Morro de Moravia up through the early 2000s when it was deemed to be a public health crisis, and something had to be done. New apartment buildings were built far away in the San Javier neighborhood, and many families relocated.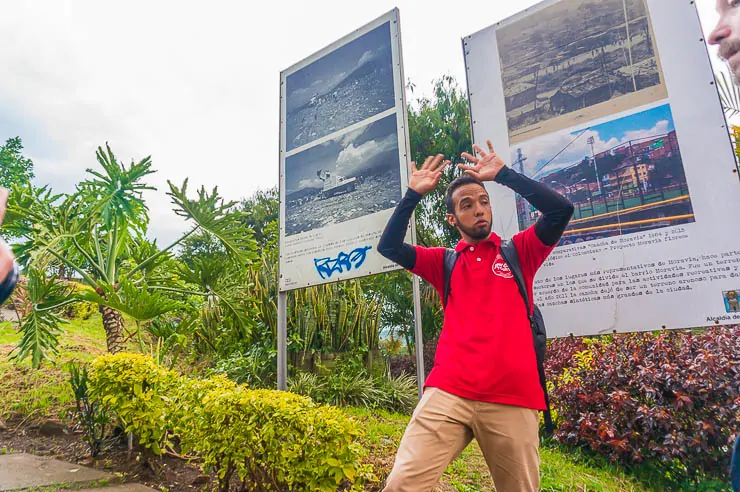 Afterward, the mountain of garbage went through a remediation process and was covered with plants and vegetation — creating a beautiful green, landscaped hill that you wouldn't otherwise know was a former garbage dump.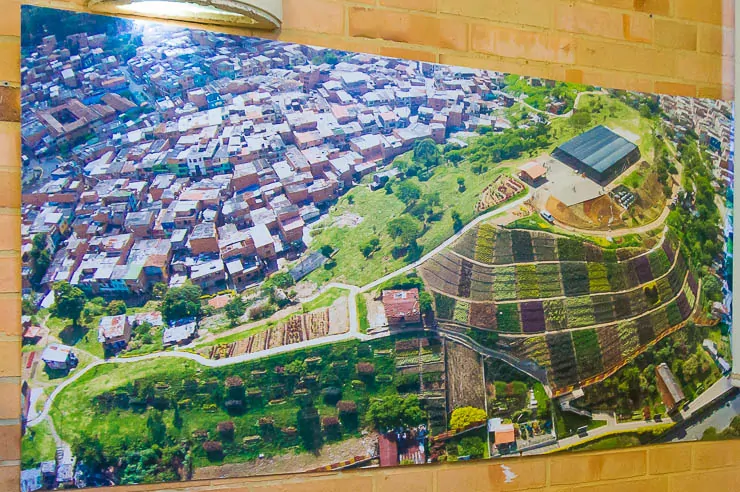 Indeed, I've seen the Morro de Moravia numerous times before I'd even realized what it actually was and the story behind that beautiful green hill in the middle of Medellin.
Of course, this story of transformation isn't all roses and flowers.
Barrio Transformation Tour
I joined Real City Tours on their twice per week excursion in small groups to the area so we could learn about one of the most off-the-beaten-path destinations in Medellin. Indeed, this isn't even on most visitor's radar of things to do in Medellin.
First, we set out exploring the area surrounding the base of the hill, learning a little bit about the history we've briefly discussed here, but also hearing about some of the complications with the relocation effort of local citizens because things are never as black and white or cut and dry as they seem.
There are a number of people still living on the refuse and who refuse to leave, calling themselves the resistance. While others, who had given up their plot of land on the garbage dump, have come to regret the decision.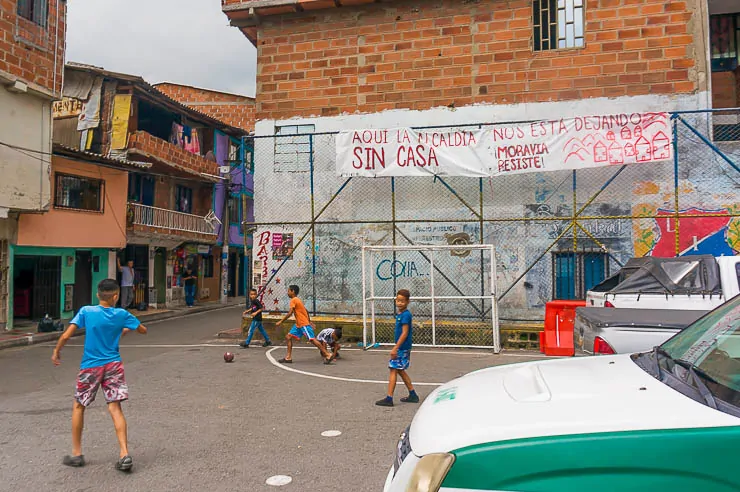 Then there are the locals who continue to cultivate and consume fruits and vegetables from the contaminated ground, resulting in produce that contains heavy metals and other compounds that are dangerous for their health. This whole area, with unpaved roads and improvised homes, felt so much like remote, rural Colombia.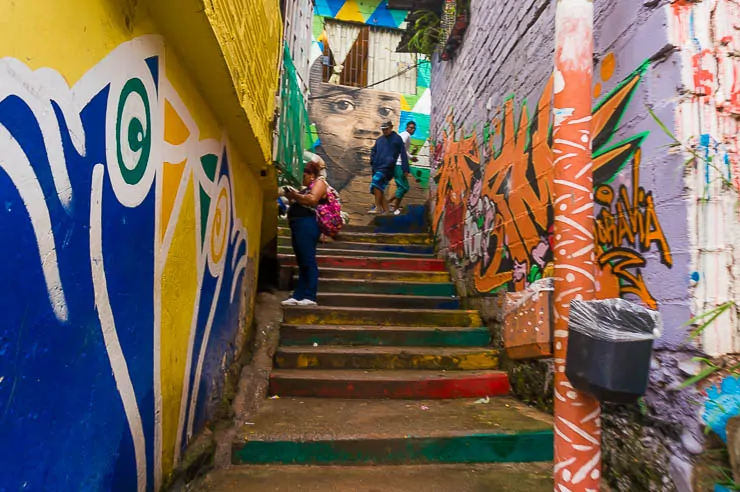 Our small group tour then wandered into the formal neighborhood, which is officially part of the city of Medellin with addresses and street numbers. The neighborhood here is the most densely populated in all of Medellin and is characterized by extremely narrow, winding streets.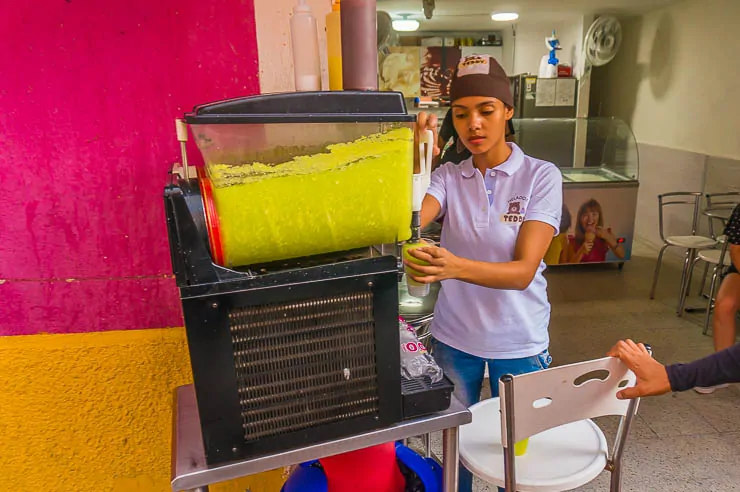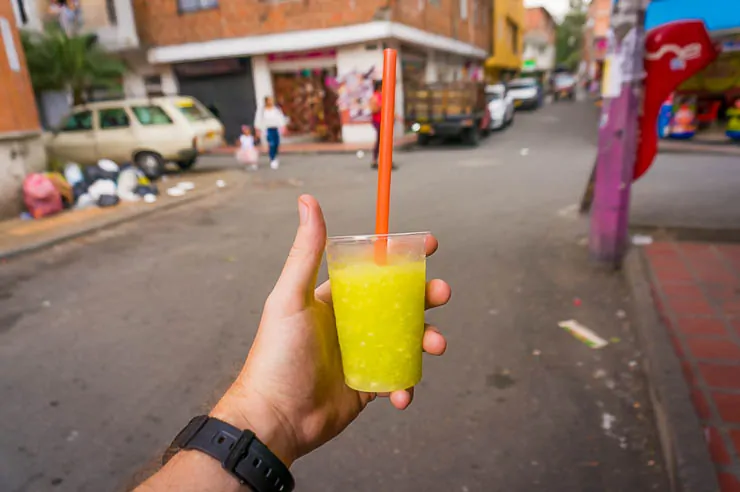 This is a place with a lot of street activity and life, and everywhere we looked, we saw happy, friendly faces welcoming us to their neighborhood, as motorcycles buzzed through the narrow confines. Sometimes people would even stop to talk to us, proud of the place they called home and welcoming us to their neighborhood.
The highlight, perhaps, of our time in the more formal settlement of Moravia was the visit to the local Cultural Center (Centro de Desarrollo Cultural de Moravia) which is unofficially known as La Casa de Todos (Everyone's House). This is a source of pride and joy for locals, which has become a focal point for arts, education, learning, history, and so much more.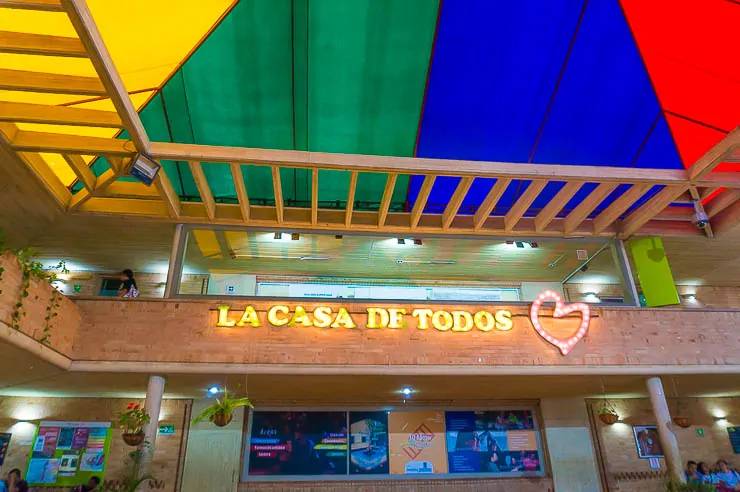 As part of the tour, we got the chance to meet with some of the "social leaders" of the barrio, mostly women, who have taken it upon themselves (without compensation) to work for the betterment of their neighborhood. Hearing their stories, struggles, and successes were incredibly moving.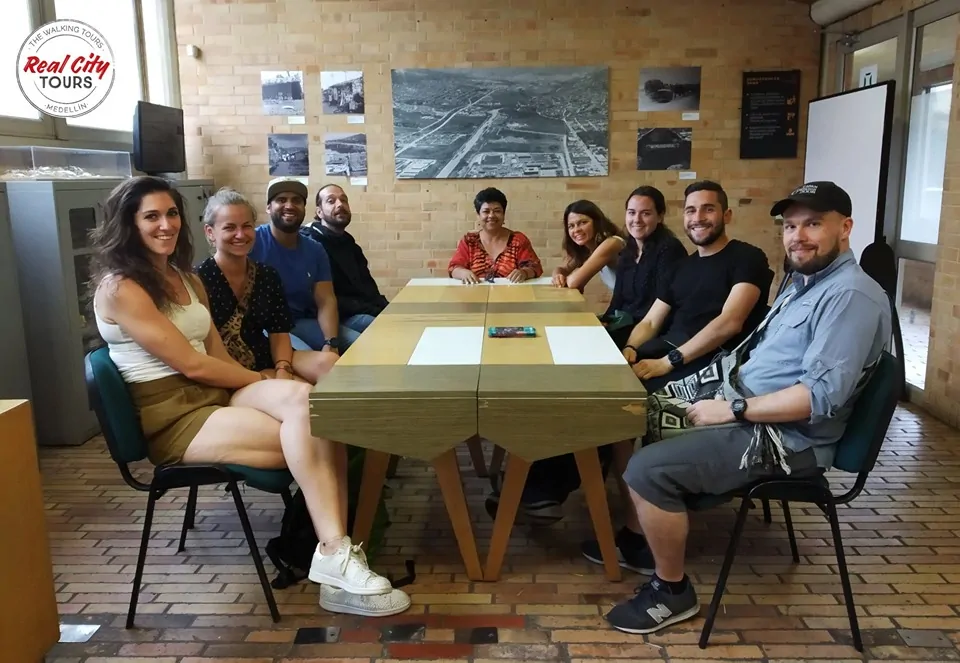 This is also a place where anyone can come and volunteer in Medellin to share their skills or interests with locals (children and adults) who might want to learn. It doesn't matter if it is dancing, photography, or juggling. This is the house of everyone.
That was by no means the only highlight; there was also some amazing street art (even though this isn't a street art tour), or the visit to the Taller Tropical which is helping to create access to gardens through hydroponics so residents have local access to uncontaminated produce.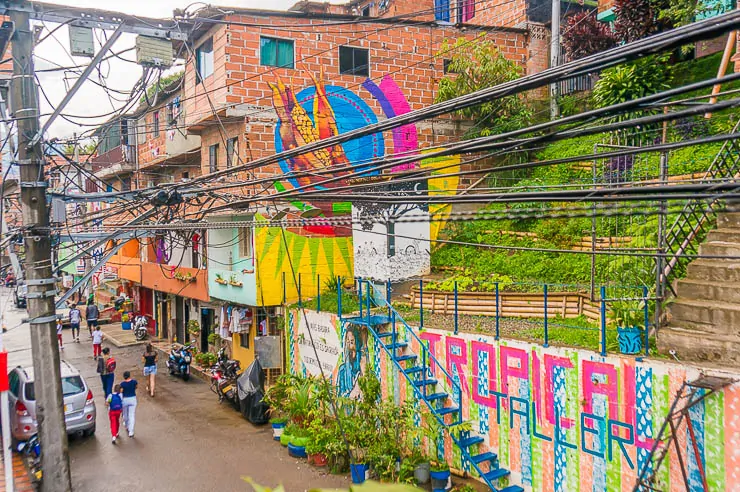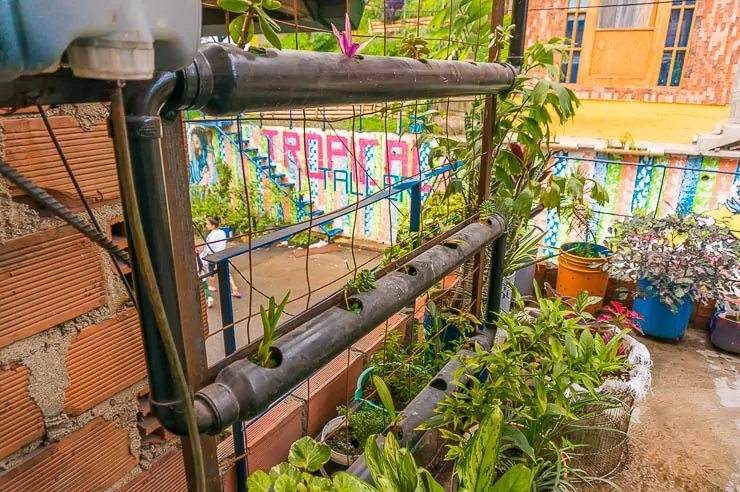 Finally, the tour finished by climbing up the actual Morro de Moravia, the garbage hill, which is now covered in plants and greenery. You'd never know there was a literal mountain of garbage below us.
There was no smell, nothing to give it away except the odd plastic ground cover sticking out of the earth. On the walkway up through Moravia Medellin, there were photo displays depicting what life used to be like here… Cramped, dirty, dangerous.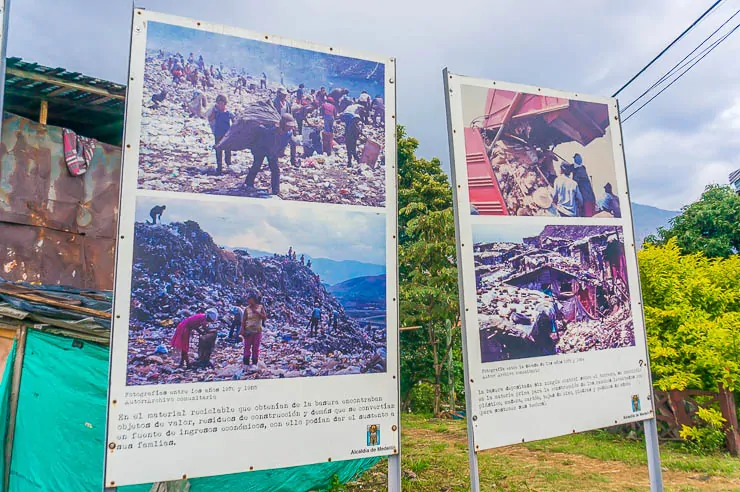 There are still a few homes atop the hill, those that are part of the resistance, but no new construction is allowed, of course. The hill still does leak dangerous gases that are occasionally burned.
But it is a far cry from the days when homes would explode because of gas build-up from decaying trash. Shockingly, in the old days, residents on the garbage hill would even drive pipes deep down into the garbage and use the gas for cooking.
Today, at the top of Medellin's trash mountain, there is a massive greenhouse growing all manner of plants, giving life and regeneration to what was once a bleak and sad place.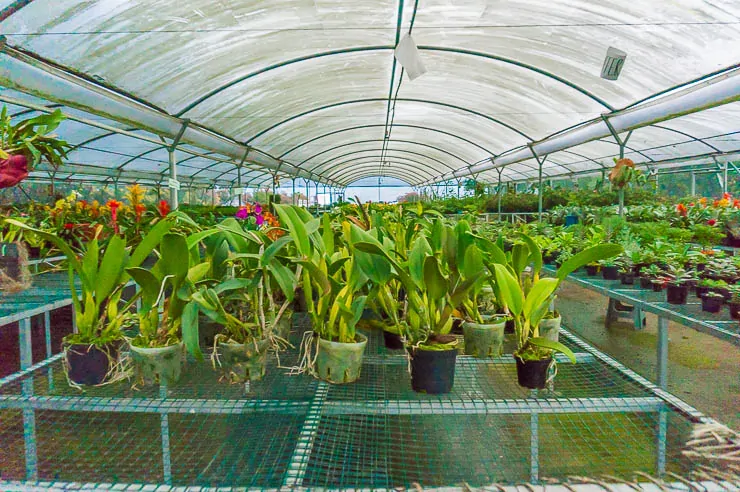 Visit Moravia Medellin
While you could honestly visit the neighborhood on your own (Moravia Medellin is actually quite safe, especially compared to places like Comuna 13), you'll get so much more out of the experience by going on an organized tour. Indeed, the experience here is really about the story: a story of transformation (its pros and cons and unintended consequences), a tale of locals fighting for a better life for their community, and much more.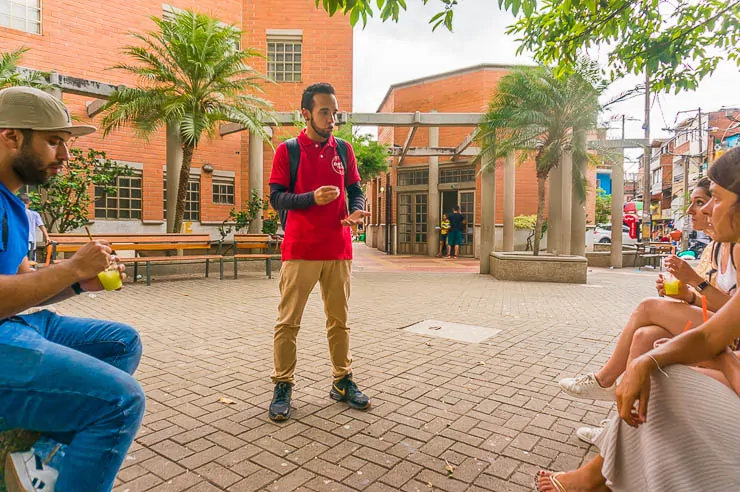 It is also both a sad and happy story. People who lost everything, displaced from their land, who eventually found a home even if it was amongst the garbage and on the margins of society. A story of people who eked ahead a little bit, and then was ultimately displaced again, even though it was in their own city.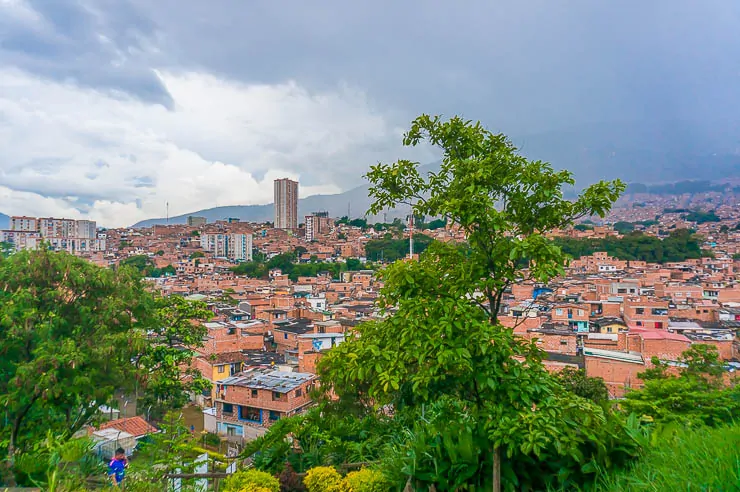 I feel like I know a lot about Colombia and Medellin (having spent 3+ years here), yet I still learned a great deal on this tour, beyond just the history of the neighborhood and into more complicated themes like the informal job market in Medellin and political violence of the past.
The Barrio Transformation Tour by Real City Tours lasts around 3.5 hours and is conducted solely in English (so you'll still get a lot out of it, even if you don't speak Spanish yet). The price is very reasonable at less than $20 and offers great insight into this overlooked part of Medellín which is off-the-beaten-path, and is so much more insightful than those Medellin Pablo Escobar tours (please don't do those).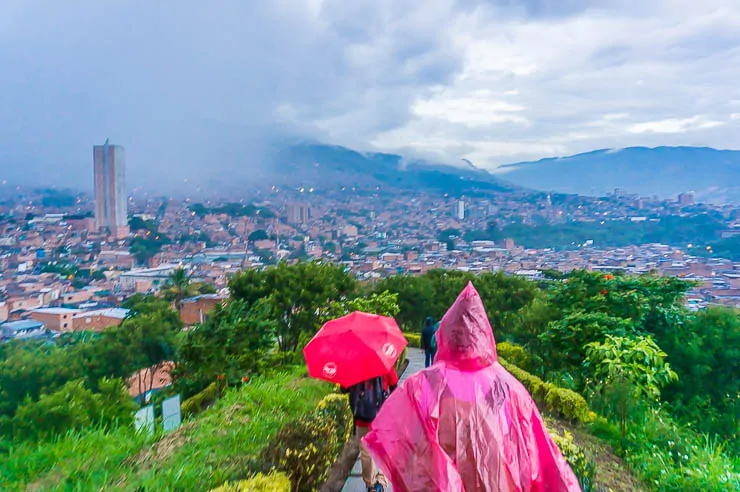 Real City Tours are the ones behind the not-to-be-missed walking tour downtown, as mentioned, which is my #1 recommended tour to all new visitors, and the awesome exotic Colombian fruits tour. If you've got a few hours to spare and want a Medellin barrio tour unlike any other, then you've to check out the Barrio Transformation Tour and make a reservation.
Book Your Tour to Moravia Medellin Here.
Traveling to Medellin, Colombia soon? Book your lodging on Booking.com now to save, and check out my guide to the best Medellin hostels. If you plan to stay longer, I highly recommend looking for a place on Airbnb, check out my thoughts on where to stay in Medellin. And don't forget to purchase travel insurance for Colombia that will help protect you against illness, injury, and theft. I use and recommend World Nomads for its combination of coverage and affordability.
Read Next: The Best Medellin Tours
Share This
Did you enjoy this post about the barrio transformation of Moravia Medellin? Take a second to share it on Pinterest, Facebook, or Twitter. Thanks!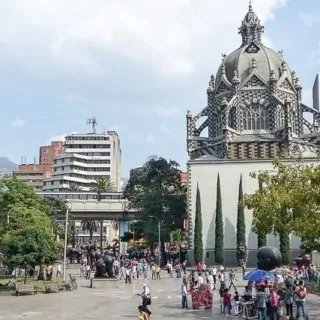 Colombia Travel Tips
Important tips and resources for planning an amazing trip to Colombia, based on my years of traveling and living in Colombia.
Tools
Colombia Trip Planning
Instructions
Book a cheap flight to Colombia with Momondo, or better yet, start travel hacking so you can fly for free. Traveling between major cities is much better by flying, trust me.
Plan a rough itinerary and how long you will spend at each destination. Use an itinerary planning service for custom recommendations and pick up Lonely Planet Colombia.
Work a little every day to teach yourself Spanish, you'll want to know as much as possible before you arrive.
Book cheap accommodation in advance, at least for the first destinations -- For hostels use: Booking, for cheap hotels use: Hotels.com, for apartments use: Airbnb.
Reserve your on the ground tours and activities through Get Your Guide.
Purchase travel insurance for Colombia with SafetyWing to protect yourself from illness, injury, and theft while in Colombia. VERY important. And be sure to read my article: "Is Colombia Safe?" for my honest opinion and safety tips.
Sign up for my free emails about planning a better trip to Colombia, and be sure to check out my comprehensive guide about traveling to Colombia.
Learn more money-saving tricks with my top budget travel tips.
Put together your Colombia packing list.
Enjoy this incredible country!
Notes
I hope this helped you plan your travels in Colombia! I know it can be a struggle to find accurate and on the ground information when traveling to a new place like Colombia, which is why I started writing so extensively about it!
If you have any questions about Colombia, budget travel, or anything else shoot me an email at ryan@desktodirtbag.com.
(I love getting questions! That is how I get ideas for my blog posts and what to write about!)
Recommended Products
As an Amazon Associate and member of other affiliate programs, I earn from qualifying purchases.
The following two tabs change content below.