This article may contain
affiliate links
. If you make a purchase through these links, I will earn a commission at no extra cost to you. Thanks!
Medellin, Colombia was once a place where no tourist dared to visit and widely considered to be the most dangerous city on earth. Thankfully, things have changed drastically in recent years, and Medellin now welcomes tourists with open arms. When I first got off the bus in Medellin, I had no idea what to expect really, but I certainly never imagined that I'd end up spending the next few years living there. It is a city replete with many things to see and do, which I've already written about, but this article aims to distill those things into a more organized and optimized itinerary for 3 days in Medellin.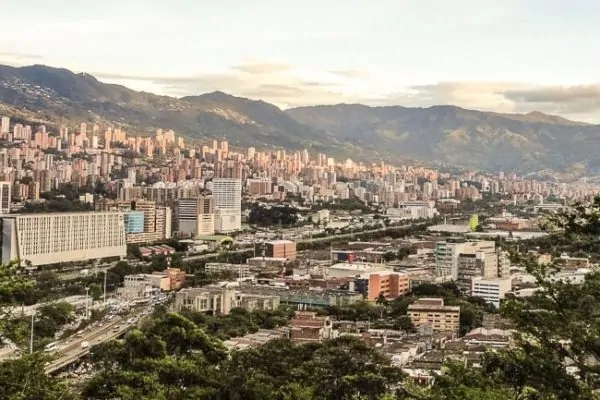 3 Days in Medellin
I'd say that Medellin deserves more time than three days, but you should be able to see a good chunk of what makes Medellin so special with three full days on the ground, whether you are backpacking across Colombia, or just in town for a quick visit. My suggested itinerary will cover what I'd consider being the must-dos and highlights here, some off the beaten path recommendations, and more so you are able to maximize your time here.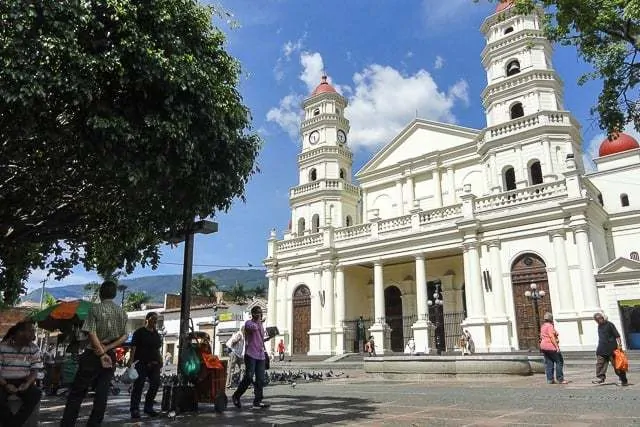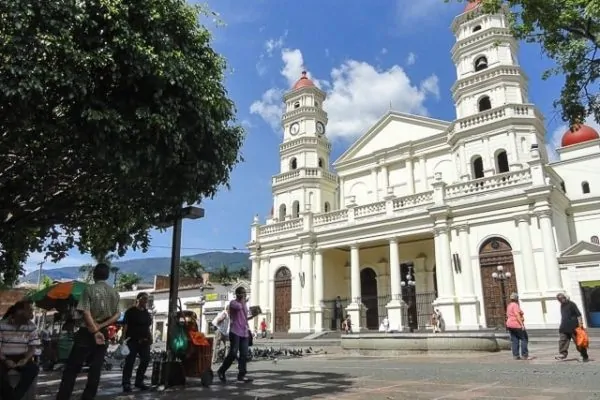 And, unlike all those other Medellin itinerary articles online, my suggestions are based on an in-depth knowledge of the city rather than being written by someone who literally only spent three days here and then wrote an article.
Day 1: El Centro
What better place to begin than at the center of it all, the Medellin Centro, aka downtown. Unlike many other big cities, you are best off finding lodging outside of downtown.
Most tourists opt to stay in Poblado, but before you book, you should read my much more comprehensive article about where to stay in Medellin with specific neighborhood recommendations for every type of traveler and then read my post about the best Medellin hostels.
But regardless of where you stay, before you head downtown, you will probably want to start your day with a good coffee. Colombia, after all, is internationally renowned for the drink and Medellin features some truly great coffee shops.
Coffee Culture
If you are in the Poblado neighborhood, I'd check out Cafe Pergamino or Cafe Velvet to start, and if you're staying in Laureles, I'd recommend Rituales or Cafe Revolucion. Check out my more in-depth article about finding the best coffee in Medellin.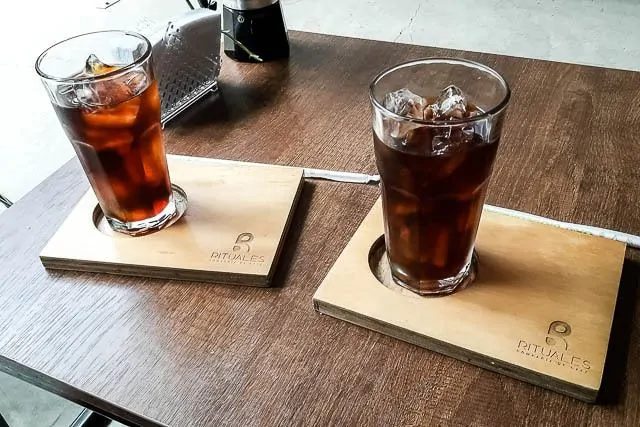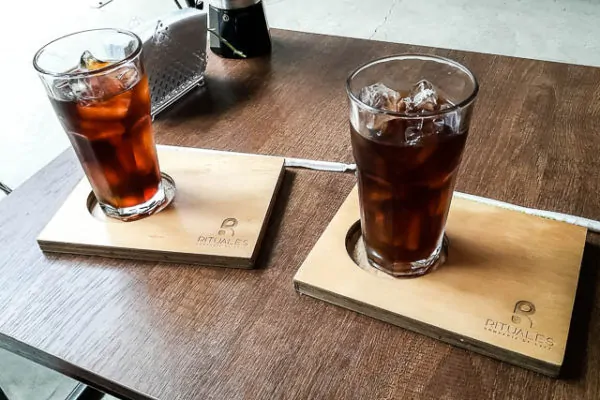 Next, you'll want to hop on the Metro — a tremendous source of pride and joy for the people of Medellin, as not even the capital of Bogota boasts such a level of public transportation — and make your way to the Alpujarra station.
Free Walking Tour
Medellin's free walking tour is truly the best way to start your trip here in Medellin, but you will need to book your reservation a day and a half in advance. You will meet up with your guide and group at the Alpujarra station and spend the next four hours on foot through Medellin's downtown core, learning about the history, the culture, the people, and much more.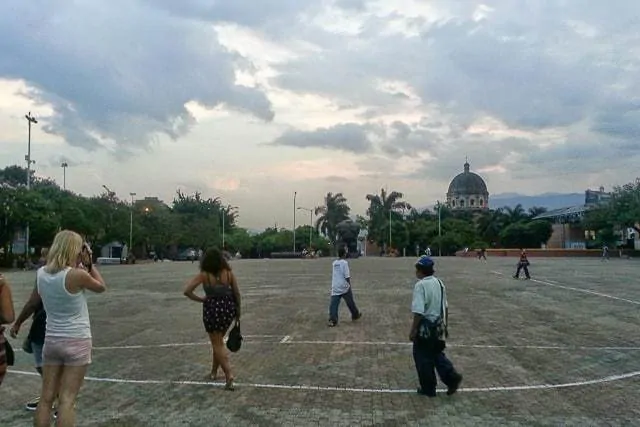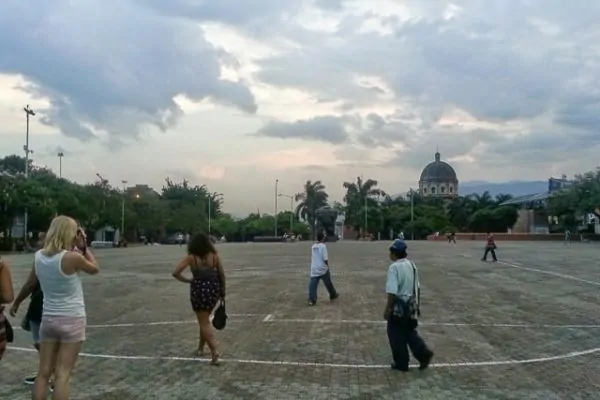 I've been on a few walking tours in my travels, but this one in Medellin stands out as the best. And best of all, it's free. They just ask for a donation at the end.
If you do the morning walking tour, you will have plenty of more time today to explore a few more things, so that's what I'd recommend rather than the afternoon tour.
Read More: All About the Free Medellin Walking Tour
Lunch
By now you have probably worked up an appetite, so I'll give you two nearby options…
If you want something more typical, I'd suggest visiting Hatoviejo, a local institution serving up traditional food like the bandeja paisa, montanera tipica, or cazuela de frijoles. Any of those dishes is sure to fill you up… But the bandeja paisa is massive, so just be forewarned that you may not want to finish it all, but it is a must-have dish, at least once while you are here.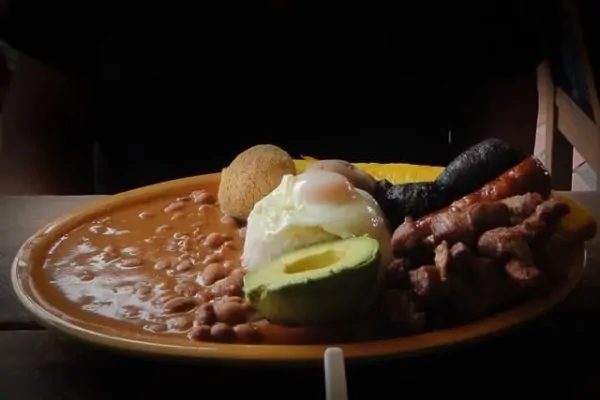 The second choice would be to hop into the streetcar or Tranvia from San Antonio to head up to the Buenos Aires neighborhood (not to be confused with Buenos Aires, Argentina, hah) where you will find the Mercado del Tranvia. This is a relatively new urban renewal project featuring a number of different restaurants and cuisines in an old industrial style warehouse.
If you head that way, be sure to ride the Tranvia to the end of the line and hop on the cable car to La Sierra — one of the city's newest cable car lines, and all connected to the metro system.
If you've got room after lunch, then make sure to stop by Astor Reposteria on Junnin Street for the best chocolate cake you might ever have… You can accompany it with a tinto, the more common local coffee drink, which you can compare with this morning's more upscale coffee (read: better).
At the end of Junnin Street is Parque Bolivar, which also hosts an impressive open-air market on the first Saturday of the month, something that is definitely worth doing if the timing coincides with your visit.
Museo de Antioquia
In the afternoon, head back down to Plaza Botero (which you visited during the walking tour) and head into the Museo de Antioquia, the largest and most important museum in the city.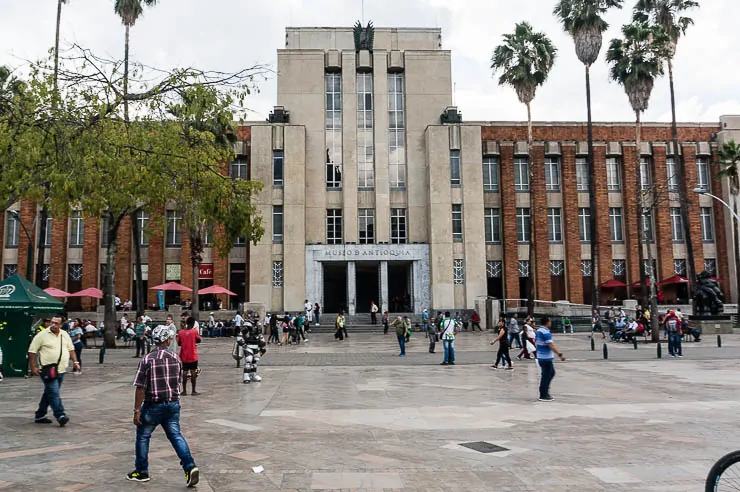 Here you will find a collection of Fernando Botero's artwork. He is internationally known for his plump or fat figures in both paintings and sculptures. You can expect to spend at least an hour or two at the museum, and the entry price is modest.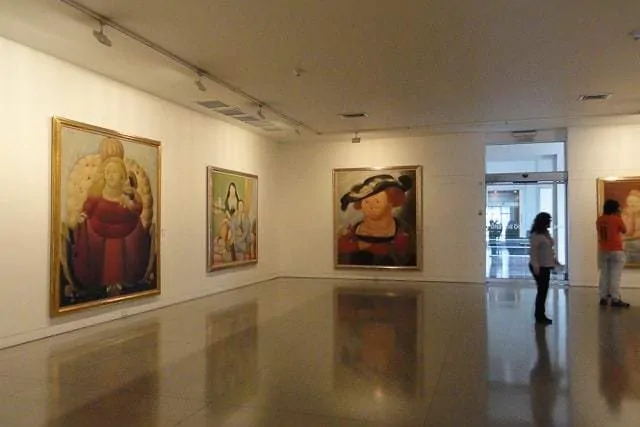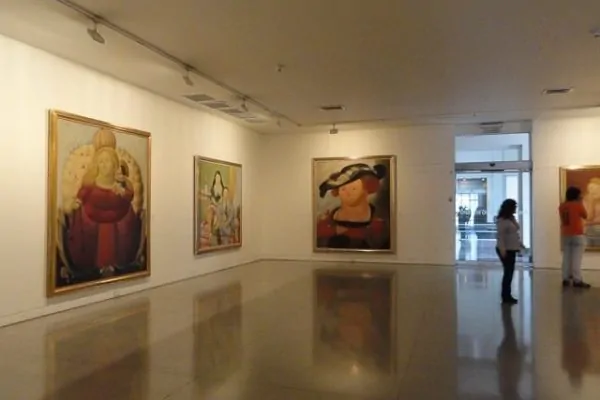 Read More: The Best Museums in Medellin
El Hueco
If you've still got some energy and are feeling up for it (you aren't easily intimidated by busy, chaotic streets), I'd recommend wandering around El Hueco, which means The Hole. It is a busy area where you will find tons of street vendors selling all manner of goods. It is a chaotic but interesting place where you can people watch and take in the feel of this thriving city.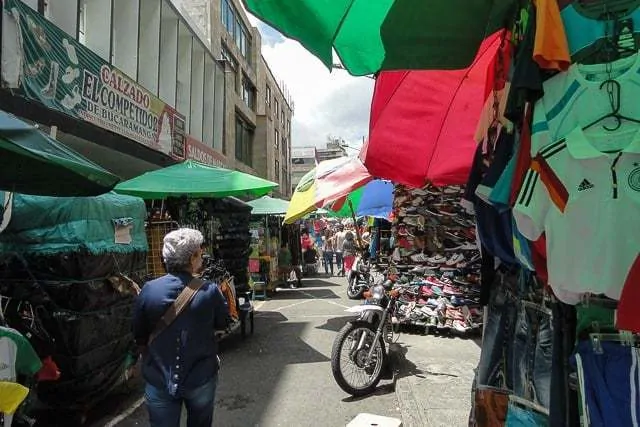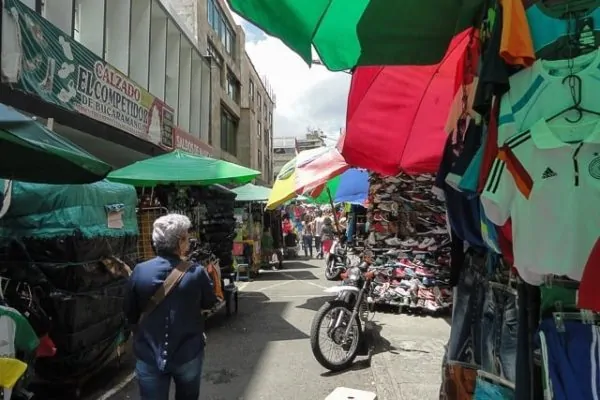 Medellin's downtown is safe enough to wander around in, just stick to areas that have lots of foot traffic, and areas where you visited more or less during the walking tour. Just be sure to keep an eye on your surroundings and not flash around things of value…
If you're a woman, don't travel with a purse, if you're a guy, keep your wallet in your front pocket. If you are traveling with a small backpack, wear it across your chest like you see the locals doing.
Night Time
That being said, El Centro is not a safe place to wander around aimlessly after dark (6:30 PM in Medellin), so you should head back to your neighborhood for dinner and drinks, or alternatively, you could stay downtown for dinner and drinks and take a cab back afterward.
At the top of the Colombo building, there's a great restaurant and bar called Cafe Colombo Credenza where you can take in the sunset from the balcony and grab dinner and drinks.
It has a unique take on local dishes and is a hidden gem in the heart of downtown. There are a number of great bars nearby which are also within a safe walking distance if you aren't quite yet ready to head back…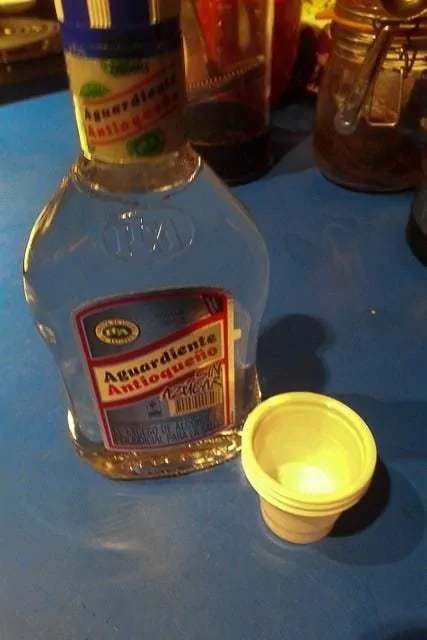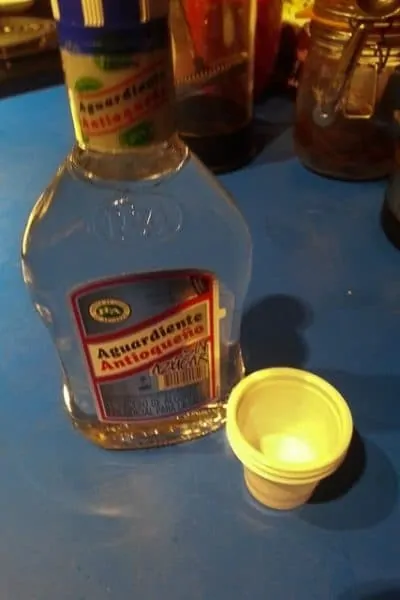 The top choice would probably be El Eslabon Prendido which is a super popular salsa bar and even features live music on Tuesday nights. Or there is the El Acontista which is a laid back jazz bar and bookstore — they've also got good pizzas if that's more your style for dinner. There's also a smattering of hole in the wall rock bars like Wall Street if that's more your style. All of these options are within 1.5 blocks of the Colombo tower.
Be sure to check out my more comprehensive guide to the Medellin Centro for more cool things to do, places to eat, and so forth.
This evening will definitely give you a more local perspective of Medellin because honestly, this city is best explored like a local. If you don't know anyone there, I'd recommend contacting this company to have a local Colombian plan your trip. I've organized a 5% discount with them for all my readers.
Day 2: The North
Start the day with a local breakfast, making sure to grab a more typical breakfast which includes the arepa, a local specialty which is basically a super thick corn tortilla that is toasted and served with butter, salt, and cheese.
Hopefully, you got a feel for the metro system yesterday, but if not, now is your chance to head up north on the metro to the Acevedo station.
Santo Domingo & Parque Arvi
From Acevedo, you can hop onto the Metrocable, a gondola lift system which is integrated into the transportation network, allowing you to head up to the upper neighborhoods with the same price as your metro ticket.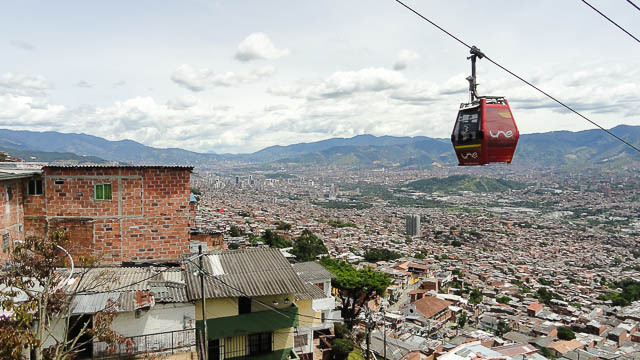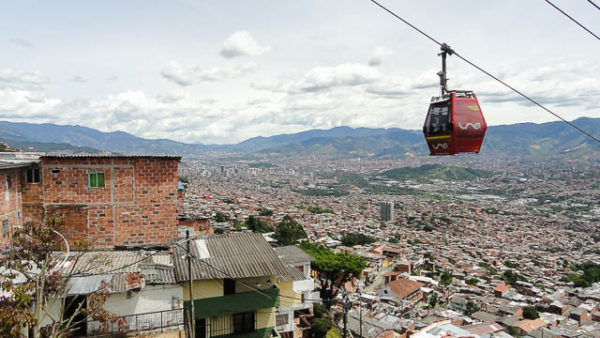 The Santo Domingo neighborhood used to be an especially dangerous area, but thanks to innovative public infrastructure investments like the Metrocable, things have improved for the poorer residents that reside in these upper barrios.
It is safe to wander around in the immediate vicinity of the metro station, where you can enjoy the best views of Medellin.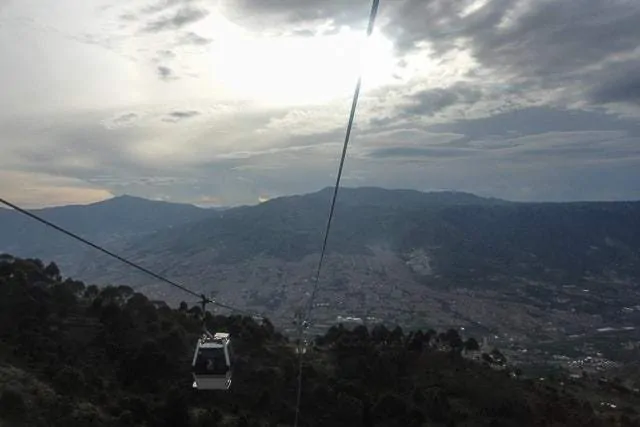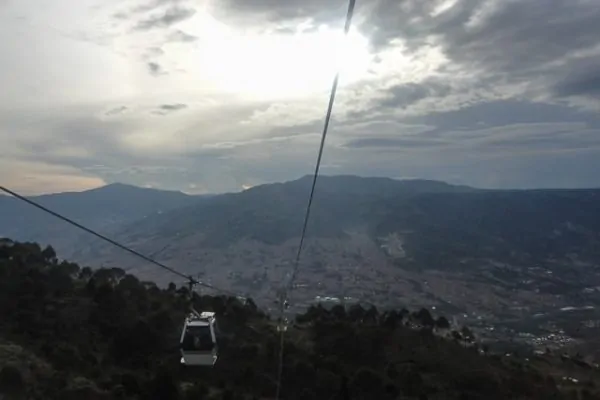 For an additional fee, you can hop onto another Metrocable line from here which will take you into Parque Arvi, a lovely nature reserve located on the upper slopes where you will find short hiking trails, meandering streams, greenery, and even horseback riding.
Lunch
By lunchtime, I'd recommend heading down into the valley again and grabbing the Metro south to the Universidad station.
For lunch, I'd recommend heading to the Jardin Botanico, the Botanical Garden, located adjacent to the station. You can either grab a lunch to go from a nearby restaurant and eat it picnic-style on the park grounds, or you can visit the Cafe del Bosque inside for a moderately priced lunch.
If you want to splurge, In Situ is another option if you want a fancy restaurant that is considered among the best in town, but I've never been… I always stick to Cafe del Bosque.
Explore the Jardin Botanico
Walk off your lunch by meandering around the lovely grounds of the Botanical Garden. You will find a huge variety of plant life, as well as some local critters like the iguanas.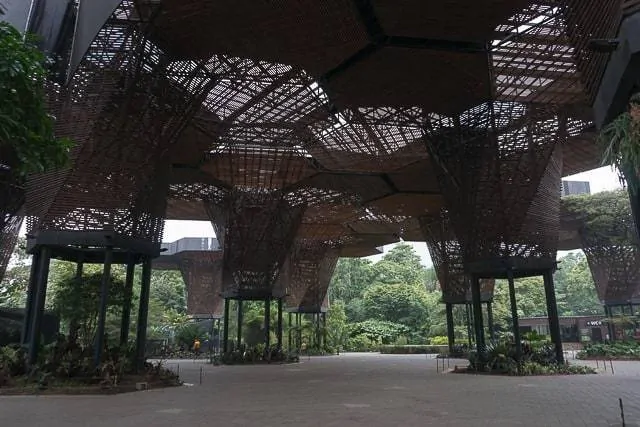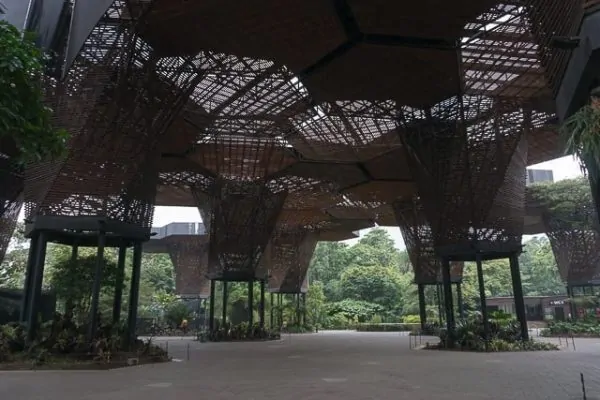 If you are eating picnic-style on a park bench, just be aware that the iguanas may try and steal a bite to eat! There is also a cool butterfly enclosure too.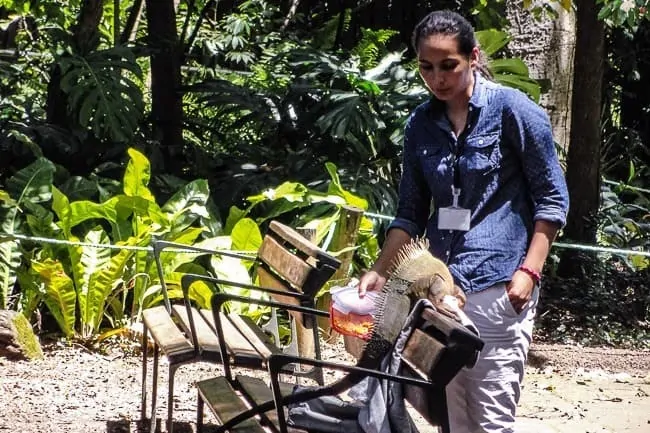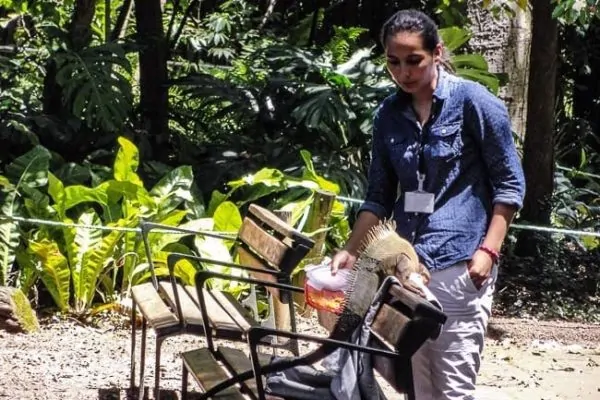 Parque Explora
Across the street from the Jardin Botanico, you'll find Parque Explora, an impressive science-based museum which is highly interactive. It's a fun place that is sure to keep you entertained for a few hours. Alternatively, you could check out the Planetario, although you probably won't have time for both.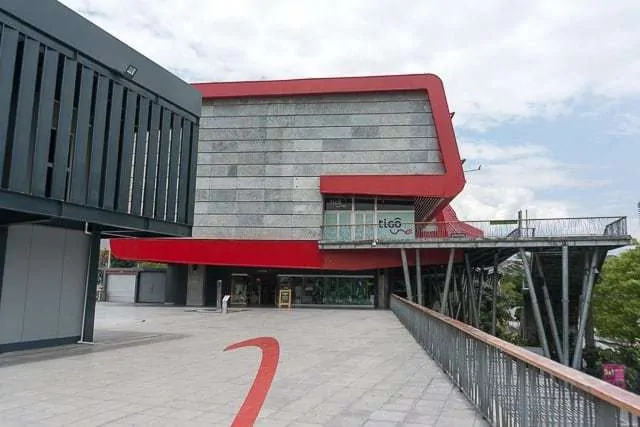 Medellin does museums really well, so either one is a great choice, but I'd give the nod to Parque Explora for a fun time.
Or finally, for something totally different, you could check out the Museo Cementerio San Pedro where you wander among the graves, take in the architecture and enjoy this amazing space. They give free walking tours at the cemetery too, which are full of history and interesting facts. Highly recommended!
Sunset at Pueblito Paisa
Hop in a taxi and head to Pueblito Paisa before sunset… Pueblito Paisa is a little mock village (pueblo) on top of a hill in the middle of the city, which is a good place for souvenirs, but the real draw here is the nearly 360-degree view of the city from within the heart of the city.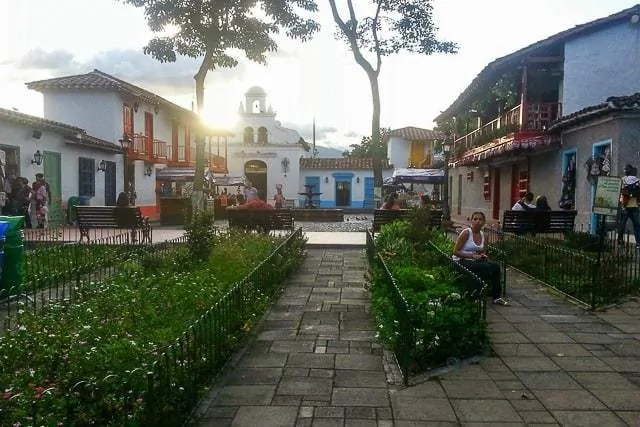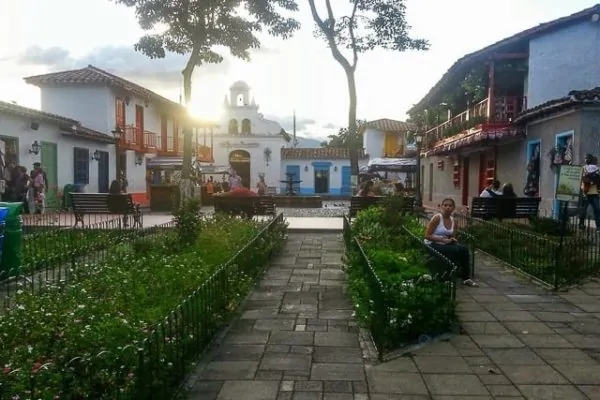 If you get here between 5:30 and 6 pm, you will be able to enjoy the city view during daylight hours and then maybe get a decent sunset before the night lights begin to come out.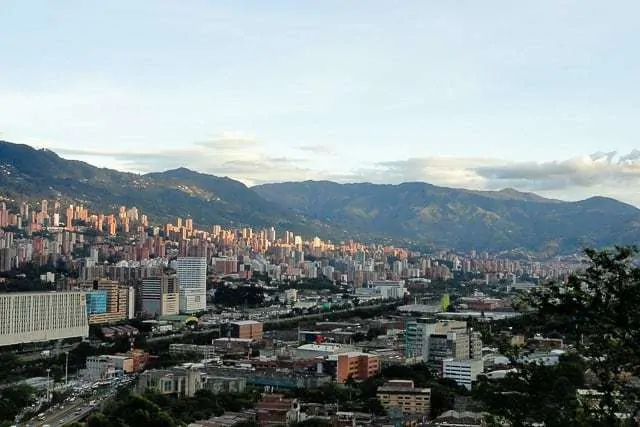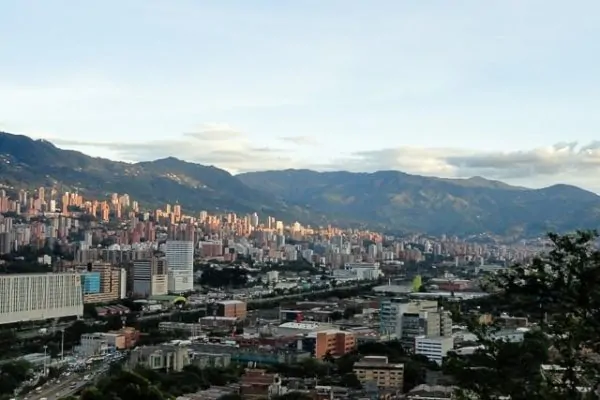 You will need to take a cab from here back to your hotel or next destination… Depending on the day of the week, now is a perfect chance to take in some nightlife after dinner.
Medellin Nightlife
Medellin is a city that comes to life and really pulses with nightlife activity… and thankfully there is a myriad of places, styles, and musical genres to choose from. Thursday to Saturday night are always the best nights, of course, and Sunday to Tuesday are pretty dead. Almost anywhere you can find groups of locals hanging out drinking the local firewater, aguardiente. Here are a few recommendations for nightlife:
Option A: Parque Lleras
This is the heart of Medellin nightlife in the middle of Poblado. Here you will find bars on tops of bars and clubs on top of clubs. This place is a scene on the weekends as it draws crowds from all over the city, and it is also the most heavily trafficked tourist area. If you want something a little more local and less gringo heavy, then head to 70 or 33 (both very close to Pueblito Paisa) for a wide mix of options.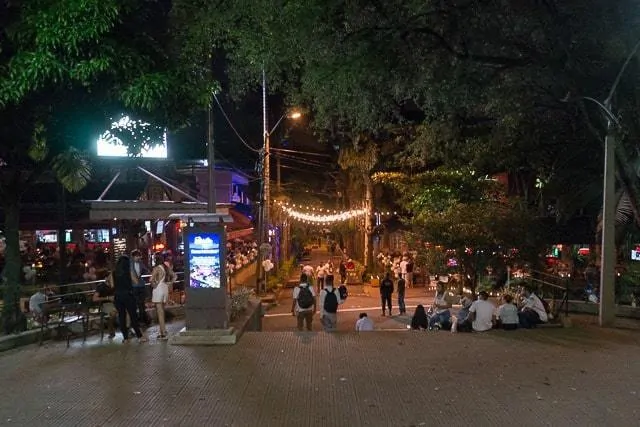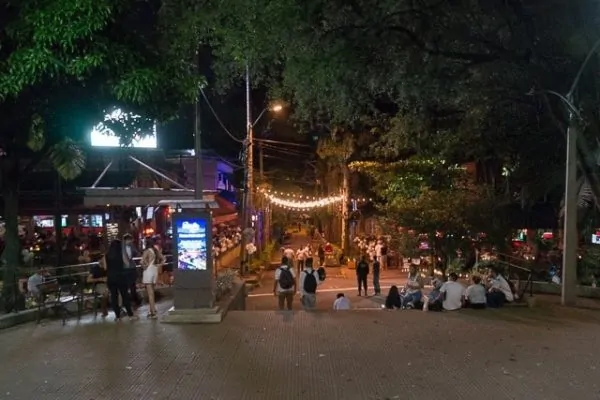 Option B: Salsa Bars
For something with a bit more local flavor try heading to a salsa bar if you haven't yet. The top three places in the city are El Eslabon Prendido (mentioned earlier, downtown), El Tibiri, and Son Havana. The latter two options are located on or near 70.
Option C: 3 Cordilleras
If you're more into the craft beer scene then you can't miss a visit to 3 Cordilleras in the Industriales district. The brewery is only open to the public from Thursday to Saturday nights, typically (check their calendar), but features live music and five beers for less than $10.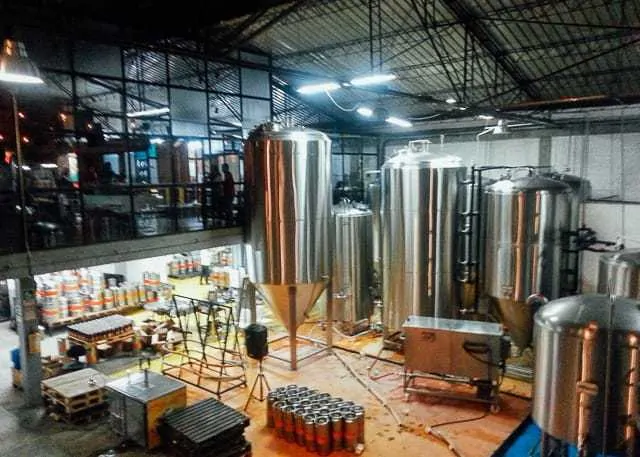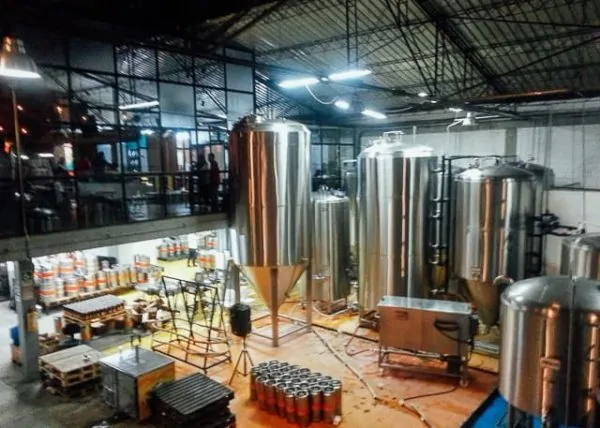 As always, be sure to take a taxi or Uber if you decide to stay out for the nightlife. Another cool brewery is 20Mission just south of Ciudad del Rio which has a great vibe and even has gringo things like cornhole and beer pong! Hah.
Day 3: Loose Ends
On your last full day in Medellin, we'll have a few different options this morning depending on your personal interests and your level of guayabo from yesterday's nightlife.
Last Morning in Medellin
Option A: Minorista Market
If you've never been to one of those big crazy local markets where you can get everything from wild exotic fruits, cow tongues, food from hole in the wall restaurants, furniture, live animals, and beyond, then you should check out La Minorista in El Centro. It's a wild mix of smells, colors, and strange things, good for a few hours in the morning, but be sure to go by taxi (or go by metro to downtown, then grab a taxi from there).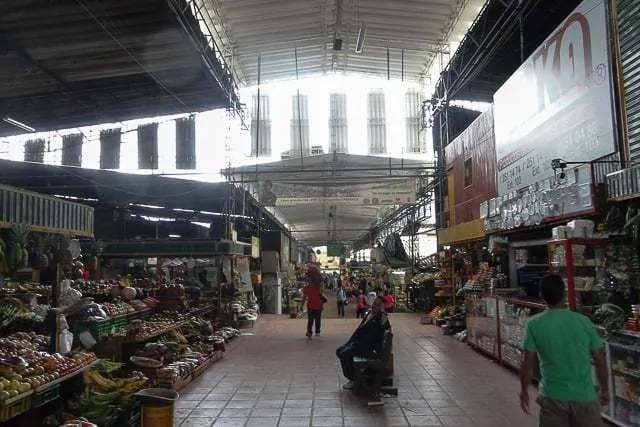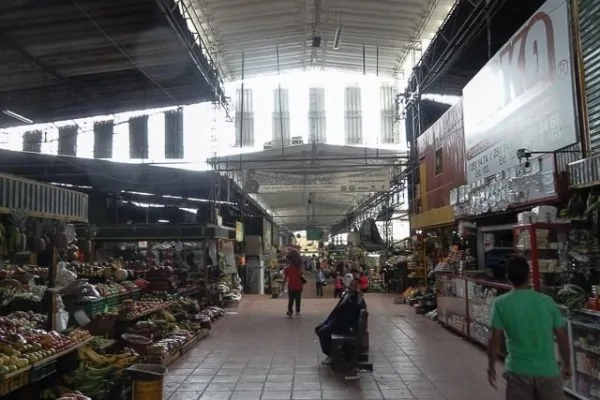 La Minorista is also the home to the incredible exotic Colombian fruits tour, which I highly recommend if you want to see, taste, and smell fruits that you've probably never seen before.
Option B: Exploring a Cool Neighborhood
One thing that keeps me living in Medellin for the long-term is some of the awesome, vibrant neighborhoods that the city has to offer. Spend the morning just meandering around one of the cool ones like Envigado (La Magnolia & Jardines), Laureles, or Provenza. There are small coffee shops, loads of restaurants, cool stores, and lots of hidden gems. Laureles is my favorite. But Envigado is another great one… Make a stop at Cafe Otraparte for a coffee in their relaxing garden.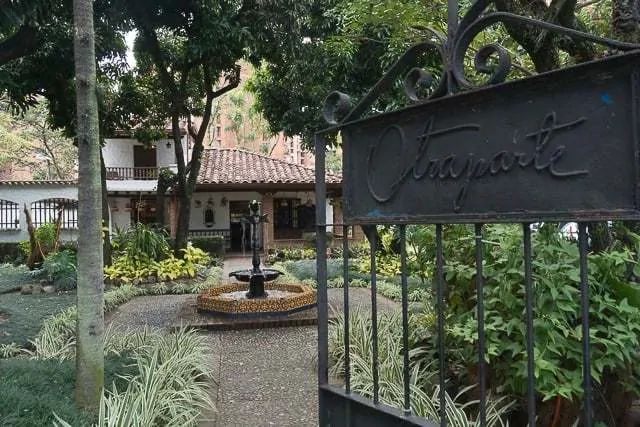 Option C: Comuna 13
If a visit to Santo Domingo wasn't enough for you in terms of visiting the poorer barrios, then you may want to visit Comuna 13, perhaps on a graffiti tour where you will get a guided tour of the area and visit the famous electric escalator that helps locals get up and down the steep hills.
If you want something that's a little more off the beaten path, then check out the amazing barrio transformation tour of Moravia Medellin, which another one that I'd recommend
Don't miss my article with the top Medellin tours — just don't be one of those Pablo Escobar tourists, please.
Lunch: Mercado del Rio
Wherever you've started your morning, I'd recommend grabbing a taxi or the metro and heading to Ciudad del Rio (accessible from the Industriales metro station) and grabbing lunch at the impressive Mercado del Rio…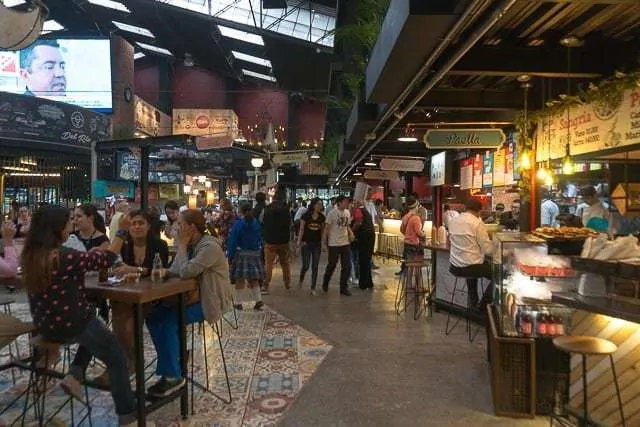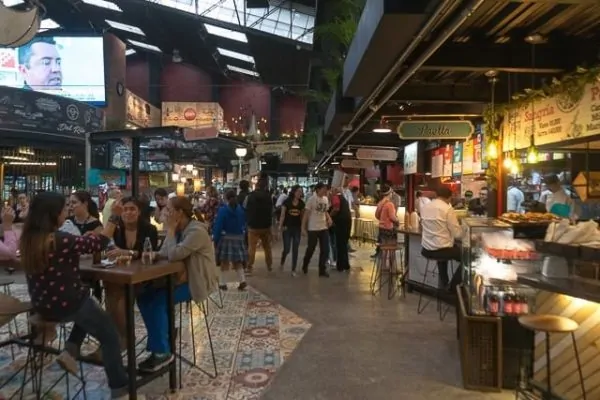 This is the original and much bigger brother to the Mercado del Tranvia mentioned earlier. This place is a hot spot among well-to-do local workers and offers an almost overwhelming number of delicious options to eat in this two-story warehouse.
Museo de Arte Moderno
Burn off your lunch by crossing the street and visiting the Museo de Arte Moderno de Medellin (MAMM), the Modern Art Museum of Medellin. Here you will see a bunch of wacky modern art in their temporary exhibits, as well as a great collection from artists like Deborah Arango in the permanent exhibit.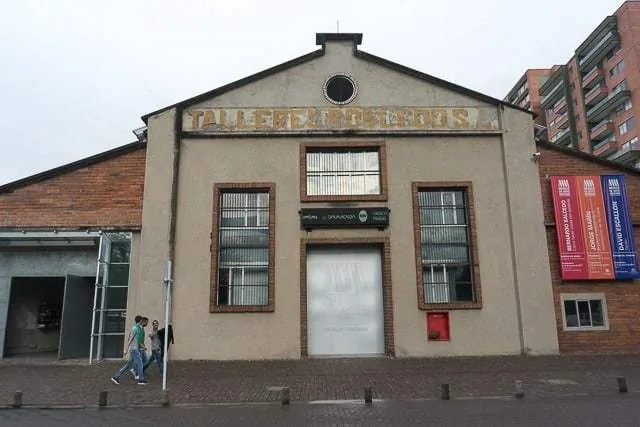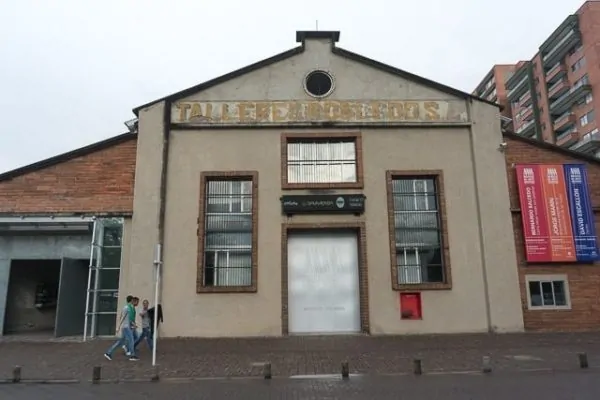 El Castillo
From the MAMM, you can grab a taxi and head up to El Castillo, the Castle, which sits on the hills above Poblado, overlooking the city. It is a large castle built by a rich family (their family is buried at the San Pedro cemetery mentioned earlier) which has now been converted into an interesting museum.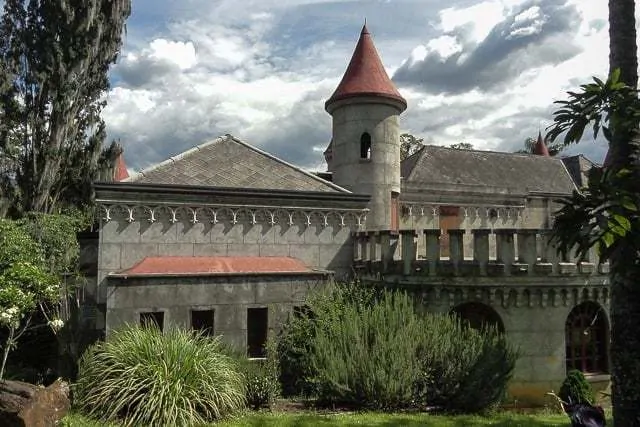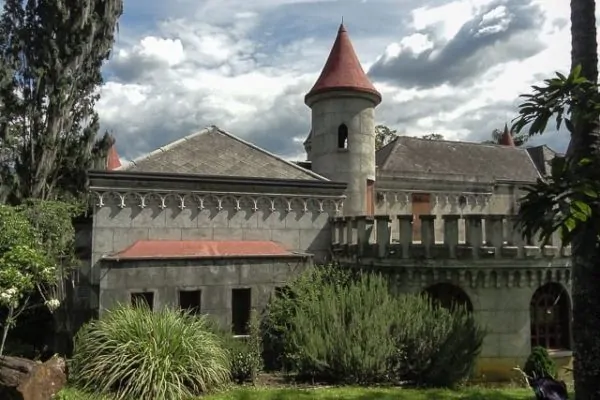 If you take the tour you will hear about the family and the tragic end of the patriarch (not to spoil it, but his manner of death was oh-so-characteristic of Medellin). The real attraction, I think, is the grounds of the castle where you can hang out and take in the city, perhaps even seeing the colorful scarlet macaws flying overhead.
Santafe Shopping Mall
To round out your third and final day in Medellin, I'd recommend heading to the Santafe shopping mall… Yes, it is a strange recommendation, but people in Medellin love malls and the Santafe mall is quite impressive, offering up an overwhelming number of stores beneath a giant retractable roof that opens up to take advantage of the beautiful weather in the City of Eternal Spring.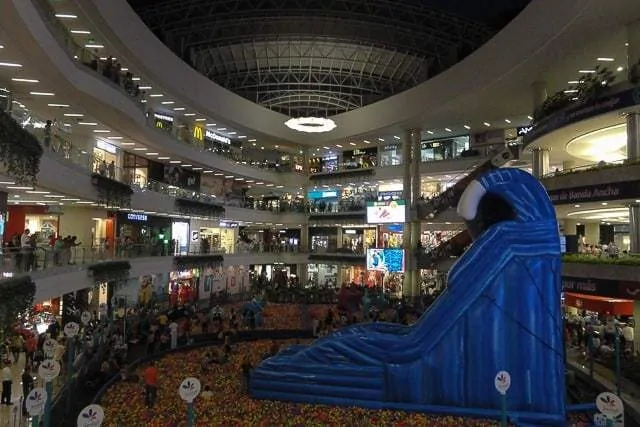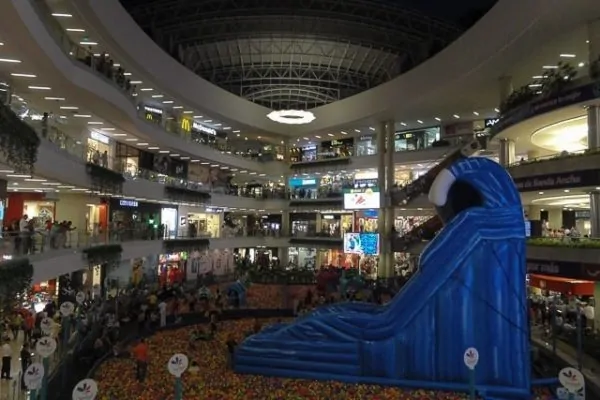 Even grabbing a bite to eat at the food court offers up incredible views of the city. And if you started your day at La Minorista, there is no greater contrast than that place and Santafe, for Medellin is a city of contrasts… Terrible poverty versus incredible wealth, tragic history versus innovation and a bright future.
Part of the crazy popularity of malls here in Medellin has to do with the general insecurity that the people have faced (and continue to face)… It is a place where families can come and let their guard down without worrying about muggings, theft, or other violence. Children play, people window shop, families grab a bite to eat and social classes mix. It's decidedly normal for most of us, but that is something that is a bit of a novel luxury here in one of the world's former most dangerous places.
Finish off the night by walking north along Avenida Poblado, Medellin's so-called Golden Mile or Milla de Oro which is the most elegant part of the city.
Medellin Itinerary
Above all, Medellin is a place of surprises that will draw you in, even if it lacks big-name tourist attractions or the type of things that attract most tourists to South America. Whether you've got 3 days in Medellin or three weeks, I'm sure you will find plenty to keep you busy here and I think you'll see just why this place has become such a hot spot and why people like me have decided to settle down for much longer periods of time too.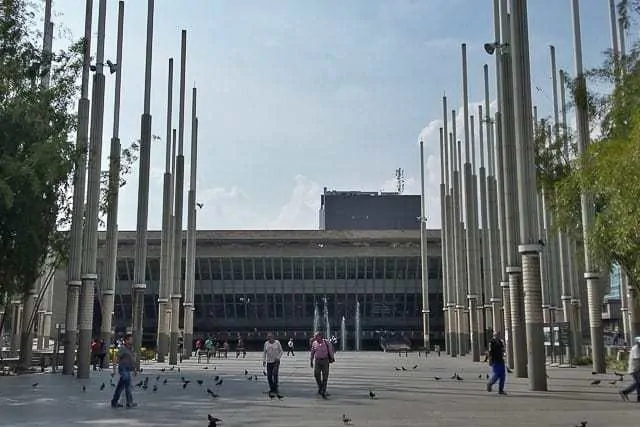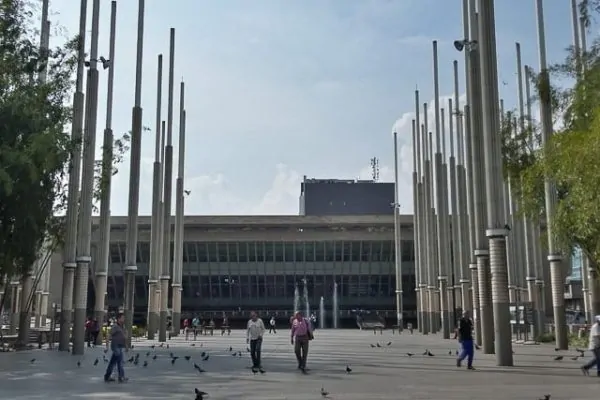 So there you have it, my suggested itinerary for 3 days in Medellin — I hope it helps you hit the ground running during your stay in Medellin and that you get lots out of your trip. For more ideas and info, don't miss my many other in-depth articles about Medellin.
Traveling to Medellin soon? Be sure to book your room on Booking.com to save money and don't forget to purchase travel insurance for Colombia to protect yourself against injury, theft, and sickness. I recommend World Nomads for its combination of coverage and affordability. And be sure to read my thoughts to the question "Is Colombia Safe?"
Read Next: 30+ Things to Do in Medellin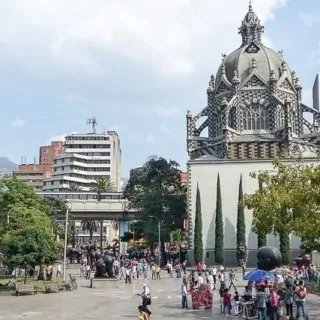 Colombia Travel Tips
Important tips and resources for planning an amazing trip to Colombia, based on my years of traveling and living in Colombia.
Tools
Colombia Trip Planning
Instructions
Book a cheap flight to Colombia with Momondo, or better yet, start travel hacking so you can fly for free. Traveling between major cities is much better by flying, trust me.
Plan a rough itinerary and how long you will spend at each destination. Use an itinerary planning service for custom recommendations and pick up Lonely Planet Colombia.
Work a little every day to teach yourself Spanish, you'll want to know as much as possible before you arrive.
Book cheap accommodation in advance, at least for the first destinations -- For hostels use: Booking, for cheap hotels use: Hotels.com, for apartments use: Airbnb.
Reserve your on the ground tours and activities through Get Your Guide.
Purchase travel insurance for Colombia with SafetyWing to protect yourself from illness, injury, and theft while in Colombia. VERY important. And be sure to read my article: "Is Colombia Safe?" for my honest opinion and safety tips.
Sign up for my free emails about planning a better trip to Colombia, and be sure to check out my comprehensive guide about traveling to Colombia.
Learn more money-saving tricks with my top budget travel tips.
Put together your Colombia packing list.
Enjoy this incredible country!
Notes
I hope this helped you plan your travels in Colombia! I know it can be a struggle to find accurate and on the ground information when traveling to a new place like Colombia, which is why I started writing so extensively about it!
If you have any questions about Colombia, budget travel, or anything else shoot me an email at ryan@desktodirtbag.com.
(I love getting questions! That is how I get ideas for my blog posts and what to write about!)
Recommended Products
As an Amazon Associate and member of other affiliate programs, I earn from qualifying purchases.
Share This
Did you enjoy this post about 3 days in Medellin? Please take a moment to share it on Facebook, Pinterest, or Twitter.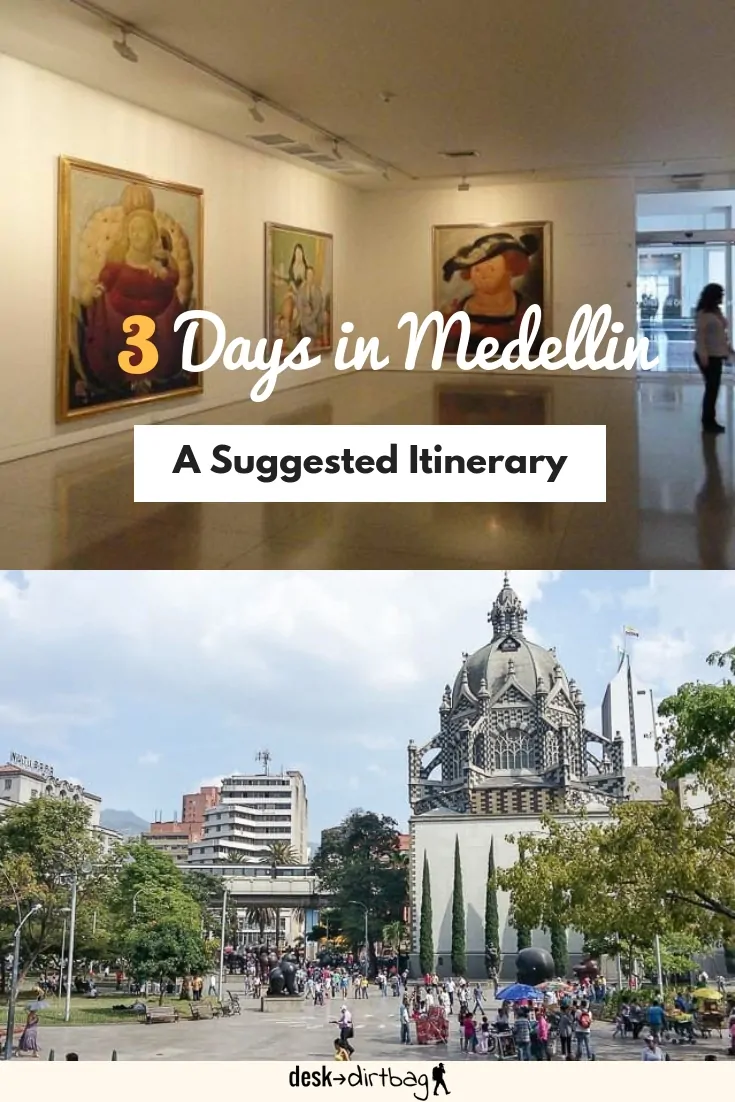 The following two tabs change content below.