This article may contain
affiliate links
. If you make a purchase through these links, I will earn a commission at no extra cost to you. Thanks!
Ah yes, the big, bustling, cosmopolitan metropolis of Lima, Peru… This incredible city is home to more than 10 million Peruvians, nearly a third of the total population of the country. Millions fly into Lima each year, stay briefly, and then quickly scuttle off to Cusco or other parts of Peru, and while those places are cool, I think it's a mistake to miss out on exploring here because there are actually a lot of really cool things to do in Lima, Peru.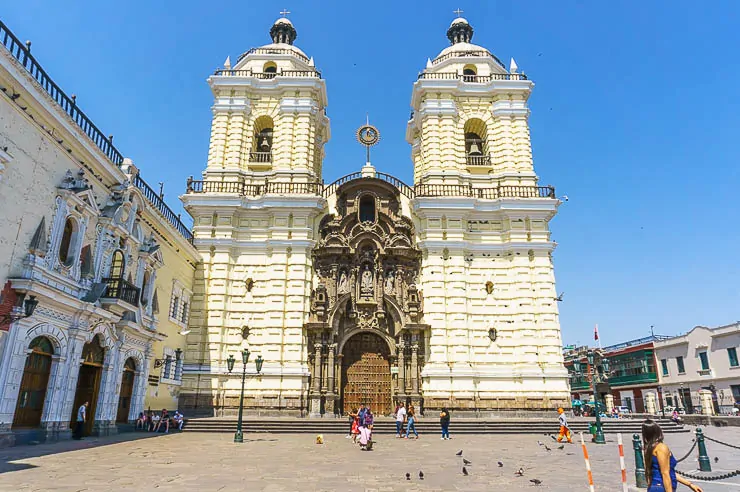 I've spent months exploring Peru, literally from one end to the other as we drove across the country on our road trip through all of South America. However, since we were driving, we opted to skip this massive city (Peruvians are particularly terrible drivers) and save it for another day. While that may have been the right choice at the time, I'm so glad to have been able to return to Lima to explore what it has to offer… And honestly, it has a lot to offer, from history, architecture, museums and art, and food, food, food. Did I mention the food?!
I loved our time in Lima and would recommend any visitor spend a few nights here to explore the best things to do in Lima, no matter your budget.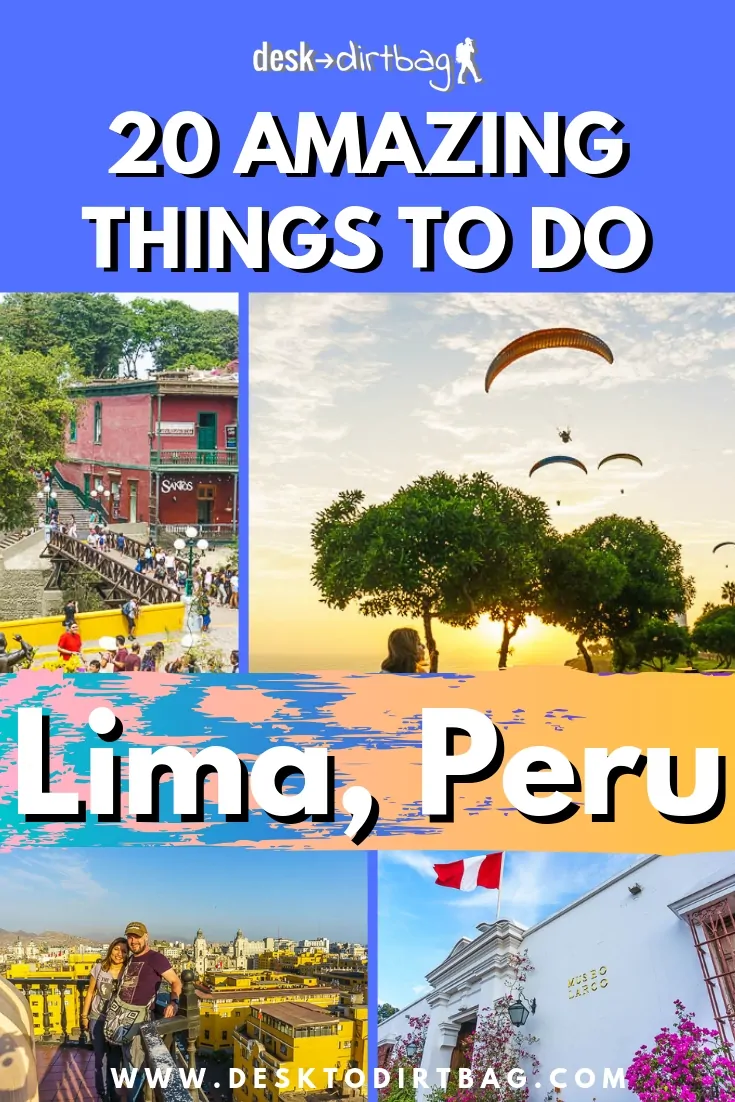 Free Walking Tour of the Centro Historico
One of my favorite ways to explore any new city is to get out there and pound the pavement on foot. In places like Lima that are so rich in history, that experience is much better by joining a free walking tour (tips are expected at the end).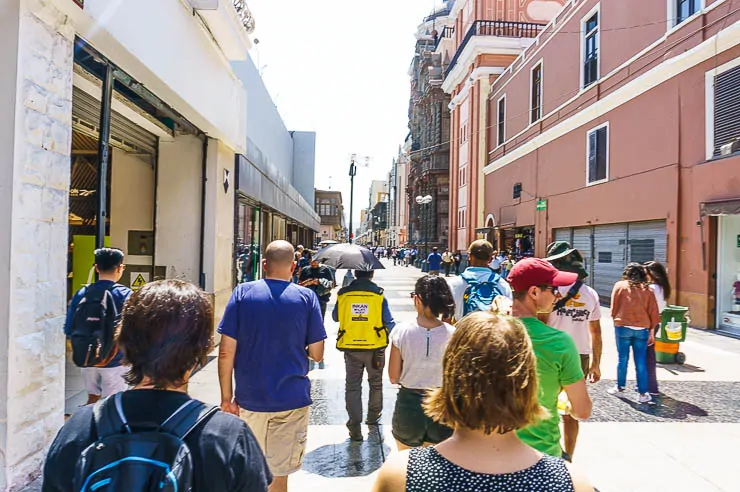 We joined the free walking tour with Inkan Milky Way thanks to their great reviews and the fact that they meet you in Miraflores (half a block from Parque Kennedy) and will bring you to the downtown centro historico via the Metropolitana Bus Rapid Transit system. You need a card to use the system, normally, so they facilitate that process and get you from point A to point B — a great way to start your first day in Lima.
From there, you'll spend the next three hours walking around downtown Lima, learning more about the history, culture, architecture, and much more. Just do it, you won't regret it, so long as you bring water and sunscreen (trust me).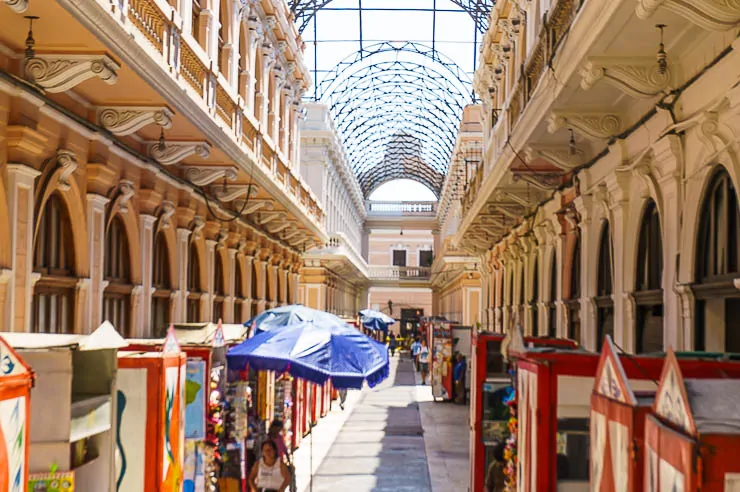 This serves as a great introduction to the city and will help you get your bearings to spend the rest of the day exploring the historic center on your own, which is what I recommend, so the next few things will be focused on things to do in Lima's downtown core.
Pro Tip: While the Metropolitana system is terribly crowded and uncomfortable, it is the cheapest and fastest way to get downtown. It is just 2.5 soles (less than $1) and arrives in about 30 minutes… If you go by taxi you can expect it to take an hour or longer and cost at least 10x as much. You can always ask a local about to enter to pay for you, just have exact change ready to give them.
This is one activity that I'd consider a must-do and certainly one of the best Lima tours, but check out that article for more ideas on awesome activities to do during your stay.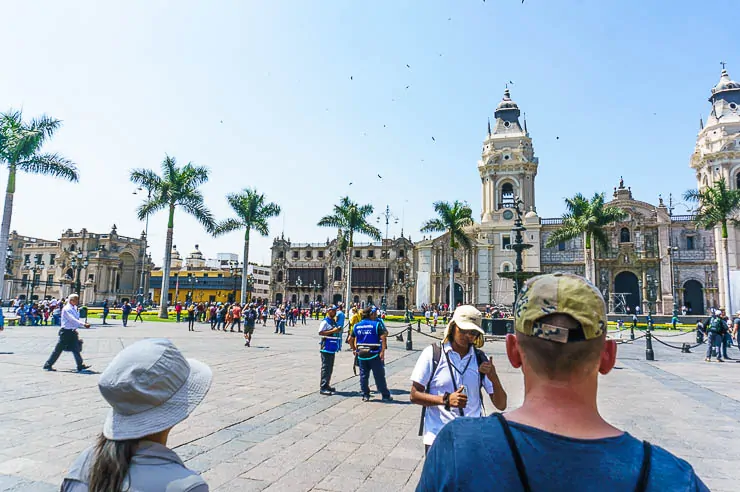 Reserve your free walking tour with Inkan Milky Way here.
Explore the Plaza de Armas
Whether you did the free Lima walking tour or not, as I mentioned, I'd recommend taking in a little more of the Plaza de Armas, which is the historic main square of Lima. The architecture here is stunning… Lima's downtown is actually a UNESCO World Heritage Site, and this plaza is a testament as to why that is.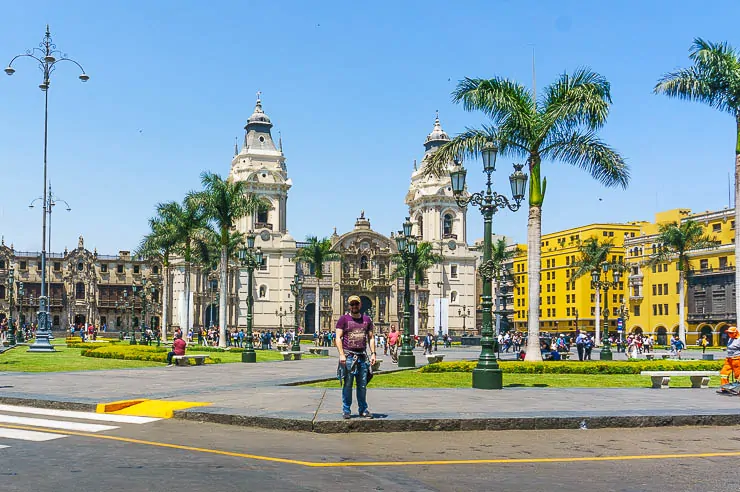 From the Government Palace to the Lima Cathedral, to the wooden balconies on the Archbishop's Palace, or the colonnades lining the edges and offering a respite from the sun, this area is an awesome place to hang out — even at night when the area is all lit up.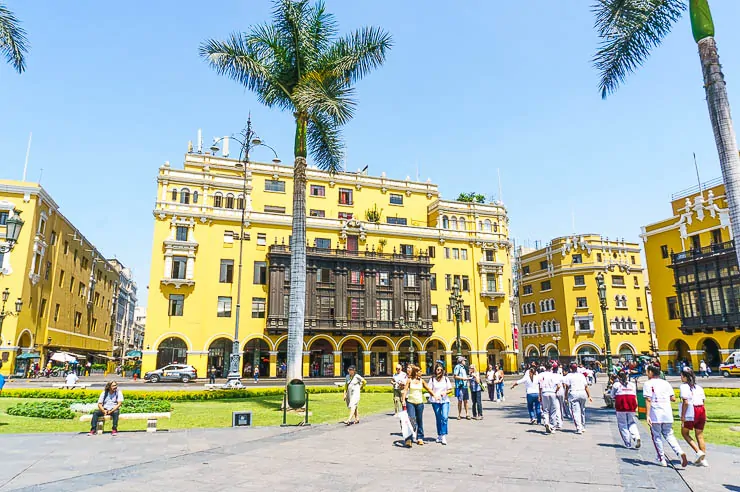 Be sure not to miss popping into the main cathedral with its Baroque architecture dating back nearly 500 years, and where you will also find the remains of Francisco Pizarro, the ruthless conquistador who brought the Inca Empire to its knees. The entrance fee is only about $3.
Pro Tip: Be sure to pick up the book The Last Days of the Incas before your trip, to read either on the plan or while you're on the ground — it will make the whole history of the place come alive for you.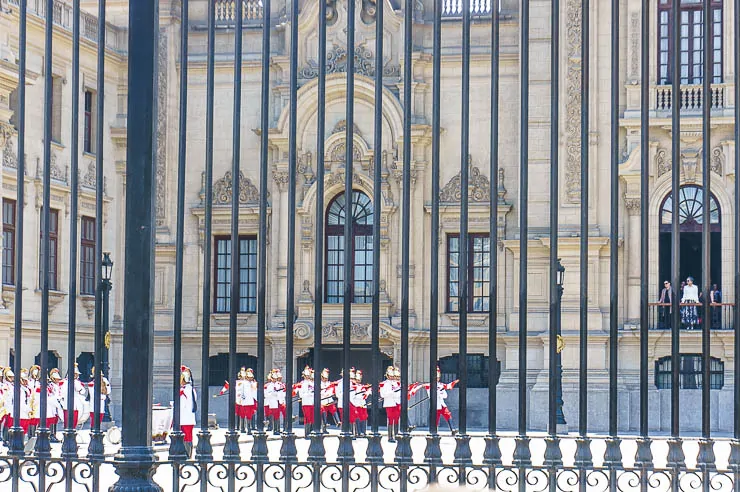 Kitty-corner is the Government Palace where you can witness the daily changing of the guard at noon, where music is played (El Condor Pasa!) and the guard is changed. I won't tell you it's an enthralling experience, but it's worth seeing at least part of it.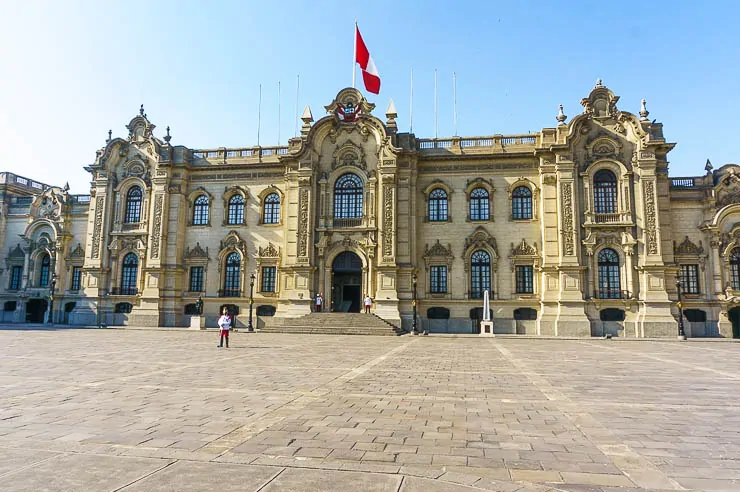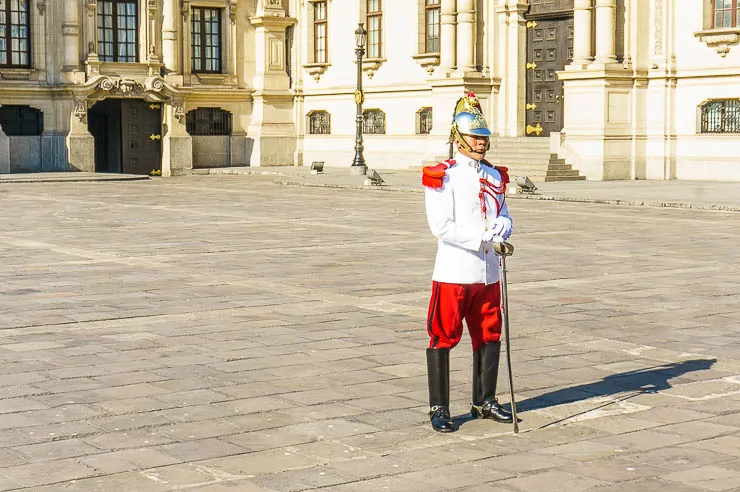 Visit the Tower of Santa Domingo Convent
Just 1.5 blocks to the NW of the Plaza de Armas, you'll find the Santo Domingo Convent. This beautiful church features some stunning architecture, but the main highlight here is the altars dedicated to the three most important saints in Lima's history: Santa Rosa de Lima, San Martín de Porres, and San Juan Macías. You'll even find the skulls of Santa Rosa and San Martin on display in the nave of the church, along with the coffin of San Juan Macias.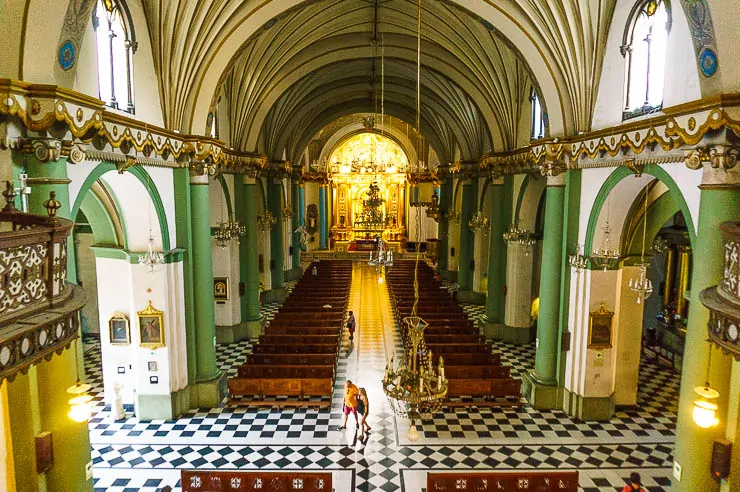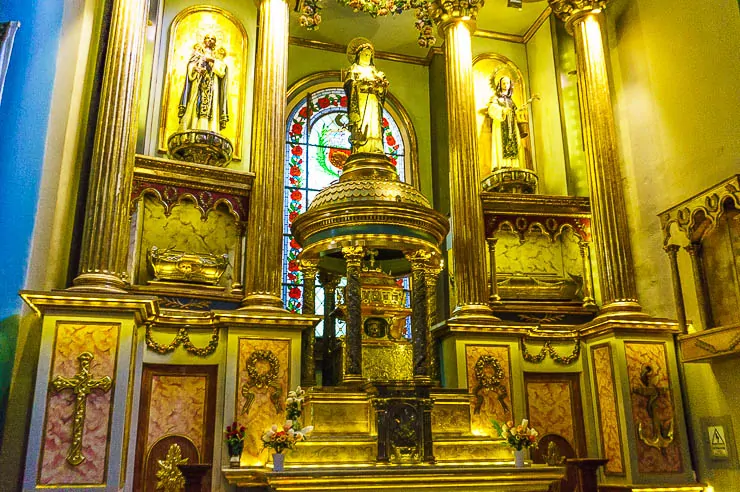 This is one of Lima's most important religious sites, and while it was originally constructed in the 16th century, it has been rebuilt and remodeled at various points, due to earthquake damage and other reasons.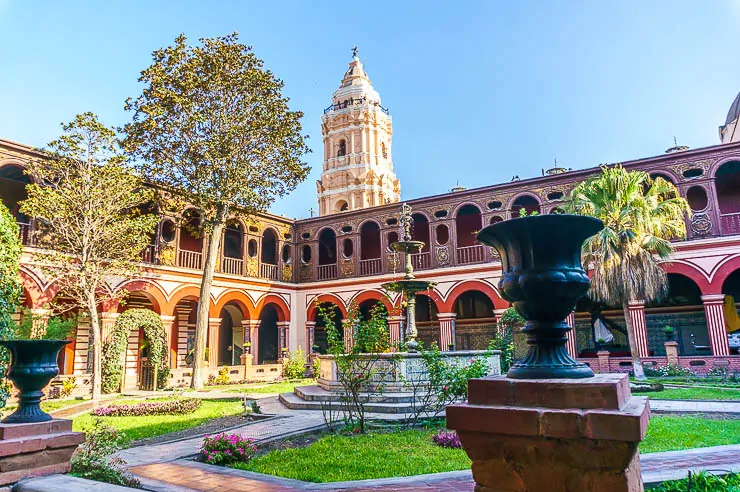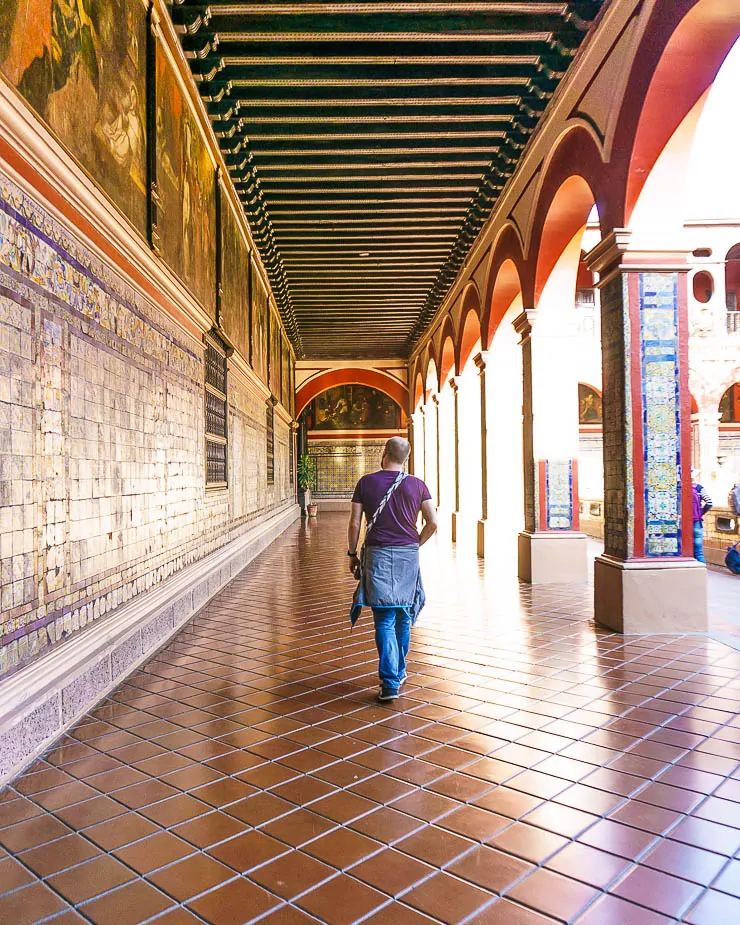 The big draw here, though, is taking a guided tour of the convent where the Dominican friars lived, tour the stunning grounds and cloistered courtyards with Spanish tiles, learn more about people like San Martin (including seeing his old quarters), and then ultimately scaling to the top of the bell tower which offers an incredible view of the city.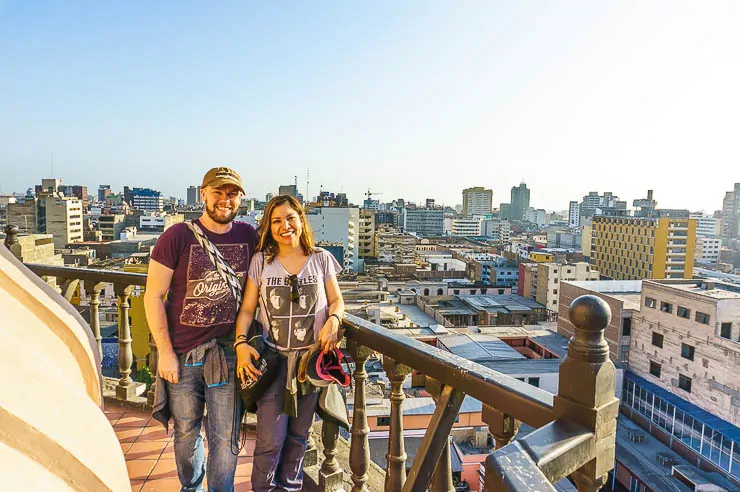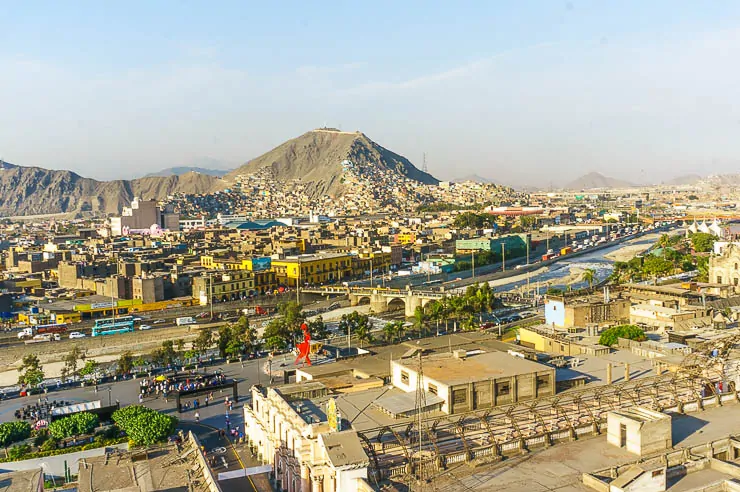 From here you can see the Pacific Ocean, the main Cathedral of Lima, and get a great view of Cerro San Cristobal and the shanty town along its edges in Rimac. The tour including the tower costs 10 soles per person and takes about 1.5 hours in total. Afterward, you can explore parts of the convent on your own.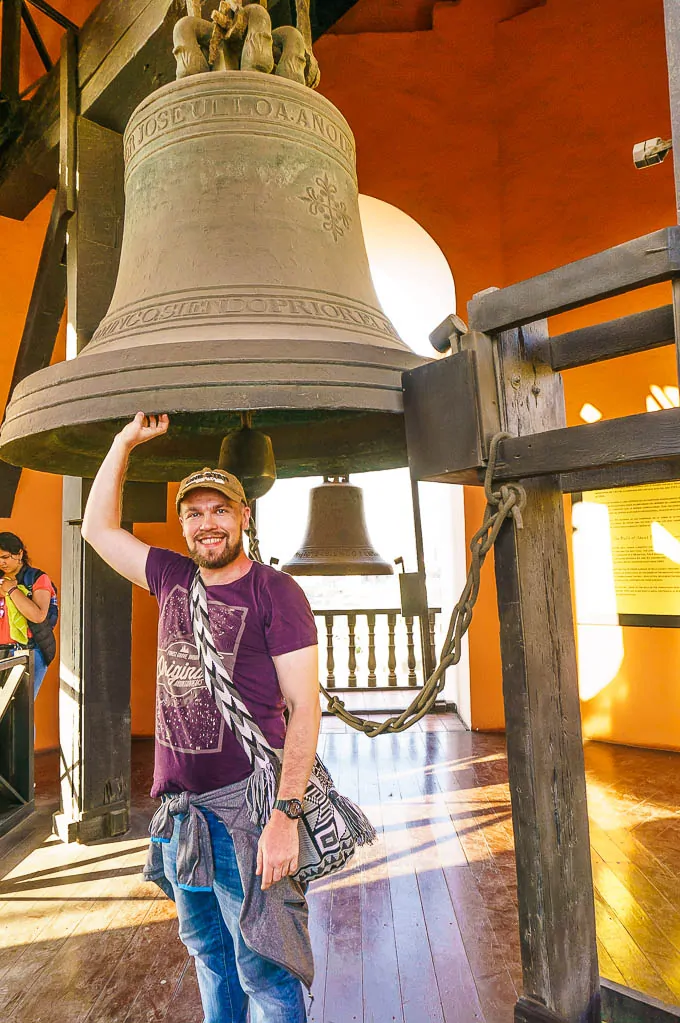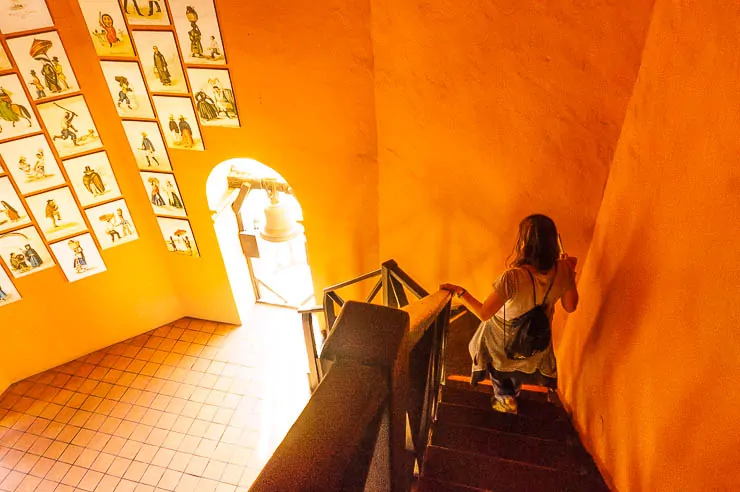 Pro Tip: The tower entrance closes earlier at 4:30, so make sure to visit before then if you don't want to miss out on this highlight… The folks at the ticket booth were a little cagey and not forthright, but our tour started at 3:30 and we were scaling the tower after 4:30, so I think it is only tours that start after 4:30 that don't get to go up?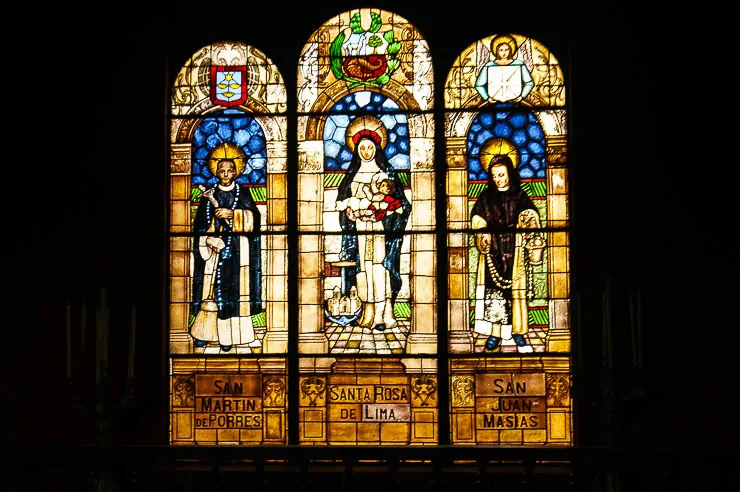 San Francisco Catacombs
Located two blocks northeast of the Plaza de Armas is the Basilica of San Francisco. This church had to be what I considered the most beautiful facade of all of them in the historic center, in the Spanish Baroque style.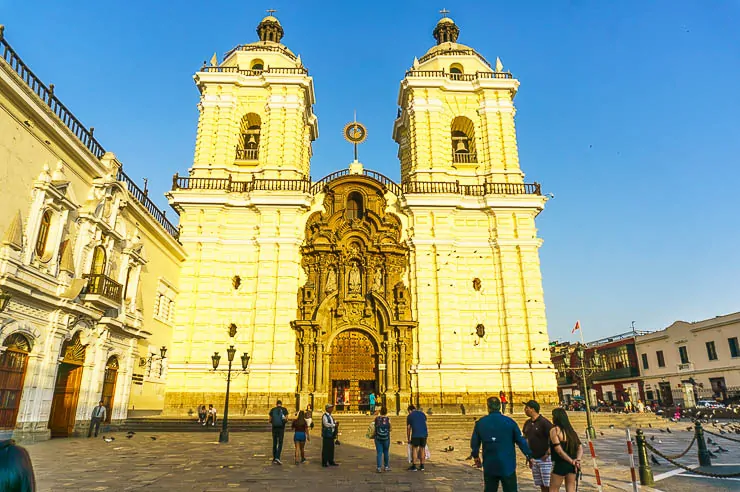 This church was completed in the late 1600s and survived a number of major earthquakes, although it was heavily damaged in the 1970 quake. The interior is notable for its influence of Moorish (aka Islamic) design with geometric patterns.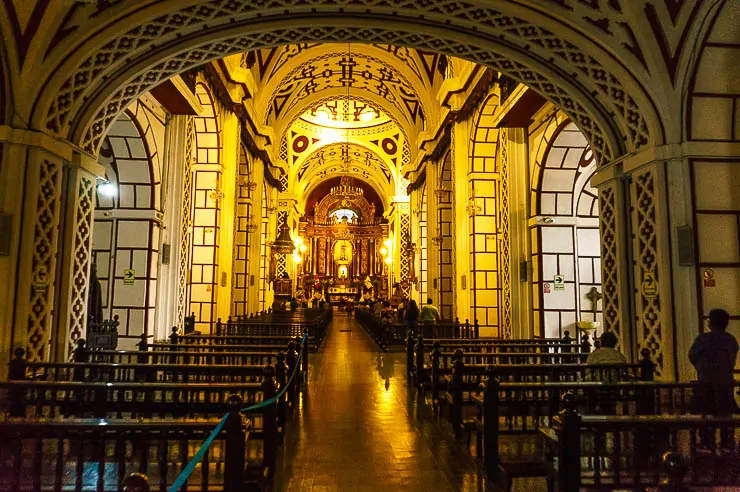 The real highlight here though is the guided tour down into the basement of the convent, where more than 70,000 dead have been buried. Today you can go down into this creepy space and see bones and skulls arranged into displays.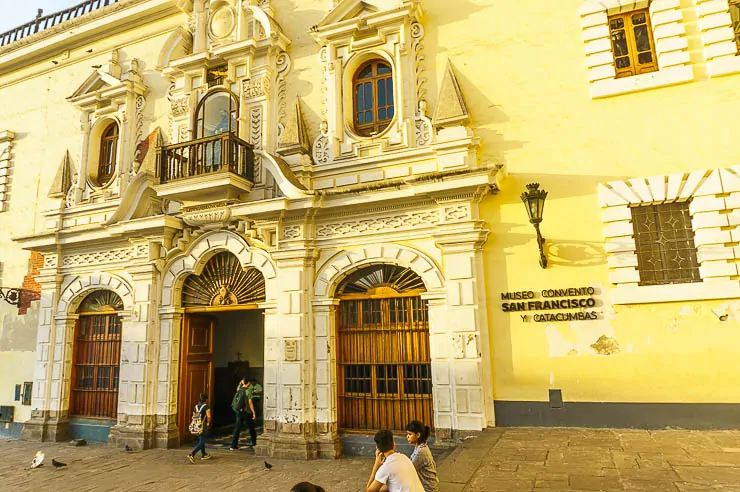 The tour also includes a number of other highlights, from the impressive library to the courtyard. All-in-all, very worth doing while downtown. The tour costs 15 soles per person and takes about 45 minutes.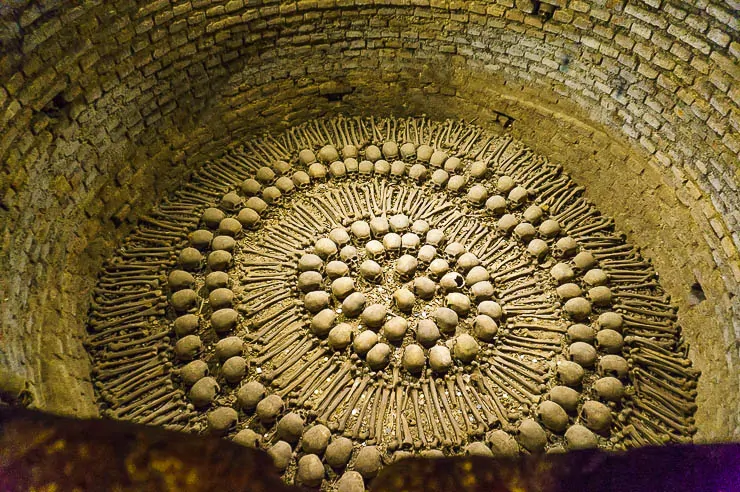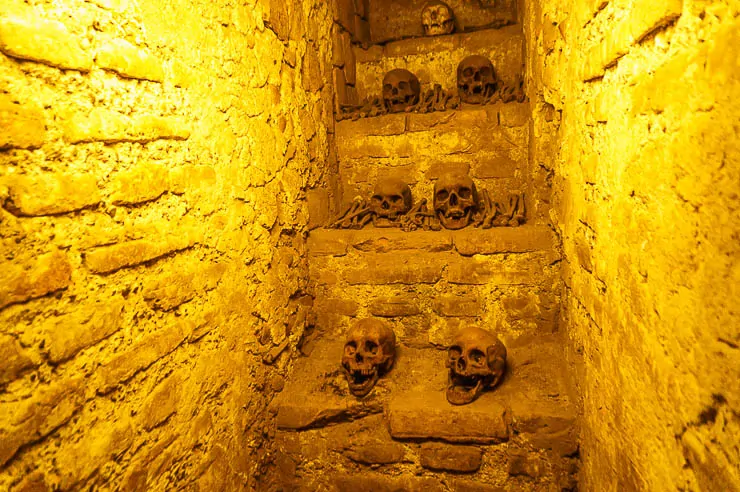 After the tour wraps up, be sure to head around back to the pleasant Parque de la Muralla where you'll find remnants of the old walled city of Lima and which now houses a pleasant park on the edge of the Rimac river with views overlooking Cerro San Cristobal. Here you will also find a statue of Francisco Pizarro which used to have a more prominent position in the Plaza de Armas but has been moved as opinions of the ruthless and genocidal conquerer have changed in Peru.
Walk Jiron de la Union
Downtown Lima's most pleasant street is the pedestrian-friendly Jiron de la Union, lined with tons of shops and restaurants, it is a busy thoroughfare that attracts all sorts of locals. I'm a big fan of spaces like this, and there are a number of cool pieces of architecture on the walk.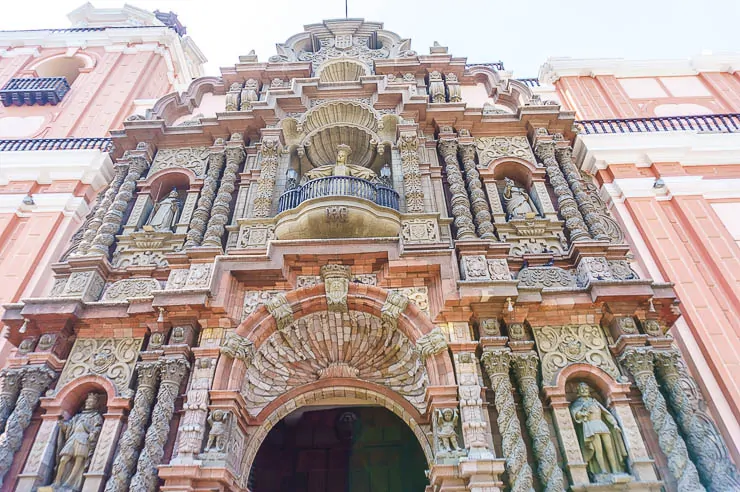 This road leads from the Plaza de Armas in the north to the impressive Plaza San Martin in the south. On the edge of Plaza San Martin, be sure to pop your head into the Gran Hotel Bolivar, which is a stately old hotel with an elegant interior. The bar is supposed to be a great place for a Pisco Sour.
More Things to Do Downtown
There are a lot of things to do downtown, and we didn't quite have time to do it all, of course, so here are a few more ideas to fill your time or mix and match to make your own ideal day in the Centro Historico.
Visit a Palace: Casa de Aliaga is among the best, a true mansion dating back to Pizarro, although the entrance fee is quite steep at 30 soles for a short tour.
Museo de la Inquisicion: Instruments of torture sounds like a great idea for a vacation! This museum exhibits some of the top torture techniques during the Spanish Inquisition enacted on poor mannequins.
Chinatown: Peru saw a large immigration from Asia which highly influenced local cuisine today (part of the reason it is so good). Head to Chinatown east of the Plaza de Armas for tons of options for a local Chifa.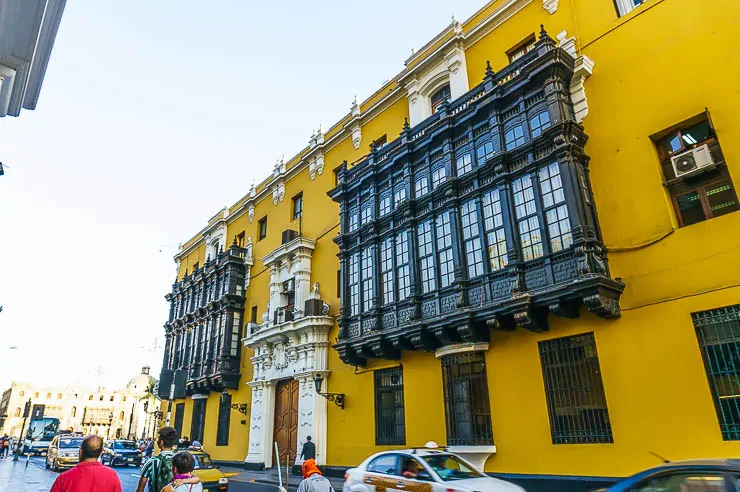 Circuito Magico – The Magic Water Circuit
The Magic Water Circuit is something that is worth doing on a free weeknight in Lima… At this water park (also open during the day for people who want to get wet) you'll find a number of massive fountains and water displays, with the highlight being the light and laser show performed on the wall of water. The display depicts Peruvian culture, heritage, and history.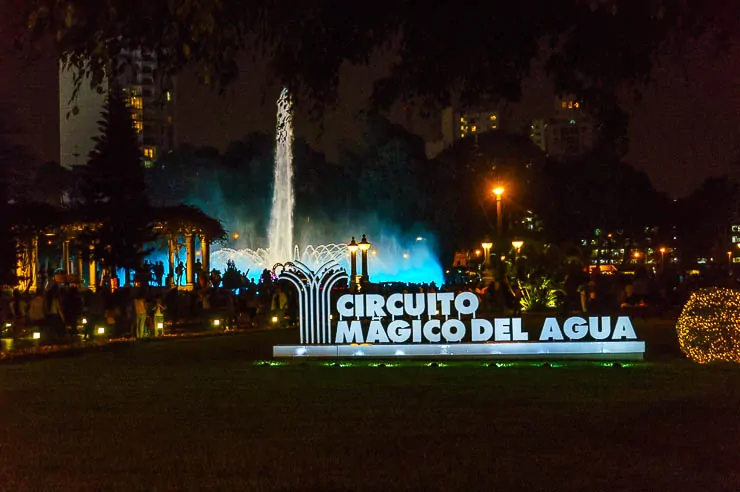 If you've been to Vegas, it's something like Bellagio, but definitely more impressive. It's super cheap too, at only 4 soles (about $1.25) to get in. This place was absolutely packed though… Be sure that you are on the correct side of the fountains to see the laser show (it's on the south side of the long fountain, or just ask).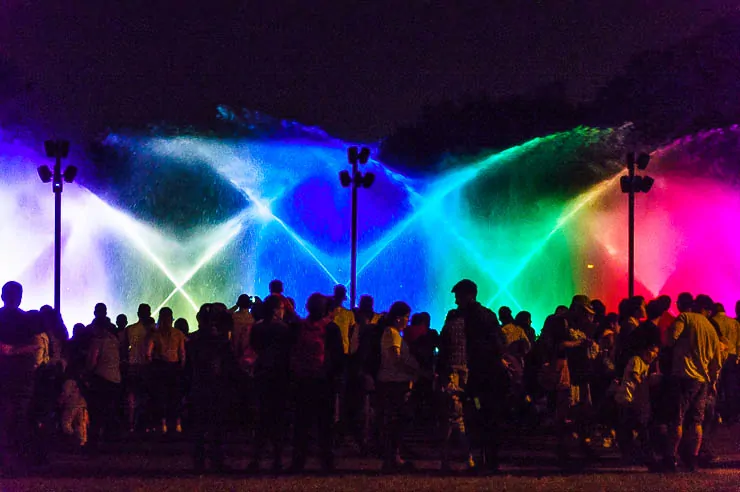 The first show starts at 7 pm and then repeats on the hour.
Pro Tip: Leave the by heading to the other side (through the underground tunnel) where you can exit and take bus 301 straight back to Miraflores and Parque Kennedy for just 1.5 soles per person. Super cheap!
See Pottery Porno at Museo Larco
Museo Larco is an interesting museum in the Pueblo Libre neighborhood… Here you'll find an incredible mansion turned into a museum housing a huge collection of pre-Columbian artifacts.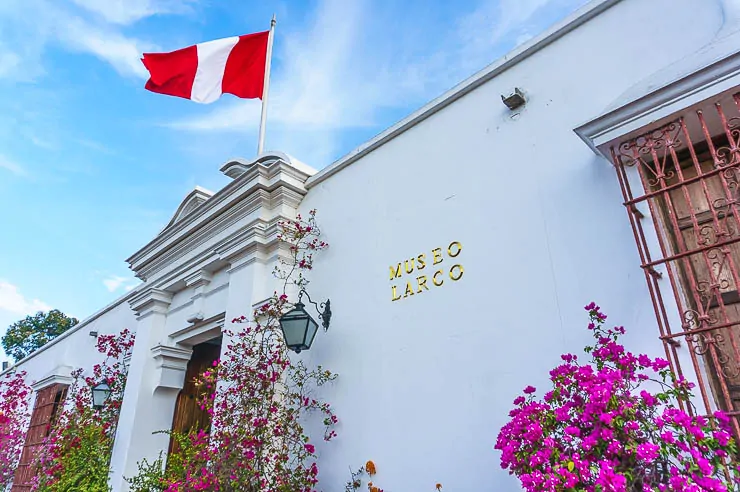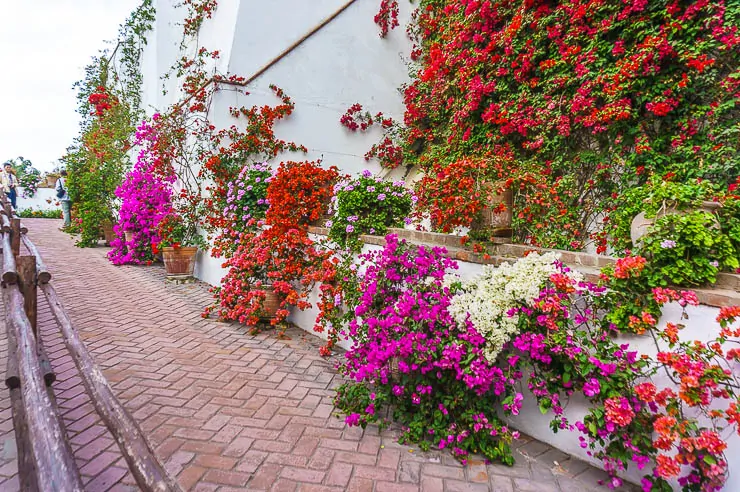 Exhibits here will help you better understand the complex history of pre-Incan civilizations ranging from Chimu, Chancay, and Nazca, as well as Incan artifacts.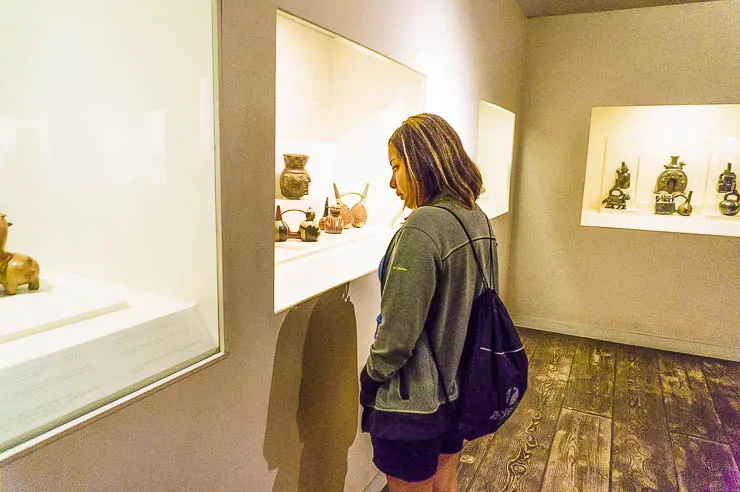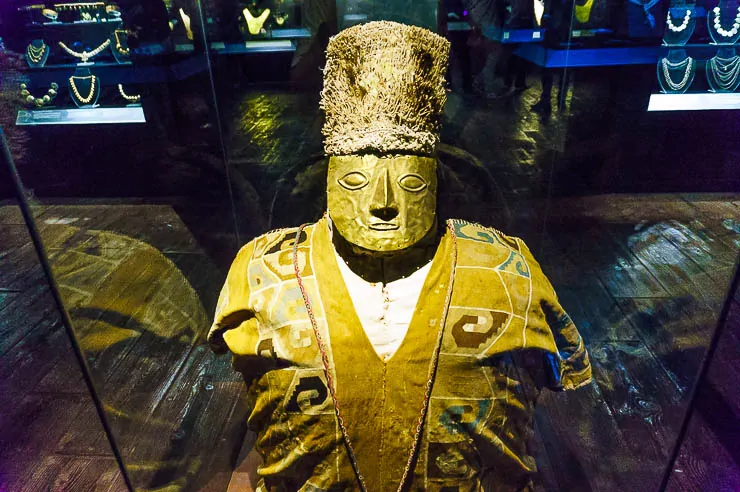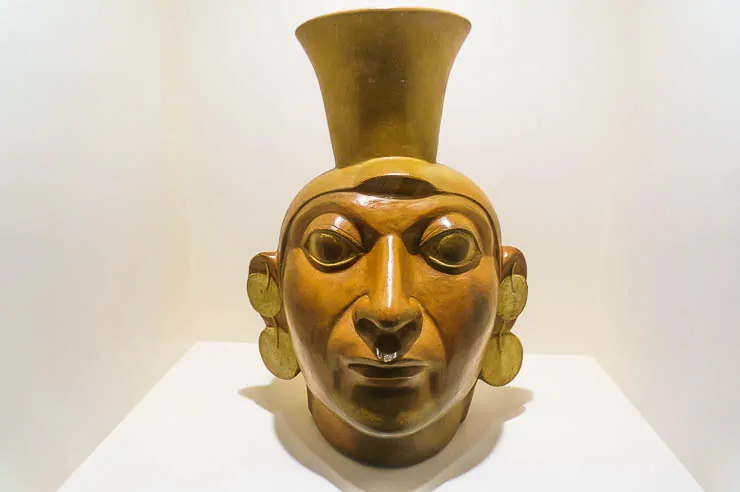 The strange highlight here, however, is the collection of erotic pottery porn housed in a separate building. Here, in all their graphic detail, are all manner of positions and activities, displayed with almost comical explicitness. This parts good for a chuckle, while the other section will help you better understand things as you explore more history and ruins in Peru.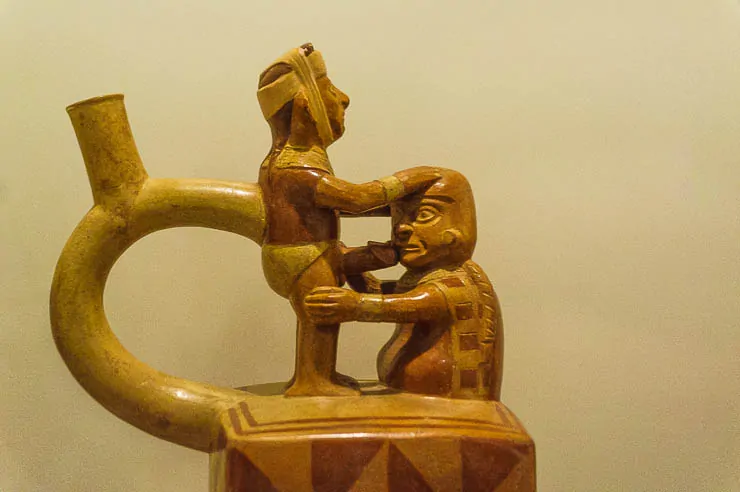 The gardens of the museum, draped in Bougainvillea, are absolutely amazing. And the on-site Cafe del Museo looks fantastic for a romantic dinner.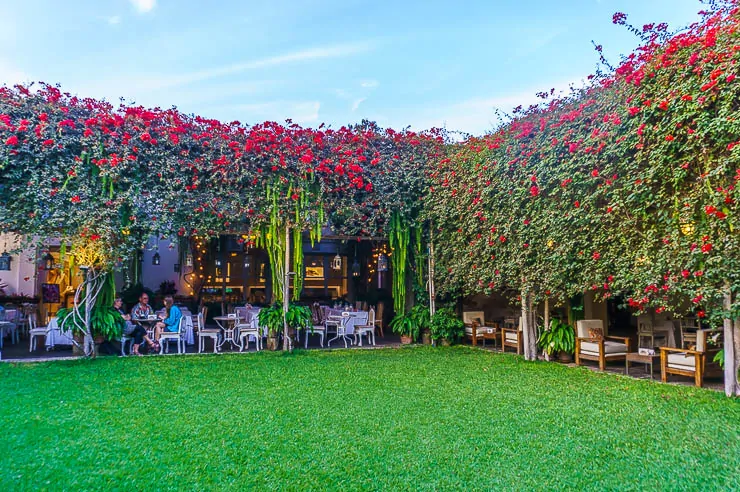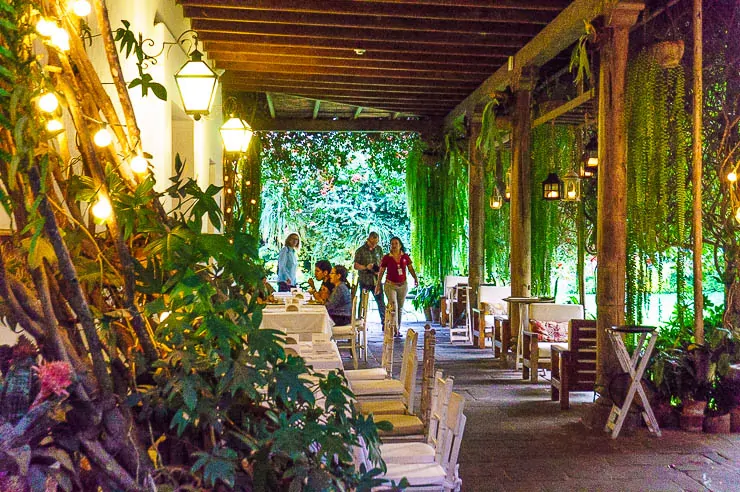 The entrance to the museum was 30 soles per person, which is kind of steep. Expect to spend about 1.5 hours here for the exhibits.
Pro Tip: Come here by Uber (it was $7 from Barranco), and leave by Uber as well. There is good WiFi in the building if you don't have a SIM card so you can call an Uber. We went to the Circuito Magico mentioned above from here for $4.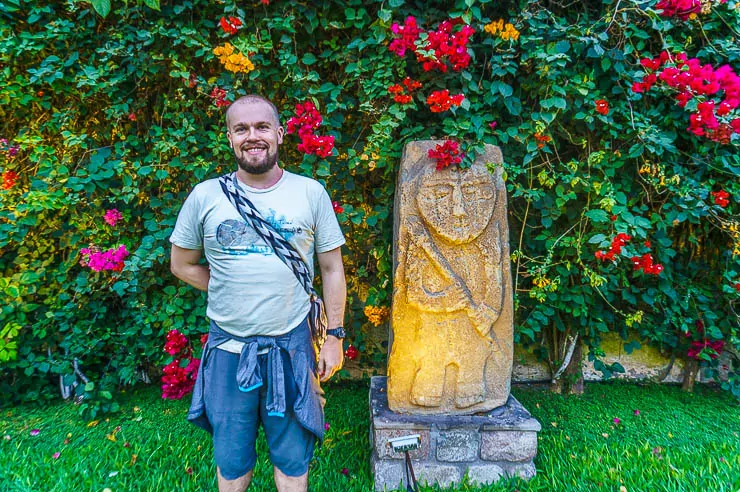 Huaca Pucllana Ruins
In the Americas, Peru is only rivaled by Mexico and Central America for the sheer number of impressive ruins, from the big ones like Machu Picchu and Moray to the lesser known sites like Chan Chan or Choquequirao. Amazingly, you don't even have to leave the city to visit your first pre-Incan ruins, thanks to Huaca Pucllana. Huaca Huallamarca is a similar site just to the north in the San Isidro neighborhood.
This clay and adobe pyramid measures some 100 meters in width and 22 meters wide and sites right in the Miraflores district (where most people stay in Lima thanks to the number of hotels, hostels, and apartments for rent).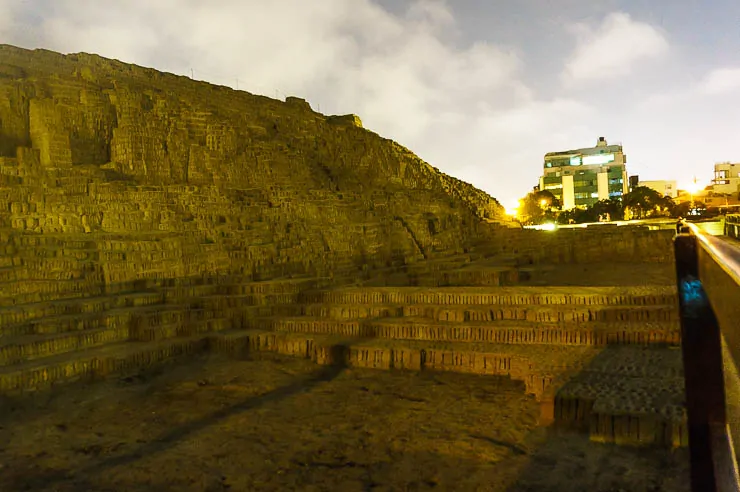 These ruins have been dated to around 500 CE by the Lima Culture. Entrance is only about $3 for a short guided tour where you can climb to the top of the great pyramid.
As an alternative, you can visit the incredible Huaca Pucllana gourmet restaurant for incredible food and/or drinks overlooking the ruins. This view at night is pretty incredible as they light up the strange geometric shapes of the ruins. Consider this a twofer kind of deal, albeit without the tour.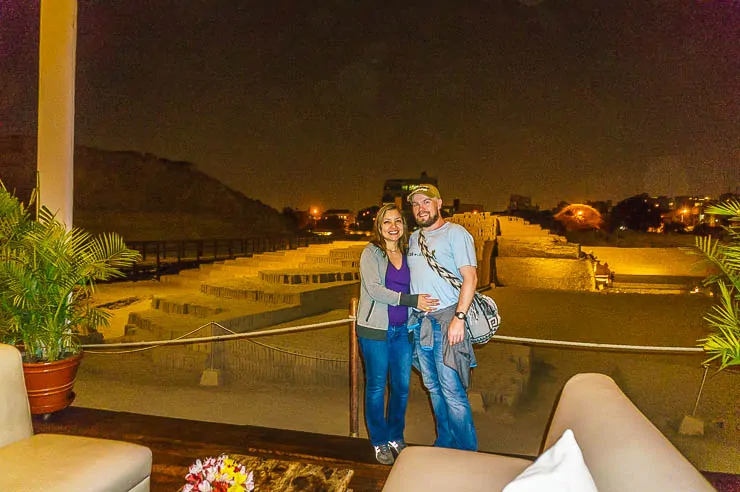 Escape Lima on a Day Trip
Lima itself is awesome, for sure, but there are also some really cool places to explore that lay just outside of Lima and which can be done as a day trip before you head on to another part of Peru.
Having traveled extensively throughout the region, I'd consider the best Lima day trip to be a visit to Ballestas Island and the town of Ica. Ballestas is called the Galapagos Island of Peru, home to an incredible quantity of animal life on these small rocky islands, including sea lions, penguins (if they're in season, we only saw one) and an almost insane amount of seabirds.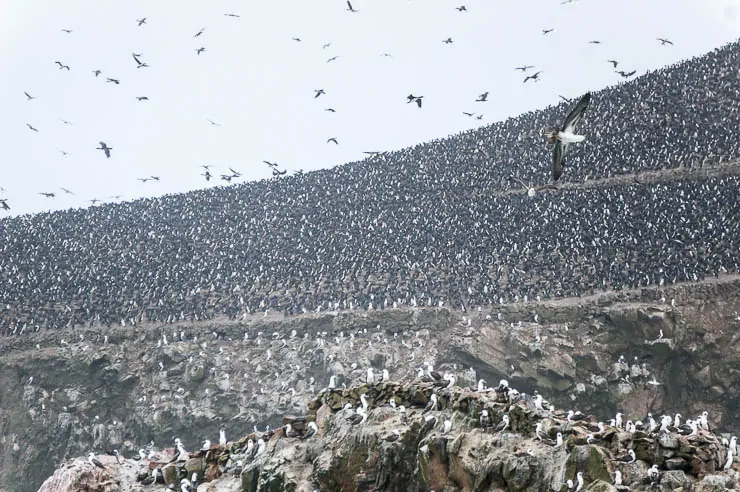 It was like something out of an Alfred Hitchcock movie.
On the way out to the island, you'll get to see the Paracas Candelabra, which is an ancient symbol carved into the hillside, much like the Nazca Lines.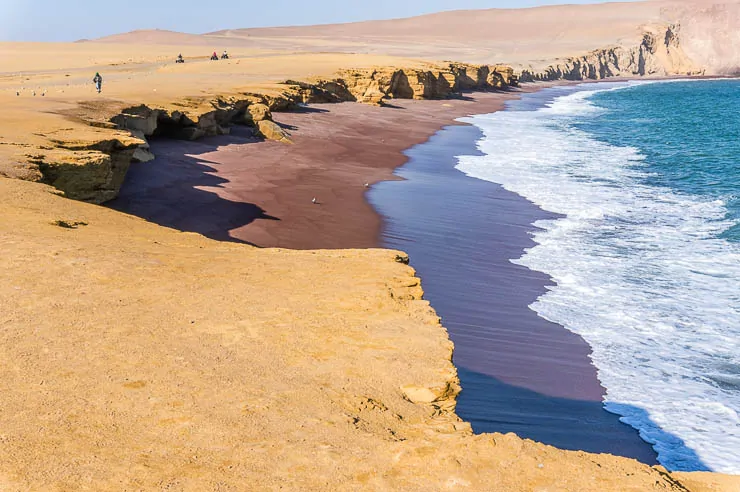 From there, you'll head to Ica and the tiny little desert oasis of Huacachina laying in the middle of towering sand dunes. It was so much fun hiking through these massive dunes (well, it was really hard work, actually) and it was cool to see a real-life oasis (never have I seen a true oasis like this).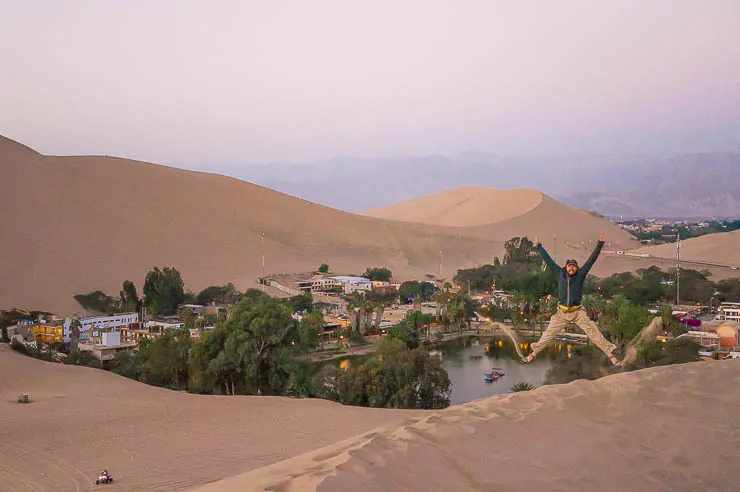 Expect to spend a full day away from Lima to do this tour, which is totally worth it if you don't plan to head specifically to this area during your trip to Peru.
Pet Cats in Parque Kennedy
John F. Kennedy Park is the heart of the Miraflores neighborhood, where most travelers choose to base themselves (and for good reason, it's well located and has a lot to offer). Strangely, this park has become home to a large population of feral cats which are cared for by a local organization, thus giving them food and a relatively safe place to call home on the mean streets of Lima (at least for an animal).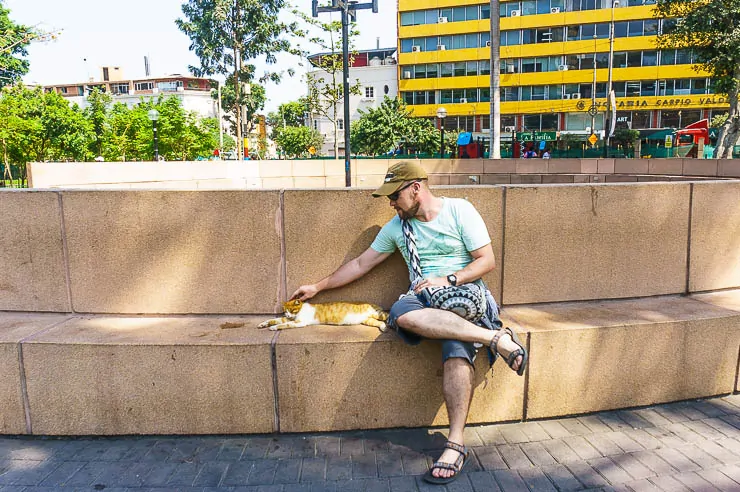 There are just tons of cats here, and most of them are quite friendly, so feel free to approach and start scratching some heads. They should probably just get rid of the JFK bust, put up a giant statue of a cat and call this Parque de los Gatos (Cat Park).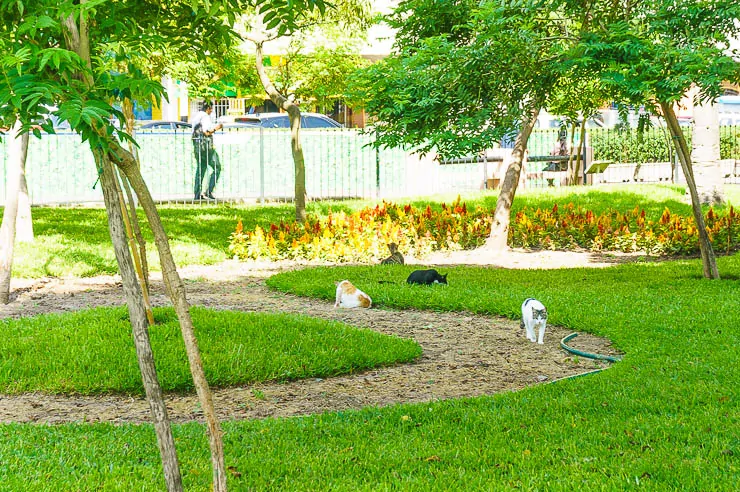 In terms of what is nearby in Miraflores, be sure to grab a bite to eat at La Lucha, an awesome sandwich place in Lima and a really great deal. You can get hassled walking along Calle de las Pizzas, or head into the Choco Museum to learn about cacao. The best coffee shop we found in Lima was CATE in Miraflores, just a short walk from Parque Kennedy.
Walk the Malecon
The highlight of Miraflores is really the incredible promenade known as the Malecon which stretches miles along the high bluffs overlooking the Pacific Ocean. Here you'll find a number of parks, the lighthouse, places to grab a bite, and tons of people walking, biking, skating, and so forth.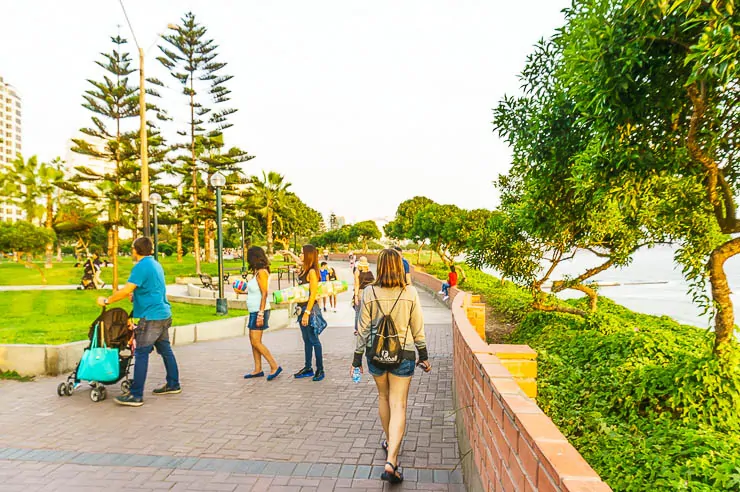 The section between the lighthouse at Parque Antonio Raimondi and Larcomar (more on that later) is definitely worth a stroll. The area tends to get a good breeze even at midday, but the best time to come here is just before sunset.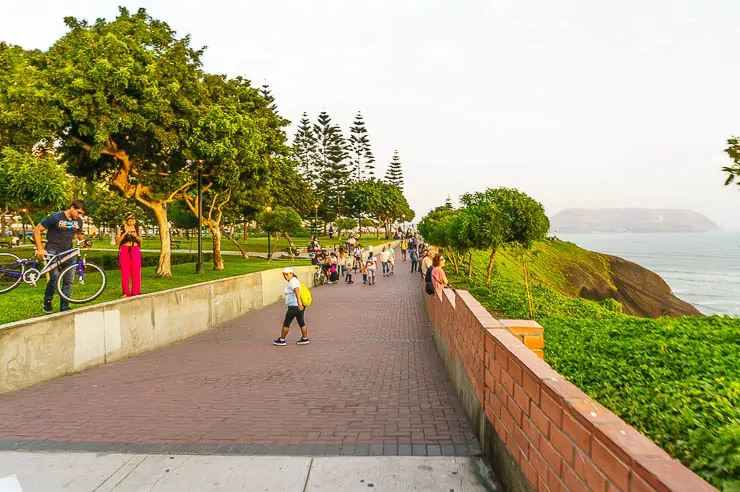 This is a popular place to explore if you go on a bike tour of Lima, as you peddle along the picturesque waterfront… Watch out for pedestrians, but you won't have to worry about cars.
Visit Love Park
Speaking of the Malecon, the most famous portion of the Lima Malecon is undoubtedly Parque del Amor, aka Love Park, which is a small little Antonio Gaudi inspired park overlooking the ocean. Here is where you can find the statue known as "El Beso" (The Kiss) by Victor Delfín of two lovers embracing. Thankfully, it isn't as graphic as the pottery at Museo Larco.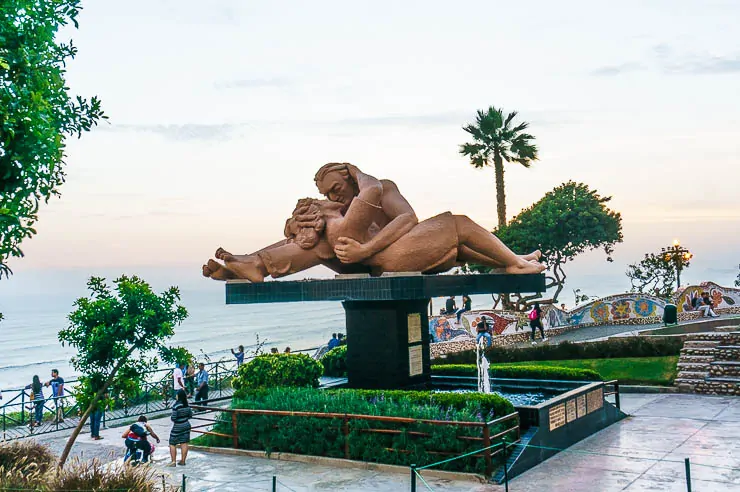 There are lots of young couples hanging out around the colorful mosaic walls, and it's just a cool place to check out, even if briefly. Strolling the Malecon and visiting Love Park are two of the best free things to do in Lima, quite honestly.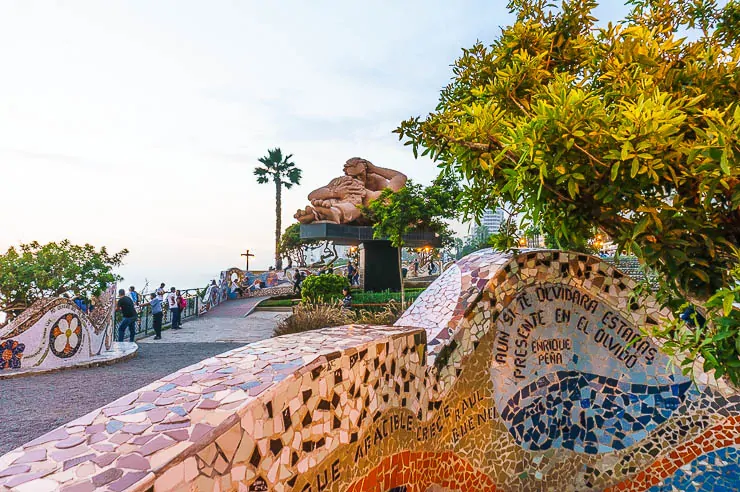 Go Paragliding
I've been paragliding before and found it to be quite fun, even if it isn't that "extreme". The setting for paragliding here in Lima is spectacular though, among the coolest I've ever seen… Featuring paragliders sailing above the rugged cliffs of Miraflores and the Malecon with the waves of the Pacific Ocean far below and the sprawling city of Lima stretching out into the horizon.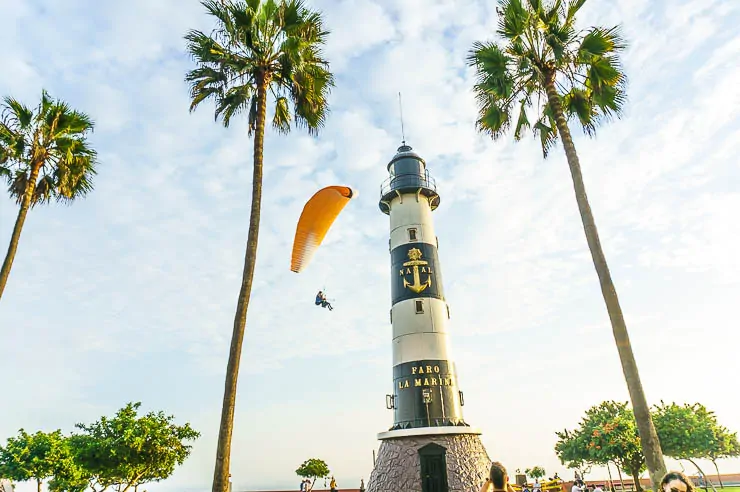 I was going to do it but the day I returned to the Malecon specifically for paragliding (in the early afternoon) happened to be a low wind day when they weren't flying, thus I never got around to it. They quoted me a price of 260 soles for 10 in the air with video/photos. Kind of pricey, but the setting is amazing. You'll find the launch pad right on Parque Raimondi between the lighthouse and Love Park.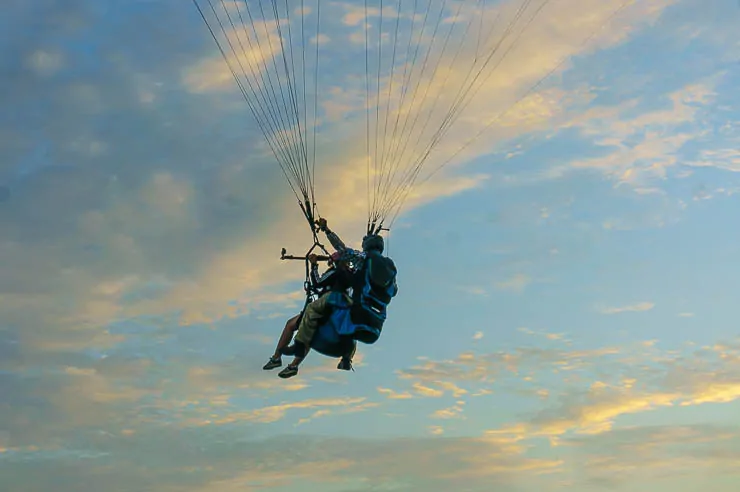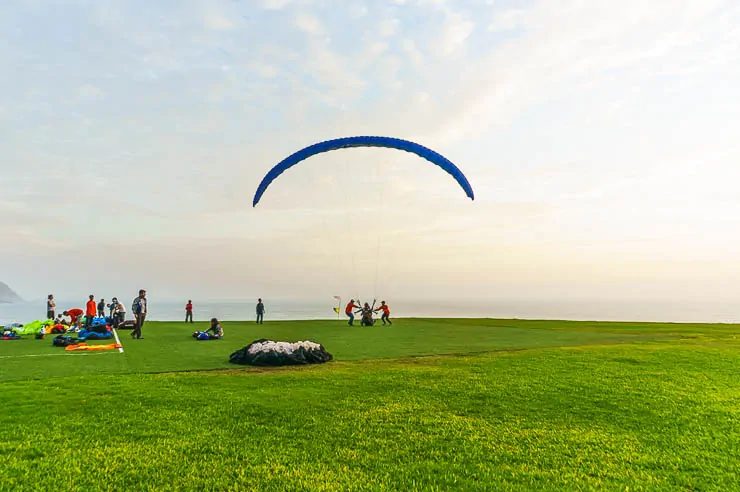 Shop (Or Just Visit) Larcomar
Further down the Malecon, or due straight south of Parque Kennedy, you'll find Lima's most impressive shopping mall, known as Larcomar. Recommending a mall seems a bit strange, but the setting of this open-air mall carve into the hillside overlooking the ocean is quite spectacular.
It's a great place to just hang out and enjoy the view, grab a cup of coffee (Luccio Caffe was quite good), or just get some food.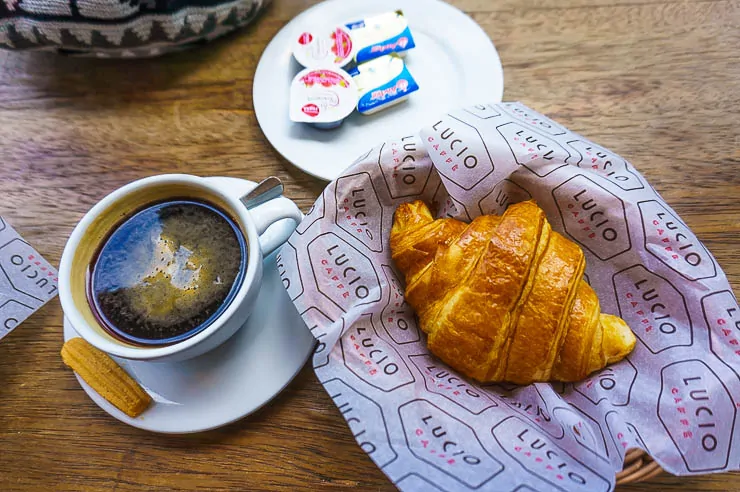 Speaking of food, if you're on a budget: go for La Lucha or Pardo's Chicken in the food court, for slightly more upscale, you can head to one of the ocean view restaurants. We went to Tanta for traditional Peruvian food with cocktails for about $40 for two, the food was alright, but it was really the setting that was amazing.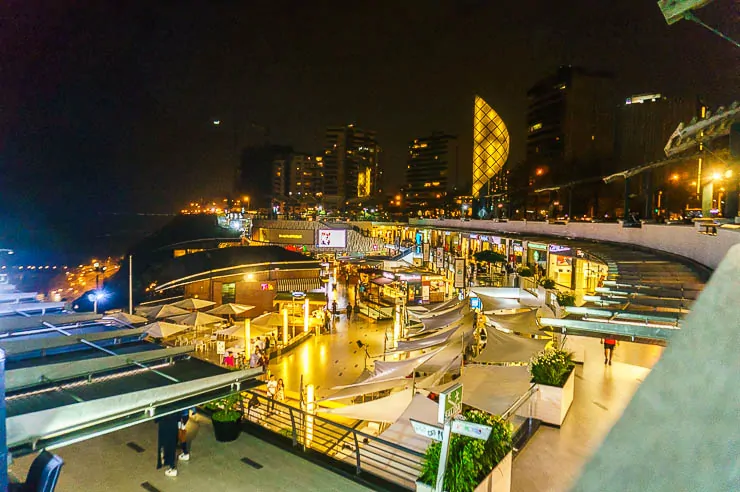 Eat Gourmet Food in Lima
Alright, now that we've broached the subject of food and drink, one of the must-do things in Lima is to experience at least something of the gourmet dining scene here. I'm a budget traveler, but I also enjoy splurging on things once in a while, and splurging on gourmet cuisine in South America's best restaurant destination is a true must do.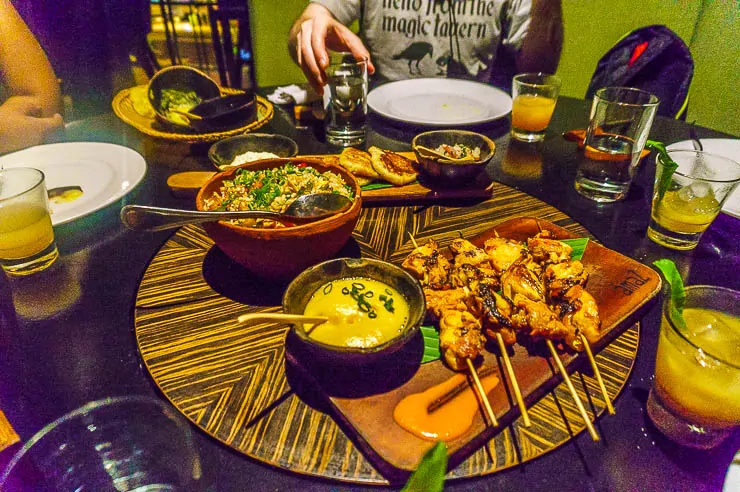 Lima is home to three of the world's 50 best restaurants: Central, Maido, and Astrid y Gaston. On that same list, you'll find three in New York City and four in Paris, so we are talking truly world-class dining — just check out my guide to the best restaurants in Lima for an idea of everything it has to offer.
You will likely need to plan weeks in advance to get reservations to one of these top picks, where you can experience one of their famed tasting menus with multiple courses for $120+ per person. It's expensive, but it is still quite a good deal considering how much you'd be paying for the same thing in the US or Western Europe.
Astrid y Gaston is an establishment by Gastón Acurio, who is the godfather, if you will, of Peruvian gourmet fine dining aka Novoandino. He played a crucial role in bringing Peru to the forefront of the fine dining scene so you may want to consider a visit there, even if newcomers like Central or Maido have taken higher spots from Acurio. He is also the man behind places like Cafe del Museo (mentioned above) at the Museo Larco.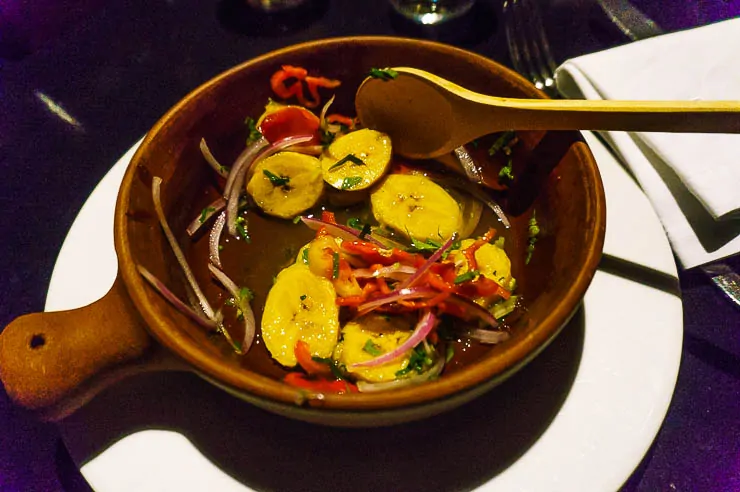 If you expand your options to the 50 best restaurants in Latin America, you'll find that Lima holds nine of those spots, beaten only narrowly by Buenos Aires with 10 (although none of Buenos Aires' restaurants make the world's 50 best list).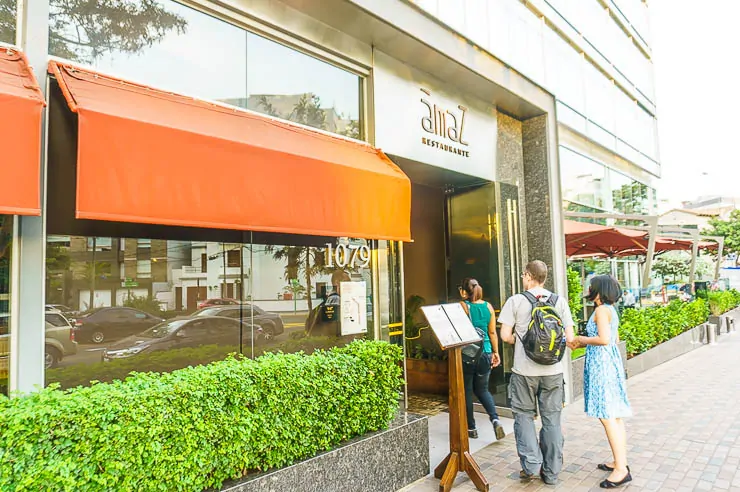 What we did was do a gourmet food tour with the Lima Gourmet Food Company, something which will get you into four different places, including amaZ which is on the top 50 in Latin America list and a place where Anthony Bourdain dined on his show.
It also includes a visit to Huaca Pucllana, the restaurant overlooking the ruins, and another stop for cocktails, and another stop for dessert. The five-hour food tour has private transport and is all included. We were totally stuffed after all the food, desserts, and three local cocktails.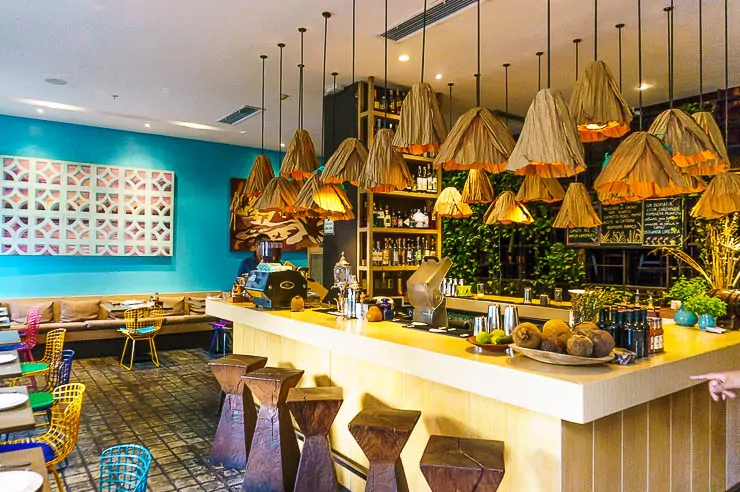 I think it is a really good value for the money, actually, even if it is $135 per person. Either take the gourmet food tour, or get reservations at one of these top restaurants, but do try and splurge on something big like this while in Lima, you won't regret it, and you'll still get a much better bang for your buck here.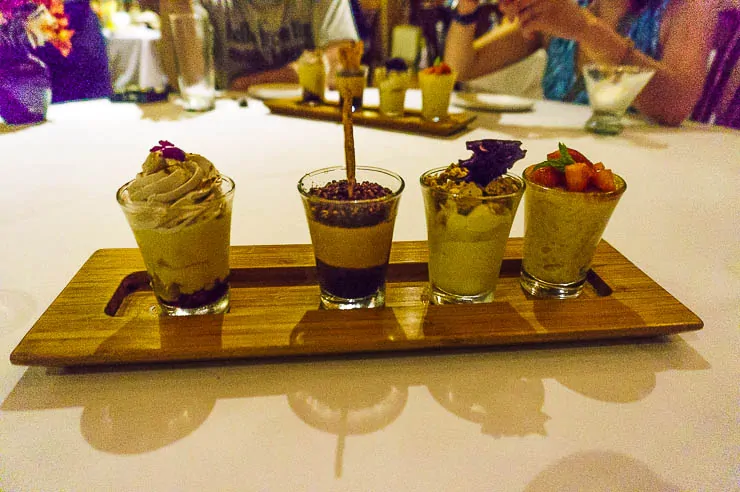 Read More: Best Food Tours in Lima
Really, Just Eat Lots of Peruvian Food
I'd suggest you go gourmet at least once during your stay in Lima, but you can get really, really amazing food all over town at almost any price point and for any budget. Peru is home to the best food in South America, easily… Perhaps in all of Latin America, rivaled only by Mexico.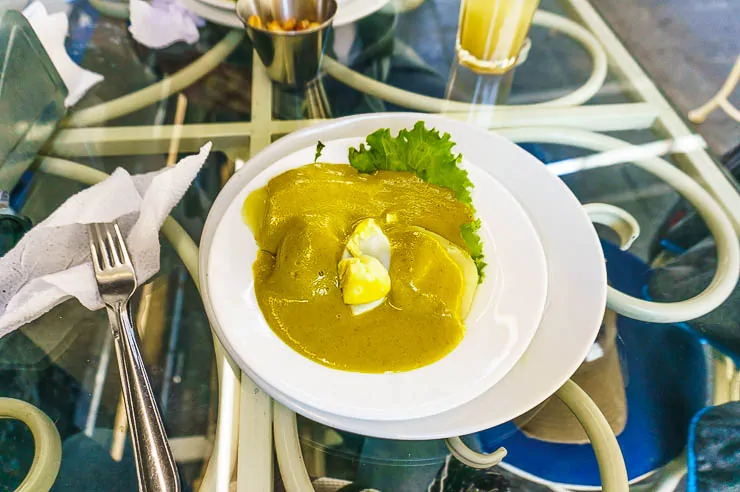 You can get a fixed menu of the day with Lomo Saltado, appetizer, drink, and a little dessert for about $4 in many restaurants in Lima, an absolutely incredible bargain and delicious.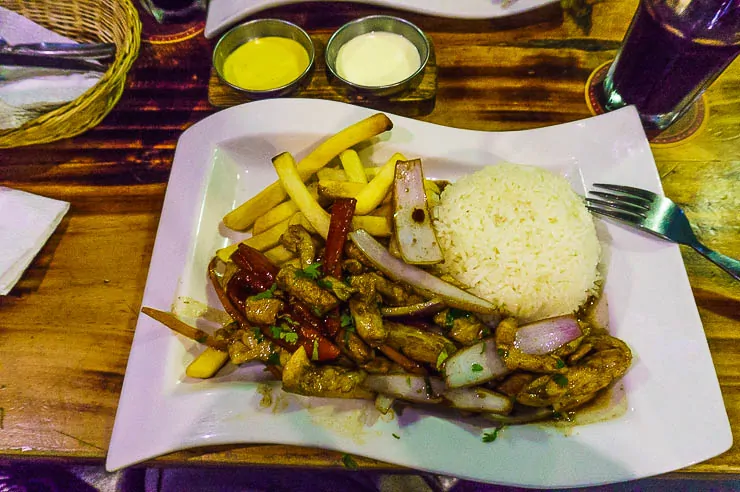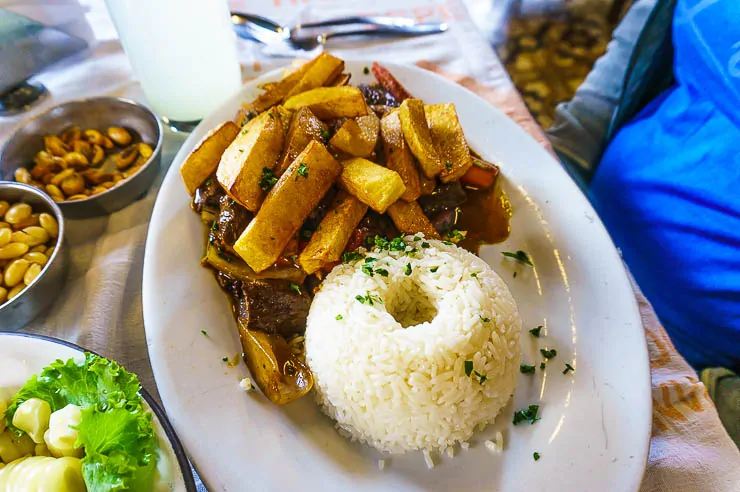 Honestly, I could go for Arroz Chaufa, Pollo Saltado, and Aeropuertos like every day. Even simple things like the aforementioned La Lucha offers up great prices on tasty sandwiches.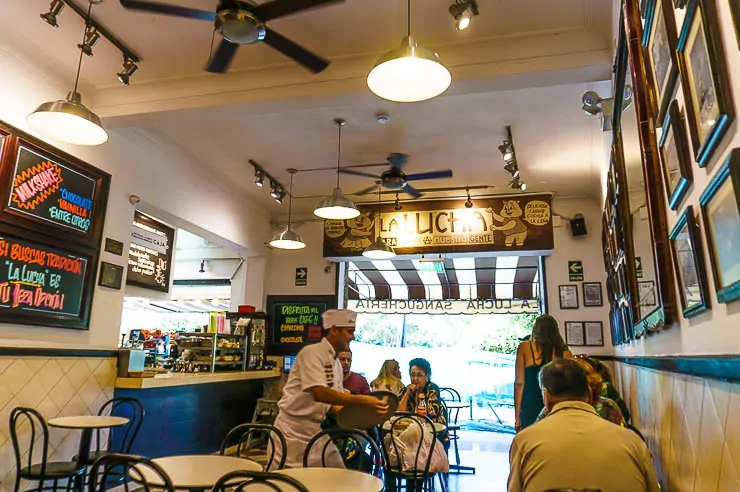 When in Lima though, be sure to go for some seafood, especially a good ceviche (a ceviche mixto is a good place to start) for which Lima is absolutely famous for. We went to Canta Rana in Barranco and found the wait to be absolutely worth it… Other top recommendations for ceviche in Lima include Punto Azul, Al Toke Pez, La Mar (also one of the 50 best in Latin America by Gaston Acurio), just to name a few.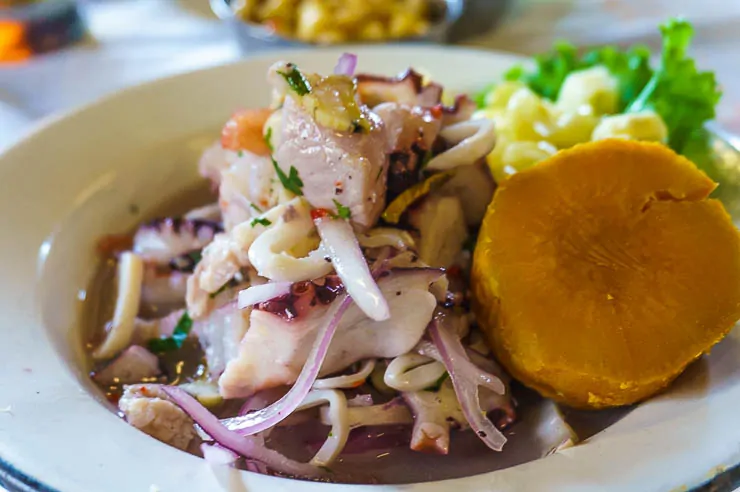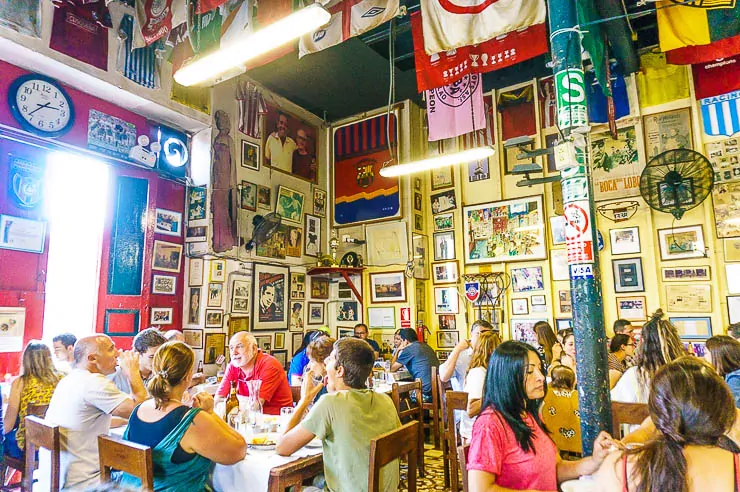 A few other must-eat items in Lima include conchas con parmesano (scallops with parmesan cheese), tiradito (thinly sliced fish cooked with lime a la ceviche). Other delicious Peruvian food you should try like anticuchos, causas, and so forth can be sampled all over the country, but if you're going to get seafood, best to get it where it's fresh. In fact, locals generally only eat ceviche for lunch (not dinner) because that is when the fish is freshest, a crucial attribute of a good ceviche.
Explore Hip Barranco
If you, like most, are staying in Miraflores, you absolutely must wander down to the hip and bohemian Barranco. This district features the stately old mansions of Lima's elite, which then became run down, and has since been revived into a place for art, artists, writers, museums, great food, cafes, and a lively atmosphere.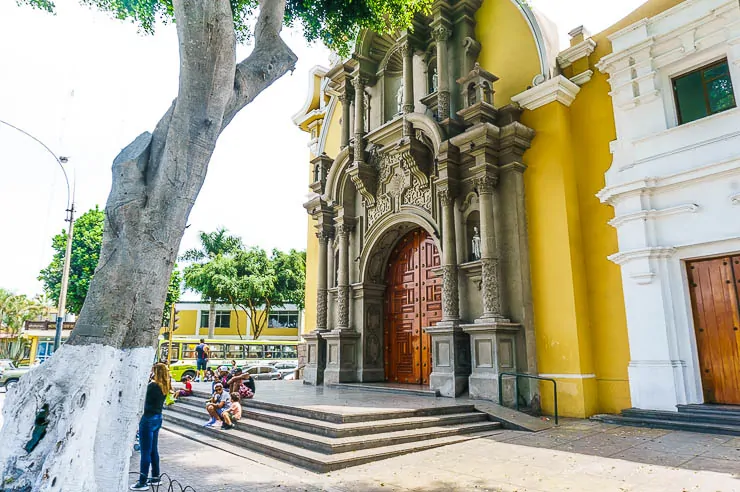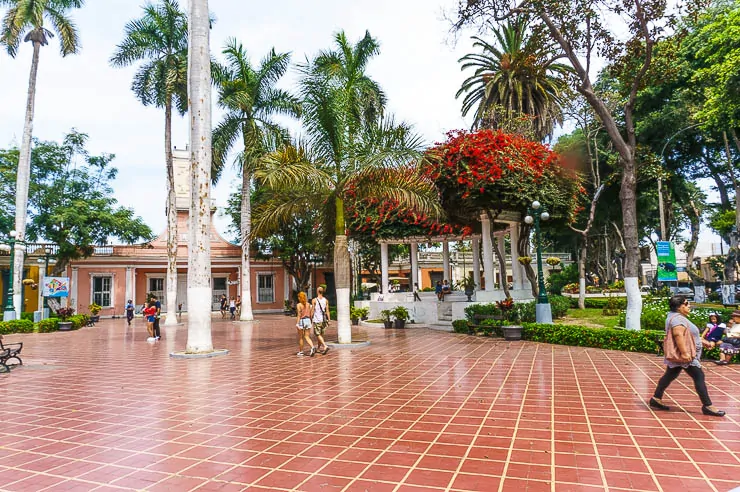 Comparing Barranco and Miraflores as-is, I'd give the nod to Barranco, honestly. But I still think that Miraflores offers a better overall location from which to base yourself, even if Barranco is cooler. In any case, both neighborhoods are quite close to another.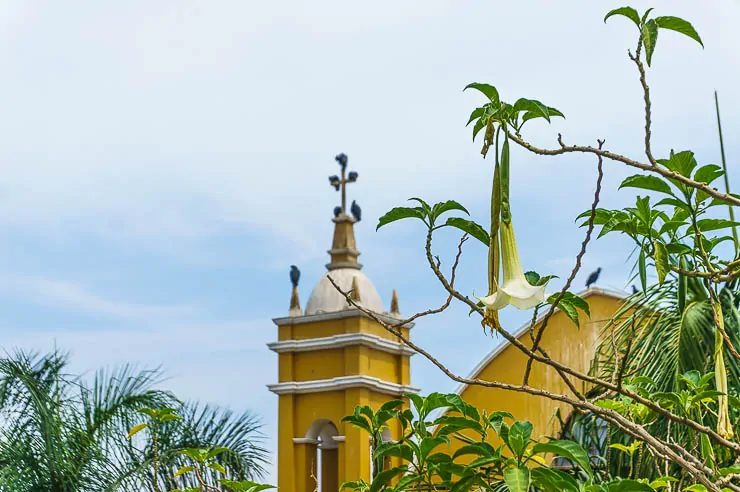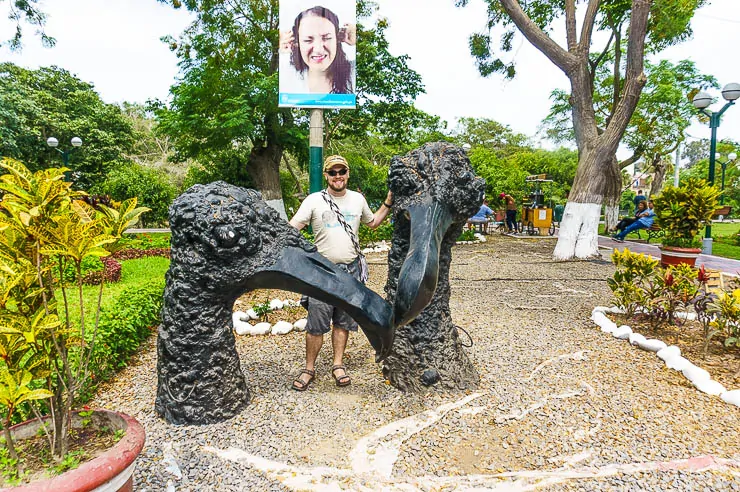 Hang out in the main square, visit the nearby Cafe Bisetti (Lima's original coffee shop, although I don't think it was the best coffee in Lima), take in the art at one of the nearby museums like MATE or MAC, grab a pint at the Barranco Beer Company, or get some great food…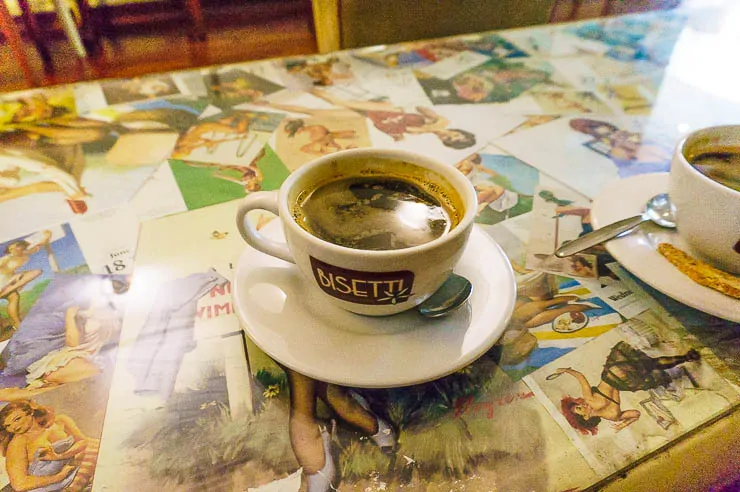 Barranco is home to Central (one of the 50 best restaurants in the world) by Virgilio Martínez, but if you can't get reservations, you can visit the newer Kjolle started by his wife Pia who was part of the same kitchen in Central. Or just wait for a table at Isolina for meat dishes (one of the top 50 in Latin America) or grab ceviche at the aforementioned Canta Rana. There is so much to see, do, and explore in Barranco.
Walk the Puente de los Suspiros
The must-visit attraction in Barranco is the Puente de los Suspiros, the so-called bridge of the sighs, which sits a few blocks from the main square. Honestly, the bridge isn't like an architectural wondering or anything but is a beautiful little setting, lit up at night especially so, that attracts locals and travelers alike.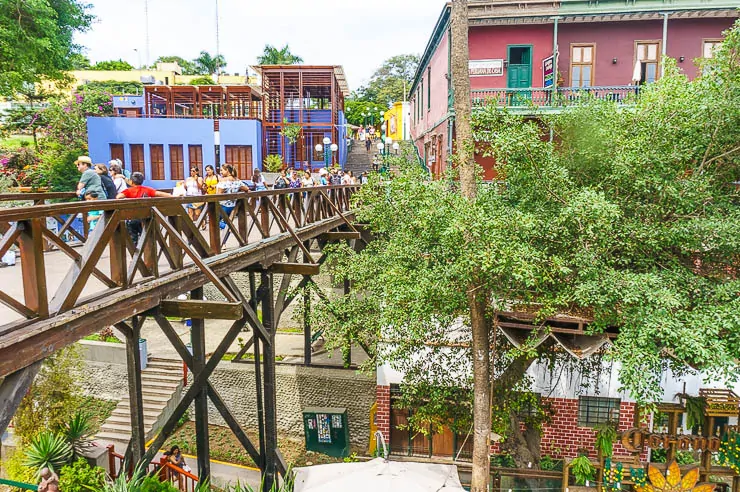 Today, the bridge spans over the Bajada de los Baños which leads down to the waterfront.
A popular legend is that you should hold your breath while you cross it, couples do it while holding hands for eternal love, and individuals do it for a wish of theirs to come true.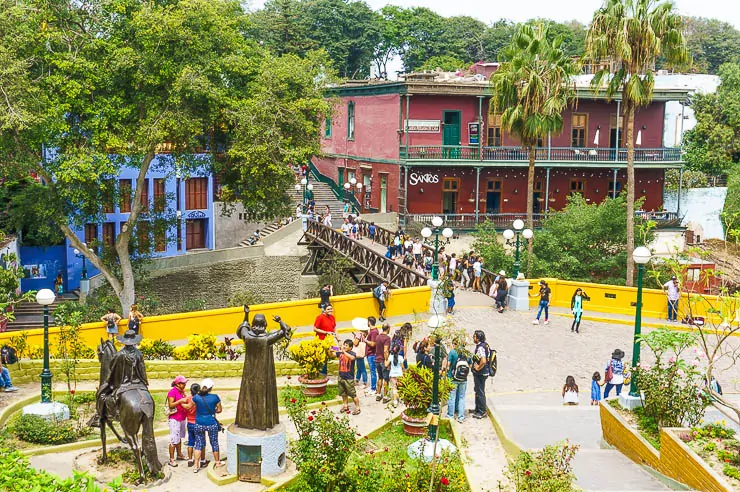 It's just a quirky and cool place in Barranco that is worth a stop as you explore the rest of the neighborhood and all it has to offer.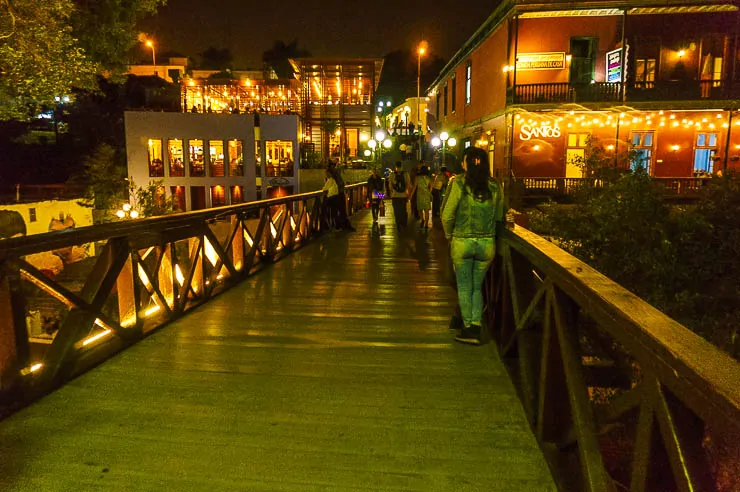 Party at a Peña
There's lots of cool nightlife to be had in Lima, from laid back breweries to more raucous clubs, but the most unusual or traditional thing would be to head to a Peña where you'll find traditional local music being played and lots of dancing.
Barranco is again ground zero for these traditional Peñas where there are numerous places to enjoy the Peruvian folk music, usually of the criollo style of music (a blend of the Afro-Caribbean roots), although there are some with Andean music as well. Here you'll find live music, drinks, dancing, and more of that great Peruvian food.
Two of the best ones in the city are Don Porfirio and La Oficina, both in Barranco, so make a point to head out here on a weekend night… The party doesn't get started until late, around 10 or 11 pm.
Drink a Pisco Sour
Whether you plan to party in Lima or not, you'll definitely not want to miss out on trying one (or more) Pisco Sour while you are here… Pisco is synonymous with Peru (Chile also claims Pisco as their national drink) and one of the epicenters for cultivation is a few hours south of Lima in the town of Pisco.
First things first, Pisco is a type of white brandy made from grapes with an alcohol content of more than 40% typically. The pisco sour is the most classic cocktail made with pisco, including lime juice, simple sugars, angostura bitters, and egg whites.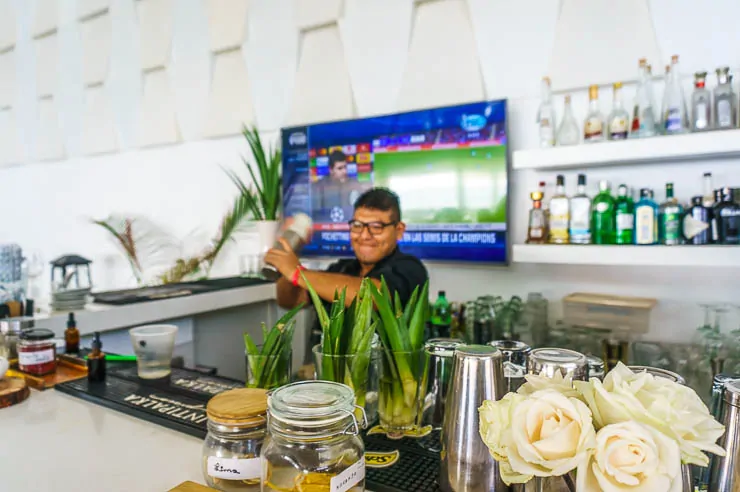 The resulting cocktail is absolutely delicious… I've had a few pisco sours and all of them were very good, so it can be tough to say where to get the best Pisco Sour in Lima… A few of the top recommendations include the Gran Hotel Bolivar in the centro historico, the famous Ayahuasca bar in Barranco, the Cafe del Museo (at Museo Larco), just to name a few.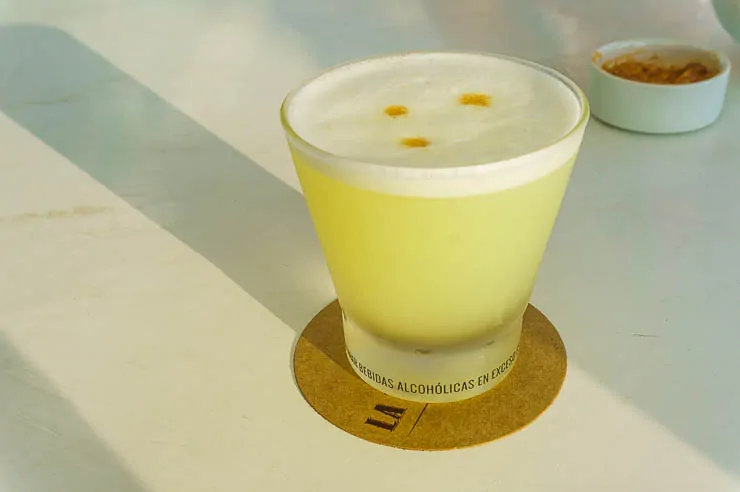 Pisco Sours are really quite delicious! Don't leave Lima without having at least one (if not a few!).
Top 10 Things to Do in Lima Peru
If we want to whittle this big list down into a smaller or more manageable size, I'd recommend focusing on the following and not missing these attractions in Lima:
Free Downtown Walking Tour
Plaza de Armas in the Centro Historico
Santo Domingo Bell Tower
Strolling the Malecon in Miraflores (including Love Park)
Visit Bohemian Barranco (don't miss the bridge)
Eat Ceviche and/or Fresh Seafood
Have a Gourmet Night Out (either a food tour or a top restaurant)
Museo Larco
Visit the Catacombs of San Francisco
Drink a Pisco Sour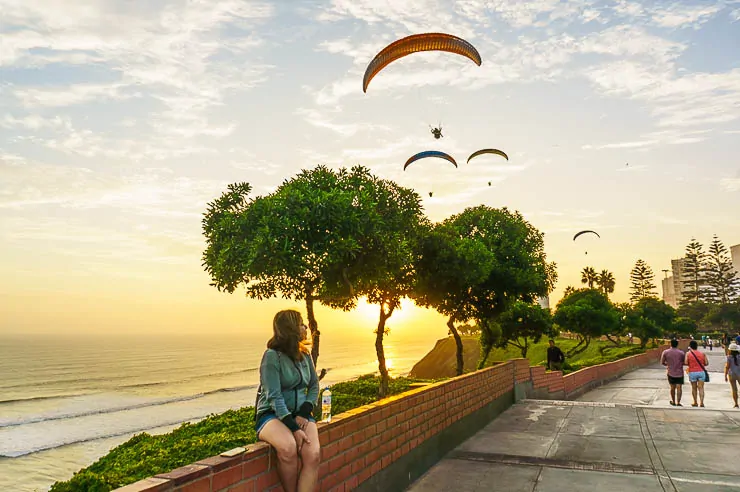 Visit Lima, Peru
So there you have it, my honest take on the best things to do in Lima, Peru… The country itself is full of tons of special places, and Lima certainly stands out as among the coolest big capital cities in South America, full of things to see, do, and taste.
Some compare Lima to Los Angeles, which I can see in terms of the climate and waterfront, but Lima's got a lot more heart, soul, and history, in my opinion, and certainly a lot less vanity.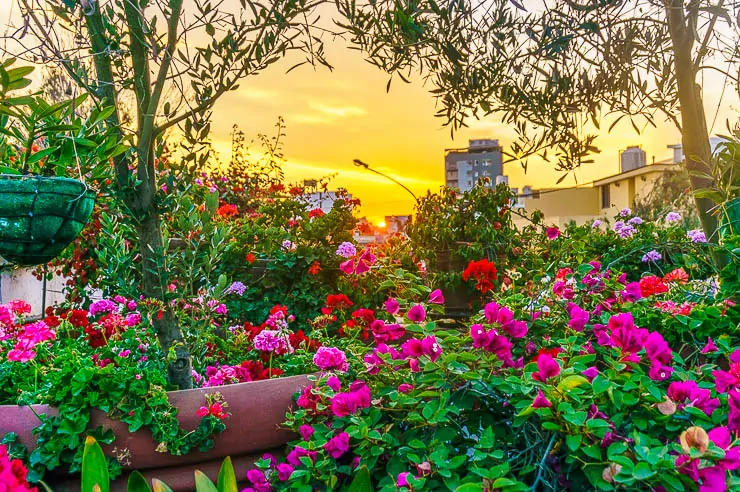 You can't go wrong with at least three nights in Lima, to be honest, but might be best served by up to five if you want to pack in everything you can during that time. Plenty of people get drawn into Lima for much longer and absolutely love it there. While it didn't quite capture me as much as a place like Buenos Aires, I thoroughly enjoyed Lima.
Be sure not to miss my guide to the best Lima tours and activities, as well.
I hope this guide has helped you plan a better trip to Lima and serves as a starting point for your journeys in Peru… I've traveled the length of Peru and have lots more great info about planning a trip.
Traveling to Lima soon? Book your room on Booking.com now to save but check out my guide about where to stay in Lima along with my guide to the best Lima hostels. And don't forget to protect yourself against illness, injury, and theft by getting travel insurance for Peru. I use and recommend World Nomads.
Read Next: The Most Incredible Places to Visit in Peru
Share This
Did you enjoy this post about the best things to do in Lima? Take a second to share it on Pinterest, Facebook, or Twitter. Thanks!
The following two tabs change content below.