This article may contain
affiliate links
. If you make a purchase through these links, I will earn a commission at no extra cost to you. Thanks!
Lima is one of South America's most popular destinations, but it usually just serves as a quick stopover as people head out on other adventures throughout Peru, like Cusco and Machu Picchu. Which I think is unfortunate because the city itself is actually pretty cool and there are a ton of awesome things to do in Lima, one of which, of course, is eating! Lima is hands down the best dining destination in all of South America, which is why I wanted to take some time to deep dive all about the best restaurants in Lima.
Part of what makes Peruvian cuisine so unique is the incredible melting pot that this country became — a fusion of Asian cuisine, Hispanic influence, indigenous cultures, and then the bounty that the land offers from the sea to the Andes to the Amazon.
Every day during our stay in Lima, we ate some pretty amazing food, and that goes for both hole in the wall places to more upscale, fine dining in Lima. I'm going to be covering our dining highlights in the city, what makes them special, and how much you can expect to pay.
Of course, it's super difficult for just one person to eat everywhere, especially in a huge foodie city like Lima (you could dedicate your life to it!), which is why I asked some of my fellow travel writers to chime in with their thoughts on the best restaurants in Lima, so that I could bring all of you an even wider perspective.
If you're coming to Lima, then get ready to eat as you've probably never eaten before. This is a special place, especially if you're a bit of a foodie.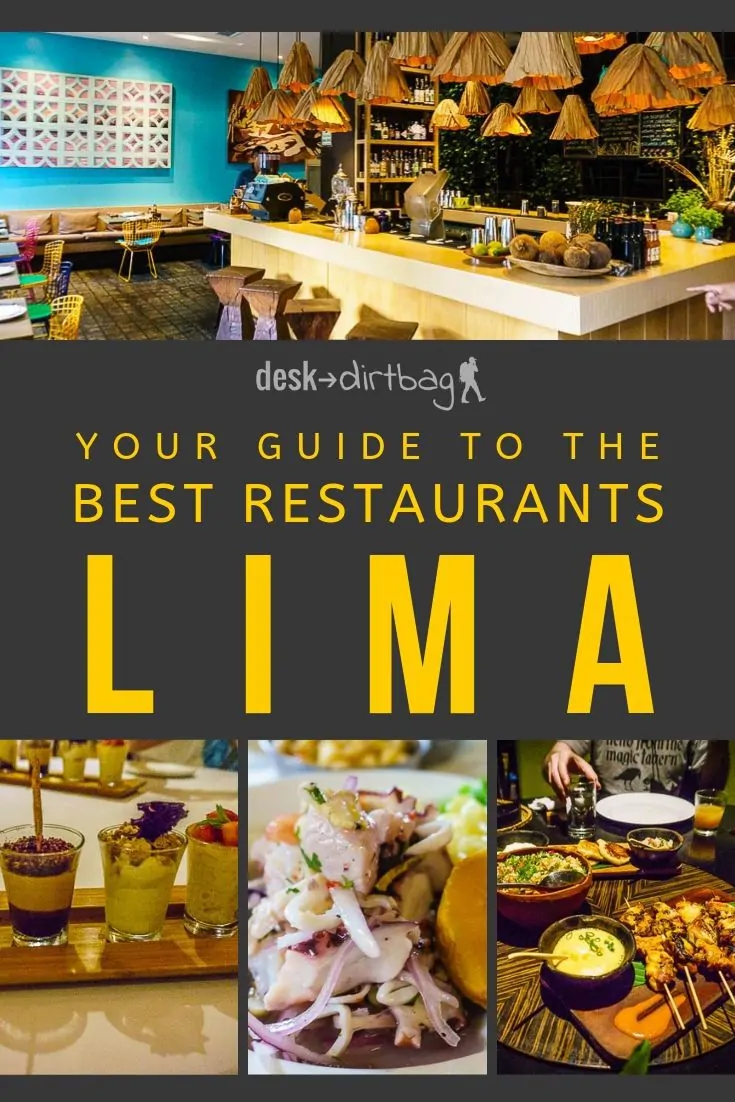 amaZ
AmaZ, one of Latin America's Top 50 Restaurants, as you may be able to guess from the name is a restaurant which derives its dishes from the Amazon region of Peru.
Head chef Pedro Miguel Schiaffino has spent a great deal of time in the Amazon region and has done a great job bridging the flavor gap between Lima and the Amazon. He is also the chef behind Malabar, another restaurant which sits on the list of the best in Latin America.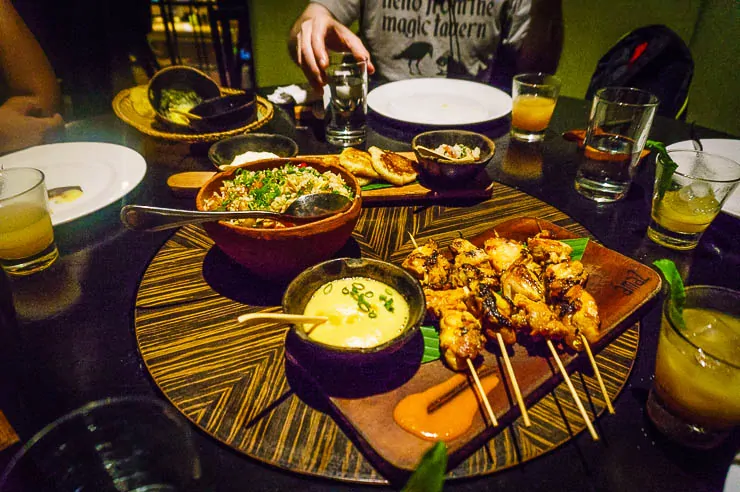 One of the goals of amaZ is to educate about biodiversity and the bounties of the Amazon by highlighting but a few of the incredible (and incredibly different) ingredients that come from this region of Peru.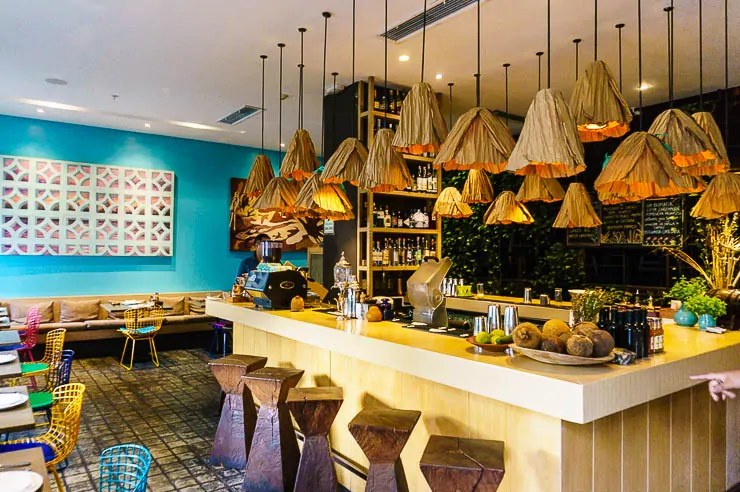 Be ready to try different flavors, textures, and things you've never heard of. We had a variety of small plates, but perhaps the highlight for us was the delicious jungle ceviche, which contained no seafood at all but rather plantains and assorted vegetables.
For those who like it hot, you can crush the tiniest little pepper you've ever seen and give the dish a REAL kick.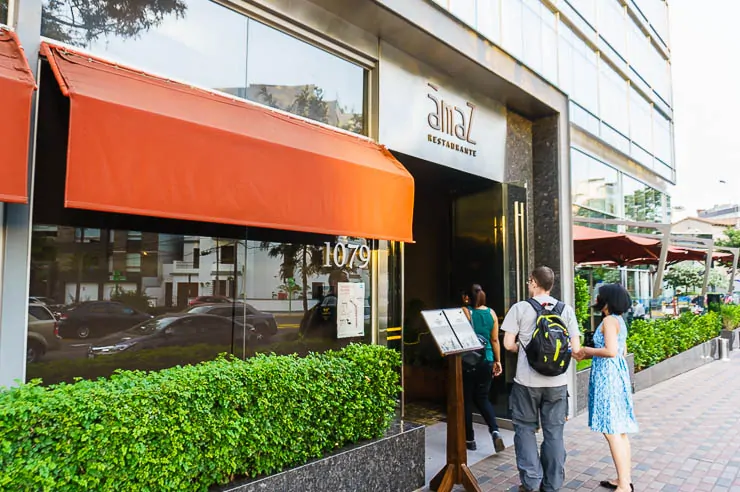 This restaurant is famed for its giant river snails and wild boar empanadas. The innovative food in this Miraflores restaurant is definitely worth a try. It's also of note that Anthony Bourdain dined here during his Parts Unknown episode (worth watching, as always!).
Expect to pay $40-50 per person to share appetizers, mains, and drinks.
Canta Rana
There are many restaurants that hold the crown of "best ceviche in Lima" depending on who you ask, and Canta Rana is definitely one of them. This unassuming Barranco restaurant tucked away on a side street, can be found by the small lines that form outside around lunchtime.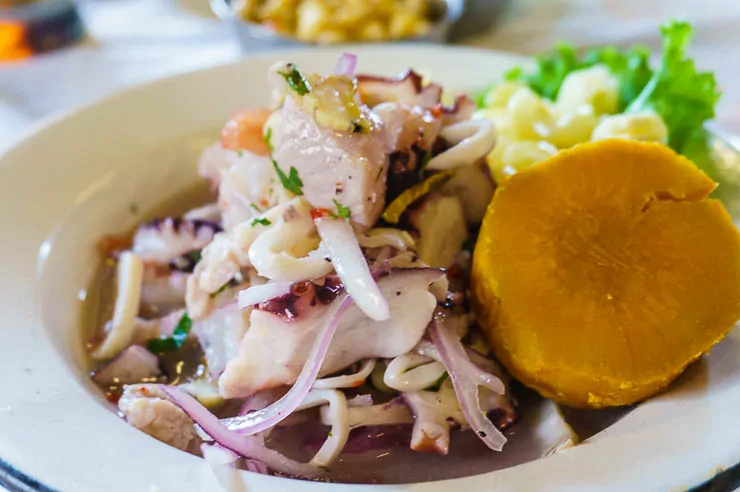 Expect to wait at least 30 minutes before you can get a table. Inside the place is packed with tables and the walls are covered in photos, flags, and sports memorabilia, giving it the ambiance of a sports bar or pub.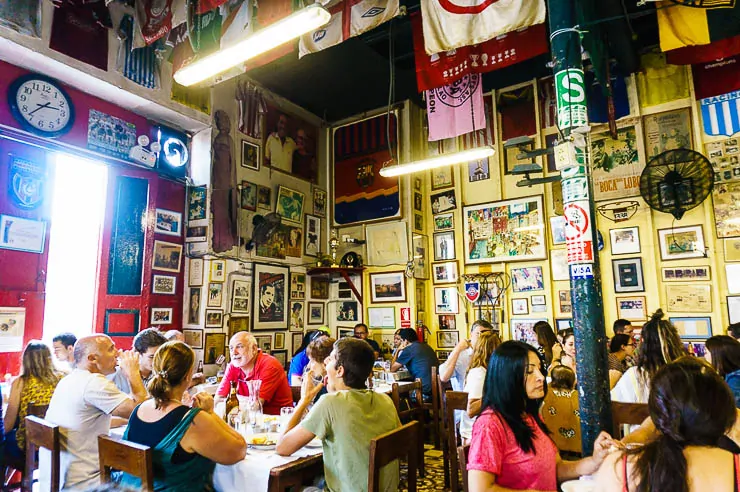 This place has character (something which can be said of many Barranco hot spots) but even better, they've got some truly delicious ceviche.
Now, I can't really call myself a ceviche expert, but I've had it on a few occasions in a few different countries (as well as other cities in Peru), and Canta Rana stands out as being one of the most delicious. This is certainly among the very best restaurants in Barranco, so don't miss out.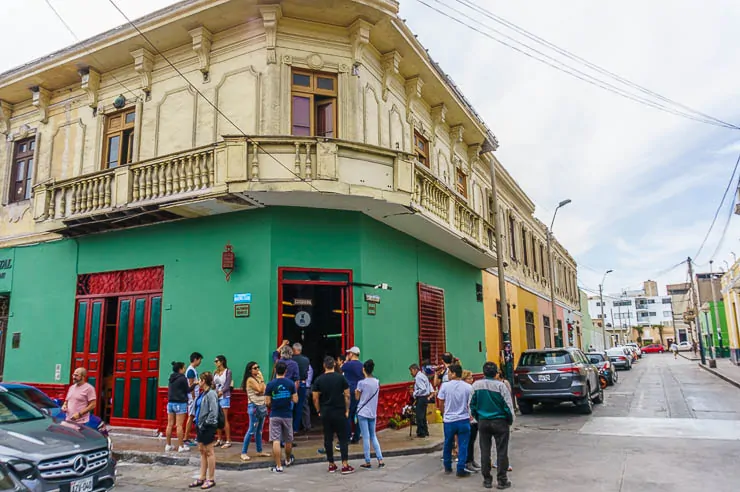 They've got about 17 different ceviche dishes on the menu, which can make it hard to choose, but you can't go wrong with a classic ceviche mixto. Expect to spend about $15 per person for a main dish and a drink.
Huaca Pucllana
So, the number one reason to dine at Huaca Pucllana is because of the 1,500-year-old ruins that sit just beyond the restaurant's terrace… And the close second reason is that this fine dining establishment serves up some incredible Peruvian fusion cuisine.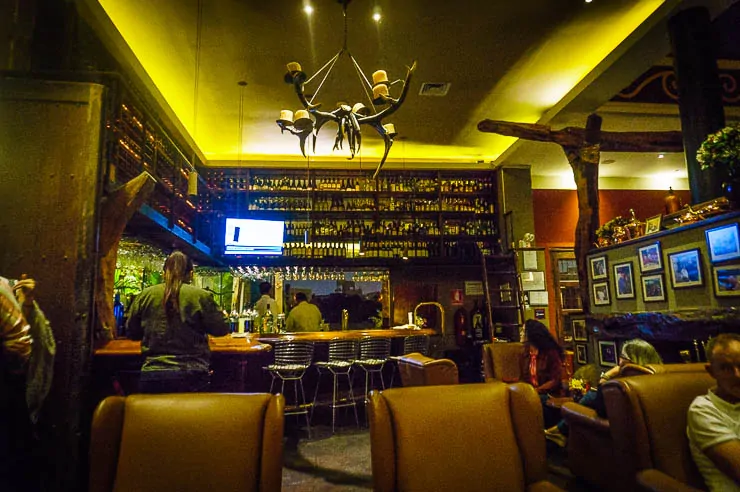 The best seats here are outside on the terrace at night, when the old ruins are dramatically lit for one of the most unique dining experiences you can have in Lima, or perhaps anywhere for that matter.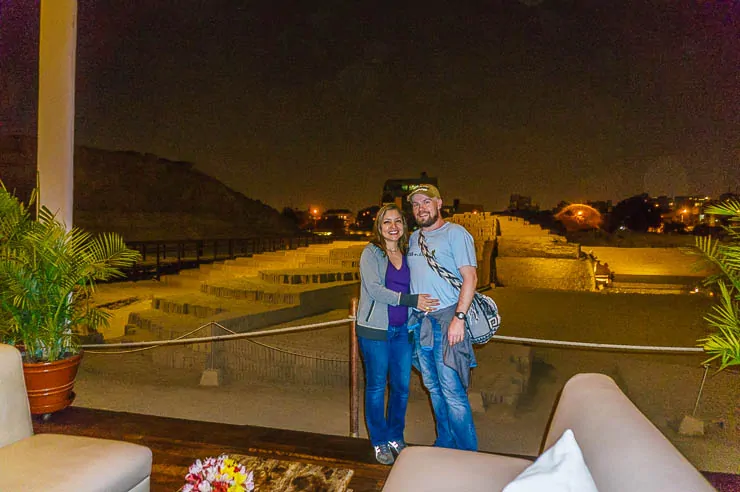 You'd think to dine among ruins, you'd have to head far out of the city, but this restaurant and the ruins of the same name, sit right in the Miraflores district, Lima's most popular neighborhood for travelers (be sure to read my guide about where to stay in Lima, as well).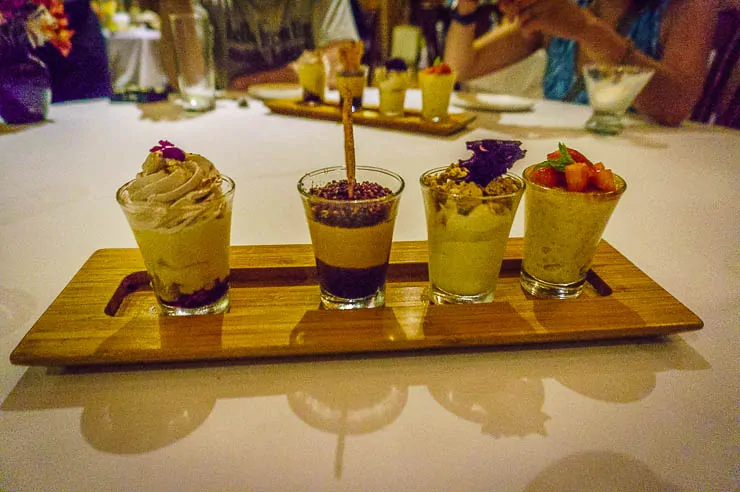 Here you can try Peruvian classics like Tacu Tacu or Aji de Gallina, among others. Service here is excellent and the food is quite great, but there's nothing quite like the setting. Expect to pay around $15-30 for a main dish here.
If you like, you can also couple the visit with a night tour of the ruins, which seems pretty cool!
La Lucha
For something decidedly less fancy, look no further than the delicious sandwich chain La Lucha. This Sangucheria commands long lines and felt a bit reminiscent of a Shake Shack or something but with sandwiches. You'll find a few different locations around the city, from Parque Kennedy, Larcomar, and beyond.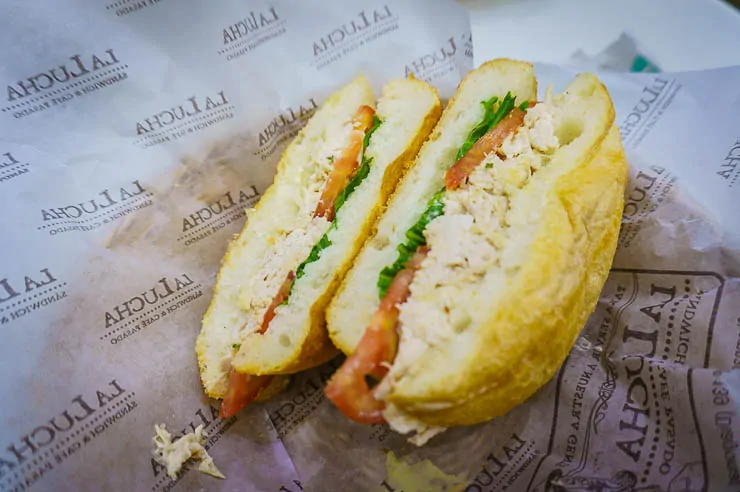 The sandwiches are deliciously served up in a soft yet crunchy bread with a variety of meats to choose from. Service here is super friendly and prices are a great value at only about $5 per sandwich.
You should definitely top it off with a chicha morada drink or one of their famous fruit smoothies (maybe try the lucuma for something totally different).
This place is a must-do for a quick, simple, and economical lunch. The only better value you'll find is in some of the excellent menu of the day lunch offerings throughout the city.
Maido
Part of the global appeal of Peruvian cuisine is down to its fusion of styles, playing into the country's history of immigration from countries such as China and Japan. Much of the innovation in Limeño kitchens pays tribute to this heritage, and Maido stands at the forefront.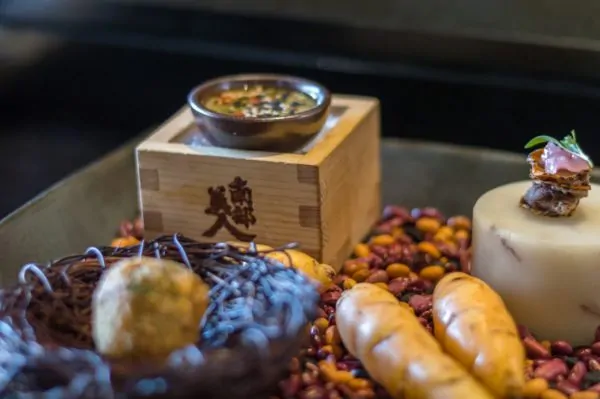 Consistently named as one of the World's 50 Best Restaurants and also No. 1 in 2018 World's 50 Best Latin America Restaurants, Maido is a feast for the senses and is truly one of Peru's most unmissable places to visit. Its dishes showcase the Japanese gastronomic roots of its Peruvian chef; the food is Nikkei, where Peruvian ingredients meet Japanese cooking styles.
You see this in the outstanding 10-course tasting menu, a two-hour affair with plate after plate guaranteed to surprise: you'll sample everything from sea urchin risotto to ceviche with an orange-infused leche de tigre and beef short rib, cooked gently for 50 hours.
I recommend sitting at the sushi bar, where you can order both the 10-course meal or individual main courses while watching the incredible precision of the chefs as they work. It'll set you back S/485 or $150 USD, but it'll be an experience of a lifetime, particularly when you consider how much you would pay to dine in restaurants of similar stature in Europe.
Advance booking is essential, but we got a space at the sushi bar by calling up the day before, all thanks to a cancellation.
Central
Central restaurant is truly one of the best high-end restaurants in Lima, and that's not just my opinion! It has been on the World's Top 50 Restaurants list since 2013, spending the last 4 years in the top 10 and is currently in 6th place.
Central specializes in distinctly Peruvian cuisine using ingredients sourced in Peru from the depths of the Pacific Ocean to the peaks of the Andes Mountains.
The tasting menu is designed to take you on a journey through either 12 ecosystems or 16 elevations in Peru. Each course features ingredients from one specific ecosystem or elevation, highlighting the diversity and incredible abundance of food in Peru.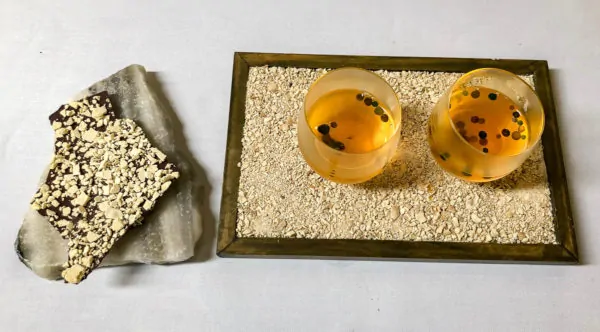 Menu highlights include razor clams from -10m below sea level, piranha from the Amazon served on a platter of frozen piranha heads and cushuro dessert, tiny balls of cyanobacteria served in a delicious drink infusion.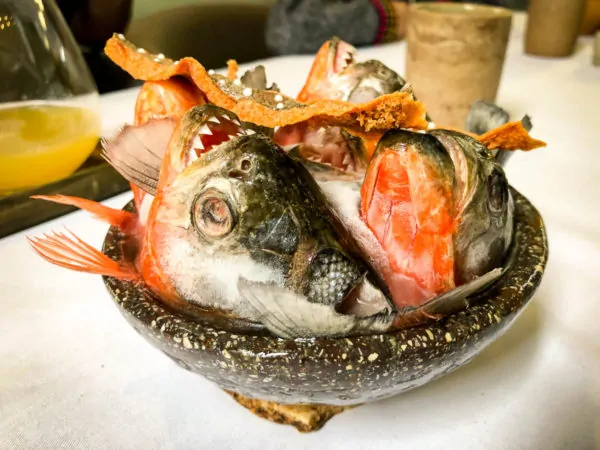 Reservations must be made in advance, and the entire table must participate in the same menu experience (vegetarian and non-vegetarian options available). The 12-course ecosystem menu is 568/s $172 USD, the 16-course elevation menu is 592/s or $180 USD and the drink pairing menu is 230/s $70 USD.
Astrid y Gaston
Astrid & Gaston is one of the best restaurants in Lima and also has consistently been ranked as one of the best restaurants in the world. Opened in 1994, Astrid & Gaston focus heavily on Peruvian cuisine using local ingredients and flavors, and its proprietor, Gastón Acurio, was a key player in the rise of Novoandino cuisine.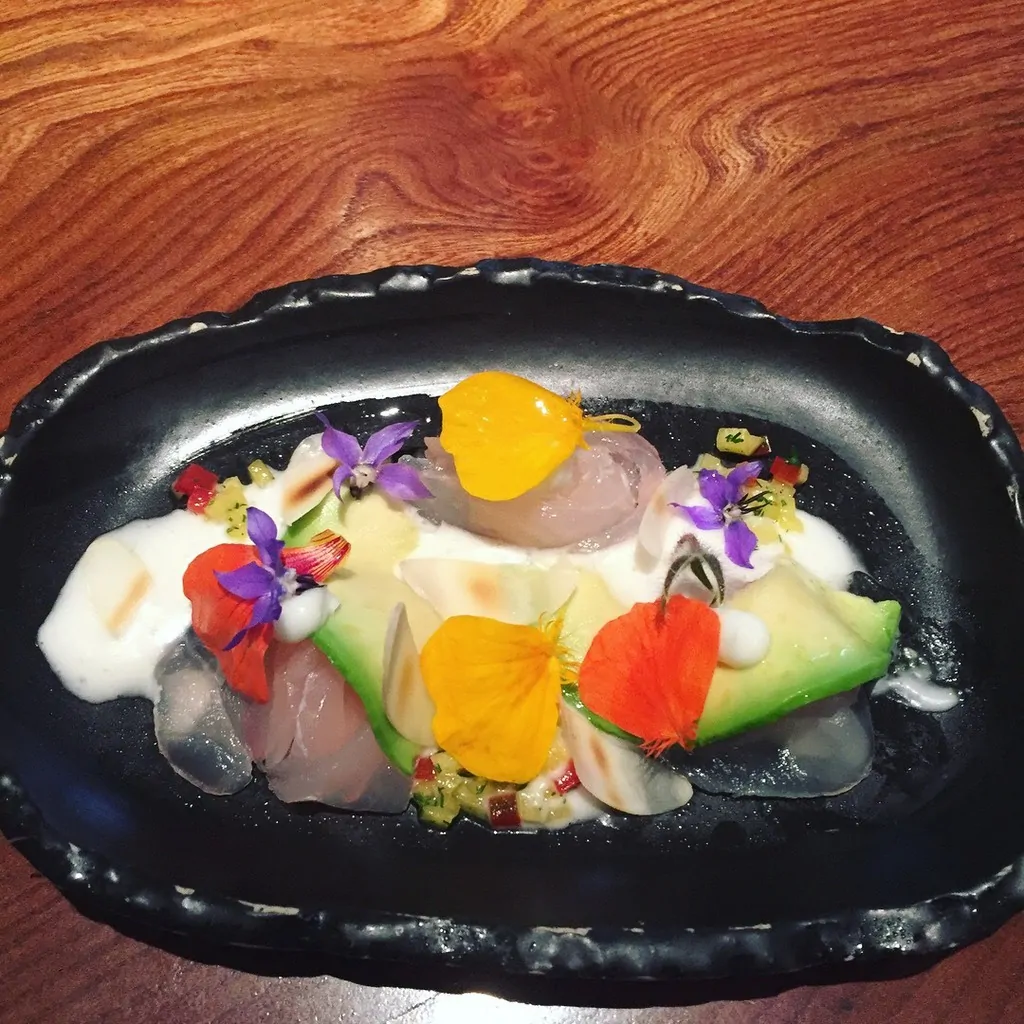 Focused on a themed menu and seasonal local ingredients, Astrid & Gaston changes its menu regularly and is known for its amazing (both taste-wise and presentation-wise) tasting menu. Some of its signature dishes include the Peking-style Guinea pig bao, ceviche, and the various seafood dishes.
What's interesting about Astrid & Gaston is that it also combines other cuisines (such as Southeast Asian and East Asian) with its signature Peruvian flare to bring out the harmony between different cuisines and flavors.
One example was for one of its themed menu's titled "Lima Love", the focus of the courses was peace, harmony, and love by combining various ingredients and regional influences into different dishes.
Being one of the best restaurants in Latin America means Astrid & Gaston is not cheap. For the tasting menu during lunch hours it costs around $150 USD (Depending on currency exchange and price increase), but it is definitely worth trying!
Punto Azul
If you have ever walked around the upscale and modern neighborhood of Miraflores, you have probably seen Punto Azul. Usually indicated with a horde of people waiting outside and dainty blue and white architecture, Punto Azul is one of the best places for seafood in Lima.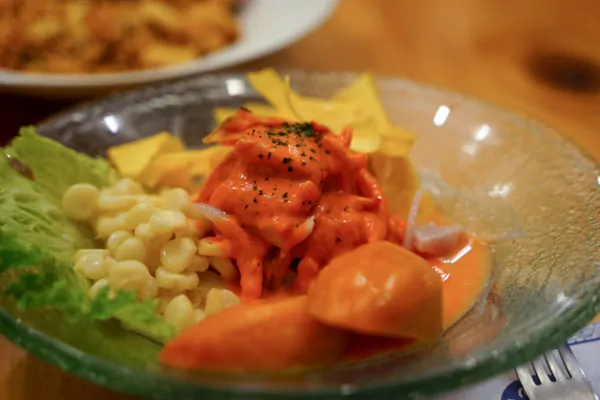 While Punto Azul has some of the best dishes for seafood, it comes at an extremely affordable price. One dish that Punto Azul is famous for is their Peruvian ceviche. I recommend trying either the original with just fish or the ceviche Punto Azul. The fish is cooked so perfectly that it melts like butter in your mouth. The price for a dish like that? Just 35/s or around $10 USD.
Besides the famous ceviche, there are many other delicious and affordable options on the menu. The black-inked spaghetti was also absolutely delicious.
An average meal there should only cost around $10-20 USD per person, depending on if you decide to order an appetizer or not. Don't forget to try the classic chicha morada for 6/s while you are there.
IK
IK is one of the best restaurants in Lima and I had a pleasant time when I visited Peru. The restaurant was named after Chef Ivan Kisic, who passed in a car accident before the restaurant opened. His brother now manages the restaurant, carrying on the chef's legacy.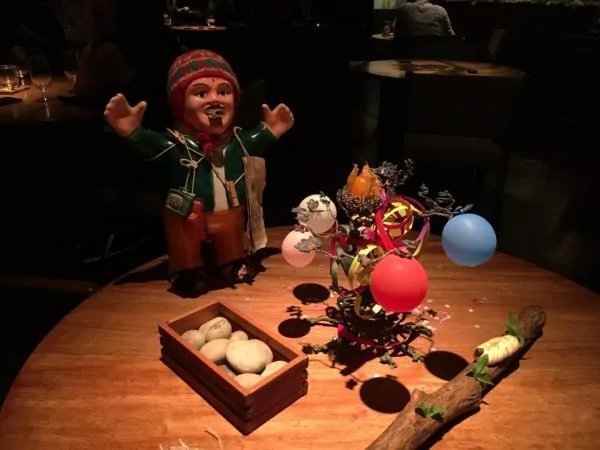 When I arrived at the restaurant, I was impressed by the urban interior design and light projections. Luckily, I was the first customer that night, and the servers gave me a grand tour of the dining space and a view of all the light projections on the dining tables, which were inspired by Peruvian culture, tradition, and gastronomy.
I love their tasting menu. They used simple and common ingredients, drawing locally in Peru like wild mushrooms, potatoes, pineapple, baby corns, cheese, pork belly, and more. These ingredients were prepared creatively and they seek harmony between innovative presentation and the philosophy IK wanted to share – sustainability, love for nature, and respect for mother earth.
I was particularly impressed by the final presentation with a big "Ekeko" – god of abundance and prosperity in the mythology and folklore of the people from the Andean Altiplano. Prepare to spend about $40 to $100 USD per person if you choose from their 5-course to 12-course tasting menus.
Tanta
When looking for a nice restaurant in the San Isidro neighborhood, we stumbled upon Tanta. This turned out to be a wonderful choice! We loved the food and especially enjoyed the desserts, which they showed us at the table so we could pick our favorite. There are multiple locations in Lima, but the one we picked is close to the famous restaurant Astrid y Gaston, but way more affordable.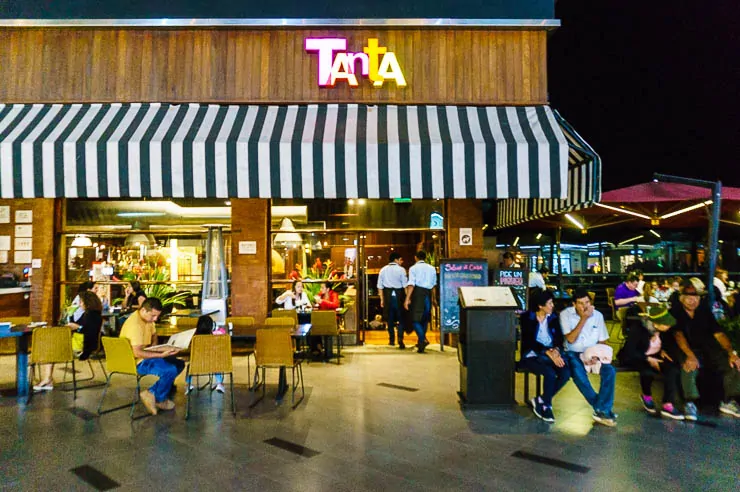 The menu is available both in English and in Spanish. This makes choosing your meal a lot easier! I recommend the homemade iced tea for drinks. Have your pick of choices from their extensive menu and maybe try to get a variety of things to try. I loved how they mixed in some Peruvian specialties like ají de gallina for you to try.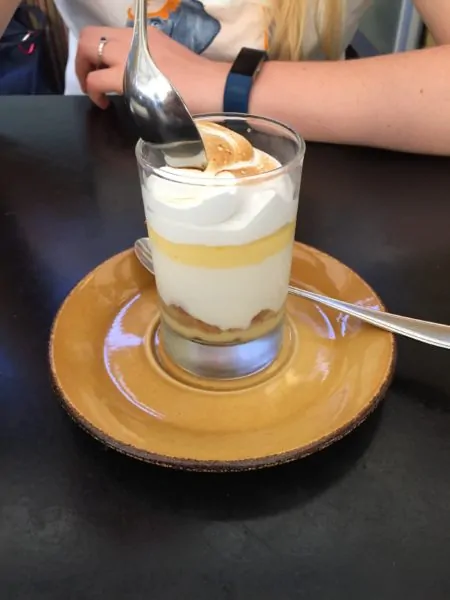 We paid around $30 USD for two for lunch in Tanta. We liked the restaurant so much we decided to have a goodbye meal in Tanta: they also have a branch at the Lima airport! There's another in Larcomar with a view overlooking the Paficic Ocean.
Pescados Capitales
Pescados Capitales has become one of the most popular restaurants in Lima, Peru. It is located in Miraflores, one of the most exclusive neighborhoods in the city, and the place itself fits perfectly with the description of exclusivity. The atmosphere of the place is quite elegant, with a very chic and neat decoration beneath high ceilings.
The menu is based on the "capital sins", hence the name of the restaurant. The main dishes are called "greed, gluttony, envy, laziness, lust, pride, and anger". All the menu is based on fish and seafood plates with a twist beyond the typical Peruvian cuisine.
The specialty is ceviches and tiraditos, and you just can't leave Lima without trying them. We recommend that you go as a couple or as a group so you can ask for several different dishes to share, that way you get to taste a few different plates.
The average price per person, with tip, is about $50 USD. This includes a drink, an entree, a main dish and a dessert to share. If you like gastronomy and enjoy trying good dishes, a visit to Pescados Capitales is 100% recommended.
El Aguajal San Borja
Whenever you arrive in Peru and are looking for the best restaurants in Lima, be sure to stop by El Aguajal located in the San Borja neighborhood. This is a perfect choice if you are looking for something a little different.
Also, if you've not yet had a chance to spend time in the Amazon region of Peru (and won't be able to on this trip), here is a place where you'll find all the jungle food you could imagine.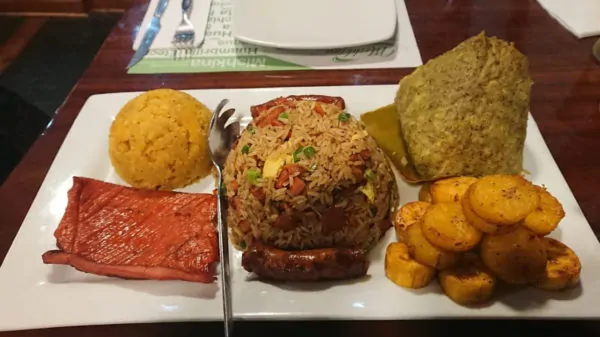 Most of the dishes are served in the exact same way as you'd expect to find them in the Amazon Jungle, and, you are guaranteed to find a dish that you have never tried in your life.
One of the great things about El Aguajal restaurant is that the staff will take time to explain the dishes for you. So that way you can be certain that you are ordering a dish that you'll love.
Here you can expect to find dishes starting from around $12 to $15 USD, and, you may want to sample more than one dish; so if you're looking for a super cheap meal, steer away from here. There are a few El Aguajal restaurants scattered around Lima, so depending on where you are, you can always look to find the one that's closest to you.
Mi Barrunto
Mi Barrunto is probably one of the most well-known restaurants in Lima to the locals. Located in a semi-dangerous neighborhood of La Victoria, my suggestion would be to take an Uber there.
Walking there is definitely not recommended for a tourist. Even though this restaurant is a little out of the way, you have to come here once if you want to try local Peruvian food.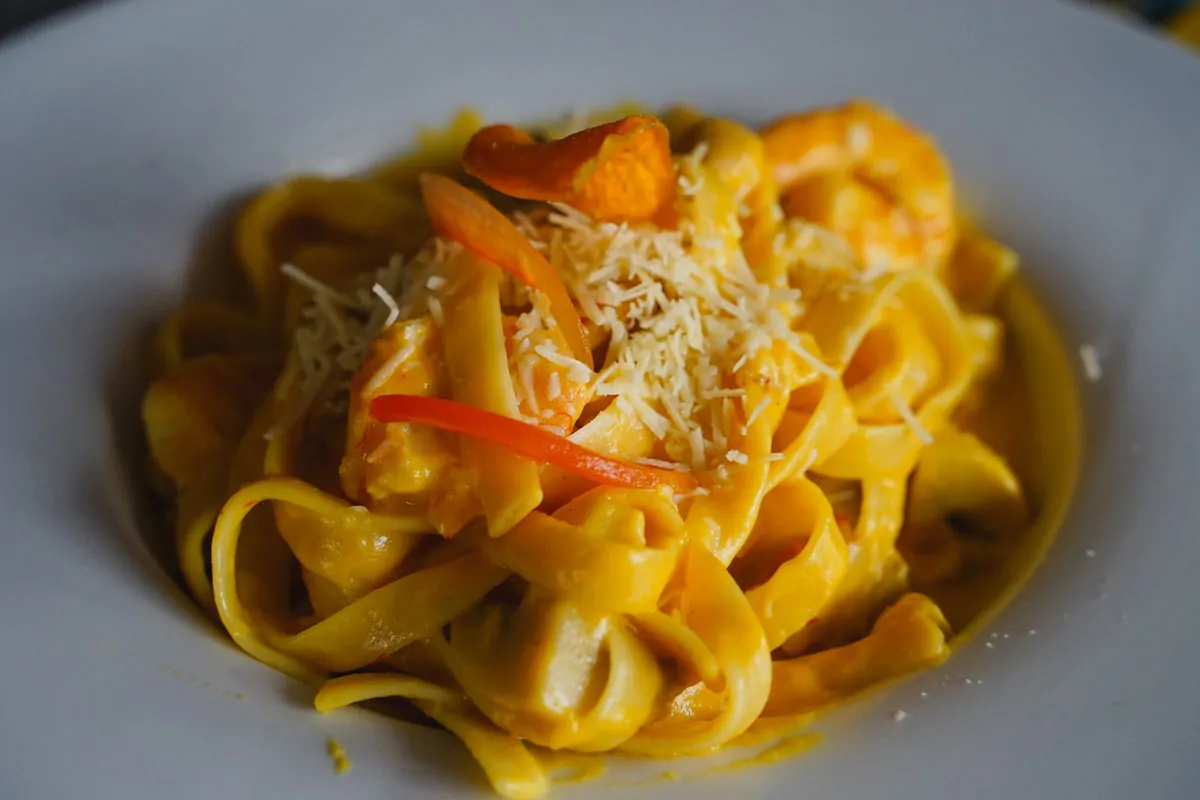 Mainly a seafood restaurant, Mi Barrunto has some of the most amazing ceviches in all of Peru. It shouldn't surprise you that their best-selling dish is their ceviche. Aside from the ceviche, you can try out some of the local Peruvian dishes such as causa or chop de pescado, which is a special version of the leche de tigre, all local Peruvian food.
If you are not feeling too adventurous, they've also got a variety of pasta dishes that are very tasty such as the fettucini a la marinera.
The prices of Mi Barrunto are fairly low considering how popular the restaurant is. A traditional ceviche there is around $12 USD or 38/s. The majority of the dishes are more expensive than the traditional ceviche. If you are planning on coming here, expect to spend around $15 to $20 USD or 50-65/s per person.
The atmosphere is not going to be your typical tourist restaurant. The service is good and the place is clean. But remember this is a place where locals come, hang out, and have a good time. It is going to be a loud place, space will sometimes be a little cramped, and the place will look a little rugged. This is not like the restaurants you encounter in Miraflores or Barranco.
This is a restaurant that not only packs flavors in the dishes but also packs flavor in their atmosphere.
Finding the Best Restaurants in Lima
If you're planning a trip to Peru and passing through Lima, then I'd highly encourage you to stop for at least a couple nights to check out this vibrant city and make a point to enjoy the incredible food here.
I'd make it a point to dine at one of the Top Restaurants in Latin America like Central, Maido, Astrid y Gaston, amaZ, or IK, be sure to go to one of the top ceviche restaurants, and also just explore some of the delicious menu of the day restaurants where you can sample great food like pollo saltado and papas a la huancaina.
Another excellent way to make use of your limited time here is by going on one of those awesome food tours in Lima. We did the Lima Gourmet Food Tour which included stops (with food and drinks, of course) in both amaZ and Huaca Pucllana, two of the best restaurants in Lima.
I highly recommend that food tour, but it is by no means the only choice… Be sure to check out a few of these other incredible food tours in Lima and you're sure to enjoy your time in this city even more.
More About Lima, Peru
Most travelers will tell you that one of the most memorable things in visiting a new place is their food. And it is pretty rare that you get to travel to a place that is such a gastronomic paradise, like Lima. More than the accolades and the awards, Lima proves to be the place worth traveling to just (and maybe for some, only) for the food.
Traveling to Lima, Peru soon? Be sure to book your room from Booking.com now to save on the best Lima hostels. And don't forget to purchase travel insurance for Peru to protect yourself against injury, theft, and sickness. I use and recommend World Nomads thanks to its combination of coverage and affordability.
Read Next: Best Things to Do in Lima, Peru
Share This
Did you enjoy this post about the best Lima restaurants? Please take a moment to share it on Facebook, Pinterest, or Twitter.
The following two tabs change content below.
Desk to Dirtbag is one of the leading budget adventure travel blogs online and is dedicated to helping its followers achieve their travel dreams through inspiration, information, and actionable steps. If you are new to the site, be sure to
Start Here
.
Latest posts by Desk to Dirtbag (see all)